Breakfast is the most important meal of the day. However, even if you are Overlanding, this doesn't mean you should refrain from having a delicious breakfast. You just need to know how to choose your overland meals properly.
The Perfect Morning Meals
If you want a breakfast that will give you enough energy to go on the road, a hike, or anywhere else you want, here are some meal ideas that should help you out.
1. Camping Frittata
A camping frittata is the kind of breakfast that will keep you going throughout the rest of the day with ease. All you need is a camping stove, a pot, a couple of eggs, veggies, some cheese, olive oil, and spices up to taste. Eggs are high in good protein, and the veggies will give you the necessary vitamins – so, once you consume this breakfast, you'll surely have a lot of energy. 
The veggies you choose depend on your preferences. Ideally, you should go for a mix of firm and soft veggies. Garlic, shallots, and kale need to be sauteed before you put the eggs in. Along with eggs, you can put the soft veggies: tomatoes, basil, spinach, and so on. Once you are done with the composition, sprinkle some shredded cheese over the surface and allow it to cook.
Get the recipe here.
2. Eggs in Jail
Do you want something delicious and easy to cook? In that case, eggs in jail are a perfect choice. You will need thickly sliced bread, butter, and eggs. Butter the bread slices on both sides, and then make a hole in the middle where you can fit one cracked egg. Put the bread in the greased and sizzling frying pan, put another piece of butter in the bread hole and then crack the egg. Once the bottom side has turned a nice golden color, you should use a spatula to carefully turn it to the other side.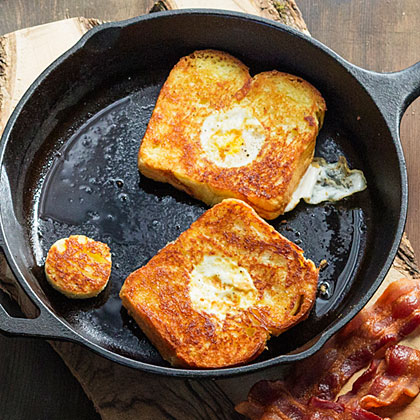 To make matters easier for you, preparations can be made even before you head out – on the night before. You can butter the bread and create the hole – and at the campsite, you'll just have to place it in the pan and crack the egg. Add spices according to your preferences.
Get the recipe here.
---
3. The Lumberjack Breakfast
No matter if you are cooking on a stove or a campfire, this breakfast is completely doable. You'll just need some foil, bacon, eggs, chopped hash browns, cheese, and tomatoes. Wrap everything aside from the eggs and cheese in tinfoil, and when you are ready to cook it, crack an egg or two over the mix.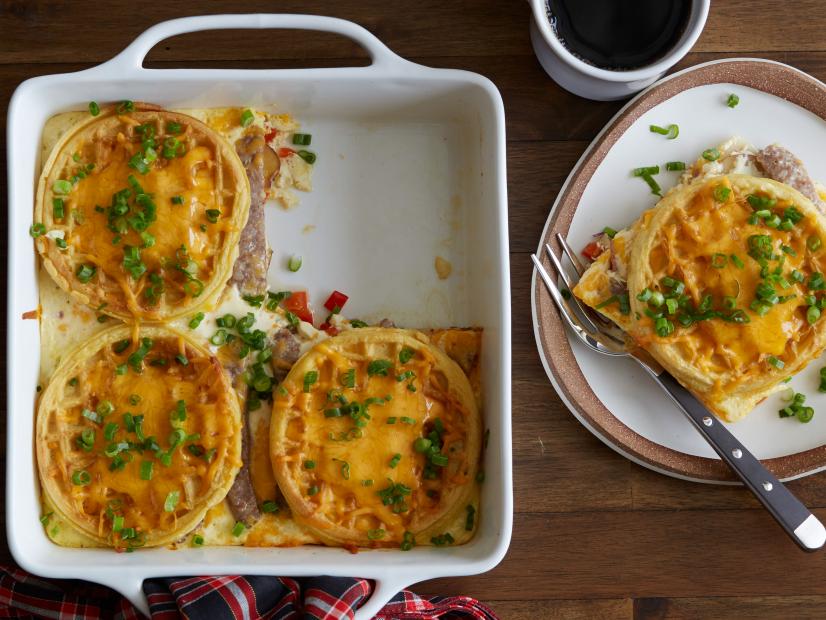 You may place the cheese now or towards the end, but if you do not want to reopen the foil package, you should just get it done beforehand. Cook it over the coal or the grill, as the foil will keep everything wrapped and protected.  Bear in mind that it has to be tightly wrapped so that there aren't any spillages. In most cases, 20 minutes should be enough to do the trick.
---
4. Banana Bread Pancakes
Are you the type of person that likes to have their breakfast nice and sweet? Then banana bread pancakes might be right up your alley. All you have to do is create a batter from mashed banana, egg, walnuts, and milk – and perhaps even a dash of cinnamon and brown sugar. If you are at the campsite, you may go with just the milk, eggs and walnuts. However, you can make things easier for you by creating a composition at home.
Get the recipe here.
5. Breakfast Burritos
If you need something more consistent, then you should consider breakfast burritos. For 4 people, you will need 4 tortillas, 6-8 chopped bacon slices, 8 eggs, 1 chopped onion, 1 ½ cup of shredded cheese, and 4 coarsely chopped hash browns. Optionally, you may add tomatoes, salsa, and taco seasoning, along with salt and pepper.
This recipe is very easy to make, but you will have to cook things in order. First, fry the onion and bacon together. When the composition is almost done, add in the hash browns and seasoning, mixing lightly. Add the scrambled eggs, and once that is almost done, add the cheese and any optional veggies. Place the composition over the tortillas, add the sauces, and then wrap it in a burrito.
Get the recipe here.
---
Frequently Asked Questions
Q. Can I cook breakfast without a pan?
A. Ideally, when you are going camping, you should ensure that you have a skillet or a grill with you. However, if emergency strikes, you may also create a makeshift pot from some tinfoil.
Q. Which is better, a stove or a grill?
A. This depends on how you are planning to cook. If you go for a grill, you'll have to make a fire using coal or wood. A stove can be used right away, as it burns fuel – allowing you to make breakfast faster.
Q. What ingredients should I focus mostly on?
A. This depends on each person. Some like to start their day with oatmeal, others like eggs. We do recommend that you go for a protein-packed breakfast, as it can keep hunger away for longer.
---
In the end, breakfast does not have to be difficult to handle when camping. You just have to focus on two things: nutrients and seasoning. That, together with the right gear, should allow you to have a delicious breakfast in the morning.
---
You may like these recipes:
---
If you like this article about camping breakfast ideas, please share this with your friends on Facebook, Twitter, and Pinterest. Also, you can subscribe to my blog to get all the latest articles first on your mobile.
SHARING IS CARING!
FACEBOOK | TWITTER | PINTEREST
Did you like this recipe and make it later at home? SAVE this pin to your favourite board on Pinterest!
This is a guest post from OverlandSite, by Evelin Weiss.