Are you bored with eggs and bacon recipes to take at breakfast? These delicious easy keto breakfast recipes without eggs are the best. Easy to make and ready within 20 to 30 minutes at home.
We know eggs are high protein and easy recipes that you can put in any dish. Even for weight loss eggs are the best ever keto diet food. But if you want to take a break from eggs or bacon, these keto breakfast recipes are perfect for you. Here this delicious collection of keto breakfast recipes without eggs or no eggs recipes that will give you lots of healthy ideas you can experiment at breakfast.
So now let's jump to these delicious keto-friendly keto breakfast recipes.
---
15. Cinnamon Keto Granola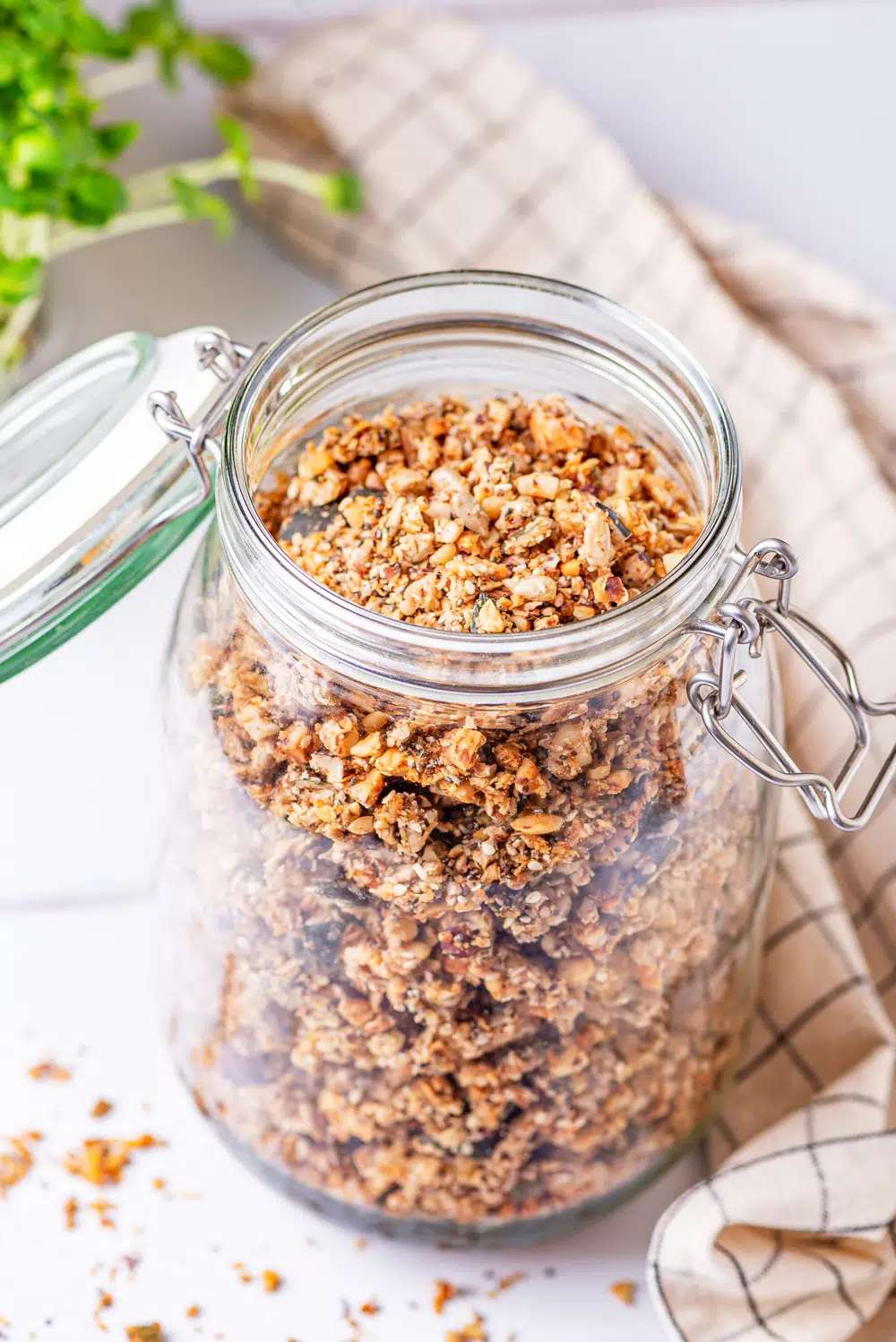 This gluten-free keto cinnamon granola is an easy and delicious recipe to start a day. You can take this granola with milk or yogurt or whatever you like.
Get the recipe here.
---
Related: Back-to-School Breakfast Ideas
---
14. Keto Sheet Pan Sausage and Veggies
Want to eat a keto breakfast without eggs? This delicious sheet pan sausage and veggies recipe is the best ever recipe for breakfast for everyone. Use any meat for sausages like beef, chicken, pork, or Turkey and add any vegetables whatever you like. Put it on the sheet pan, add some oil and spices…. It takes some time and is ready for the morning meal. This recipe is low carb, keto-friendly and healthy that kids will love too.
Get the recipe here.
---
Related: Banana Cinnamon Porridge Recipe
---
13. Low-carb Strawberry Smoothie
This Strawberry Smoothie is delicious and tasty. Easy to make at home, just ready within 15 minutes. Get a nice strawberry flavour that changes your mood and is perfect for weight loss, good for those who are on a keto diet.
Get the recipe here.
---
12. Blueberry Chia Pudding
To start a new morning this blueberry chia pudding recipe is the best keto breakfast no eggs. The flavour of blueberry makes this delicious recipe so amazing. This is one of the best vegetarian breakfast recipes without eggs.
Get the recipe here.
---
11. Keto Breakfast Cookies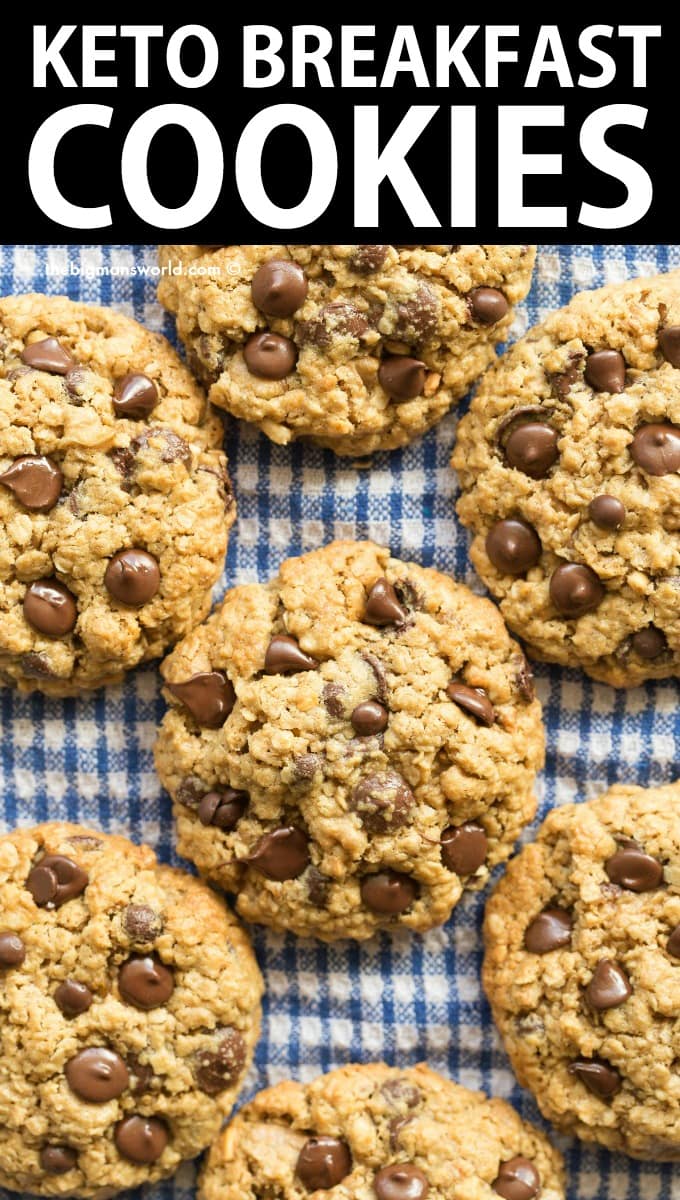 These keto breakfast cookies are so tasty and delicious. Easy to make, just ready within 20 minutes. You can store this in a jar for next time enjoyment for breakfast. You can serve these cookies with milk or coffee or tea as per your choice.
Get the recipe here.
---
Related: Amazing Keto Cookies Recipes
---
10. Keto Breakfast Porridge
Need a healthy stomach-full recipe for breakfast? This porridge recipe is the best tasty easy recipe that makes you full for a few hours. Easy to prepare and needs only a few simple ingredients, and ready within 15 minutes! This is one of the good high-protein breakfast ideas without eggs.
Get the recipe here.
---
9. Keto Breakfast Meatballs
Looking for egg-free breakfast recipes or keto breakfast recipes without eggs? This butternut meatball is the best ever easy healthy recipe to start a new day.
Get the recipe here.
---
8. Keto Green Smoothie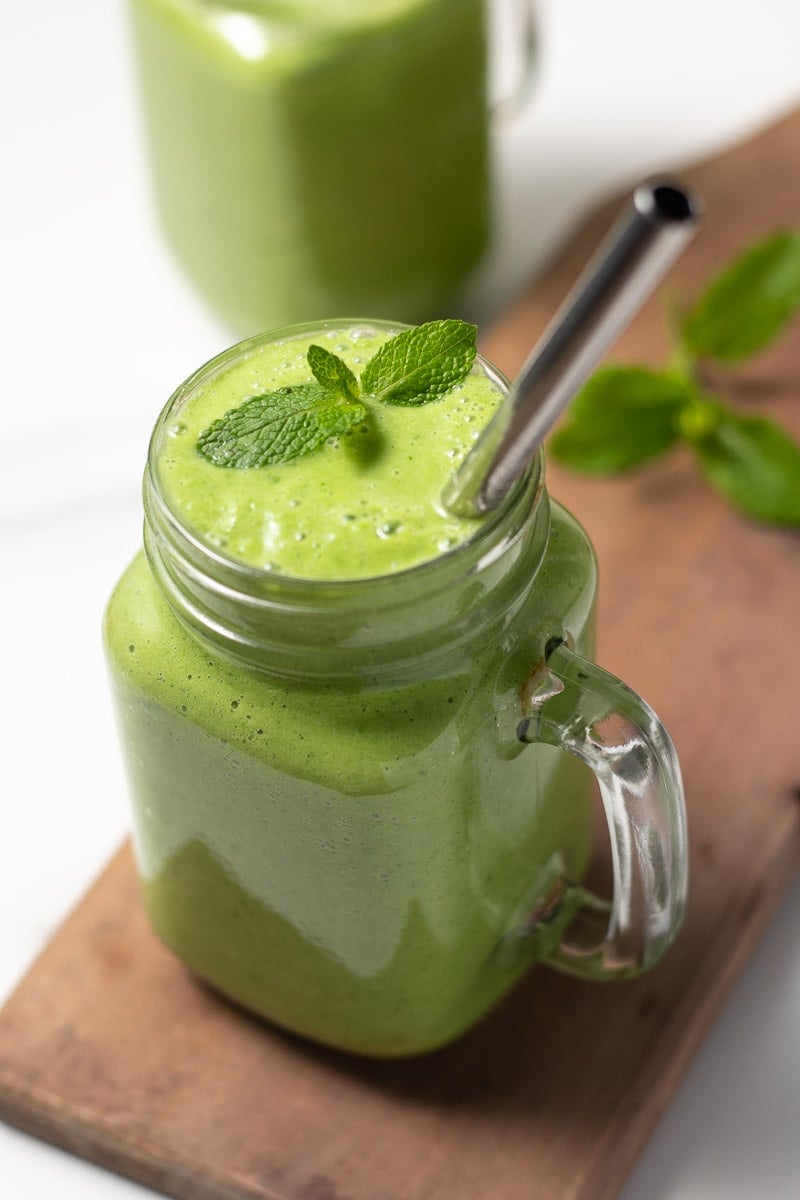 Are you looking for a healthy easy weight loss and breakfast smoothie recipe? Easy green smoothie loaded with almond milk, frozen fruits, and spinach or kale, the best meal replacement, and the keto-friendly recipe just ready with 15 minutes. Get lots of protein and nutrients from this healthy yummy smoothie recipe, also good for kids too! This smoothie also a fat-burning recipe.
Get the recipe here.
---
7. Keto Blueberry Muffins
Ready to eat healthy almond flour recipes? These almond flour blueberry muffins make your mood fresh and keep healthy. It is so tasty and delicious made with almond flour, blueberry, and other simple ingredients. Must try! This is a healthy breakfast without eggs, especially for kids.
Get the recipe here.
---
Related: Amazing Muffins for Breakfast
---
6. Keto Hemp Heart Oatmeal
This coconut porridge is the best keto breakfast recipe without an eggs dish. For a healthy breakfast, this low carb porridge is the perfect meal.
Get the recipe here.
---
5. Low-carb Maple Spiced Granola
This maple spice granola is crispy, spicy, chewy, and stored stuff. This low carb keto friendly granola is the perfect breakfast when you take a break from egg and bacon.
Get the recipe here.
---
Related: Vegan Breakfast Recipes
---
4. Keto Blueberry Smoothie
If you are searching for a refreshing drink that is perfect for any season and very tasty and healthy, I want to recommend this Blueberry Smoothie. This versatile drink can be keto-friendly also. Follow my recipe with video to make this great vitamin and a minerals-packed smoothie full of nutrients.
Get the recipe here.
---
Related: Tasty Keto Cheesecake Recipes
---
3. Chickpea Sandwich
To make an easy breakfast in the morning? This chickpea sandwich recipe is the perfect breakfast without eggs that are loaded with chickpea, and other ingredients. This recipe is my favourite morning meal that is ready in just 10 minutes.
Get the recipe here.
---
Related: Healthy Keto Chaffle Recipes
---
2. Keto Peanut Butter Smoothie
Healthy easy banana smoothie is so creamy, tasty, and easy to make at home. For breakfast, it is best and is vegan, keto, and protein healthy drink that can good for your health. Make with yogurt, banana, milk, and other simple ingredients. For tasty flavor, you can add strawberry, blueberry, peanut butter, chocolate, coffee, pineapple, orange, etc.
Get the recipe here.
---
Related: Weight Watchers Smoothie Recipes with Points
---
1. Keto Cinnamon Rolls
This easy to make tasty cinnamon rolls are the best for breakfast or snacks. With 2 net carbs and covered with cream cheese frosting this recipe is the best for any time meal.
Get the recipe here.
---
Breakfast Ideas that you may like:
If you like this article about Keto Breakfast Recipes Without Eggs, please share this with your friends on Facebook, Twitter, and Pinterest. Also, you can subscribe to my blog to get all the latest articles first on your mobile.
SHARING IS CARING!
FACEBOOK | TWITTER | PINTEREST
Did you like this recipe and make it later at home? SAVE this pin to your favorite board on Pinterest!