Mother's Day comes around the corner. so get ready to impress your mom or surprise your mother with mother's day dessert recipes at home.
This day, we celebrate With some sweet dessert for all mothers in the world. Mother is such a word that gives us peace. They give their children love, care, but we didn't see her hard work, efforts, love, sharing, care, pain, etc. On this day we give her beautiful memories and moments with some beautiful surprise and gift. That she will love and accept these. And arrange mother's day dinners and delicious sweet dessert recipes whatever she likes…
So I think you already have decided and arranged whatever your mother likes.. but if you don't decide what you make in the dessert part that your mother will love the most and complete the meal perfectly. As we plan for a big day, I wanted to share some delicious and tasty easy dessert recipes to celebrate mother's day Beautifully.
Whatever you plan on this mother's day, these dessert recipes will love your mother and definitely you will impress your mom with your baking skills. Here you can get some amazing desserts like cakes, cookies, tart, ice cream, chocolate, etc, best ever mother's day desserts. So take a look and make these recipes at home in this big celebration day…
1. Lemon Raspberry Cream Cake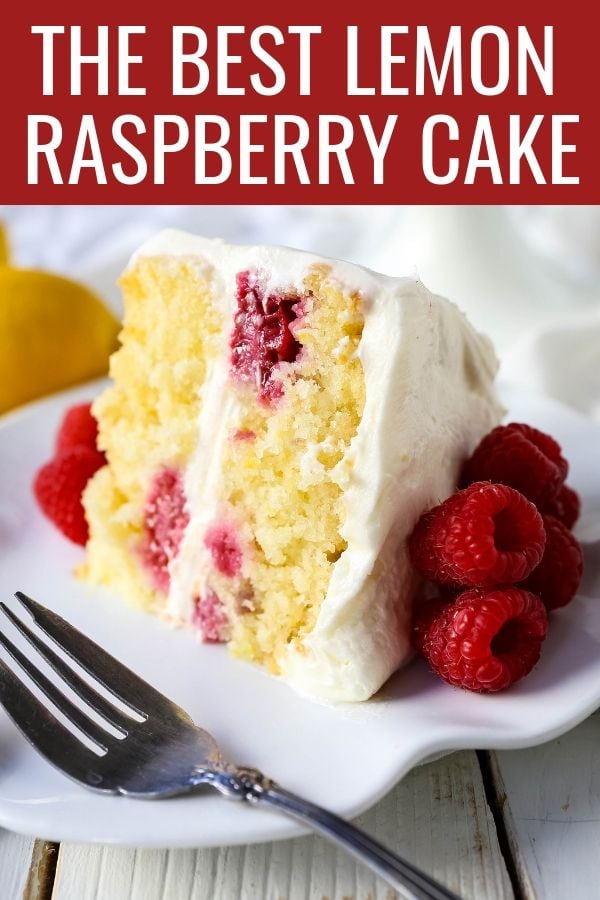 The lemon raspberry cream cake is the light, simple, and best dessert for me. It is made with fresh raspberries, lemon juice, cream cheese frosting that takes a nice lemony flavor and so delicious. After complete your dinner, if want some light dessert, try this recipe at home.
Get the recipe here.
---
2. Key Lemon Pie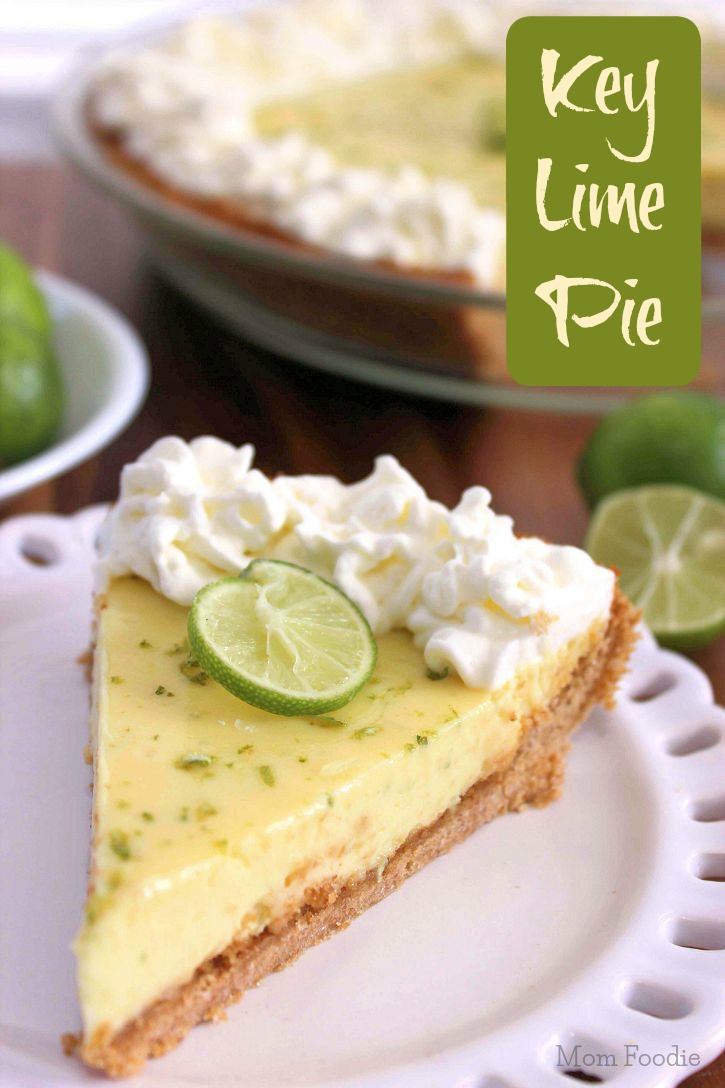 To celebrate mother's day at home and if your mother likes to eat lemon flavor. This key lemon pie is the best dessert for her. And also this key lemon pie is a classic and refreshing summer dessert, that you will love to eat.
Get the recipe here.
---
3. Chocolate Brownies
Brownies come in a variety of forms and may be either fudgy or cakey, depending on their density. Here you can see how to make cakey egg chocolate brownies. It's might be perfect for mother's day dessert recipe.
Check out the recipe.
---
4. Snickers Cheesecake Cake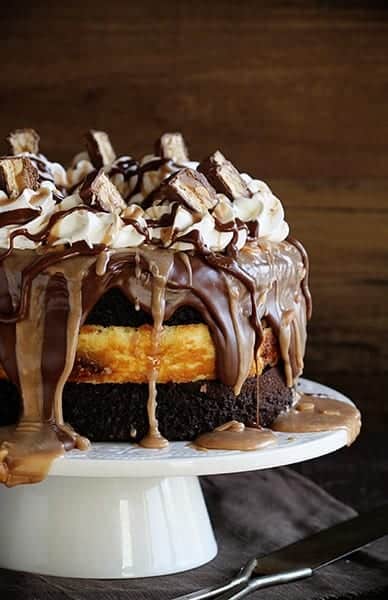 If you like some crunchy dessert, then I will suggest this snickers cheesecake cake. This dessert is packed with fudge sauce, caramel, whipped topping, snickers candy, and few ingredients. This recipe is delicious that definitely meant for special occasions like valentine's day, birthday, mother's day etc… Just make it at home and take and try a bite! Yum!
Check out the recipe here.
---
5. No-Bake Chocolate Peanut Butter Dessert
Peanut butter lover! This no-bake chocolate peanut butter dessert is waiting for your bite! So easy to make, simple, no heat pastry dessert is best for any party or occasion. Quick and delicious this recipe filled with chocolate and peanut butter
Get the recipe here.
---
Suggested: Keto Peanut Butter Recipes
---
6. Sunflower Cookies Pops
This sunflower cookie pops is such a delicious dessert that you can make in any season change time, to celebrate any occasion or party. Everyone will love this dessert. It looks like a sunflower and delicious in taste. So realistic and best for fall party or occasion and perfect for get together dessert.
Check out the recipe here.
---
Related: Keto Cookies Recipes
---
7. Strawberry Cream Puffs
If your mother loves strawberry? These strawberry cream puffs are the best gift dessert for mother's day. This dessert is perfect for spring, filling with strawberry whipped cream and so delicious that puffs are just mouthwatering! You can serve these puffs with strawberries or without strawberries. Try now!
Check out the recipe here.
---
More: Easter Dessert Recipes
---
8. Banana Chocolate Chip Muffins
The best ever vegan banana muffins chocolate chips are delicious and tasty for anytime breakfast or snacks meal. Soft, healthy, fluffy made with banana with chocolate chips are just incredible! My mom really loves this recipe.
Get the recipe here.
---
9. Chocolate Mousse
Chocolate mousse! This is my favorite dessert ever! I think your whole family will love this dessert very much. If your mother loves chocolate recipes dessert, make this recipe for her on mother's day! Full of chocolate, filled with whipped cream and thin shavings of dark chocolate. Just nothing to say, try it at home, you will get the answer.
Get the recipe here.
---
10. Pink Lemon Donuts
Pink lemon donuts are a nice dessert come snack that so yummy! Lemon in flavor but slightly tart these donuts are so delicious just best for a breakfast party. These lemon donuts are based on the coffee recipe that makes with lemon juice or lemon zest. These donuts were so yummy, lemony and fragrant. You have to try at home!
Get the recipe here.
---
11. White Chocolate and Lemon Pots De Creme
White chocolate and lemon pots de creme is the perfect dessert for celebration. Easy to make at home, simple, light, and looks so impressive. Surprise your mom with this delicious creamy dessert on her birthday or mother's day.
Get the recipe here.
---
12. Red Velvet Lava Cake
Red velvet lava cake! For me, it's just incredible. Filled with chocolate this red velvet cake is world best dessert to celebrate valentine's day dessert recipe. The best ever lava cake is the perfect way to show your love to someone. You can make this recipe at home for your mother on mother's day to express your love to your mom. I'm Definitely sure your mom will love this dessert.
Get the recipe here.
---
13. Gulab Jamun
If you want to eat dessert, you can try this homemade Gulab Jamun recipe. Here you will find how to make this delicious Gulab Jamun with Khoya at home.
Get the recipe here.
---
14. Cannoli Cons
If you love cons ice cream, these cannoli cons are the best for you. A perfectly satisfying dessert treat that anyone will love that.
Get the recipe here.
---
15. Lemon Curd Mousse
Lemon lovers! This lemon carb mousse will love your family so much. Delicious sweet and tangy lemon curd mousse recipe is the best dessert for any occasion after dinner meal. Just ready in 10 minutes at home. Must try!
Get the recipe here.
---
16. Purple Ombremini Cake
With mother's day just around the corner. So you can make this simple delicious pink ombre swirl cake recipe for your mother. So easy to make, simple, light, creamy, to reveal the pretty nice layered colors of the cake is just amazing. This dessert cake is my best and favorite!
Get the recipe here.
---
17. Pavlova for Mother's Day Dessert
Pavlova! This recipe is ready just in 20 minutes and needs only 4 ingredients. It is a combination of egg whites and sugar that create a whipped stiff thick creamy peaks, then you have to bake this at low temperature. Top this whipped cream and seasonal fruits create a nice beautiful dessert. That will love your family and friends.
Get the recipe here.
---
18. BlackBerry Coconut Ice Cream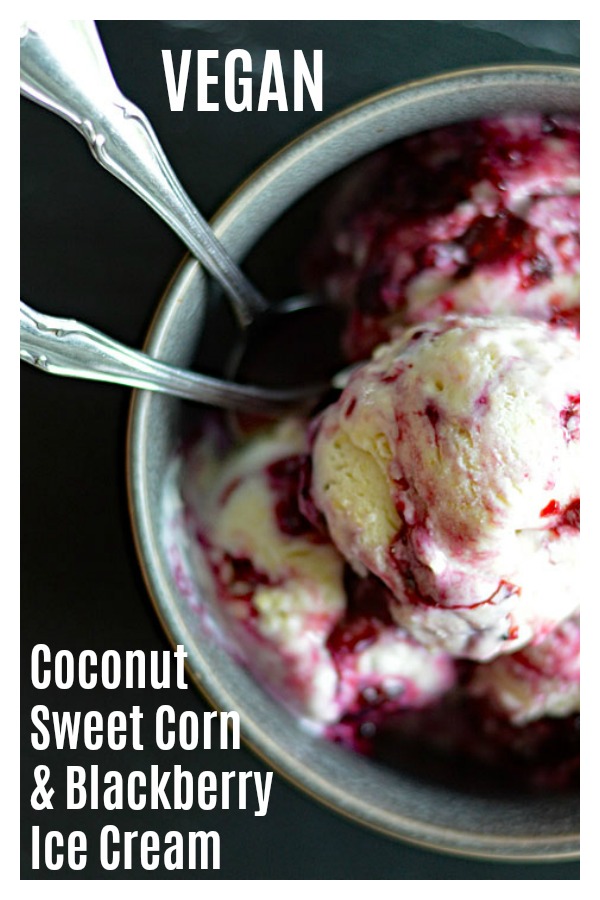 This Blackberry Swirl Ice Coconut cream Recipes so tasty and delicious that this dessert did not disappoint you anymore.
Loaded with BlackBerry, coconut milk, condenses coconut milk, sweet corns, vanilla extract, etc. Create a nice flavor that you can serve any occasion as a dessert. Even your family will love this recipe.
Get the recipe here.
---
19. Raspberry Thumbprint Cookies
These thumbprint cookies are so tasty and filled with raspberries. So easy to make at home, kids will love this very much. So yummy these cookies best for any occasion or party snacks or appetizers or dessert, whatever you like. These thumbprint battery cookies filled with raspberries fruits thick like jelly and vanilla glaze are perfect for dessert lovers!
Get the recipe here.
---
20. Rasgulla for Mother's Day Dessert
Rasgulla is the best Bengali Dessert. It is as easy to make as it is delicious to eat but we thought it was very difficult to make. Let's see the famous Bengali sponge Rasgulla recipe. If you and your mom are from Indian, then this would be the best dessert for you on mother's day.
Get the recipe here.
---
21. Brownie Ice Cream Bomb
To make these ice cream, you need brownies, vanilla ice cream, Nutella, chocolate chips, coconut oil, and toffee bits. And to celebrate any party or any occasion these brownies ice cream bombe are best for desserts. Your mom definitely loves this dessert recipe on mother's day. Make this at home and surprise your mother.
Get the recipe here.
---
Related: Keto Fat Bombs Recipes
---
22. Banana Cream Pie Parfaits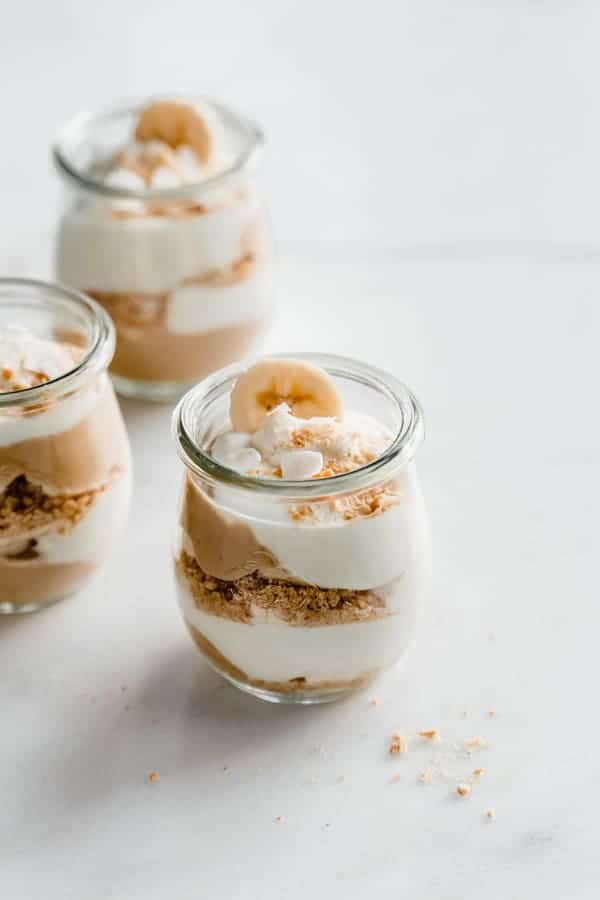 This banana cream pie parfaits dessert is easy to make, vegan, gluten-free, and easy to assemble at home. Loaded with creamy layers, Graham cracker, sliced up bananas. Just delicious and I love that creamy layers. Try now and surprise your mother on mother's day or birthday.
Get the recipe here.
---
23. No-Bake Mini BlackBerry Lemon Cheesecakes
This no-bake mini blackberry lemon cheesecake is so delicious and mouthwatering dessert ever! This recipe is loaded with Graham cracker crust, heavy cream with lemon flavor and blueberry swirl. To make this recipe you have to start out by making the blueberry swirl. For any occasion, this recipe is the best for anyone.
Get the recipe here.
---
Try another variety of Keto Cheesecake Recipes
---
24. Butterscotch Pudding – Mother's Day Dessert Recipes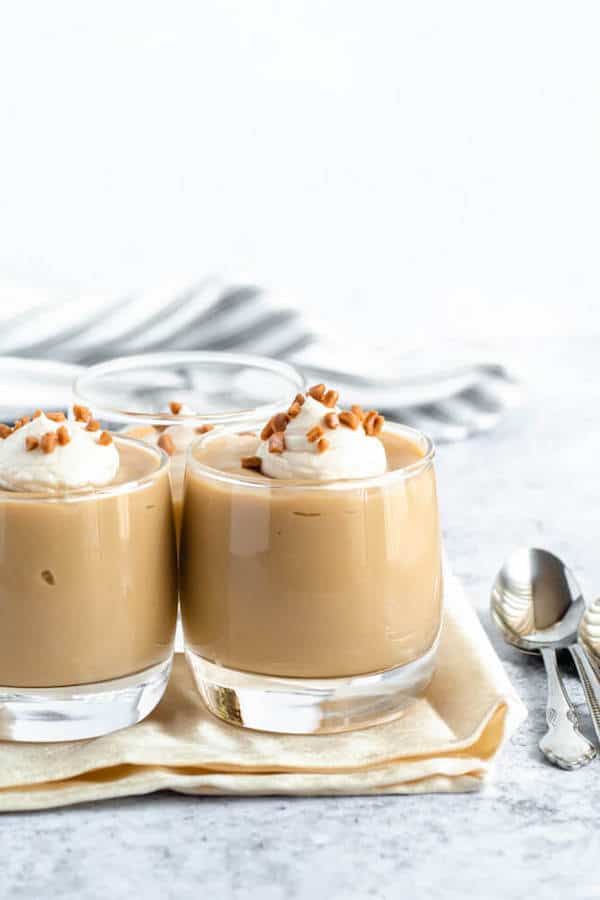 This homemade butterscotch pudding is creamy, buttery, and cover with full of butterscotch flavor! It takes to make at home just only 10 minutes. Amazing and fantastic comfort desserts serve at any party or occasion. But I must say if you make it to gift your mother on mother's day, she will love it.
Get the recipe here.
---
25. Chamomile Mascarpone Tart with Fresh Strawberries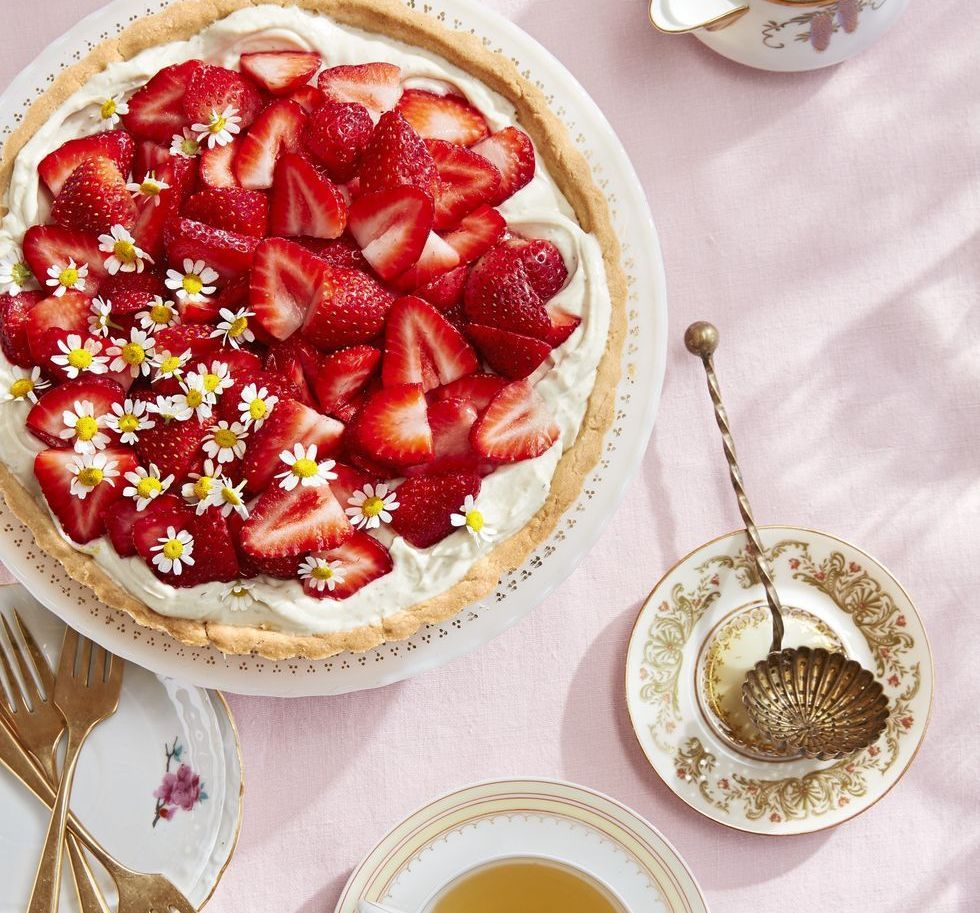 This delicious dessert is packed with heavy cream, chamomile tea, butter, mascarpone, vanilla bean paste, and other simple ingredients. This dessert is so tasty and delicious for any party or occasion purpose. Anyone love that recipe, serve with fresh strawberries create a nice look.
Get the recipe here.
---
26. Caramel Apple Cookie Sandwich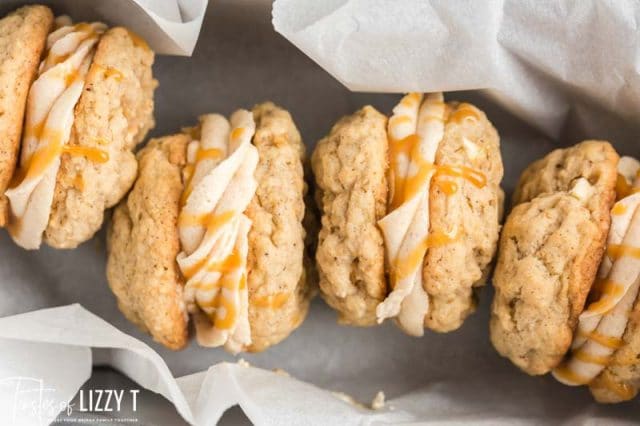 Caramel apple Cookie caramel is so soft and chewy apple spice oatmeal cookies that fled with brown sugar, cinnamon buttercream frosting, and caramel. This is one of my favorite apple dessert recipes. So delicious and tasty that everyone likes this. This recipe during the fall apple picking season or any occasion.
Get the recipe here.
---
27. Brownie Parfaits with Nutella Syrup
Not so many ingredients need to make this delicious dessert recipe. Just you need a vanilla extract, heavy cream, cocoa powder, Nutella, brownies, sugar, milk. To make a crowd at any party or celebration, this brownie parfaits is the perfect one! For mother's day, this recipe will love your family and mother too!
Get the recipe here.
---
This article may contain many affiliate links to retailer sites. There are many participants in various affiliate marketing programs
---
SHARING IS CARING!
FACEBOOK | TWITTER | PINTEREST
Did you like this article and make them later at home? SAVE this pin to your favorite board on Pinterest!