Summer is almost here. On this hot day, you feel wet and release plenty of water from your body. Most of the time you want a slightly cold drink or ice cream to get fresh and relaxed. But why don't we use some fruit juices or drinks this summer? Homemade juice is the best and healthiest option for your health. Here I share some simple homemade juice recipes that are prepared quickly with a few ingredients and are great on hot days.
---
15. Apple Juice
Homemade apple juice is a delicious and healthy drink for winter days or even any hot days. With fresh juicy apples, you can easily make this apple juice recipe at home. 

These sweet apple juices contain antioxidants and vitamin C which is a great source for our health and helps to lose weight, boost skin health, cure constipation, and can help boost immunity. Make this apple juice by this instruction and enjoy!
Get The recipe here.
---
Related: Tasty Apple Recipes
---
14. Beet Juice
Beet juice is an amazing homemade juice that is ready in just 10 minutes to prepare. Not only beet, adding other fruit like strawberries, carrots, green apple, clementine, lemon, and ginger makes this recipe so tasty and healthy. 

You need a blender for this juice, add all these ingredients and blend it quickly and serve it on summer days to get more nutrition for your body. No need for sugar to make this juice at home, it is sugar-free homemade juice that your whole family will enjoy.
Get the recipe here.
---
Suggested: Detox Fruit Water Recipes
---
13. Pineapple Celery Green Juice
If you love eating juices, then you love this pineapple celery green juice recipe. This juice is extremely healthy and rich in nutrients. It's loaded with anti-inflammatory and alkalizing properties, antioxidants, and essential vitamins and nutrients.

This pineapple celery juice makes yourself refreshing and it solves your digestion problem too. This juice is ready in just 5 minutes to prepare at home and also this is one of my best juice recipes that makes me happy on any day.
Get the recipe here.
---
Related: Holiday Coffee Recipes
---
12. Mango Spinach Juice 
This mango spinach juice is one of my best drink or juice recipes for summer days. Healthy, fresh, refreshing, full of flavour and bright juice. It is loaded with frozen mango, fresh mint, baby spinach, freshly squeezed lime, and freshly squeezed orange juice.

The best part of this juice is it looks good, feels good, freezer-friendly, and no need to sit around waiting for mangos to ripen. Just takes some fresh frozen mangoes and other ingredients into a blender and mix it, serve with an ice cube and chopped fresh mangoes. 
Get the recipe here.
---
Suggested: Refreshing Fruit Cocktail Recipes
---
11. Watermelon Juice
With lots of fresh juicy watermelon cubes and salt, sugar makes this an amazing watermelon juice for summer days. For more flavour, you can add mint, lime juice, or other fruits. This is the ultimate tasty summer drunk to keep you hydrated. 

This is quick and easy to prepare and no need for any fancy equipment. Watermelon has lots of health benefits, and is low calorie and naturally sweet, and has 92% water content that helps us stay hydrated and healthy on hot days. It is a nutrient-dense fruit packed with vitamins and minerals, so cheers! Have it, and enjoy. 
Get the recipe here.
---
Related:
Juicy Watermelon Recipes
Spring Dessert Recipes
---
10. Strawberry Lemonade
This strawberry lemonade is one of the best ever summer drinks that kids will love. This homemade juice that ready in just 10 minutes with only 4 ingredients. 

This drink is light, juicy, get strawberry and lemon flavour that makes you fresh and amazing. For the hot summer season, this juice is perfect for relaxing.  You can even freeze the simple tasty juice and fresh-squeezed lemon juice so that making this homemade lemonade is easy any time of year. Enjoy!
Get the recipe here.
---
Suggested: Strawberry Dessert Ideas
---
9. Celery Ginger Lemon Juice
Celery ginger lemon juice is healthy, easy to make with few simple ingredients, and the perfect beverage to heal you inside and out on any day or hot season. 

We know Celery contains essential minerals and vitamins such as folate, potassium, vitamin B6, vitamin C as well as vitamin K. Ginger is always great for your health. To make this juice is so amazing and great for your immune system is constantly working to kill off viruses and bacteria.
Get the recipe here.
---
 Related: Immune System Boosting Foods
---
8. Ginger Turmeric Lemonade
Ginger turmeric lemonade is one of the best remedy juice recipes that help you with lots of problems such as Nausea, Alzheimer's, Carcinogen blocking effects, reducing heart problems. Also, this juice contains Anti-inflammatory properties, Anti-depressant, DNA protection, glow your skin, helps your pain naturally, and many more. 

With lemon, fresh ginger, turmeric root, and black peppercorns make this amazing immune-boosting drink for your holiday or hot days. You can try with blackberries, raspberries, blood oranges with it and get some other delicious flavours.
Get the recipe here.
---
Suggested: Easy Citrus Recipes
---
7. Pink Lemonade
This hot pink juice is so tasty, delicious, and easy to make with few ingredients. This juice is loaded with tons of vitamins, minerals, and antioxidants. 

Get some lemon and beet flavour from this juice and prevent cancer and inflammation. If you need a quick break from work in the hot summer, take this juice and you will get refreshed and relaxed.
Get the recipe here.
---
Related:
Holiday Cocktail Recipes
Pink Cocktail Recipes
---
6. Green Juice Recipe
This green juice is loaded with celery, green apples, cucumber, and lemon. It is a healthy and delicious drink for any time whenever you want and great for weight loss. It takes only 5 minutes to prepare at home. 

This is one of my favourite juice recipes that I could make this refreshing juice without a juicer! You can store it in the freezer for the next day and is pack in all the nutrients. 
Get the recipe here.
---
Suggested: Amazing Mojito Pitcher Recipes
---
5. Blood Orange Lemonade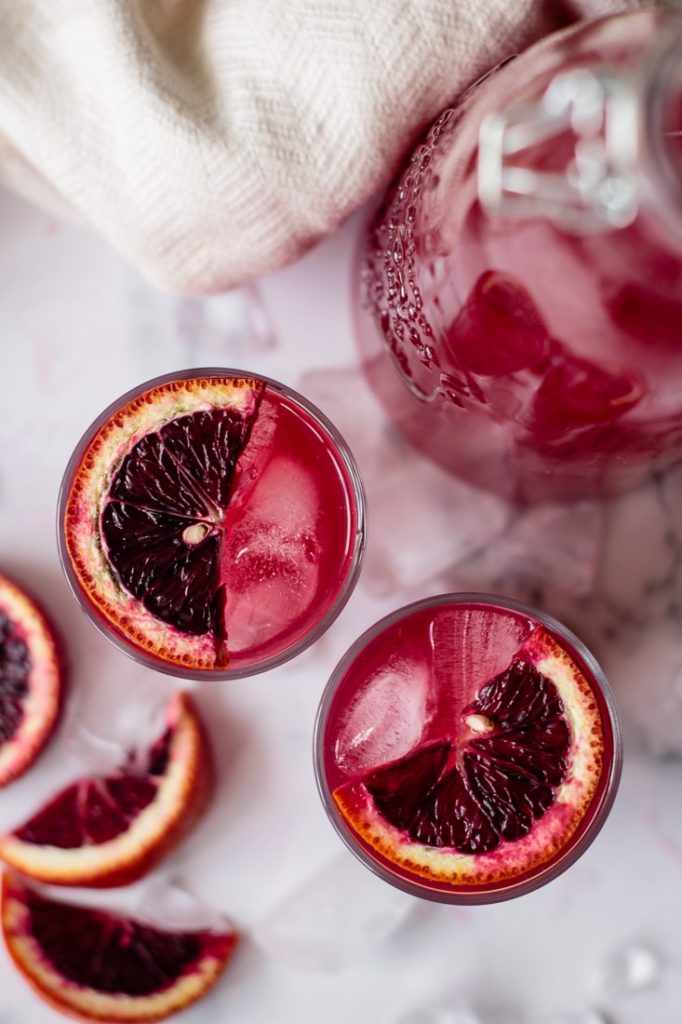 Blood orange lemonade is tangy, refreshing, and quick to prepare with few simple ingredients. Now spring is almost here, there's nothing better than to enjoy all the blood oranges we can. These oranges give your body a boost of Vitamin C and keep your body healthy. 

Take some blood oranges and squeeze juice from it and make it with other few staples and ready to serve. Taking this juice, there are a few studies that suggest Anthocyanin can help prevent cancer and have anti-inflammatory properties. So make it and enjoy!
Get the recipe here.
---
Related: Thanksgiving Cocktail Ideas
---
4. Orange Carrot Ginger Juice
This orange carrot ginger juice is so tasty, healthy, and get an amazing flavour. This juice is refreshing, light, and perfect for breakfast with any dish. 
Get the recipe here.
---
Suggested: Weight Watchers Smoothie Recipes
---
3. Simple Lemonade Recipe
Simple Lemonade Recipe – if you ask me what is the drink that can be made in the shortest time, I would recommend this lemonade Recipe. It is very refreshing and can be made with only 2 ingredients. If you haven't tasted it, give it a try and you'll fall in love with it. 
Get the recipe here.
---
2. Carrot, Apple, Ginger Juice 
This 3 ingredient juice is very tasty and also very healthy. You can easily make this juice within 5 minutes. It will produce 116 calories per serving.
---
1. Orange Juice
This orange juice is a cool and tasty drink for these summer days! Easy to make with few ingredients and ready in just 10 minutes or less. Make it at home and enjoy the summer. 
Get the recipe here.
---
BONUS
Pineapple Mint Lemonade
Pineapple mint lemonade is light, tasty, and refreshing drink for summer days. If you love pineapple, must try this delicious juice or drink. 

With a few simple kitchen staples and fresh juicy pineapple, you can easily make this juice. It looks so cool and amazing in flavour that filled with lots of fresh juicy pineapples.
Get the recipe here.
---
If you like this article about Juice Recipes, please share this with your friends on Facebook, Twitter, and Pinterest. Also, you can subscribe to my blog to get all the latest articles first on your mobile.
SHARING IS CARING!
FACEBOOK | TWITTER | PINTEREST
Did you like this recipe and make it later at home? SAVE this pin to your favorite board on Pinterest!