Drinking water is a very important part of our life for a healthy body and a glowing complexion. But sometimes for our busy work, we forgot that we have to drink lots of water in a day. That time you need a fruit infused water recipes or detox water that makes you refresh and keep balance your body.
But I understand and got it if you think that drinking eight 8-ounce glasses every day, simple old H2O can be annoying. Adding some ingredients (like cucumber, lemon, ginger, or any kind of fruits) to your water not only gives it a fresh and unique taste, but it also cleanses and detoxifies your system.
What is Detox Water?
The word you hear is 'detox', you can also be called fruit infused or flavored water. Detox means this Detox water aims to detoxify our bodies. To get a flavor adding fresh fruits, vegetables, or/and herbs makes a nice infused water for your weight loss, balance your body, and for your glowing skin.
Adding the ingredients release from the liquid with certain nutrients over time and enhance its taste. So all the vegetables or fruits cut into small or large pieces and drop into the water and mix it. This drink not only helps to hydrate your body but it also provides together with vitamins and minerals.
Does detox water just help you lose weight?
These infused water recipes help you reach your weight loss goals, reduced bloating, improved mood and help you for better digestion. Also, this water helps to clean your complexion when you take a healthy food choice infused water. Water detox recipes also help reduce inflammation in the body by removing toxins from your organs.
On the other hand, citrus fruits like lemon and grapefruits release toxins from your body and boost your metabolism, while berries are high in antioxidants and mint stimulates digestion. I already share some tasty citrus recipes in my blog to boost your immune system in your busy days.
    Also, you can make these tasty detox water and store it in a pitcher or water bottle. But if you plan to include water detox recipes in your daily routine, you can buy affordable infuser pitchers and infuser water bottles to take your hydration routine to the next level.
Now here I'm sharing some delicious and flavorfull infused water recipes or detox water recipes below that are great for your weight loss and hydrate your body in your busy work. Choose your best and favorite water recipes and make it at home, enjoy!
---
[jetpack_subscription_form subscribe_placeholder="Enter your email address" show_subscribers_total="false" button_on_newline="false" submit_button_text="Sign Up" custom_font_size="16″ custom_border_radius="0″ custom_border_weight="1″ custom_border_color="#f78da7″ custom_padding="15″ custom_spacing="10″ submit_button_classes="has-f-78-da-7-border-color has-text-color has-very-light-gray-color has-background has-vivid-red-background-color" email_field_classes="has-f-78-da-7-border-color" show_only_email_and_button="true"]
---
21. Cucumber Lemon Mint
This cucumber lemon mint water is the best refreshing easy to make a drink that will supercharge for hydration!
Get the recipe here.
---
Related: Healthy Cucumber Salad Recipe
---
20. Blueberry Orange Water
The flavor of blueberry and orange makes a nice combination of infused water that so flavorfull and healthy, comfortable, great for your weight loss.
Get the recipe here.
---
Suggested: Banana Smoothie Recipe
---
19. Vitamin Water
This vitamin water is loaded with fresh fruits and herbs that makes a flavor, healthy nutrients. Must try this fruit-infused water in any holidays or anytime whenever you want.
Get the recipe here.
---
Related: Weight Watchers Smoothie Recipes With Smartpoints
---
17. Kiwi Blackberry Infused Water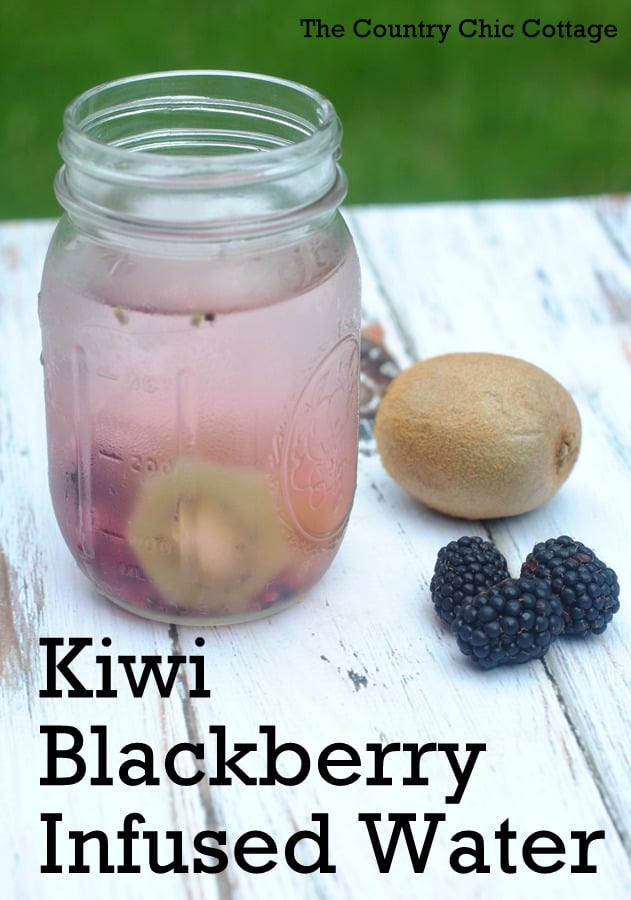 If you love blueberry? Make this kiwi and blueberry infused water drink with a few simple steps and enjoy it!
Get the recipe here.
---
Suggested: Green Smoothie Recipe
---
16. Ginger And Lime Water
Ginger and Lime water make a nice flavorfull combo that you can enjoy with this drink right away.
Get the recipe here.
---
---
15. Chia Fruit Water
Have you ever eat chia fruit water? Must try this water, it has helped me drink more water throughout the day. The combination and texture of chia seeds and fruits make a delicious and flavorfull drink.
Get the recipe here.
---
Suggested: Chia Pudding Recipes For Weight Loss
---
14. Strawberry Basil Water
Enjoy in hot summer with this cool and delicious strawberry basil-infused water.
Get the recipe here.
---
Related: Strawberry Daiquiry Recipe
---
11. Lemonade Recipe
Simple Lemonade Recipe – if you ask me what is the drink that can be made in the shortest time, I would recommend this lemonade Recipe. It is very refreshing and can be made with only 2 ingredients. If you haven't tasted it, give it a try and you'll fall in love with it.
Get the recipe here.
---
---
8. Lemon Ginger Detox Water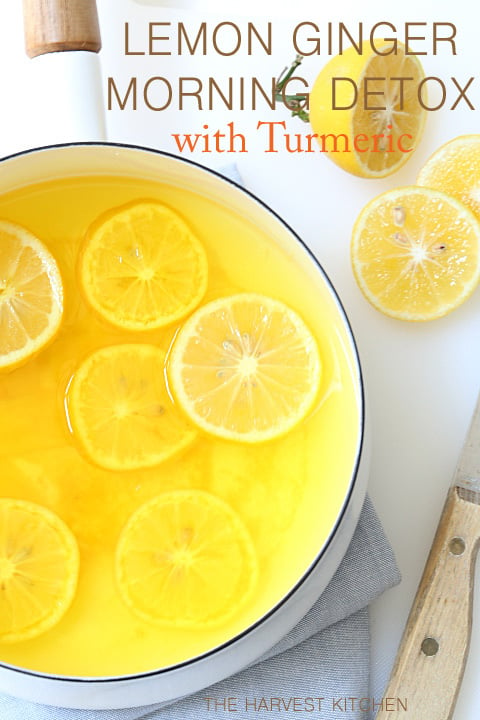 This lemon ginger detox water is the best drink in the morning. This drink is one of my best fruit infused water recipes that I need some much in the morning before taking breakfast. It is rich with vitamin c, antioxidants, and anti-inflammatory and detoxifying benefits.
Get the recipe here.
---
Suggested: Immune Boosting Recipes
---
7. Watermelon Cucumber Water
Watermelon cucumber water is a very tasty and healthy drink refreshing way to cool off when you take it on hot days. This healthy infused water is sugar-free and loaded with full of nutrients.
Get the recipe here.
---
Related: Refreshing Cocktail Recipes
---
6. Strawberry Lemon Infused Water
Strawberry Lemon Infused water is one of my favorite detox water that makes me satisfied when I'm so thirsty. Loaded with Strawberries, lemon, and mint that you get nice infused drink in your daily water intake.
Get the recipe here.
---
5. Raspberry, Rose Petal And Vanilla Water
This Raspberry, Rose Petal, And Vanilla Water is unique and delicious infused water packed with nice flavor.
Get the recipe here.
---
---
3. Pineapple Orange Ginger Infused Water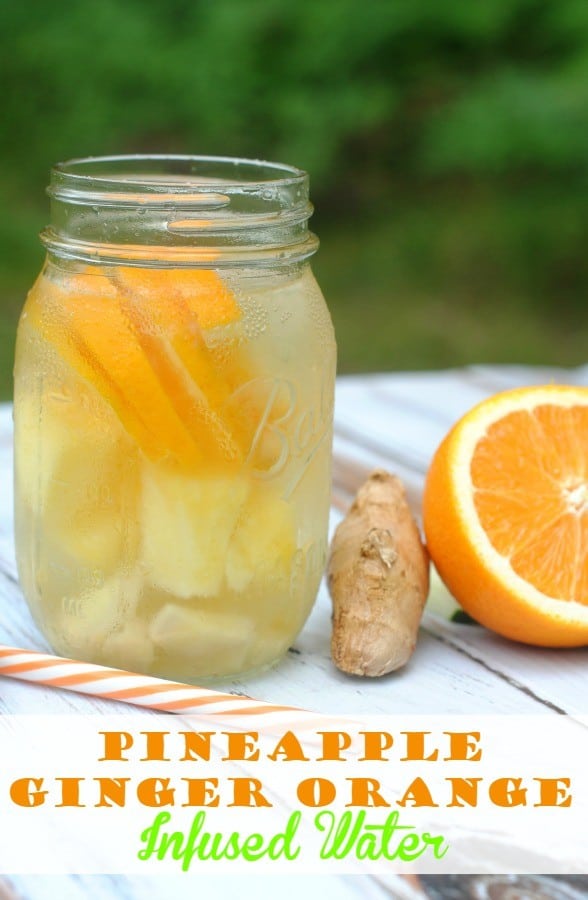 Get a nice flavor combination of pineapple and orange with ginger water in this busy workday. This is so refreshing and gives me great flavor without added calories.
Get the recipe here.
---
2. Strawberry Mango Water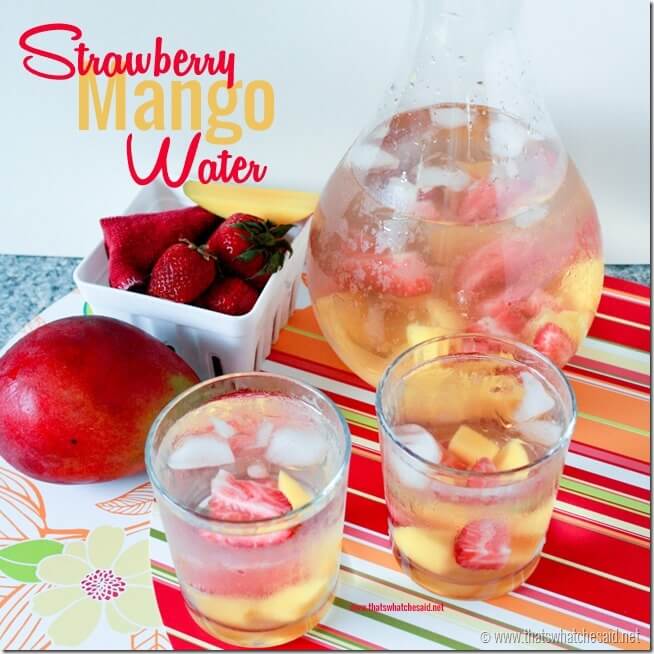 Strawberry lover? The combination of strawberry and mango makes a nice healthy flavor. Both fruits are very fragrant, so the water smells delicious, even before it touches your taste buds!
Get the recipe here.
---
Related: Orange Juice Recipe
---
1. Pomegranate Mint Water
I love eating a pomegranate. Try something new with this fruit, make this healthy quick pomegranate mint water at home in this hot summer. Also, it is so refreshing and one of my best-infused water recipes that perfect hydration for those heavy holiday meals!
Get the recipe here.
---
---
If you like this article about infused water, please share this with your friends on Facebook, Twitter, and Pinterest. Also, you can subscribe to my blog to get all the latest articles first on your mobile.
SHARING IS CARING!
FACEBOOK | TWITTER | PINTEREST
Did you like this recipe and make it later at home? SAVE this pin to your favourite board on Pinterest!