Your Halloween festivities are likely to be bigger and more entertaining every year. In fact, you might even be planning a Halloween party with all the stops, including a deliciously scary dinner on October 31. If that's the case, you're going to want to take a look at our favourite dinner ideas for All Hallows Eve. The best part about all of these Halloween dinner ideas is that these recipes are easy to make and you can prepare them with a few simple ingredients very easily.
---
21. Jack-o-lantern Cheese Quesadillas
Need an easy Halloween dinner recipe? These Jack O Lantern Quesadillas are perfect for easy Halloween dinner ideas or a Halloween party snack! These Jack O Lantern Quesadillas are a super easy one to make and great for lunch, dinner, snack or having a Halloween party! There is no need for dealing with yucky pumpkin guts for these jack o lanterns and you still get all the Halloween flare! Plus when you are having a party there is no need to complicate things when you can make easy treats that are just as fun as these Halloween Quesadillas.
Get the recipe here.
---
Related: Keto Pumpkin Recipes
---
20. Halloween Deviled Eggs 
With Halloween sneaking upon us, I'm sure you'll be attending some parties. I mean, they look like dinosaur eggs! They're super cool. It does take a little bit of prep for the eggs, but still relatively easy.
Get the recipe here.
---
Suggested: Keto Egg Salad Recipes
---
19. Halloween Keto Cauliflower Brain
Are you hosting a Halloween party this year? If so, make sure to include this delicious side dish that packs a major flavour punch. Not only does this dish look perfectly creepy and spooky for Halloween, but it also tastes so good and is incredibly easy to make. Not only will you need this for serving, but it also gives a dramatic Halloween flare. It will be ready in no time and you can spend your Halloween with your family and friends. 
Get the recipe here.
---
18. Halloween Pizza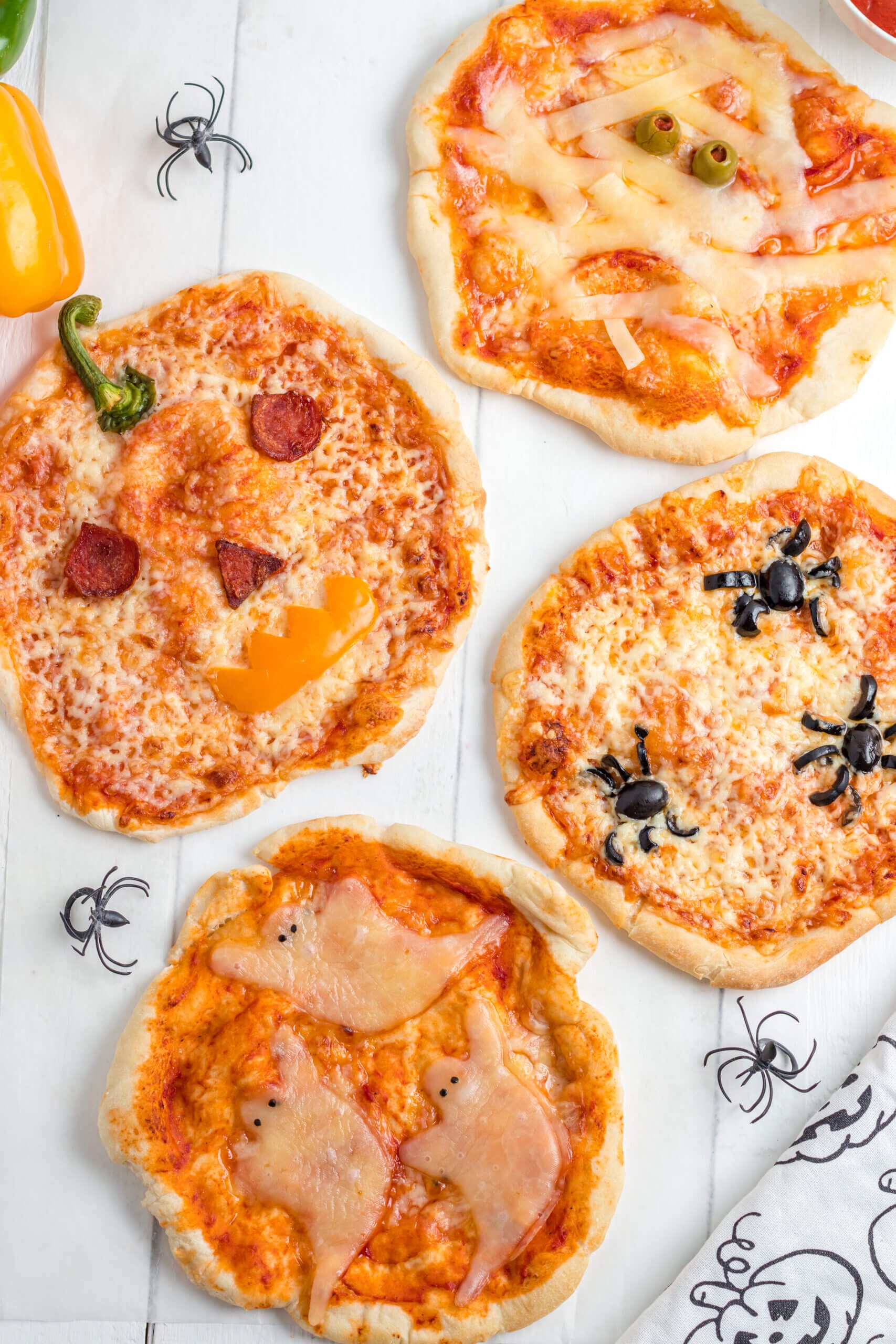 If you're looking for Halloween food ideas to feed the family that is both spooky and quick to make then this Halloween pizza is the recipe for you. We've used a readymade base you can buy in most supermarkets for ease, although you could make your own pizza dough instead.
Get the recipe here.
---
17. Halloween Feet Loaf Recipe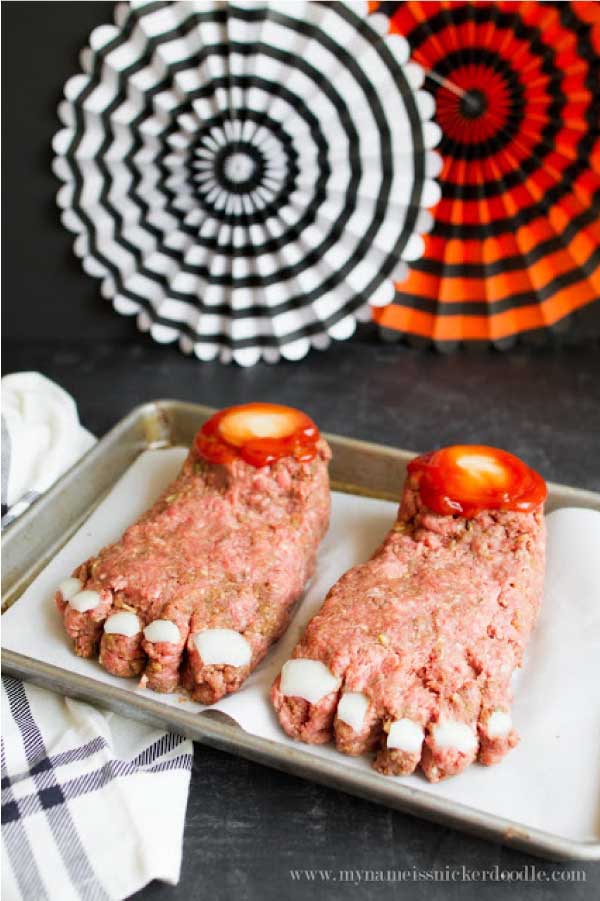 This spooky Halloween Feet Loaf recipe is so delicious, fun and easy to make! I used my favourite meatloaf recipe and added some onion ring stumps, celery toenails, and barbecue sauce blood to create the spookiest Halloween meal ever!! I was looking for a fun and creepy meal for Halloween this year while watching Harry Potter for the 50th time and I thought troll feet would be perfect for making something creepy. You should try this too and surprise your family with these Halloween Dinner ideas. 
Get the recipe here.
---
16. Eyeball Pasta
This easy Eyeball Pasta is a cute and delicious dinner that your family will love and the best part is that it's easy to make! If you'd like your pasta a little brighter you can add a few drops of green food coloring to the water while it's boiling. 
Get the recipe here.
---
15. Spaghetti Squash Puking Pumpkin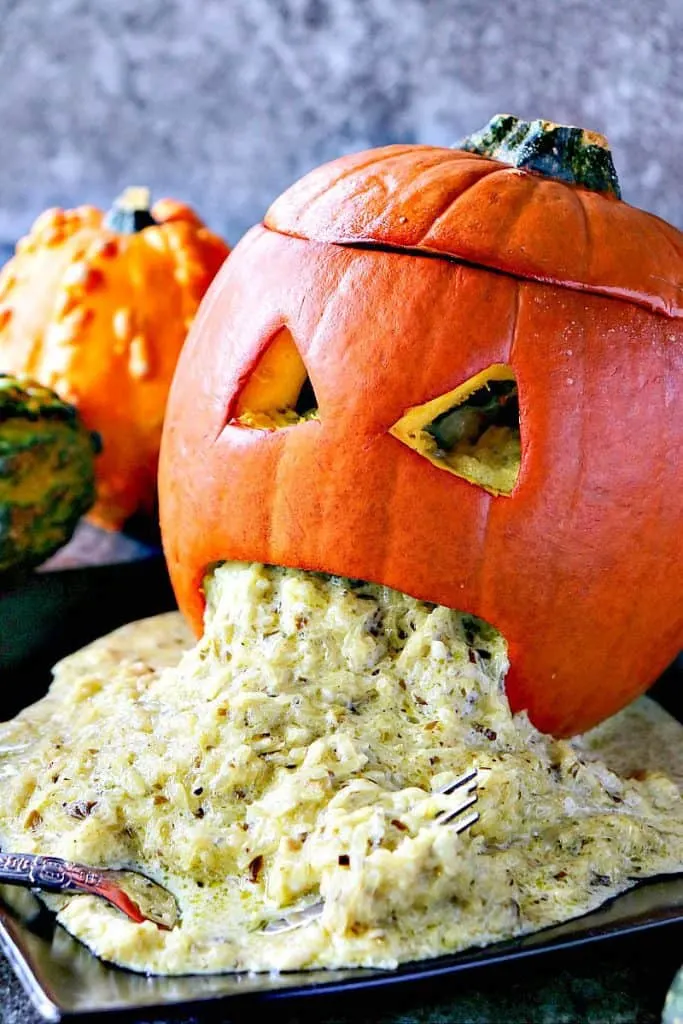 The day I came up with this recipe for pesto spaghetti squash was the day I first spotted the little pie pumpkins in the produce section of the store. The presentation for this recipe is pretty gross and very Halloween'esque, but what I need you to know is that this Basil Pesto Spaghetti Squash is absolutely delicious. The puking pumpkin part is totally optional. 
Get the recipe here.
---
14. Cheesy Mummy Breadsticks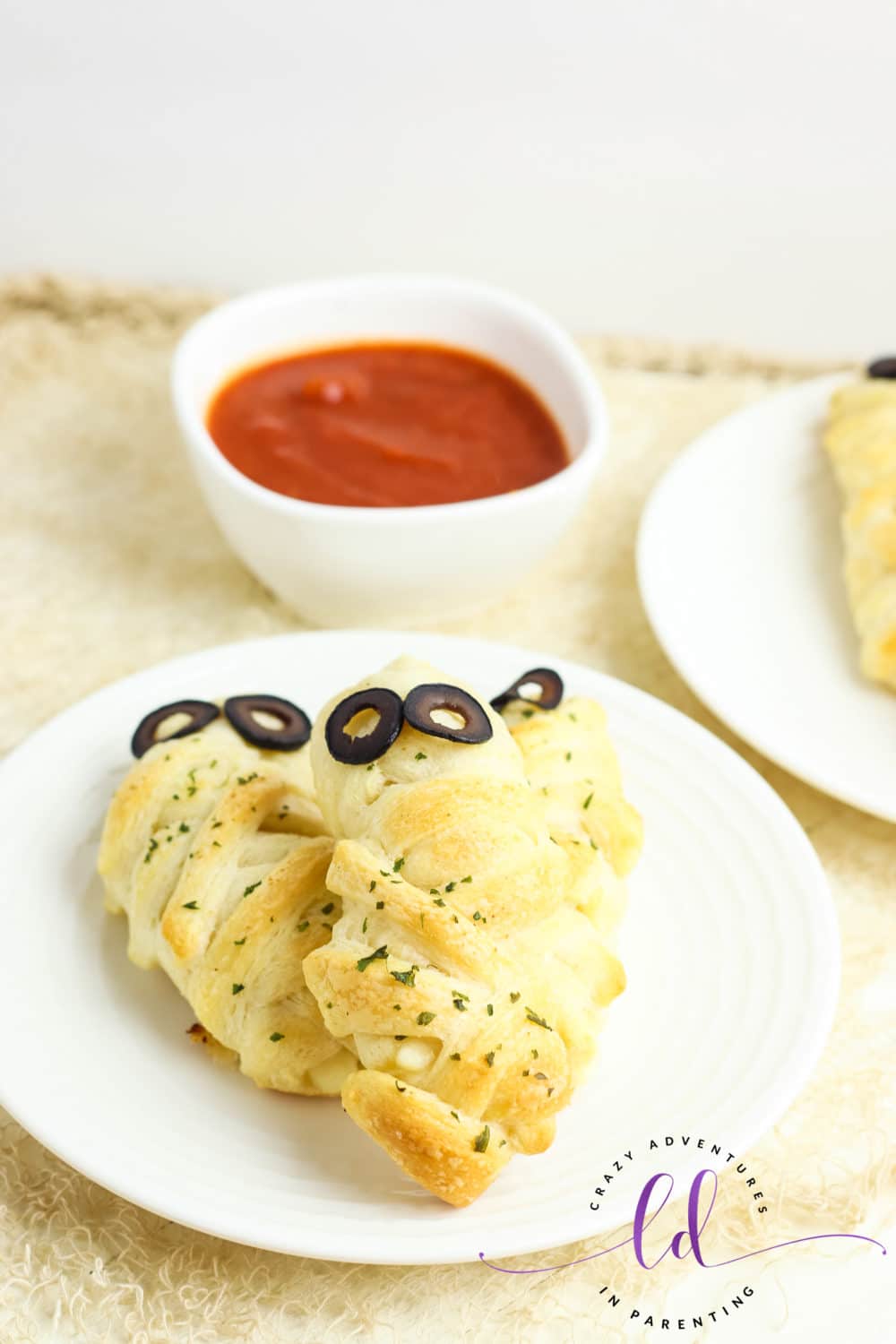 Breadsticks are delicious and sometimes buttery and flaky and it's comforting and it just makes me happy. I like making it in some form all the time, especially using crescent roll dough! I'm not sure why crescent roll dough is my favourite, but it is, and it's especially easy to work with and to create with! If you're in need of a fun and tasty recipe for a Halloween dinner or appetizer for a Halloween party, then look no further than these ooey-gooey cheesy mummy Breadsticks. You should seriously try these Halloween dinner ideas. It's too delicious and everyone will love it. 
Get the recipe here.
---
13. Deviled Eyeballs
These spooky-kooky deviled eyeballs are such fun Halloween party appetizers! They won't just make your party guests giggle, they taste delicious too! All you need are a few simple kitchen tools, a few olives and a spooky movie to play while you work! Let's make creepy-creepy deviled eyeballs!
Get the recipe here.
---
12. Pizza Skulls 
This Halloween creeps out your friends and family by serving them some Stuffed Pizza Skulls. It's really delicious and I have tried it the previous Halloween. You try these Halloween dinner ideas and creep out your family and friends. 
Get the recipe here.
---
11. Halloween Fruit Salad
Looking for easy healthy party food ideas? Full of lots of different fruits including melons & pineapple cut into cat, ghost, bat and pumpkin shaped treats using cookie cutters. Melons and pineapples are perfect fruits for getting big enough slices for cutting shapes out of. You can used canned mandarin oranges, cantaloupe, blackberries, and black grapes.
Get the recipe here.
---
10. Meatball Mummies
Serve up these scary meatballs for Halloween! Halloween meatball recipe is so amazing, fun, and delicious, and ready in just 15 minutes. Everyone will love this amazing Halloween dinner recipe I can assure you. 
Get the recipe here.
---
9. Jack o' Lantern Burgers
Obviously, this easy Halloween dinner is pretty self-explanatory and might give you ideas for other fun and easy Halloween meal options. You can prepare similar grilled cheese sandwiches and/or you can also try these cheese slices and serve them on round crackers too. Once you start getting creative with fun delicious Halloween meal ideas, You will love these recipes too!
Get the recipe here.
---
8. Loaded Mashed Potato Spider Web Casserole
This hearty casserole is as easy as it is filling and the spooky cobweb appearance is the perfect accompaniment to a Halloween menu. They're crispy on the outside, soft and pillowy on the inside, and filled with the same great taste-loaded baked potato yields. Like I said delicious.
Get the recipe here.
---
7. Brimstone Bread 
I love making brimstone bread. This shockingly pitches black and fire red bread looks just like glowing coal of brimstone. Made from hearty white bread topped with a crunchy layer of rice bread, these are guaranteed to be the highlight of any dinner spread. This looks wonderful if you make it in the correct way. So try this as shown in the recipe below and surprise your family with these amazing Halloween dinner ideas. 
Get the recipe here.
---
6. Frankenstein Halloween Sandwich Wraps
Though the outside is almost too cute to eat, these Frankenstein Halloween Sandwich wraps are not just edible, they're delicious! You can basically transform any of your family's favourite sandwiches into these Halloween themed wraps. They're seriously my favourite. Their line of naturally gluten-free and lactose-free cheeses are flavorful, creamy, and perfect for pairing with just about everything! You should also try it. Everyone will love this amazing dish. 
Get the recipe here.
---
5. Bloody Finger Hot Dogs
Ok, this might be my most terrifying Halloween recipe ever and I LOVE it actually. These bloody finger hot dogs are made with only 4 ingredients and ready in just 20 minutes. So what are you guys waiting for? Halloween is coming and you should try these Halloween dinner ideas and your family and friends will legit freak out seeing these creepy dishes. 
Get the recipe here.
---
4. Halloween Shredded Chicken & Rice Stuffed Peppers
This meal was originally born out of leftovers. I love to make the slow cooker shredded taco chicken recipe below for tacos, and we usually have Mexican rice as an aside. These shredded chicken and rice stuffed peppers are cooked in the crockpot (or slow cooker) and great fun meal for Halloween!
Get the recipe here.
---
3. Halloween Pasta Pie 
The Halloween Pasta Pie is an easy dish and quick to make. Meat and cheese-filled pasta baked in a vertical pattern with a saucy top and bottom. Pure comfort food if you ask me, also perfect for Sunday family dinner or dinner with friends. It's too delicious with all the cheese. Everyone is gonna love it so much. 
Get the recipe here.
---
2. Spider Web Taco Dip
Spider web taco dip is simple and vegetarian. This recipe is made with Mexican seven-layer dip and is a great fun amazing meal or appetizer for Halloween. Must try!
Get the recipe here.
---
1. Halloween Chicken and Pasta Skewers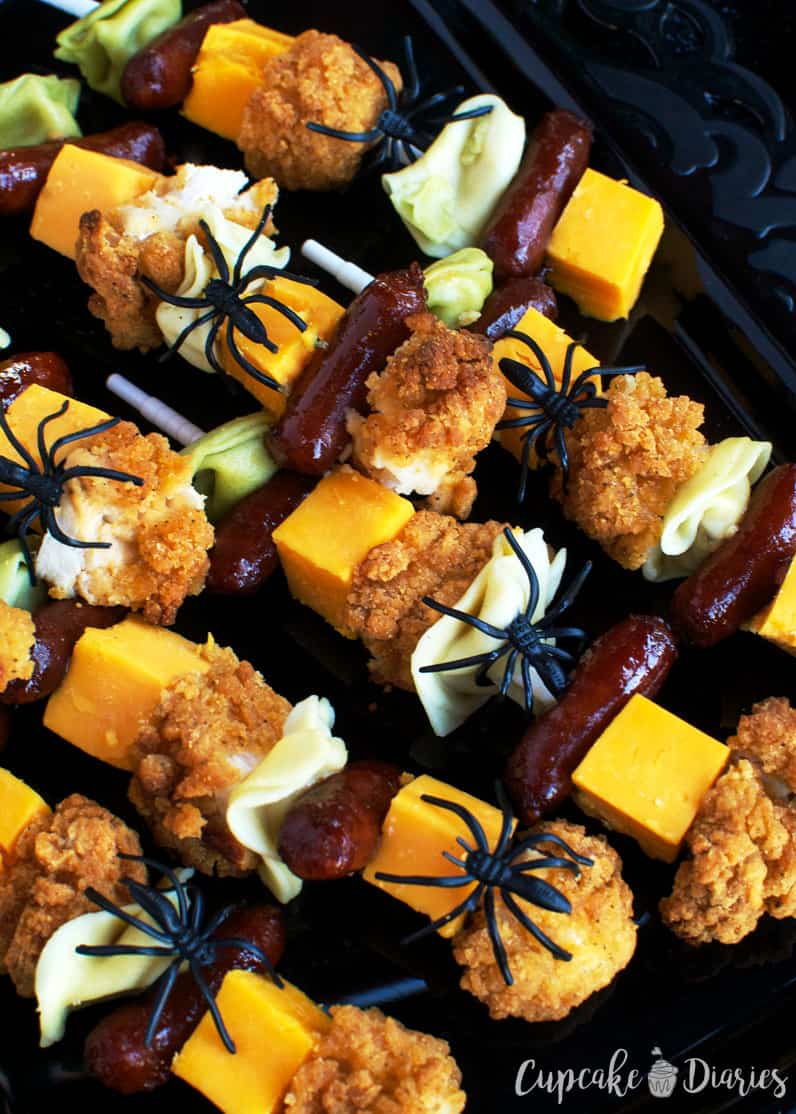 Whether you're making Halloween dinner or planning a party, these savoury skewers are loaded with chicken, pasta, and other goodness for the perfect bite! Savoury Halloween recipes don't have to be complicated at all. Take these delicious Halloween Chicken and Pasta skewers, for example! These skewers are loaded with cheese-filled tortellini, crispy chicken, and other goodness along with creepy spider rings to make the perfect Halloween party appetizer or Halloween meal the whole family will love. Try these amazing Halloween dinner ideas at home and surprise your family and friends – basically, make them freak out. 
Get the recipe here.
---
---
If you like this article about Halloween dinner ideas, please share this with your friends on Facebook, Twitter, and Pinterest. Also, you can subscribe to my blog to get all the latest articles first on your mobile.
SHARING IS CARING!
FACEBOOK | TWITTER | PINTEREST
Did you like this recipe and make it later at home? SAVE this pin to your favourite board on Pinterest!