Fall Days, Thanksgiving and other holidays are coming soon. To celebrate these holidays with guests or friends or with your family you need some delicious recipes and drinks that make you comfortable and enjoyable. Here I share some delicious and tasty pink cocktails that are so easy to make with few simple ingredients and everyone will love to eat.
---
21. Blackberry Thyme Champagne Cocktail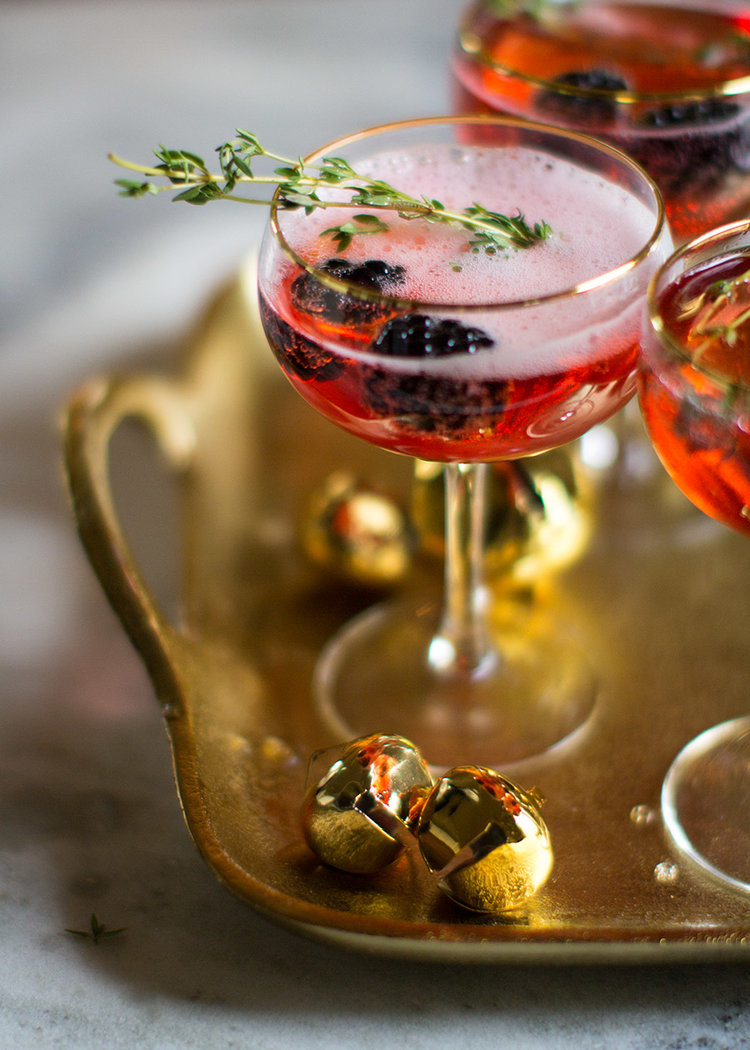 Cocktails are always fun to drink and when it's a nice shade of pink, it looks much yummier with all types of flavours. Blackberry syrup, thyme and bubbly make this Blackberry Thyme Champagne Cocktail mouthwatering and can be enjoyed anytime. Easy to make this drink is ready in just 10 minutes or less for any holiday or any occasion or Thanksgiving.
Get the recipe here.
---
Related: Holiday Cocktail Ideas
---
20. Strawberry Mojito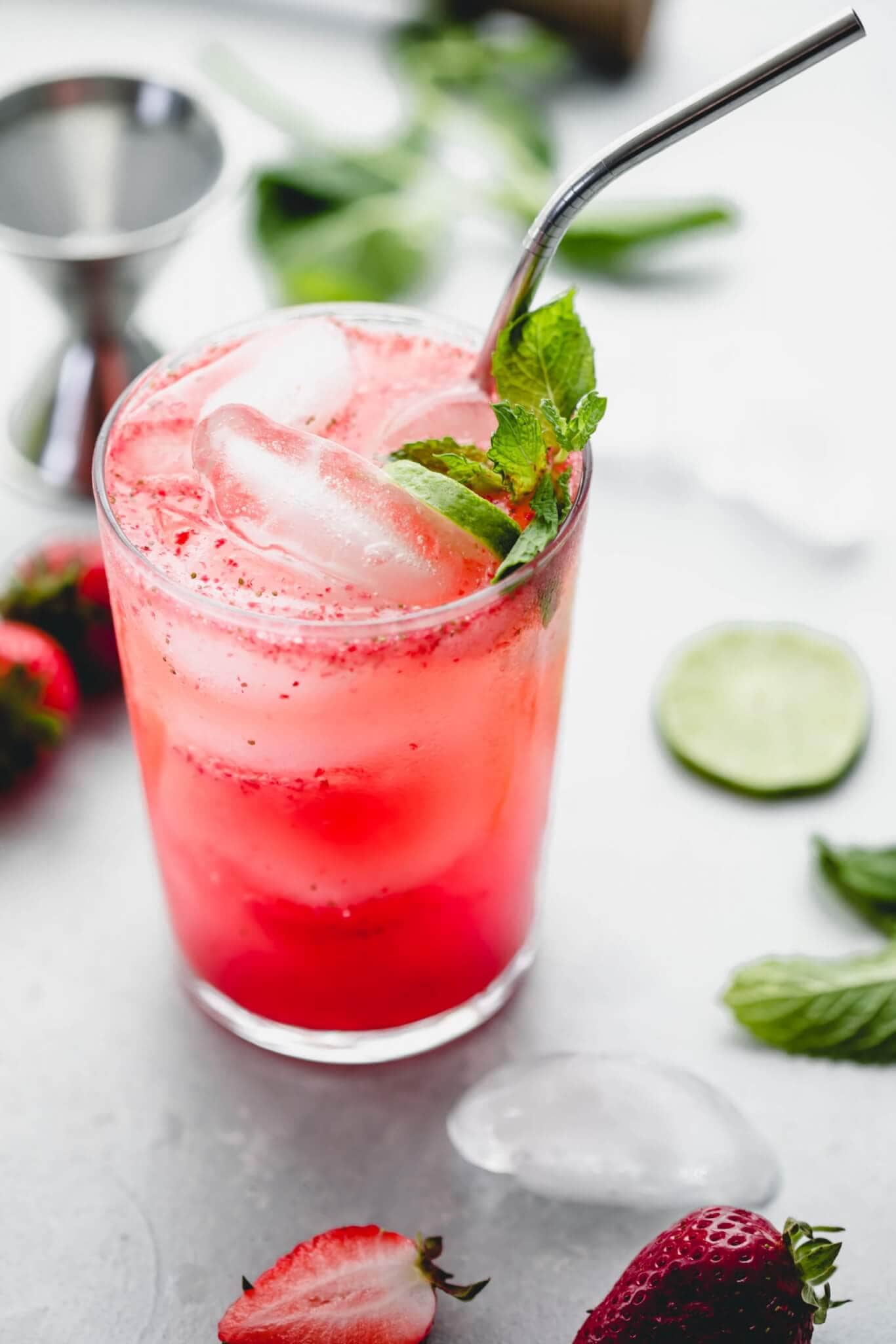 Mojitos are always the perfect pink cocktails for the summer seasons. Mint, rum and lime juice combine with delicious strawberries in this lovely cocktail. Use light rum in this easy mojito recipe and use the one you love to drink. This strawberry mojito with slight rum makes it so amazing to drink.
Get the recipe here.
---
Suggested: Delicious Mojito Pitcher Recipes
---
19. Pink Champagne Margaritas 
Pink Champagne Margaritas are the perfect cocktail for weddings, showers or girls night out. Adding in a pop of sweet pink lemonade makes the classic champagne margaritas much more delicious than it already is. This is one of the best pink cocktails that you need to try.
Get the recipe here.
---
Related: Thanksgiving Cocktails
---
18. Cotton Candy Margaritas
After a long day of work, you wanna chill with a cocktail then these cotton candy margaritas will be your favourite in no time. This recipe uses your two usual margarita ingredients: tequila and lime juice, but it adds a couple of new yummy ones: cream soda and cotton candy. It's really easy to make and these pink cocktails will relax your mind.
Get the recipe here.
---
Related: Summer Drink Ideas
---
17. Pink Senorita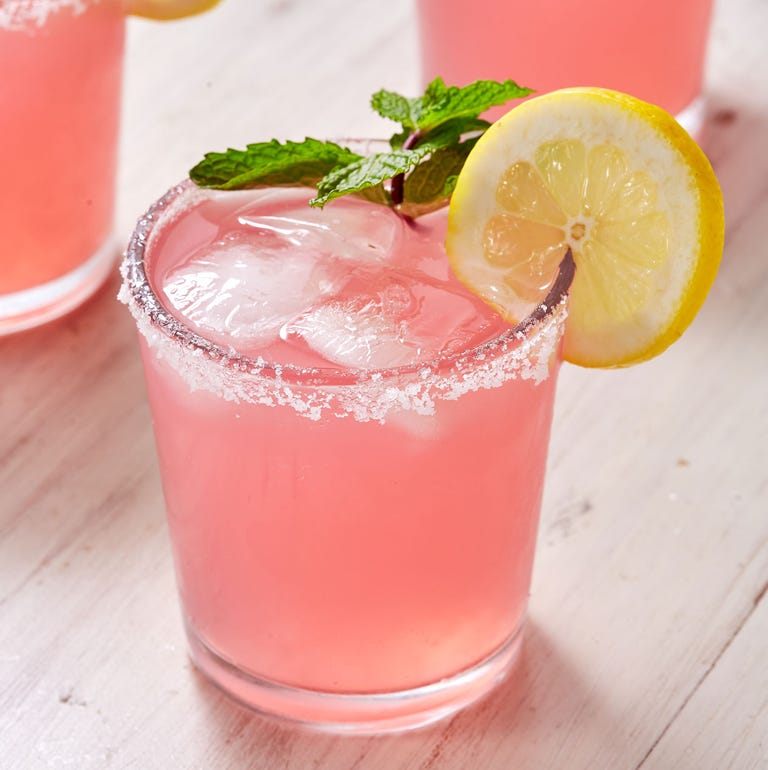 Pink cocktails recipes are the perfect ones for any parties or holidays. And pink senoritas are just amazing like a margarita with a softer, cuter side and ditches limes for pink lemonade and lemon juice. You should definitely try this lovely drink.
Get the recipe here.
---
Suggested: Fruit Cocktail Ideas
---
16. Grapefruit and Rosemary Cocktail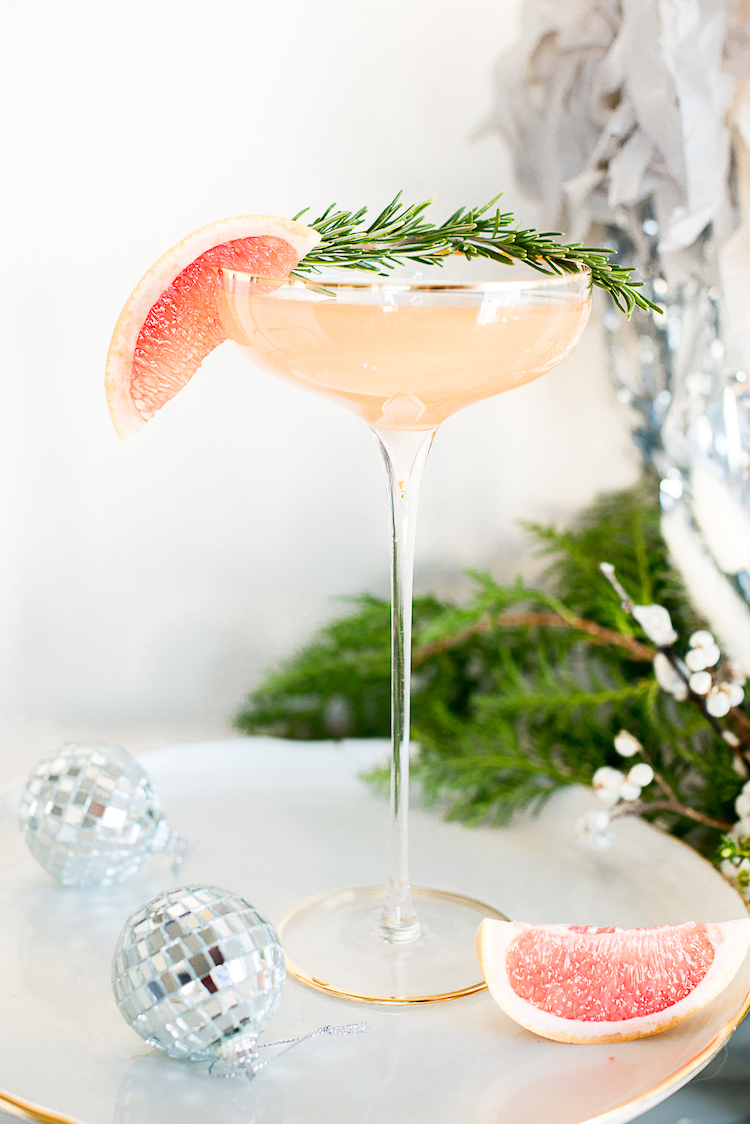 For a light and refreshing drink, this Grapefruit Rosemary Cocktail recipe is perfect. Those who are a fan of grapefruit will love these pink cocktails recipes so much and for those who don't like grapefruit, it's not a big deal as this will surely change your mind. If you are entertaining, especially for brunch, this is a great go-to.
Get the recipe here.
---
Related: Holiday Coffee Recipes
---
15. Refreshing Watermelon Mojito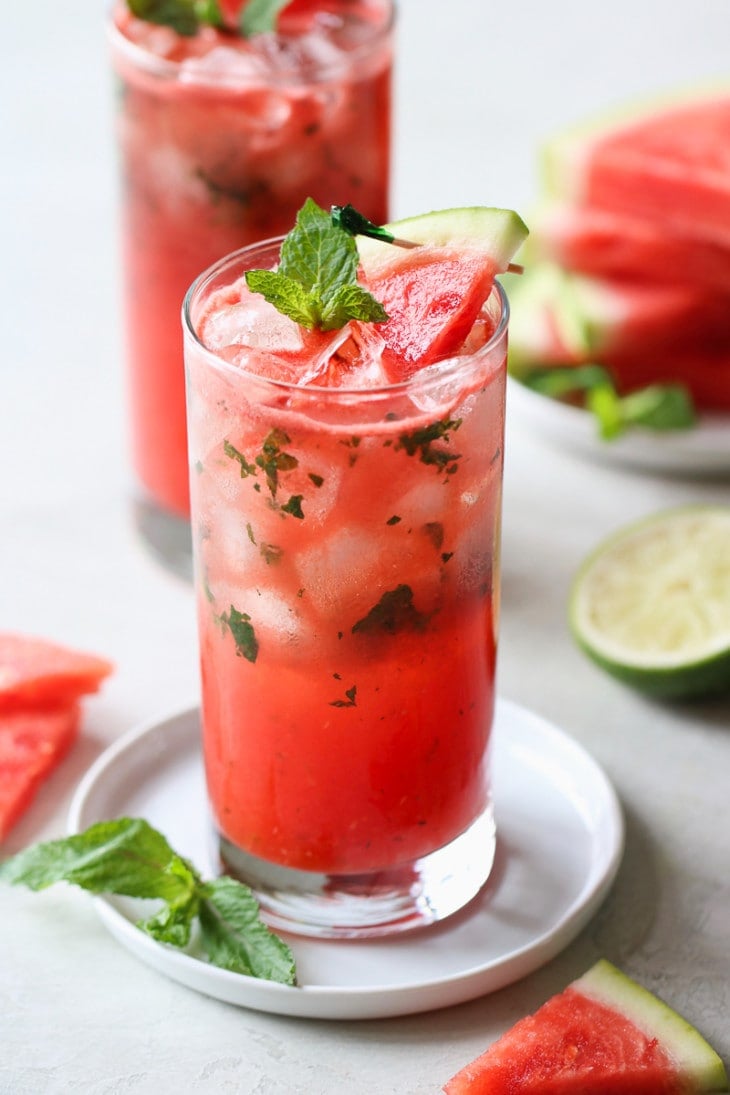 The perfect cocktail for the summer season is the watermelon mojito. It's really refreshing and is perfect for sipping on when the sun is shining and the temps are rising. This cocktail is refined sugar-free, made with fresh mint and juicy watermelon. It's really easy to make with just 5-ingredients, no simple syrup, and no added sugar.
Get the recipe here.
---
Suggested: Watermelon Recipe Ideas
---
14. Raspberry Lemon Drop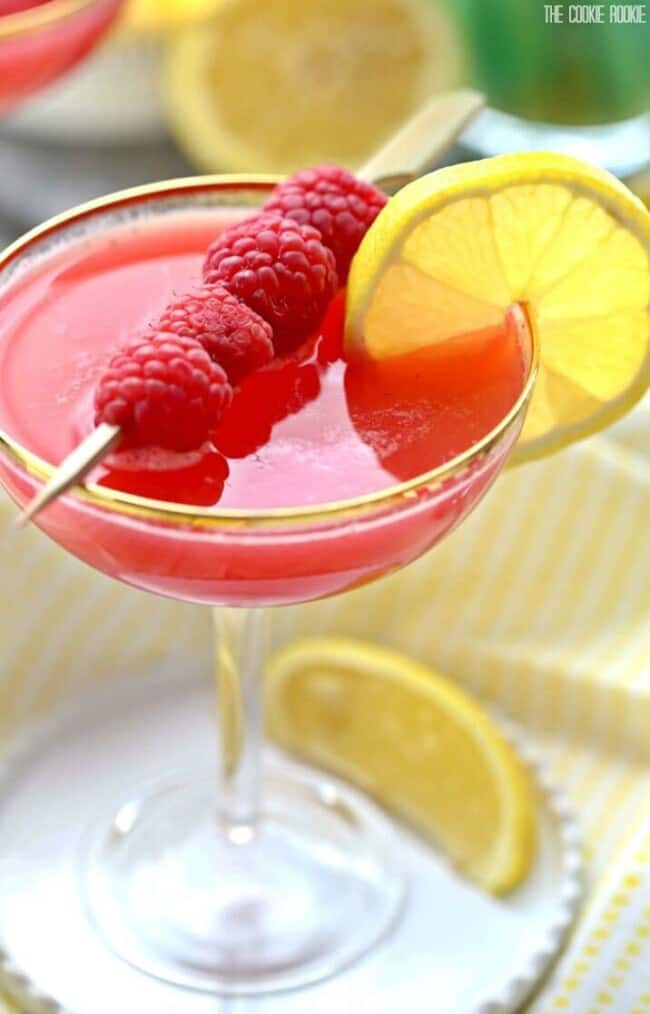 Raspberry lemon drops are the perfect cocktail for summers. It's tasty, refreshing and is just the right balance of tart and sweet. The muddled raspberries add a fun and vibrant twist to the classic lemon drop, making this cocktail great for any occasion. You are gonna love this recipe surely.
Get the recipe here.
---
Related: Satisfying Juice Recipes
---
13. Kinky Shirley Temple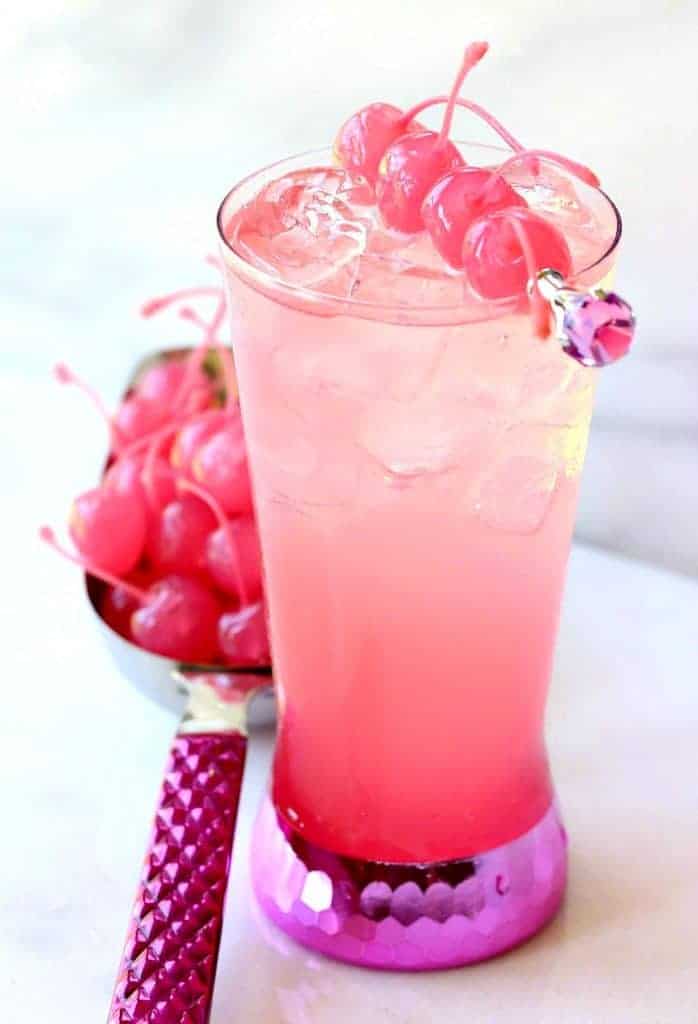 This kinky Shirley temple is quite an interesting name for a cocktail, isn't it? Kinky Liquor is what gives this grown-up Shirley Temple cocktail a fun pink color and also a super tasty flavor. If you can't find pink cherries, just use the classic red color. Made with kinky liqueur and 7Up, it's fizzy and tasty and you are gonna love it. This is one of my favorite pink cocktails that you will love.
Get the recipe here.
---
Suggested: Aam Panna Recipe
---
12. Pink Vodka Lemonade Cocktail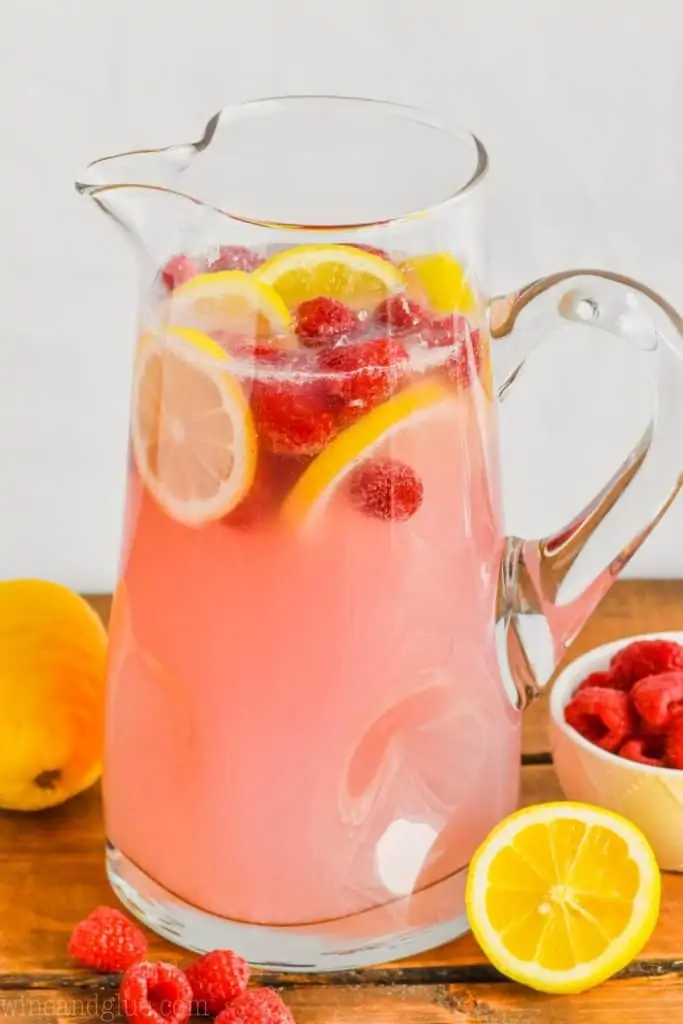 If you wanna chill with friends and party all day, then this pink lemonade vodka punch is the perfect summer pink cocktails recipe. Made with only three ingredients, this cocktail is really easy to make and can be stretched to please a huge crowd.
Get the recipe here.
---
Related: New Year's Eve Cocktails
---
11. Cranberry Ginger Fizz Mocktail
This cranberry ginger fizz mocktail is the perfect one for a summer day when you are out in the pool and chilling. It is made with ginger and lime with a splash of cranberry juice. It's so refreshing and you are gonna enjoy it so much that you will just crave more every time. This is one of the best pink cocktails that everyone will love.
Get the recipe here.
---
Suggested: Virgin Mojito Recipe
---
10. Pomegranate Margarita
These spicy pomegranate margaritas are delicious and amazing in flavor and perfect for a game night or any party. I loved it so much that I often make it and as it's no hard work to make so you can definitely make it anytime you want. You will really love this pink cocktails recipe I am sure.
Get the recipe here.
---
Related: Vegan Cake Recipes
---
9. Strawberry Bellini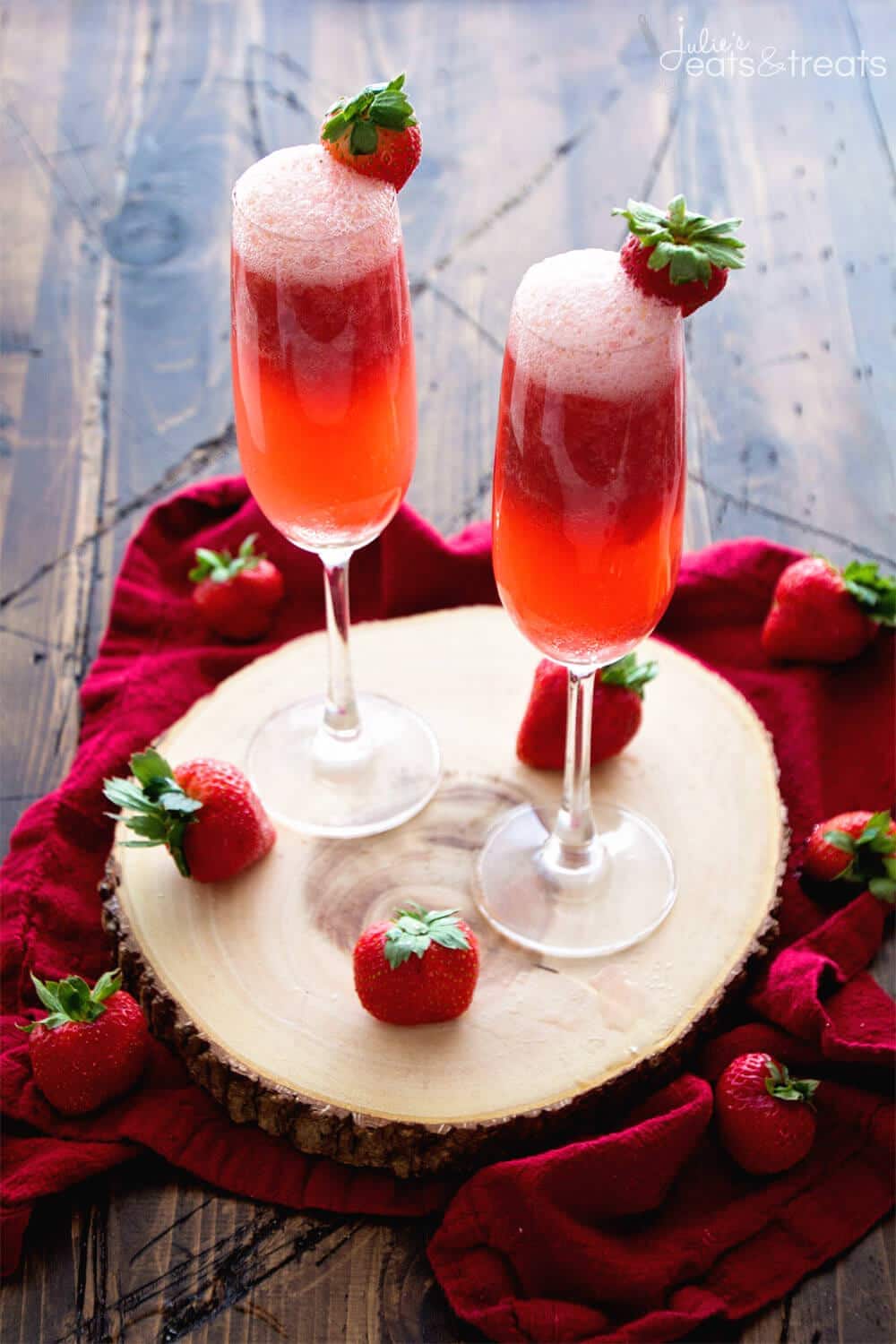 This Strawberry Bellini is just too perfect that you are gonna crave more once you taste it. Made with fresh strawberries, Brandy and Sparkling Moscato, it's really easy to make. This pink cocktail recipe will be your favourite in no time. Do try this at home if you have a festival going on.
Get the recipe here.
---
Suggested: Strawberry Dessert Recipes
---
8. Cosmopolitan Cocktail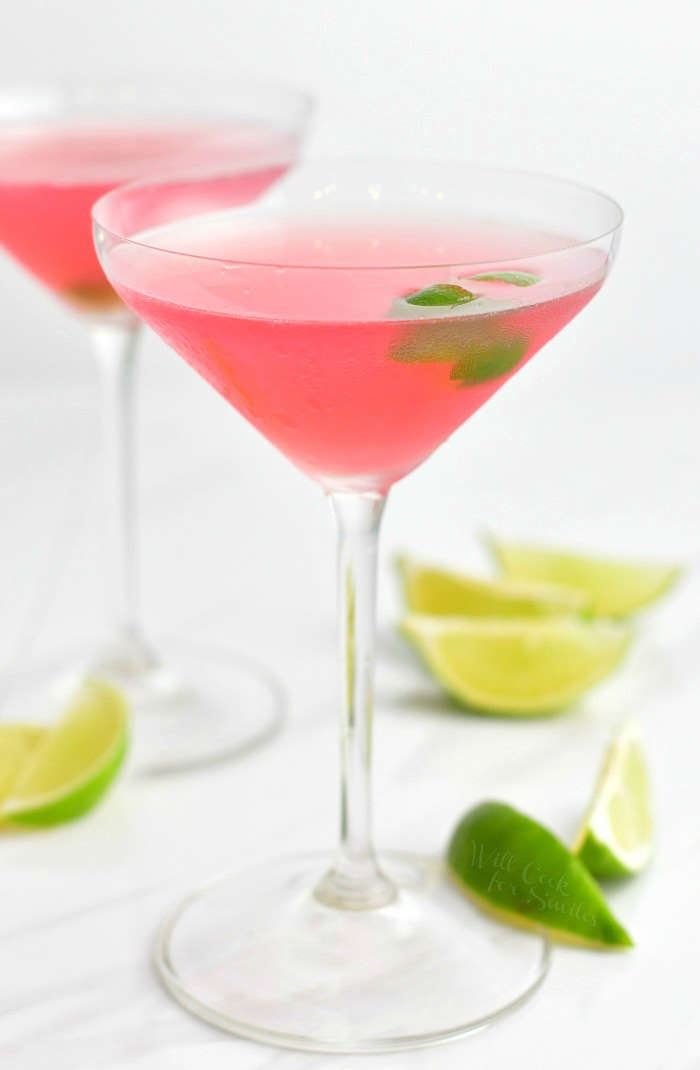 This Cosmopolitan cocktail is a popular blush-pink cocktail with a light, crisp flavour of sweet and tart notes from cranberry juice and fresh lime juice. It's a simple combination of vodka, orange liqueur, lime juice, and cranberry juice and becomes so delicious and tasty. As it's just too easy to make and will be ready in a few minutes so you can make it anytime you feel like it. 
Get the recipe here.
---
Related: Keto Cream Cheese Desserts
---
7. Cherry Cocktail
This cherry cocktail is an awesome drink especially for those who love cherries just like me. I can't stop myself from making this cocktail whenever I get time. The Cherry Bomb is one of those cheerful and slightly girly-looking cocktails that pack a proper punch. 
Get the recipe here.
---
Suggested: Vegan Dessert Ideas
---
6. Raspberry Lemon Mimosas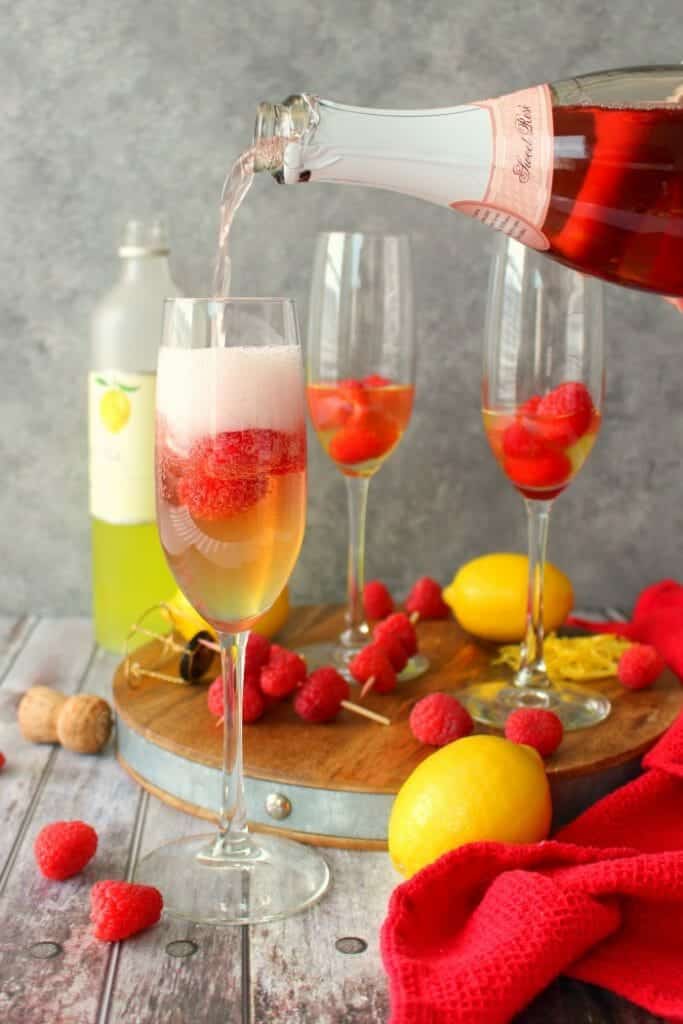 If you love a good brunch cocktail, then try these raspberry lemon mimosas. Wondering how to make it? It's made with fresh raspberries, limoncello liqueur, and topped off with a Champagne Rosé. It's not really acceptable to drink in the morning but you can't help it when this brunch is just too delicious and tasty.
Get the recipe here.
---
Related: Weight Watchers Dessert Recipes
---
5. Pink Lemonade Mimosas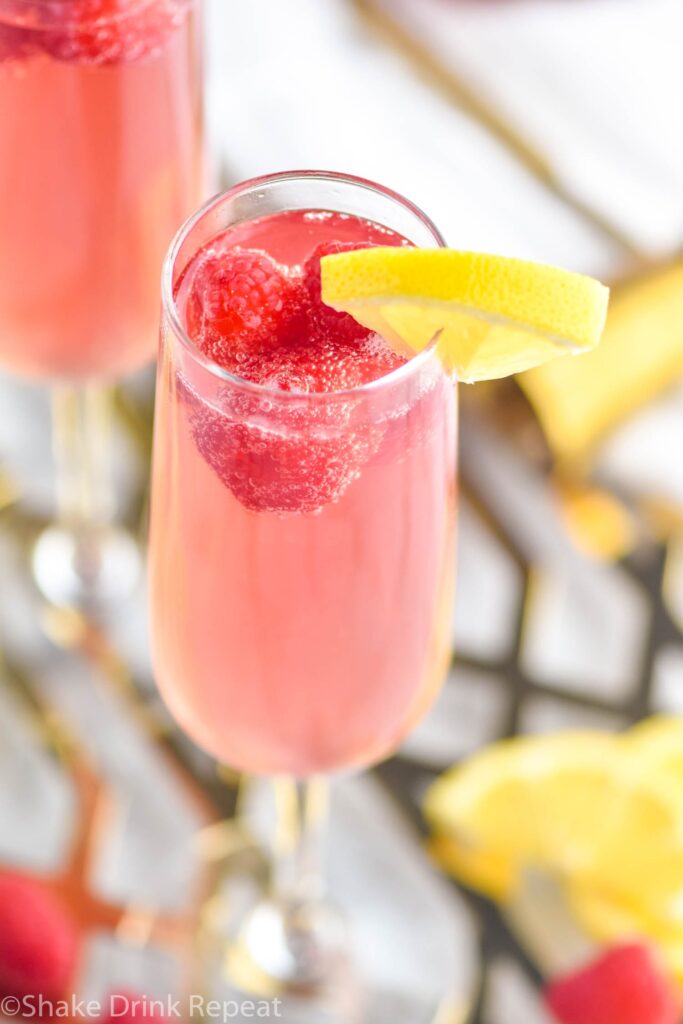 For celebrations like bridal showers, birthday parties, or just wanting to celebrate good company, then these Pink Lemonade Mimosas are perfect for such occasions. The sweet addition of Rosé to citrus vodka and raspberry lemonade in this Pink Mimosa recipe creates a bright and bubbly experience that will make any moment enjoyable.
Get the recipe here.
---
Suggested: Keto Holiday Dessert Recipes
---
4. Creamy Tropical Raspberry Cocktail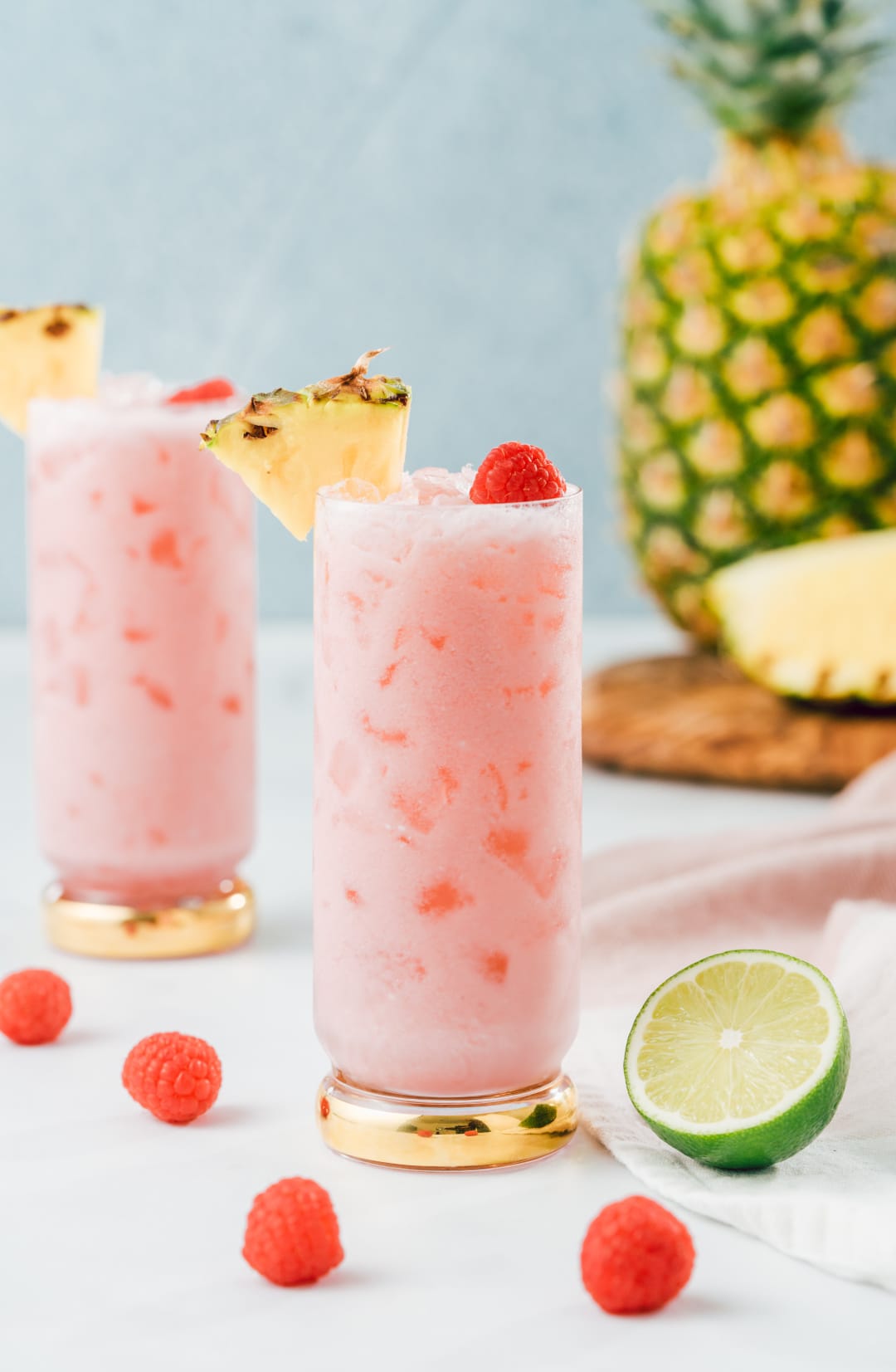 If you love cocktails with a slight rum, then this Creamy Tropical Raspberry Cocktail is a perfect choice. As the temperatures rise and the sunshine approaches, you're going to want a tropical drink in hand and what's more refreshing than this pink cocktail recipe. It's easy to make and you are sure to love it.
Get the recipe here.
---
Related: Fall Dessert Recipes
---
3. Pomegranate Pink Lemonade Punch
Lemonades just make your day refreshing and relaxing on a hot summer day so what's best other than pomegranate pink lemonade punch. Although the inside of a pink lemon is a light pink colour, the overall colour of the lemon juice is similar to that of a regular yellow lemon. This punch is easy to make and tastes really good.
Get the recipe here.
---
2. Raspberry Pink Champange Floats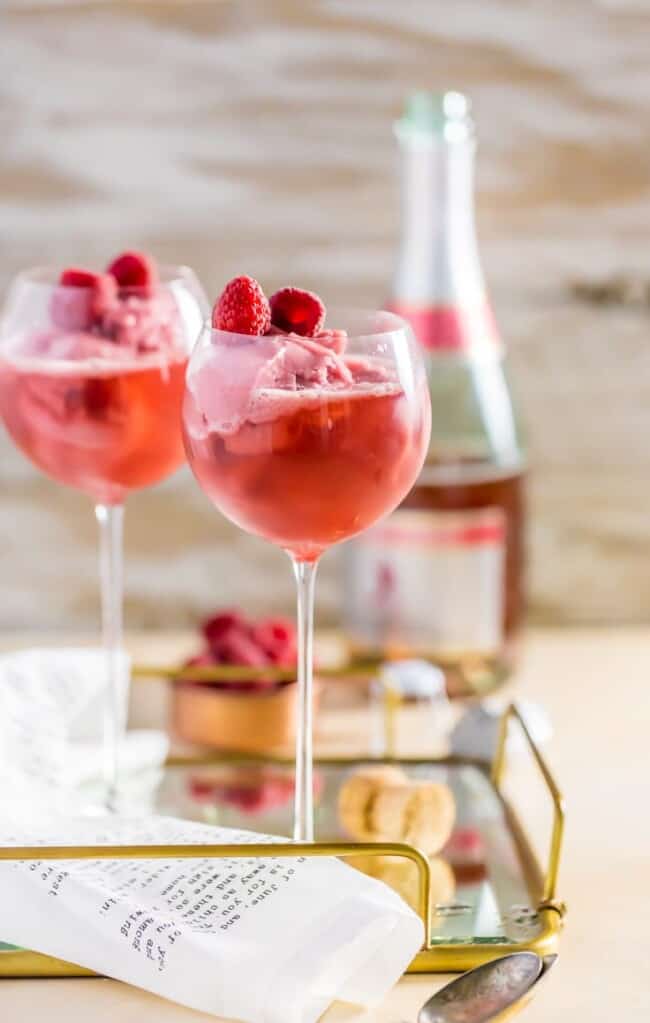 For a nice romantic dessert on valentine's day or any date, these raspberry pink champagne floats are the best and your partner is gonna love it I can guarantee you. Made with pink champagne and raspberry sorbet for a super pink and romantic treat, it's easy to make and what's better than impressing your partner with such an amazing cocktail.
Get the recipe here.
---
Suggested: Spring Dessert Recipes
---
1. Rose Sangria
This Rose Sangria is the perfect cocktail for a day out with friends. It's really easy to make and you can enjoy it anytime you feel like it. The days of spring are much longer which means my drink of choice is changing from heavier cocktails to brighter, fresh libations. You are also gonna love it so try these pink cocktails at home.
Get the recipe here.
---
---
If you like this article about pink cocktails, please share this with your friends on Facebook, Twitter, and Pinterest. Also, you can subscribe to my blog to get all the latest articles first on your mobile.
SHARING IS CARING!
FACEBOOK | TWITTER | PINTEREST
Did you like this recipe and make it later at home? SAVE this pin to your favourite board on Pinterest!