Sharing a meal with your loved one or a group of loved ones is a time-honored tradition for this sentimental holiday. Valentine's Day, doesn't mean only for lovers. Breaking bread with loved ones, no matter the relationship status is a fulfilling way to honor your special someone. Forget what you've heard: Elegant appetizers, indulgent dinners, and decadent desserts make Valentine's Day the ULTIMATE food lovers' holiday. We rounded up our 21 best Valentines day appetizers to make this day one you'll never forget. 

You can choose to make some special treats for your loved ones to relish with these recipes or spend a really special time cooking and enjoying these recipes with them. Both ways, it's a win-win for both you and your loved ones. These recipes are absolutely simple to put together and everyone, even your little ones will enjoy preparing them with you. Create some beautiful moments and memories with your foodie family and friends with my holiday recipes.
---
21. Caprese Phyllo Cups
These simple little phyllo cup Valentine day appetizers could not be easier. All you need are five ingredients — any kind of tomatoes, mozzarella, fresh basil, balsamic vinegar, and of course, my favorite little phyllo cups (or you can make baked cups with wonton wrappers). So quick and easy. And so fresh and delicious! I'm already looking forward to making these again. I have a little hunch that may happen a lot this summer.

If you have a special weakness for finger foods, then these Caprese phyllo cups would be an awesome addition to your evening party snacks. These phyllo cups have such bright and savory flavors that the taste buds will want more and more of them leading to your desire to make them in huge batches for everyone. So enjoy making these Caprese phyllo cups at home as your Valentine appetizers and let me know how everyone at your home liked them.
Get the recipe here.
---
Related: Vegan Appetizer Ideas
---
20. Heart Shaped Valentine Vegetable Pizza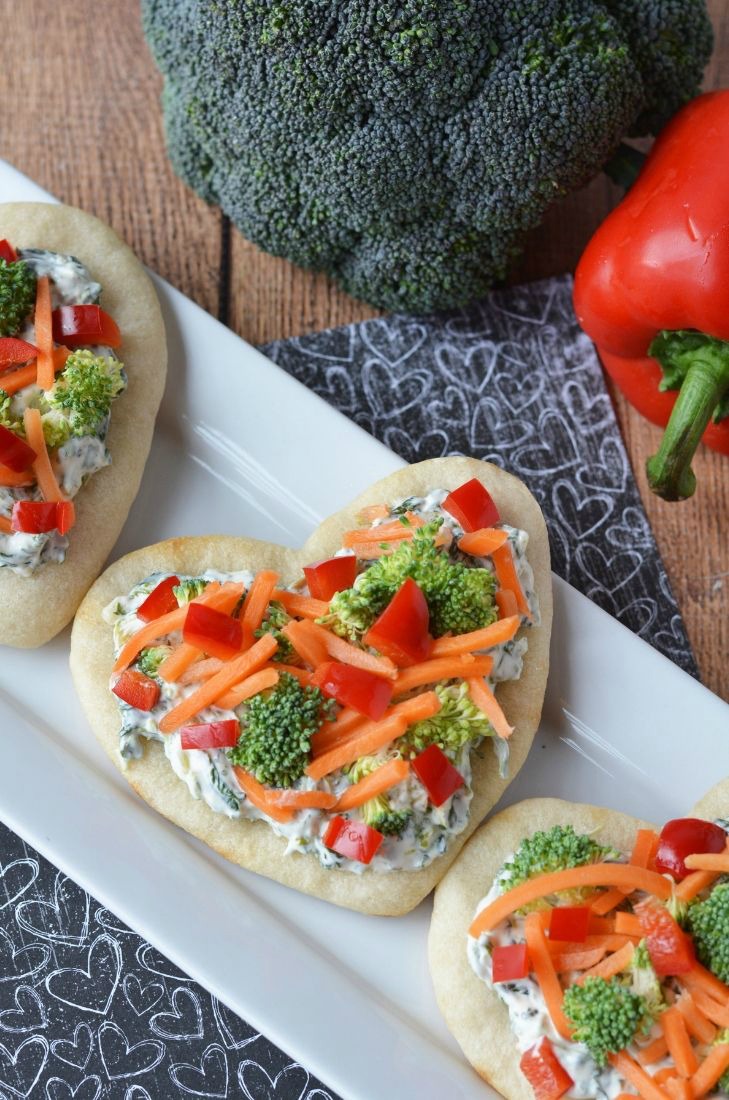 February is Heart Health Month. It's one of the best Valentine appetizers you are gonna get that you can serve for valentine's day or other holidays. So we're going to create heart-shaped pizzas for Valentine's Day. We will bake these heart-shaped pizzas at home rather than buying takeout because nothing compares to the taste of handmade pizza. Every year for Valentine's Day, we really enjoy creating this heart-shaped pizza. We all contribute to the creation of this pizza, which we eat on Valentine's Day night.
Get the recipe here.
---
Suggested: Valentine's Day Dinner Ideas
---
19. Bruschetta Hearts
Valentine's Day is coming near which means it's the perfect time to make some adorable Valentine day appetizers i.e. bruschetta hearts. These Heart Shaped Bruschetta are such simple and easy Valentine appetizers that take just 20 minutes from scratch to make at home. Also, these are cute, romantic, and the perfect holiday appetizers. Heart-Shaped Valentine's Day Bruschetta Appetizers with loads of Tomato, Basil, and Parmesan on top will swoon your love off their feet. It's one of my favorite recipes which I make every Valentine's Day for my partner and family. 

I have to make heart-shaped recipes for Valentine's Day. So before Valentine's Day, you can expect to see a tonne of heart-shaped recipes posted on my blog. Here, you can find whatever dish you're looking for, whether it's sweet or savory. You can find cute heart-shaped side dishes on my blog for Valentine's Day. To make these adorable Valentine's Day appetizers in the shape of hearts, I adapted a few of the recipes from my holiday ideas. One of those is these adorable bruschettas.
Get the recipe here.
---
Related: Holiday Cocktail Ideas
---
18. Cheesecake Stuffed Strawberries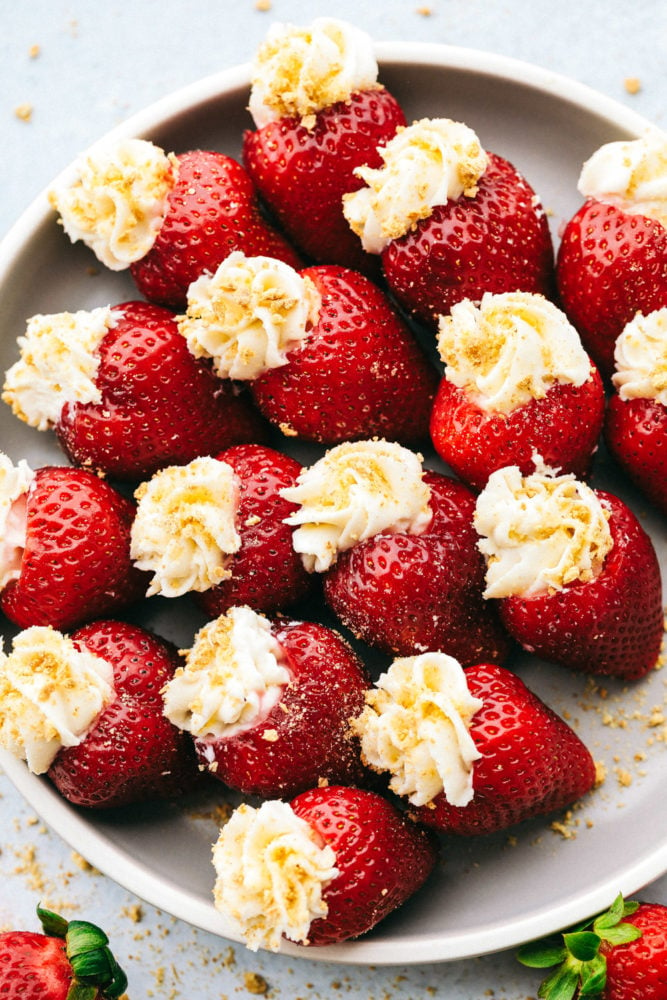 The Cheesecake Stuffed Strawberries recipe is loaded with fresh strawberries stuffed with a cream cheese filling and sprinkled with graham crackers. We like to make these for an easy dessert after any meal. They are a crowd favorite! The cheesecake filling is very simple. It's one of my best Valentine day appetizers ever. We like to prepare these as an easy dessert to serve following any dinner. They are popular with everyone! My husband prepares dinner on Valentine's Day every year. Those scalloped potatoes, steaks, and strawberries packed with cheesecake! These cheesecake-stuffed strawberries are really delectable when dusted with crushed graham crackers or dredged in them. Until you're ready to serve them, store them in the refrigerator.
Get the recipe here.
---
Suggested: Keto Cheesecake Recipes
---
17. Herby Cheese Stuffed Dates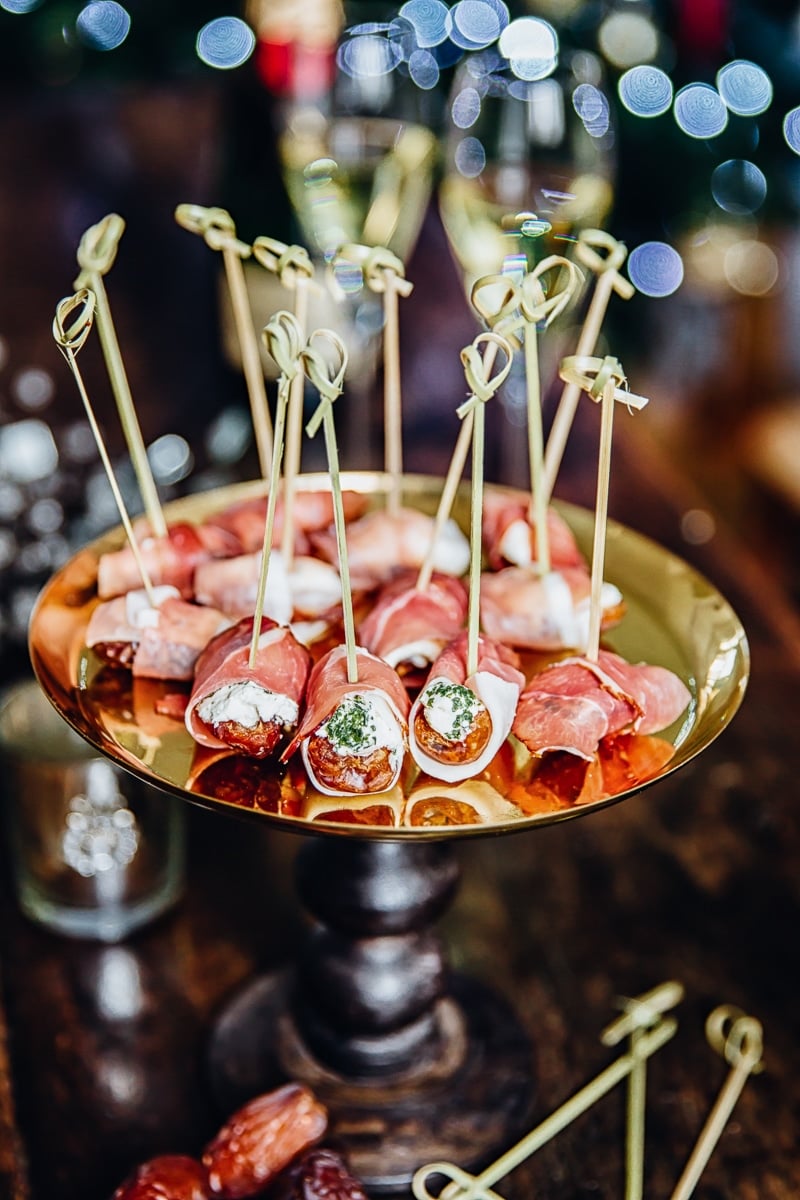 These herby soft cheese stuffed dates wrapped in prosciutto are perfect Valentine day appetizers that literally take minutes to prepare! These hit the mark perfectly. They are simple but packed full of sweet and savory flavors. You will fall in love with them as they take minutes to put together and only require three ingredients. No cooking. No fuss! I have a different kind of love for prosciutto and that's inexplicable. The fact that they are so versatile and can be used in a variety of recipes with such ease, takes my love for prosciutto to a whole new level. I love using them, especially in my starters. These herbal cheese-stuffed dates will land you in an uncontrollable binge-eating situation!
Get the recipe here.
---
Related: Valentine's Day Dessert Recipes
---
16. Strawberry Caprese Skewers
Strawberries are the perfect vehicle for both sweet and savory dishes. These strawberry Caprese skewers make the perfect Valentine appetizers. It saves a lot of time, but these skewers are the perfect combination of sweet and acidic that makes you feel happy with every bite. No other food excites me as much as finger foods do. You must be already aware of that by looking at the incessant amount of appetizer recipes that I post here. So vamp up your Valentine appetizers game with my holiday recipes and you will not only get to taste deliciousness but also receive an immense amount of appreciation for your cooking skills.
Get the recipe here.
---
Suggested: Strawberry Dessert Ideas
---
15. No-Bake Valentine's Day Chex Mix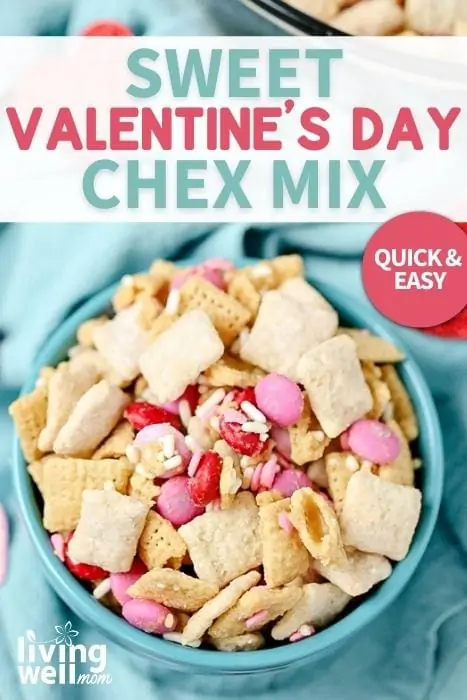 No-Bake Valentine's Day Chex mix is packed with red, white, and pink candies to celebrate an extra-special Valentine's Day treat. This recipe is so easy to make – even the kids can help and it's perfect for any Valentine's Day party or occasion. It's one of the best Valentine day appetizers I have ever made and the kids loved it. I am sure your partner is gonna love it too. 

When preparing a dish, I always keep in mind that my kids should be able to enjoy it. Just like me, my kids are great foodies. They have acquired this quality from both me and my husband because we both are great admirers of food. So, they had no other option but to develop this relationship with food. Another thing about us is that we love to relish the delicacies of the season. Fresh strawberries are in season. So let's make these strawberry Caprese skewers for Valentines Day appetizers.
Get the recipe here.
---
Related: Valentine's Day Cupcake Ideas
---
14. Valentine's Day Charcuterie Boards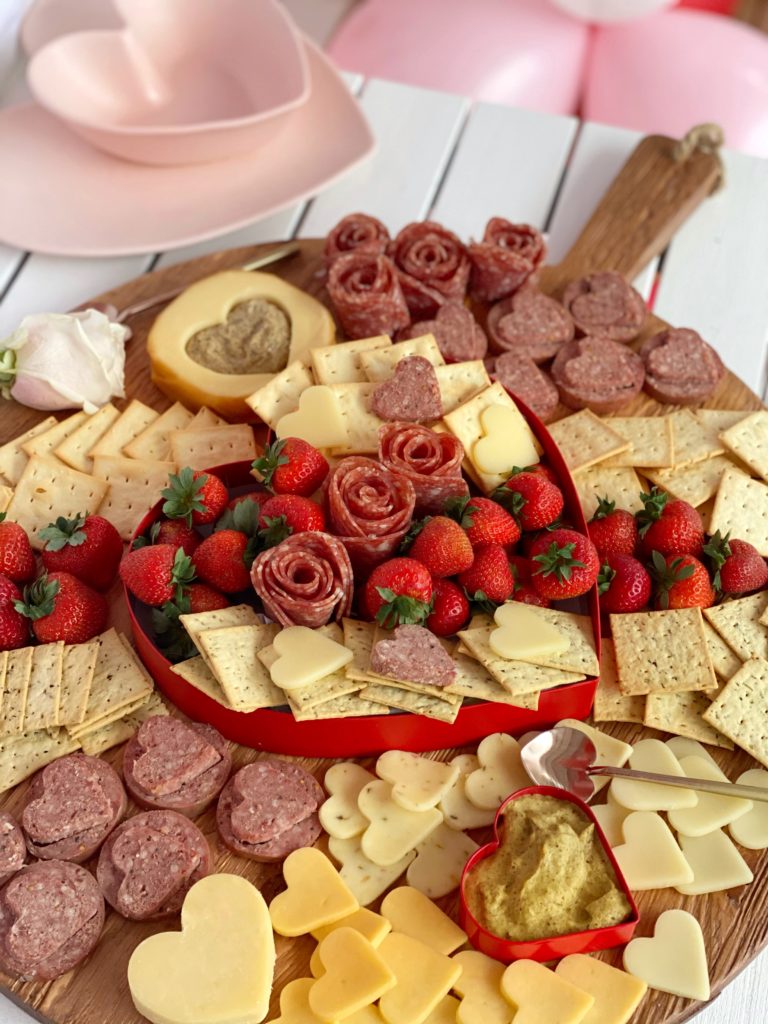 Valentine's Day Charcuterie Board is a festive, fun, and amazingly delicious way to celebrate Valentine's Day! Y'all know I love some charcuterie so I figured we needed a festive one to show our Valentine's Day spirit. I went for a mixture of sweet and savory that were of the pink, white, and red hue variety. Simply arrange the ingredients in whatever way your heart desires. It's one of the best Valentine appetizers you can think of and it looks so cool once it's all set. 

On the night before Valentine's Day, I'm preparing a party. There will be refreshments, supper, and snacks. But I've never had a gathering that I couldn't make a charcuterie board for. Charcuterie boards are my favorite because they combine so many distinct flavors on one board. Your sweethearts will enjoy this sweet and savory delicacy on this romantic holiday!
Get the recipe here.
---
Suggested: Holiday Breakfast Recipes
---
13. Pumpkin Pie Cheese and Crackers
This pumpkin pie cheese and crackers recipe is so delicious and amazing a flavorful appetizer for Valentine's Day. This Pumpkin Pie Cheese Crackers Appetizer is made with crackers, cheese, and cream cheese, but looks just like little pumpkin pie slices! I think I love this Pumpkin Pie Cheese Crackers Appetizer recipe so much because I have a weakness for super cute foods – especially those that mimic other foods. It's one of the most delicious holiday appetizers I have ever eaten and it's too irresistible. 

Cream cheese, salty crackers, and warming spices! This pumpkin pie cheese and crackers are the perfect desserts to enjoy during the cooler months and during the holidays. It can be made ahead, is simple to prepare, and is always well received. Add this recipe to your favorites so that you can access it frequently. Using this technique, you can either buy pumpkin pie spice from the market or make your own at home. I make the cheese filling with more pumpkin pie spice.
Get the recipe here.
---
Related: Keto Pumpkin Recipes
---
12. Savoury Bacon Cranberry Cheese Tartlets
Savory Bacon Cranberry Cheese Tartlets are delightfully tasty Valentine day appetizers that are gluten-free, low-carb, and grain-free. These savory bacon cranberry cheese tarts are so tasty and delicious that are packed with buttery almond pie crust and a filling made with bacon, dried cranberries, melted Semi-Cured Mahon Menorca Cheese with a sprinkle of fresh thyme.

My partner and I chose a healthy lifestyle as our new year's resolution. So, that means that we are going to eat healthily this year. We knew that it can get quite hard to balance our foodie and health-conscious sides of ours. But we realized that it's not that difficult after all. If you too, are planning to eat healthy this year but are foodies like us, here's a recipe for you.
Get the recipe here.
---
Related: Keto Appetizer Ideas
---
11. Deviled Strawberries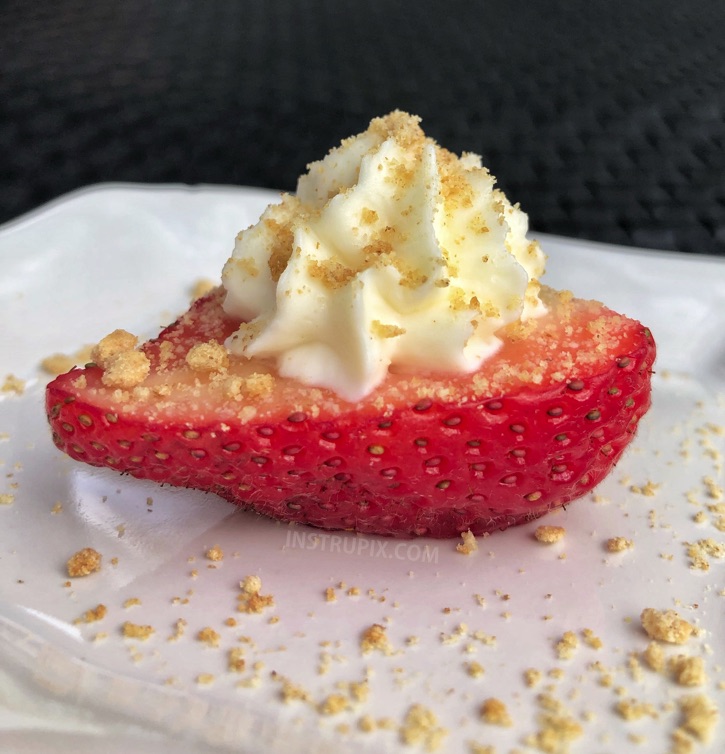 If you like strawberry cheesecake and you're also a human, then you will go bonkers over these darling deviled strawberries stuffed with an irresistible sweet cream cheese filling, and served topped with crushed graham crackers. They make for delightful party food and also the best holiday appetizers, and trust me, they'll be the first thing to disappear. They are a heavenly treat for the 4th of July, Valentine's Day, birthday parties, girl's night in, game day, BBQs, potlucks, Mother's day, bridal showers, or any day you feel like it because you are the boss.  

Strawberries that have been deviled are quite spectacular. At a party, you're sure to be drawn to these. A mouthwatering sweet cream cheese filling and crushed graham crackers are placed on top of the halves of the juicy strawberries. My favourite deviled strawberries are those with a Valentine's Day theme. They are beautiful and perfect for a Valentine's Day party.
Get the recipe here.
---
Suggested: Valentines Day Cookies
---
10. Cream Cheese And Smoked Salmon Vol Au Vents
Whipped Cream Cheese, Mustard, and Smoked Salmon make these amazing nested into a puff pastry shell that is great for an appetizer, and perfect for your next get-together. These Cream Cheese And Smoked Salmon Vol Au Vents can be even easier to make at home. It's one of the best holiday appetizers you can ever ask for. With the vow to bring you new and interesting recipes with every blog that we post, we try very hard to keep our promise. And I think we are doing great. Good quality and palatable food do not have to be expensive. In fact, making them at home is quite easy, and this way they become light on your pockets, too.
Get the recipe here.
---
Related: Salmon Meal Prep Recipes
---
9. Mini Heart Tea Party Sandwich
Adorable little Heart Tea Sandwiches are perfect for Valentine's Day appetizers, or any lunch party. It's one of the best Valentine appetizers ever and after I started making these, I just can't get enough of it. Sandwiches are a staple at my house. The fact that they are so quick and easy to make and serve as a great lunchbox or snack option increases my respect for them. And they are extremely adaptable! I would just love to make sandwiches for any occasion.
Get the recipe here.
---
8. Sweet Potato Guacamole Bites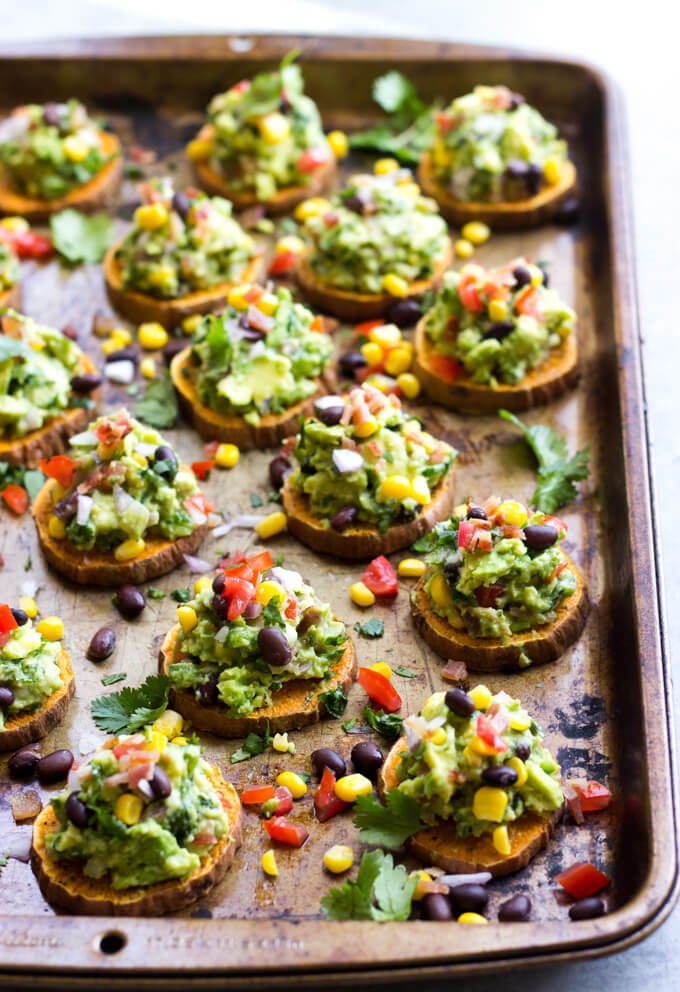 Healthy baked sweet potato bites recipes are so tasty and topped with spicy guacamole with bacon. We're healthified game day holiday appetizers today with these baked sweet potato bites topped with spicy southwestern guacamole. Sweet potatoes and guacamole are a match made in heaven! Sweet, smoky, spicy. Now that's the type of appetizer I want to be eating when football is on.

Guacamole admirers! Here's a toasty treat to enrich your winter holiday recipes. My friends have been asking me to post some healthy yet delectable appetizer recipes that they want to add to their list of Valentine's Day appetizers. And after making them wait for quite a month now, I had to post some recipes in favor of them.
Get the recipe here.
---
Suggested: Sweet Potato Recipes
---
7. Pistachio Feta & Pomegranate Crostini
Guys, it is time to start thinking about Valentine day appetizers, and these Pistachio, Feta, and Pomegranate Crostinis are a great way to bring some Valentine's color and taste to your table. These are packed with roasted nutty pistachios, salted feta, pomegranate seeds, and crusty baked bread. And if your guests prefer fewer carbs, use lettuce cups instead of bread. You can prep everything beforehand, glam up, pour out the Christmas cocktails and pull off the appetizers as guests turn up.

We enjoy making these as a quick dessert to serve after any supper. They are well-liked by everyone! Each year on Valentine's Day, my husband makes dinner. Those cheesecake-filled strawberries, scalloped potatoes, and steaks! When sprinkled with crushed graham crackers or coated in them, these cheesecake-stuffed strawberries are incredibly delicious. They should be kept in the refrigerator until you're ready to serve them.
Get the recipe here.
---
6. Avocado Cucumber Shrimp Appetizers
This shrimp recipe is packed with creamy avocado and a cucumber slice. This is one of the easiest holiday appetizers ever and always gets raved about whenever I make it for parties. The shrimp is loaded with flavor, the cucumber is the perfect crunch and the guacamole is the perfect touch. It's one of the best and most healthy Valentine day appetizers too. 

Good day! I'm so excited to share these easy Christmas recipes with you today! My shrimp addiction is severe. There is typically a box of frozen shrimp in my freezer. This is the easiest protein to prepare, defrost, and grab. It cooks swiftly and is quite nourishing. Low-carb shrimp side dishes go well with these avocado cucumber shrimp appetizers.
Get the recipe here.
---
5. Strawberry Brownie Skewers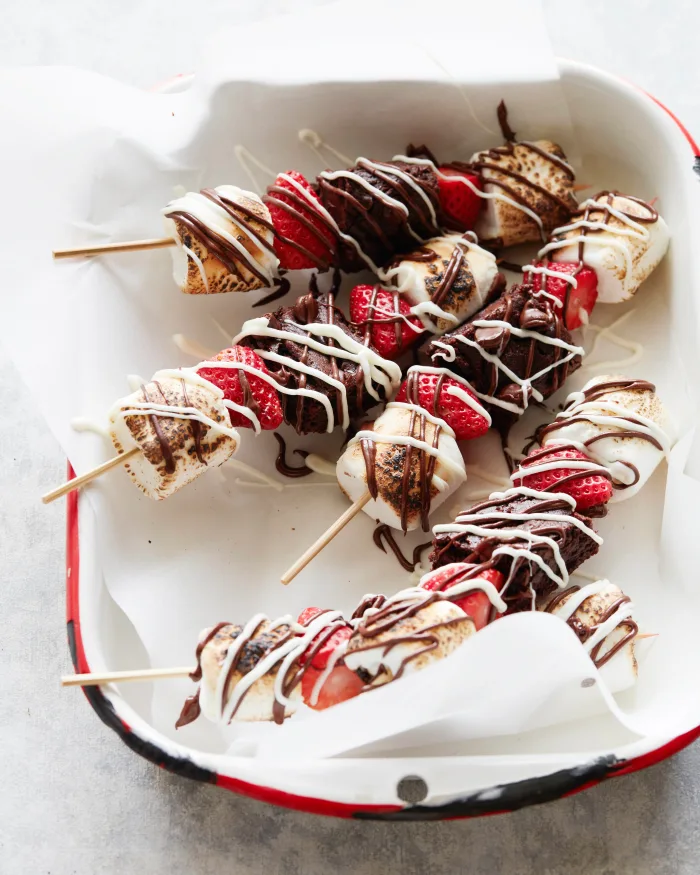 Only a few steps to this Amazing Strawberry Brownie Skewers! No bake and absolutely delicious! These are super simple! Of course some ruby red florida strawberries too! These Strawberry Brownie Skewers are quite possibly my new favorite dessert and they are perfect for Valentines day appetizers. What happens when you combine your favorite dessert with your favorite fruit? In my case, I landed with these strawberry brownie skewers. Rich, chocolatey, and fudgy brownies have my heart. And you already know how much I am obsessed with strawberries. So, here you are reading the recipe for Strawberry brownie skewers on my blog which was born out of my desire to combine two of my favorite elements.
Get the recipe here.
---
4. Bacon Garlic Herb Stuffed Peppers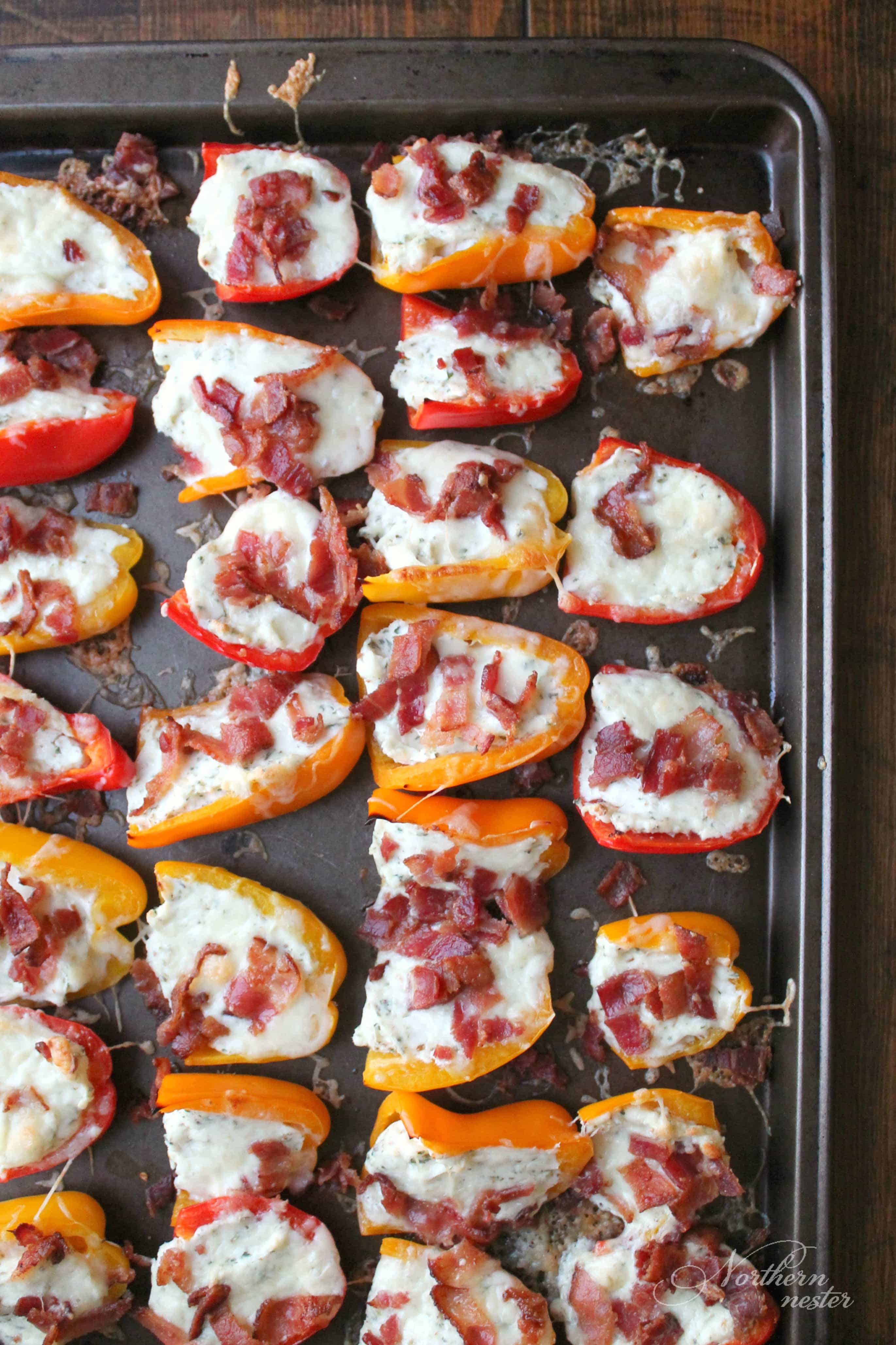 I can't even begin to describe how much I love these rainbow bites of goodness! These are loaded with bacon, herb & garlic stuffed sweet mini peppers. They are packed with flavor, made with few ingredients, and are perfect low-carb, appetizers or snacks! Flavor-wise, sweet red peppers are my favorite. If you can't find minis, use large red bell peppers and quarter them instead for bigger apples with the same flavor. It's just so delicious and one of the best Valentines day appetizers too. You are gonna finish it so fast I bet. 

I first ate these bacon garlic herbs stuffed peppers at a restaurant and I am hooked to its taste ever since. After eating them at the restaurant, I was in a rush to create my own recipe for this dish and thus was born these bacon garlic herbs stuffed peppers that you can now make for yourself and your loved ones and enjoy as Valentine appetizers.
Get the recipe here.
---
3. Beet Napoleons with Prosciutto Roses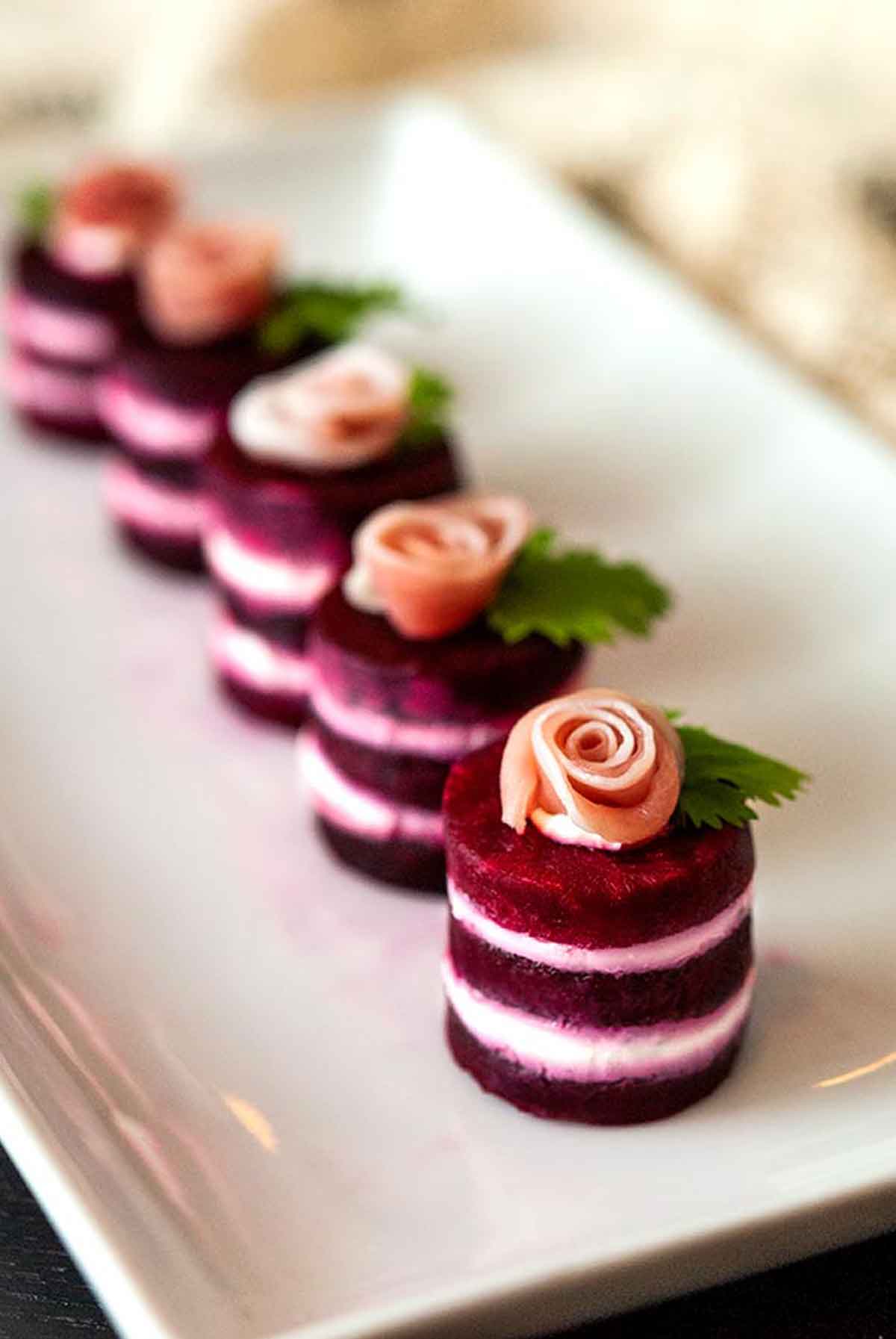 These beautiful beet napoleons are so delicious, great looks like red velvet desserts, but are loaded with chive cream cheese, red beets and tiny prosciutto roses on top! With only 4 simple ingredients and a tiny cookie cutter, you can make these delicious, charming, bite-size holiday appetizers for Valentine's Day, Mother's Day, or a lovely bridal or baby shower! These are the perfect Valentine appetizers one can ever ask for. 

How incredibly amazing these beet Napoleon canapés with prosciutto roses look is beyond words. I have never seen anything as beautiful and romantic as these appetizers. These are the types of appetizers that are offered in upscale, fine-dining establishments. Although they appear too elaborate to be described as simple to produce, they are surprisingly fairly simple to make at home. On your Valentine's Day date night, dazzle your significant other with these alluring side dishes.
Get the recipe here.
---
2. Peanut Butter and Jelly Valentine Sandwiches
Are you ready for Valentine's Day treat? These peanut butter and jelly Valentine sandwiches are such an easy and fun thing for Valentines day appetizers. They would be fun to make for Valentine's party at your home or class. They would even be a wonderful surprise for your spouse or the person you are dating. They're so simple to make, and one of the best holiday appetizers one can ask for. 

These kinds of holiday recipes make your holidays foodier. Surprise your Valentine by making this recipe, I guarantee he will love it. I made this for my little girl. She opens the school tiffin box and sees it and becomes immensely glad. It is made with a peanut butter coating. You add jam of your choice, raspberry jam to it and sometimes I make it with mixed fruits. It's a perfect snack recipe for little ones. Classic and simple. The recipe tastes and looks amazing. I know you're going to make it right now. Hurry up!
Get the recipe here.
---
1. Blue Cheese Steak Crostini
These blue cheese steak crostini are the perfect delicious and easy-to-make Valentine's day appetizers. This recipe is served with Garlicky toasted bread topped with salty blue cheese, rare steak, and a balsamic sauce to make these great Valentines Day appetizers. They're great holiday appetizers or, just eat like 10 of them and call it a meal that's totally acceptable too. So what are you waiting for guys?? Make this Valentine's Day more special with these awesome Valentine's appetizers and enjoy your lovely moments with your partner. 

This cheese burst recipe is a mouth-watering dish. It has become a weekly staple in my house. I know I am impressed with it, and so is my whole family. Make it, it will become your family's favorite recipe. Stick crostini recipe is a flavor-packed party food that will make any party special.
Get the recipe here.
---
---
If you like this article about valentines day appetizers, please share this with your friends on Facebook, Twitter, and Pinterest. Also, you can subscribe to my blog to get all the latest articles first on your mobile.
SHARING IS CARING!
FACEBOOK | TWITTER | PINTEREST
Did you like this recipe and make it later at home? SAVE this pin to your favourite board on Pinterest!