Dips and spreads can take even the simplest of dishes to a whole new level. Do you agree? If yes, then here's a treat for you. Introducing my vegan dips recipes! Whether or not you are a vegan, these dips are bound to tantalize your taste buds. These are equally satisfying and healthy recipes. I'm going to share not one or two or three but 21 dips plus bonus recipes with which you can ace your dips game and I promise you that you'll have at least 2-3 types of dips always present in your kitchen. Yes! These dips are that good. Absolutely finger-licking! They fit perfectly as side dishes and add an amazing twist to your snacks. Just spread them on your toasts or dip your finger foods in them or you can even drizzle them on your salads! These dips are versatile! So waste no more time and get your hands on these yummy-in-the-tummy dips!
---
21. High-Protein Red Lentil Dip & Spread
The 5-ingredient High-Protein Red Lentil Dip & Spread may be prepared quickly, simply, and affordably. Doubles as a dip for vegetables and a thick and creamy hummus-style sandwich filler. These dips are oil-free healthy recipes. Serve a dab of these vegan dips recipes in veggie bowls, sandwiches, handmade pita chips, and crudités. These are the ideal side dishes for dinner preparation.

You may prepare it on Sundays and use it to boost the protein and heart-healthy fats in your meals all week. It is incredibly adaptable and stores well. This High Protein Red Lentil Dip & Spread only needs five inexpensive ingredients. Any spread that is left over should be stored in the refrigerator for up to five days. If it gets too thick, add water or oil as needed. Transfer the dip to a freezer-safe container to store for later use. Olive oil should be applied on top in a thin coating. up to four months by freezing. In the refrigerator, totally defrost. Before serving, stir in the oil.
Get the recipe here.
---
Related: High Protein Vegan Meals
---
20. Jackfruit Buffalo Dip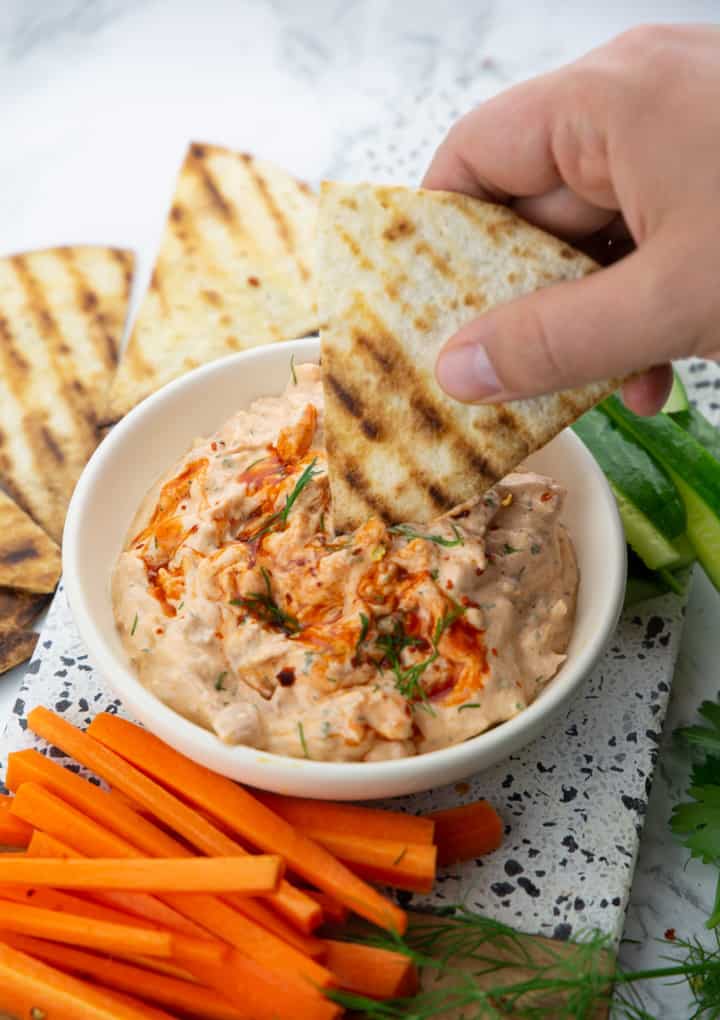 This creamy vegan buffalo dip, made using jackfruit for the greatest flavor and texture, won't make you miss the meat at all! These spicy vegan dips recipes are ideal for side dishes without meat because they contain no chicken. The coziest heated vegan dip you can imagine is vegan buffalo dip. In order to replicate the flavor and texture of chicken, there is a lot of cheddar, hot sauce, a little ranch dressing, and jackfruit. This is quite simple to put together and was a tremendous hit when I served it for the Super Bowl.

The tactile similarities when using jackfruit in place of chicken are astounding. I've offered it to a lot of meat eaters who, if I hadn't told them, would not have known they weren't eating chicken. To combine with the ranch dressing and spicy sauce, make sure your cream cheese is smooth and soft. I prefer to use a hand mixer, although a large spoon and a lot of effort will also work. Add the jackfruit, cheese shavings, and green onions after that. then heat in the oven. It's that simple! Serve warm with celery and tortilla chips for dipping, and top with more blue cheese and green onion, if preferred.
Get the recipe here.
---
Suggested: Vegan Side Dishes
---
19. Easy Vegan Pesto Dip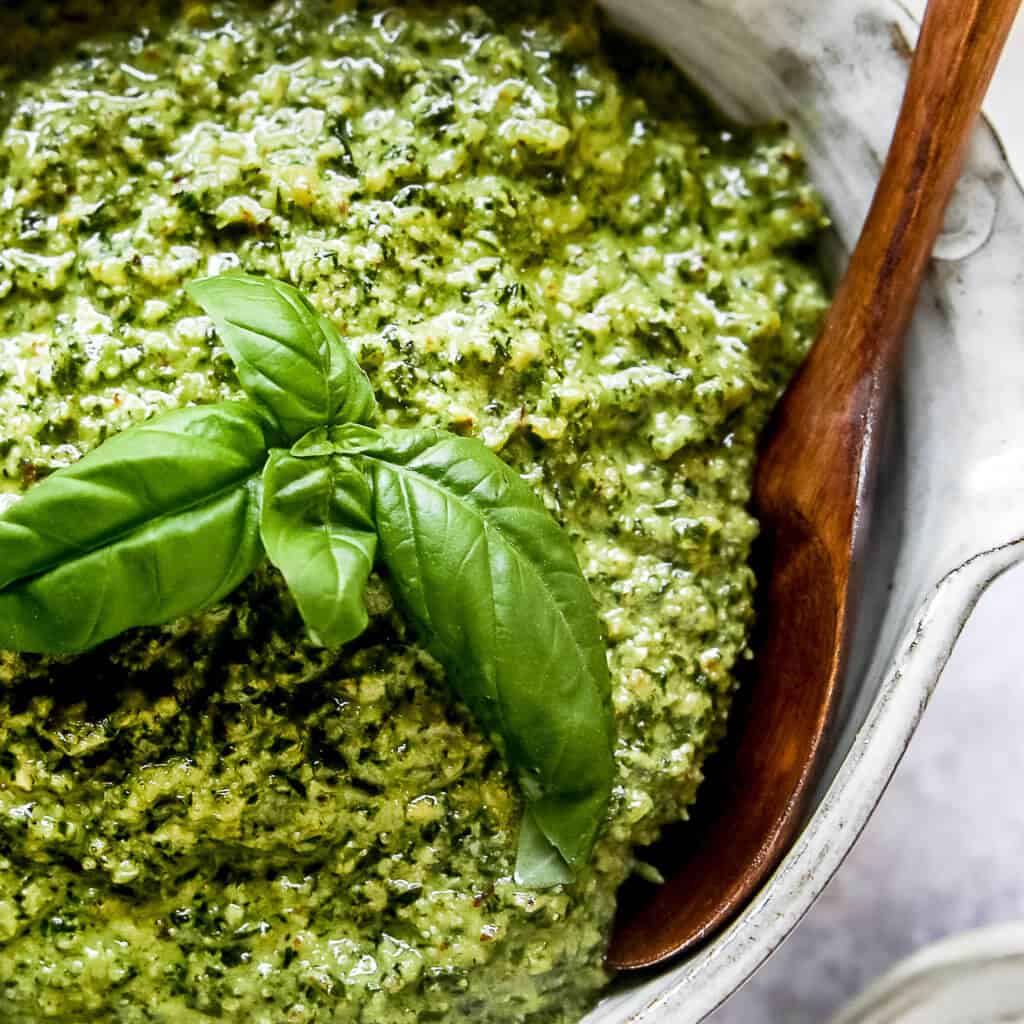 There is no denying that I love pesto. However, until recently, I didn't have a recipe for my preferred rendition on the blog. The fix is right here! Introducing my 5-Minute Easy Vegan Pesto, great for pasta, pizza, soups, salads, and more! Pesto is a sauce that is thought to have its beginnings in northwest Italy's Liguria area. It is hypothesized that it may have developed from an aggiadda-based sauce from the thirteenth century or from the Middle Ages' custom of utilizing fragrant herbs. In the first pesto recipe that was ever recorded, cheese, garlic, and basil were combined.

While our plant based healthy recipes omit the cheese, it is nonetheless flavorful and rich in basil. Just one bowl, five minutes, and seven ingredients are needed to prepare this dish. I also add this pesto dip to a variety of dishes or side dishes, including white pasta sauce, breadsticks, salad dressings, and sauces. I'm constantly astonished by how quickly I go through this recipe, which makes around 1 cup, during the week. A small amount can be defrosted and used whenever a recipe calls for pesto because it stores nicely in ice cube trays.
Get the recipe here.
---
Related: Brie Cheese Appetizers
---
18. Olive Hummus [vegan, gf]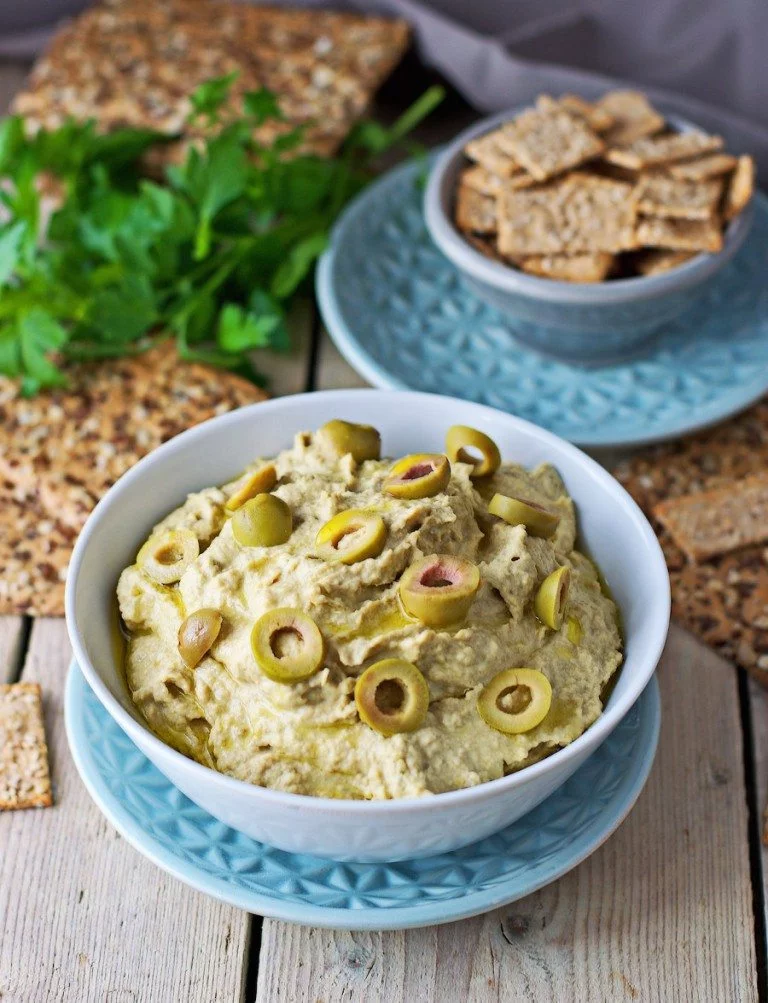 This is my brand-new recipe for olive hummus. Yes, hummus and olives are a good combination. What could seem to be an odd pairing is actually a match made in heaven. This gorgeous dip is easy to create at home using basic, fresh ingredients. Healthy, gluten free, and vegan! My all-time favorite side dishes are simple dips with some crunchy foods. You know the drill: fill a bowl, relax on your couch, and chow down. Then, a decent Hummus is an excellent option with breadsticks or vegetables.

I cook a delicious bowl and am essentially protected from any lapses in self-control to eat anything unhealthy outside. Here is another of my vegan dip recipes: a delicious, straightforward olive hummus. It is a really simple recipe, just like all of my others. Everyone can make this at home because it isn't fancy. All you have to need is a food processor or blender to mix the ingredients. It needs some chickpeas, some tahini, some spice, and, you guessed it, olives to make a regular batch of hummus. They not only add a distinctive sweet-bitter…er, olive flavor to the spread but are also a Mediterranean Superfood. It pairs incredibly well with thick crackers or breadsticks.
Get the recipe here.
---
Suggested: Vegan Appetizer Ideas
---
17. Buffalo Chickpea Dip (Vegan + Oil-free)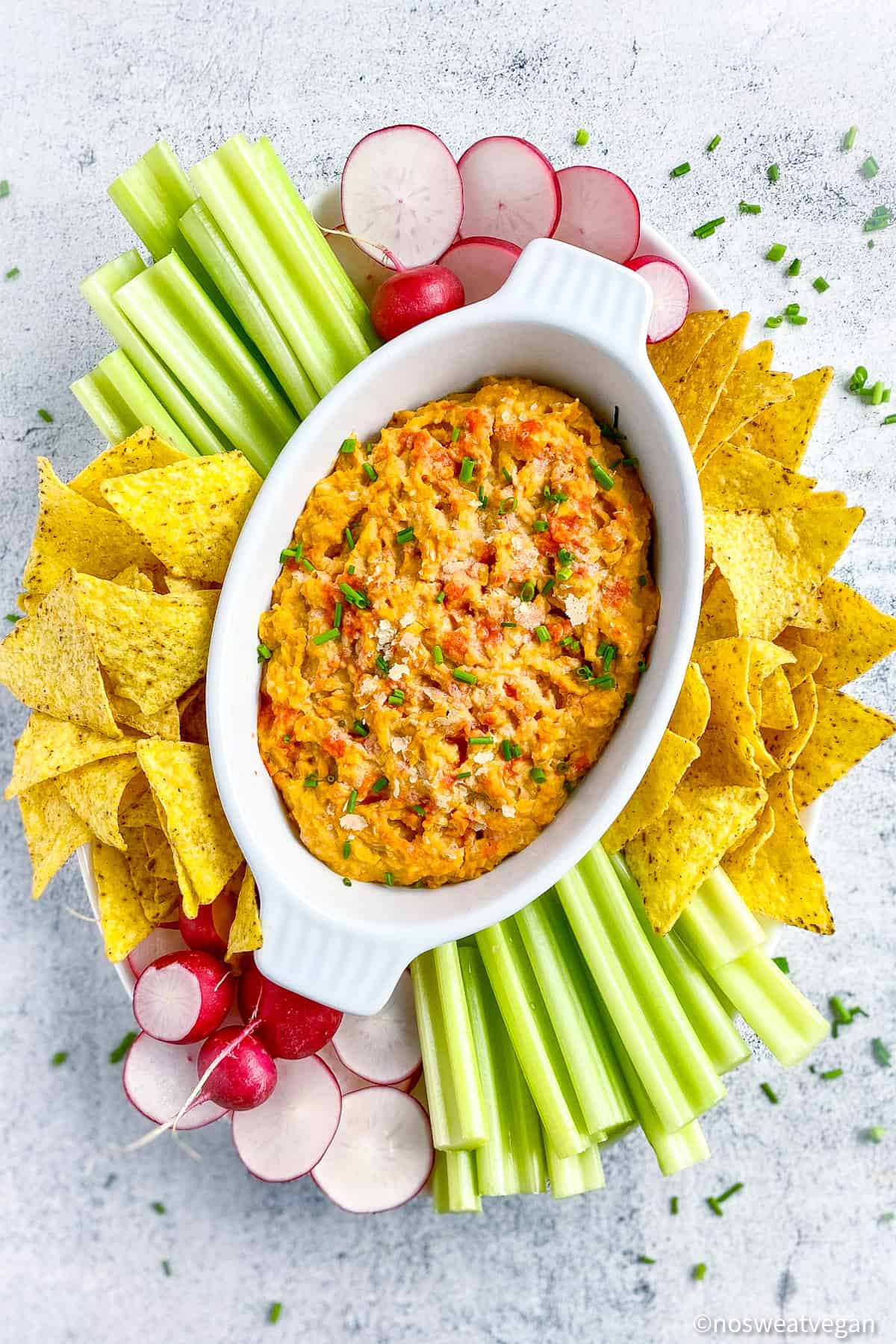 The amount of creamy and spicy in this buffalo chickpea dip is just right. These oil-free vegan dips recipes just require a small number of ingredients. You're going to adore this Buffalo Chickpea Dip if, like me, you used to be a huge lover of buffalo chicken dip. Although it's cruelty-free and considerably simpler to create, it's just as delectable and seductive as the original. This buffalo dip is not only vegan and free of oil, but it also tastes fantastic. Nobody will ever suspect that these side dishes are actually healthy recipes! This chickpea dip is incredibly simple to make.

Simply soak or boil the cashews until they are soft, blend everything, place the mixture in the oven, and it will be ready to serve in 20 minutes. As an appetizer or snack, offer this Chickpea Buffalo Dip. It's ideal for movie night or game day! It might even be included on a vegan snack board. I prefer to serve it with a variety of dipping foods, such as raw vegetables and tortilla chips. Another fantastic option would be crackers or toasted baguette pieces. The Vegan Buffalo Chickpea Quesadilla is a delectable way to serve this dip. Simply put it on a tortilla, top it with some vegan cheese, and then cook it like a regular quesadilla. For the buffalo chickpea salad, we also put leftovers. Yum!
Get the recipe here.
---
Related: High Protein Snack Ideas
---
16. Pepper Cashew
Things I am anticipating this New Year: Oh! This Creamy roasted Red Pepper Cashew Dip is a staple and a must-dip. What better way to start the new year than with some delectable, healthy recipes? If the cashews are soaked and you consider raw cashews, this dish is completely whole, oil-free, gluten free, and raw (there is some debate on this). AND the preparation time is only 10 minutes! Put everything in a blender at once. Excellent for last-minute guests. But most importantly, it's really good. Delicious, nearly cheesy dips, creamy nachos. Excellent with freshly chopped vegetables or tortilla chips. Simply place everything in a blender. Combine, and please accept my warmest greetings. You may either serve it cold or reheat it in a pot over medium-low heat, stirring often to prevent burning. It works well either way.
Get the recipe here.
---
Suggested: Vegan Roast Dinner Recipes
---
15. Best Vegan Queso (Ever)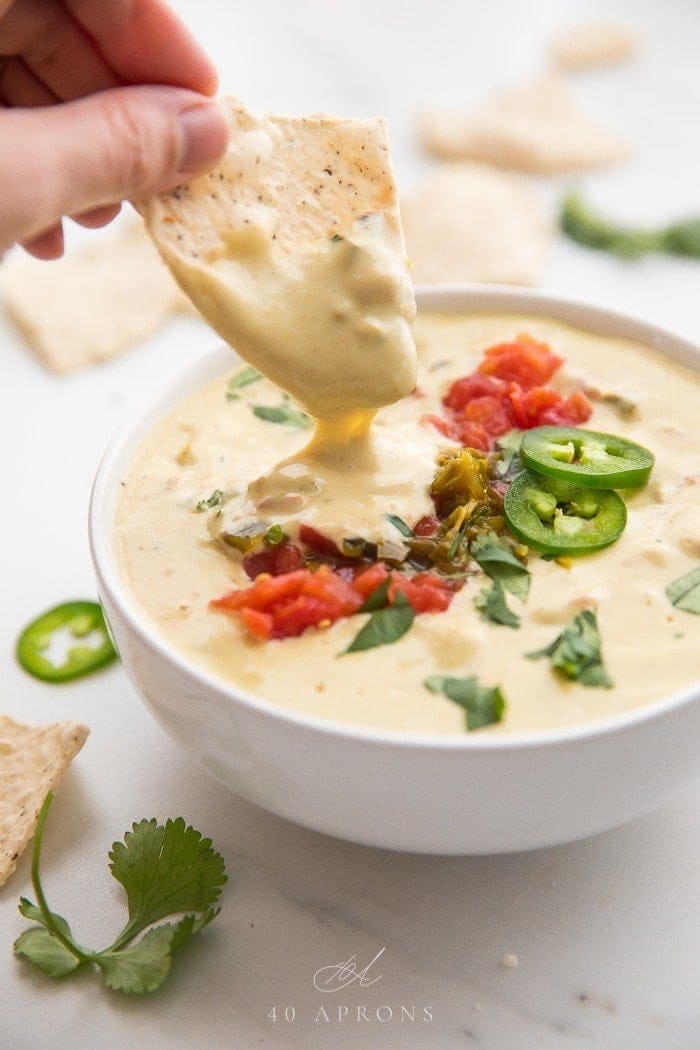 The finest vegan queso recipe EVER is this one. It tastes just like a genuine thing and is ready to eat in less than 10 minutes! You'll fall in love with this creamy dairy-free vegan queso, which combines traditional Mexican flavors with rich cashew cream, a tiny bit of potato, and a dash of nutritional yeast. It is also suitable for low-carb, Whole30, and paleo diets. It is a perfect copycat. Since it tastes so much like authentic queso, you might be concerned that you're consuming dairy. It only takes a few minutes to prepare and is ready to eat.

It can last up to five days in the fridge. When you reheat it, add some unsweetened almond milk after freezing it in an airtight container. This recipe's signature cashew cream, which is created by blending cashews and coconut milk, is what makes it so delicious. Although the flavor is mild enough, you don't realize you are eating coconut cashew queso. Don't miss the deactivated yeast unless you absolutely must because it gives this queso its cheese flavor.
Get the recipe here.
---
Related: Vegan Finger Foods
---
14. 5-Minute Black Bean Dip (Healthy Snack)
Keep some on hand for midday snacks or serve this quick, vegan black bean dip at your next gathering. My objectives for a healthy lifestyle align perfectly with this simple recipe for black bean dip. I'm a snacker at heart, as you can see. If I'm going to completely lose control of my food restraint, it will be between meals. Those cheese and crackers are awful! When I'm sitting on my butt, doing things like reading, working on the computer, or watching TV, this lack of self-control affects me the worst.

Any of my favorite vegan dips recipes, including this spicy black bean dip, check all three boxes: they're quick, tasty, and healthy recipes. Even better, it can be made in about 5 minutes with ingredients that are typically accessible in a pantry. In a food processor, combine all the ingredients (apart from the cilantro) and process until completely smooth. Clean the sides, add the cilantro, and pulse just long enough to mix. All done! Crackers, freshly baked tortilla chips, or raw vegetables all make excellent dipping foods. Spread it into grilled vegetable enchiladas, burritos, or tacos in place of hummus in the vegan hummus avocado sandwich.
Get the recipe here.
---
Suggested: Freezer Meal Recipes 
---
13. Caramelized Onion White Bean Dip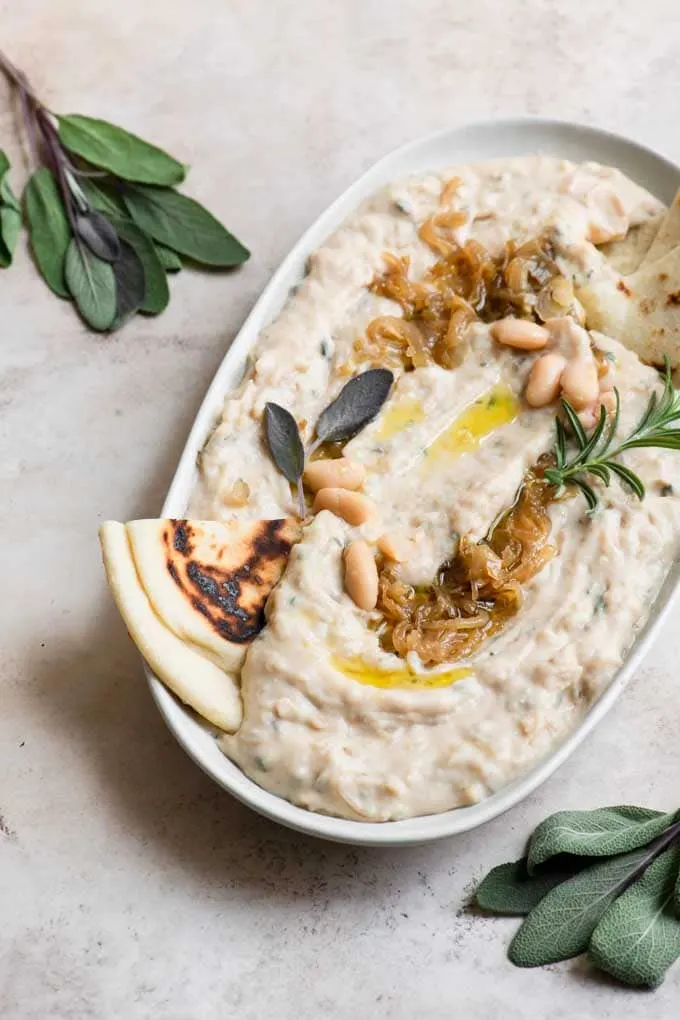 A nutritious caramelized onion dip that uses white beans' high protein content for added creaminess! With freshly cut vegetables and tortilla chips, try these vegan dips recipes. Yes, vegetables pair well with the dip. But what's this? They also taste fantastic when included in the dip. I am aware of this due to my many years of experimenting with many vegetable-based hummus varieties. When I go out to dine, I'm always "that chick" who gets the hummus plate. I think I could eat only dips for the rest of the meal. In fact, I've had food similar to this at the Greek restaurant nearby.

Is anyone up for some whipped feta and baba ghanoush? Mmmm… The best dip I've ever made, the Caramelized Onion White Bean Dip, is here. Let me explain. Simply delectable are caramelized onions. And the creamiest dips are made with white beans. When combined, they make the perfect pair. The end result is definitely worth the extra time it may take to get the onions all caramelized and everything. The dip is ready in no time at all once the onions are prepared. While making this meal, your kitchen will smell simply amazing. For a delightful snack, serve with tortilla chips, diced vegetables, or even fruit! This vegan and gluten-free dip have a creamy plant based dip texture.
Get the recipe here.
---
Related: Paleo Grilled Recipes
---
12. Zucchini Dip
The most delicious, creamy, and light zucchini dip is this. It is flavorful and has a flawlessly velvety texture. The dish is entirely oil-free, naturally gluten-free, and vegan. and takes about 15 minutes to complete. One of our favorite vegan zucchini dips is unquestionably this one. Once you give it a try, I'm sure you'll adore it! a quick and easy recipe for a vegan dip! It is made without the use of any oils and just using complete plant foods! And obviously no dairy, eggs, or other animal products. It is quick and convenient to make when you're pressed for time. Since it contains no processed ingredients, this delicious zucchini dip is incredibly healthful.

Without salt or pepper, it only requires 6 basic components, which are as follows: Garlic, lemon juice, nutritional yeast, raw cashews, onion powder, and zucchini. This nutritious zucchini dip is great as an appetizer with some vegetables or on crackers, pita bread, or a loaf of bread. It is highly enticing because of its creamy, smooth texture! The flavor is similar to mayo, which you may use to top your favorite vegan burger! Additionally, you can use it to make a delectable sandwich. Your nutritious lunch, supper, brunch, or snack will be ready in no time by simply adding some fresh vegetables!
Get the recipe here.
---
Suggested: Holiday Cocktail Ideas
---
11. Brownie Batter Chocolate Hummus
You won't believe how good chocolate hummus tastes when combined with fruit, pretzels, and other foods. It makes ideal sweet, healthy recipes. Nobody will suspect that Chocolate Brownie Hummus is made with beans, thus it is shockingly delicious! In our home, it is a favourite alongside this Black Bean Hummus. Chickpeas and chocolate! Please give it a chance before you instantly dismiss me as insane since it makes a really delicious and healthy dessert and snack. It's popular with children and beneficial to your health. All you need to make the chocolate hummus that I'm sharing with you today are chickpeas, cocoa powder, sweetener, and almond milk.

When you consider all the ways you may modify it, the fun begins. Think of ingredients like cinnamon, nut butter, coconut, chocolate chips, and tahini. Don't miss it since I'll be presenting a variety of ideas below. Fruit is what springs to mind when thinking about how to serve this delicious chocolate dessert hummus. All of the fruits—strawberries, pears, apples, and pineapple—are quite tasty. Pretzels, graham crackers, cinnamon pita chips, any thin, crispy cookie, or even toast points are all options from there. Even my friend's children's breakfast waffles get it.
Get the recipe here.
---
Related: Holiday Breakfast Meal Ideas
---
10. Carrot Dip
With this simple and tasty dip, you can bring the cuisine of North Africa to the table. Because baby carrots are inherently sweet, we balance their sweetness with cinnamon and savory flavors like coriander and cumin to create a dip that you'll want to dunk for days. The carrots' vibrant color and flavor stand out, and red wine vinegar gives them a tangy bite. At your upcoming dinner party with a Moroccan theme, serve this colorful dip with warm pita bread as side dishes. Then take a seat and watch it vanish!

Baby carrots, olive oil, red wine vinegar, cumin, coriander, cinnamon, and salt are all ingredients needed to make these vegan dips recipes. Carrots should be added to a medium saucepan along with water to cover. Carrots should be very soft after 10 minutes of cooking after being brought to a boil and partially covered with a lid. Pour into a colander, then thoroughly drain after rinsing with cold water. Combine the cooked carrots and the remaining ingredients in a food processor or blender. until smooth, purée. Immediately serve or store in the refrigerator in an airtight container. either cold or room temperature serving.
Get the recipe here.
---
Suggested: Carrot Meal Recipes
---
9. Creamy Vegan Spinach Artichoke Dip Recipe
This baked mixture of blended spinach, white beans, tahini, and lemon is used to make the creamy artichoke dip. These side dishes, which are made without cheese, cream, or mayonnaise, contain half the fat and 10 times less saturated fat than the traditional version. Serve with a toasted pita for a tasty party dip or a quick lunch. It tastes great both warm and cold. To serve as an appetizer or nibbling dish for friends and family, try these simple spinach and artichoke vegan dips recipes. The original recipe calls for cream cheese and parmesan to create a creamy dip; in this vegan adaptation, dairy has been swapped out for other scrumptious and wholesome ingredients.

Additionally, this dish is free of nuts and gluten, making it ideal for anyone who has food allergies. But let's return to the recipe for this dip. It was prepared using a creamy mixture of white beans, tahini, and nutritional yeast that had been spiced up with cayenne and black pepper. White beans, nutritional yeast, and tahini provide this vegan dip dish with all the flavour and nutrients it needs to shine. The majority of spinach and artichoke dip recipes use frozen spinach, but we wanted to demonstrate how simple it is to use raw, fresh spinach. The entire dish tastes considerably better as a result! Enjoy this dip warm or hot with some crispy wholemeal pita or whatever else you choose!
Get the recipe here.
---
Related: Almond Milk Recipes
---
8. Smoky Roasted Eggplant Dip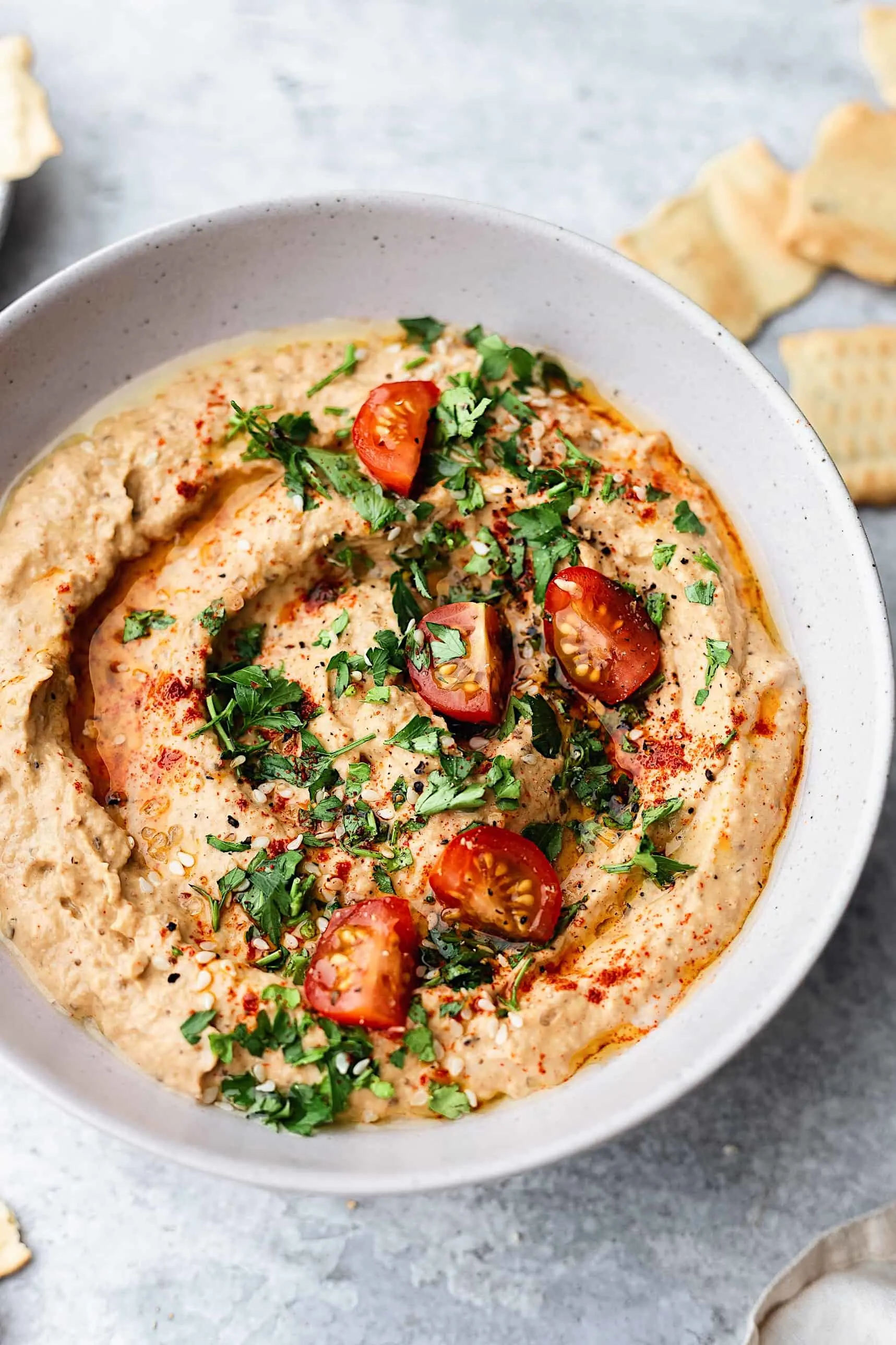 The ideal snack is this creamy, garlicky, and smokey roasted eggplant dip. Spread it on toast, serve it in a Buddha bowl, or use it as a dip for crudités. A nice way to use up some summer vegetables is to prepare this easy-to-make eggplant dip. It takes 40 minutes to put together, is naturally gluten-free, and is obviously vegan! Although it is one of my favorite vegan dips recipes, I regrettably don't eat it as frequently as I would like to.

I typically only eat it when I'm cooking for myself because my mother doesn't like it (one day I'll win her over). This recipe was influenced by baba ganoush. But since this isn't a classic baba ganoush recipe. I've been eating it with cucumber wedges, on a baked potato, and on toasted sourdough! Additionally, by the spoonful, since it's impossible to resist!


This eggplant dip has a lot of garlic in it, and I'm one of those individuals that usually double the amount of garlic in a recipe. Can you ever have enough garlic, after all? In my opinion, no. Use 1-2 cloves instead if you prefer a milder garlic flavor. If left longer, the flavors will merge; otherwise, serve immediately or store in the refrigerator. Add some sesame seeds, cherry tomatoes, and parsley on top!
Get the recipe here.
---
Suggested: Dehydrator Snack Ideas
---
7. Vegan Roasted Poblano Corn Dip 
The ideal snack for a big game day is this vegan Roasted Poblano Corn Dip. Dig down with your favourite chips to this deliciously creamy and somewhat spicy dish! The Super Bowl is coming up in just over a week, and whether you plan to watch the game or not, there's always room for some delectable dip and chips. Am I correct? This dip is creamy from the vegan cream cheese, has a smoky taste from the roasted poblano, and is sweet from the corn. It is a fantastic appetiser all around! It's simpler than you might think to roast the peppers for this dip. Put them on a baking pan and broil for 10 minutes, flipping them over halfway through.

They will receive the burned outer layer. All of the smokey flavour originates from there. Cover them for five minutes after they come out of the oven to let them steam. Allow them to cool until you can handle them without difficulty. Pull the stem out after removing the skin. I'm done now. Although I didn't find this to be too spicy, you can leave the seeds in if you are extremely sensitive to heat. When the dip comes out of the oven, sprinkle some cilantro on top and serve it with your favourite chips. You could also choose tortilla chips or even warm pita bread, but I went with potato chips. This dip will quickly become your new go-to party snack, I guarantee it!
Get the recipe here.
---
Related: Low Calorie Snacks
---
6. Cilantro Lime Hummus
Calling all cilantro fans—we have a tasty new take on a traditional dip! This zesty Cilantro Lime Hummus is quite addictive and contains lots of flavor. This hummus is perfect if you can't get enough cilantro and lime. You'll want to spread this creamy delight on everything since it is strong, tangy, and bursting with hummus flavor. From our vegan dips recipes, we have this week's excellent Cilantro Lime Hummus. You won't believe how simple healthy recipes are. You only need five things to enter flavor town!

We adore our hummus recipe so much. We believe it to be among the greatest! The majority of the weekends, we prepare our own hummus. We chose to prepare a straightforward Southwestern supper out of some leftover hummus and baked sweet potatoes. YUM! We prepared a zesty Cilantro Lime Hummus out of the leftover hummus, and it is delicious! A portion of that delight was spread out on a dish with a small swirl, followed by half of a roasted sweet potato and this lovely, oil-free Cilantro Lime Corn Salad. It was a great combination of cold, creamy hummus, hot, cooked sweet potatoes, and cool, refreshing corn salad. We devoured it immediately! There are numerous more Southwestern foods that go well with this cilantro lime hummus. It works well as a dip or topping.
Get the recipe here.
---
Suggested: Tuna Recipes
---
5. Sunflower Cream Cheese – Easy Vegan Cheese Recipe
This Sunflower Seed Cream Cheese is the greatest dairy-free cream cheese substitute because it is creamy, thick, and tangy. There are no nuts or gluten in it, and there are just 7 ingredients total! In my home, this sunflower cream cheese is a genuine staple. It's simple to make, inexpensive, and yields a large quantity that we store in the refrigerator and use during the course of the week.

The sunflower flavour is not too overpowering, but the cheese has a sour, nutty flavour. It has a good balance and pairs nicely with both sweet and savoury foods! Use raw sunflower seeds and refined coconut oil only. I only use the juice, but if you want to give more zing, you may also include the zest. Feel free to customise this recipe to suit your tastes as it is quite flexible. For even more taste, you can add one or more items. Serve alongside crackers, pita chips, or vegetables. Remember that if the cheese is kept at room temperature for 1-2 hours, it will begin to melt a little.
Get the recipe here.
---
Related: Beer Recipes
---
4. Creamy Herb Dip (Vegan)
This creamy herb dip has a rich cashew base, and a few simple seasonings, and is incredibly thick and smooth. It's totally dairy-free, quick to put together, and perfect for vegan charcuterie boards or game-day munchies! I originally started making cashew dips a few years ago, and I still frequently make this one. The cashews' sweetness complements the savory dried herbs, raw onion, and subdued garlic flavor nicely. I always have the ingredients on hand to create this simple dip because the recipe is so simple.

We enjoy serving it with vegetables, crackers, or these homemade pita chips from the air fryer! A blender and a few simple ingredients are all you need. It can be used as a sauce, spread, or as dip. It doesn't have any mayo, sour cream, or cream cheese. The creamy texture is produced by cashews and nut milk. Instead of fresh herbs, which are not always easily available, it calls for dried herbs, which are common pantry ingredients. Healthy recipes are a fantastic starting point for making vegan dips recipes. Making it ahead of time is ideal because it tastes best after chilling for a few hours. We adore it with chips, pretzels, veggies, and crackers. You can also add more liquid to it to make a sauce for spaghetti or use it as a spread for crackers or bread.
Get the recipe here.
---
Suggested: Vegan Rainbow Recipes
---
3. Jalapeno Popper Dip [vegan]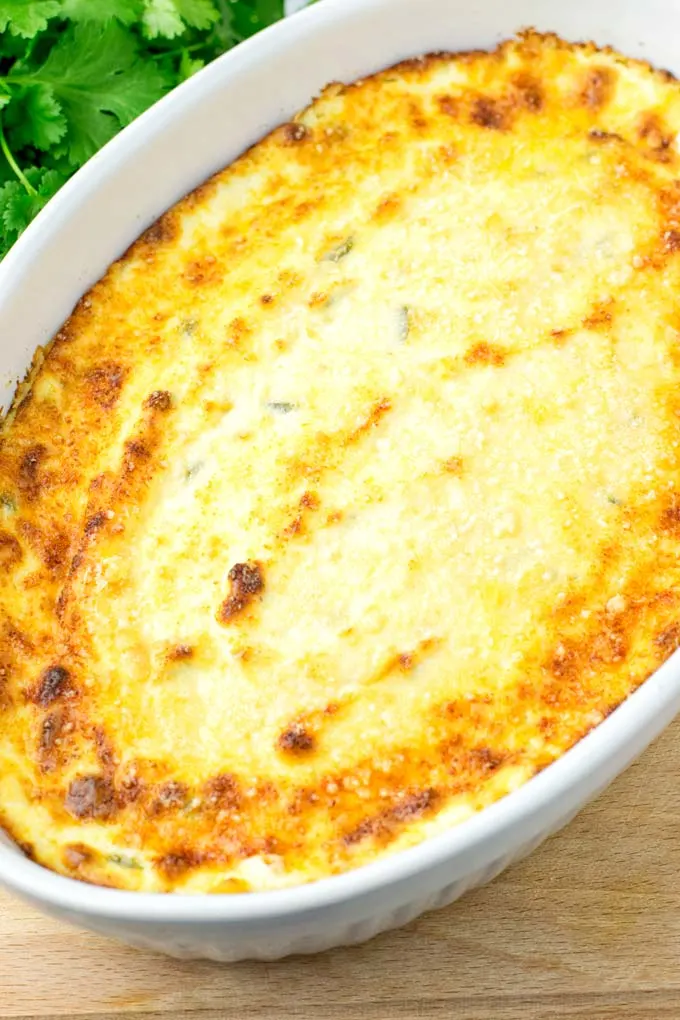 One of my go-to vegan side dishes for parties is this jalapeno popper dip. Crispy Panko bread crumbs are sprinkled on top of rich vegan cream cheese, hot chopped jalapenos, and vegan cheddar, which are then baked till warm and gooey. The end result is the most amazing dip, which is evocative of the spicy Jalapeno Poppers appetisers that we all adore so much!

There are plenty of vegan dips recipes here, and it is by far my favourite cuisine. The delightful flavours of jalapeno poppers are transformed into a totally scrumptious scoopable nibble in these simple appetisers. This party-perfect dip may be prepared up to three days in advance and is quick, simple, and completely irresistible. It's the one item that people keep asking me to bring to gatherings! In this dish, you may either use fresh or canned jalapenos. Because I like the flavour better, I typically use jalapenos from cans. This goes well with crackers, tortilla chips, bagels, or toast, in our opinion. 
Get the recipe here.
---
Related: High Protein Low Fat Recipes
---
2. Vegan Nacho Cheese
This recipe is for you if you desire the spicy, melty bliss of nacho cheese but don't want the dairy, sodium, or gross processed trash. No one will likely ever be able to tell that this is vegan, in reality. You can make an ultra-creamy dip with real, whole foods, healthy fats, and nutrients from plants by starting with a base of vegetables and nuts. Maybe you've always enjoyed the vivid orange "stuff" straight from the can, but you just KNOW there must be a better way. A base of healthful veggies, cashews, roasted green chilies, lime juice, and spices forms the foundation of this cheese sauce dish that is entirely plant-based.

You can depend on us to always use wholesome, nutrient-dense ingredients in our recipes, and our vegan nacho cheese dish is no exception. We chose a variety of plant-based foods rich in nutrients to provide you with a lot of vitamins, minerals, good fats, and antioxidants. All of that in the shape of an exquisitely delectable, dairy-free vegan cheese sauce that is deliciously "dippable"? Of course! Get started now! This vegan nacho cheese recipe can be used in a variety of dishes, including burrito bowls, tacos, and fajitas. It can also be tossed with steamed broccoli or cauliflower or cooked pasta to make vegan mac n' cheese.
Get the recipe here.
---
Suggested: Dairy Free Dessert Ideas
---
1. Dairy-Free Dill Dip 
You just need eight ingredients and a short amount of time to prepare this simple vegan dill dip. This recipe is dairy-free, full of flavor, and goes great with your favorite pretzels, chips, crackers, vegetables, and vegetables. What flavor of vegan dips recipes is your favorite? Dill and onion rank first and second, respectively, in my opinion. Naturally, I decided to make a vegan version of these popular side dishes, and the result is a flavorful, creamy vegan dill dip. Farm Boy's vegan tofu dips, which all start with tofu and vegan mayonnaise as a base, are the source of inspiration for this tofu dill dip recipe.

So, yeah, if you have access to these brands, you could buy something similar that was already manufactured, but why would you do that if you could make your own? You'll need your favorite vegan mayonnaise, extra firm tofu, dried herbs, and seasonings to make this dish. Since this spread is a bit on the thick side, it may be used as a sandwich or wrap spread as well as a tofu dip. Additionally, you can serve it with your preferred pretzels and crackers, and my personal favorite…it also makes a fantastic vegan chip dip.
Get the recipe here.
---
BONUS
Vegan Cashew Caesar Salad Dressing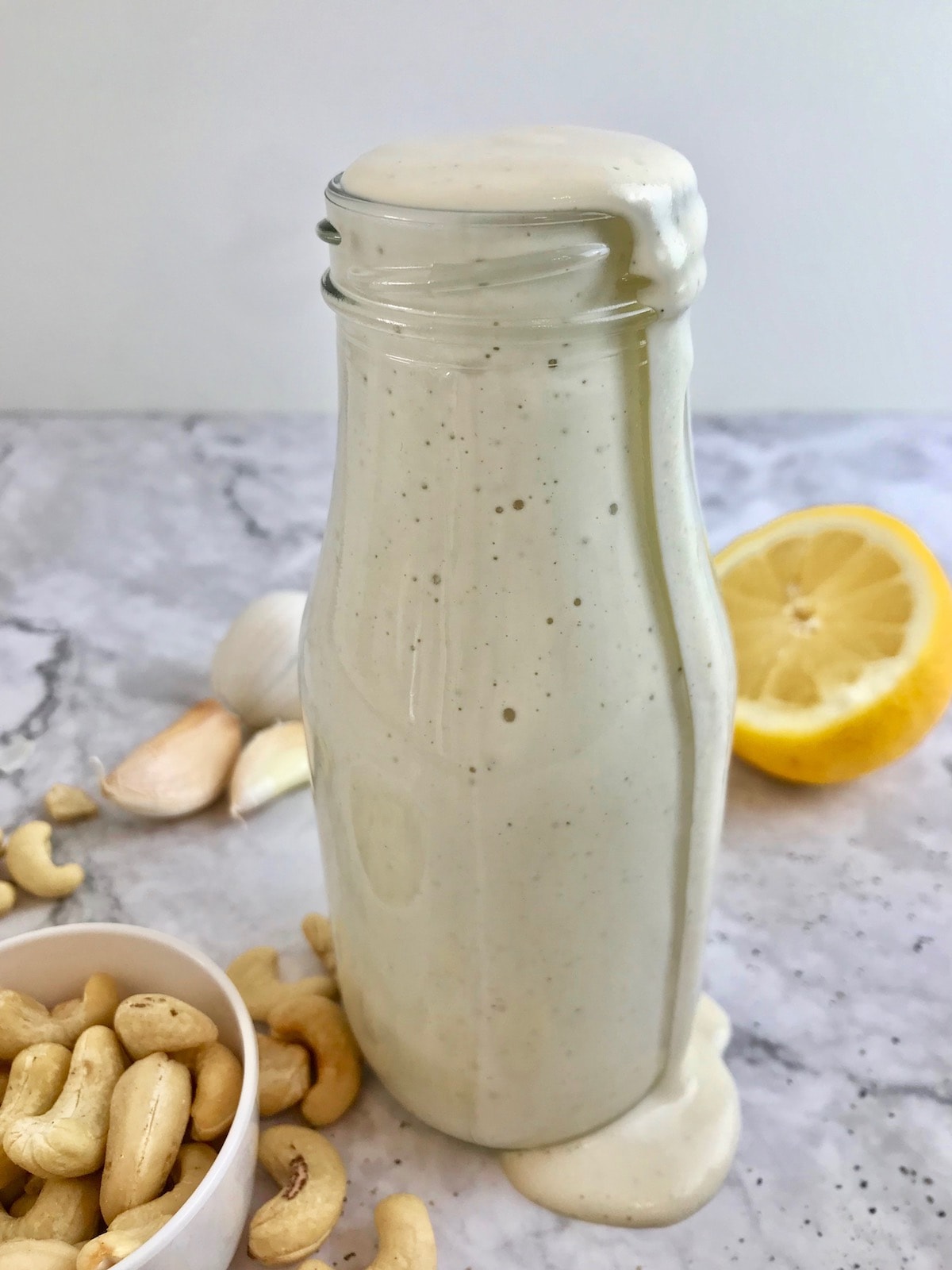 This oil-free, whole-foods, creamy, tangy, garlicky vegan cashew caesar salad dressing is the epitome of culinary bliss! This dressing is incredibly simple to prepare, yet it tastes exactly like the classic Caesar salad dressing. Only 7 materials and 5 to 15 minutes are required. Then you have this gorgeous creaminess, which is fantastic as a dip for vegetables, tofu bites, or even pizza!

It is obviously perfect for making a homemade Caesar salad. The raw cashews that make up this dressing give it its creaminess. Raw cashews have a pretty mild flavour, but when blended, they become creamy and delicious without the use of oil. The capers, garlic, and a few other flavours come together to create a dressing that is healthful yet still delicious! I always make a double batch of this dressing whenever I make it since I use it everywhere! Use less water to make the dressing thicker. As it cools, the dressing thickens, making it perfect for dipping. You can always add extra water to thin the mixture as needed.
Get the recipe here.
---
Easy Elote Dip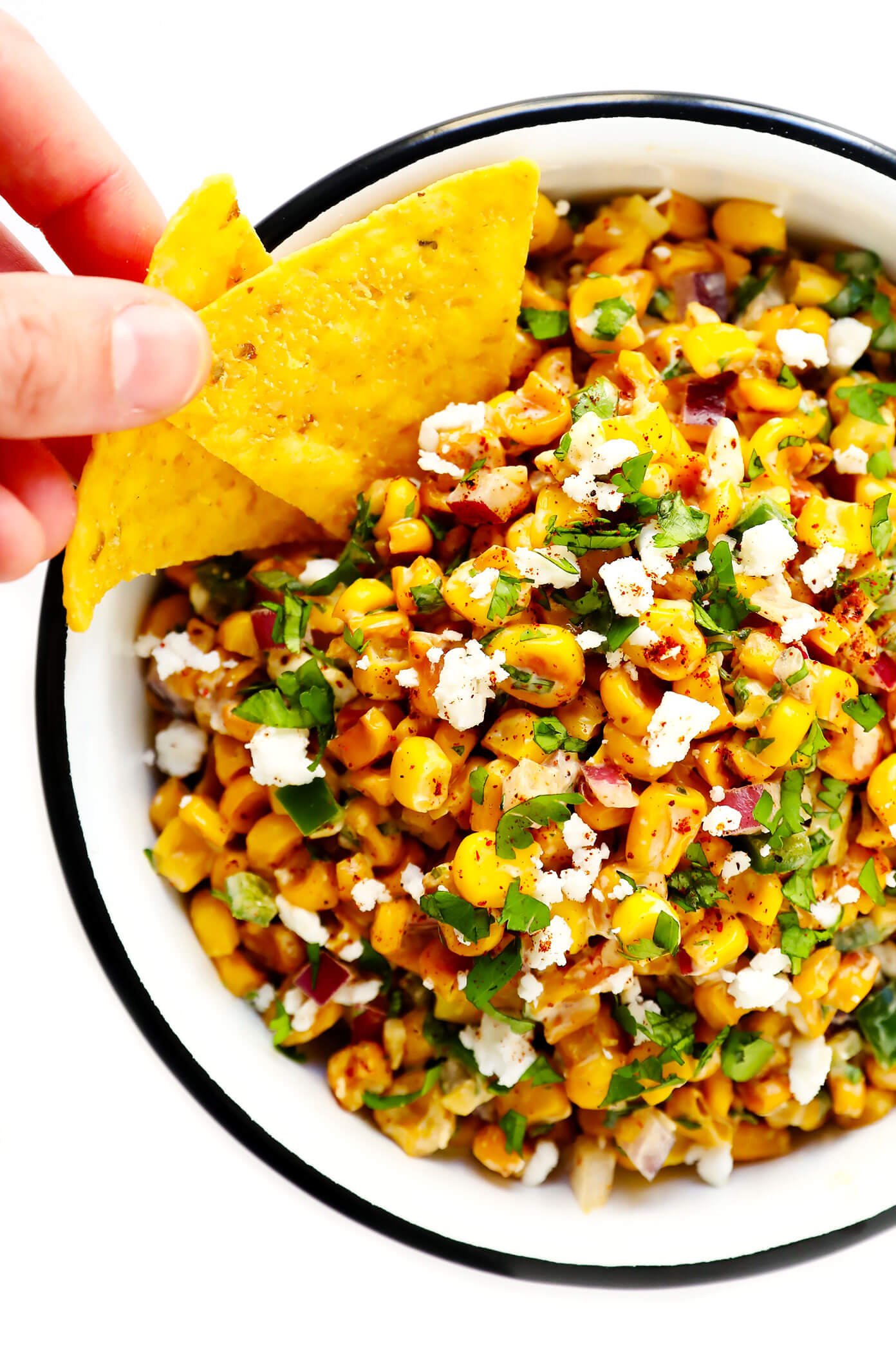 Everything you enjoy about traditional Mexican street corn is contained in these straightforward 15-minute vegan dips recipes. We made our regular round of tacos, rice, beans, and dips the first time we had our European friends around for Mexican food here in Spain, and we absolutely spiced everyone up! Naturally, as the host that evening, I was really bummed out and rushed to bring out extra tortillas and rice to save the day. But everyone was content to eat this elote dip as almost a full supper! I had made a sizable quantity earlier in the week with a tonne of extra corn on the cob, and I brought it out that evening as a last-minute taco topping. Since then, I've been whipping up batches to serve during our Mexi nights with friends here and bring to events, and everyone always raves about it. the good news as well? 

It is simple to make with leftover corn on the cob, frozen or canned corn, and only takes about 15 minutes to prepare. It is also naturally gluten-free and vegan. Mexican corn has the unique quality of being served in a variety of ways, whether hot, cold, on the cob, in a cup, as a dip, or as side dishes. I usually make a large quantity and use it in a variety of ways over the course of a week. Have fun, everyone!
Get the recipe here.
---
Vegan Poblano Pepper Cream Sauce
The best vegan poblano pepper cream sauce is perfect for topping vegan Mexican dishes including burritos, enchiladas, tacos, vegan buddha bowls, vegetables, and pasta. Simply 6 major ingredients and no oil! Poblano peppers are one of my all-time favorite ingredients. I employ them frequently. And, I adore them when they are raw because of the great crunch and fresh flavor they offer to Buddha bowls or Vegan Chili.

I really adore them when they are roasted because it nicely softens them and brings out the most delectable smokey flavor in them. Even, I started eating this vegan poblano pepper cream sauce straight from the bowl because it is so good. In all honesty, very little would taste bad with this roasted Poblano Pepper Cream Sauce! Haha. It is always wonderful over pasta, any desired vegetables or other toppings, or even simply the sauce on its own! These Vegan Breakfast Burritos would be AMAZING and drizzled with sauce. Add this sauce on top of the vegan enchiladas. Pour over bowls made in the Mexican or Southwest styles.
Get the recipe here.
---
Simple Avocado Feta Dip
This Avocado Feta Dip is very delicious and, yes, seriously addictive. loaded with parsley, tomatoes, red onion, feta, and avocado. Less than ten ingredients, easy to prepare. This dip is truly fantastic and would make the perfect addition to your side dishes. One of my obsessions is this avocado feta dip. It resembles guacamole somewhat, though—dare I say—better?

I won't go there, I promise. However, it is amazing in its own right. You can use feta cheese that is suitable for vegans in place of the original. Everyone loves it, and it goes great with chips, and crackers, as a side dish, or as a salad topping. This feta dip is incredibly amazing and has a tonne of flavor and texture. And if the thought of feta makes you say, "Ew, feta," just leave it out; this makes the dip vegan-friendly.
Get the recipe here.
---
Thai Peanut Sauce with Basil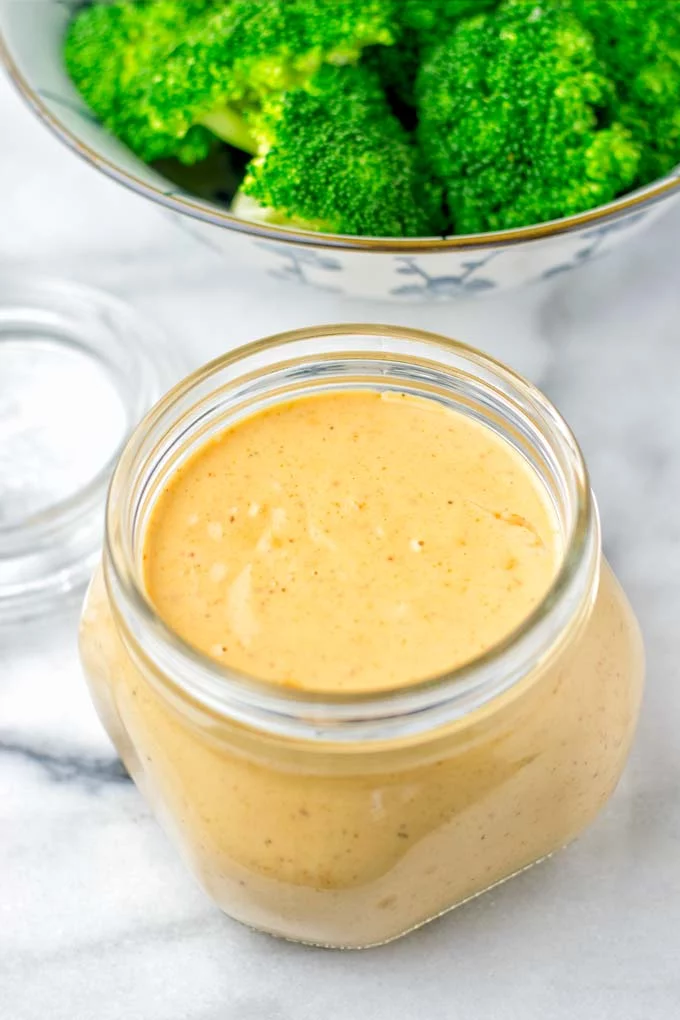 One of my all-time favorite recipes is this Thai peanut sauce. It can be paired with veggies, and snacks, or even serve as the foundation for a delectable salad dressing and is ready in about 5 minutes. It is naturally vegan because it is made with peanut butter, red curry paste, coconut milk, and garlic. Trust me when I say that once you try this Thai peanut sauce, you won't want anything else. The basil in the sauce is the real secret to my success. It is creamy, oil-free, kid-friendly, and completely appropriate for any kid-friendly supper suggestions. I have a peanut butter addiction. I'm not keeping anything from you here. You can find me cheerfully consuming it with a spoon from a jar.

This brand-new 5-Minute Thai Peanut Sauce with Basil is unquestionable: incredibly simple, incredibly gratifying and creamy, exquisitely flavored from the inside out, adaptable, rich, and after you've tried it, you won't want to use any other peanut sauce again. This simple Thai-inspired peanut sauce is not only packed with heat that I find to be absolutely delightful. Since I created this recipe, it has also grown to be one of my personal favorite vegan dips recipes because of how adaptable it is. Make a stir fry with Thai peanut sauce using it as the sauce. Fantastic for any stir-fried vegetable, including peas, broccoli, cauliflower, carrots, and a plethora of other healthy recipes. But I have to admit that it works pretty nicely in a dish for broccoli.
Get the recipe here.
---
If you like this article about Vegan Dips Recipes, please share this with your friends on Facebook, Twitter, and Pinterest. Also, you can subscribe to my blog to get all the latest articles first on your mobile.
SHARING IS CARING!
FACEBOOK | TWITTER | PINTEREST
Did you like this recipe and make it later at home? SAVE this pin to your favourite board on Pinterest!