My favorite among my kitchen tools is my slow cooker. I cook all my slow cooker chicken meals in it. Be it a simple chicken stew or a spiced-up chicken tikka masala or a cheesy broccoli chicken, my slow cooker always has my back. It is so dear to me. All you need to do is just sit back and watch the slow cooker brew magic! People say that they always have to compromise on taste when they cook in a crock pot. But I say, they don't know the culinary art. I dare you to try my slow cooker recipes and dare say that they are bland. With each recipe, you'll receive guaranteed perfection.

Each of my slow cooker recipes is tried and tested on all my guests, friends, and family and is absolutely foolproof. So cook these delicious dinner recipes in your slow cooker and your dinner nights will never ever be boring again. This list of slow cooker recipes that I'm going to share with you is also healthy recipes so you can also count on them if you're trying to watch your diet. So why wait any further? Grab your crock pot and get started on mastering the art of cookery!
---
21. Slow Cooker Coconut Chicken Curry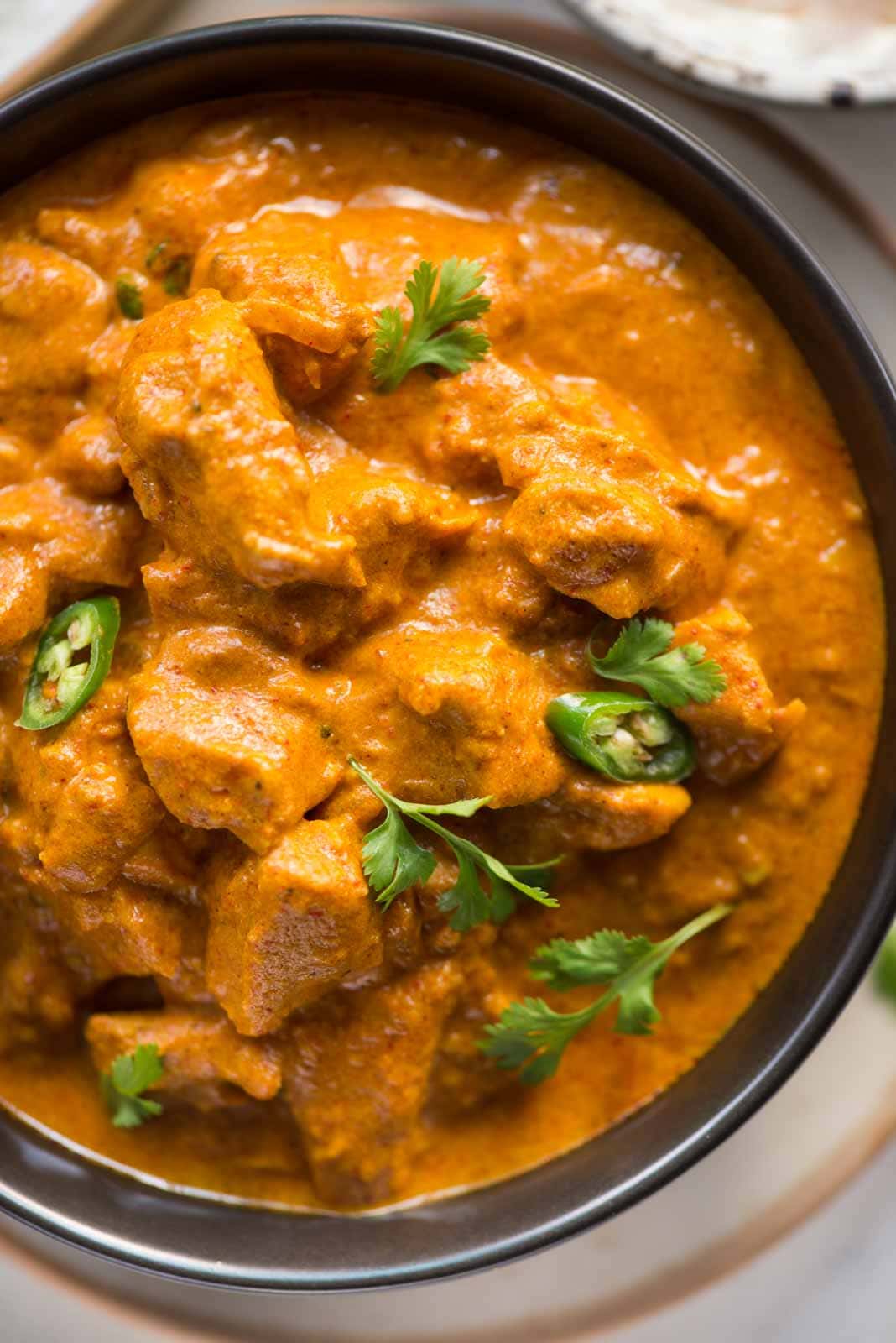 Healthy recipes that combine vegetables, protein, and carbohydrates all in one dish by throwing everything into a slow cooker? I'm in, please! The entire family will love the flavorful yet mild Slow Cooker Coconut Chicken Curry. Isn't it wonderful how many different ways there are to prepare dinner recipes with chicken? It's time to include another! My family adores anything that contains curry or coconut milk, and the two go together perfectly. This recipe is ideal for plunging your fingers into creating dishes that might be a bit unusual than what your family typically eats because it just calls for a small number of spices.

Red pepper flakes might undoubtedly provide a little heat, but we prefer the dish's moderate flavors and creamy sauce. The nicest part is how quickly everything comes together after a brief preparation period to prepare everything for the slow cooker. Slow cooker chicken meals benefit greatly from the smokey, mildly spicy, and flavorful combination of curry powder and curry paste.
Get the recipe here.
---
Related: Baked Chicken Recipes
---
20. Slow Cooker Creamy Tomato Basil Chicken Recipe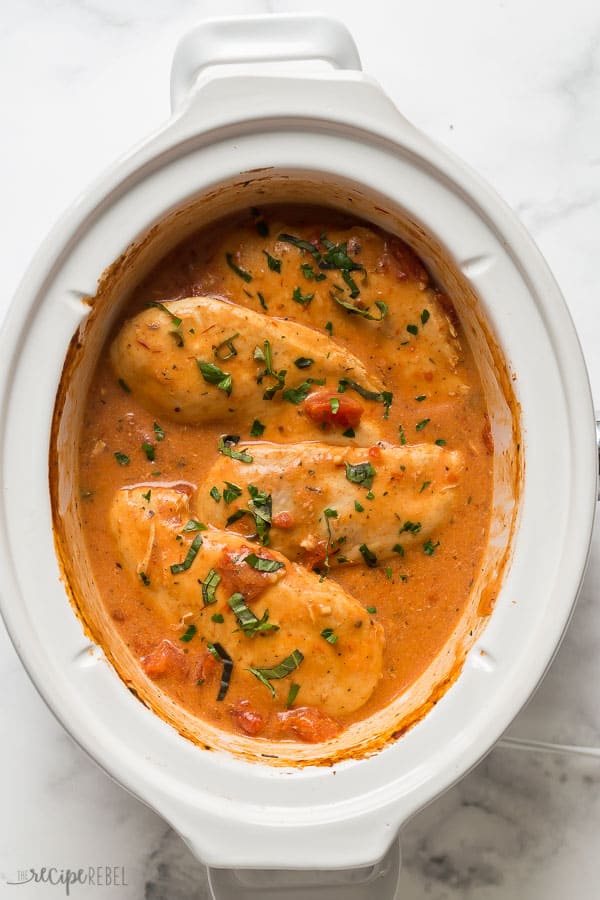 You wouldn't believe how tasty and simple this Slow Cooker Creamy Tomato Basil Chicken is with so few ingredients! Here are some ideal quick dinner recipes for weeknights when you're busy! We enjoy this chicken over a bowl of spaghetti but, if that's not your thing, it can also be eaten as a stand-alone meal with a side salad. The creamy tomato flavor combination is always a favorite around here.

Many slow cooker chicken dish meals, in my experience, require you to give up either flavor or texture, or both. That can be greatly aided by browning the meat in advance, but frequently even after that, the juices still require seasoning because, after such a long cooking time, the flavors become diluted. But none of those things apply to this chicken! When finished, the sauce has the ideal consistency and a fantastic flavor. There isn't much cream or evaporated milk in it, despite how creamy and soothing it is. You can also try butter chicken as well for holiday nights.
Get the recipe here.
---
Suggested: High Protein Slow Cooker Recipes
---
19. Slow Cooker Chicken Stew
This hearty Crock Pot Chicken Stew is one of the warm and simple dinner recipes for chilly nights. It's full of flavorful, juicy chicken, tender potatoes, and tons of fresh vegetables and herbs. Such low-calorie, high protein slow cooker healthy recipes will be ready for you at the end of the day with just a few minutes of preparation. For a quick and easy family-friendly option, pair each bowl with a crusty loaf of no-knead bread, buttery biscuits, or a pan of cornbread! More quick crockpot chicken recipes are always welcome, and this specific one does not disappoint!

There are only a few simple, readily available ingredients needed to make this recipe for slow cooker cook chicken stew. This traditional dish is the answer if you're looking for a cheap, healthy dinner alternative for your family. I flavor the hearty chicken stew dish with garlic, salt, paprika, a bay leaf, thyme, rosemary, and poultry spice. Thyme, sage, rosemary, marjoram, and nutmeg are all included in poultry seasoning, which means you may add a lot of flavor with little work. No problem if you don't like this ingredient. Simply omit it or substitute other herbs and spices in their place. This dish is a straightforward one-pot supper that doesn't call for any additional sides because it has protein, carbs, and vegetables.
Get the recipe here.
---
Related: Chicken And Rice Meals
---
18. Slow Cooker Chicken and Dumplings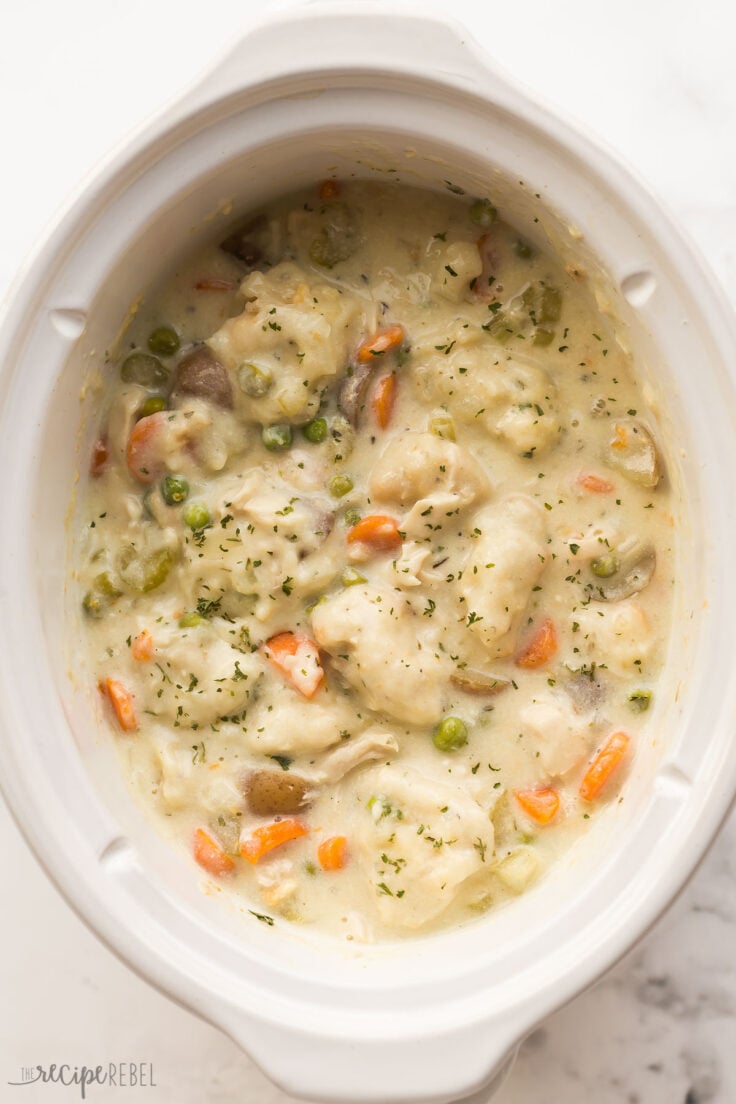 Easy Chicken and Dumplings in the Slow cooker! In a rich, creamy sauce, juicy chicken breasts are slow-cooked to absolute tenderness. This beautifully warming dish is made simply using shortcut dumplings, making it a family classic that everyone will enjoy. The greatest comfort dish is definitely chicken and dumplings. Soft dumplings and juicy, tender, and juicy chicken chunks in a thick, creamy gravy. Don't get me wrong, I enjoy making Old Fashioned Chicken and Dumplings from scratch, but I also know that with a family and a busy schedule, there are times when I don't have the time to prepare a full Sunday dinner meal prep from scratch.

This dish employs a few small shortcuts to make it incredibly quick and simple to prepare without sacrificing flavor. The best thing about this dish is that it can be prepared all day in a slow cooker. Frozen vegetables are a great complement for their color, flavor, and added nutrition. Feel free to exclude the vegetables from your chicken and dumplings if they aren't your thing. Onion, though, is important because it gives a lot of taste.
Get the recipe here.
---
Suggested: Meals Under 200 Calories
---
17. Slow Cooker Seasoned Chicken, Green Beans and Potatoes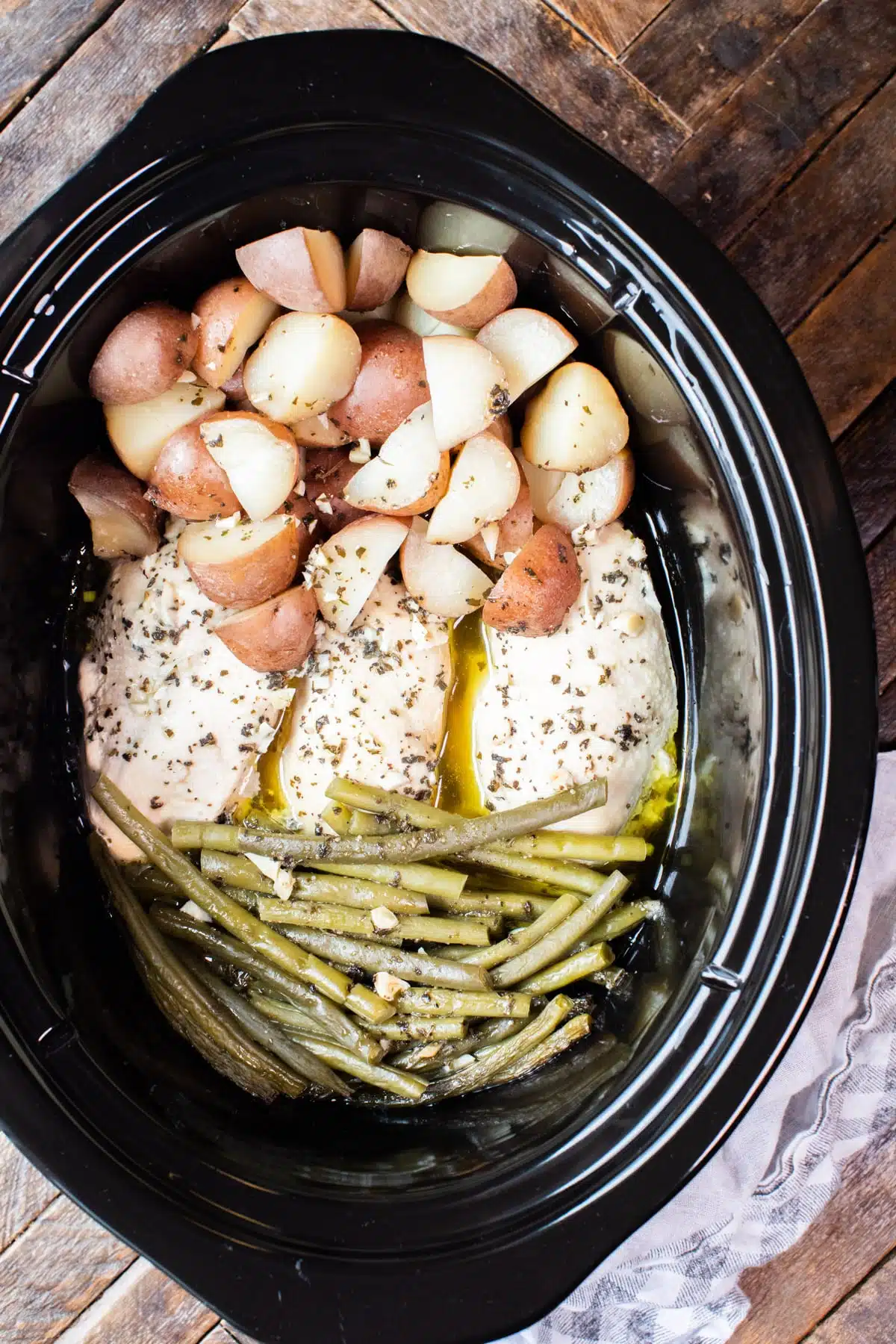 Delicious and ideal for hectic nights is the slow cooker seasoned chicken recipe. It is a true one-pot supper. This seasoned chicken pairs superbly with green beans and potatoes. This recipe is incredibly simple to make and requires very little effort. The fact that the slow cooker did all the job will amaze your family. Coming home to a dinner that is ready and waiting is wonderful. The chicken is incredibly flavorful and tender. My favorite way to serve the chicken, potatoes, and green beans chicken casserole is with a drizzle of marinade. It is excellent.

It reminds me of the Chicken at my favorite restaurant, but it's far better. The fact that the crock pot does all the work makes this chicken and potato meal one of our favorites. There's no need to use separate side dishes or use more pans. For a delicious one-pot meal, put the potatoes, green beans, and everything else in the slow cooker. One of the simplest dinner recipes to prepare is seasoned chicken with green beans and potatoes. Everything goes into a crock pot, and the ingredients are simple. The flavor of the chicken is enhanced by the addition of Italian seasoning. The crock pot has everything you need to make a delicious meal. Cleaning up is simple.
Get the recipe here.
---
Related: High Protein Low Fat Recipes
---
16. Slow Cooker Honey Garlic Chicken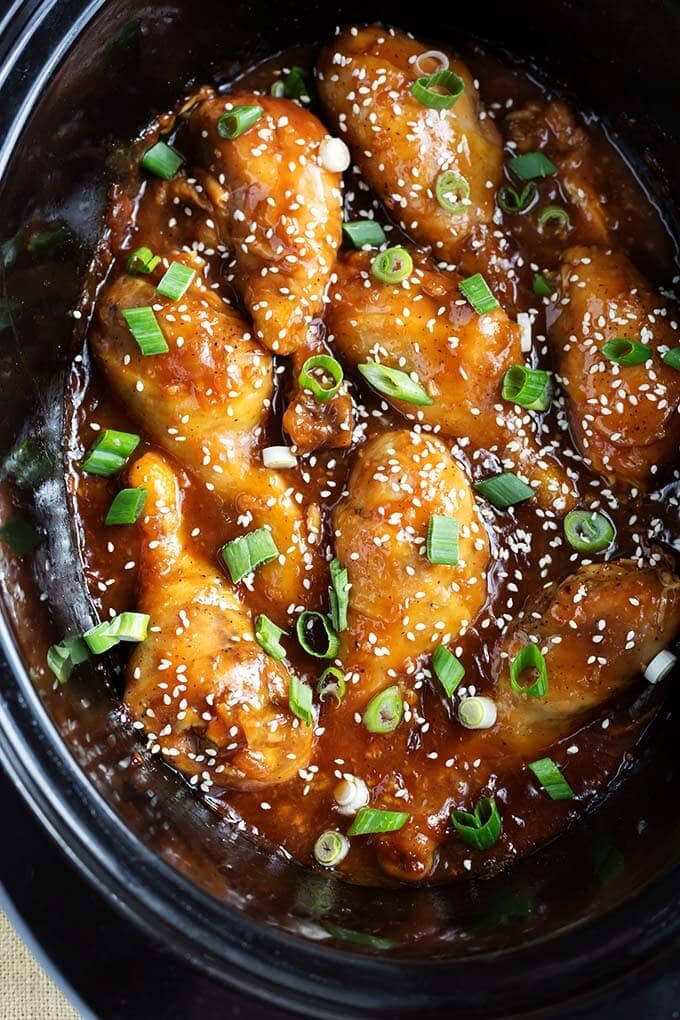 Honey Garlic Chicken in the Slow Cooker. Slow-cooked chicken breasts mixed in a sauce with Asian influences that are sweet and sour. Slow cooker chicken meals that the entire family will enjoy! It only takes ten minutes to put this delicious honey garlic chicken together for cooking. Additionally, it is one of my healthy recipes! I enjoy creating Asian-inspired dishes at home to reduce saltiness.

Simply combine the sauce ingredients, chop the garlic, ginger, and green onions, and then add the chicken to the slow cooker. By cooking the chicken for two to three hours on low, it comes out very juicy and tender. I made a large amount of sauce to serve with the chicken and extra to put over the rice. It has a sweet honey flavor and a tangy soy sauce flavor. In addition, it has a tonne of garlic and some Sriracha for a mild heat. Soy sauce and honey are both used in equal amounts to make the sauce. Sesame oil, hoisin sauce, and rice wine vinegar are also added.
Get the recipe here.
---
Suggested: Vegan Casserole Recipes
---
15. Slow Cooker Chicken Tikka Masala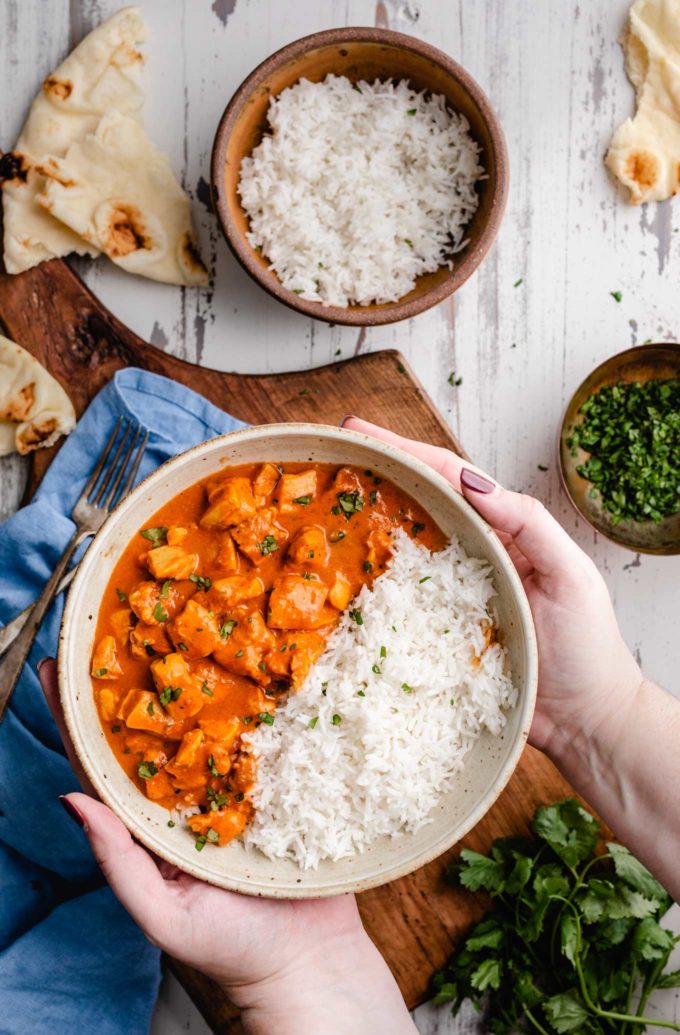 Here's one of the best slow-cooker chicken meals for your dinner recipes. The homemade version of chicken tikka masala you've been craving is here, and it's SO simple to make thanks to the slow cooker! Think about returning home to the tantalizing aroma of this traditional curry cooking away, ready to excite your palate! I added 2 extra processes to enhance the seared flavor in an attempt to make this slow cooker adaptation taste the most authentic.

But fear not—still it's absurdly easy! In addition to this curry, most curries taste practical and even better the next day! The tastes have plenty of time to mingle and develop. Therefore, feel free to prepare this dish in advance. Then, simply reheat the chicken and sauce in a saucepan and serve. My preferred method to serve this recipe is with plenty of naan bread, particularly garlic naan, and a large bowl of basmati rice.
Get the recipe here.
---
Related: High Calorie Meals
---
14. Slow Cooker Chicken Burrito Bowls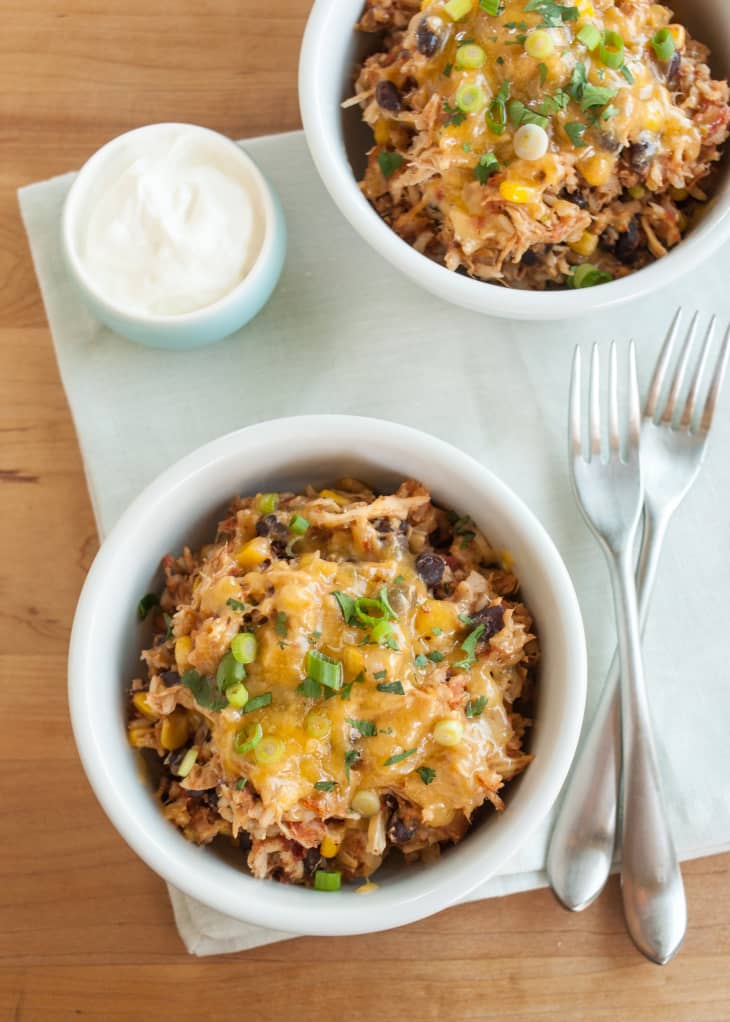 There's no need to spend a lot of time or effort preparing dinner with these straightforward slow cooker chicken burrito bowls. Black beans, the correct amount of heat, juicy shredded chicken, and plenty of topping options! There is nothing like a bowl of chicken burritos; delivery is optional. Dinner is one of those occasions when I always feel drained and uninspired to think deeply. In these situations, the crock pot is my greatest friend, especially when making these straightforward Slow Cooker Chicken Burrito Bowls!

It only requires dumping all the ingredients into the slow cooker, then returning hours later to a straightforward supper. Once it is cooked and dinner is served, simply shred it! The toppings are what make burrito bowls entertaining. If necessary, you can very simply accommodate people who cannot have dairy or gluten. You may tweak the level of spice to suit the younger group, who might not be fans of a lot of heat. We adore this dish since it satisfies everyone's cravings in one sitting! Get started by pulling out the slow cooker! In just a few minutes, you ought to be prepared. I adore this recipe since it is literally a "dump and walk away" dish.
Get the recipe here.
---
Suggested: Keto Bowl Recipes
---
13. Slow Cooker Mongolian Chicken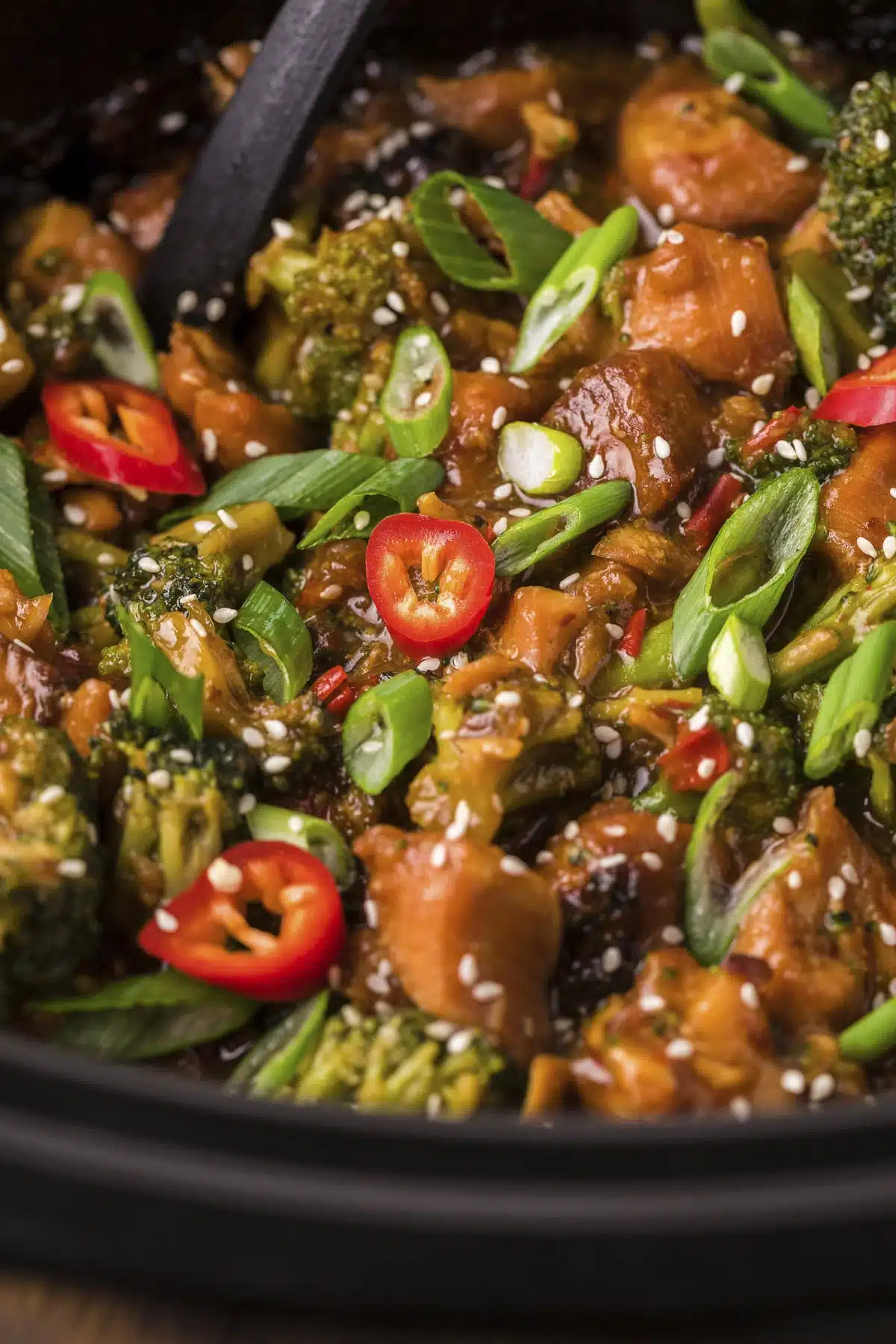 One of the five ingredients, sweet, spicy, flavorful, and healthy recipes that you can prepare in advance is slow cooker Mongolian chicken. You won't believe how easy it is to make slow cooker Mongolian chicken, and you'll adore such slow cooker chicken meals you produce. The remaining sauce is so delicious that I frequently thicken it by cooking a cornstarch slurry with it on the stove. Then I incorporate it into everything! Of course, on top of the chicken, but also the following day over rice. Actually, on occasion, I'll make a quick fried rice dish with leftover rice and this thickened sauce.

To spice things up and make this a genuine pantry dish, I added spices in place of fresh ginger and garlic. When I tested the recipe, I also discovered that it had a nicer texture than minced ginger, which may become chewy and unpleasant in the slow cooker. Because molasses is also added to dark brown sugar, it gives the flavor an extra depth. In order to reduce the sodium and salty flavor, I also always use light soy sauce. Since they turned a little soggy in the slow cooker during testing, I avoid using green onions in this recipe. It would be amazing if you added them raw in the last five minutes! Also, you can try rotisserie chicken at home for the holidays.
Get the recipe here.
---
Related: Chicken Breast Recipes
---
12. Slow Cooker Chicken Pot Pie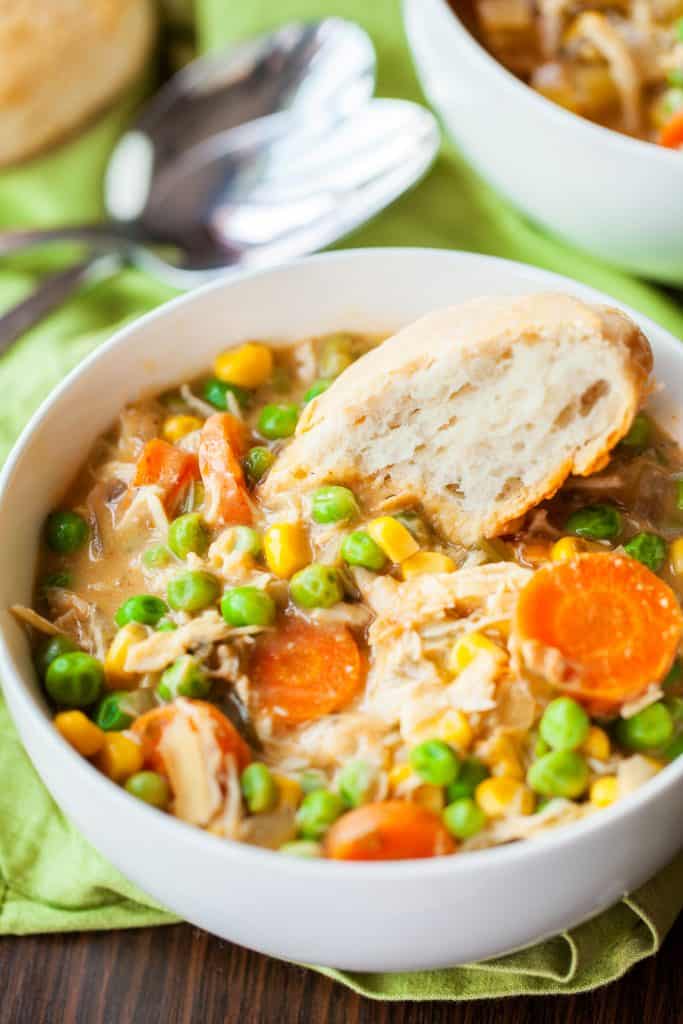 Using your slow cooker will simplify making pot pie! With little effort, make this chicken pot pie in the slow cooker. No pie crust is necessary! Excellent supper for a hectic weeknight. Traditional, cozy chicken pot pie is among the childhood dinners that come to mind first. On hectic nights, I can vividly picture my stepmom removing hot savory pot pies from the oven and completely consuming them while they were still sizzling and bursting with flavor. Is there a more satisfying comfort food than this?

A crisp, baked-to-perfection crust with a hot, savory, and delectable secret inside? There is nothing greater! I wanted to make the traditional American dinner recipes into simple slow cooker chicken meals for this recipe. While you work (or clean, shop, or look after the kids), let the insides cook. Then top it off with a biscuit that can be quickly baked. It's like a cozy dream come true! If you want something EASY, use your crock pot. Allow your slow cooker to do the work, then top it up with a simple biscuit.
Get the recipe here.
---
Suggested: Pie Meal Ideas
---
11. Slow Cooker Chicken And Gravy
The delicate chicken breasts in the slow cooker chicken and gravy pair well with mashed potatoes and white toast. I'm constantly seeking simple slow cooker chicken meals, and this one is both simple and well-liked by everyone. This dish is ideal for spicing up plain chicken breasts. This Slow Cooker and Gravy are perfect if you like comfort food. In this recipe, chicken breasts are used, and the gravy in which they are cooked makes them incredibly juicy. My kid frequently requests this dinner, alongside mashed potatoes and corn, and it is a staple in our home.

Shredding the chicken for this recipe doesn't require any special equipment. I shred the chicken with 2 forks right there in the gravy-filled slow cooker. The gravy may need to be thickened if you add vegetables or the chicken breasts are particularly moist. When the cooking time is up, mix the water and cornstarch in a small bowl and add to the gravy with the shreds of chicken. Put the lid back on and heat for 10 minutes, or until thickened.
Get the recipe here.
---
Related: Leftover Chicken Recipes
---
10. Slow Cooker Crack Chicken
My entire family loves creamy slow cooker crack chicken recipes! It just takes five minutes to prepare, and no one will suspect it's keto crack chicken. I always turn to low-carb slow cooker chicken meals during the winter. This recipe for crack chicken is one of my faves because it's simple to make and is so comforting. The best part is that the recipe makes use of items that many of us already have on hand. That provided the ideal justification for making this slow cooker crack chicken once more this week and sharing it with you.

Cream cheese, ranch, bacon, and cheddar are the key ingredients in the creamy, addictive dish known as "crack chicken." Ranch dressing intensifies the ranch flavor without overly souping up the chicken. Crack chicken from a slow cooker is inherently keto friendly! However, whether or not you follow a specific diet, this slow cooker crack chicken meal is just fantastic. It's ideal to prepare this naturally keto crack chicken for the family because it's one of those healthy recipes that practically anybody will enjoy, even if they don't follow a low-carb diet. Like me, I bet you'll make it time and time again.
Get the recipe here.
---
Suggested: Shredded Chicken Recipes
---
9. Slow Cooker Chicken Tortilla Soup
You should include this Slow Cooker Chicken Tortilla Soup in your meal plan if you're craving comfort food, especially as the weather begins to cool off. For a chicken soup that is utterly excellent, it is loaded with shredded chicken, Mexicorn, and black beans, as well as other sauces and seasonings. Dinner tonight doesn't have to be difficult or you need to spend more time in the kitchen than you would like to. With this recipe for chicken tortilla soup, you can just throw everything together and leave.

Just shred the chicken before serving; that's all there is to it. This soup dish is guaranteed to become a favorite of yours! Shredded cheese, diced avocado, and homemade tortilla strips are typically included in the serving of this slow cooker tortilla soup. Any leftover soup should be refrigerated in an airtight container. This recipe you can keep this for up to five days.
Get the recipe here.
---
Related: Keto Soup Recipes
---
8. Slow Cooker Chicken Enchilada Quinoa
Slow cooker enchilada quinoa is one of those simple and healthy recipes. For a delicious, protein-rich crock pot supper the whole family will enjoy, just set it and forget it! This might just be my new all-time favorite dish. More often than not I need a dish that takes almost no effort and will always, without fail, satisfy my passion for Mexican food. Quinoa enchiladas in a slow cooker, are a gift from above. With only five minutes of preparation, I can set it aside for a few hours and return to it when it's ready to eat.

There is a lot of delicious food in that crock pot, and since only two of us live in this small apartment, it lasted us a few days. This means leftovers for days, and I could not be happier about that. If there is anything I enjoy more than freshly made cheesy quinoa covered in enchilada sauce and filled with corn and black beans, it is cheesy quinoa that has been sitting out for a day or two. Quinoa with cheese for breakfast. Friends, it's an event that will repeat itself. Who wants to take the first bite now?
Get the recipe here.
---
Suggested: Quinoa Meal Ideas
---
7. Easy Slow-Cooker Lemon Chicken
This a recipe for Lemon Chicken in the Slow Cooker that is incredibly simple and packed with loads of wonderful garlic. There is no need for sides because the vegetables and potatoes are cooked alongside the bone-in chicken thighs in the crockpot. You may prepare this Slow cooker Lemon Chicken recipe in as quickly as 3 hours or as long as 8 hours. This makes it ideal for a variety of schedules. 

The fact that the sides are prepared simultaneously with the chicken in the crockpot is probably what you'll appreciate most about this recipe. Similarly, I enjoy adding my vegetables right away to the pot, but last. Not for the entire process of cooking. To accompany this Slow-Cooker Lemon Chicken, thin green asparagus is the ideal side dish.
Get the recipe here.
---
Related: Lemon Recipes
---
6. Slow Cooker White Wine Chicken Stew
A delicious chicken stew in the crock pot with vegetables and white wine. It's a simple chicken recipe that you can prepare in advance and consume afterward. For the busy individual who still wants to prepare dishes of restaurant quality, even if it's only for yourself to enjoy, this slow-cooked chicken stew is the ideal supper. In spite of it, I can assure you that your guests will be impressed by this dish! The chicken thighs in this recipe for slow cooker chicken stew are browned first, then simmered with aromatic spices, veggies, and white wine.

This dish has small ingredients but tremendous flavors. The chicken literally slips off the bones, and each bite is a delicious combination of chicken, vegetables, and savory spices. The flavor of this recipe is difficult to describe. There are traces of France in the white wine. The soft chicken makes me think of chicken from an American restaurant, and the robust vegetables I used always make me think of a delicious hearty American stew. However, labelling is not significant; the taste is, and this tastes outrageously fantastic.
Get the recipe here.
---
Suggested: Plant Based Meal Ideas
---
5. Crockpot White Chicken Chili
You might have already known by now how obsessed I am with my slow cooker chicken meals. They are just perfect for your dinner recipes. This one is another slow cooker recipe that will melt in your mouth. Although there are many different kinds of chili, this creamy white chicken chili will quickly become your favorite. In fact, a lot of readers have written in to say that their chili competitions crowned this chili as the winner! Simply place everything in your slow cooker and let it handle the labor-intensive tasks!

The best dish currently is this creamy white chicken chili. It's so mouthwateringly flavorful and well-spiced! Additionally, since it cooks in your slow cooker, it is practically effortless! Many creamy white chicken chili recipes don't include corn, but I did so because the slight sweetness of the maize pairs so nicely with the spice of the green chilies. This chilli is fantastic for game day, as well as those cool Fall evenings when you want to cozy up on the couch with a big bowl and turn on the television. This chili can feed a sizable number of people, and you can even buy a carrying bag to bring it tailgating! You'll love it if you eat a big slice of delicious skillet cornbread with the chili!
Get the recipe here.
---
Related: High Protein Dinner Recipes
---
4. Slow Cooker Orange Chicken
Because your slow cooker performs all the work, slow cooker orange chicken is the simplest orange chicken ever! Exceptionally juicy, soft, and covered in a mouth-wateringly delicious orange glaze! There is no frying, browning, or breading in this recipe for orange chicken, making it the simplest ever. The entire process is handled by your slow cooker. The orange marmalade, soy sauce, rice wine vinegar, sesame oil, ginger, garlic, and green onions all provide complementary tastes to the chicken, making it incredibly soft, moist, and flavorful.

My family enjoyed this supper, which included rice, steamed broccoli, and peapods, and it couldn't have been simpler for me. Cleaning up was as simple as throwing the slow cooker liner away because I used one. I generously spread the remaining cooking sauce from the slow cooker's bottom over the chicken, rice, and vegetables. I appreciate every last bit of the delicious, sweet-and-tangy flavor. Serve with optional orange wedges, green onions, and sesame seeds as garnish.
Get the recipe here.
---
Suggested: Vegan Roast Dinner Recipes
---
3. Slow Cooker Chicken and Potatoes with Green Beans
These healthy recipes make your dinner even more sparkling. This recipe of the day is an ideal dish for any occasion. Nothing beats a simple dinner prepared in a slow cooker. Dinner is ready when you put everything in the slow cooker in the morning. The chicken and potatoes in the slow cooker are completely hands-free! You can have your protein, starch, and vegetables in one meal with these slow cooker chicken thighs and potatoes.

Chicken with honey and garlic is the best! It has the ideal balance of sweetness and tartness. Creating the glaze Garlic, ketchup, honey, and soy sauce are all combined. Place aside. Chicken thighs and diced potatoes should be placed in a slow cooker. sauce over the top. Cook on low for 6 to 8 hours with the lid securely on. Or, prepare food for 3 to 4 hours on high. Green beans should be added to the slow cooker for around 30 minutes until you're ready to eat. Turn off the slow cooker once the chicken is fully cooked and tender. Dispense and savor!
Get the recipe here.
---
Related: BBQ Chicken Side Dishes
---
2. Slow Cooker Cheesy Broccoli Chicken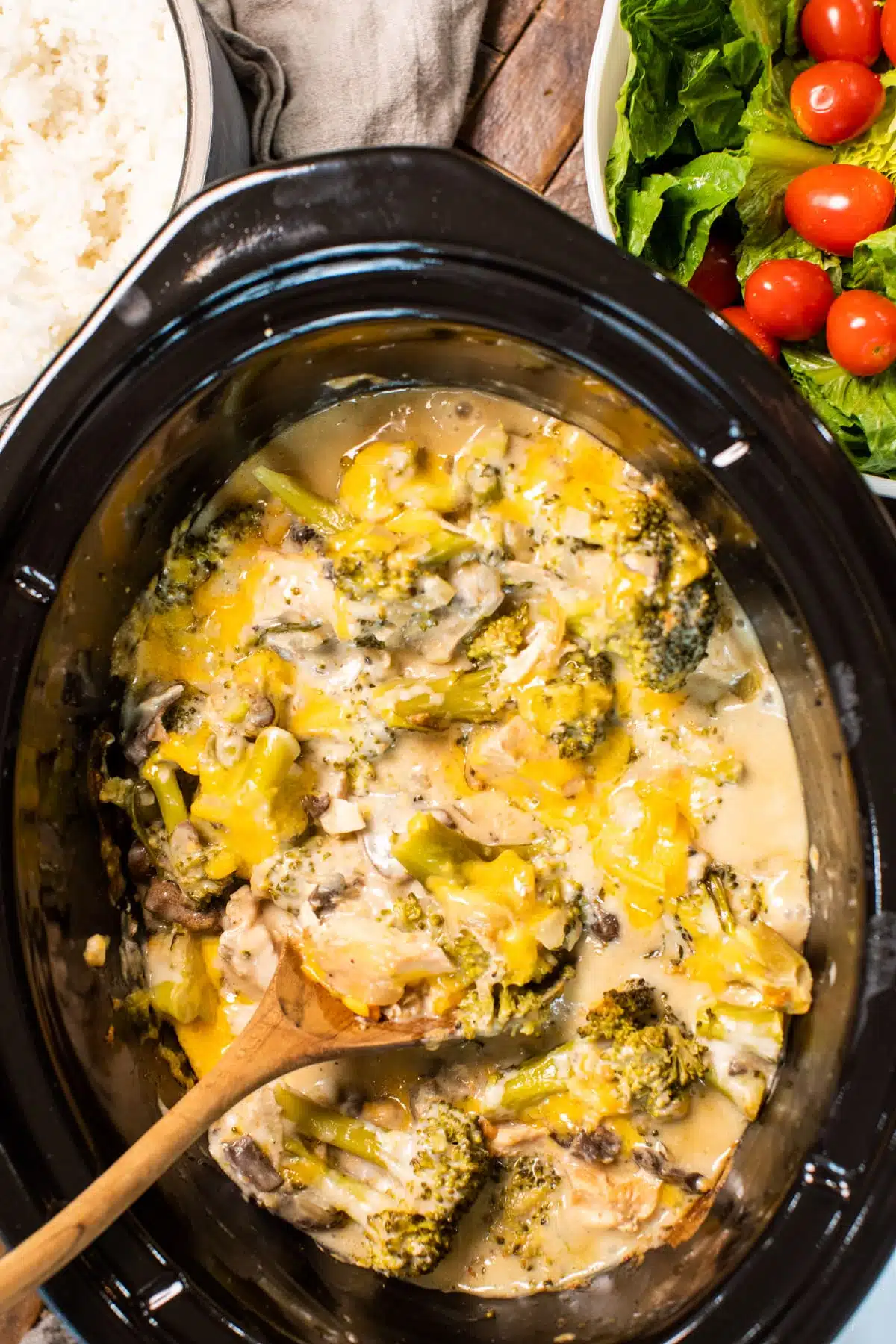 The entire family will enjoy such delicious dinner recipes, which are made in the slow cooker with creamed chicken and broccoli. In a cheese sauce that is simply wonderful, moist chicken and delicate broccoli are combined. Slow cooker chicken meals are the best! Simply place the ingredients in the slow cooker, then sit back and watch as a meal fit for a restaurant is prepared. It's ideal for hectic days, relaxing weekends, and every occasion in between. This recipe is simple to prepare and takes only a few things from your pantry.

The cajun seasoning is one of my secret ingredients. You'll only add enough to give it a great taste boost without making it hot. It's quite luxurious. You're going to adore how simple it is to assemble. The finest situations are those in which you can relax while the slow cooker takes care of everything. The slow-cooker method infuses all the flavours into the chicken, making for flavorful, moist, and tender chicken. Everyone at the table is happy when this is presented since the broccoli is perfectly soft and not mushy and there is extra cheese added.
Get the recipe here.
---
Suggested: Sour Cream Recipes
---
1. Slow Cooker Sweet and Sour Chicken
Start the holiday feast with quick, healthy recipes such as these slow cooker chicken meals that you can throw in, walk away from for a few hours, and come back to a delicious dinner! Sweet and sour chicken in the crockpot. Growing up, I consumed a significant lot of fast food. While I no longer favor take-out-style Asian food, I do still greatly prefer recipes that are cooked with actual, whole foods. One of my favorite recipe genres has evolved into creating healthy crockpot versions of classic fast food faves, and many of those recipes have also won over readers.

What's not to like about a dish that combines tender lean protein, crisp vegetables, and a sweet, sticky sauce before being served over fluffy rice? One of my favorite recipe categories is making healthy slow cooker adaptations of those popular fast food items. The sweet and sour chicken recipe that we all know and love may not adhere to the principles of traditional Chinese cuisine, but it is nonetheless tasty and simple to prepare. This dish is an all-in-one meal, much like the other healthy slow cooker chicken recipes on my website.
Get the recipe here.
---
Bonus
Slow Cooker Garlic Parmesan Chicken and Potatoes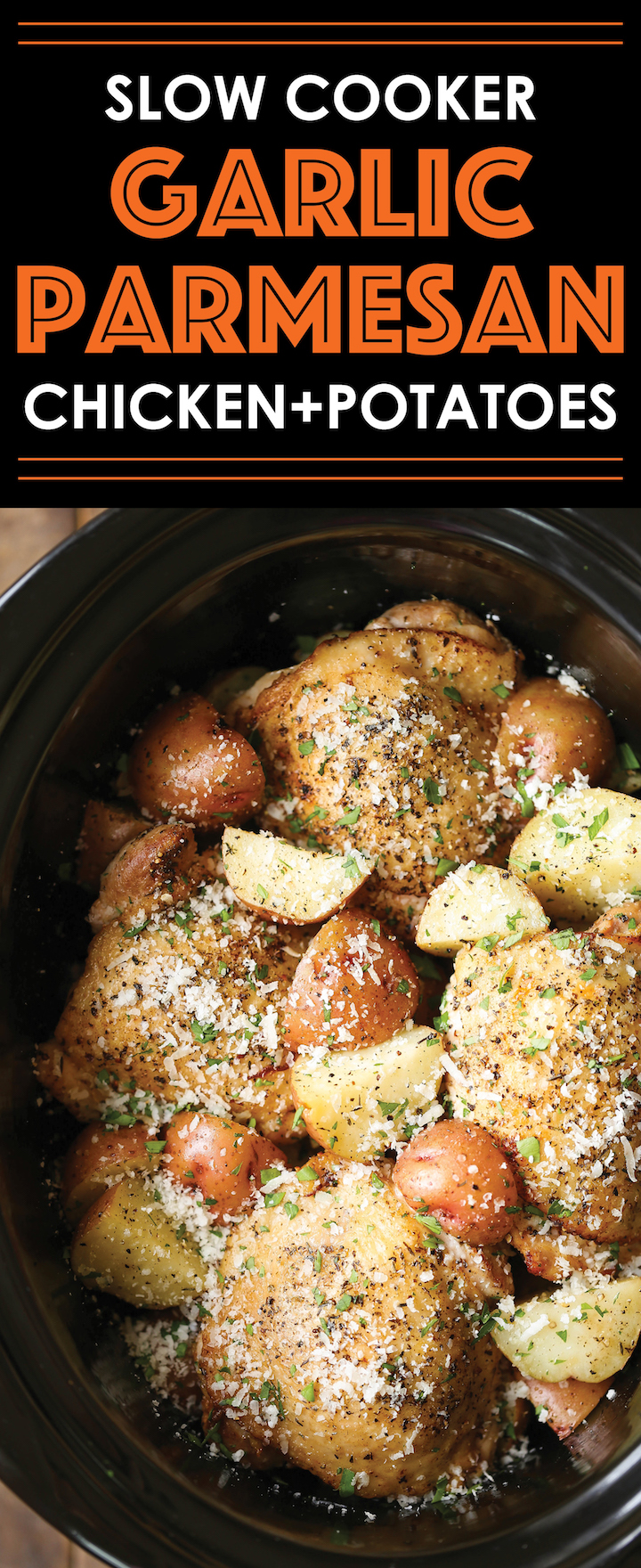 There are only five ingredients and a short preparation time required to make Slow Cooker Garlic Parmesan Chicken and Potatoes. The ideal quick evening supper consists of crispy chicken thighs, buttery red potatoes, and shaved Parmesan cheese. Although Slow Cooker Garlic Parmesan Chicken and Potatoes may appear to be a simple recipe, with just a few minutes of preparation before starting the slow cooker, you can have a supper that appears to have taken you an hour and five other dishes to prepare.

With this recipe, as with the majority of my slow cooker recipes that feature crispy pork, there are a few slow cooker techniques that come into play. Before placing the food in the slow cooker, brown the beef or chicken. Here, by browning the chicken on both sides, you'll produce a flavorful crust and render enough chicken fat to cover and cook the potatoes. Never include any liquids. This technique aids in preventing your chicken from floating in a pool of liquid.
Get the recipe here.
---
Crockpot Tuscan Chicken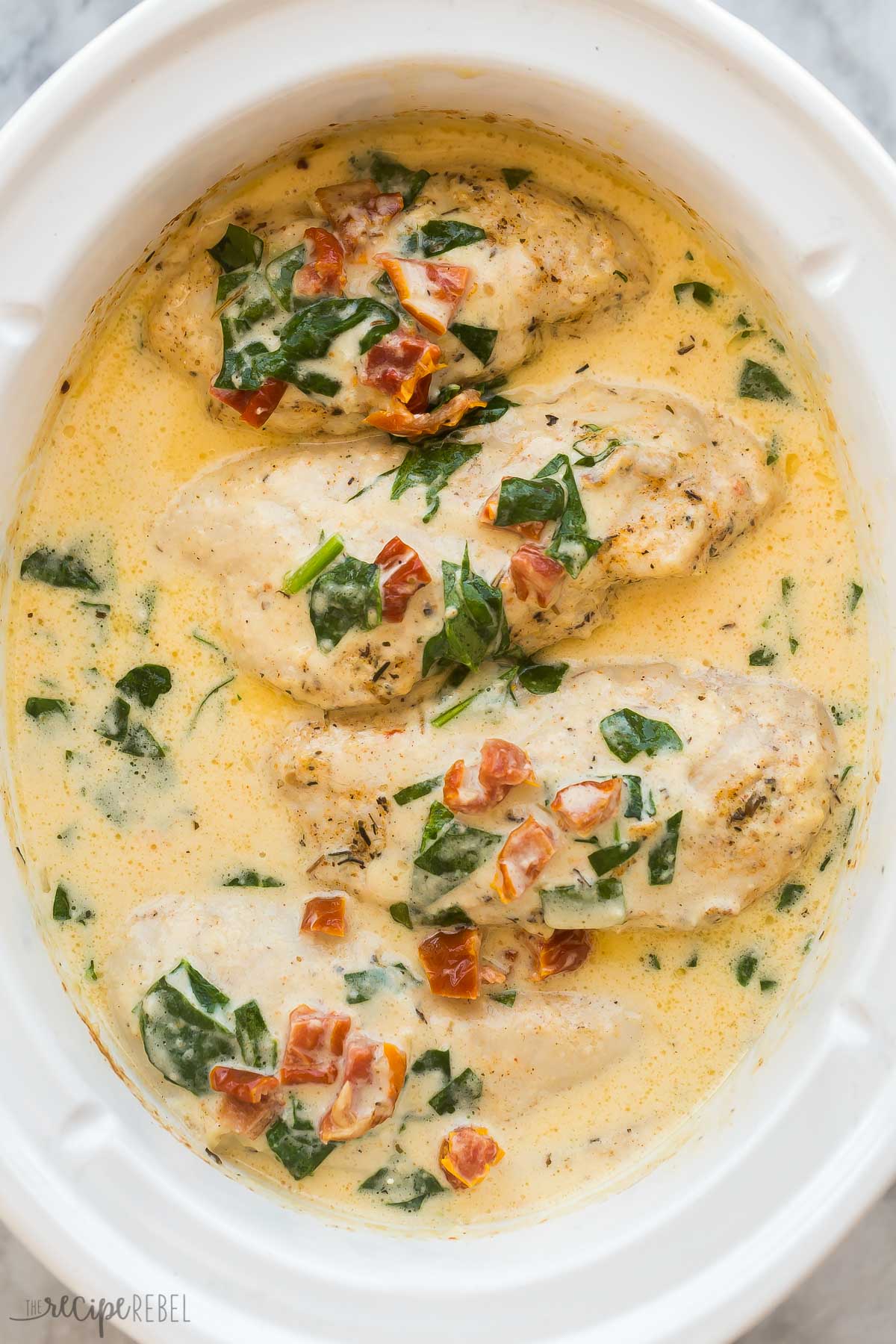 Juicy chicken breasts are slow-cooked in a thick, creamy cream sauce in this recipe for Crockpot Tuscan Chicken. The perfect slow cooker chicken meals can be made with these dinner recipes and served over your favorite pasta in just ten minutes! In this delectable dish of Tuscan chicken in the crockpot, I've combined some of my favorite flavors! However, there are some days when it is extremely comforting to know that dinner is simmering away in the crockpot. This recipe elevates Tuscan chicken to a whole new level and only requires 10 minutes of preparation time. In a rich, creamy, and fragrant sauce, the chicken breast is slowly cooked in the crockpot.

I enjoy slicing the cooked chicken and spooning additional cream sauce on top of a mound of cooked butter noodles. You can also add vegetables to your dishes like Roasted Green Beans or Honey Glazed Carrots.
Get the recipe here.
---
Slow Cooker Chicken Spaghetti
The utmost comfort dish is this Creamy Slow Cooker or croskpot Chicken Spaghetti. It is a delicious and simple meal that is perfect for families and is kid-friendly. Spaghetti is a great, inexpensive dinner recipe that you should include to your regular menu if you're on a tight budget. By mixing various sauces and meat—or even going meatless—you may alter it up. It goes well with hot, crusty bread and a tossed salad, in my opinion.

Any leftovers should be kept for lunch the next day. One of those creamy pasta meals you'll make repeatedly is this cheesy chicken spaghetti. That's good, really! This is a fantastic weeknight meal option. The slow cooker cooks everything except the pasta while you are away. All you need to do is prepare the pasta, add it to the slow cooker, and sprinkle cheese on top when you come home.
Get the recipe here.
---
Slow Cooker Spinach-Artichoke Chicken Soup
This stew is very DELICIOUS and made in a slow cooker with low carb chicken, spinach, and artichokes. Everyone LOVES this simple stew. Really simple to make, put all the ingredients in the crockpot, then let it do the rest of the job. Italian dressing mix, cream cheese, chicken, spinach, artichokes, and mushrooms. Add some cheese and bacon to the soup. You wouldn't know this was one of those healthy recipes! This Slow Cooker Spinach & Artichoke Chicken Stew is AMAZING! Artichokes, mushrooms, chicken, spinach, and cream of mushroom soup. This soup is delicious and really simple to prepare in a slow cooker. Who else adores quick slow cooker chicken meals like this? But you can try chicken noodle soup too for meal prep.

In the morning, I love to throw everything into the slow cooker, and when I get home, supper is ready. You can complete the meal by serving the soup with some low-carb cornbread or biscuits. As I previously mentioned, it's VERY simple to create this Slow Cooker  Spinach & Artichoke Chicken Stew. In the slow cooker, add several skinless, boneless chicken breasts. Chicken broth, Italian dressing mix, cream cheese, chopped artichokes, fresh mushrooms, and frozen spinach that has been thawed all go in. All day, let the soup simmer on LOW. With two forks, shred the chicken after removing it from the slow cooker. Serve it after putting it back in the crockpot.
Get the recipe here.
---
Slow Cooker Mustard Herb Chicken and Creamy Orzo
With this Creamy Orzo with Slow Cooker Mustard Herb Chicken using white wine, creamy Dijon mustard, fresh herbs, parmesan cheese, and orzo, you can transform traditional dinner recipes into simple slow cooker chicken meals. Even some colorful broccoli was added for vegetables and color. After a long day at work, this warm and delectable slow-cooked chicken dinners recipe is the perfect welcome home meal. The best thing, though? The simplest dinner to make is this one. With a meal like this creamy orzo and herby chicken, you really can't go wrong. This is ideal at this time of year when the nights are cooler but the days may be warmer. All through the fall and winter, it will be wonderful. 

To give it a hint of a comforting fall taste, I love to incorporate apple cider in this recipe. With the white wine, herbs, and mustard, it goes so well. I know it seems strange, but the apple cider really does provide a wonderful flavor. With hardly any cleanup and little hands-on time, it is very easy and quick. The easiest dinner, perfect for hectic weeknights… thick, creamy, and so incredibly delicious!
Get the recipe here.
---
If you like this article about slow cooker chicken meals, please share this with your friends on Facebook, Twitter, and Pinterest. Also, you can subscribe to my blog to get all the latest articles first on your mobile.
SHARING IS CARING!
FACEBOOK | TWITTER | PINTEREST
Did you like this recipe and make it later at home? SAVE this pin to your favourite board on Pinterest!