Being a pregnant woman and a mother of one, it's always important for me to eat and feed healthy food. Even when it's about holiday recipes and cheat meals, I like to use ingredients that have good nutritional value. My little one is crazy about finger foods and I often have to make him some. So I discovered a healthy way to indulge in finger foods. I have made some shrimp appetizer recipes. As you know, shrimp is a non-vegetarian seafood that is rich in nutrients like protein, omega-3, vitamins, and minerals.

Omega 3 is naturally good fat and so shrimp promotes heart health. It's absolutely safe for pregnant women and is an amazing choice if you're up for losing weight. With so many health benefits, how could even one say no to shrimps?! And also their taste is exquisite! So there are a million reasons why you should try my shrimp appetizer recipes. They are delicious and super nutritious. Here are my best holiday recipes for you to enjoy.
---
21. Shrimp Toast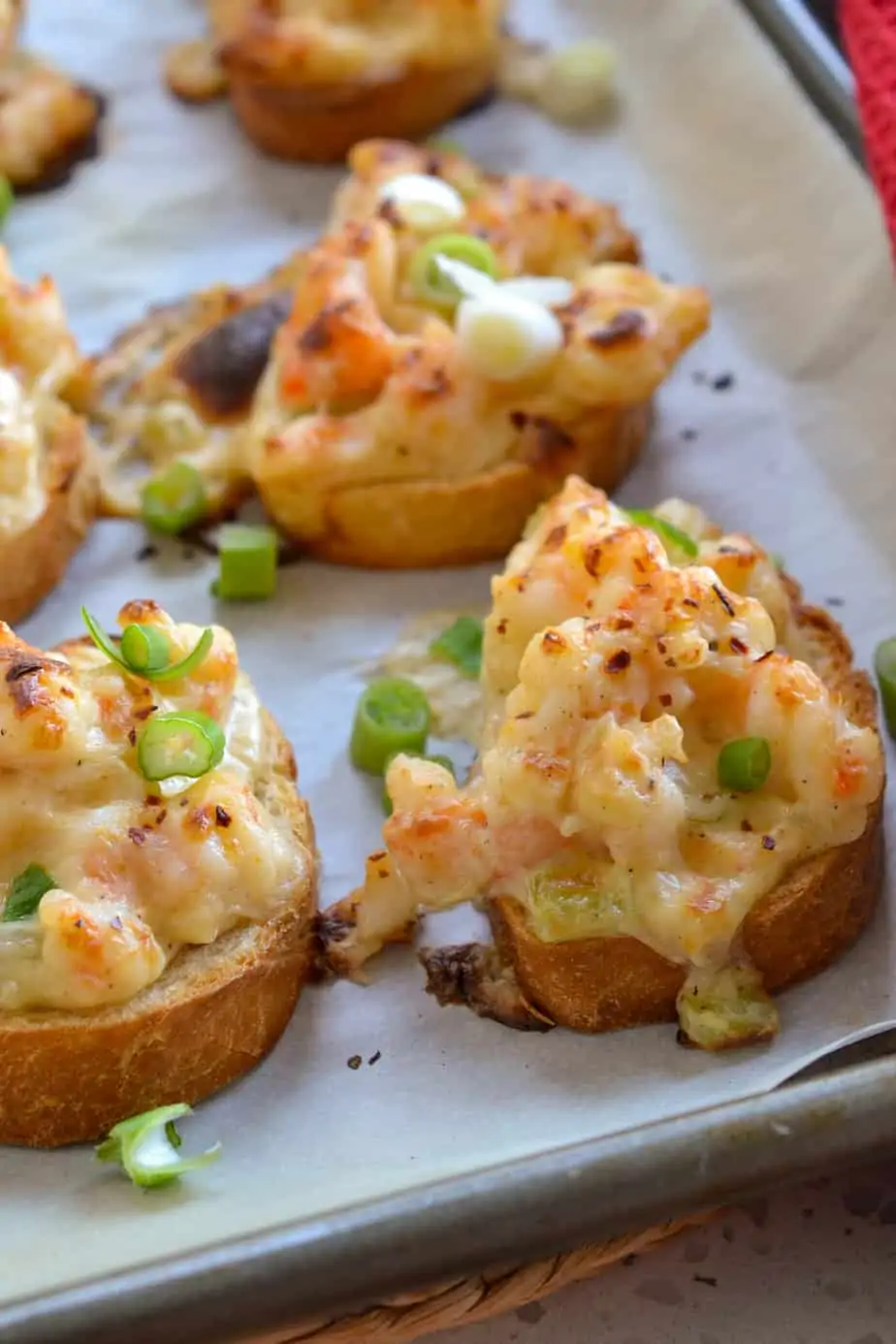 This is one of the best shrimp appetizer recipes you'll ever make! Slices of bread are spread with our straightforward, delicious shrimp paste combination, then pan-fried till crisp on the bottom and soft on top. Our shrimp toast is served with a sweet-chile sauce, which is simply delicious! Is it just us, or does Shrimp Toast get a raw deal? Seriously. Why isn't Chinese Shrimp Toast being praised for how good it is?

It's likely one of our favorite finger foods. Although we say it frequently, these small bites are the real deal. Soft bread is coated with a mouthwatering shrimp paste before being pan-fried to perfection! A sweet-chile sauce and the tiny triangles make for a mouth-watering taste feast. Our simple shrimp toast dish is really addictive and brings out the lovely, sweet flavor of shrimp.
Click here.
---
Related: Vegan Side Dishes
---
20. Chili Garlic Shrimp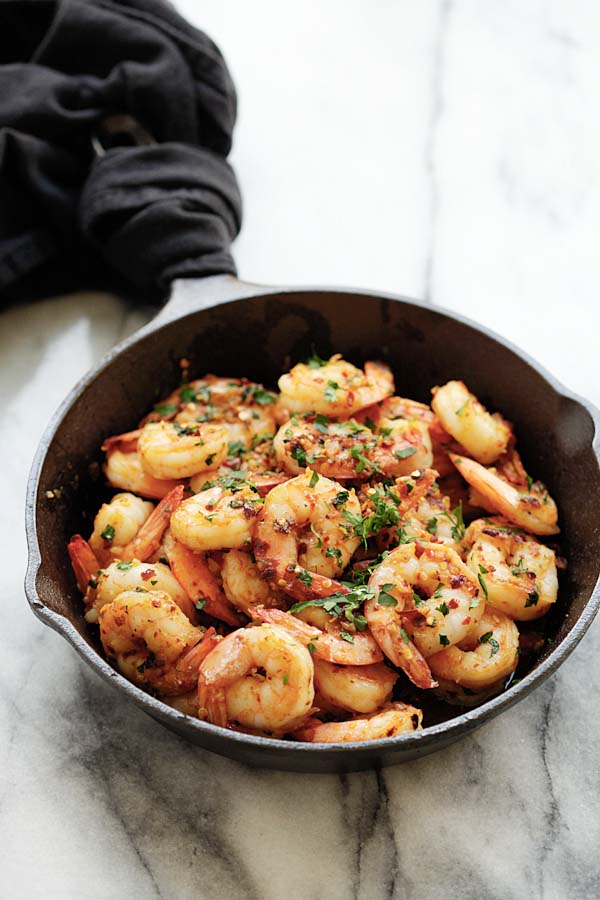 This a simple recipe for shrimp finger foods that are packed with flavor! These Asian Chilli Garlic shrimps, which are pan-seared shrimps covered in a fiery, sticky Asian sauce, will have you licking your lips in absolute satisfaction and making you feel as though you've just eaten at a posh, contemporary Thai restaurant. The sauce is much simpler to create and has the same flavor as homemade chili jam.

15 minutes from beginning to end! A fantastic Stir Fried shrimp in Chilli Jam that I tasted in a somewhat modern Thai restaurant inspired me to create these shrimp appetizer recipes. I was going to use a homemade Chilli Jam recipe to try to recreate it, but then I got lazy. Instead, I made an effort to replicate the flavors by adding small amounts of this, that, a touch of this, and a dash of that. And what do you know, well, well, well? It turned out very well. Really, really good and remarkably similar to making this using handmade chili jam, but much quicker and simpler.
Click here.
---
19. Spicy Baked Shrimp Balls 
Because they are baked rather than fried, these shrimp balls have fewer calories but still have a tonne of taste. Serve them with your favorite dipping sauce or sweet chili sauce for dipping. These infants are simply out of this world! These spicy baked shrimp balls are always gone before I can get everyone a drink when I serve them at dinner parties. They are that good, after all!

The preparation of this mouthwatering appetizer spread won't require you to spend hours slaving over a hot stove or oven. From beginning to end, it takes exactly 20 minutes! It was made considerably simpler for me by using a food processor. It takes just a few pulses to perfectly cut the raw shrimp! So simple! The oven cooking of the shrimp balls doesn't take very long. You ensure that the balls' tops turn golden brown, and ensure to spray them.
Click here.
---
18. Buffalo Shrimp Recipe
You can create the popular bar snack, crispy, fried Buffalo shrimp, at home! To prepare one of the best shrimp appetizer recipes, just cook raw shrimp and sprinkle them with buffalo sauce. I can't wait to give you my recipe for Buffalo Shrimp from my holiday recipes! I first tried this dish in a bar while out with friends, and ever since then, I've been trying to make it even better.

The best way to create these spicy shrimp is to add homemade buffalo wing sauce! Even you can also try cajun shrimp as well. There are buffalo shrimp recipes that omit the breading and frying processes, but for the most traditional flavor, the shrimp must be fried until they are beautiful and crispy. Use your deep fryer if you have one, but I've discovered that making fried food on the stove in a sturdy Dutch oven is rather straightforward. These Buffalo Shrimp have just the right amount of heat because of their deliciously spicy breading and homemade buffalo sauce, which is created with Frank's hot sauce.
Click here.
---
17. Avocado Cucumber Shrimp Appetizers 
Sliced cucumber serves as the foundation for this Avocado Cucumber Shrimp Appetiser, which is then topped with spicy grilled shrimp. SO YUMMY and simple! Need a quick and simple summer appetizer to share? Create this Avocado Cucumber Shrimp Appetisers! Little finger foods with grilled spicy shrimp on top, mashed avocado, and cucumber!

Hello there! Today, I'm very happy to share these simple holiday recipes with you! I'm really addicted to shrimp. In my freezer, there is usually a box of frozen shrimp. The simplest protein to cook, defrost, and grab is this one. It cooks quickly and is quite nutritious. These avocado cucumber shrimp appetizers are appropriate for low-carb shrimp appetizer recipes. Because they're simple to grasp and pop into your mouth, this Avocado Cucumber Shrimp Appetisers is also ideal for gatherings. Your guests will adore how savory and healthful they are!
Click here.
---
16. Easy Healthy Shrimp Dip 
One of the coziest and finest holiday recipes for an appetizer is cream cheese. You'll adore it if you serve it with crackers, nachos, or pita chips. Shrimp Dip: Comforting, tried-and-true, in a nutshell, Cheese and cream bliss! Simply dip your chips, crackers, or favorite vegetables into this savory hors d'oeuvre, and savor every morsel. You'll make it repeatedly because it's so good. Instead of buying store-bought shrimp dip, try this quick party dip recipe that takes less than 15 minutes to prepare.

You can easily make a quick, creamy, and tasty shrimp dip dish that is ideal for parties or snacks in about 15 minutes. No, this isn't the kind of crispy shrimp appetizer recipes that comes with coconut or popcorn. Instead, you serve a creamy shrimp dip with crackers. Sounds ideal for game day, no? You won't ever need another recipe for hot shrimp dip; just trust me on that. It is speedy, easy, delicious, and highly addictive. You simply can't halt all at once.
Click here.
---
15. Triple Cheese Shrimp Dip Wontons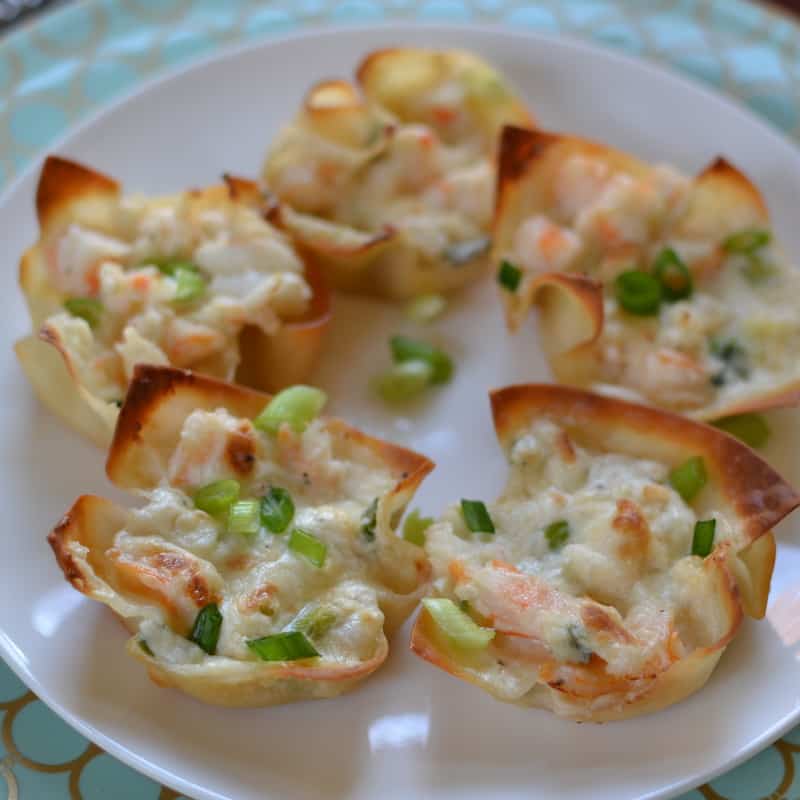 I adore small plates of finger foods. I enjoy making, serving, and eating it. There are several incredible shrimp appetizer recipes out there, as well as equally lovely methods to serve and showcase them, especially during the holidays when there are so many lovely decorations and a warm atmosphere. These Wontons with Triple Cheese Shrimp Dip are simple to make and quite tasty. The filling can be made in advance so that you are prepared to stuff the pastries right before your visitors arrive.

Put them in the oven for about fifteen minutes, and then serve your eager guests and family hot, mouth watering appetizers that will blow them away. The ideal party snack is these wonton bites with triple cheese and shrimp. Creamy shrimp dip combined with Parmesan, Swiss, and cream cheese, then baked until perfectly crispy. These are a must-make whether you enjoy entertaining, cooking, or maybe you just enjoy delicious appetizers.  Give your loved ones or any friends or family and yourself a nice treat! You deserve it because you've been working so hard.
Click here.
---
14. Honey-garlic Bacon Wrapped Shrimp
These flavorful, spiced shrimp are wrapped in bacon, drizzled with honey and garlic, and baked until crispy. The recipe is given here. They'll undoubtedly be the highlight of the event. I have a dish that is quite simple to make but is also incredibly flavorful, and guess what? It has just the right amount of heat that fans of hot food seek.

We're discussing shrimp wrapped in bacon and honey. YES! Hand-selected, thick-cut, and wood-smoked bacon is cooked over hickory chips for eight hours. The sweet honey-garlic glaze we're using for the prawns goes perfectly with the natural smokiness. Besides its amazing and addicting flavor, this recipe's BEST feature is how simple it is to prepare. You can prepare this in under 30 minutes with only around 10 minutes of prep time and 15 minutes of cooking time! Perfect for people who are hungry yet don't want to wait.
Click here.
---
13. Chili Lime Shrimp Cups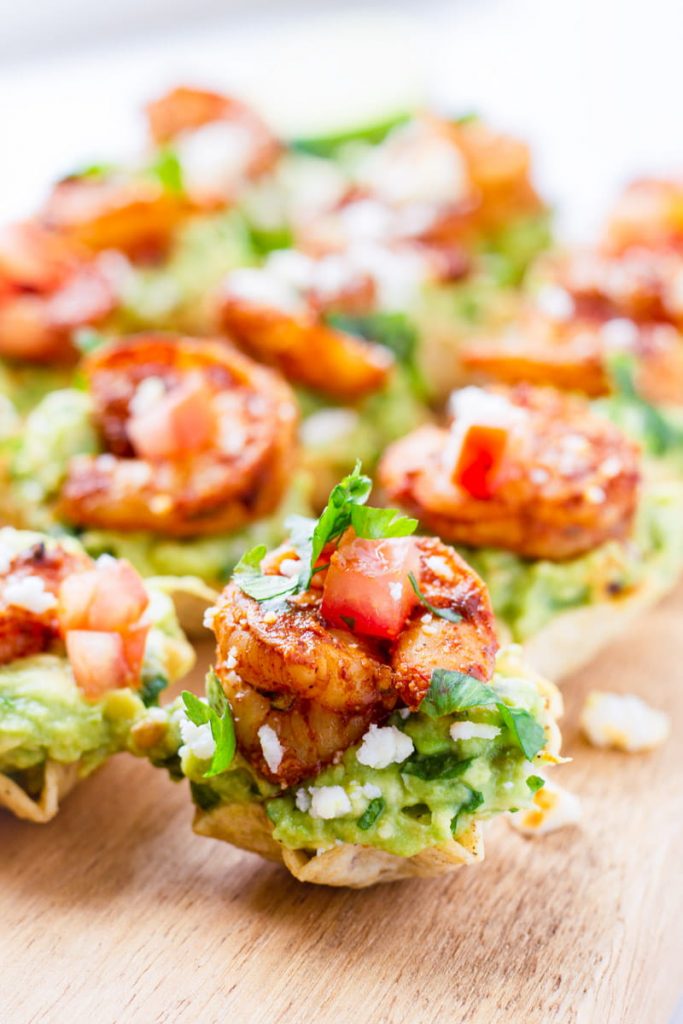 The ideal shrimp appetizer recipes or finger foods are these chili lime shrimps in crunchy wonton cups with lime sour cream and arugula. Happy Friday, everyone! It's Finger Food Friday, which adds even more excitement to the already wonderful Friday! Although I haven't posted one of these in a while, the wait was definitely worthwhile for this one. tasty and straightforward. After a long week, isn't that really all we want on a Friday night? And, if we're being completely honest, perhaps a few alcoholic beverages.

It didn't take us long to realize that just because something is bite-sized, you can't eat as many of them without stuffing yourself stupid. At least with these chilli cilantro lime shrimp cups or shrimp salsa, we relaxed after learning our lesson for the first time. Take it easy, I mean, I didn't create so much food that we felt we had to consume it all, even when we were already full. I only had just enough. They were divine, too. You could prepare these from beginning to end in 15 minutes and serve them. Please, hurry up. How are you going to miss that? Given how quickly dinner was prepared, there was more time to unwind and enjoy the evening.
Click here.
---
12. Shrimp Shooters with Homemade Cocktail Sauce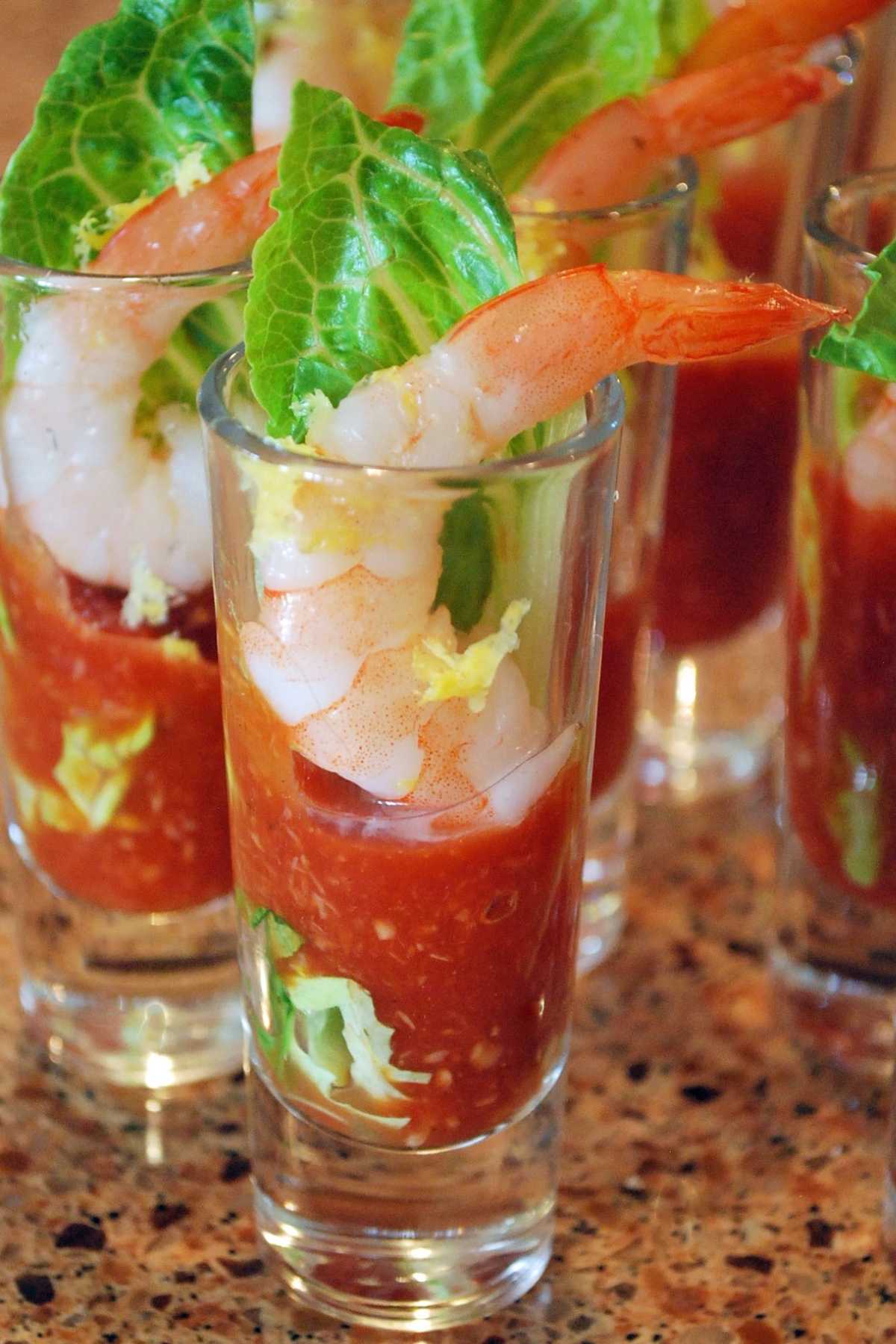 An excellent party idea is to serve these shrimp shooters with homemade shrimp cocktail sauce. They come in separate cups and are presented attractively with a zesty cocktail sauce. For Cinco de Mayo or any other time you need quick holiday recipes, I'm sharing an oldie but goldie from the stash today. These shrimp shooters with homemade cocktail sauce are really simple to make and vanish as soon as they are served! Five years ago, I made these for my daughter's bridal shower of my daughter.

Although you could absolutely serve the shrimp around a dish of cocktail sauce, I think these tiny cups have a more elegant appearance. Do you want a shot or two shots? The cocktail sauce recipe can be doubled, and two shrimp can be added to each glass, as these shooters were a smash at the baby shower. I also chose to save time by purchasing pre-cooked shrimp from the seafood counter at our neighborhood grocery store. I was really eager to put these together and serve them for supper today. So what do you think? I neglected to take the pictures out of the refrigerator after I put them back in after snapping them. We'll probably get to appreciate them tomorrow.
Click here.
---
11. Bang Bang Shrimp Recipe
Copycat recipes are useful when going out to your favorite eateries is difficult. Even while you won't have waiters or, of course, someone else to clean the dishes, you may still enjoy yourself by trying out restaurant-style meals in your own kitchen. At Bonefish Grill restaurants, the trademark appetizer is bang bang shrimp. It is referred to as "crispy shrimp tossed in our trademark creamy, spicy sauce" on the menu. You're in luck if you enjoy the appetizer (or tacos). This dish tastes as close to the original as it can.

You will be astounded by how much it resembles the original when you add the green onion garnish. Mayonnaise, Thai sweet chili sauce, and a small amount of Sriracha are the main ingredients in bang bang sauce. Bang bang shrimp can be served in a number of different ways, including as an appetizer, piled with lettuce and tomatoes in tacos, or on a bed of white or brown rice.
Click here.
---
10. Shrimp Fritters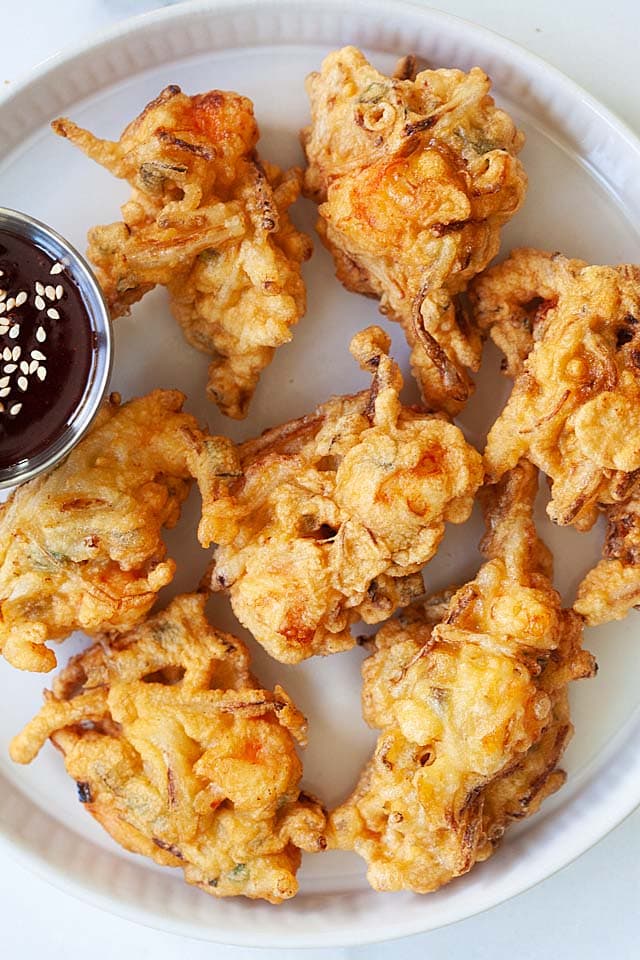 Crispy shrimp fritters stuffed with bean sprouts and shrimp. These easy-to-follow holiday recipes for handmade shrimp fritters are delicious when served with chilli sauce. They come with her own garlic chili sauce and are golden-fried, doughy nuggets consisting of tiny shrimp, bean sprouts, and flour. My mouth started watering at the mere mention of the shrimp fritters.

I haven't had this dish in a very long time, but my family really enjoys the recipe. Here is my recipe for easy-to-make but excellent Malaysian shrimp fritters. It simply requires a few simple ingredients and is really simple to make. The shrimp fritters are so delicious that my good friend's young son gave them the thumbs up after taking a bite. I have made them numerous times. If you give the recipe a try, I'm confident you'll love how cozy and nostalgic it is.
Click here.
---
9. Garlic Butter Baked Shrimp
A sheet pan of perfectly cooked, garlicky, buttery shrimp can be baked in only 10 minutes with this simple recipe for 10 Minute Garlic Butter Baked Shrimp. With regard to seafood, there is nothing better than a simple recipe like this! I mean, shrimp for 10 minutes? Simple as pie and quite quick. There are many simple ways to cook shrimp, but this one is ideal if you want to or need to use the oven. Shrimp that has been peeled and combined with melted butter and garlic are roasted for 8 to 10 minutes at 400 degrees Fahrenheit on a foil-lined baking sheet with a few drops of olive oil. For thorough recipe directions, scroll down. Shrimp can also be prepared by steaming or sauteing.
Click here.
---
8. Sweet & Spicy Shrimp Polenta Cakes
Polenta is currently quite popular among finger foods. It's suitable for vegans, gluten-free, and makes the ideal foundation for a sweet and sour shrimp topping. These polenta cakes, which are fried in ghee, are about to become the star of the show. The prepared polenta is first thickly sliced and fried in ghee until crispy on the exterior and soft on the inside. In the United States, polenta is more frequently referred to as grits, however, the preparation of polenta is the key distinction. It can be boiled and pressed into a tube and formed into porridge or cut into slices after being boiled and pressed.

Additionally, it can be made into grits or bread crumbs. I'm eager to learn more about this component because of how flexible it is. The shrimp is cooked with jalapenos, red peppers, corn, and a sweet and sour Thai ginger chile sauce after being marinated in a smoky paprika dressing. My absolute favorite is the Thai Ginger Chile sauce. The fried polenta is then topped with the shrimp, which is then garnished with fresh feta, parsley, and balsamic vinegar. Who doesn't want such soulful shrimp appetizer recipes?
Click here.
---
7. Popcorn Shrimp
In this recipe for popcorn shrimp, soft shrimp bits are coated in seasonings and deep-fried until they are the right shade of golden brown. An inexpensive alternative for shrimp appetizer recipes that will go over well with family and friends. I always provide a range of robust holiday recipes at my parties, such as these delicious popcorn shrimp, baked chicken wings, and creamy corn dip. One of my all-time favorite finger foods is popcorn shrimp; I just can't get enough of those crunchy little bites! Making your own fried shrimp at home is really fairly simple. I must admit that I believe my preparation to be superior to that which you would find in a restaurant. 
Click here.
---
6. Grilled Tandoori Shrimp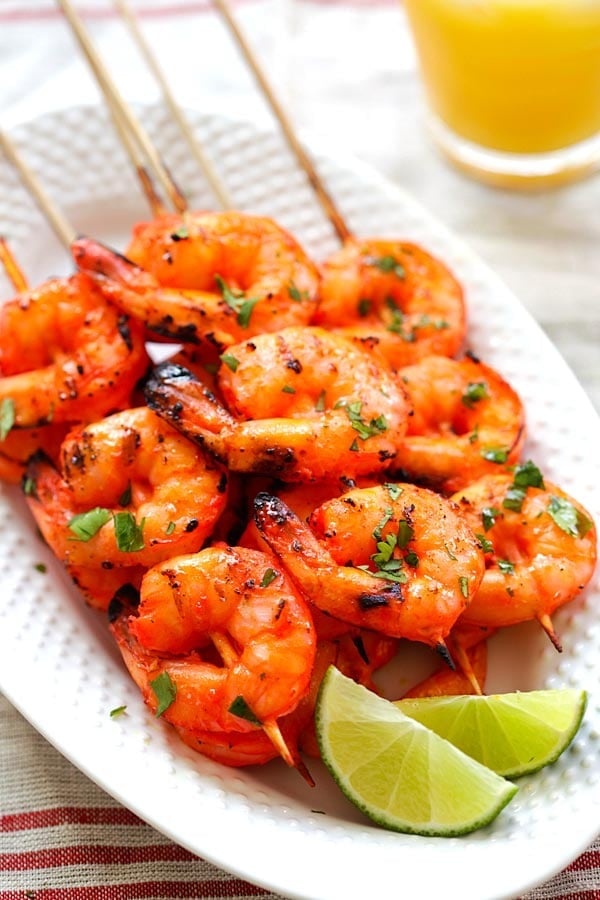 Indian shrimp skewers with the perfect amount of marinade and grilling. One of the most delectable shrimp appetizer recipes you've ever tasted! Super simple recipe! Tandoori shrimp was one of the meals I enjoyed in Mumbai that I would always remember. Tandoori shrimp that were enormous, juicy, fresh, firm, and cooked to perfection were bursting with incredible flavors.

Even after all these years, I can still taste it. My excursions to Mumbai led to the creation of this recipe for Tandoori shrimp. Even though I adore Tandoori chicken, fresh-off-the-grill shrimp skewers are the best. These tandoori shrimp skewers are to die for; they have mouth-watering flavors and great scents from the Indian spices. Try my holiday recipes if you enjoy tandoori food. You can grill them or bake them in the oven. 
Click here.
---
5. Crab Cake Stuffed Shrimp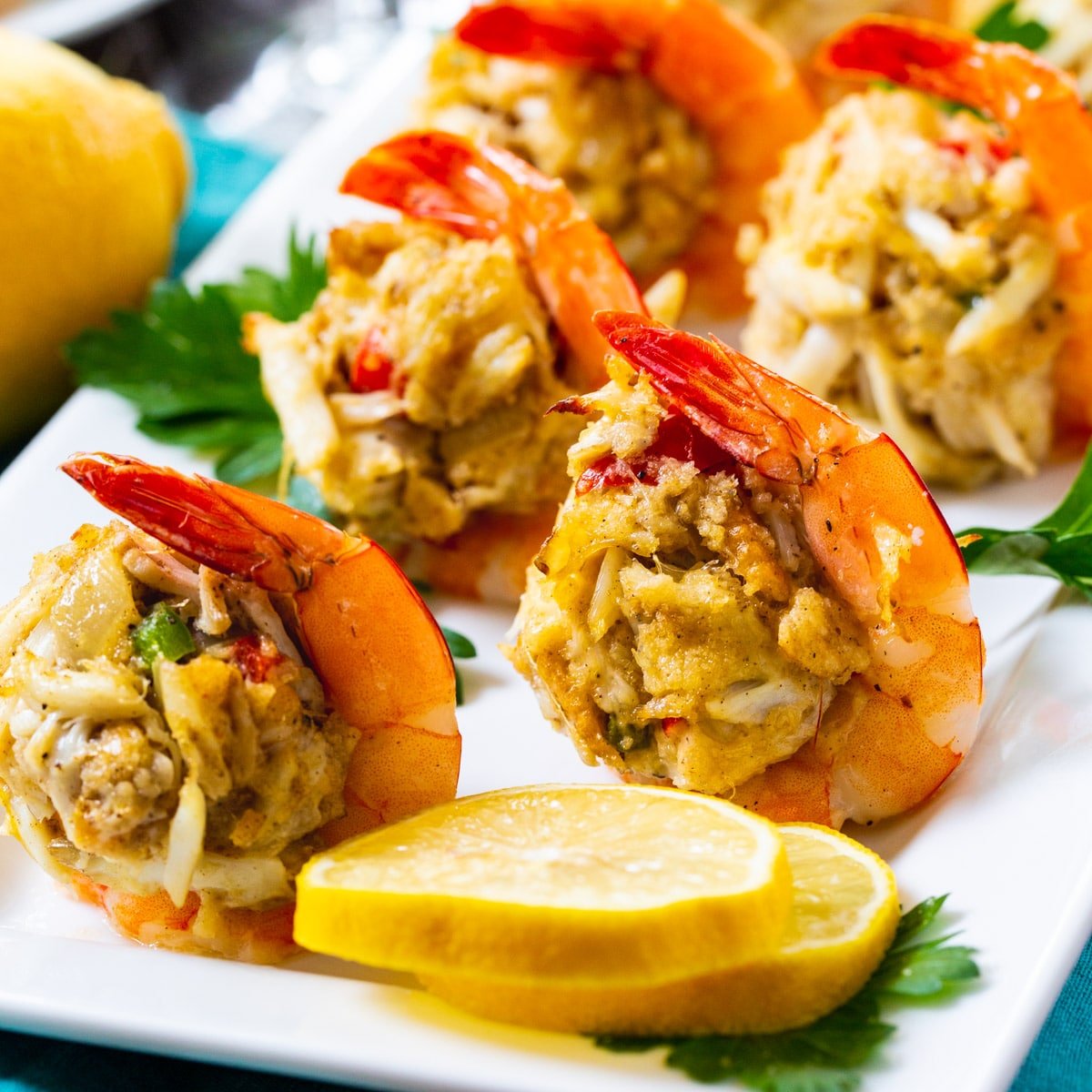 Out of my shrimp appetizer recipes, this shrimp stuffed with crab cake makes a sophisticated Christmas dish. The major ingredients in this meal are the crab and the shrimp. Only a small amount of filler and barely any additional ingredients are present to create taste. It costs a little bit more to make this dish. Fresh crab and large shrimp can be expensive. But it is a good value for money for seafood aficionados. Crab and shrimp together taste amazing.

Ritz crackers and Panko crumbs are both present in the filling. Ritz crackers' buttery flavor is my favorite. Bell pepper and red onion are also sautéed in the filling with garlic powder and other spices. Red and green bell peppers are both delicious, but either one will work.
Click here.
---
4. Lemon Garlic Shrimp Skewers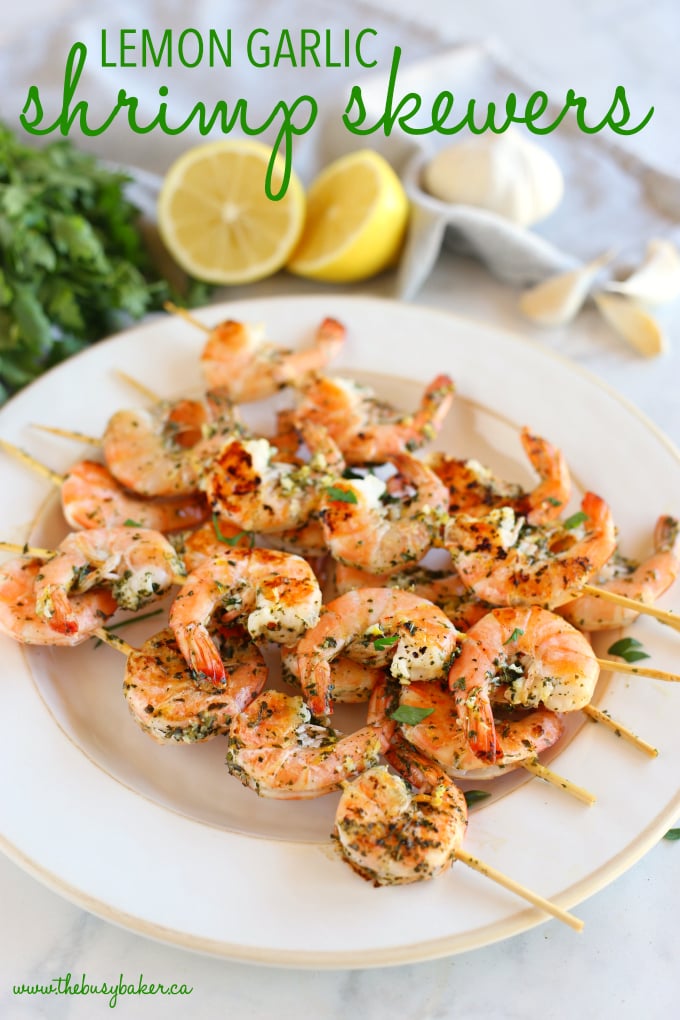 These quick, simple, yet incredibly delicious Lemon Garlic Shrimp Skewers will elevate your easy shrimp appetizers to new heights. This summer, they'll be your grill's best pal! With shrimp skewers, you can never go wrong. The creatures themselves are so delectable that very little preparation is necessary to make them into a feast.

I believe that they require virtually no preparation other than picking them up, skewering them, and grilling them; they would still be great. However, I have the perfect option for finger foods if you want to turn the heat up a level without putting in too much extra work. In fact, making this recipe is so simple that you hardly even need a recipe… All you need is a couple of pounds of huge raw shrimp, a little EVOO, lemon zest, a few garlic cloves, and some chopped parsley. Oh, and some of your time, please!
Click here.
---
3. Garlic Lime Roasted Shrimp Salad
Hey! Yes, yes! The recipe for today is meant to coincide with my Cinco de Mayo week, but to be honest, I could eat Mexican food every day and don't think I need an excuse to introduce yet another Mexican meal. My husband, though, might disagree. I absolutely adore all the flavors of the southwest; they go so nicely together, I can't help it. If I have to provide an explanation for why I made another Mexican dish, I will say that I had leftover ingredients and didn't want to waste them.

In addition, this salad is so delicious that I had to publish it, so there! This is a meal that can be prepared quickly and easily, making it ideal for a weeknight dinner. My jambo shrimp was simply marinated in the morning, and when I got home, I threw it on the grill for about 4 minutes, and dinner was ready. What's not to love about that? Using my McCormick Garlic Lime juice seasoning packet, the shrimp had an absolutely incredible flavor. It is the same one that I used to prepare Chicken Fajitas a few months ago. The seasoning blend is a favorite among my family and me. It's also convenient to have everything already measured out for you.
Click here.
---
2. Baked Coconut Shrimp with Pineapple Salsa
Crispy coconut shrimp served with tropical fruit salsa, of course, while lounging by a warm, balmy beach, to me, epitomizes island cuisine. This is one of my greatest aspirations when I close my eyes and visualize it: to be carefree, enjoy the sunshine, and eat some seriously amazing food! My fondness for shrimp is hardly a surprise. I mean, shrimp or shellfish is present in almost half of my recipes. The best part is that I used to HAVE shrimp when I was younger.

I can't remember the exact moment I started to like it, but I can guess that it was when I made the decision to try it for the first time! Kids may find shrimp to be strange creatures, but I believe anything wrapped in a tasty, crispy batter will win them over! Finally, there is the salsa. I'll admit, seeing these pineapple salsa boats on social media really got my creative juices flowing, so I made some of my own. I explain how to create the pineapple boat in detail towards the end of the recipe. Remember that one full pineapple is MORE THAN ENOUGH for this dish. For the pineapple boat, I filled the bottom part with roughly half a pineapple.
Click here.
---
1. Thai Firecracker Shrimp Party Appetizer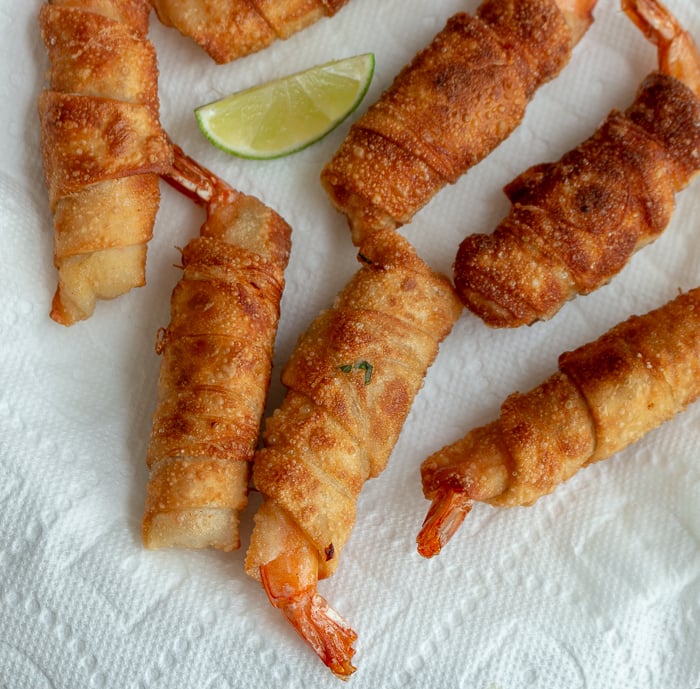 A delightfully marinated shrimp with the tail on is wrapped in a spring roll wrapper and pan-fried till golden in the Thai Firecracker Shrimp Party Appetisers. served with a dipping sauce called Prik Nam Pla. After one bite, you'll be addicted. The outer crispy coating encasing a luscious, juicy shrimp is what makes Thai Firecracker Shrimp Party Appetisers so irresistible. Your guests will like drizzling a little Prik Nam Pla Sauce over this finger food appetizer of shrimp tails.

If you missed it, be sure to check out the recipe for our Prik Nam Pla, the outstanding Thai table condiment, as you will want to drizzle it on everything. This appetizer is one of our favorites because both guests and family members enjoy it. Make extras because they sell off quickly. You will adore these shrimp appetizer recipes because you may get everything ready EVEN PRIOR TO YOUR GUESTS ARRIVING. After only two to three minutes in the frying pan, you are finished. These Thai Firecracker Shrimp Party Appetisers would be excellent fried in an air fryer if you have one.
Click here.
---
If you like this article about Shrimp Appetizer Recipes, please share this with your friends on Facebook, Twitter, and Pinterest. Also, you can subscribe to my blog to get all the latest articles first on your mobile.
SHARING IS CARING!
FACEBOOK | TWITTER | PINTEREST
Did you like this recipe and make it later at home? SAVE this pin to your favourite board on Pinterest!