Bread! What is your first thing to hear this word? For me, Morning Breakfast! Right? Many people out there, get up in the bed, bread is their morning breakfast with juice or smoothie or served with any kind of jam or jelly, butter or anything. Bread is definitely one of the most versatile yet simple foods out there. So today I talk about Homemade Bread Recipes!
There are many types of bread out there in the shop or market. But many people love to eat homemade bread. I also like homemade bread, so easy and simple to make with few ingredients. Even you can basically make anything from a single piece of bread and get creative with it. Also, there is another type of bread that is white bread which is made so soft and light, but homemade bread is best than any other bread, Right?
But How to make homemade bread and what are the ingredients and how to process and all kinds of another question you maybe think now, Right? Don't You worry because I'm here sharing all my knowledge with you that how to make bread at home and types of bread recipes?
What are the ingredients used in making bread at home?
Making a classic traditional bread recipe should not be that hard and should not require a lot of ingredients. In fact, you can get these few ingredients in your local supermarket or any shop. To make the bread the main ingredient is yeast or instant yeast. And other ingredients that you need to make this recipe are flour, water, butter, milk, sugar, salt, and eggs.
Procedure:
Put the yeast and sugar (you can use powder sugar) in a large bowl and add warm water and mix well until dissolved. Add salt and about 2 cups of flour. Stir in the remaining flour at a time (You can use a bread machine to mix the mixture).
Once the flour is drawn together, lightly sprinkle with the flour into a surface until and press or mold or kneaded the dough for about 8 minutes until it is smooth and elastic.
Place the bread dough in a bowl with few drops of oil. Cover it with a damp cloth and let it rise in a warm place for about an hour. The dough should have doubled in volume or doubles in size.
Spread some flour and Place the dough in it and divide it into two equal pieces and form into loaves. Place the loaves in a lightly greased loaf pans or add parchment paper. Cover the loaves and let them rise in volume for about another 40 minutes.
Now preheat oven to 425 degrees F.
Bake at 375 degrees F for about 30 minutes or until the loaves are golden brown. 
The best Homemade Bread Recipe with Yeast:
Nothing beats homemade bread that is still warm and soft. There are many types of homemade recipes that include yeast depending on their choice or food preferences. But there is no doubt that if you want to try to make bread at home, that will be your own satisfying activity. If you as a beginner to make bread at home, then I suggest that start and making homemade bread as soon as possible. And the most important thing that practice is the best way to perfect everything like the practice you're kneading and other techniques along with figuring out the perfect baking time in the oven.
And another side, if you already starting and making more and more bread to get the best bread then also suggest creating or alter your own bread recipes so that it will be a pleasant surprise each time.
But some people are not like adding yeast in the bread, so-
Can You Make Bread Without Yeast?
Yes! You can make homemade bread without yeast. If you have no yeast at home, and you have to make bread for emergency purpose, this no yeast emergency bread can be made with just a few pantry staple ingredients. It's an easy bread that doesn't require yeast, proofing, eggs or dairy. The rustic bread is great for when you need bread in a hurry.
You need just only a few ingredients like
4 cups all-purpose flour or white flour
2 tsp baking powder
1/2 tsp table salt
310 ml water 1 tbsp vegetable oil or melted butter
You can use milk and it will make the bread slightly fluffier and make it more fragrant. It is so easy and quick to make at home. It doesn't require any yeast or proofing. The bread has a rustic crusty exterior and is quite delicious eaten warm with some butter.
What Can I Substitute for Buttermilk?
If you don't have buttermilk readily available at your home, you can easily make your own! Just a small process it has to make this –
Add 1 tablespoon of lemon juice or vinegar to a liquid measuring cup, then pour in milk, up to the "1 cup" mark. Mix the mixture then let it sit for 5 minutes until it curdles and thickens slightly. Then it will be ready for the bread recipe.
What Other Easy Homemade Bread Varieties Can I Make?
There are many types of bread available out there. You can try at home another kind of flavor like
Milk bread
White bread
Garlic cheese bread
Rosemary bread
Parmesan-Black Pepper
Cinnamon-Raisin
Blueberry bread and many more,
Just scroll and you can see the variety of bread recipes and how to make that bread at home.
How to make bread at home from starch?
You just need these ingredients to make homemade bread –
1 package (1/4 ounce) active dry yeast
2- 1/4 cups warm water (110° to 115°)
3 tablespoons sugar plus 1/2 teaspoon sugar
1 tablespoon salt
2 tablespoons canola oil
6-1/4 to 6-3/4 cups bread flour
And the process is the same as how to make bread with yeast, you already know the process.
---
So now let's check out the homemade best bread recipes verities –
25. Homemade Soft White Bread
This White Bread recipe is a classic you'll want to keep on hand. So light, fluffy and incredibly soft. Everyone will think it came right from the bakery! This simple white bread recipe does not disappoint when it comes to quality and flavor and so fresh and soft.
Check it here.
---
24. Homemade Sandwich Bread
Easy White Sandwich Bread is the easiest homemade bread recipe that's hearty and tender, and turns out perfectly every time with the best golden crust!
Check it here.
---
23. Lemon Raspberry Bread Recipe
This Lemon Raspberry Loaf is a delicious Spring Quick Bread Recipe. Fresh raspberries (or frozen) give a little twist to a delicious Lemon Bread Recipe. This recipe is best for any occasion or as a snack.
Check it here.
---
22. No-Knead Mallorca Bread Recipe
This version of Mallorca is super soft, airy and melt in your mouth. This buttery, egg-rich No-Knead Mallorca Bread is a great addition to your go-to bread recipes.
Check it here.
---
21. Bread Wreath With Pull-Apart Yeast Rolls and Gorgonzola Dip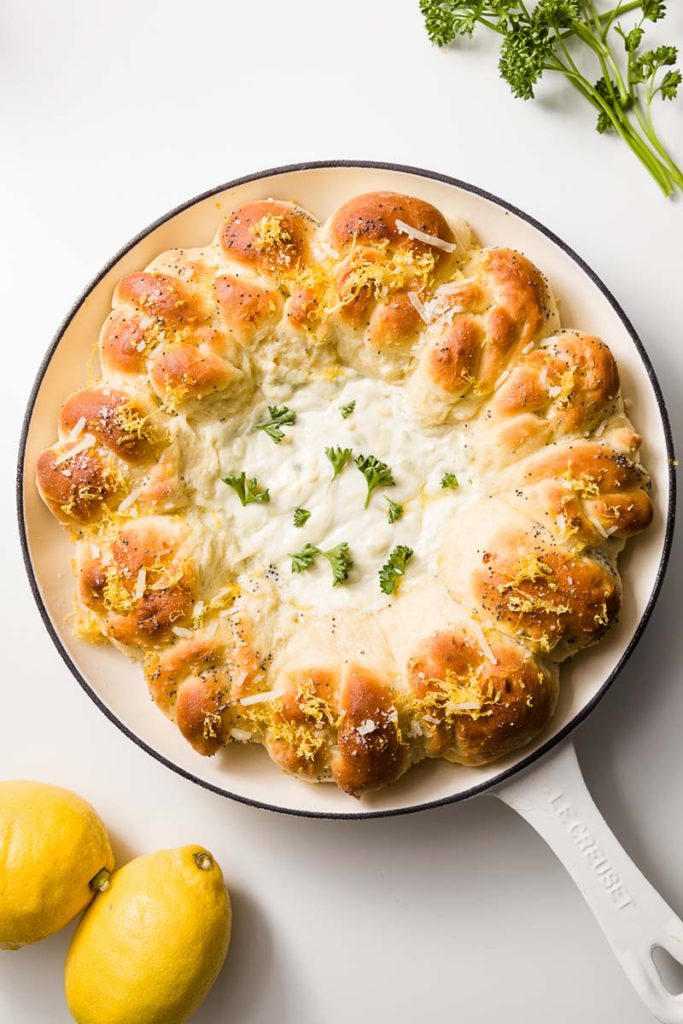 This bread wreath is made with yeasty pull-apart dinner rolls. If you're looking for a yummy appetizer that will wow your guests, look no further than these yummy yeast rolls and Gorgonzola Dip. These rolls are the perfect combination of the soft, fluffy texture of freshly-baked yeast rolls and the tangy, creamy flavors of the gorgonzola dipping sauce. It's baked with a Gorgonzola dip in its middle that pairs perfectly with the fresh, buttery, lemony dinner rolls!
In order to make these delicious yeast rolls, combine flour, yeast, and warm milk with a touch of sugar. After rising, these rolls are baked to a golden brown. The gorgonzola sauce is a decadent combination of creamy Gorgonzola cheese and Greek yogurt with fresh herbs and a pinch of garlic. The creamy and tangy sauce pairs perfectly with the warm and pillowy rolls for a mouthwatering combo. Whether you serve these delicious yeast rolls as appetizers or as a main course, they will be sure to wow your guests. So grab your guests and get ready to be charmed.
Check it here.
---
20. Coconut-Lime Bread Recipe
This coconut key lime bread is soft and fluffy, coconut-y with the perfect hints of citrus. This coconut key lime bread is deliciously moist, coconutty and perfectly citrusy and perfect for the summer. Check it here.
Check it here.
---
19. Italian Potato Focaccia Bread Recipe
A soft delicious Focaccia Bread that's made with the addition of cooked potatoes. So delicious you will be making it over and over. Perfect as an appetizer or even made into a sandwich.
Check it here.
---
18. Blueberry Oatmeal Bread Recipe
This incredibly easy blueberry bread gets an added dose of healthy with the addition of Greek yogurt and oats, making it an even better option than banana bread or blueberry muffins.
Check it here.
---
17. Chocolate Chip Banana Bread Recipe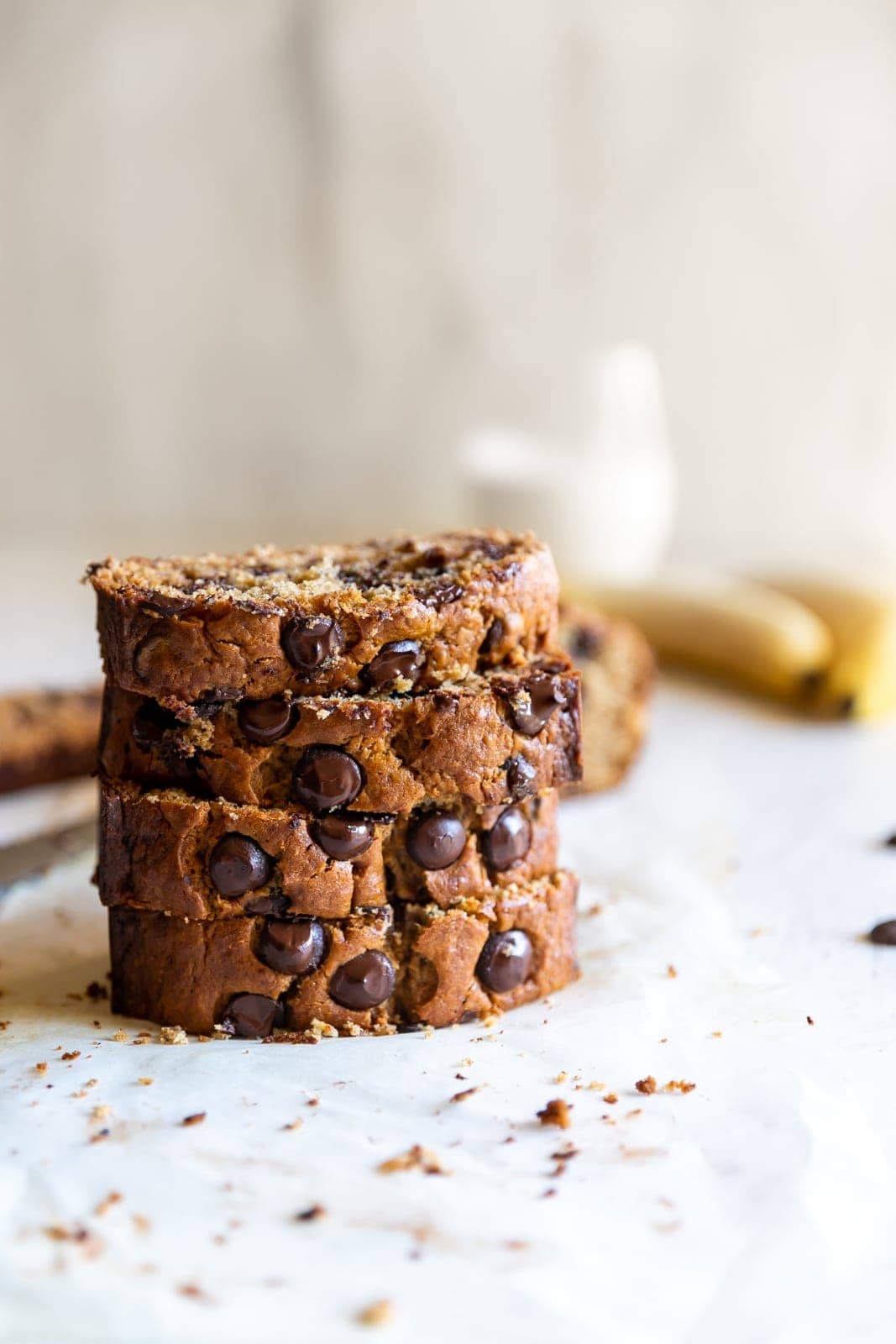 Deliciously sweet, easy to make, moist chocolate chip banana bread recipe made in one bowl! The BEST banana bread for breakfast or snack. It's incredibly moist, full of bananas, and loaded with chocolate chips with flavors.
Check it here.
---
16. No-Knead Sourdough Bread
A basic sourdough bread requiring minimal effort. This no-knead recipe is a great intro to baking sourdough bread from scratch at home. A lot of people are intimidated by baking their own bread at home, let alone sourdough bread. It seems to be portrayed as this difficult task that only professional bakers can accomplish. This no-knead sourdough bread' recipe is meant to change that.
Check it here.
---
15. Rustic Garlic Herb Bread
Rustic Garlic Parmesan Herb Bread is a savory artisan-style bread that anyone can make. This delicious and fragrant bread is the perfect complement to any meal. Enjoy!
Check it here.
---
14. Easy Ciabatta Bread Recipe
This simple Ciabatta Bread recipe will give you a rustic Italian loaf that is perfect for dipping into soups or sauces. The high hydration in this bread results in a wonderfully chewy center and tons of irregular holes.
Check it here.
---
13. Skillet Cornbread Recipe
This is my favorite homemade cornbread recipe! It is very moist thanks to a little oil added to the batter and extra sweet thanks to some sugar and honey. No more dry cornbread! This skillet cornbread is baked in a hot cast-iron skillet for that extra crispy edge, perfect for dunking in a bowlful of chili.
Check it here.
---
12. Rosemary Garlic Bread Recipe
This Rosemary Garlic Bread recipe yields a wonderfully golden-brown crust on the outside and a soft texture on the inside. It's just as good as (if not better) than restaurant bread. Taste and see for yourself…
Check it here.
---
11. Zucchini Banana Bread Recipe
Chocolate Chip Zucchini Banana Bread combines the decadence of a sweet banana bread loaded with chocolate chips and the extra moistness of zucchini.  If you've never added zucchini to your baking, you're in for a real treat! Zucchini makes baking so incredibly moist.
Check it here.
---
10. No-Knead Honey Oat Bread Recipe
This easy yeast bread is sweetened with honey and loaded with oats. This makes this no-knead honey oat bread perfect for toast, sandwiches, and snacks. It's got a hint of sweetness from the honey, which makes it delightful with some jam for breakfast.
Check it here.
---
9. Milk Bread Recipe
Amazingly soft with a delicious chew, Asian milk bread is wonderful to eat all by itself or as part of a very tasty sandwich. It's better than regular plain bread, and if you've never tried it, you don't know what you're missing!
Check it here.
---
8. Glazed Mimosa Bread
A delicious quick bread that has all the flavors of your favorite breakfast cocktail, topped with a sweet orange champagne glaze. Perfect for Mother's Day, weekend brunch, or any special occasion!
Check it here.
---
7.  2 HOUR Crockpot Bread
Easy to make 2 HOUR Crockpot Bread recipe. Throw it in the crockpot and you will have soft homemade bread in 2 hours! This is the best bread to serve with creamy soups and casseroles.
Check it here.
---
6. Homemade Garlic Cheese Breadsticks Recipe
This easy homemade garlic bread is topped with Parmesan and Mozzarella cheese. The delicious garlic spread has 2 secret ingredients that bump it up to restaurant-quality! This easy homemade garlic bread is loaded with two kinds of cheese and has secret ingredients that put it above the other garlic bread recipes out there!
Check it here.
---
5. Cinnamon Bread Recipes
This easy Cinnamon Swirl Loaf makes a tasty, quick bite for breakfast or when hunger strikes any time of the day. Stays moist and delicious for several days! This makes a tasty, quick bite for breakfast or when hunger strikes any time of the day.
This cinnamon swirl loaf has a lovely aroma from, of course, the cinnamon! It is not too sweet and pairs well with your coffee or tea.
Check it here.
---
4. Semolina Bread with Sesame Seeds
Semolina bread with sesame seeds is quite typical of Sicily. This bread has a crusty exterior, a pale yellow interior due to the use of semolina flour and is topped with sesame seeds giving it a wonderful crunch and nutty flavor!
Check it here.
---
3. Bourbon Banana Walnut Bread
Bourbon Banana Walnut Bread – full-flavored, moist, sweet quick bread is a great way to use older bananas, and it's great for a special breakfast.
Check it here.
---
2. Brioche Bread Recipe
This brioche bread is ultra-soft, rich, and buttery! This is one of my favorite homemade bread recipes. Not only delicious to eat but easy to make too! Perfect for sandwiches, French toast and just to eat on its own. We think you'll fall in love with its thin golden crust, rich buttery flavor, and soft crumb. Paired with an espresso, a slice of brioche spread with jam can practically sweep you away to a Parisienne café.
Check it here.
---
1. Carrot Apple Bread Recipes
Apple Carrot Bread — This apple carrot bread tastes like carrot cake that's been infused with apples. It's a no mixer recipe that goes from bowl to oven in minutes!
This is carrot cake that's been infused with apples and baked as a loaf. So it's not caked anymore. It's bread. Therefore you can have more and definitely can have it for breakfast. Baking with both carrots and apples not only adds a chewy texture and natural sweetness, but they also add so much moisture that it's impossible to have a dry loaf.
Check it here.
---
More trending recipes:
If you like these homemade bread recipes keep share with all and want more recipes like this to subscribe to my blog and hit the notification so that all upcoming recipes you will get first while published.
SHARING IS CARING!
FOLLOW ME ON FACEBOOK | TWITTER | PINTEREST
Did you like these homemade bread recipes and make them later at home? SAVE this pin to your favorite board on Pinterest.