Ground beef is a versatile ingredient that can be a star player in healthy recipes. It is packed with essential nutrients like protein, vitamins, and minerals. The key is to make conscious choices and adopt cooking techniques that minimize fat content. The article presents a curated collection of 21 healthy recipes with ground beef. Recipes include appetizers, main courses, soups, international delights, and more.
Nutritional Power of Ground Beef
Ground beef is a great addition to any meal, but it's also packed with health benefits. Before moving on to the yummy recipes, let's talk about the health benefits of ground beef.
First, ground beef is a great source of protein. Protein helps your body build and repair itself, as well as make enzymes, hormones, and antibodies. Eating ground beef can help you meet your protein needs and keep your body healthy.
But ground beef isn't just about protein—it's also a great source of vitamins and minerals. Iron is essential for making red blood cells and transporting oxygen around your body. Zinc is important for your immune system, wound healing, and cell division. Also, B vitamins such as niacin, B6, and B12 are important for your brain and red blood cell production.
Ground beef is a great way to get healthy fats, especially if you're looking for lean options. Eating fat in moderation can be dangerous, but adding healthy fats to your diet can actually help your heart health, help you absorb nutrients, and keep you feeling full. Plus, it's a great ingredient to try and cook with different flavors, so you can make sure you're getting the most out of every bite.
Tips for Choosing and Preparing Ground Beef
Now that you're aware of the nutritional power of ground beef and its many benefits, let's move on to some helpful tips for choosing and preparing this versatile ingredient. By following these suggestions, you can ensure that you make the most of every savory bite and create mouthwatering meals that will delight your taste buds.
1. Choosing the Right Ground Beef:
When selecting ground beef, it's important to consider the lean-to-fat ratio. Leaner cuts of ground beef, such as those labeled "90% lean" or "95% lean," are lower in fat and calories, making them a healthier option. However, keep in mind that a little fat is necessary for flavor and juiciness, so "85% lean" can be a good compromise. Additionally, opting for grass-fed or organic ground beef ensures that you're getting meat from animals that were raised without antibiotics or hormones.
2. Proper Storage and Handling:
To maintain the freshness and flavor of ground beef, it's essential to store it correctly. If you're not planning to use it immediately, place it in the refrigerator or freezer promptly after purchasing. Make sure to store it in the original packaging or transfer it to an airtight container to prevent any cross-contamination. Always follow the expiration dates and guidelines provided by the packaging, and never refreeze ground beef that has been thawed.
3. Cooking Ground Beef to Perfection:
To prepare ground beef for your recipes, start by removing it from the refrigerator and allowing it to come to room temperature for about 15 minutes. This step ensures that the meat cooks more evenly. When cooking ground beef, use a non-stick skillet or a well-seasoned cast-iron pan to prevent sticking and to achieve a nice sear. Break up the meat into smaller pieces with a spatula while it cooks, ensuring that it's evenly browned. Consider adding onions, garlic, and spices to enhance the flavor and aroma of your dish.
4. Safety Measures:
To ensure the safety of your meals, it's crucial to cook ground beef thoroughly. Ground beef should be cooked to an internal temperature of 160°F (71°C) to kill any harmful bacteria. Using a meat thermometer is the most accurate way to gauge the temperature. Remember to clean all utensils, cutting boards, and countertops that come into contact with raw ground beef to avoid cross-contamination.
---
Suggested: Banana Chips vs Potato Chips
---
Lean Beef and Veggie Stuffed Bell Peppers
This recipe is easy to make and packed with essential nutrients. All you have to do is brown the beef in a cast iron pan, add a few spices to taste, and then stuff the beef and vegetables into half-sized bell peppers for a well-balanced meal. Sprinkle some low-fat cheese and bake until your peppers are cooked and your cheese is melted. Enjoy juicy beef and vegetables in one delicious meal.
Get the recipe here.
---
Related: Tasty Meat Recipes
---
Zesty Beef Lettuce Wraps
Made with lean ground beef, these wraps are the perfect combination of flavor and freshness. Start by browning lean beef in a cast iron pan, then add minced garlic, minced ginger, and a splash of soy sauce for an Asian-inspired flavor. To top it off, toss in a colorful medley of bell peppers, diced carrots, water chestnuts, and shredded cheese for a crunchy finish.
Finally, assemble your wraps by taking a fresh lettuce leaf and piling it on top of the spicy beef mixture. Drizzle with hoisin sauce, and sprinkle with chopped green onion for a final touch. Zesty Beef Lettuce Wraps are a great way to pair ground beef and are packed with flavor and nutrition for a healthy, satisfying meal that everyone will love. Trust me it will be one of your best healthy recipes with ground beef.
Get the recipe here.
---
Related: Sandwiches
---
Mini Beef and Quinoa Meatballs
Get ready to transform your favorite classic meatballs into mini-meatballs! These delicious little bites are packed with protein, fiber, and flavor, making them a great addition to any meal. Mix together lean ground beef and cooked quinoa, season with your favorite spices, and roll into mini meatballs. Bake in a preheated oven until golden brown. Serve as an appetizer, a protein-packed lunch, or a nutritious dinner.
Mix ground beef and quinoa together to make this recipe a delicious and nutritious way to add healthy ingredients to your meals. The result? Flavorful meatballs with extra nutritional value from quinoa! You are just going to love it.
Get the recipe here.
---
Related: Easy Crockpot Meals
---
Lean Beef and Broccoli Stir-Fry
Experience a world of flavor in our easy and healthy lean beef stir-fries. This is one of my favorite healthy recipes with ground beef. This stir-fried dish combines the rich flavor of lean ground beef with the crunch of fresh broccoli florets, creating a flavorful and nutritious dish that's both nutritious and delicious. Start by browning the lean ground beef in a hot pan until it is cooked through. Then, add the broccoli florets to the pan and let them dance with the beef in a delicious combination of flavors. For a pleasant finish, stir-fry with soy sauce, a pinch of ginger, and a pinch of garlic powder. This sauce will coat the beef and vegetables in a mouthwatering sauce. Serve this stir-fried lean beef with a bed of fluffy brown rice for a filling and satisfying meal.
Get the recipe here.
---
Related: Beef Stew Recipe
---
Mediterranean-style Beef and Chickpea Salad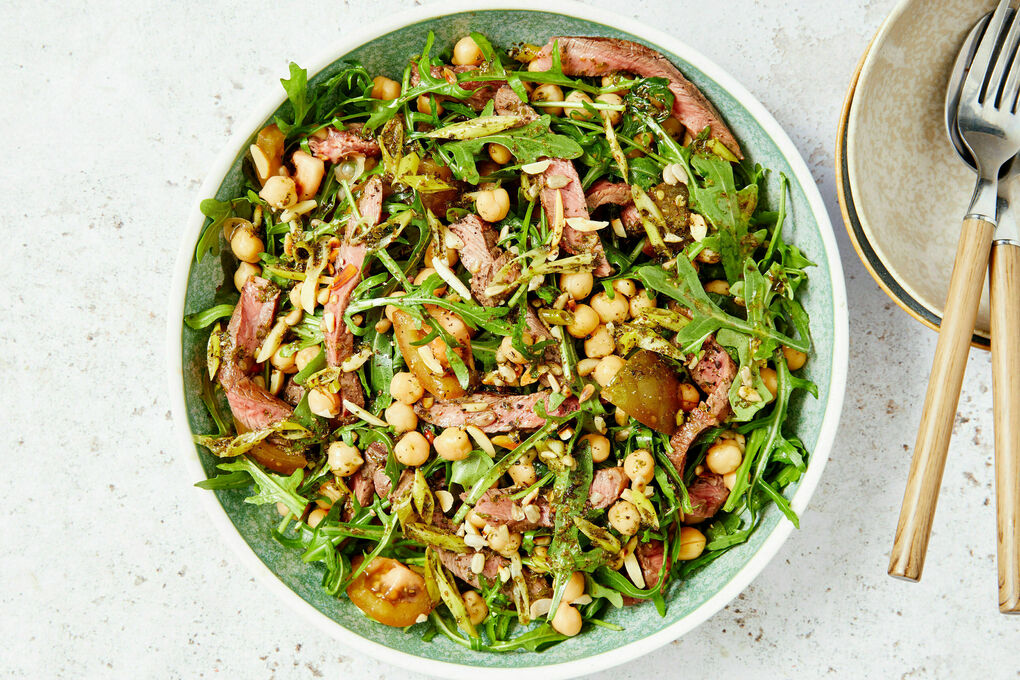 Prepare to satisfy your appetite with this delicious and nutritious Mediterranean-style beef and chickpea salad. This salad is packed with flavor and goodness and is a great lunch or dinner option.
Start by browning the ground beef in a large cast iron pan with aromatic spices such as cumin and paprika. As the beef cooks, gather colorful vegetables like cherry tomatoes, cucumbers, and bell peppers. Add cooked chickpeas along with chopped fresh herbs such as parsley and mint. Finish the salad by dressing it with a delicious zesty dressing made with olive oil lemon juice and a pinch of garlic. This salad is packed with protein, fiber, and a variety of flavors.
Get the recipe here.
---
Suggested: Ground Chicken Recipes
---
Thai Basil Beef with Brown Rice
Thai Basil Beef with Brown Rice is a flavorful, spicy, tangy dish that's easy to make and can be adapted to your taste. This dish is a great way to take your ground beef dish to the next level. Thai Basil Beef is a delicious, savory, and spicy dish made from lean beef. It is seasoned with garlic and Thai basil leaves. The beef is tender and flavorful, while the basil leaves add a nice aromatic flavor. Brown rice is nutty and nutty, making for a delicious and healthy meal that will keep you full for days. You can also make Thai basil beef with soy sauce and fish sauce and add lime juice to make it tastier. This recipe can also be made with steamed vegetables for added nutrition.
Get the recipe here.
---
Related: Delicious Fritter Recipes
---
Lean Beef Burger with Portobello Bun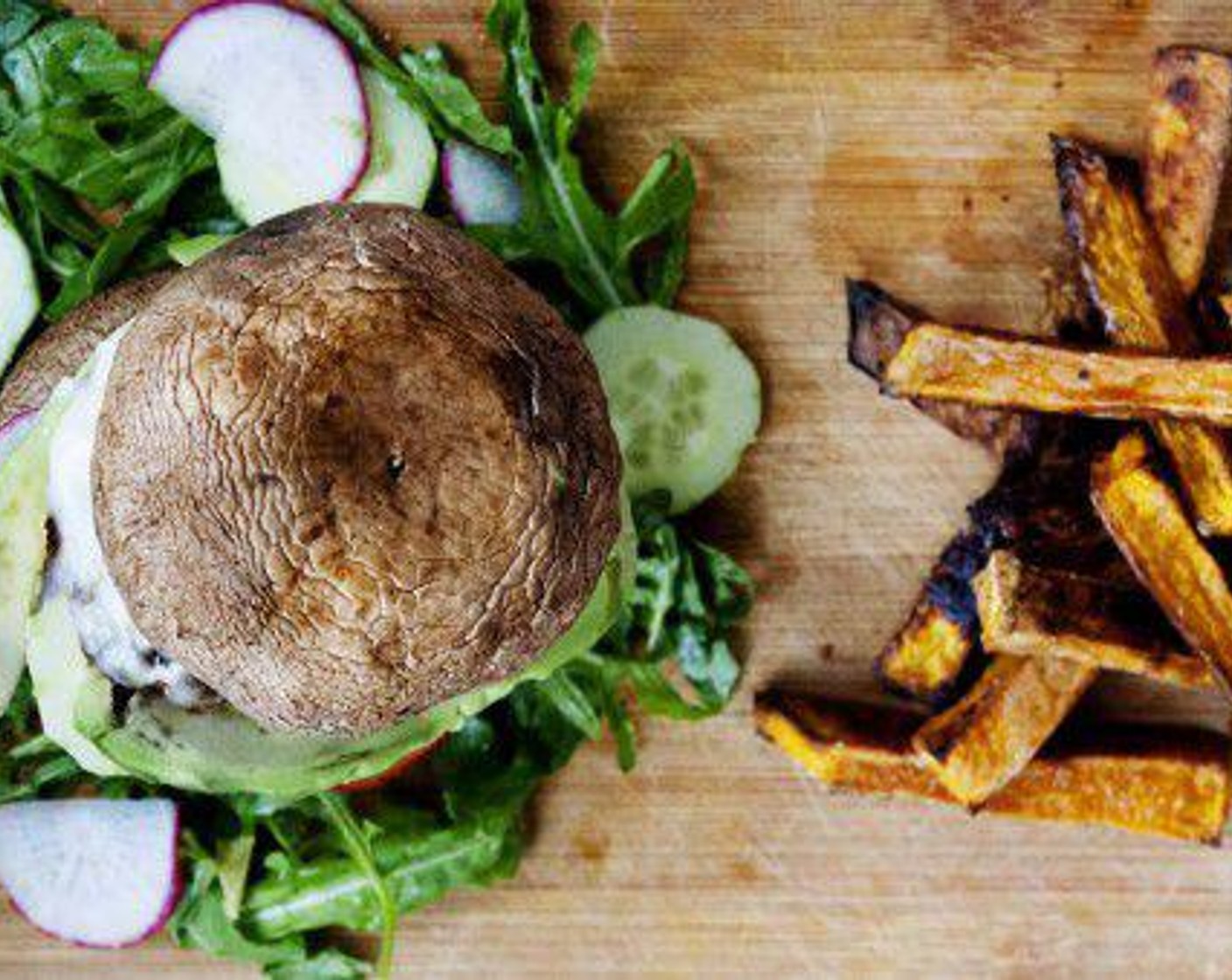 This lean beef burger with portobello bun is a low-carb option that's packed with flavor. It's made with ground beef and two mushroom caps that give it a rich, earthy flavor. Ground beef is seasoned with herbs and spices and then formed into patties. The mushroom caps are brushed with olive oil and seasoned with salt and pepper before grilling or frying until tender and lightly charred. The burger patty is then layered on top of the bottom mushroom cap and topped with tomato, lettuce, onion, and cheese slices. Finally, it is drizzled with sauce and topped with the remaining mushroom caps. All in all, this is a delicious, guilt-free burger that gives every bite an extra layer of flavor.
Get the recipe here.
---
Related: Party Appetizers
---
Spicy BBQ Beef Sloppy Joes
Take your taste buds on a journey of discovery with these spicy beef sloppy joe recipes. This dish is sure to impress your taste buds with its mouth-watering combination of flavors. Kick it up a notch with a generous serving of beef topped with a spicy BBQ sauce for a hearty and delicious meal. If you're looking for something a little spicier, consider adding minced onion and garlic for even more flavor. Not only will it add a lovely aroma to your kitchen, but it will also provide a kick of spice in every bite. Once your sloppy joes are ready, you can customize them with your favorite toppings, such as a creamy coleslaw topping, a crunchy pickle garnish, or a sprinkle of cheese. Serve on a soft bun or even a bed of lettuce for a delicious low-carb meal option.
Get the recipe here.
---
Greek Yogurt and Dill Beef Gyro
This delicious recipe takes a tender piece of beef and mixes it with yogurt and fresh dill to give you all the Greek flavors. As with our last recipe, you can add your own toppings to make it even tastier. Whether you want to go for the cool stuff or the tangy stuff, you can get creative and make it your own! Serve it in a warm pita or wrapped with lettuce for a lighter, low-carb option.
Get the recipe here.
---
Whole Wheat Spaghetti with Lean Beef Marinara
Whole Wheat Spaghetti with Lean Beef Marinaro is a delicious and nutritious dish that combines the flavor of lean beef with the nutritional benefits of whole wheat pasta. The combination of lean beef and marinara sauce adds a rich flavor profile to the dish, while the tomato-based marinara sauce provides a tangy flavor profile. By adding colorful vegetables such as bell peppers and zucchini, as well as mushrooms, the nutritional value of this dish can be increased. This dish is both comforting and nutritious, providing a nutritious and energizing meal that can be enjoyed throughout the day.
Get the recipe here.
---
Beef and Veggie Brown Rice Stir-Fry
Beef and Vegetable Brown Rice Stir-Fried is a delicious meatloaf made from lean beef and colorful vegetables. This dish is full of a delicious combination of taste, nutrition, and texture. Whether you are an experienced home chef or just starting to brush up on your cooking skills, this dish will amaze you. Brown beef is tender and tasty, while vegetables are rich in vitamins and minerals. Brown rice is nutty and chewy, making it the ideal base for this dish. It's a healthy meal option that's full of protein, vegetables, and healthy whole grains.
In this recipe, fry the beef, then add to a pan and fry the onion and garlic, then add the red bell pepper, onion powder, and cumin. Finally, the baby spinach is added to the pan and cooked until cooked. Finally, low-sodium beef broth is added and tomato paste is added. Sprinkle with salt to season. This is one of the best ground beef recipes with rice.
Get the recipe here.
---
Creamy Avocado and Lime Beef Burrito Bowl
Burrito bowls are my all-time favorite but here's a beef and avocado combination that will blow your mind. This Creamy Avocado and Lime Beef Burrito Bowl is the perfect way to start your day! Cumin, chili, and garlic are all added to the beef to give it a nice, spicy flavor. To make the creamy sauce, mash some avocados and squeeze some fresh lime juice over the top. Then top it off with some Greek yogurt, salt, and pepper. Layer the cooked beef on a bed of soft brown rice, then top with some fresh vegetables. This is a delicious bowl that will take you on a journey of taste and nutrition.
Get the recipe here.
---
Vegetable and Beef Minestrone
You don't need to tell anything new about minestrone soup because everyone knows about its benefits. If you are a fan of nutritious and delicious soups, this recipe is just for you. This healthy vegetable and beef minestrone is packed with a variety of vegetables and tender pieces of beef. This hearty soup will soothe your soul in all the right ways.
We know minestrone is much more than a tasty dish. This is a great way to get all the nutrients you need in your daily diet. The rich beef combines perfectly with the fresh vegetables, creating a balanced meal that will satisfy your cravings.
With every spoonful of this delicious minestrone, you'll be rewarded with a comforting combination of the heartiness of beef and the flavor of vegetables rich in vitamins, minerals, and fiber. Carrots and celery are packed with vitamins and minerals, while beans and tomatoes are packed with fiber. This soup is packed with protein and will keep you full for hours.
Get the recipe here.
---
Lean Beef and Lentil Stew
Beef and lentil stew is a very old recipe but I don't want to mention it in this recipe list, so here goes. Lean Beef and Lentil Stew is a delicious and nutritious combination of beef and lemon. The rich flavor of the tender beef is complemented by the nutty flavor of the lentils. This dish is loaded with health benefits, as the lean beef provides essential amino acids, while the lentils are a great source of dietary fiber and a great source of protein. It also contains a variety of vegetables that add extra nutrients. This recipe is a great addition to your repertoire, as it provides you with a delicious and comforting meal that provides your body with a wide range of essential nutrients and keeps you feeling nourished.
Get the recipe here.
---
Classic Beef and Vegetable Soup
Another great super recipe is this classic beef and vegetable soup. It is easy to make as well as delicious and healthy to eat. This beef and vegetable soup is one of the most versatile and nutritious soups you can make. You can add your favorite vegetables to this soup or use any vegetables you have around the house. This soup is easy to make and perfect for a busy weeknight meal or to fill you up when you're looking for a quick and easy meal. The tender chunks of beef give this soup a rich and hearty flavor, while the vegetable medley adds a fresh and colorful touch to every bite. This classic vegetable soup is full of nutrients that will nourish your body and delight your taste buds, and one of the best low-calorie ground beef recipes.
Get the recipe here.
---
Lean Beef Kofta Curry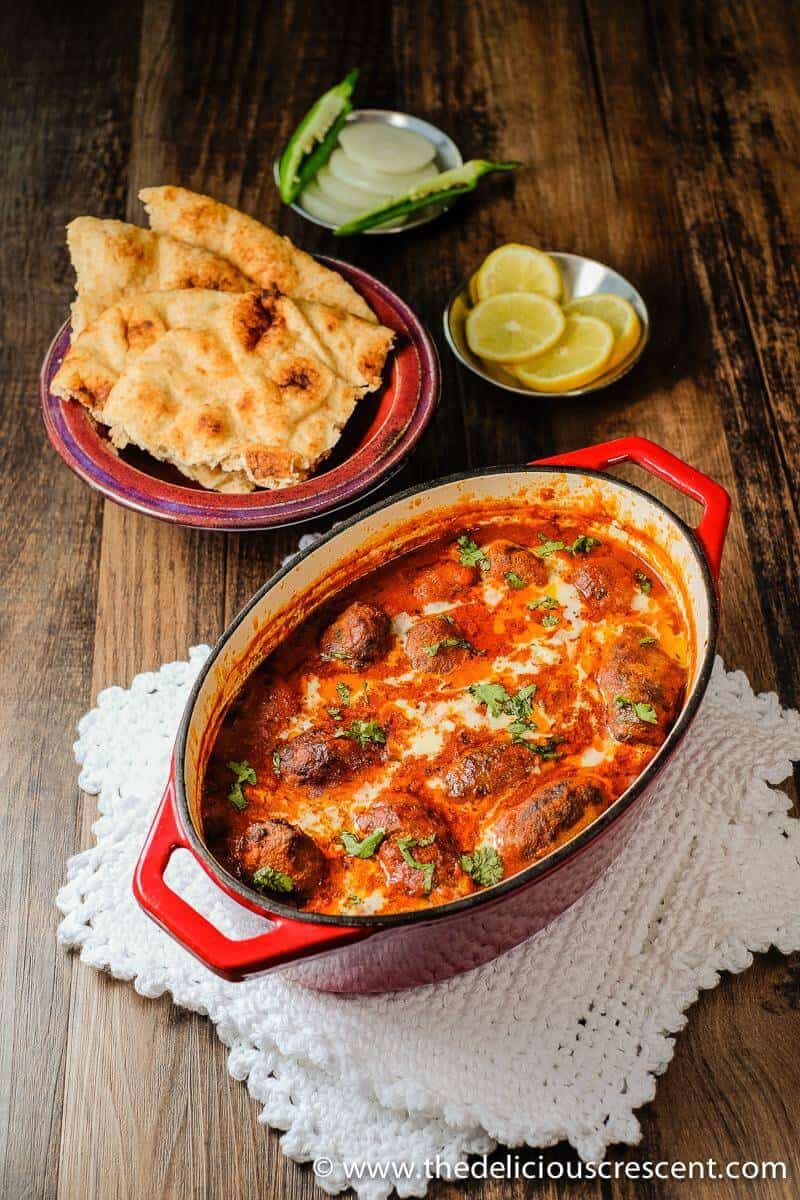 Kofta is an Indian dish and if you travel across India, you will come across different kofta recipes. Here I present to you a kofta recipe made with beef and a very simple recipe. Kofta Curry with Lean Beef is a delicious dish that combines the flavors of beef and a variety of aromatic spices in one dish. The secret lies in the tender, meaty koftas, which are made from lean beef and cooked in a tomato-based sauce. This sauce allows the flavors to meld and permeate each bite, making it a versatile dish that can be enjoyed alone or incorporated into a larger Indian meal. Spread some fresh cream on top for garnish and it's ready to impress your guests. Also, if you ask me for healthy ground beef recipes to lose weight, I would recommend this recipe.
Get the recipe here.
---
Mexican-inspired Beef and Black Bean Casserole
When you hear about Mexican food, you must be dancing in your mind, I know that's only natural because more or less everyone loves Mexican food. So it would be a huge injustice not to include a Mexican recipe in this article, so I present this recipe. This beef and black bean casserole is a delicious combination of ground beef, black beans, and spices. Ground beef is the main ingredient, giving the dish a rich flavor and a protein boost. Cumin and chili powder give the dish a kick that will make your taste buds go wild. Black beans give the dish a velvety taste and a nutritional boost. Baking in the oven adds a delicious aroma to the casserole, and the beef, beans, and spices all combine to create a delicious meal.
Get the recipe here.
---
Korean Beef and Kimchi Bibimbap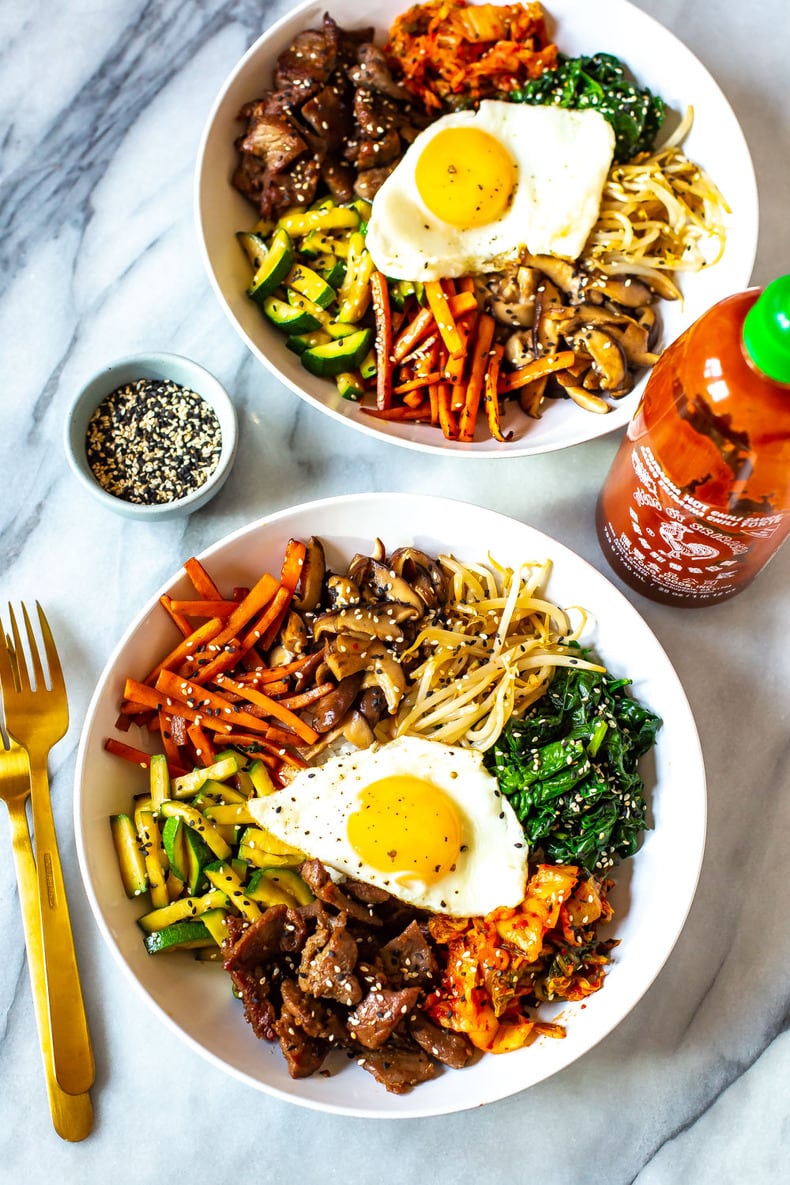 Everyone loves beautiful things and we know that any dish in a big 5-star restaurant is beautifully served and we are bound to be impressed. Here is a recipe that will impress your family and guests at first glance and then with its taste. Also, this recipe is an icon for those who love Korean food. Bibimbap with Korean Beef and Kimchi is a braised beef dish marinated with kimchi, fermented cabbage, and a mixture of spices that add a tangy, slightly spicy kick. The beef is then marinated in a spicy mixture of soy sauce and sesame oil. Kimchi is then added to the beef, giving it a tangy flavor reminiscent of Korean cuisine. Bibimbap is served in different ways. It can be served with rice, vegetables, meat, and fried eggs.
Get the recipe here.
---
Ground Beef and Sweet Potato Skillet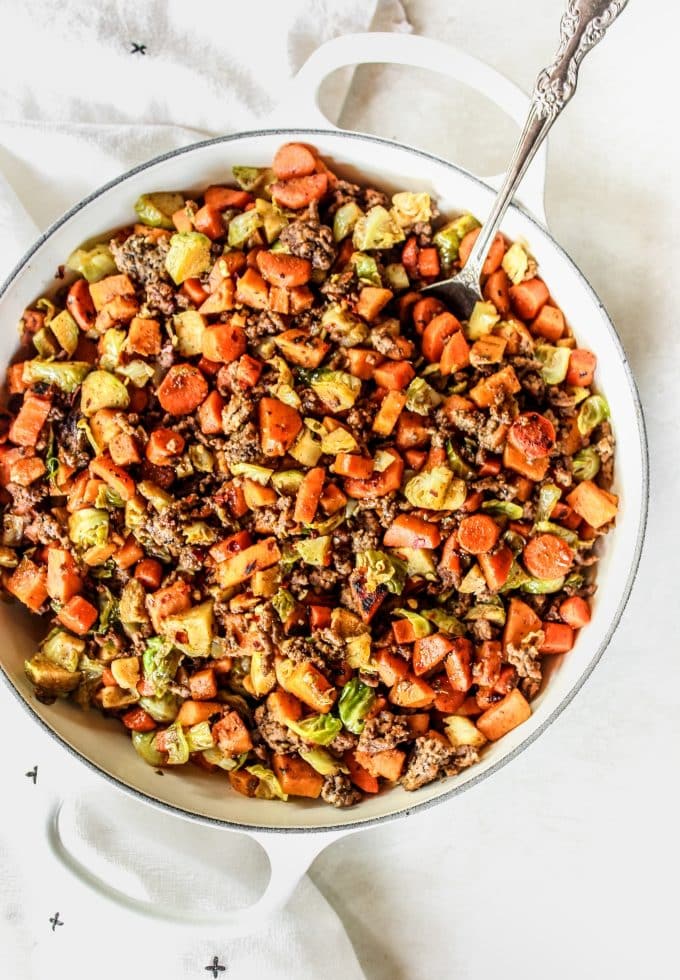 Ground beef and sweet potatoes create a delicious combination of heartiness and sweetness. Brown ground beef is cooked in a cast iron pan, while sliced sweet potatoes add a delicious flavor to the dish. This dish is packed with nutrients, as ground beef is a high source of protein and iron as well as B vitamins. Sweet potatoes, on the other hand, are rich in fiber, vitamin A, and vitamin C, as well as antioxidants. The combination of the two flavors creates a harmonious combination that will leave you wanting more. Toppings such as fresh herbs and sour cream, as well as Greek yogurt, can be added to enhance the flavor and texture of the dish. This recipe is suitable for all members of the family. If you ask me for a healthy recipe with ground beef dinner, I would recommend this recipe.
Get the recipe here.
---
Moroccan Spiced Ground Beef and Couscous
Moroccan Spiced Ground Beef and Couscous Recipe is a mouthwatering dish that transports you to the fascinating flavors of Morocco. The ground beef is seasoned with a rich and earthy flavor that will take you back to Marrakech with every bite. It's rich, full-featured, and versatile, so you can customize it to your liking. Start by browning the ground beef in a medium-sized cast iron pan over medium heat. Then, add a medley of minced onion, minced garlic, and chopped bell peppers. Add couscous, a traditional ingredient in Moroccan cooking, to a cast iron pan to absorb the flavors of the beef and spices. Add dried apricots, raisins, or chopped parsley, and squeeze fresh lemon juice over the top. Serve with warm pita bread and a colorful salad for a filling and nutritious dinner.
Get the recipe here.
---
Lean Beef and Quinoa Stuffed Zucchini Boats
"Lean Beef and Quinoa Stuffed Zucchini Boat" is a healthy alternative to the traditional ground beef dish. This dish combines lean beef with a combination of quinoa to provide essential nutrients while keeping the fat content low and increasing the protein content. The filling of the boat is filled with zucchini, which serves as a container for the filling. This dish is refreshing and light, making it an ideal choice for those who want to add a variety of flavors to their meals. The filling can be further customized by adding herbs or spices to the dish, or vegetables can be added to the filling to create different flavors. The flavor of the quinoa is complemented by the savory flavor of the lean beef, creating a delightful combination of textures and flavors. This is one of the best and most simple healthy recipes with ground beef.
Get the recipe here.
---
Embrace the Versatility and Health Benefits of Ground Beef in Your Meals
Ground beef is one of the most versatile and nutritious ingredients that can be used in a variety of ways. You can customize it to your liking and pair it with different ingredients to make a dish that fits your taste buds. Ground beef is an excellent source of protein as well as essential nutrients like iron, zinc, and B vitamins for your body.
There are so many ways to use ground beef. You can use it as a side dish or as a main course. You can serve it in a handheld dish or add it to a bowl of soup. Also, you can use ground beef in a variety of other ways. Lean beef is a great option if you're looking for a healthier option. You can use ground beef to make a delicious and wholesome dish like a quinoa-stuffed Zucchini Boat.
---
FAQ
Q: Is ground beef healthy?
A: Ground beef can be a healthy choice if you opt for lean cuts such as ground sirloin or ground round. These cuts contain less fat and are lower in calories compared to higher-fat options like ground chuck or ground beef with a higher percentage of fat. When consumed in moderation as part of a balanced diet, lean ground beef can provide essential nutrients like protein, iron, zinc, and B vitamins.
Q: How should I store ground beef?
A: To maintain freshness and prevent the growth of bacteria, it's important to store ground beef properly. If you plan to use it within two days, store it in the refrigerator in its original packaging. For longer storage, wrap the ground beef tightly in plastic wrap or place it in a resealable plastic bag, removing as much air as possible, and place it in the freezer. Ground beef can be safely stored in the freezer for up to four months.
Q: Can I freeze cooked ground beef?
A: Absolutely! Cooked ground beef can be frozen, which makes it convenient for meal prep or preserving leftovers. Allow the cooked ground beef to cool completely before placing it in an airtight container or freezer bag. It can be stored in the freezer for up to three months. When ready to use, simply thaw it in the refrigerator overnight or heat it directly from frozen in your desired recipe.
Q: How do I ensure ground beef is fully cooked?
A: It's crucial to cook ground beef thoroughly to eliminate any harmful bacteria. An easy way to ensure it's properly cooked is by using a food thermometer. The internal temperature should reach 160°F (71°C). If you don't have a thermometer, you can check for doneness by breaking apart the ground beef with a spoon and ensuring there is no pink or raw meat left. Juices should run clear, and there should be no traces of pink.
Q: Can I substitute ground beef with other meats?
A: Absolutely! Ground beef can be substituted with other ground meats like turkey, chicken, pork, or even lamb in most recipes. Each meat will bring its own unique flavor profile, so don't be afraid to experiment. Just keep in mind that different meats may have varying fat contents, so you may need to adjust cooking times or methods accordingly.
---
---
If you like this article about healthy recipes with ground beef, please share this with your friends on Facebook, Twitter, and Pinterest. Also, you can subscribe to my blog to get all the latest articles first on your mobile.
SHARING IS CARING!
FACEBOOK | TWITTER | PINTEREST
Did you like this recipe and make it later at home? SAVE this pin to your favorite board on Pinterest!