Crockpot has become very popular among all kitchen utensils these days. As it is delicious to cook in it, it also maintains the quality of the food. In this article, we've compiled a collection of 21 delicious and easy crockpot recipes. Not only will these recipes save you time, but they'll also transform your meal prep process. Imagine creating mouth-watering dishes that not only fill your stomach but also make your busy life taste even better. Whether you're a busy professional or homemaker, these simple crockpot recipes are the game changer you've been waiting for. Grab your slow cooker and prepare to savor the amazing flavors that await you.
The Time-Saving Magic of Crockpot Cooking
We know crockpot cooking saves time without sacrificing the taste of the food, making it a game-changer for busy professionals and housewives. By throwing in a few ingredients before heading out, you can come home to a delicious meal that's been simmering and developing rich flavors all day long. No more resorting to takeout or settling for less-than-ideal options. Crockpot cooking is simple and set-and-done, allowing busy professionals to focus on their work while a satisfying meal awaits them at the end of the day. You can reclaim that time and use it to relax, recharge, or pursue other interests.
For busy professionals, crockpots offer the ability to plan meals in advance, save valuable time, and create nutritious and delicious meals. It provides cost-effectiveness by using less expensive cuts of meat or incorporating more affordable ingredients. Its simplicity, convenience, and ability to create flavorful meals transform the way you approach food preparation. So, say goodbye to the stress of meal planning and hello to the time-saving magic of crockpot cooking.
Why Crockpot Meals Are Perfect for Busy Professionals?
Crockpot meals are ideal for busy professionals who have little time to prepare meals. They save time and offer cost-effectiveness by using less expensive meat or more affordable ingredients. The simplicity of crockpot cooking allows you to focus on your work or other pressing tasks without constantly monitoring the stove. Crockpot meals allow busy professionals to enjoy a variety of flavors and cooking.
Now that you know why cooking in a crockpot is so important for the busy professional, let's look at how using a crockpot can make meal prep a breeze for the homemaker. Using the same principles that save you time, you'll reap the benefits of the convenience and flavor that a crockpot provides.
How Crockpot Meals Can Simplify Meal Prep for Homemakers?
Crockpot meals are perfect for busy professionals who want a variety of flavors to choose from. Homemakers love the convenience and taste of crockpot cooking. It gives you more control when you cook. Plus, you can mix and match different spices, herbs, and ingredients to make it your own created unique recipe. And because you cook slow and low, everything blends together perfectly, making even the tiniest ingredients a mouthwatering treat. So, whether you're looking for budget-friendly cuts of meat or some pantry staples, you can make delicious and satisfying meals in the crockpot without worrying about checking the oven or overcooking.
---
Classic Beef Stew: A Hearty Meal for Any Occasion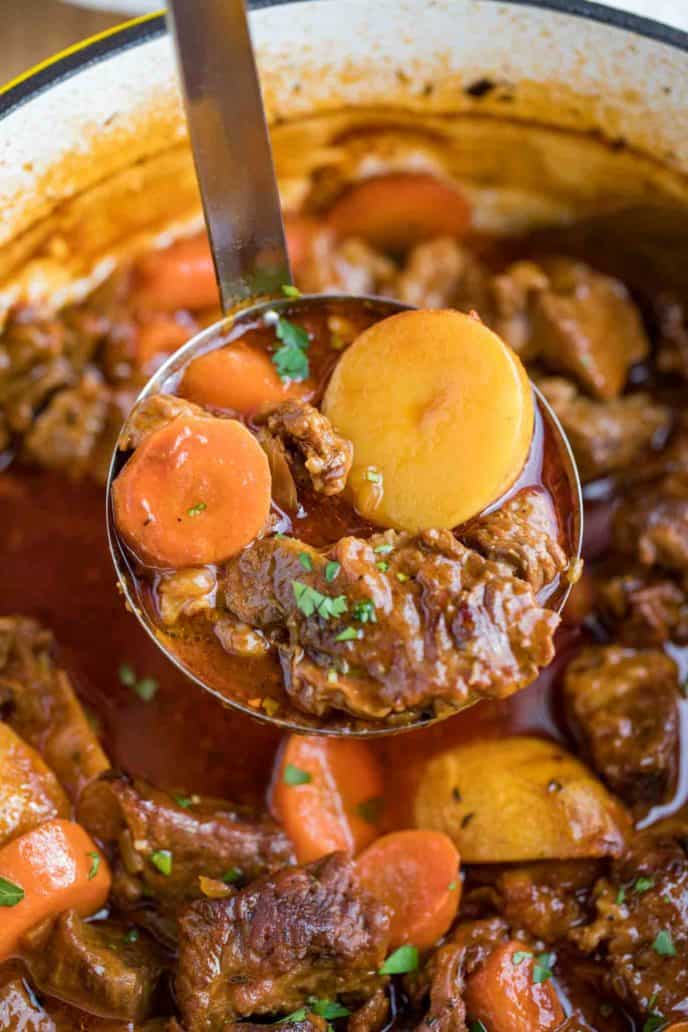 Beef stew is a classic comfort food that's sure to please everyone. It's made with tender beef, veggies, and herbs, so it's sure to be a hit with any crowd. And the best part is that you can make it in your crockpot – all you need is some basic ingredients and you're good to go! Cooking it slow and low in the crockpot makes the beef so tender and the broth so rich and flavorful. As you cook, the flavors come together and take on a whole new life – it's an irresistible dish! This is one of the best dump and go slow cooker recipes.
Beef stew is versatile and can be made with budget-friendly cuts of meat and pantry staples. Leftovers taste better the next day. It's a go-to option for cozy dinners or gatherings and is perfect for cooler weather. Crockpots make it convenient.
Get the recipe here.
---
Related: Beef Stew Recipe
---
Creamy Chicken and Mushroom Casserole: Comfort Food at Its Best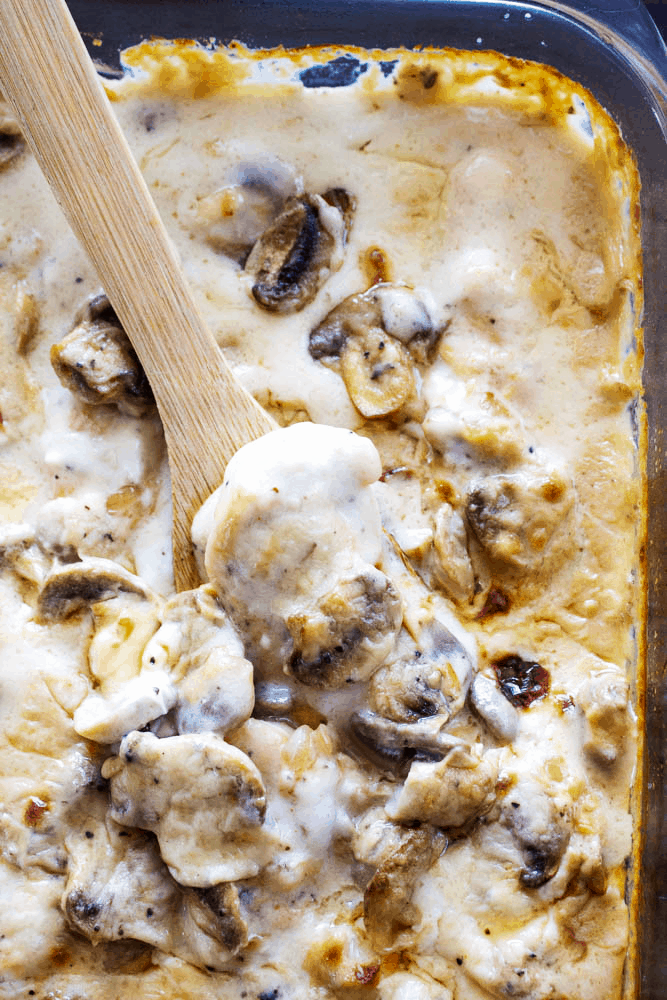 Creamy Chicken and Mushroom Casserole is the perfect comfort food that pairs tender chicken with mushrooms and a creamy sauce that will keep you coming back for more. This dish is perfect for a family dinner or when you are hosting a gathering of friends. This is comfort food at its best. What's great about this dish is that it's a great combination of flavors. The chicken is cooked to perfection and the mushrooms are fragrant. The creamy sauce coats every ingredient in the casserole, giving it a rich flavor that everyone will love. This is one of the best and easiest family slow cooker meals.
Crockpot Chicken and Mushroom Casserole are super easy to make. All you have to do is throw all the ingredients into the crockpot and let it cook. As the hours go by, you can smell the delicious aroma of the casserole simmering away and you can't wait for it to come out. When it finally comes out, you'll be amazed at how creamy and fabulous it is. The chicken is so tender that it falls apart with every bite and the mushrooms give it an earthy flavor that goes great with the creamy sauce. Serve it with rice or warm crusty bread for the best presentation.
Get the recipe here.
---
Related: Keto Crockpot Recipes
---
Savory Pot Roast: Tender Meat That Falls Apart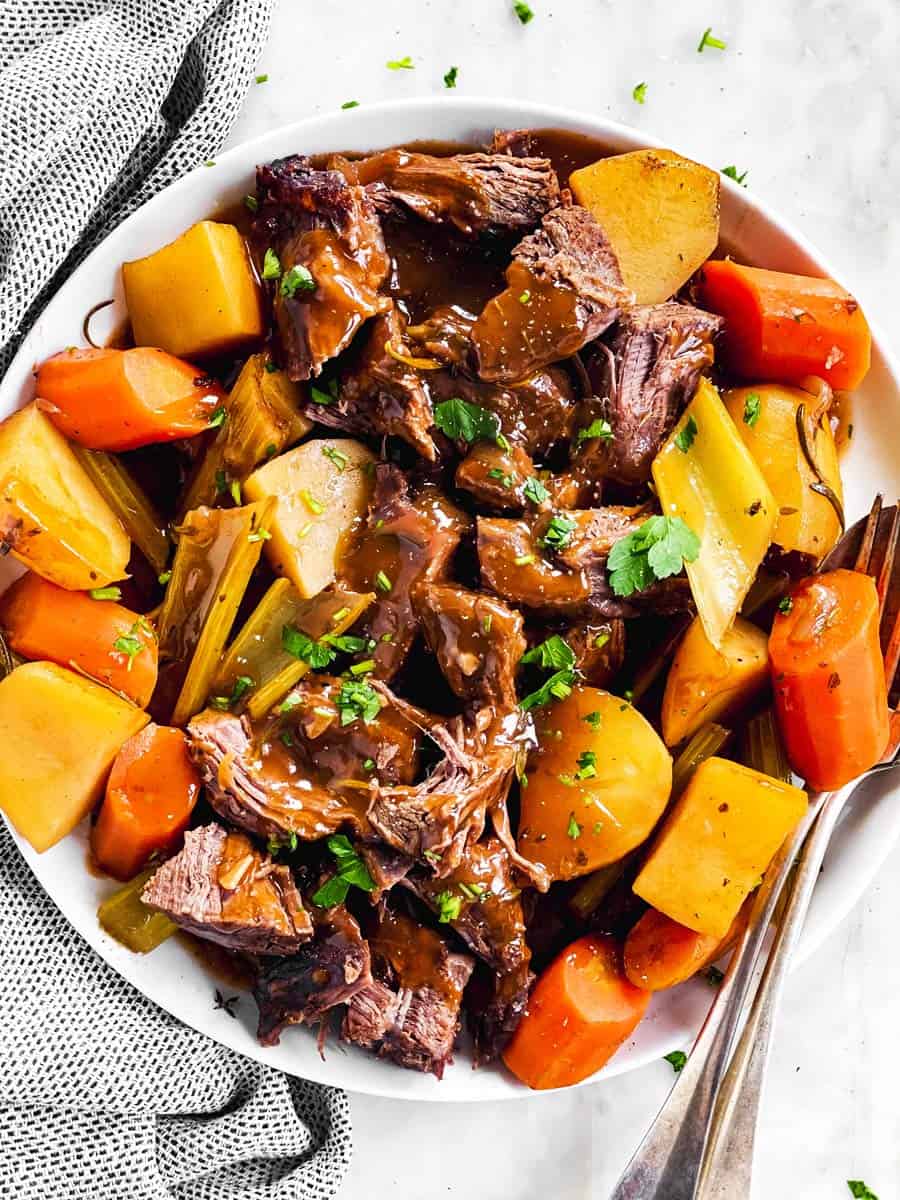 Just when you think you can't find another recipe that will tickle your tastebuds and save you time in the kitchen, the savory roast is here to save the day. Imagine the deliciousness of a succulent roast beef that falls apart with every bite. This dish is sure to warm your soul and entice you to finish every bite. The secret to this tender masterpiece is the slow-cooking process. During the hours of simmering in the pot, the flavors blend together to infuse the meat with a rich and savory flavor. The result is a tender roast that is practically melt-in-your-mouth. Imagine coming home from a long day and being greeted by the aroma of steaming beef and fragrant spices. All you have to do is show up in the morning with a few simple preparations and you can enjoy a hearty and comforting meal. This is where the convenience of the Crockpot truly comes into play.
Not only does this dish deliver flavor and tenderness, but it also offers versatility. While the pot roast is a star on its own, you can elevate it further by serving it with a variety of side dishes. Creamy mashed potatoes, buttery roasted vegetables, or even a simple salad can all enhance the overall dining experience.
Get the recipe here.
---
Suggested: High Protein Slow Cooker Recipes
---
Spicy Chili Con Carne: A Crowd-Pleaser for Game Nights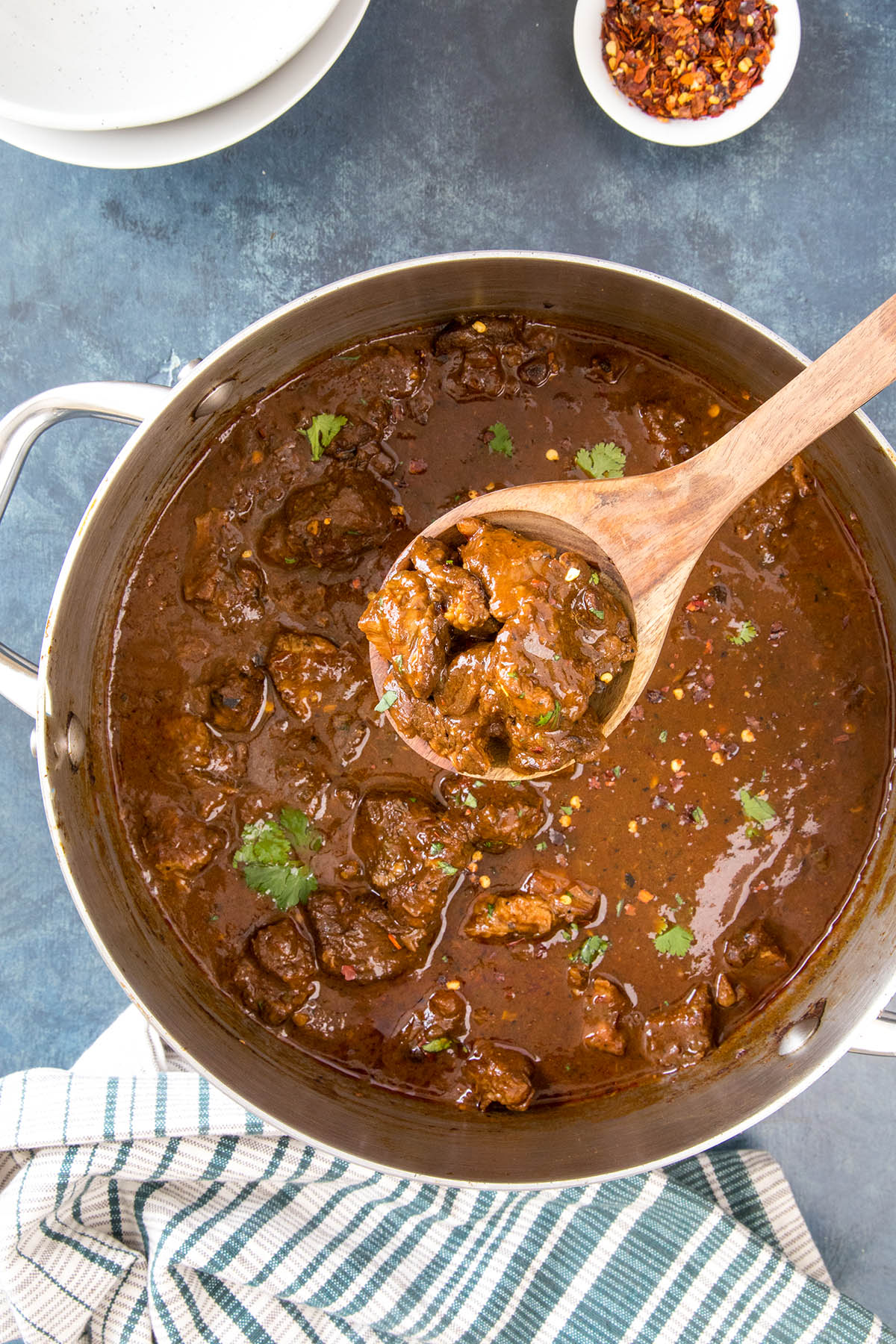 Chili con carne combines the tenderness of beef with the heat of chili peppers and aromatic spices to create a dish that is sure to be a crowd-pleaser. Its versatility allows it to be topped with a variety of toppings, from shredded cheese and diced onions to sour cream and cilantro. It can also be served with classic side dishes, such as cornbread and tortilla chips, for dipping. This dish has a hearty flavor that will keep your guests energized while adding a spicy kick to keep them engaged.
Get the recipe here.
---
Sweet and Tangy BBQ Pulled Pork: Perfect for Sandwiches
This BBQ pulled pork is perfect for the sandwich! It's got a sweet and tangy flavor that's perfect for a crowd. The slow cooker makes it so that all the flavors come together, and the pork is so tender that it almost falls apart with every bite. It's so versatile that you can make it on its own, with coleslaw, or with a baked potato. It's a must-have for any game night or any casual gathering.
Get the recipe here.
---
Related: Easy Chicken Recipes
---
Easy Chicken Tikka Masala: A Taste of India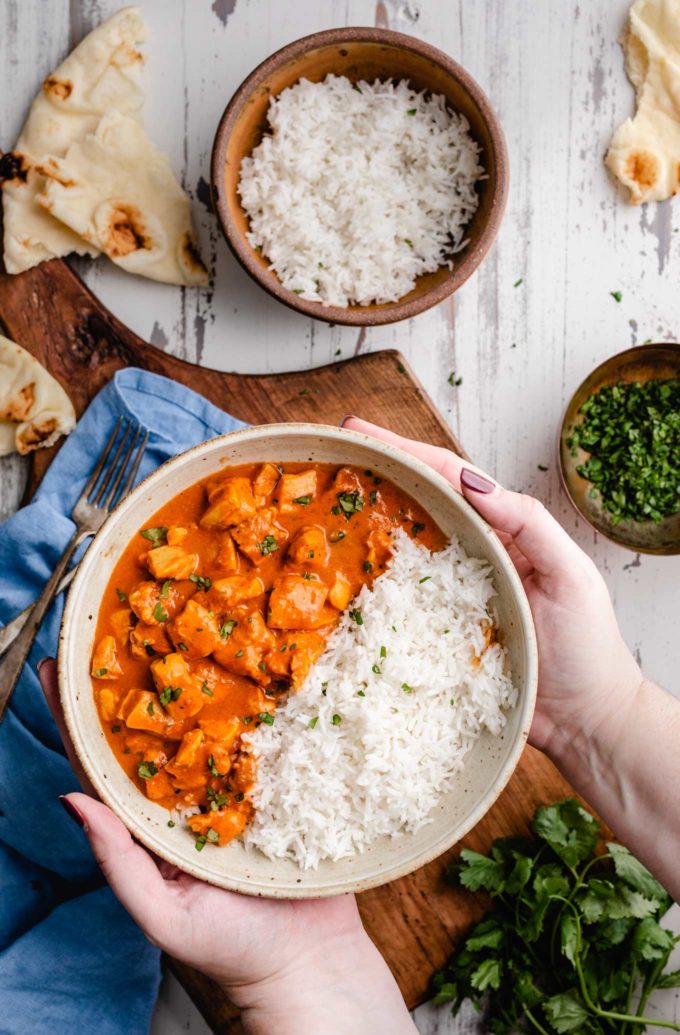 Here comes one of my favorite recipes. In the world of international cuisine, there is only one dish that has captured the hearts of millions of people around the world: Chicken Tikka Masala. This Indian classic is marinated in a tangy yogurt mixture and then cooked in a slow cooker to perfection.
Chicken Tikka Masala is one of the most popular Indian dishes in the world, and it's easy to see why. Chicken Tikka masala is made with tender chunks of chicken that have been marinated in a combination of warm spices such as cumin and coriander, as well as turmeric. The combination of these spices and the creamy tomato sauce creates a symphony of flavors that are both comforting and exciting to taste.
The ingredients list for this dish may seem intimidating, but don't worry! We've got everything you need right here on our spice rack, so you don't have to worry.
As the chicken cooks in the slow cooker, your kitchen is filled with the delicious smell of spices. You can't wait for the moment you finally get your hands on it! When you finally bite into it, it'll take your taste buds right back to India. Whether you serve it with rice or naan, this simple chicken dish is sure to wow your guests and make them want more. Whether you're looking to add a bit of fascinating flavor to your next dinner party or just want to chill out at home, this is the perfect dish for you.
Get the recipe here.
---
Suggested: Keto Soup Recipes
---
Garlic Butter Shrimp and Rice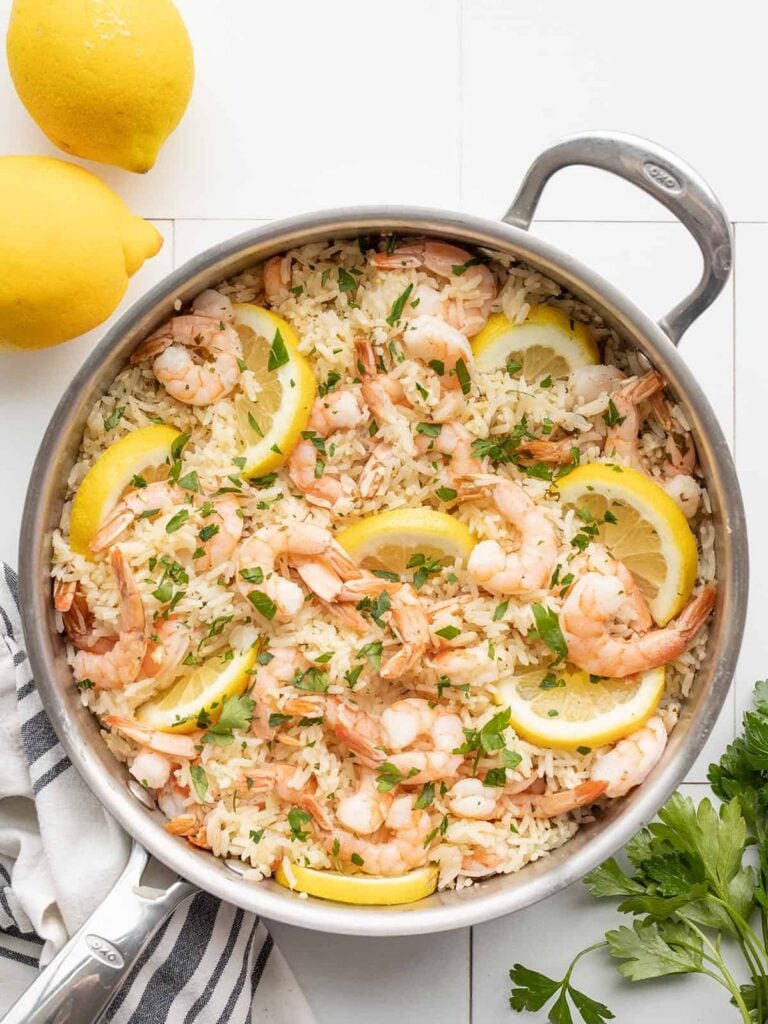 Garlic Butter Prawns with Rice is a delicious combination of tender prawns, fragrant garlic, and fluffy rice. This dish is perfect for a weeknight meal that will take your taste buds to the next level. When you come home from work, the smell of garlic and shrimp will fill your room with a delicious aroma. The sizzle of the shrimp in the hot pan and the rich flavor of the garlic permeates every nook and cranny of your room that will make you want to snuggle up with a good book. This is one of the easy weeknight crockpot meals.
To make this dish, you need to melt a lot of butter and add minced garlic to the pan. Allow the garlic to melt and then add the melted butter and mix with the minced garlic. The combination of butter and garlic will make the garlic butter sauce rich and flavorful. Now it's time to add the shrimp. Choose fresh plump prawns and let them cook in the pan until pink and firm.
While the prawns are cooking, take a break to give some fluffy rice. Whether you're going for a classic basmati or a jasmine-y flavor, make sure each grain is fully cooked and ready to go. Once the shrimp are cooked and the rice is bubbling, it's time for the main part. Place a plate of rice on each side of the plate, then spoon some garlic butter shrimp on top. Sprinkle some fresh parsley or lemon juice on top for a hint of freshness. When you bite into it, you'll be overwhelmed by the succulent prawns, rich butter, and aromatic garlic – all perfectly balanced with the fluffy rice. It's a crowd-pleaser that's perfect for any weeknight dinner or a cozy gathering with your friends.
Get the recipe here.
---
Related: Frozen Shrimp Recipes
---
Healthy Vegetable Curry: Packed with Nutrients
This healthy vegetable curry is the perfect addition to your repertoire of easy cooker meals. From tofu and cauliflower to green beans and red bell peppers, this curry is packed with vegetable goodness.
All you have to do is throw the tofu and veggies in your crockpot, pour in some flavorful vegetable stock, and watch the flavors meld over low heat. Gradually you will see your kitchen filled with delicious aroma. Once the curry is cooked, serve it over brown rice for a satisfying and balanced meal. And don't forget to top it with crunchy toasted cashews! This healthy vegetable curry not only makes for a delicious dinner but also makes delicious leftovers.
Get the recipe here.
---
Related: Weight Watchers Snacks
---
Creamy Tomato Basil Soup: A Classic with a Twist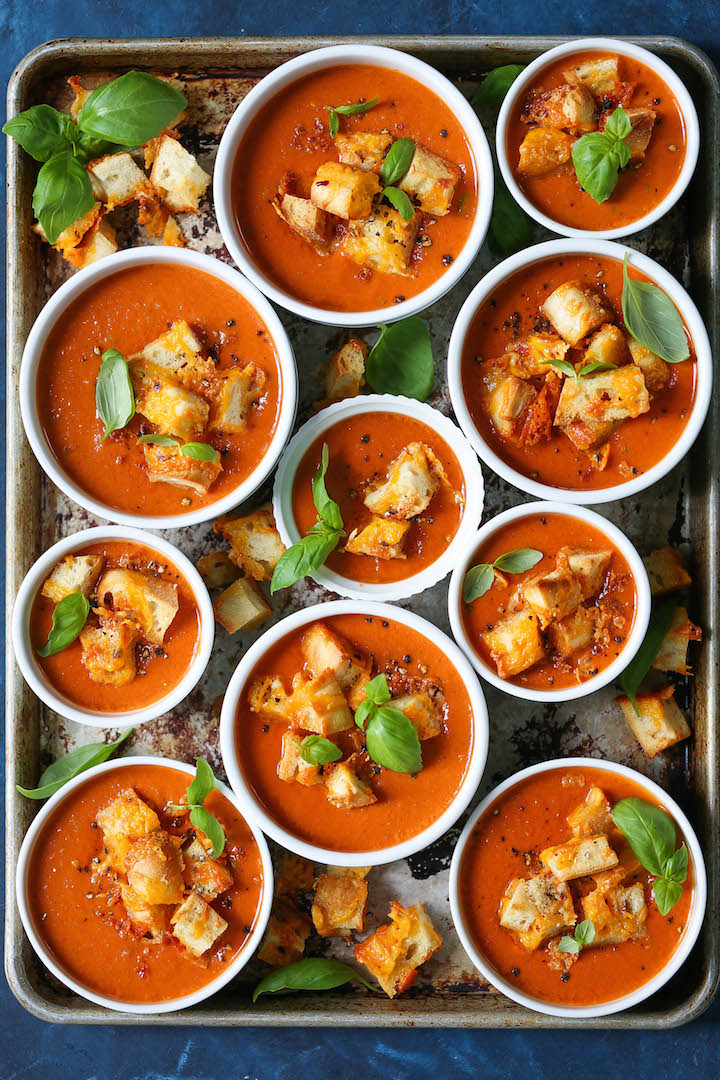 Creamy Tomato Basil Soup is an innovative take on the classic tomato soup. Its velvety base is complemented by a burst of flavor. The secret lies in using fresh ingredients and simmering the soup slowly in the crockpot. This soup is a source of comfort for both body and soul. It is ideal for a cool fall day or a cold winter evening. Serve this soup with crusty bread or topped with a spoonful of fresh cream. This creamy soup is sure to satisfy your hunger and leave you feeling satisfied.
This is one of my favorite easy crockpot meal recipes that is loved by everyone from kids to adults and is readily available in 99.9% of restaurants. But why go out to eat at a restaurant when you can make it yourself at home? Set it on the crockpot before going to bed at night or in the office. After returning from the office, share with yourself and the whole family.
Get the recipe here.
---
Related: Amazing Tomato Recipes
---
Zesty Lemon Garlic Chicken: Bursting with Flavor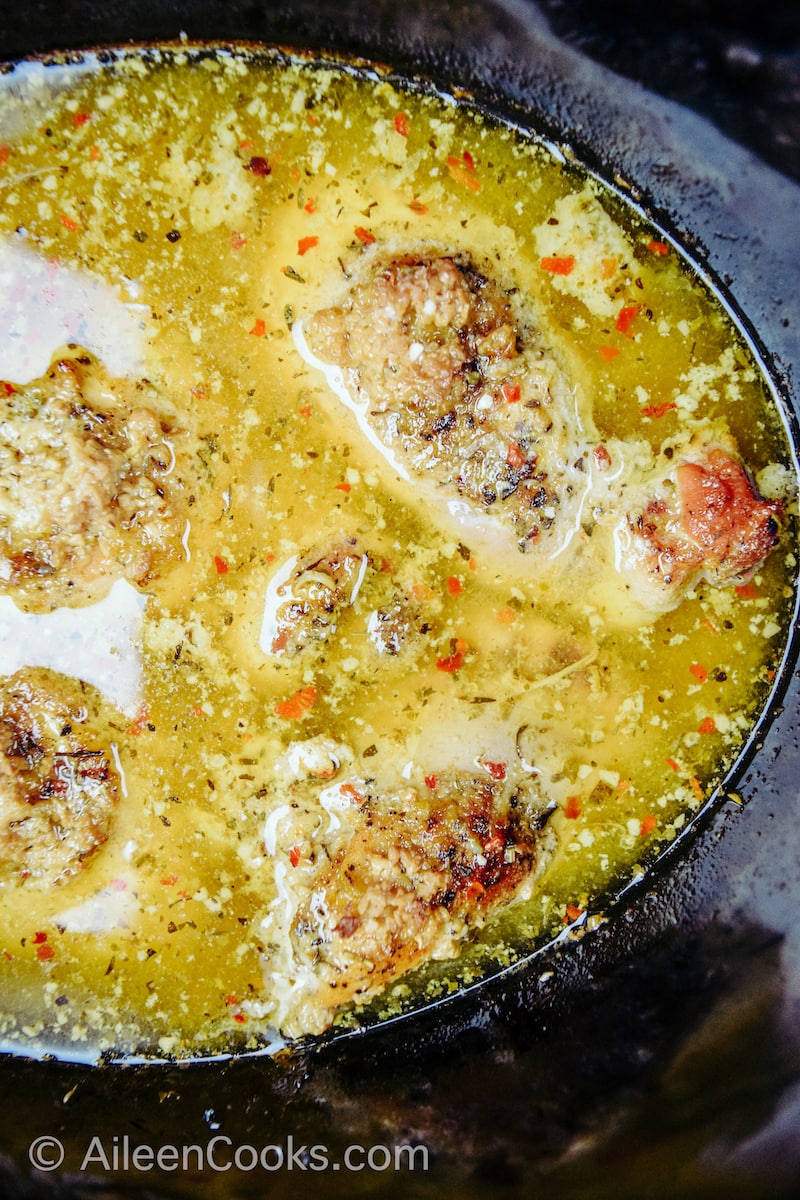 This recipe for Zesty Lemon Garlic Chicken is a convenient and gluten-free and paleo-friendly meal that can be prepared quickly and easily. All that is needed is lemon, onion powder, and garlic powder, as well as garlic cloves. Marinating the chicken in a combination of lemon and garlic, the chicken is cooked in a Crockpot for an unbeatable aroma and tender, juicy chicken with a tangy flavor of lemon and a rich, savory flavor of garlic. Butter is the most essential ingredient in this recipe, and it can be served over rice or roasted vegetables. This dish is sure to be a hit with the whole family and is easy to follow. Serve this dish with Butter Nun (or Tandoori Roti) for a delicious and nutritious meal. It can also called slow-cooker creamy lemon herb chicken.
Get the recipe here.
---
Related: Easy Chicken Breast Recipes
---
Mexican Chicken Enchiladas: A Fiesta on Your Plate
Mexican food is full of flavors that will take your breath away. It's full of bold spices, tangy sauces, and vibrant ingredients that take you back to the streets of Mexico. One of the best ways to experience Mexican food is with enchiladas, and this dish is no exception. Think of it as a fiesta of a plate—tender strips of chicken marinated in a mix of Mexican spices, like cumin and chili powder, and oregano. Then, you add soft corn tortillas to make it even more delicious and top it off with a creamy tomato salsa and a dollop of melted cheese. Yum.
When you bite into this delicious chicken enchilada, you're in for a treat! The smoky, seasoned chicken is so flavorful, the tomato salsa is so tangy, and the melted cheese is so creamy and delicious. It's a real symphony of flavors that will make you want to take another bite. To make it extra special, you can top it with some fresh cilantro and sour cream for a creamy contrast. And don't forget to top it off with a jalapeno or lime juice for a kick.
Get the recipe here.
---
Related: Ground Chicken Recipes
---
Cheesy Broccoli and Rice Casserole: A Kid-Friendly Option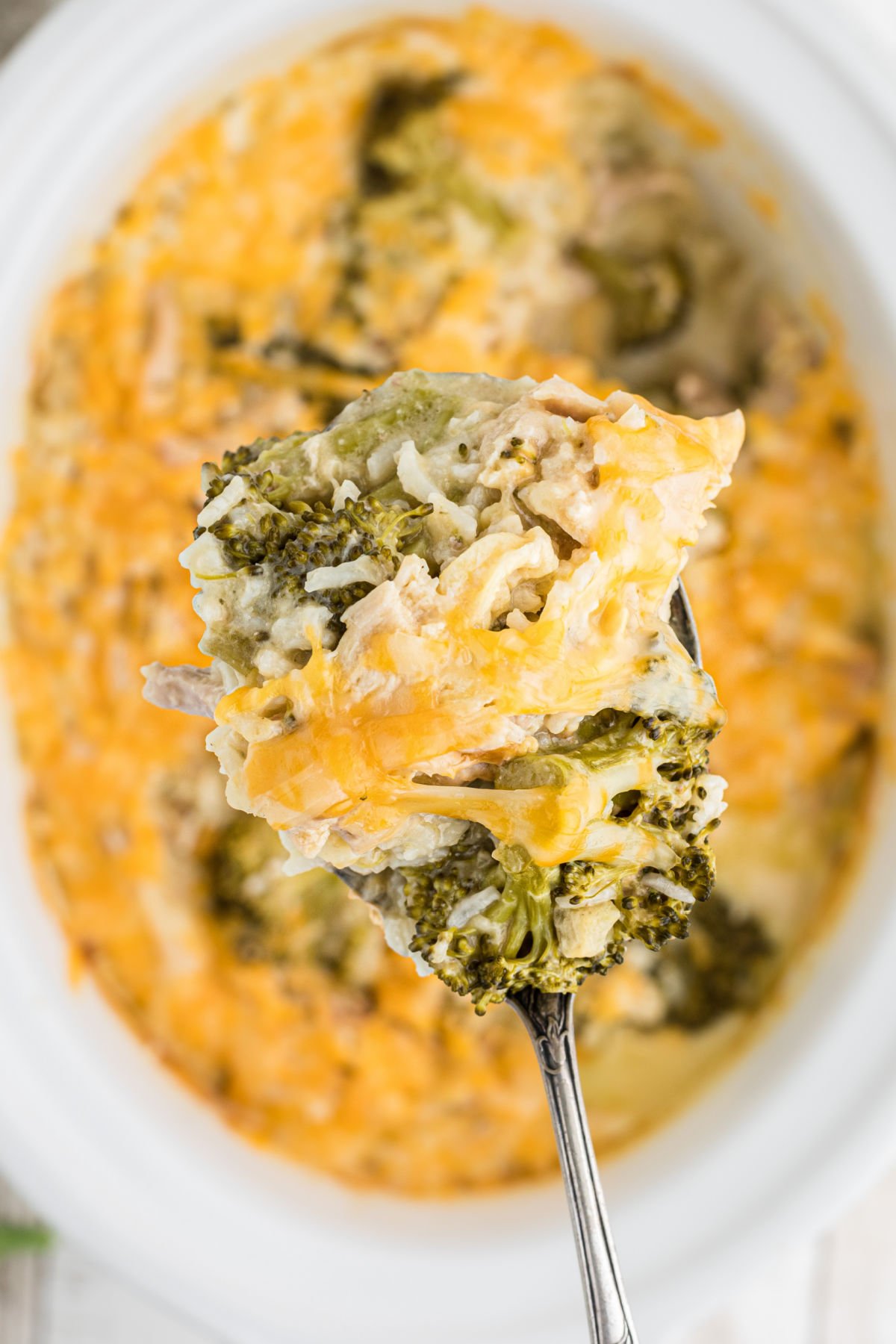 Prepare yourself for the cheesy broccoli and rice casserole. This kid-friendly casserole is so yummy that even the pickiest eater will be begging for seconds. Tender broccoli florets paired with fluffy rice are covered in a creamy cheese sauce that creates the perfect balance of flavor and texture. This cheesy casserole is a great twist on the classic broccoli and rice dish, and it's sure to be a hit with kids and adults alike!
When you turn on your crockpot and smell the bubbling cheese, you can relax knowing that not only will this casserole satisfy your cravings, but it will also nourish your body. The broccoli is packed with vitamins, minerals, and fiber, making it a guilt-free treat for the whole family. You can customize this cheesy casserole to your liking by adding diced ham, shredded chicken, or even chopped bell peppers.
Get the recipe here.
---
Related: Gluten-free Casserole
---
Deliciously Simple Beef Tacos: Taco Tuesday Made Easy
These easy-to-make beef tacos are packed with flavor and will have your family begging for seconds. To prepare this crockpot meal simply combine tender shredded beef with flavorful spices and tangy lime juice in your crockpot and let it cook for hours. The flavors blend together and the tenderness of the beef is remarkable. Warm up some tortillas and spoon the shredded beef filling into the tacos, then top with your favorite toppings. Perfect for a busy weeknight or a lazy Sunday, these beef tacos are easy to make and customizable. If you prefer a spicy flavor, you can add jalapenos and red chili flakes, but if you prefer a milder flavor, you can omit the spices that add a lot of flavor. You have complete control over the heat and seasonings, so you can create a taco that meets your exact taste preferences.
Get the recipe here.
---
Related: Taco Recipes for Holiday
---
Creamy Spinach and Artichoke Dip: The Perfect Party Appetizer
Spinach and Artichoke Dip is the perfect appetizer for your next party. It's creamy and delicious, with a mix of melted cheese and spinach, and also one of the easy crockpot meals. It's a crowd-pleaser and won't let you down before your main course. Serve with tortilla chips or baguette slices and your guests will really enjoy it.
The best part about this dip is that it is very easy to make. All you need are a few ingredients and you're ready to go. Mix spinach, artichokes, garlic, and mayonnaise together in a crockpot. Mix it all together and let it simmer on low for a few hours until it's velvety and ready to serve. This dip is a crowd-pleaser and you can customize it to your liking, so you can wow your guests or family.
Get the recipe here.
---
Related: American Appetizers
---
Maple Glazed Carrots: A Sweet and Savory Side Dish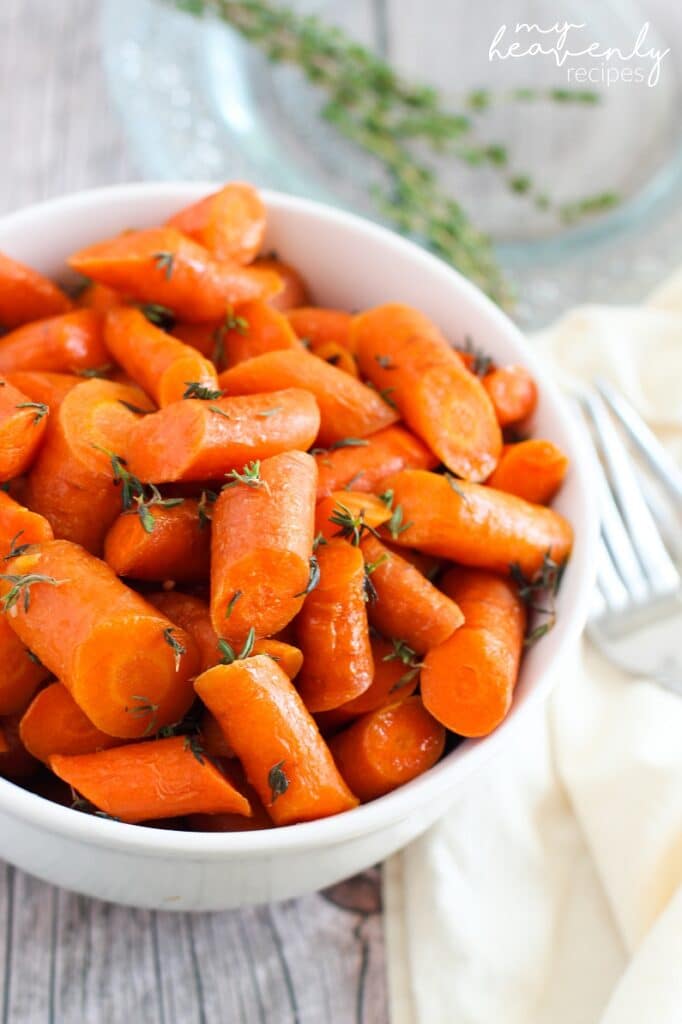 Maple-Glazed Carrots are a sweet and savory side dish that will pair perfectly with any main course. Glazed carrots are cooked low and slow in a crockpot, absorbing the sweetness and flavor of the glaze. The combination of maple syrup and butter, with a hint of cinnamon, makes for a great and comforting side dish that's easy to make with just a few ingredients.
The natural sweetness of carrots pairs perfectly with the rich caramel-like flavor of maple syrup. The butter adds a delightfully savory touch to each bite, while the cinnamon adds a hint of warmth that brings everything together. The bright orange color of these glazed carrots is my favorite thing about this recipe, not only is it visually appealing, but it adds a pop of color to any plate.
Get the recipe here.
---
Related: Healthy Carrot Recipes
---
Crockpot Tuscan Chicken – An Awesome Crockpot Meal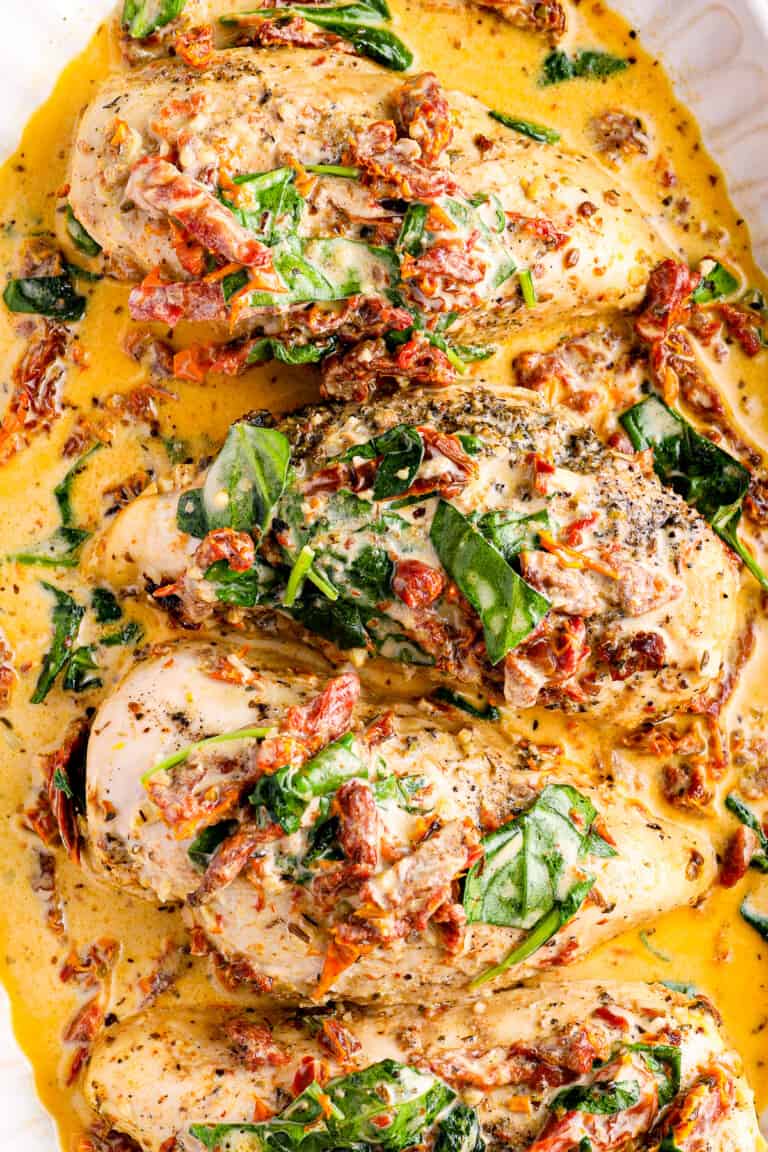 This Italian-inspired dish brings all the flavors of Italy together in one easy cooker. With just a few simple ingredients, this easy Crockpot Chicken is the perfect way to treat yourself and your guests to a gourmet dinner that's sure to leave a lasting impression.
Tuscan Chicken is a classic Italian dish that is packed with flavor. Actually, the chicken breasts are tender and bursting with flavor. The tomatoes are sun-dried and packed with flavor, while the spinach adds a vibrant twist to the dish. The basil is fragrant and full of flavor, and the Parmesan cheese adds a creamy richness that holds everything together. Serve this delicious Crockpot Chicken along with creamy al dente pasta or with crusty bread to enjoy every bite. Let the Crockpot do all the work for you and let the pasta soak up every drop of sauce.
Get the recipe here.
---
Related: Leftover Chicken Recipe
---
Thai Peanut Chicken: A Fusion of Flavors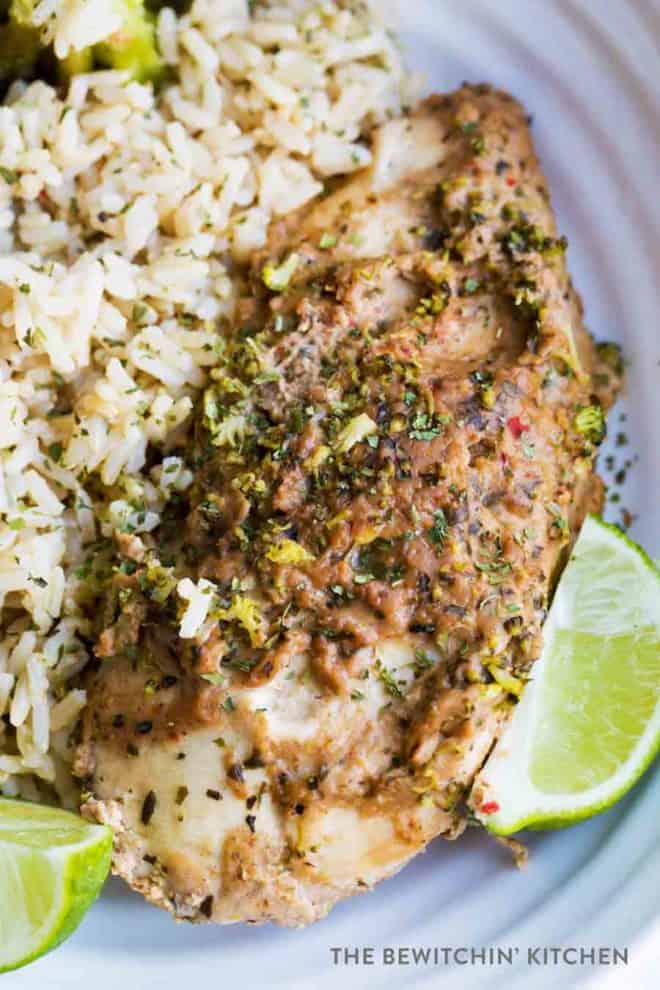 Many people love Thai food and so do I. So I couldn't resist adding a Thai dish to this recipe list. Soft, creamy peanut butter and aromatic spices blend together in the crockpot to create a mouth-watering dish that takes you on a culinary journey. The perfect combination of the rich flavors of Thai cuisine and the comfort of cooking in your own crockpot.
To make Thai Peanut Chicken, marinate the chicken in a combination of soy sauce and lime juice with ginger and garlic. This will allow the meat to soak up all the vibrant flavors before cooking. As the crockpot cooks, the chicken thickens and coats the chicken, giving it a rich nutty flavor. As it cooks, the sweet, savory, and spicy notes dance on your tongue, making the chicken almost melt in your mouth. Once the chicken is cooked, you can enjoy this one of the easy crockpot meals along with basmati rice, or serve it with steamed vegetables.
Get the recipe here.
---
Related: Ground Chicken Recipes
---
Apple Cinnamon Oatmeal: A Hearty Breakfast to Start Your Day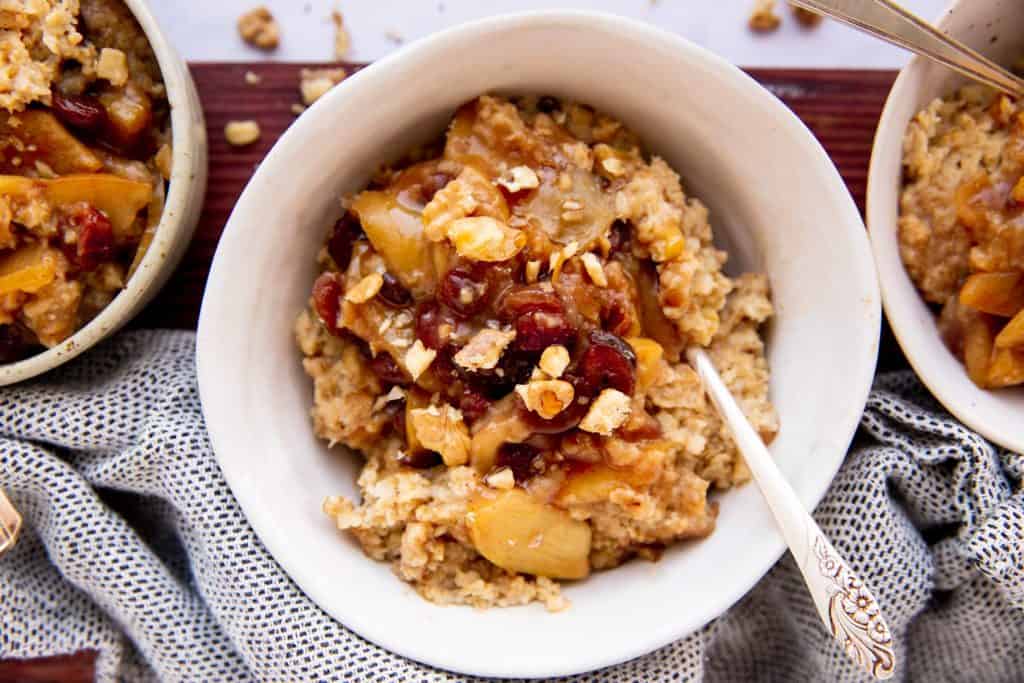 Apple Cinnamon Oatmeal is a wonderful combination of sweet and tangy apples and warm oats that will bring a smile to your face. As you savor the unique combination of flavors, you will discover the magic of the two cuisines coming together. Apple Cinnamon Oatmeal is a warm bowl of oatmeal that will energize your body and mind. This healthy breakfast not only satisfies your taste buds but also provides essential nutrients to help you stay energized throughout the day. What makes this oatmeal special is the attention to detail in the preparation. Select the juiciest apples, balance them with creamy oats, and add a hint of cinnamon to ensure the perfect balance.
When you bite into this delicious apple cinnamon oatmeal, it will melt in your mouth and leave you feeling warm and cozy. Soft oats and tender apples create a delicious sensation that will keep you coming back for more. Plus, it's packed with fiber, so you'll feel full and satisfied all morning. And apples are packed with vitamins and antioxidants, which are great for your health and overall well-being. So, when you're getting ready for the day and looking forward to a delicious dessert later, be sure to treat yourself to a nutritious breakfast like this Apple Cinnamon Oatmeal. It will give you the strength and peace of mind you need to face whatever comes your way.
Get the recipe here.
---
Decadent Chocolate Lava Cake: An Indulgent Dessert
Prepare yourself for the ultimate dessert: the decadent chocolate lava cake. Imagine a rich, velvety cake with a molten center that flows like a river of chocolate. As you bite into it, the rich chocolate flavors will dance on your tongue, sending you into a euphoric state of bliss.
This decadent chocolate lava cake is surprisingly easy to make, thanks to the crockpot. All you need are a few simple ingredients: flour, sugar, cocoa powder, eggs, butter, and lots of chocolate. As you wait for the crockpot to begin its magic, your kitchen will be filled with the tantalizing aroma of chocolate. Timing is the key to this show-stopping chocolate lava cake. The cake should be cooked until the edges are golden brown, but the center should still be melted.
When it's time to serve, dust the top with powdered sugar or add a spoon of whipped cream or a scoop of vanilla ice cream for a decadent treat. Different temperatures and flavors add up to a delicious symphony in your mouth.
Get the recipe here.
---
Slow-cooked Apple Crisp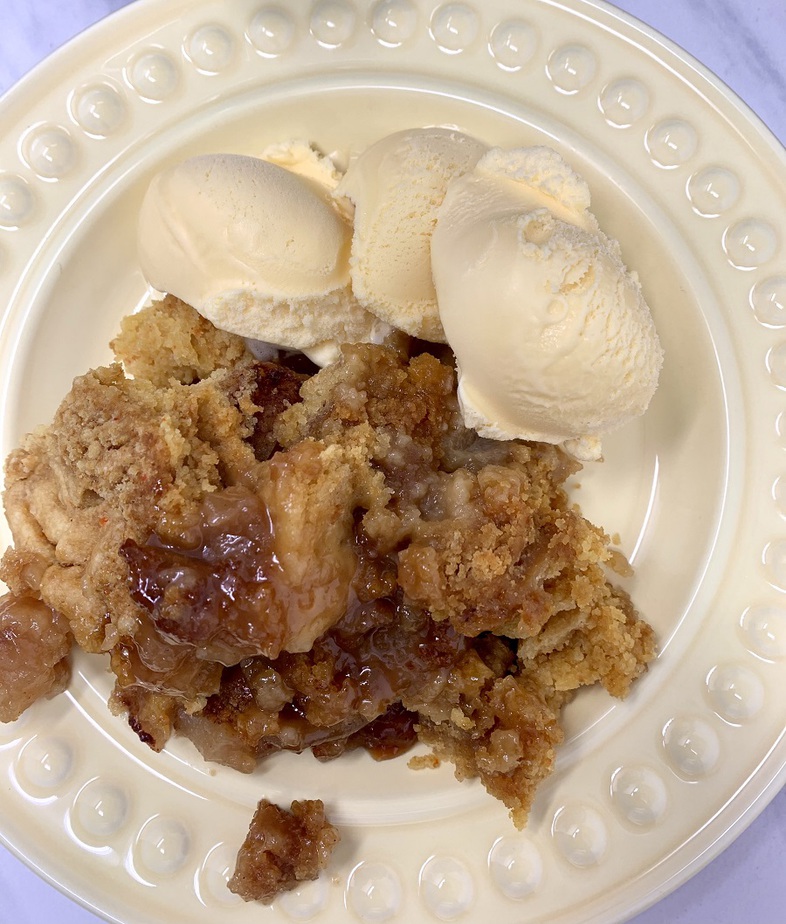 Apple Crisp is one of the most popular desserts on the menu. It's the perfect combination of the sweet, natural sweetness of apples and the comforting spice blend. The secret is to find the perfect balance between the apple mixture and the crumble topping. All you have to do is add the apple mixture to the crockpot, layer it on top of the apple mixture, and wait for the magic to happen.
Apple Crisp is made in a slow cooker because it allows the flavors to really come together as they cook. The result is tender and bursting with fall flavors. After several hours on the low heat, you'll be left with a dessert that's simply irresistible.
Get the recipe here.
---
Creamy Rice Pudding – Easy Crockpot Meal
Creamy Rice pudding is a timeless dessert that does not require much effort to prepare. The secret to achieving a creamy texture is to cook the rice slowly with milk. The rice pudding recipe is simple to follow, requiring only rice, milk, powdered sugar, and vanilla. However, it is possible to customize the recipe to suit individual tastes. Additionally, different types of rice can be used in the recipe. Once the rice pudding is cooked, it can be served warm or chilled. Isn't it one of the fabulous easy crockpot meals which is a dessert?
Get the recipe here.
---
---
If you like this article about easy crockpot meals or easy crockpot recipes, please share this with your friends on Facebook, Twitter, and Pinterest. Also, you can subscribe to my blog to get all the latest articles first on your mobile.
SHARING IS CARING!
FACEBOOK | TWITTER | PINTEREST
Did you like this recipe and make it later at home? SAVE this pin to your favorite board on Pinterest!