Are you looking for healthy ketogenic recipes? These healthy keto kale recipes are best for any time meal plans. So easy to make at home. Keto friendly and low carb too, best for who is on a diet and try to lose weight.
But Kale? Yes, kale is a healthy vegetable that gives us lots of nutrition. But many people out there, who don't like kale in the raw version, even some kids are don't like to eat. Even I'm also not a kale fan. After you cooked kale in medium heat or high flame, kale is wilted, soft, tender and you can cook with any ingredients whatever needs in the recipe.
So today I have come up with some recipes that will make you a fan of Kale. From all those recipes even I have become a fan of it.
Kale is great for the diet. It is not only low in net carbs, but it is also rich in nutrients. From kale leaves, you will get vitamin K, Vitamin A, and C. That is our body needs.
It is also an excellent source of manganese which is our body needs too!
Eating cal can lower your cholesterol levels and protect your eyes from eye disorders such as macular degeneration. Kale is a very nice veggie that balances and keeps just the right way in our body.
Is the kale keto-friendly?
As you know all green vegetables are good for health. Get lots of nutrition, protein, vitamins to keep our health strong and healthy. So any green vegetables like kale, spinach, cilantro, etc are keto-friendly. Who are on a diet and to lose weight fast these vegetables are the best way to keep their healthy balance.
If you are don't like to eat kale, these simple and delicious and healthy keto-friendly recipes which will force you to like and grab on it. So don not waste your time just jump these Keto kale recipes which are so amazing in taste and easy to prepare at home.
---
[jetpack_subscription_form subscribe_placeholder="Enter your email address" show_subscribers_total="false" button_on_newline="false" submit_button_text="Sign Up" custom_font_size="16px" custom_border_radius="0″ custom_border_weight="1″ custom_border_color="#f78da7″ custom_padding="15″ custom_spacing="10″ submit_button_classes="has-f-78-da-7-border-color has-text-color has-white-color has-background has-vivid-red-background-color" email_field_classes="has-f-78-da-7-border-color" show_only_email_and_button="true"]
---
21. Kale, Bacon, and Cheese Breakfast Casserole
Breakfast casserole! Enjoy your breakfast meal with leafy green kale, bacon grease, parmesan cheese. So tasty and healthy. It doesn't take a lot of bacon to add in this casserole.
Addition fresh green kale is the best way to keep your health strong. Get lots of protein, vitamins, and flavor from this casserole.
Check it here.
---
20. Keto Broccoli Kale Pizza Crust Recipe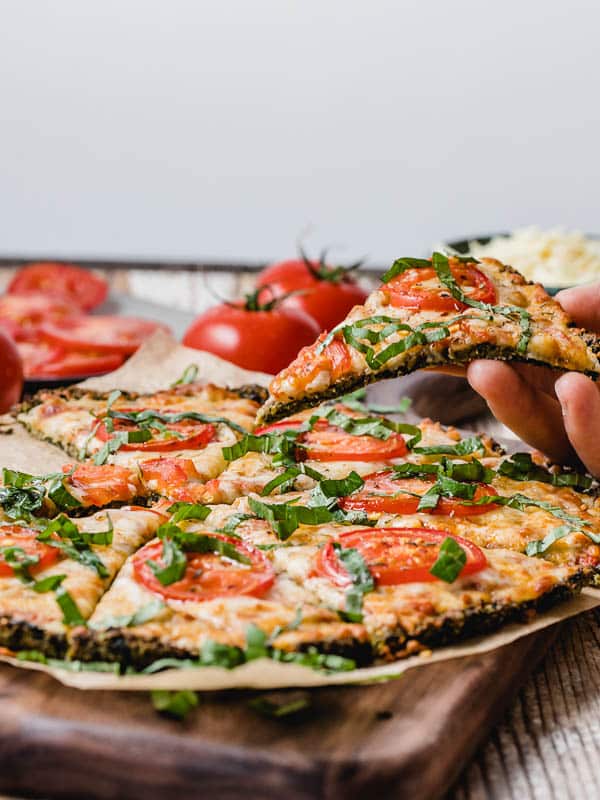 Pizza! I love pizza, and this is vegetable types of pizza which is good for health. This Broccoli Kale Pizza Crust recipe best for who is on a ketogenic diet or trying to lose weight fast.
This pizza recipe will help them to lose weight and keep safe from junk food. This keto-friendly, paleo, and low carb recipe so simple to make at home. And gets crispy without the use of cornflour and starch. Adding pepper flakes with salt and pepper as required to make this keto recipe tastier.
Check it here.
---
19. Four Ingredient Parmesan Kale Crisps
Only 4 simple ingredients you can make this simple healthy recipe Parmesan Kale Crisps. This recipe is best for snacks or appetizer to full you few times. Just ready in 10 minutes, serve this crisps with any salad or soup that makes you feel amazing.
Good for vegetarians because it is gluten-free, low carb, totally veg, and easy to make.
Check it here.
---
18. Low-Carb Kale Caesar Salad
This keto-friendly Kale Caesar Salad is so healthy, keto-friendly and one of my go-to weekly lunch options. A super simple, comforting recipe that you can take this entire week. With fresh kale and toss with a little dressing, a few croutons, a sprinkle of cheese, and whatever protein you like. Add and mix together in one bowl and ready in less than 30 minutes.
Check it here.
---
17. Keto Chicken Kale Soup Recipe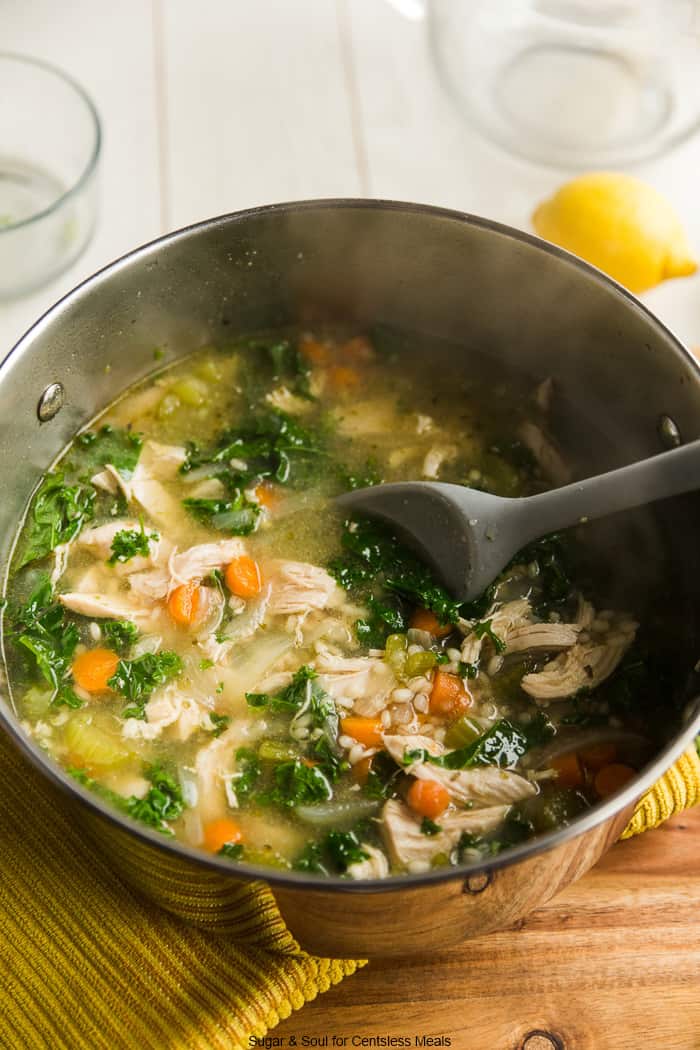 Chicken Kale Soup is an easy, hearty, and comforting soup recipe that's perfect for lunch or dinner or any weekdays. This is a light lunch! Get lemon and ginger flavors, that make you nice taste and texture. This soup is so simple to make and perfect for busy families!
Check it here.
---
16. Lemony Kale Salad with Chickpeas and Avocado
This vegan Kale Salad recipe is made with avocado, chickpeas, and a nice flavor of lemon vinaigrette. It is a simple salad recipe take doesn't take so much time to make. Add any vegetables, nuts, fruits, or other ingredients whatever you like.
Check it here.
---
15. Low Carb Creamed Kale with Bacon and Walnuts
Loaded with Kale with Bacon and Walnuts, the recipe is so tasty and delicious. Serve this creamy kale recipe salad or green smoothie, you can add soup too! This healthy low carb creamy kale recipe goes well for game-changer dish, or snacks, or any weekend holiday.
Check it here.
---
14. Keto Chicken Mushroom Casserole Recipe
Who is loves to eat casserole, I'm sure they will love this casserole too. with chicken, mushroom, fresh kale and some few ingredients make a perfect breakfast or lunch meal. This recipe is on a keto diet, and get a nice flavor with nutrition.
Check it here.
---
13. Keto Salmon, Kale and Poached Egg Bowl
Salmon and kale, both lovers? This Keto Salmon, Kale, and Poached Egg are perfect for them. Simple, healthier, low net carb dish that goes well for breakfast, lunch, and dinner.
This bowl recipe is the perfect balance of healthy fat, fiber, protein, and carbs. To keep your body healthy, stable your insulin level, etc. Try Now!
Check it here.
---
12. Keto Kale and Brussel Sprout Salad Recipe
Kale Brussel Sprout Salad is a dish that you can celebrate the season. Loaded with fresh Brussel sprouts, apple, cranberries, fresh kale, and creamy honey-mustard dressing. This salad is a dish that you eat at any time of the year. Also, you can add any vegetables and nuts or fruits whatever you like.
Get a nice flavor with vitamins and nutrition from all these ingredients. Best for any day dinner menu.
Check it here.
---
11. Keto Kale Cauliflower Tots Recipe
Looking for healthy snacks? This Kale Cauliflower tot is the best side dish with snacks to change your mood. For vegetarians, this recipe is perfect.
You can refrigerate the cauliflower tots when they are well cooked for the next day! Served this recipe with eggs, they were a welcome treat in the morning.
Check it here.
---
10. Keto Zuppa Toscana Recipe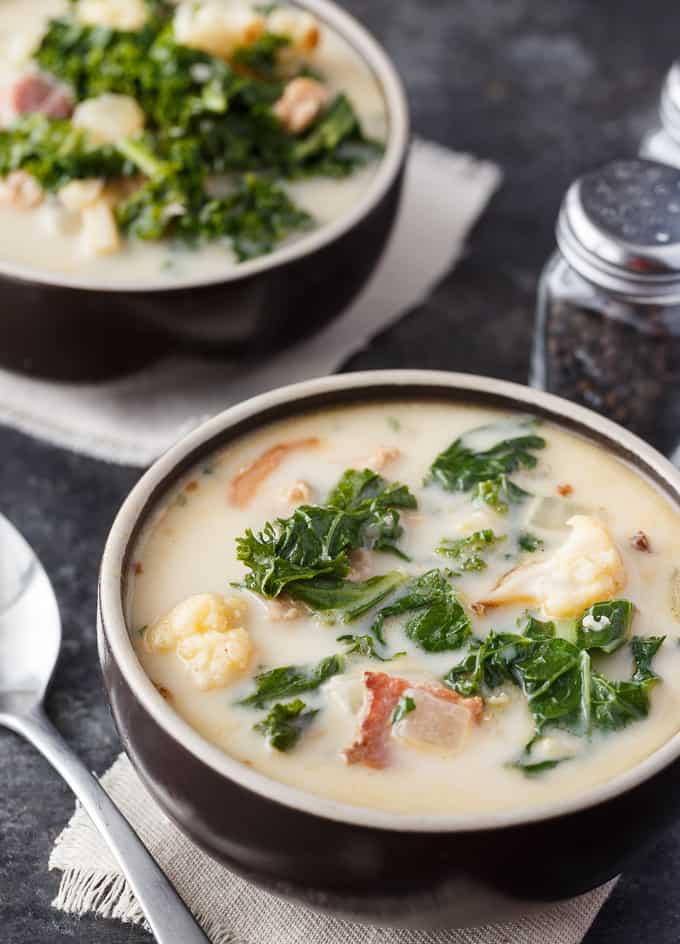 Keto Zuppa Toscana is a famous soup that Keto friendly and comfort food. It's packed with kale, bacon, sausage, roasted cauliflower dipped in a creamy broth.
Check it here.
---
9. Baby Kale, Mozzarella, and Egg Bake
To hear that recipe, 1st thought, breakfast! This Baby Kale, Mozzarella, and Egg Bake so much healthier, easy to make, gluten-free. Make this recipe in breakfast or snack several times and make you full a few times.
Check it here.
---
8. Baby Kale Avocado Salad Recipe
Salad is the best feed for a meal. This vegan avocado salad with baby kale is so easy to prepare, so delicious! Adding lemon garlic vinaigrette and parmesan is Much lighter than most seasonal salad recipes.
Don't miss out on this baby kale salad! And with only 5 minutes of prep time, not so much will take to prepare this.
Check it here.
---
7. Low Carb Keto Chicken Crust Pizza Recipe
Looking for Pizza in keto kale recipes? This Low Carb Keto Chicken Crust Pizza Recipe is one of my favorite dishes for anytime snacks. Who is love with pizza, this recipe is the best for them. Make this recipe with just 4 ingredients!
Easiest, healthy, ketogenic with low carb recipe good for the dinner table. Topping with creamy alfredo sauce, spinach, onions, and mozzarella, I'm just dying for.
Check it here.
---
This Air Fryer Kale Chips recipe is so crunchy and in just 5 minutes. For snacks, this recipe is the perfect one. If you are going to through a party, this kale chips make the party cheerful.
Check it here.
---
5. Keto Roasted Cauliflower Kale Soup Recipe
If you looking for cauliflower and kale in one recipe? This Roasted cauliflower kale soup is waiting for you. Just ready within 20 minutes, get this soup on your table. Rich, flavorful, creamy but adding no cream, this delicious dish makes your day healthy.
Check it here.
---
4. Low-Carb Caramelized Onion and Kale Frittata
Light, low carb, vegetable-based kale recipe is super delicious. Loaded with rich caramelized onions, tangy feta, and a veritable kind of baby kale. Adding heavy cream helps this veggie recipe stay tender, moist, and good for health too!
Check it here.
---
3. Italian Sausage and Keto Kale Soup Recipe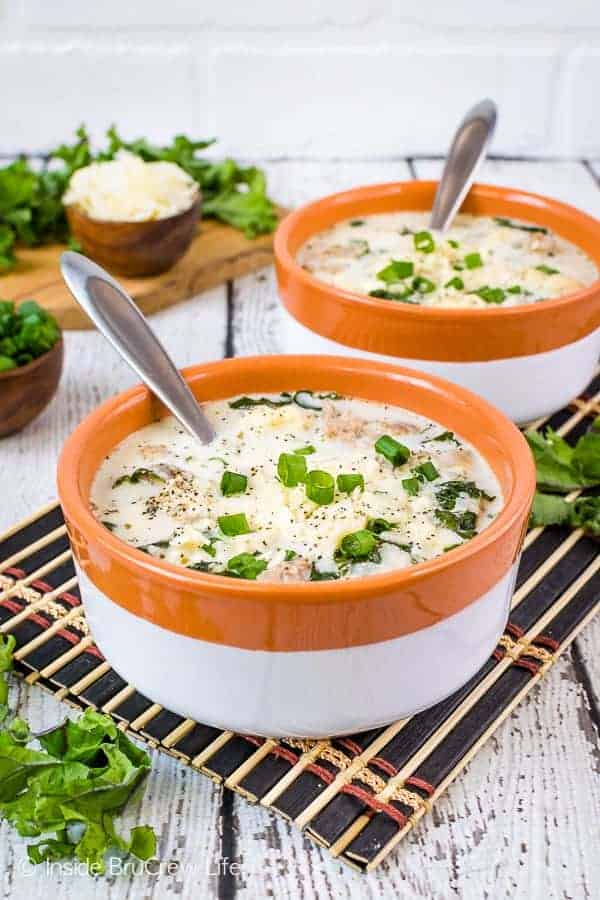 This Low Carb Sausage Kale Soup is a healthy and comforting popular Zuppa Toscana soup. It is keto-friendly and low in the carb that so delicious. Easy to make, simple, hearty, rich in flavor, creamy this soup best for a meal.
Check it here.
---
2. Zucchini Noodles with Kale Pesto and Chicken Breast
Loaded with add the kale leaves, zucchini, chicken breasts, pumpkin seeds, olive oil, and few other simple ingredients. Adding garlic in this recipe gets a nice flavor. Zucchini noddles with kale pesto and chicken breast are a healthy and delicious dish that simple and easy to make.
Check it here.
---
1. Keto Kale and Sweet Potato Sauté Recipe
This is one of my favorite keto kale recipes. Kale and Sweet Potato Saute is a dish that goes well at any meal like breakfast, lunch, or dinner. Preparing this dish is so easy in your kitchen. This dish does not need many ingredients to cook it.
This recipe is a pure veg dish that best for vegetarians. But you can serve this recipe with chicken, pork, fish, or any kind of meat.
Check it here.
Few more Keto Recipes:
---
SHARING IS CARING!
FACEBOOK | TWITTER | PINTEREST
Did you like this recipe and make it later at home? SAVE this pin to your favorite board on Pinterest!
or