Fish lovers? Looking for easy quick keto fish meals? These healthy delicious keto fish meals make you fall in love. These recipes of fish, covered with lots of flavors and a wide range of tastes. To prepare these recipes just need to cook within 30 minutes and get perfect meals such as lunch and dinner.
Tired to eat chicken or egg or meat in your daily life? Well… another option to try is FISH!
Fish is the source of protein, vitamins, and other nutrition. Just like you get these from chicken or any meat.
However, many people don't like eating meats, I suggest to take another option. Try these fish recipes that you'll like. On the other hand, some people don't like to eat fish. But I'm sure if you try these amazing keto-friendly fish dishes, they will eat again.
There are lots of fishes out there like salmon, tilapia, cod, catfish, and many more. But for all of these fishes, salmon is the best tasty and healthy fish ever. And have lots of nutrients that keep your body healthy. The main part is that not more time takes to cook fish dishes like chicken or meat cook. So you can easily get more time to give your work or your family or in your kitchen to prepare other dishes.
So here are some healthy keto-friendly low carb fish dishes that you'll love and good for weight loss. These fish recipes keep your body balanced and perfect for those who are on a diet.
---
23. Keto Fried Fish Meal
Fried keto fish is low in carb, keto-friendly, and delicious. Crispy coating with breadcrumbs and few ingredients is a great way to enjoy a low carb meal with your family. A comfortable and amazing dish that you can eat as a snack dip into mayo!
Get the recipe here.
---
22. Keto Baja Fish Tacos Recipe
If you are looking for a taco dish with fish, this taco recipe is waiting for you. An amazing combination of fries or Baja fish, put thin the cozy warm tortilla, with cabbage slaw and topping over with white creamy sauce. Overall is just healthy and delicious, this Baja-style taco is the best! Try this recipe at home and serve hot.
Get the recipe here.
---
21. Keto Creamy Lemon Garlic Salmon Meal
Keto creamy lemon-based garlic salmon is perfect for a seasoned dinner dish. To celebrate any dinner or lunch party or occasion this lemon-based salmon recipe makes you incredibly happy. With lemon creamy garlic sauce and salmon is prepared just within 30 minutes. Serve hot with rice, roti, noodles, or pasta, or anything that you like to eat.
You can try this honey garlic butter baked salmon at home as well.
Get the recipe here.
---
20. Seafood Paella
This is an awesome seafood recipe called Seafood Paella. It's great for any holiday, lunch, or dinner. You can easily make this recipe without any skills.
Get the recipe here.
---
19. Cajun Salmon and Shrimp – Keto Fish Meal
In this recipe get salmon and shrimp both. That is a nice combination of meals with cajun sauce. This is the perfect meal for special occasions or the ultimate weeknight dinner! It's low carb and keto-friendly that you can serve with a glass of wine and with pasta or noodles. Heavy cream, garlic for flavor, lemon juice, and parmesan cheese make the cajun sauce amazing. Try now!
Get the recipe here.
---
18. Baked Tilapia – Keto Fish Meal
This baked tilapia is keto-friendly and just takes only 25 minutes to ready. Best ever flavourful fish dinner recipe that low in carb and my favorite too! Try this recipe dip with mayo.
Get the recipe here.
---
17. Keto Fish Pie
Keto fish pie is the lunch or dinner meal that keeps you full for a few times. Loaded with creamy cauliflower mash, heavy whipping cream, cheddar cheese for thicken, and few ingredients. And get amazing deli6fish pie that is low in carb and keep balance your diet.
Get the recipe here.
---
16. Keto Shrimp And Broccoli Alfredo Recipe
Healthy Easy Shrimp and Broccoli Alfredo Recipe are loaded with cream cheese, Shrimp, Pasta, Broccoli, and creamy parmesan. This keto recipe is easy-to-make and just ready within 30 minutes. This Shrimp Alfredo comforting recipe is best for dinner and serves hot to your family and friends.
Get the recipe here.
---
15. Crispy Keto Fish Sticks
Crispy fish sticks or fish fingers are one of my favorite recipes. These keto fish sticks are one of the popular and ultimate foods that any fish lover will love. Dipping with any sauce, mayo, or Raita is the best ever snack or dinner side meal.
Get the recipe here.
---
14. Easy Baked Parmesan Crusted Tilapia Recipe with Mayo
To make this recipe you only need just 4 ingredients. Get crispy crusted baked in the oven tilapia is best for appetizers or snacks. Quick and easy tilapia loaded with lots of parmesan cheese which is ready only 15 minutes from start to finish. You can add any vegetables to make a more perfect meal. Perfect frugal and last minutes quick tasty meal for your instant coming guests.
Get the recipes here.
---
13. Baked Whole Catfish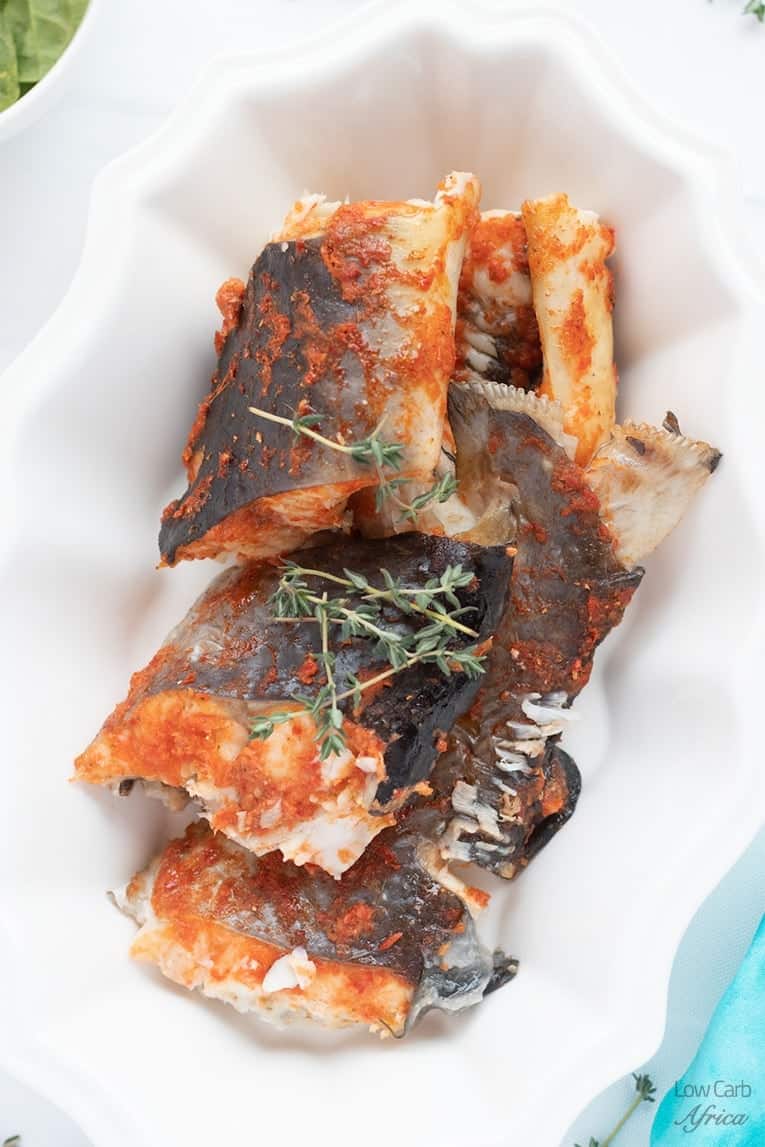 Catfish! I love this fish so much. This crispy, spicy, oven-baked whole catfish is so flavourful and tasty. Just only 3g of carbs per serving and it is freezer friendly. If you are a fish lover, then you definitely love this recipe. Not so hard to make this recipe at home. Just a few and simple ingredients make this delicious recipe for dinner or lunch meals as a side dish.
Get the recipe here.
---
12. Orange Butter Lemon Salmon
Do you taste the different flavors of salmon? Yeah! This orange-glazed butter baked salmon is a perfect weekend or weeknight or holiday meal that your family will love most. With orange and buttery flavor cover all the recipes and get a nice juicy salmon keto-friendly dish. That just ready in under 30 minutes on your table at home.
Get the recipe here.
---
11. Mediterranean Avocado Salmon Salad
Avocado Salmon Salad: Try this awesome Mediterranean avocado salad made with salmon fish. It's great for lunch and dinner also and have a lot of protein in it.
Get the Recipe here.
---
10. Ninja Foodi Air Fryer Herbed Salmon
This air fryer salmon recipe is so delicious, simple, and easy to make at home. Just ready within 10 minutes with few simple ingredients. Keto-friendly and low carb dish that perfect for those who are on a diet.
Check out the recipe here.
---
9.  Keto Bacon-Wrapped Cod Recipe
This recipe is the best ever aide dish meal come appetizers too. Perfect for summer dinner party recipes that so easy to make at home. Black codfish that wrapped with bacon and serve with spinach and capers are so healthy and delicious. So savory flavor and crunchy texture keep that recipe light, simple. Get this keto bacon wrapped COD recipe on the table in 40 minutes.
Get the recipe here.
---
8. Keto Breaded Fish
Wanted some crispy side fish meals to complete your lunch or dinner? This keto based breaded fish recipe is perfect for this. Low in the carb, delicious, crispy on the outside, and soft and tender from inside, perfect to dip into mayo or any Raita!
Get the recipe here.
---
7. Lemon Parmesan Baked Tilapia
This recipe is packed with flavor, protein, low in calories. This lemon parmesan baked tilapia is one of my favorite recipes. It takes time only 20 minutes and gets a light, flaky, mild-tasting dish makes with lots of parmesan cheese! Yum!
Get the recipe here.
---
6. Honey Garlic Butter Baked Salmon
Are you looking for easy crispy grilled or baked creamy salmon recipes? Here you get garlic butter lemon baked salmon pan recipe in foil. How to make this easy healthy side dish and low carb, also keto-friendly salmon recipe at home, check out.
Get the recipe here.
---
5. Halibut Topped with Creamy Parmesan Shrimp Recipe
This is another popular keto fish meal. With halibut filet, shrimp, sour cream, parmesan, garlic, and few other ingredients the recipe creates a nice creamy flavor that best for dinner meals. Amazing delicious taste with a nice texture that just ready in 20 minutes. Low carb, keto-friendly, and gluten-free this recipe best dinner meal prep that will love your family.
Get the recipe here.
---
4. Crispy Keto Salmon Patties Recipes
These salmon patties made with nice crispy keto salmon patties with the addition of chopped green onions, jalapeno, and bay leaves that make a nice flavor that perfect for a busy night! With cajun spices make the salmon patties the best meal to change your mood!
Get the recipe here.
---
3. Keto Lemon Baked Cod Recipe
The lemon baked COD recipe is the best lunch keto fish meal ever. The flavor of lemon and butter sauce makes the major and nice flavor and delicious taste that super simple staples for busy weeknight dinners. With just 5 simple ingredients this dish is cooked in 20 minutes on the table.
Get the recipe here.
---
2. Baked Keto Salmon with Creamy Dill Sauce Recipe
Baked salmon with creamy dill sauce is perfectly crispy and flavourful salmon that goes well for lunch and dinner meal prep. With creamy dill sauce cover the baked salmon which gets you lemonade flavor. Overall the dish is so amazing and this is one of my favorites keto fish meals that I love so much.
Get the recipe here.
---
1. Pan-Seared Tilapia in Tomato Basil Sauce
If you search for a healthy tomato-based tilapia recipe, this recipe is for you. For summer meal prep this pan-seared tilapia in tomato basil sauce is so healthy, delicious, and perfect. These lighter and fresher tilapia keto meals ready within 25 minutes from start to finish.
Get the recipe here.
---
Some popular Keto recipes:
SHARING IS CARING!
FACEBOOK | TWITTER | PINTEREST
Did you like this recipe and make it later at home? SAVE this pin to your favorite board on Pinterest!