Mushroom! Mushroom Lovers? Looking for easy keto mushroom recipes to lose your weight or keep it on your diet chart? These amazing recipes will help you the most.
So easy to make at your home and delicious, flavorful, healthy recipes. That you can take as a meal and as a side dish.
Mushroom, that is not vegetables, it is a fungus. But mushroom dishes are best to add to your keto diet. Not only they are so delicious, but it is also very healthy and good for you.
Mushroom has great nutrition sources. It contains vitamin B, fiber, selenium, and copper help to keep balance your immune system. Also, they give us potassium. They are low in the carb that good for your diet.
Why do you add mushrooms in your keto diet recipes?
Fiber, the mushroom has 2 types of dietary fiber that keep you full in your busy day. And decrease your appetite without any carbs.
Low in cost. Not so expensive. Get this from any shop or market.
Get lots of nutrition from it. Freezer friendly, a leftover recipe you can eat easily.
Good for vegetarians.
So let's check out the recipes that make these keto mushroom healthy recipes at home and enjoy the meal!
---
[jetpack_subscription_form show_subscribers_total="false" button_on_newline="false" custom_font_size="16″ custom_border_radius="0″ custom_border_weight="1″ custom_border_color="#f78da7″ custom_padding="15″ custom_spacing="10″ submit_button_classes="has-f-78-da-7-border-color has-background has-vivid-red-background-color" email_field_classes="has-f-78-da-7-border-color" show_only_email_and_button="true"]
---
21. Keto Chicken Thighs with Mushrooms Sauce Recipe
These boneless and skinless chicken thighs with mushrooms sauce are so delicious and healthy. Creamy, easy to prepare, quick, and keto recipe that goes well with roti, rice, noodles, or anything you like. To celebrate any weeknight dinner with your family this recipe is the best, will love your family too!
Get the recipe here.
---
20. One-Skillet Chicken with Green Beans and Mushrooms
One-Skillet Chicken with Green Beans and Mushrooms boasts is packed with fresh ingredients. For a busy day or busy weekend, this recipe will make you full, with lots of flavor and veggies. You can add any kind of veggies that you like. Ready just within 30 minutes and get nice fresh keto diet lunch or dinner recipe at home!
Get the recipe here.
---
19. Fully Loaded Burger Bowls Keto Recipe
Fully Loaded Burger Bowls – what about your 1st thought? Burger? No no… it looks like a burger but it is made with cheese, mushrooms, and bacon.
Best ever appetizer or occasion purpose or game day recipe who loves to eat mushrooms. In one line, a burger without the bun, try it!
Get the recipe here.
---
18. Keto Egg Drop Soup Recipe
Keto Egg Drop Soup with mushroom is made with just 6 ingredients. This recipe will be ready in 7 minutes on the table. Comforting and easy to prepare meals that are totally keto-friendly and incredible flavor! Not only is it low carb and keto, but also gluten-free, grain-free, paleo.
Get the recipe here.
---
17. Cream of Mushroom Soup Recipe
Soup! Lunch and dinner soup is the best for clean and healthy eating. When it comes to mushroom soup, then for me absolutely ready to eat for lunch or dinner meals. So easy to make, get a nice flavor, with homemade cream make the recipe so delicious and healthy. I'm ready to eat that, what about you?
Get the recipe here.
---
16. Crispy Oven Fried Garlic Mushrooms Keto Recipe
Crispy! Crispy! Crispy! Want some veg crispy recipes for any time like for appetizer or snacks?
This Crispy Baked Parmesan Garlic mushroom is a perfect guilt-free and low-fat appetizer. So simple and tasty healthy recipe that will love your family.
Get the recipe here.
---
15. Air Fryer Steak Bites and Mushrooms Recipe
I love Air Fryer Recipes! What about you? If you love air fryer recipes then you should love this Air Fryer Steak Bites and Mushrooms recipe too.
These easy and flavorful Air fryer steak bites and mushrooms are ready within 20 minutes, get amazing flavor and taste. Try!
Get the recipe here.
---
14. Keto Cheesy Mushroom Casserole Recipe
Casserole! The best recipe ever for me! Casserole with mushroom is just delicious and easy to make for lunch and dinner. Cheesy, packed, and flavorful with a mushroom that made without breadcrumbs that is ketogenic and gluten-free.
Get the recipe here.
---
13. Keto Mushroom Bhaji Recipe
Packed with Olive oil, onion, a green chili, button mushrooms, garlic, ground cumin, ground turmeric, ground coriander, and few simple ingredients. Add salt and pepper for taste. All these ingredients add step by step and continue to cook. Get a nice rich flavor mushroom recipe.
This Mushroom Bhaji recipe is just incredible taste and texture. Serve hot with roti, rice, or anything that you like. Yummy!
Get the recipe here.
---
12. Keto Lasagna Stuffed Portobellos Recipe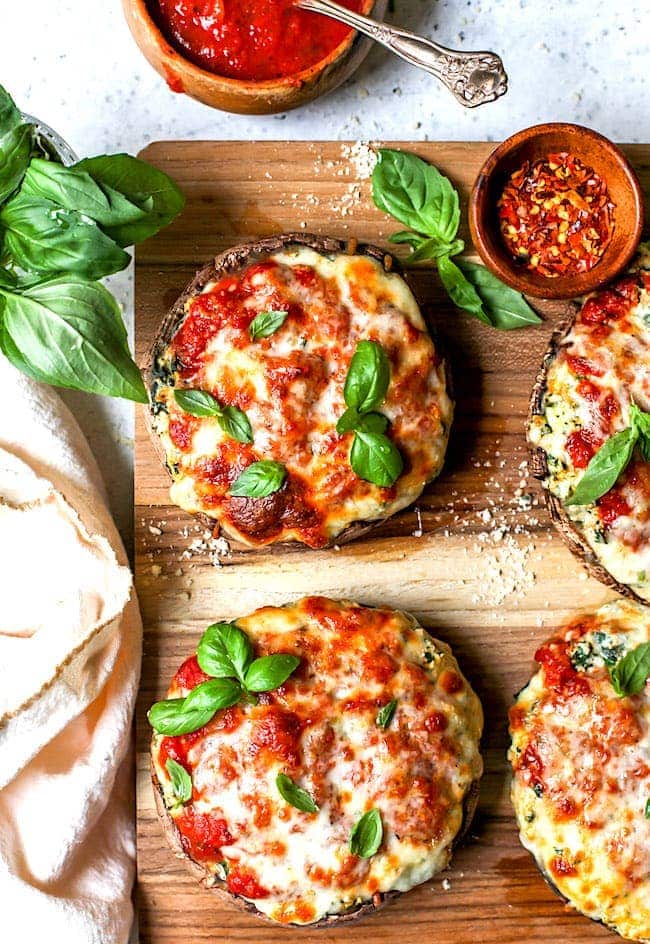 Lasagna Stuffed Mushrooms filled with ricotta cheese, spinach, marinara sauce, and topped with more cheese and fresh basil. If you are a lasagna lover, then you know lasagna is a classic comfort delicious food. So you will love this Keto Lasagna Stuffed Portobellos Mushroom too! It is low carb, gluten free, keto-friendly, and delicious with a meaty texture and is extremely versatile!
Get the recipe here.
---
11. Creamy Keto Mushroom Cauliflower Risotto Recipe
With just 9 ingredients this Mushroom Cauliflower Risotto Recipe will be ready in 25 minutes. This dish goes well with chicken, steak, or any seafood as a side dish. The best part is in this recipe, cauliflower mushroom risotto is made with cauliflower rice, instead of white rice.
So if you have leftover cauliflower rice then just prepare the rest of the ingredients that need in that recipe. And ready to serve. You can also eat only cauliflower rice with mushroom fry.
Get the recipe here.
---
10. Creamy Garlic Mushrooms & Bacon Keto Recipe
Creamy garlic mushrooms and bacon in a mouthwatering dinner or lunch meal side dish recipe. Just ready within 15 minutes at home and is one of my favorite recipes. Filling, hearty and so delicious. That if you 1st time eats that, you will definitely fall in love with that recipe and say once more!
Get the recipe here.
---
9. Vegetable Stuffed Portobella Mushrooms
These Vegetable Stuffed Portabella Mushrooms are so simple and tasty. This is one of my favorite Keto mushroom recipes. Loaded with portabella mushroom, zucchini, onion, red bell pepper, tomatoes, spinach, parmesan cheese, mozzarella cheese, and some other simple ingredients. That creates a nice flavor recipe that best for vegetarian and mushroom lovers!
Get the recipe here.
---
8. One-Skillet Keto Chicken with Bacon Mushroom Gravy
One-Skillet Keto Chicken with Bacon Mushroom Gravy is a hearty, savory, satisfying meal and simple easy to prepare. The gravy of this recipe is just amazing mouthwatering taste with chicken, mushroom, and bacon. The recipe is just incredible, so tasty and delicious. Who are on a diet or try to weight loss, this keto-friendly low net carb recipe will help you.
Get the recipe here.
---
7. Parmesan Garlic Oven Roasted Mushrooms
For vegetarians, this parmesan garlic oven roasted mushroom recipe is the best dish. Add any vegetables to make the recipe full and healthy. I especially love this recipe when I need some food, this recipe will fill me.
So delicious, healthy, paleo, and keto-based diet food recipe loaded with butter and lots of parmesan cheese. Just Yum!
Get the recipe here.
---
6. Pork Medallions With Paleo Marsala Sauce
If you are looking for a healthy keto, gluten-free, and whole-30 recipe? These Pork Medallions With Paleo Marsala Sauce are the best option for lunch and dinner meals. Get this recipe just only 30 minutes, you can make this recipe at home. So easy to prepare with marsala sauce that's perfect for any weekend dinner!
Get the recipe here.
---
5. Spinach Artichoke Stuffed Portobello Mushrooms
Stuffed mushrooms with spinach are delicious and healthy. Loaded with portobello mushrooms, spinach, artichoke hearts, parmesan cheese, sour cream or heavy cream, garlic, mozzarella cheese, and other ingredients.
So quick and easy to make this healthy recipe is low carb and keto friendly. Who is loves to eat the mushroom, for them this recipe is the best dish and best appetizer also. For vegetarian this mushroom recipe are perfect, try this recipe on any occasion or holiday!
Get the recipe here.
---
4. Bacon-Wrapped Keto Stuffed Mushrooms
Oven-Baked Bacon Wrapped Mushrooms are great celebrating appetizers that make super simple and so-good to taste! Just thin slice bacon wrap around each mushroom. And to hold that take a wood skewer or any kind of skewers and pin it.
Add some bbq sauce brush on it and place that on pre-spray not stick sheet pan. Cover with foil and bake these for 25 to 30 minutes at 400 degrees. Get nice flavor with crispy keto-friendly bacon-wrapped mushroom, goes well dinner or lunch side dishes, and good snacks.
Get the recipe here.
---
3. Healthy Balsamic Mushrooms Keto Recipe
Just with 4 simple ingredients you can make these healthy balsamic butter mushrooms. That great use as a side dish and easy appetizers. If you on a diet and thinking is this recipe of mushroom go-to on a diet or not! Then without tension go for it and make this recipe at home.
Here for this recipe use button mushroom. But you can use any kind of mushroom that you like with balsamic vinegar, garlic cloves, fresh chopped parsley. That creates a nice flavor healthy recipe which is so simple and easy to make!
Get the recipe here.
---
2. Taco Stuffed Portobello Mushrooms Keto Recipe
Taco! Thinking some veg taco recipes with the mushroom? These Taco Stuffed Portobello Mushrooms are a dish that everyone in the family will love to eat at dinner. Low carb and the perfect dish for diet plan, easy to make with large caps of portobello mushroom, taco filling.
The large caps of portobello mushrooms that have a dark brown color outer shell. So easy to customize with your favorite ground meat and toppings whatever you like. This gluten-free quick easy dish is the perfect for snacks too!
Get the recipe here.
---
1. Mushroom Spinach Cauliflower Rice Keto Recipes
This low carb keto diet mushroom & spinach cauliflower rice recipe is delicious, healthy, and easy to make at home. Just ready in 25 minutes!
Loaded with good quality mushrooms, fresh spinach, cauliflower, some spices the recipe will be perfect for lunch or dinner meal. Serving with chicken dishes, fish, or a side salad!
You can also add any veggies like broccoli, asparagus, etc. If you have leftover chicken or turkey or any meat or bacon etc add in it. Get a nice flavorful delicious recipe while you are on a diet or ketogenic diet.
Get the recipe here.
---
Few more recipes that you can also read with these Keto Mushroom Recipes:
So these recipes are so healthy and keto-friendly mushroom recipes to lose your fat fast.
If your like these recipes keep share with all and also subscribe to my blog to get all upcoming recipes first on your device while published.
SHARING IS CARING!
FACEBOOK | TWITTER | PINTEREST
Do you like this post and read it later? SAVE this pin to your favorite board on Pinterest!