I have been consuming oats for a long time. It is very healthy and helps to keep the stomach full for a long time. But if you don't want to cook food again and again on a busy day, these oats can become a way to get rid of the problem. If you use the recipe for overnight oats, it is suitable as a quick meal for your busy day. Now many people may be thinking about how overnight oats can fulfill this need. So today I am going to share 21 different recipes for those who don't know about overnight oats recipes. I hope you will like it. So let's find out.
---
21. Chai Overnight Oats
Oats are mainly carbohydrate food. But if you want to add protein to it, you can add Greek yogurt. This combination will prove amazing for your morning chai breakfast. This recipe is very easy to make and you can make it overnight. Mix oats, milk powder, yogurt, sugar syrup, chia seeds, and spices such as cardamom, cinnamon, cloves, and peppercorns in a bowl and refrigerate overnight. And enjoy it in the morning with your favorite fruit.
Get the recipe here.
---
Related: High Protein Breakfast Recipes
---
20. Banana Bread Overnight Oats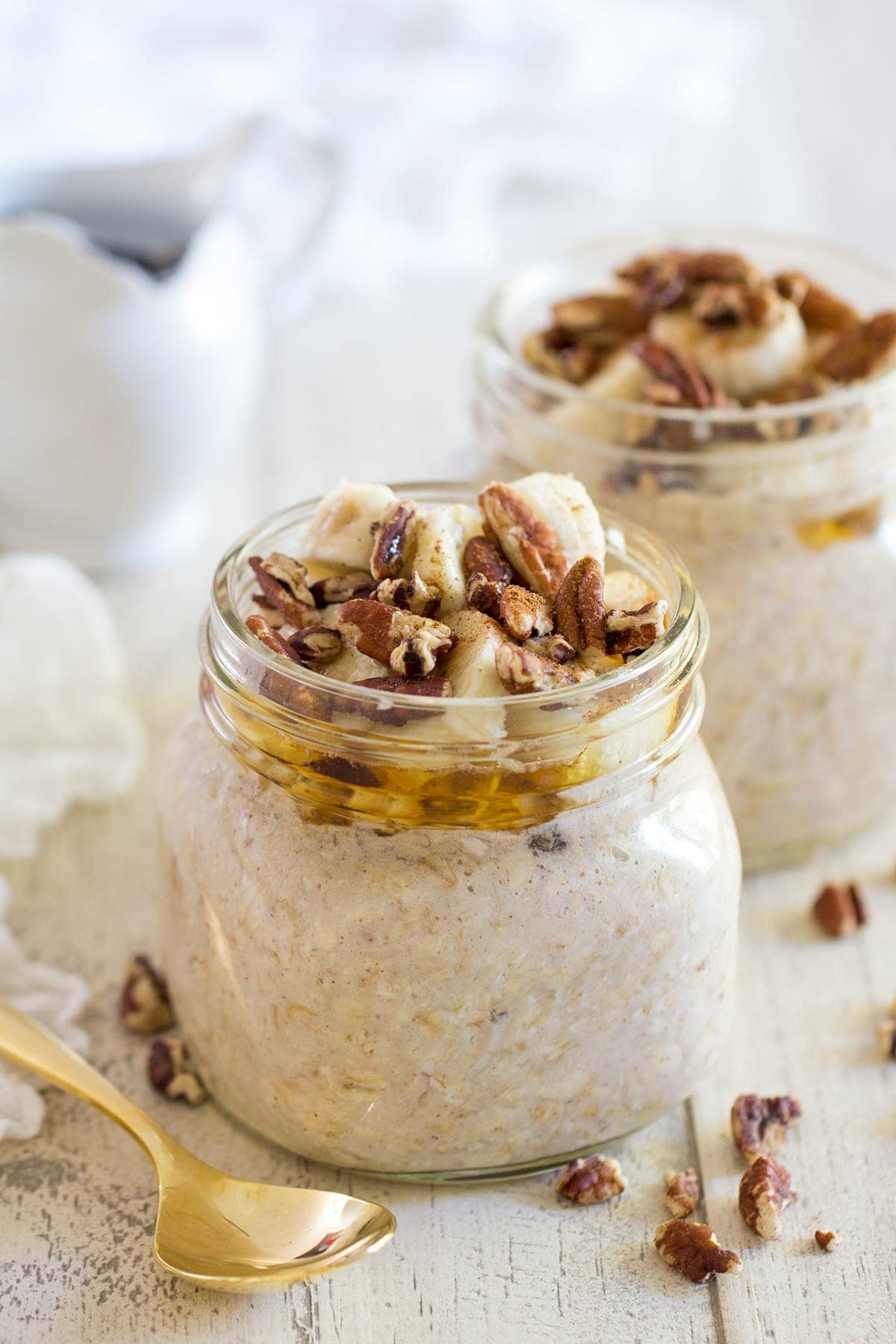 Overnight Banana Bread Oats are very easy to make. You can make it at home in less than 10 minutes. Before going to bed at night, mix oats, bread, sliced banana, and milk in a big bowl and store them overnight in the fridge. Enjoy this nutritious breakfast in the morning with fruits of your choice.
Get the recipe here.
---
Suggested: Banana Dessert Recipes
---
19. Chocolate Peanut Butter Overnight Oats
This Overnight Oats recipe is a classic taste combo with the amazing taste of peanut butter and chocolate mix. It's the perfect breakfast for you or those who are on a busy schedule. You can prepare it at home in just 10 minutes or less. 
Get the recipe here.
---
Related: Chocolate Dessert Recipes
---
18. Apple Cinnamon Overnight Oats
This overnight oats recipe is very easy to make. If you love cinnamon, you will definitely love this recipe. Mix oats, milk, and cinnamon curd in a glass jar and keep it overnight in the fridge. Enjoy sliced apples in the morning.
Get the recipe here.
---
Suggested: Breakfasts Under 300 Calories
---
17. Maple, Brown Sugar, and Cinnamon Overnight Oats in a Jar
How to prepare Maple Brown Sugar and Cinnamon Overnight Oats in a Jar in a jiffy! Rolling oats, maple syrup, cinnamon, and milk are the ingredients you'll need to prepare a quick and wholesome gluten-free breakfast in a mason jar. Sometimes, life can be a little chaotic. A schedule packed with activities and constant rushing can result in some bad eating.
Get the recipe here.
---
Related: Cinnamon Dessert Recipes
---
16. Strawberry Cheesecake Overnight Oats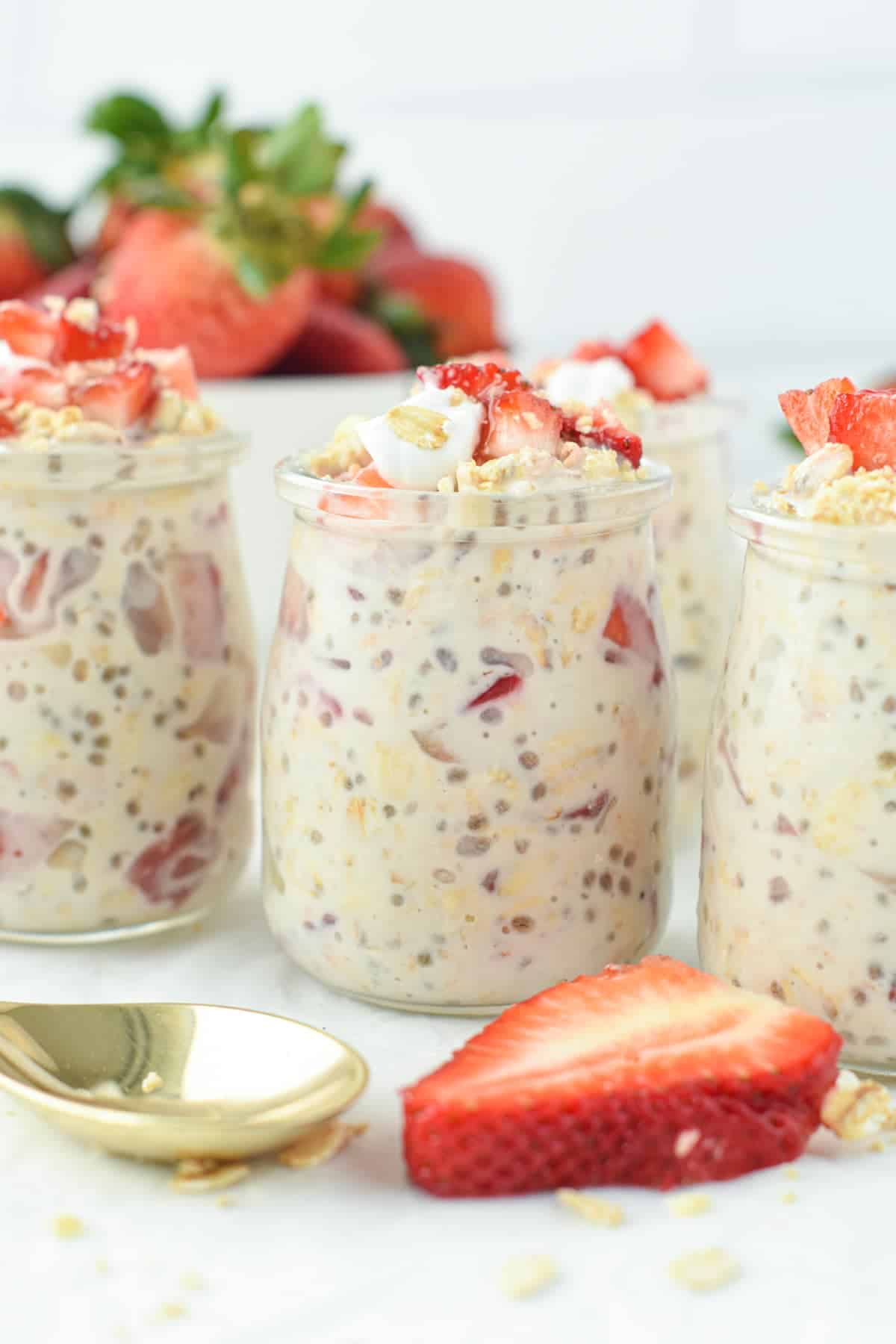 Fresh, luscious strawberries, crumbled shortbread cookies made with almond flour, and cream cheese flavoring are all included in this simple recipe for Strawberry Cheesecake Overnight Oats that is completely dairy-free. Everyone in the family enjoys this recipe for a nutritious everyday breakfast. With the exception of the 10 minutes it takes to prepare, these overnight oats with strawberry cheesecake are like having dessert for breakfast.
Get the recipe here.
---
Suggested: Strawberry Dessert Recipes
---
15. Vanilla Overnight Oats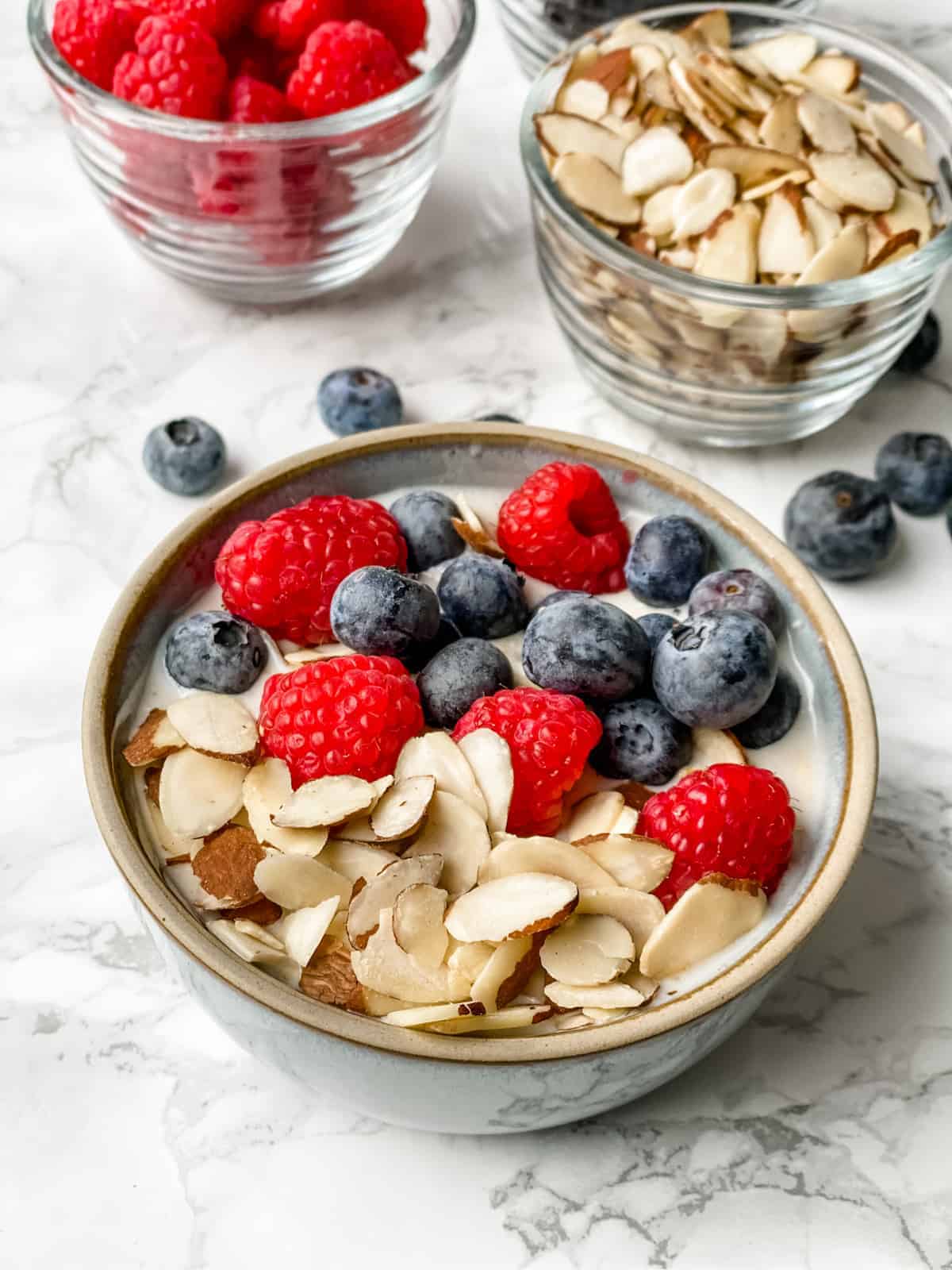 Your new favorite breakfast recipe is vanilla overnight oats, which are healthful. Simple grocery staples can be used to rapidly fill a mason jar, and after that, the oats only need to be placed in the refrigerator for the night. Breakfast is prepared for you as you awaken. You'll adore overnight oats, I assure you. I have a slight obsession with overnight oats, which is no secret. Yes, this recipe for vanilla overnight oats wins. It makes a wonderful basis for all kinds of toppings and is creamy and delicious. Keep it simple by drizzling on maple syrup, or when you want something a little more substantial, top it with fruit, nuts, and shredded coconut.
Get the recipe here.
---
Related: Lemon Meal Ideas
---
14. Easy Cinnamon Overnight Oats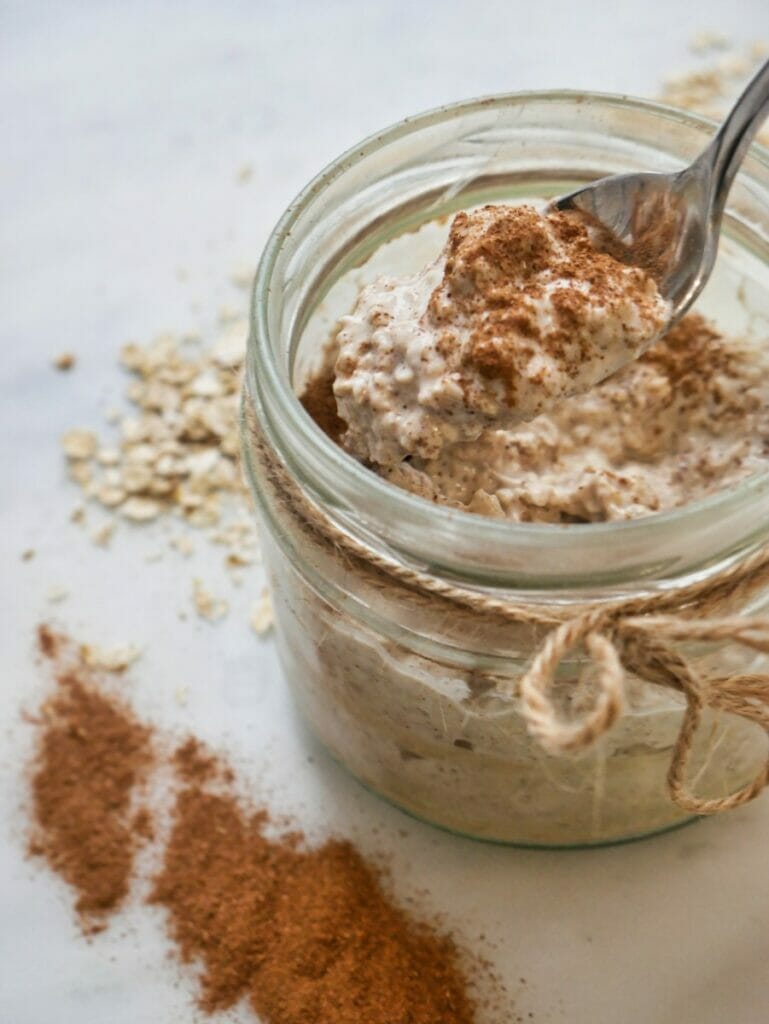 Any time of year, these substantial, delectable, and soothing cinnamon overnight oats make the ideal breakfast treat. You can make overnight oats in a variety of ways; you can keep it simple with plain overnight oats or you can make a fun and festive extravaganza with something like birthday cake overnight oats. Most of the time, though, I just want something in the center. Just the appropriate amount of flair or plainness. That's what you'll get with this cinnamon overnight oats dish.
Get the recipe here.
---
Suggested: High Protein Meal Prep Recipes
---
13. Vanilla Cold Brew Coffee Overnight Oats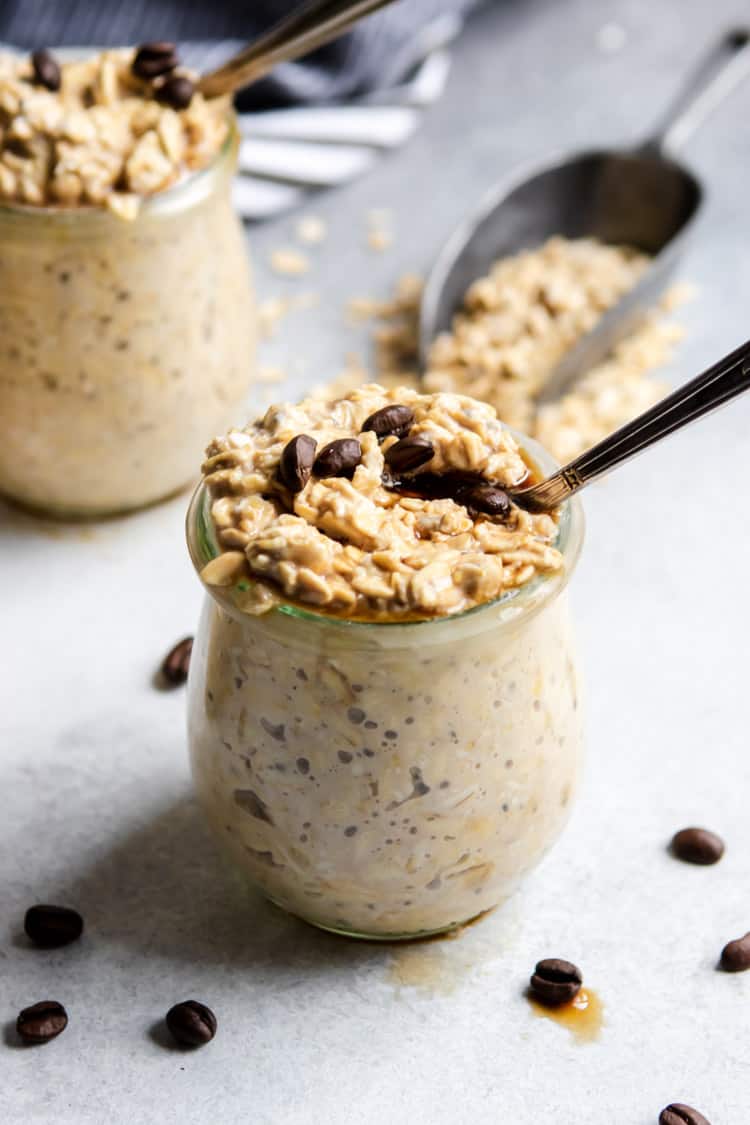 breakfast and coffee combined? The ideal breakfast combination is these vanilla overnight oats with cold brew coffee. All the energy you need to start the day is in this straightforward, healthy, and delicious meal! The ease of preparation is one of the reasons I adore overnight oats so much. Breakfast is literally ready and waiting when you wake up in the morning because they just take five minutes to prepare. So just the fact that you've added some coffee to them is a benefit. coffee and breakfast combined? 
Get the recipe here.
---
Related: Holiday Coffee Recipes
---
12. Brownie Batter Chocolate Overnight Oats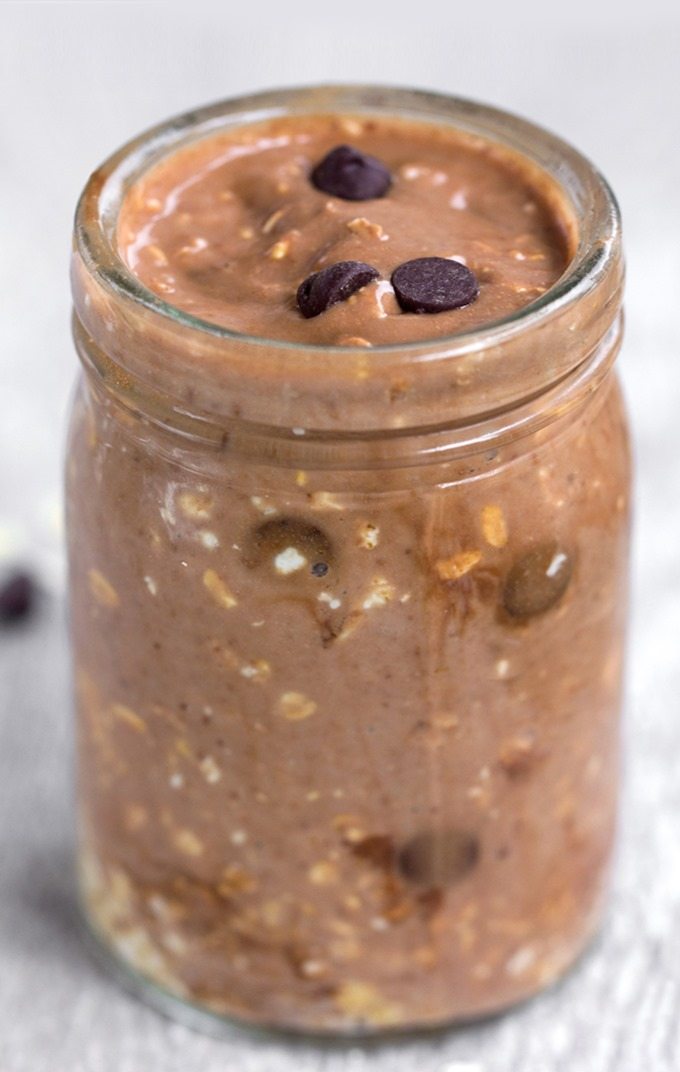 The two best meals of the day are combined into one sinfully delicious and substantial breakfast treat with these nutritious overnight oats with brownie batter. Unexpectedly, my post on overnight oats recipes has been one of my most popular blogs of the year thus far. Wanted to provide even more overnight oatmeal options after noticing the huge demand for those breakfast dishes, especially since the original post lacked any recipes for chocolate overnight oats! Additionally, I had an excuse to indulge in one of my favorite pastimes—eating chocolate for breakfast.
Get the recipe here.
---
Suggested: Keto Brownie Recipes
---
11. Overnight Steel Cut Oats
For busy mornings, this dish for overnight steel-cut oats makes the ideal, delectable breakfast! Allow everyone to help themselves to a large bowl of high-fiber steel-cut oats-based oatmeal when they haven't time to cook. This dish tastes great anyway, whether it is served hot or cold. A quick breakfast that can be prepared ahead of time is overnight oats, which are packed with nutritious oatmeal, chia seeds, and any preferred milk or non-dairy milk substitute. Additionally, it provides a filling grab-and-go supper that can be quickly grabbed from the refrigerator and consumed directly from a bowl.
Get the recipe here.
---
Related: Holiday Breakfast Recipes
---
10. Pumpkin Pie Overnight Oats Recipe
Pumpkin pie overnight oats are an obvious choice for breakfast now that pumpkin season is in full force. Especially now that the majority of us have additional cans of pumpkin puree stored in our pantry! As a result, if you're a pumpkin enthusiast like I am, this is a terrific way to use up the final quarter cup of puree that you have. This dish is just a variation of my regular overnight oats recipe that includes pumpkin puree and pumpkin spice.
Get the recipe here.
---
Suggested: Keto Pumpkin Recipes
---
9. Coconut Cream Pie Overnight Oats
Despite the fact that I love oatmeal, I find a large bowl of it to be unappealing in the current heat. This issue can easily be resolved with overnight oats! first off, they are simple! Simply prepare the ingredients the night before, store the oats in the refrigerator, and your breakfast is ready to go in the morning!
Get the recipe here.
---
Related: Amazing Pie Recipes
---
8. Apple Pie Overnight Oats Recipe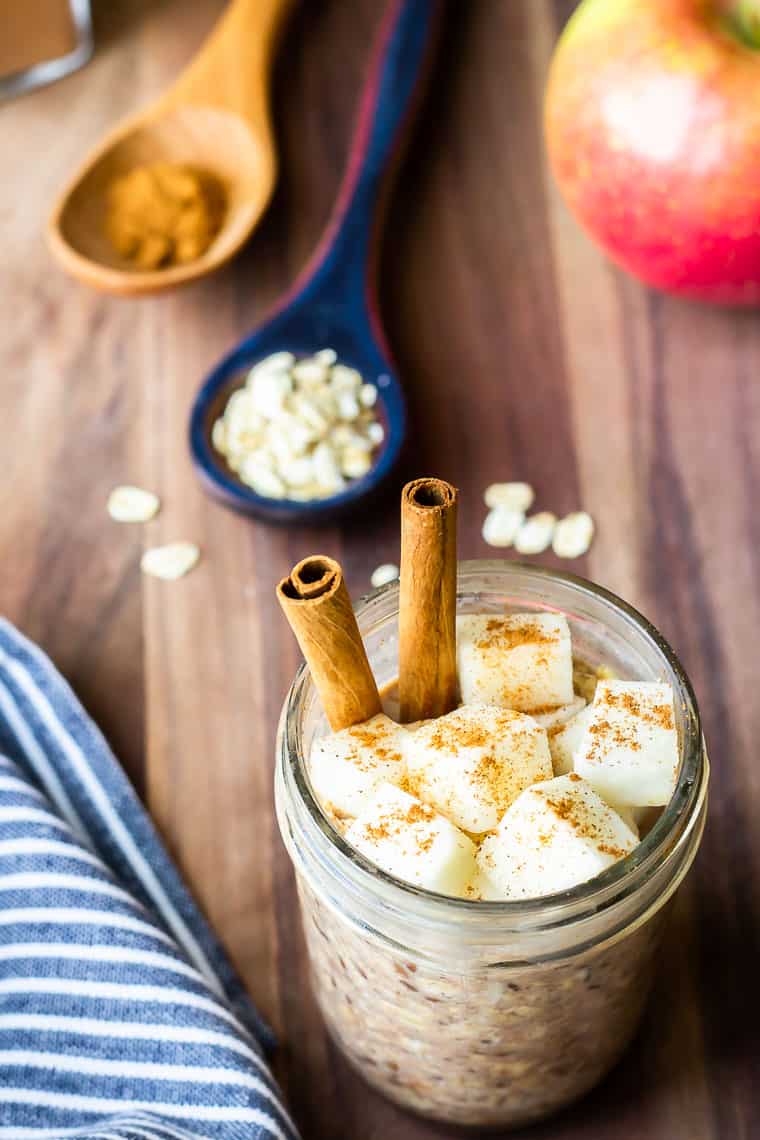 Fresh apples and cozy spices are used to make Apple Pie Overnight Oats. After mixing up this dish in the evening, you may wake up to delicious apple pie oatmeal that is ready for breakfast. When you make this recipe at night, it only takes a few minutes, and when you wake up, you'll have delectable apple pie oatmeal ready for the morning.
Get the recipe here.
---
Suggested: Caramel Apple Recipes
---
7. Birthday Cake Overnight Oats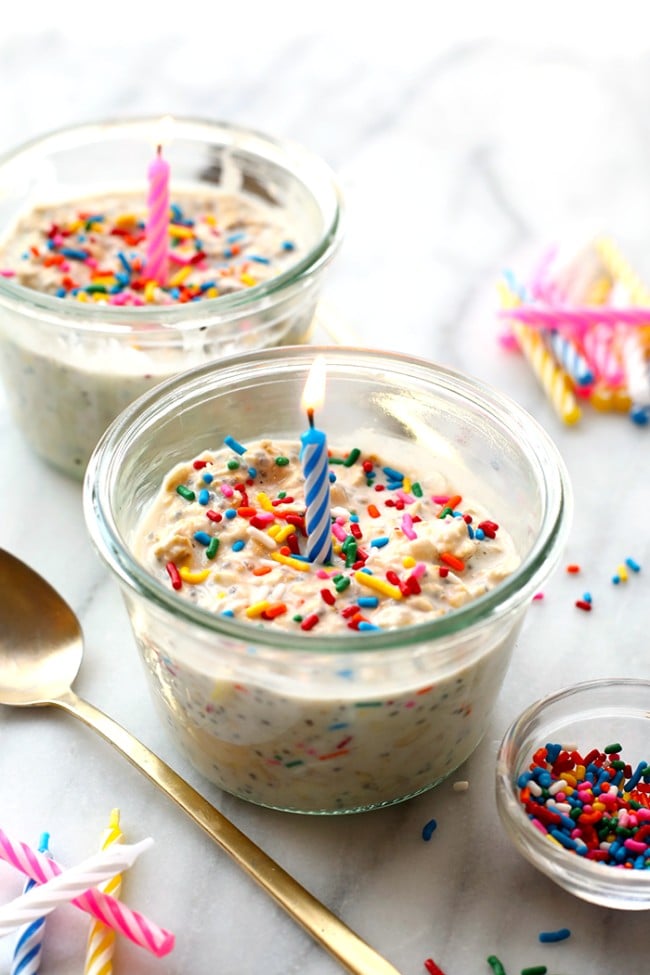 These healthy Birthday Cake Batter Overnight Oats are the perfect way to start your birthday celebration. They're made with healthful ingredients and ready in just five minutes. Old-fashioned oats are the best choice. You'll get that chewy, delectable taste you love from them, and they'll absorb just the right amount of liquid. The sprinkles will bleed overnight in the refrigerator, turning your oatmeal a brownish-green appearance. Nobody desires that to occur.
Get the recipe here.
---
Related: Hard Boiled Egg Recipes
---
6. High Protein Peanut Butter Banana Overnight Oats
Rich in protein from Siggi's yogurt and good fats from peanut butter and chia seeds, these creamy peanut butter banana overnight oats are also a great source of fiber. Seriously, the flavor of a slice of banana bread or banana cream pie is reminiscent of these simple overnight oats with peanut butter and banana! Simply combine everything the night before, and then get ready for morning bits of bliss inspired by banana bread.
Get the recipe here.
---
Suggested: High Protein Slow Cooker Recipes
---
5. How to Make Cookie Dough Overnight Oats 
These Healthy Cookie Dough Overnight Oats are a breakfast worth getting out of bed for thanks to its chewy oats, protein-packed chia seeds, and rich cashew butter. Oats soaked in milk can be the only ingredient, but most people add yogurt, chia seeds, powders, spices, fruit, nuts, and seeds, among other things. You can make it at home very easily.
Get the recipe here.
---
Related: Weight Watchers Smoothies
---
4. Mocha Overnight Oats
Simple to make Mocha Overnight Oats are creamy and nutrient-dense. These oats blend the best of both worlds—coffee and chocolate—into a nutritious, energizing, on-the-go breakfast or snack. You only need a few ingredients to make these Mocha Overnight Oats, it is very delicious to eat.
Get the recipe here.
---
Suggested: Vegan Pancake Recipes
---
3. Vegan Pumpkin Pie Overnight Oats
A delicious breakfast or dessert made with this vegan overnight oats recipe is healthful. Made with nothing more complicated than pumpkin puree, pumpkin pie spice, almond milk, oats, and maple syrup. You might get a hankering for pumpkin pie for breakfast if you enjoy the breakfast as much as I do.
Get the recipe here.
---
Related: Plant Based Meals
---
2. Peach Overnight Oats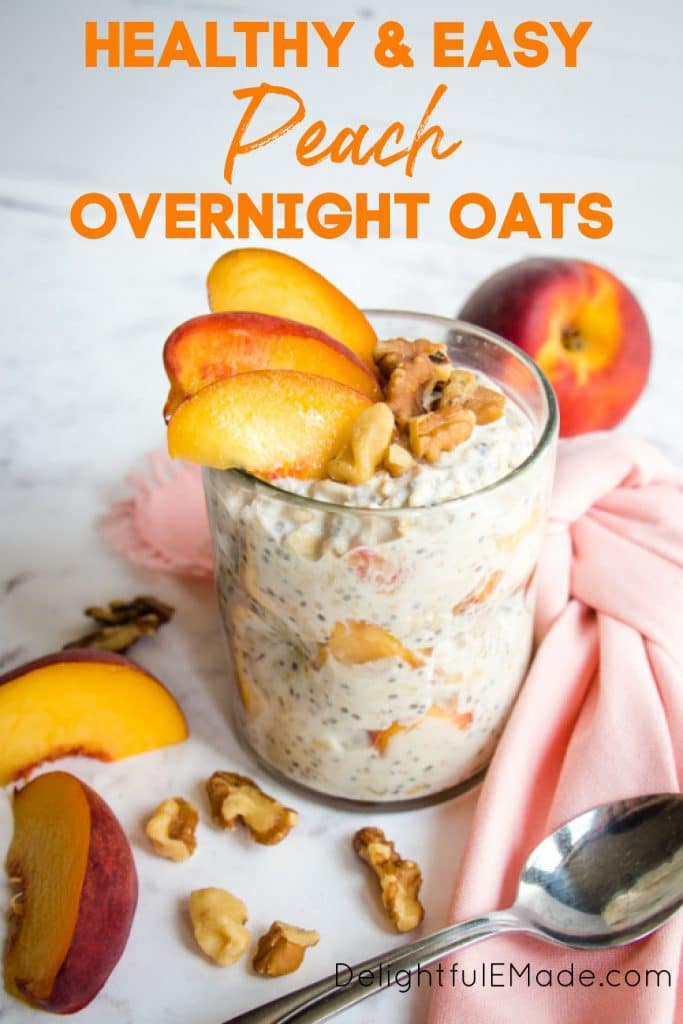 You may be wondering how to prepare overnight oats. Simply toss together this 5-minute Easy Overnight Oats recipe before bedtime. Get your day started with some healthy eating with these peach overnight oats! I'm looking for a protein-rich, nutrient-rich dish that keeps me satisfied until lunchtime. You will make it at home any time before bed.
Get the recipe here.
---
Suggested: Summer Peaches Recipes
---
1. Chunky Monkey Overnight Oats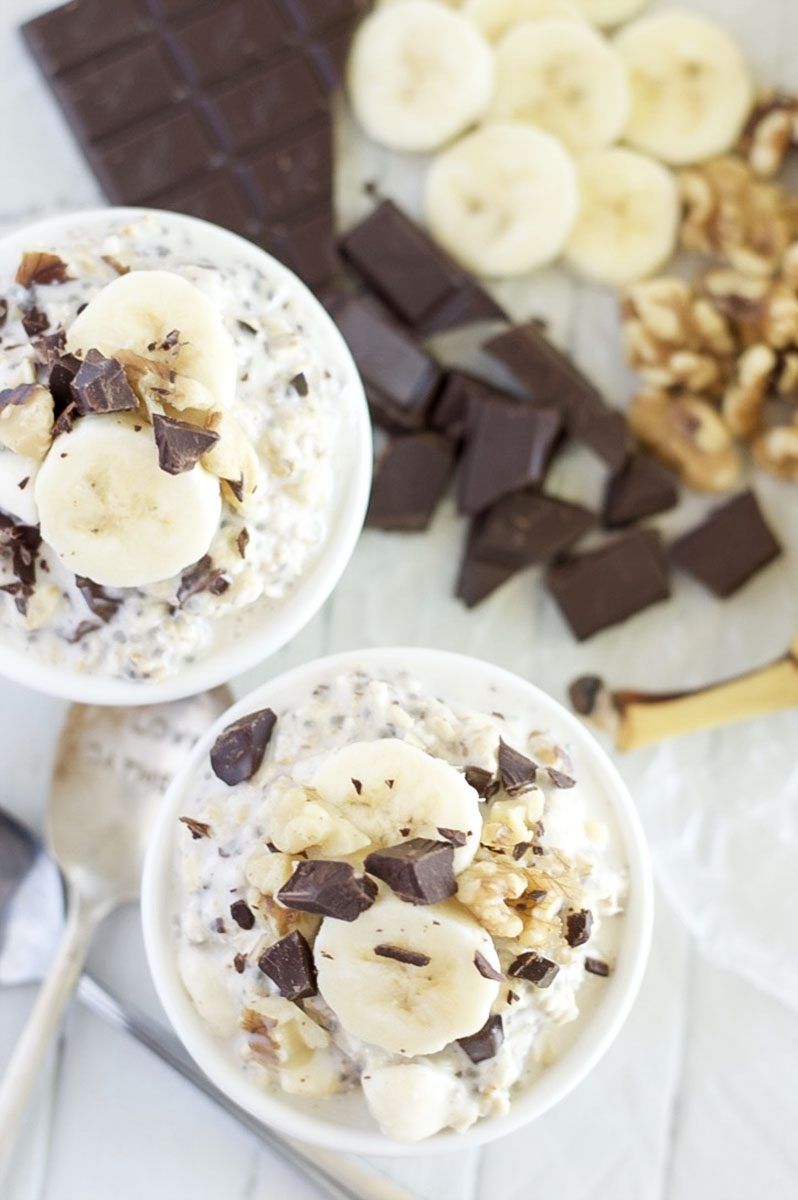 Breakfast is made pleasantly fulfilling and simple with this recipe for overnight oats with dark chocolate and banana. Someone made the Chunky Monkey remark when I served myself a dish of bananas, chocolate chips, maple syrup, and walnuts that wasn't even on my mind; I was just cooking what I believed would be incredibly delicious. 
Get the recipe here.
---
---
If you like this article about Overnight Oats Recipes, please share this with your friends on Facebook, Twitter, and Pinterest. Also, you can subscribe to my blog to get all the latest articles first on your mobile.
SHARING IS CARING!
FACEBOOK | TWITTER | PINTEREST
Did you like this recipe and make it later at home? SAVE this pin to your favourite board on Pinterest!