With Christmas, Thanksgiving, and the upcoming fall season upon us, many people are looking for delicious, moist, and rich fruit cupcakes that can be enjoyed year-round. In this post, I share some of my favorite fruit cupcake recipes that are easy to make. These recipes are a favorite among my family, and I'm sure your family will enjoy them too. In fact, your kids will love them too, as they are made with a variety of fresh fruits and garnished with delicious fruit cream cheese icing. These healthy fruit cupcake recipes can be purchased at the store and enjoyed for months. They are perfect for weddings or engagement parties or any holiday and don't require last-minute cooking. Here, you'll find 21 fruity cupcakes that are either healthy or made with fresh fruit, as well as a selection of dessert recipes that will make you happy and perfect for snacks or desserts.
---
21. Pineapple Cupcakes with Pineapple Buttercream Frosting
These pineapple cupcakes are so delicious, moist, and perfect fruity flavor for summer days. These cupcakes are made with a few simple ingredients and topped with butter cream frosting and pineapple flavor that makes these recipes so tasty.

If you are looking for an easy alternative pineapple upside-down cake, these cupcakes are the perfect one for snacks or desserts on any occasion or holiday. These cupcakes are ready in just 30 minutes and serve with nicely decorated frosting.
Get the recipe here.
---
Related: Keto Cupcake Recipes
---
20. Peach Rose Cupcakes
If you love rose flavor and peach flavors, these fruity cupcakes will make your taste buds dance with joy. Peaches and roses are two of the best flavors in a sweet summer treat, and these cupcakes will make you feel sweet all day long.
If you're looking for a quick and easy rose peach cupcake recipe, this is the perfect cupcake for you. I bet you this is one of the easy cupcake recipes with fruit, made with only a few ingredients and can be ready in 20 minutes. These small-batch peach cupcakes will be a crowd-pleaser for a late-night dessert and your whole family will enjoy. Serve these delicious cupcakes with a delicious homemade peach filling and top with a whipped peach buttercream frosting.
Get the recipe here.
---
Suggested: Summer Peach Recipes
---
19. Fluffy Angel Food Cupcakes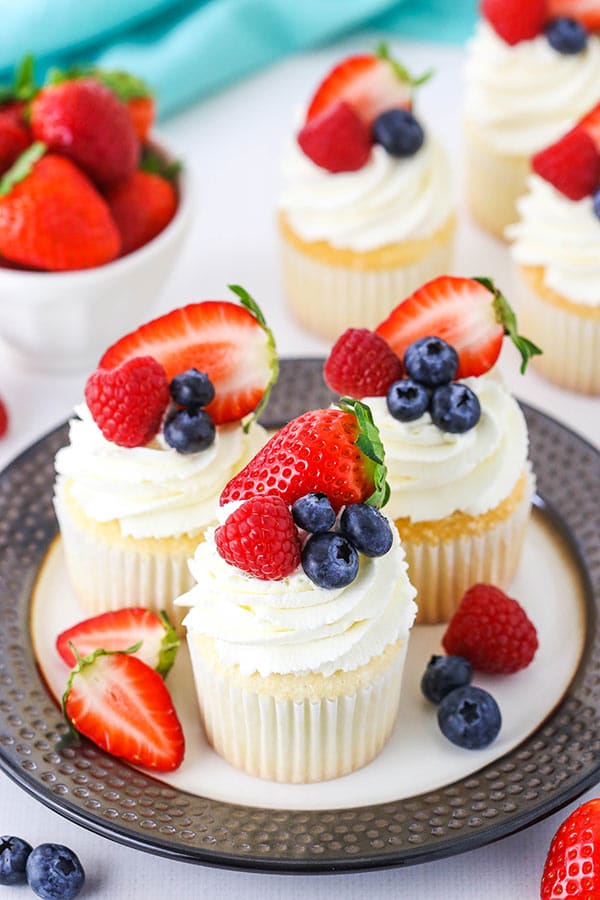 These Fluffy Angel Food Cupcakes are wonderfully soft, tender, delicious, and easy to make in just 5 minutes. These cupcakes are covered with simply whipped cream frosting and fresh fruit and are perfect desserts for spring and summer.

With a few simple kitchen staples and the cakes ready to form, this dessert turned out heavenly! The combination gave the best texture and flavor that you want to make for holidays or parties. Serve these cupcakes with light simple frosting and fresh fruits such as blueberries, raspberries, strawberries, or whatever you like.
Get the recipe here.
---
Related: Summer Dinner Recipes
---
18. Coconut Cupcakes with Coconut and Blueberry Frosting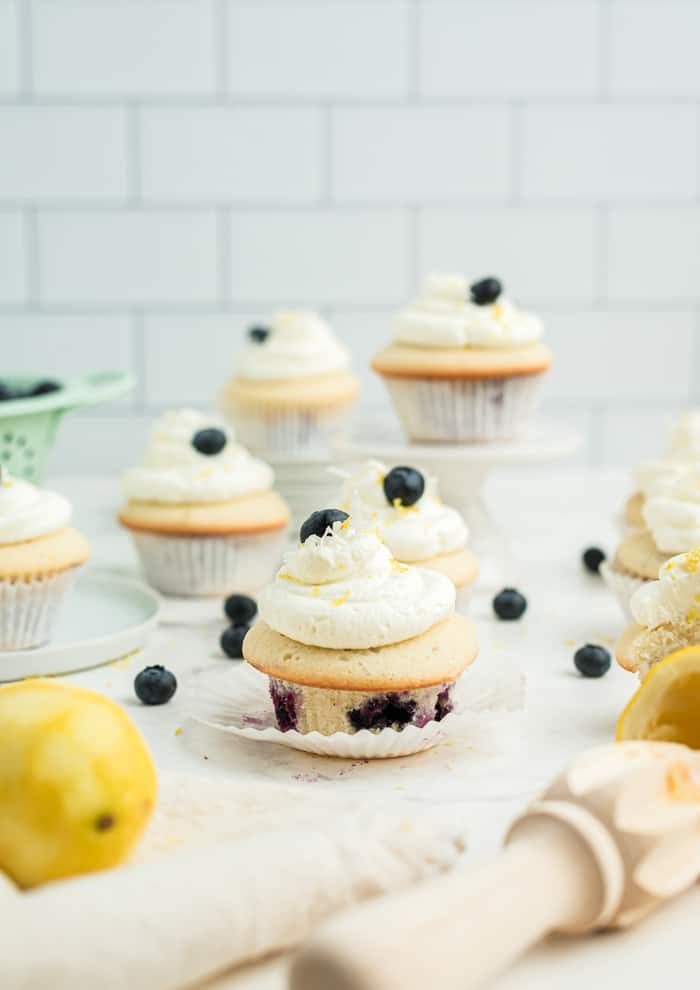 Coconut blueberry cupcakes are made with coconut flakes, fresh blueberries, and other simple ingredients. It takes only 25 minutes to prepare for any holidays or summer days. With tropical coconut and fresh blueberry flavor pair wonderfully in these perfectly amazing cupcakes.

Topped with coconut and the blueberry frosting has a double dose of coconut flavor, making these fruity cupcakes themselves amazing in the coconut buttercream frosting. Covered the frosting with shredded coconut, and fresh blueberries that are great desserts for all kids and families.
Get the recipe here.
---
Suggested: Vegan Cake Recipes
---
17. Strawberry Cheesecake Stuffed Cupcakes
Strawberry Cheesecake Cupcakes are so delicious, quick to prepare with cream cheese filling and topped with strawberry buttercream and fresh strawberries to create these amazing Cupcakes. Light, fluffy, cheesecake filling with vanilla flavor creates nicely decorated cupcakes. They are packed with fresh strawberries, creamy cheesecake filling, strawberry buttercream, and graham cracker crust.

For those who are strawberry lovers, These strawberry cupcakes are always the best for them. So tasty These dessert recipes are great for birthdays, dinner parties, bridal showers, baby showers, and more. Enjoy!
Get the recipe here.
---
Related: Strawberry Dessert Recipes
---
16. Passionfruit Coconut Cupcakes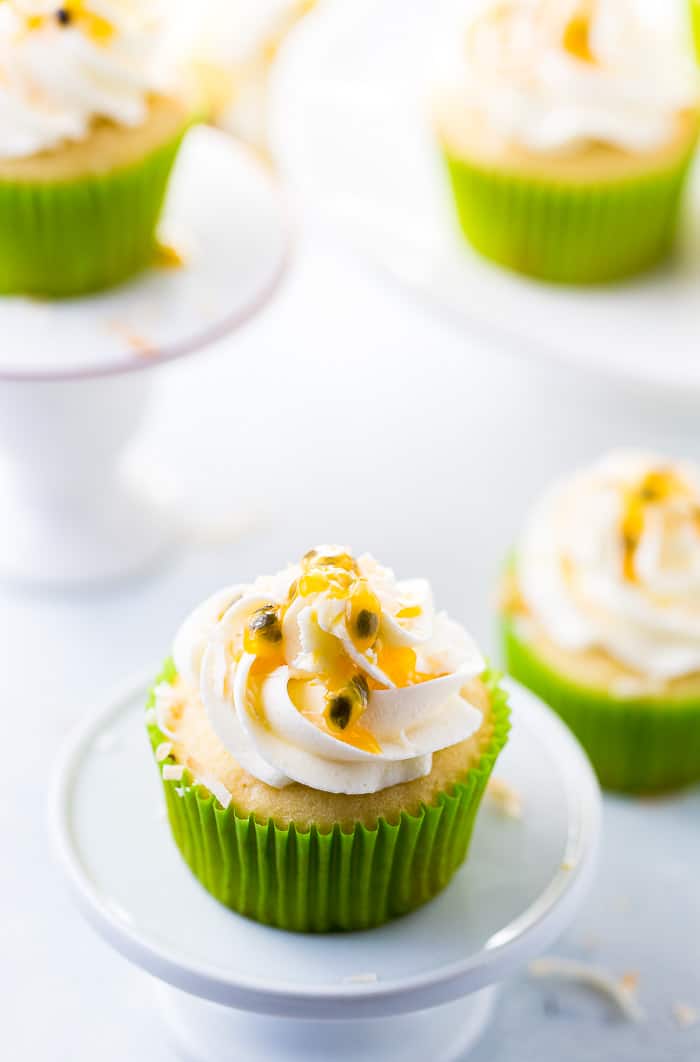 These Passionfruit Coconut Cupcakes are made with some amazing ingredients and filled with passionfruit curd and topped with coconut buttercream. The combination of these flavors makes you feel so intense.

These cupcakes are bright, fluffy, soft, and feel like a little passionfruit pavlova and coconut cupcake combined. Serve these cupcakes on these holidays or summer days, I'm sure your kids will definitely love to taste them.
Get the recipe here.
---
Suggested: Summer Drink Recipes
---
15. Blackberry Earl Grey Cupcakes
Blackberry Earl Grey cupcakes are great for all those tea lovers out there. These cupcakes are so tasty and pan-roasted blackberries before being topped off with a blackberry cream cheese frosting.

They are perfect afternoon cupcakes that are nicely covered with buttercream frosting and garnished with fresh blueberries makes this recipe so good. These cupcakes also look great in pink-purple color and perfect accompaniment to the main attraction for any party or occasion.
Get the recipe here.
---
Related: Oreo Dessert Recipes
---
14. Berries and Cream Cupcakes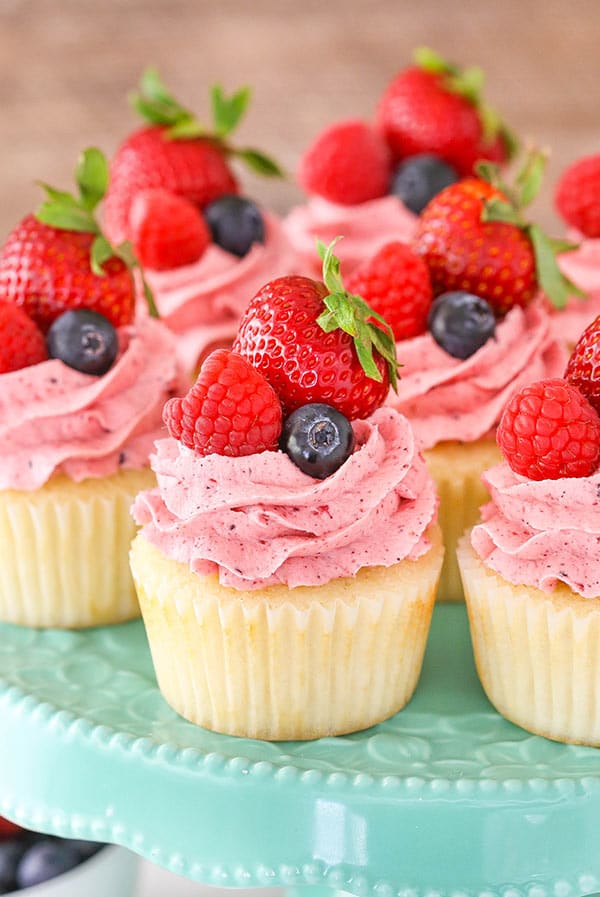 Looking for a super delicious and easy berry cake for your birthday parties? Let's make these amazing Berries and Cream Cupcakes that are made with moist vanilla cake, whipped almond filling, and mixed berry frosting! Also, these cupcakes are topped with more fresh berries for a cupcake that's delicious and perfect for summer!

To start a nice cake for any holiday, you need just a few simple ingredients and just bake them, decorated with delicious frosting, and garnish it as per your favorite fruits or nuts. Serve it as a snacks or after meal desserts, your guests will love it.
Get the recipe here.
---
Suggested: Fruit Dessert Recipes
---
13. Lime Cupcakes with Raspberry Frosting
The combination of lime and raspberry makes these cupcakes so pretty and has such a fun flavor combo. Just make the vanilla flavor cupcakes, with a fresh hint of lime, then they're frosted with raspberry buttercream made from fresh berries.

These cupcakes are so tasty and ready in just 30 minutes for any holiday. During the baking and cooling time, you just make this frosting process which is so easy to prepare with lime juice and raspberries. After baking those cupcakes, cool them down and start your frosting decorating topped with it.
Get the recipe here.
---
Related: Lemon Dessert Recipes
---
12. Peach Cobbler Cupcakes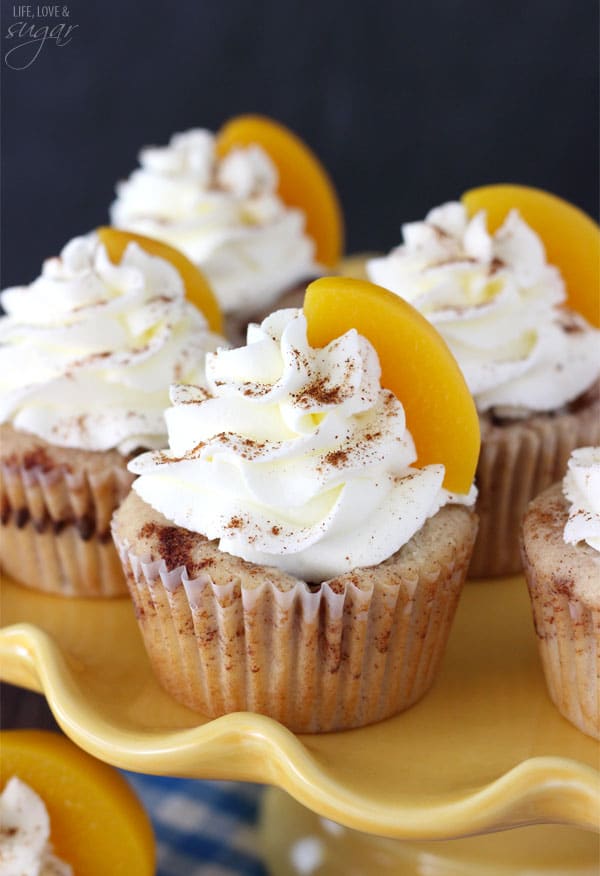 These peach cobbler cupcakes are fun, twist, and loaded with full of cinnamon and peaches, and topped with homemade whipped cream! These peach cupcakes are great for summer days and spring days.

After a single bite, you will love to eat again and again. This frosting is so delicious that you will love these cupcakes and share them with your friends.
Get the recipe here.
---
Suggested: Tasty Apple Recipes
---
11. Mango Cupcakes made with FRESH Mangoes 
Mango lover? Try these amazing mango cupcake recipes this summer season. With some fresh mango, buttercream uses fresh mango puree to make a delicious mango dessert for holidays or after-meal parties.

These cupcakes are so moist, easy to prepare, and ready in just 25 minutes at home. So light, tasty, and fluffy these cupcakes are loaded with mango flavor and mango chunks. Enjoy your dessert!
Get the recipe here.
---
Related: Mango Dessert Recipes
---
10. Triple Berry Cupcakes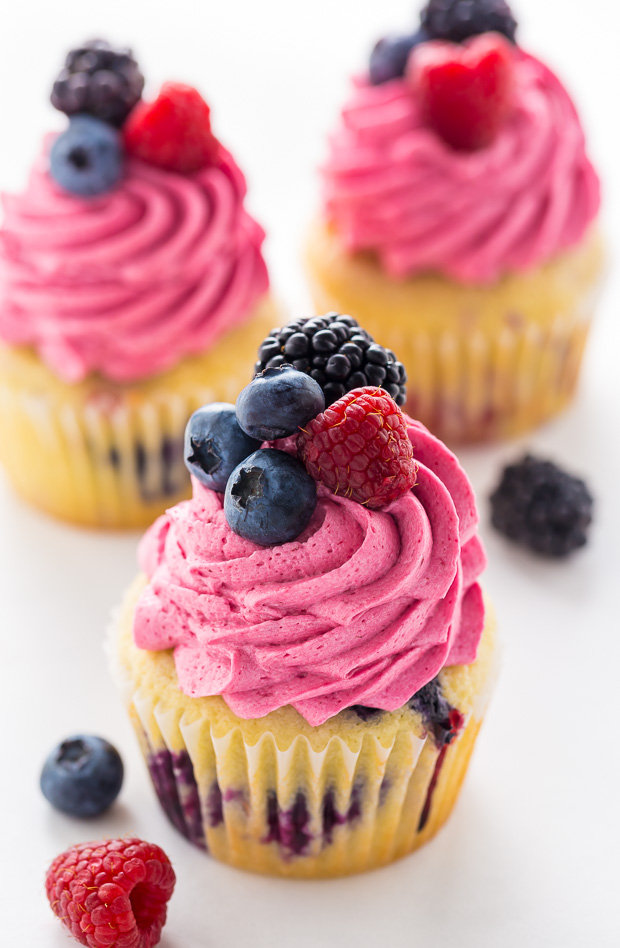 These Triple Berry Cupcakes are quick to prepare with a few simple ingredients and a great summer recipe. These cupcakes are bursting with fresh fruit in every bite and one of my sister's favorite mixed fruit cupcakes recipe. So fresh, fruity, and fabulous those cupcakes are made with vanilla flavor and topped with colorful swirls of berry Buttercream and garnished with fresh berries such as strawberries, blueberries, blackberries, raspberries, etc. These healthy dessert recipes are great for summer days and holidays or breakfast tea-time meals.
Get the recipe here.
---
Suggested: Alcoholic Popsicle Recipes
---
9. Lemon Raspberry Cupcakes with Lemon Cream Cheese Frosting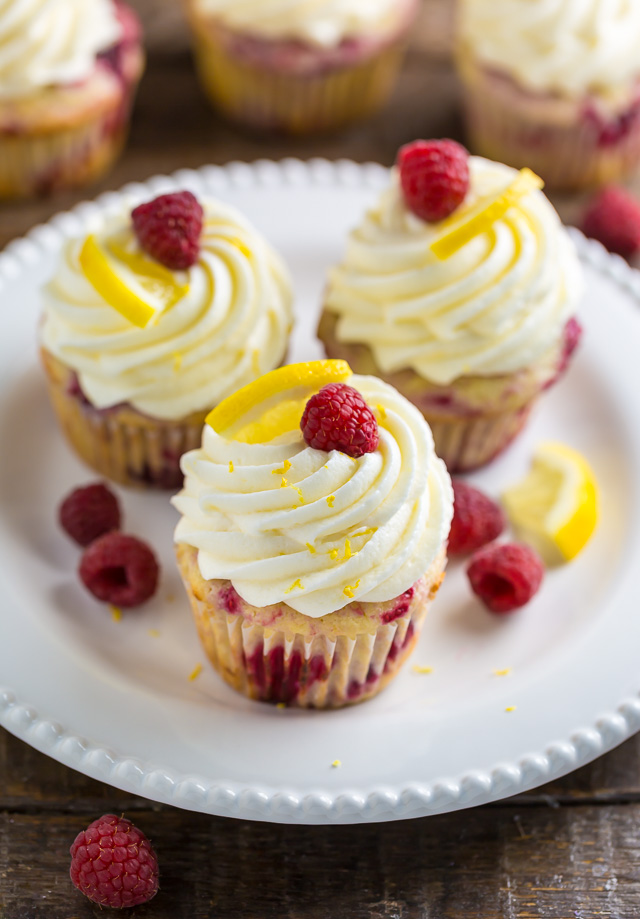 These Lemon Raspberry Cupcakes are light, moist, and sunshiny sweet with covered with lemon cream cheese frosting, lemon slices, lemon zest, and fresh raspberries. These cupcakes are the perfect combination of both nice flavors for summer days.

These desserts are sweet, tangy, and bursting with juicy berries in every bite that makes you feel amazing. Moist, soft, smooth texture create these cupcakes so delicious and perfect for any parties or summer occasions.
Get the recipe here.
---
Related: Healthy Tuna Recipes
---
8. Dragonfruit Cupcakes 
Do you dragonfruit? Frankly speaking, I do not love it at all. But if you too like me, try these dragon fruit cupcakes on this holiday. This dessert recipe is so easy to make and fun because the flavor of these cupcakes makes you obsessed.

Make the vanilla cupcakes and decorated them with dragonfruit frosting and garnish them with dragonfruit slices. The frosting is so delicious and creamy, pink in color, and looks gorgeous for any birthday party or pink-decorated occasion.
Get the recipe here.
---
Suggested: Dairy Free Desserts
---
7. Rhubarb Honey Cupcakes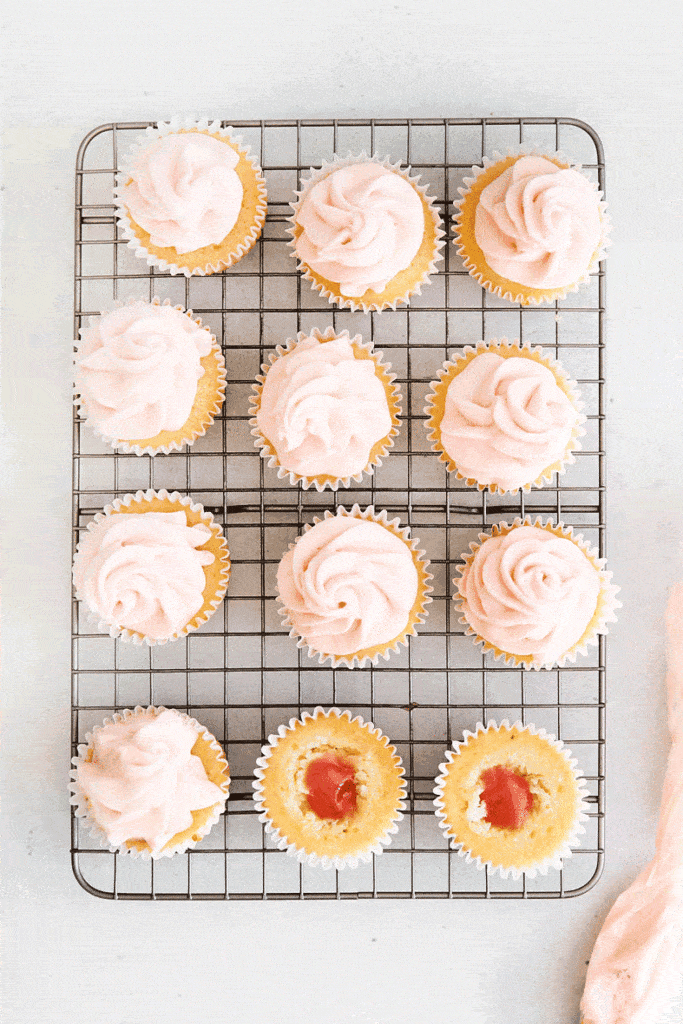 The rhubarb cupcake recipe is homemade desserts, moist, soft, and filled with an easy homemade rhubarb honey sauce and topped with rich buttercream. This is a sweet treat for summer days or holidays.

Make the vanilla cupcakes and after baking them, just cover them with homemade rhubarb honey filling and buttercream frosting. It just takes only 5 minutes to make these luscious and healthy cupcakes that are drool-worthy.
Get the recipe here.
---
Related: Hummus Recipes
---
6. Fruit Tart Vanilla Cupcakes
If you ask me for a fresh fruit cupcakes recipe, this recipe comes to my mind first. Fruit Tart Vanilla Cupcakes are the perfect treat for your kids and family. They are made in just 30 minutes and have a creamy center with lots of fresh fruit To make the pastry cream, mix together the whole milk and egg yolks with the sugar and flour. Then, add vanilla bean paste, butter, and eggs for a fluffy and divine batter. Top it off with some stable whipped cream and slices of strawberry, orange, kiwi, and blackberry for a show-stopping glaze.
Get the recipe here.
---
Suggested:
Overnight Oat Recipes
Keto Cupcake Recipes
---
5. Strawberry Lemonade Cupcakes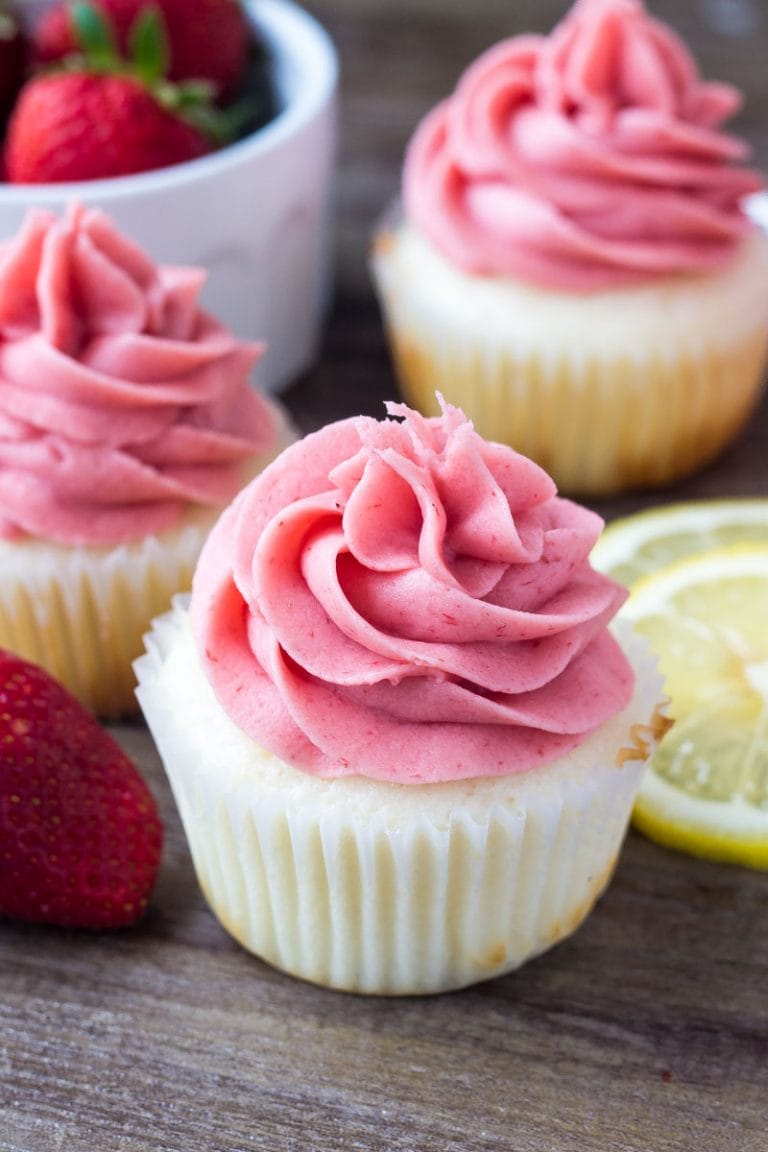 The Sweet & Tangy combination of these cupcakes makes you so delicious and I hope you love them as much as I do. Strawberry Lemonade Cupcakes are so tasty and perfectly fluffy and bursting with fresh fruit flavors.

These vanilla lemon cupcakes are so amazing and topped with a fresh strawberry frosting! They are ready in just 20 minutes and ready to serve with amazing frosting.
Get the recipe here.
---
Related: Air Fryer Dessert Recipes
---
4. Lemon and Passion Fruit Cupcakes
Lemon and Passion Fruit Cupcakes are light, fluffy, and tender, With these lemon cupcakes on the top of the frosting, make this dessert so awesome. The lemon flavor cupcakes I so easy to prepare with a few simple ingredients.

The batter you have to bake, when it is beautifully golden turns out just cool it down and give them a nice decoration with passion fruit topping frosting. In this overall process, you need 30 minutes, and when all are done just serve it with juices or any drink for parties.
Get the recipe here.
---
Suggested: Margarita Cocktail Recipes
---
3. Cherry Chip Cupcakes
Are you in love with cherry? Then these fruity cupcakes are waiting for you to grab them. I just love the cherry in every dessert as I decorated it with my birthday cake, any occasion or holidays, or anything.
These cherry chip cupcakes are so tasty, moist, and delicious that once you take a bite, you just fall in love with them. This is perfect as a summer treat, Valentine's Day sweet, for baby showers, holiday parties, and birthdays. just make those cakes and serve them with cherry juice whipped into pink buttercream frosting
Get the recipe here.
---
Related: Chocolate Dessert Recipes
---
2. Banana Pudding Cupcakes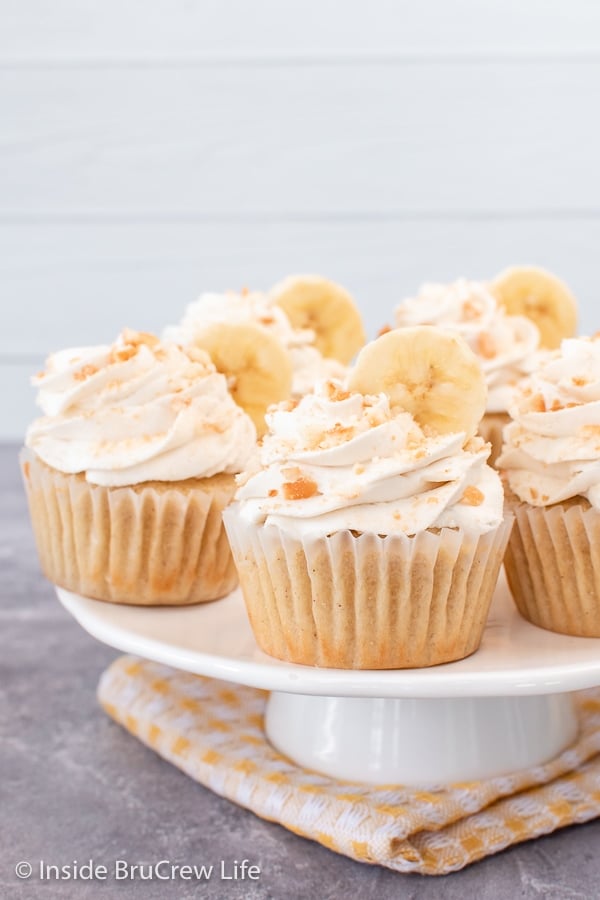 Surprise your sweet tooth with these Banana Pudding Cupcakes, the perfect dessert that combines the sweetness of bananas with the velvety taste of vanilla pudding. Whether you're looking for a delicious dessert to satisfy your sweet tooth for dinner or a sweet treat for a special occasion, these fruity cupcakes are sure to be a hit.
Banana Pudding Cupcakes are very easy to make. Just whip up a simple batter and bake to perfection. But the best part is filling them with vanilla pudding, it's like a surprise every time you bite into it. Fresh banana chunks add a delicious fruity flavor to these cupcakes.
If you're hosting a party or just looking for a sweet treat, these Banana Pudding Cupcakes are the perfect choice. I'm a big fan of these cupcakes on the weekends, so make a batch and enjoy.
Get the recipe here.
---
Suggested: Banana Dessert Recipes
---
1. Chocolate-Covered Strawberry Cupcakes
Like many others, chocolate and strawberries are my favorite things in the world. If you are also a chocolate lover, then you will love this delicious chocolate cupcake recipe. It is filled with chocolate, buttercream frosting, and chocolate-covered strawberries. This is the perfect Valentine's Day dessert for your significant other or any special occasion. Just make it and surprise your loved ones.
Chocolate cupcakes are fluffy and filled with chocolate and cocoa. They are made with different cake ingredients. Once you are done making the chocolate cupcakes, let them cool and then decorate with a chocolate-covered strawberry. This looks absolutely delicious. Also, this is one of my favorite cupcake recipes with fruit.
Get the recipe here.
---
---
If you like this article about Fruit Cupcake Recipes, please share this with your friends on Facebook, Twitter, and Pinterest. Also, you can subscribe to my blog to get all the latest articles first on your mobile.
SHARING IS CARING!
FACEBOOK | TWITTER | PINTEREST
Did you like this recipe and make it later at home? SAVE this pin to your favorite board on Pinterest!