Are you tired of the same old boring meals that leave you feeling sluggish and unsatisfied? It's time to revitalize your health with nutrient-packed paleo vegan recipes that will leave you feeling energized and nourished. In this article, we'll explore the benefits of choosing paleo vegan recipes, and the importance of nutrient-dense foods, and provide you with 21 mouthwatering recipes that will make your taste buds dance. Plus, we'll give you tips on how to incorporate more nutrient-dense foods into your diet, ensuring that you not only feel good but also make good choices. So let's get cooking and elevate our health together!
Why Choose Paleo Vegan Recipes?
One of the main reasons to choose paleo vegan recipes is because they prioritize nutrient-dense foods. Nutrient-dense foods are those that provide a high amount of healthy nutrients in relation to their calorie content. By choosing to eat more nutrient-dense foods, we can optimize our health and energy levels. Unlike diets that focus on calorie restriction or eliminating entire food groups, paleo vegan recipes emphasize the importance of nourishing our bodies with whole, nutrient-rich foods. This includes plenty of fresh vegetables, fruits, nuts, seeds, and healthy fats. By incorporating these foods into our meals, we can boost our nutrient intake and help our bodies function at their best. 
In the following section, we'll explore the importance of nutrient-dense foods in more detail and how they can benefit our health. By understanding why these foods are so important, we can make informed choices about what we eat and how we nourish our bodies.
---
Related: Paleo Grilled Recipes
---
The Importance of Nutrient-Dense Foods
Paleo-vegan recipes are all about incorporating nutrient-dense foods that are beneficial for our health. These foods are rich in vitamins, minerals, and other essential nutrients that our bodies need to function at their best. By including nutrient-dense foods in our diet, we can improve our overall health and well-being.
One of the key benefits of nutrient-dense foods is that they help boost our immune system. A strong immune system is essential for fighting off infections and diseases. Foods that are high in vitamin C, such as bell peppers, broccoli, and citrus fruits, are particularly good for supporting our immune system.
Nutrient-dense foods can also help improve our digestion. Many of these foods are high in fiber, which is important for maintaining healthy bowel movements and preventing constipation. Foods such as sweet potatoes, apples, and chia seeds are all great sources of fiber.
Furthermore, incorporating nutrient-dense foods into our diet can help us maintain a healthy weight. Unlike processed foods that are high in calories and low in nutrients, whole foods provide our bodies with the nutrients they need to function properly. By nourishing our bodies with nutrient-dense foods, we can avoid overeating and maintain a healthy weight.
But before we dive into the recipes, it's helpful to have some tips for incorporating more nutrient-dense foods into your diet. These tips can help you make healthy choices every day, whether you're cooking at home or eating out.
---
Related: Keto Dairy-Free Recipes
---
Tips for Incorporating More Nutrient-Dense Foods Into Your Diet
Incorporating more nutrient-dense foods into your diet can seem daunting, but it's easier than you might think. Here are some tips to help you get started:
1. Start with the basics: Incorporating more fruits and vegetables into your diet is a great way to increase your nutrient intake. Try adding a serving of leafy greens to your meals or snack on some fresh fruit throughout the day.
2. Experiment with new foods: Trying new foods can make healthy eating more exciting. Don't be afraid to experiment with ingredients you've never tried before, such as quinoa, chia seeds, or tempeh.
3. Focus on whole foods: Eating whole foods is a great way to ensure you're getting a variety of nutrients. Try to choose foods that are as close to their natural state as possible, such as whole grains, nuts, and seeds.
4. Plan ahead: Meal planning can help you stay on track with your healthy eating goals. Take some time each week to plan your meals and snacks, and stock up on healthy ingredients so you have everything you need on hand.
In the next section, we'll explore some delicious paleo vegan recipes that are packed with nutrient-dense ingredients. These mouthwatering recipes will not only provide our bodies with the essential nutrients they need but will also satisfy our taste buds.
---
Related: Coconut Flour Recipes
---
Mouthwatering Paleo Vegan Recipes
In addition to the many health benefits of a nutrient-dense diet, eating delicious meals is always a plus. Luckily, there are countless mouthwatering paleo vegan recipes that are both satisfying and packed with nutrients. From hearty soups to savory stews, these meals will leave you feeling nourished and satisfied. By incorporating more of these nutrient-dense meals into our diet, we can maintain a healthy weight and give our bodies the fuel they need to function properly. 
Next, we'll explore some top-rated paleo vegan recipes that are sure to impress even the pickiest of eaters. These recipes are easy to make and use only the best whole foods, so you can feel good about what you're putting in your body. Get ready for a taste bud adventure with these nutrient-packed meals.
---
Related: Grilled Cheese Sandwich Recipes
---
Breakfast Recipes
21. Sweet Potato Breakfast Hash
This Sweet Potato Breakfast Hash is the perfect breakfast for anyone on a paleo or vegan diet. It's full of flavor and packed with healthy ingredients, so it's a great way to kick off your day. Start by sauteing your sweet potatoes in a pan with olive oil until they're nice and cooked through. Then add a bunch of colorful veggies like bell pepper, onion, and spinach to give it some extra flavor. Sprinkle in a mix of spices like paprika and cumin, and add some garlic powder to make it even better.
For a balanced and satisfying breakfast experience, you can opt for a plant-based option such as tofu cubes or tofu crumbles. To add a touch of freshness, sprinkle in some fresh herbs such as cilantro and parsley.
A sweet potato breakfast hash is a nutritious and satisfying meal that provides essential nutrients while filling you up until lunch. Its bright colors, strong flavors, and strict adherence to paleo and vegan principles make it an ideal breakfast option for those looking for a nutritious and satisfying beginning to their day.
Get the recipe here.
---
Suggested: No-Mayo Salad Recipe
---
20. Coconut Flour Pancakes
Coconut Flour Pancakes are a paleo vegan breakfast option made with coconut flour, flaxseed meal, baking powder, salt, almond milk, mashed bananas, and vanilla extract. They are fluffy, satisfying, and guilt-free. The batter should be thick but pourable. Cook until golden brown on both sides. Serve with fresh berries, maple syrup, or dairy-free yogurt. These pancakes are packed with fiber, healthy fats, and protein.
Get the recipe here.
---
19. Veggie-Packed Frittata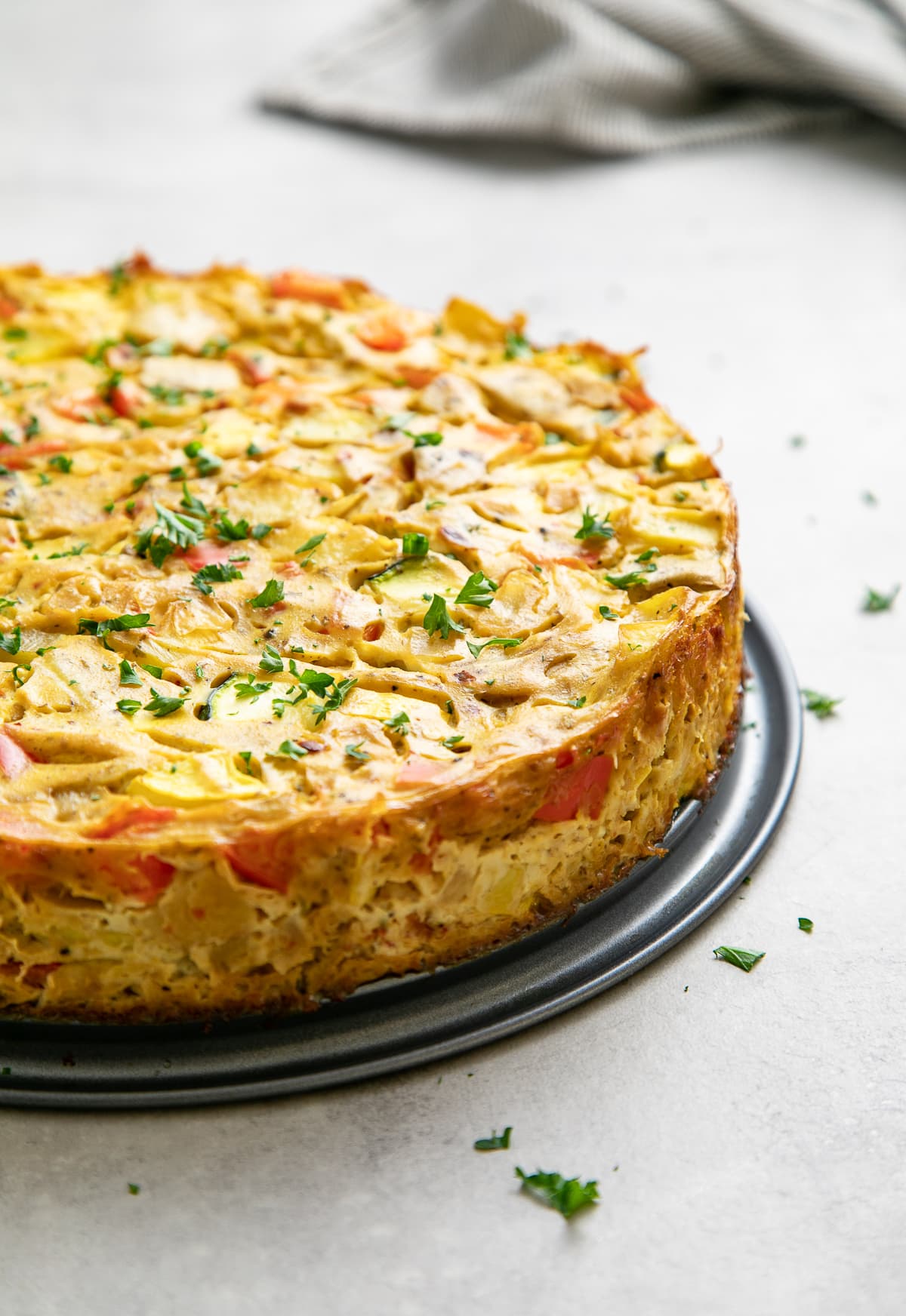 The Veggie-Packed Frittata is a plant-powered breakfast recipe that caters to both paleo and vegan diets. The recipe involves sauteing fresh vegetables, preparing chickpea flour and water egg substitute, and seasoning it with herbs and spices. The mixture is then baked until golden brown. The result is a visually stunning dish that provides a substantial amount of plant-based protein, fiber, and essential vitamins and minerals. It can be enjoyed alongside a fresh green salad or a side of sliced avocado.
Get the recipe here.
---
Related: Chia Seed Recipes
---
18. Banana Chia Seed Pudding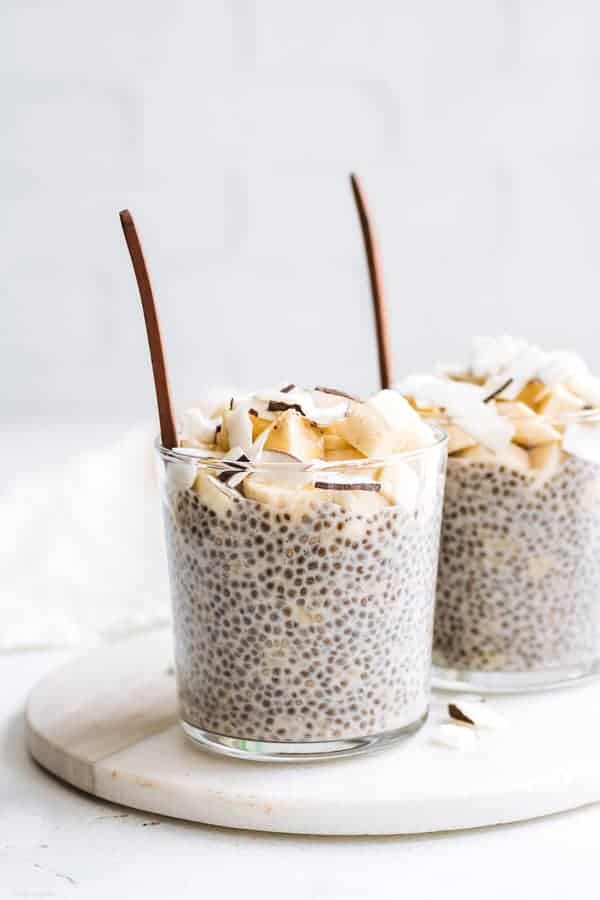 Banana chia seed pudding is a creamy and satisfying paleo vegan breakfast pudding that is rich in flavor and packed with health benefits. This pudding is made by mashing bananas until smooth, then adding chia seeds and adding your favorite plant-based milk like almond or coconut milk to the mixture. Let the pudding sit for at least half an hour or overnight in the fridge, as the chia seeds absorb the liquid and make it pudding-like.
Banana chia seeds are a superfood that not only tastes amazing but is also very nutritious. They are a great source of Omega-3 fatty acids as well as fiber and protein. Chia seeds give you energy and help you feel full and satisfied all morning long. They also add potassium, vitamins, and minerals to your diet.
This recipe is ideal for those on a paleo or vegan diet, as it is gluten and dairy free, making it a great choice for those with dietary restrictions. To add texture and additional nutrients, you can serve it with a selection of toppings such as sliced fruit, nuts, or coconut flakes. With a few easy steps, it is possible to create a nutritious and energizing breakfast that will prepare you for the day ahead.
Get the recipe here.
---
Related: Pumpkin Seeds Recipes
---
17. Green Smoothie Bowl
A green smoothie bowl is a paleo vegan breakfast recipe that is packed with wholesome ingredients and offers a harmonious blend of taste and health benefits. It includes fresh, leafy greens, avocado, healthy fats, and a banana for creaminess and natural sweetness. For added nutritional value, incorporate nutrient-dense superfoods like chia seeds, hemp hearts, or spirulina. Add unsweetened almond milk or coconut water to enhance the flavor profile. Top with fresh fruits, berries, sliced kiwi, or chunks of pineapple for natural sweetness and a pop of color. Indulge in this refreshing breakfast bowl to fuel your body with essential nutrients, aids digestion, and promote a healthy immune system. So don't forget to add this smoothie to your vegetarian paleo food list.
Get the recipe here.
---
Related: Chia Pudding Recipes
---
Lunch
16. Zucchini Noodle Pad Thai
Zucchini Noodle Pad Thai is a paleo vegan lunch option that combines the flavors of traditional Pad Thai with the freshness of zucchini noodles. It is a gluten-free and low-carb alternative to traditional rice noodles. Also, many experts suggest this zucchini noodle to their vegan paleo diet recipe lists. The dish is packed with vitamins, minerals, and plant-based protein. To prepare the sauce, whisk together tamari or coconut aminos, almond butter, lime juice, maple syrup, and a dash of sriracha. Pour the sauce over the sautéed vegetables and allow it to simmer for a few minutes. Add the noodles to the skillet and gently toss them with the sauce and vegetables. Serve in bowls garnished with cilantro, chopped peanuts, and lime juice. Enjoy the vibrant flavors and textures of this dish for a delightful midday meal.
Get the recipe here.
---
Related: Pad Thai Noodles
---
15. Portobello Mushroom Burgers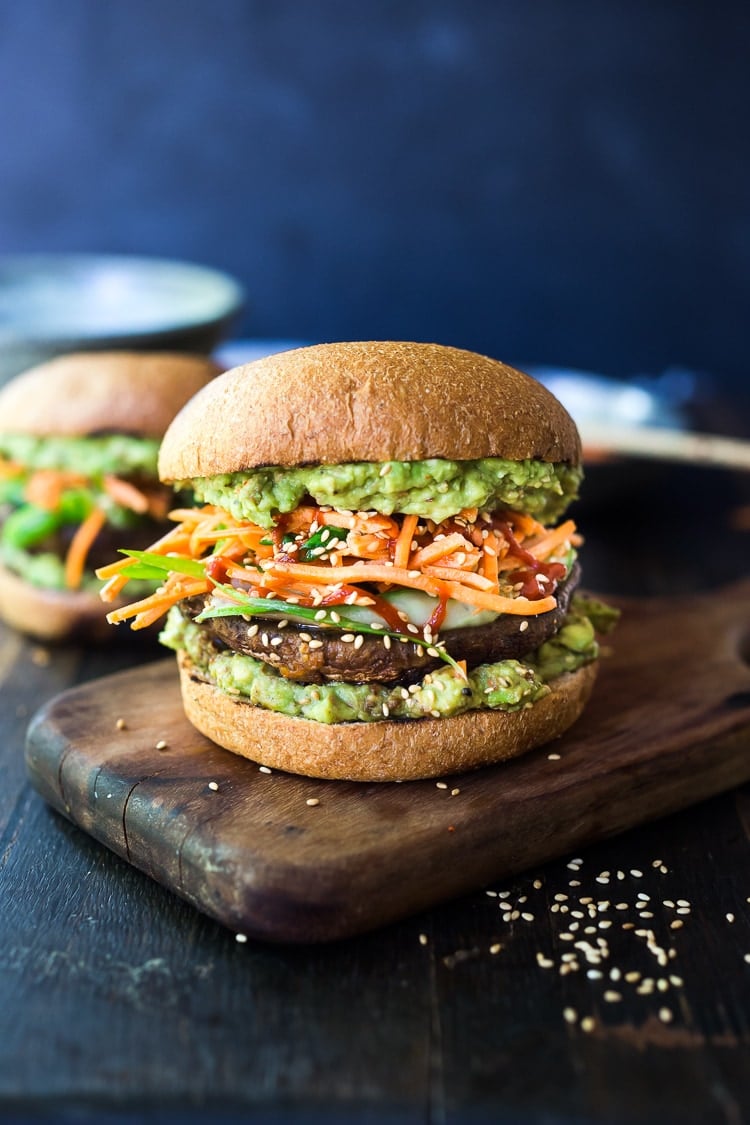 Grilled Portobello Mushroom burgers are one of the easiest and most satisfying paleo veggie lunch dishes to make. They are made by grill or roast large mushroom caps that act as the "bun" for the burgers. The mushroom caps have meaty texture, making them a great substitute for a classic burger pattie.
You can also marinate the mushrooms in a mix of Balsamic Vinegar, Olive Oil, Garlic, and Herb. Once the mushrooms are marinated, you can grill or roast them until nice and tender. While you're at it, make sure to prepare your favorite vegan toppings like avocado slices, salad, tomato, caramelized onions, and more. Serve the grilled mushrooms on top of lettuce or wrap them in collard green leaf wraps.
Portobello mushroom burgers are packed with flavor and fiber, as well as providing essential nutrients like vitamins, minerals, and so much more. They're a guilt-free and delicious paleo lunch option that you won't want to miss out on.
Get the recipe here.
---
14. Stuffed Bell Peppers with Quinoa and Veggies
This recipe is an ideal paleo vegan lunch option that combines the taste of fresh vegetables with the protein-rich benefits of quinoa. Roasting bell peppers until tender and slightly charred is the starting point for the recipe. Once the bell peppers are cooked, a flavorful filling of aromatic herbs and spices should be prepared. A medley of vegetables, such as zucchini, mushroom, and onion, can be added to the filling to give it texture and flavor. Once the filling is done, the roasted bell peppers should be stuffed into the quinoa filling and baked until the flavors blend together. Not only will this dish satisfy your taste buds, but it will also provide you with a nutritious meal that is both visually appealing and packed with essential nutrients. Whether you are on a paleo, vegan, or just looking for a nutritious meal, this recipe is sure to satisfy and nourish you.
Get the recipe here.
---
13. Mediterranean Salad with Roasted Chickpeas
This Mediterranean salad with roasted chickpeas is a delicious and nutritious option for a paleo vegan lunch. Preheat the oven to 400°F (200°C) in a mixing bowl and combine one can of canned chickpeas with a teaspoon of olive oil, a teaspoon of cumin, a teaspoon of paprika, and a teaspoon of garlic powder. Toss the chickpeas to coat, spread them on a baking sheet, and roast for twenty to twenty-five minutes until crispy. Arrange the salad on a bed of mixed greens and cherry tomatoes, with cucumber slices and sliced red onion. Kale olives and avocado are added to the salad and drizzled with a dressing made of olive, lemon, minced garlic, and dried oregano. Finally, top with salt and pepper. This dish is a great addition to any paleo and vegan diet, providing a satisfying and vibrant meal.
Get the recipe here.
---
Dinner
12. Cauliflower Rice Stir-Fry
Cauliflower Rice Stir-Fry is a flavorful and nutritious dish that goes great with your paleo and vegan diet. Instead of traditional rice, this stir-fry replaces rice with cauliflower. It's a low-carb option that's packed with flavor and texture.
In a food processor, pulse the florets until they look like rice grains. Heat a large pan with coconut oil and add minced garlic and ginger. Saute until fragrant. Add finely chopped vegetables (bell peppers, carrots, snap peas, etc.) and cook on medium heat for a few minutes.
Add the cauliflower rice and tamari sauce (or coconut aminos) to the pan and stir-fry for about 5 minutes to coat the rice with the sauce and combine the flavors. For a savory kick, add diced tofu, tempeh, edamame beans, etc.
This stir-fry is a great way to get the most out of your veggies and spices. Spice up the cauliflower rice with spices like cumin, paprika, and turmeric to give it a unique flavor and color. Top it off with some fresh cilantro, scallions, or sesame seeds for a crunchy finish. Serve it hot, and you're good to go!
If you're looking for a balanced meal that's both healthy and nutritious, this paleo vegan dinner is the perfect choice. It's packed with veggies, coconut oil, plant-based proteins, and so much more. Plus, it's easy to customize with your favorite veggies and spices, so you can make it your own!
Get the recipe here.
---
11. Eggplant Lasagna Roll-Ups
This recipe for Eggplant Lasagna Roll-Ups is a paleo and vegan twist on traditional lasagna, and also one of the best vegetarian paleo dinner recipes. Thinly slice eggplants, add cashew filling, roll them up tightly, and bake in a baking dish with tomato sauce. The resulting dish is a mouthwatering combination of savory flavors and rich textures. The eggplant is a hearty and nutrient-dense replacement for pasta, while the cream cheese filling provides a luscious, cheesy taste without any dairy. The rolls are free of grains, gluten, and animal products, making them an ideal paleo vegan dinner option. This recipe allows you to enjoy a classic comfort food dish while staying true to your dietary preferences.
Get the recipe here.
---
10. Cauliflower Steak with Chimichurri Sauce
Cauliflower Steak with Chimichurri Sauce, a paleo vegan dinner that combines the natural goodness of cauliflower with the flavors of a tangy sauce. The dish is packed with essential nutrients and is perfect for health-conscious individuals. To prepare the cauliflower steaks, remove the outer leaves and trim the stem of a large cauliflower head, slice it into thick cross-sections, and season with salt, pepper, and spices. Grill or pan-sear the steaks until they are tender and nicely charred. Blend together fresh parsley, cilantro, garlic, red wine vinegar, olive oil, lime juice, and salt and pepper to make a zesty, herbaceous sauce. Serve them on a bed of fresh greens and drizzle generously with the sauce for a visually stunning plate. This dish is free from grains, dairy, and animal products, making it a fantastic option for paleo or vegan diets. Enjoy this wholesome and flavorful dish as a centerpiece for your next Paleo Vegan dinner. This dish also works as one of the perfect and best paleo vegetable side dishes.
Get the recipe here.
---
9. Spaghetti Squash Pad Thai
This dish is an ideal paleo and vegan dinner option, combining the vibrant flavors of Pad Thai with the comforting texture and flavor of spaghetti squash. Roasting the squash until tender and its flesh is shredded into a spaghetti-like shape can be done in the meantime. A flavorful sauce can be prepared with paleo-friendly components such as almond butter and coconut aminos, as well as lime juice and garlic. A medley of vegetables such as bell peppers, carrots, and bean sprouts can be sautéed in a pan before the squash and sauce are added. This dish is full of nutrients, fiber, and healthy fats, and is a great way to satisfy your paleo and vegan dietary needs. For an extra touch of freshness, garnish with chopped cilantro and crushed peanuts.
Get the recipe here.
---
Snacks
8. Spicy Roasted Chickpeas
This indulgent and nutrient-dense paleo vegan treat is sure to satisfy your cravings and provide your body with the nourishment it needs. With its high protein, fiber and essential nutrient content, this dish is sure to satisfy any cravings. To make this delicious treat, preheat the oven to 400ºF (200ºC) and drain and rinse the can. Pat the dry chickpeas dry on a paper towel and toss them in a bowl to coat them in olive oil and spices. Sprinkle with garlic powder and sea salt to ensure the spices coat evenly. Bake for 30-35 min, or until golden brown and crunchy. Shake the baking sheet for even browning halfway through. Allow to cool for a few minutes before enjoying the spicy crunchy treat. This recipe can be stored in airtight containers for up to a couple of days, but be aware that they may become quite addictive.
Get the recipe here.
---
7. Almond Butter Energy Balls
Almond butter Energy Balls are a refreshing and nourishing snack that is ideal for those who adhere to a paleo or vegan diet. These bite-sized treats are full of nutritious ingredients that provide a boost of energy and satisfy hunger pangs without compromising on dietary restrictions.
In order to make these tasty energy balls, you will need to add almond butter to the ingredients listed above, as well as shredded coconut and chia seeds. For a hint of sweetness, you can also add a dash of pure maple syrup.
In a food processor, mix the date paste until it forms a sticky paste. Add the date paste to the almond butter mixture, then add the shredded coconut mixture, chia seeds mixture, and maple syrup mixture to the bowl and mix thoroughly.
Prepare the mixture by rolling it into small balls, approximately the size of walnuts. Place the balls on a baking sheet and allow to cool for at least half an hour. Once the balls have cooled, they are ready to enjoy. These almond butter energy balls offer a delightful combination of rich, creamy almond butter, naturally sweetened dates, and a crunchy, shredded coconut flavor.
These energy balls are a convenient snack that can be enjoyed on the go. Not only do they provide a healthy source of fats, but they also contain fiber and protein. Additionally, they are free of refined sugars, gluten, and dairy, thus making them suitable for people with specific dietary needs. Enjoy these delicious almond butter energy balls with every bite.
Get the recipe here.
---
6. Kale Chips
Kale chips are a nutritious snack that aligns with the principles of both paleo and vegan diets. They offer a satisfying crunch and a burst of flavor while being completely free of grains, dairy, and animal products. To make kale chips, wash and dry the kale leaves, drizzle with olive oil, and season with salt, pepper, and herbs/spices. Bake for 15-20 minutes until crispy and slightly browned. These guilt-free snacks are packed with essential vitamins, minerals, and fiber.
Get the recipe here.
---
5. Roasted Brussels Sprouts Chips
Roasted Brussels sprouts chips are a delicious and nutritious paleo vegan snack that is packed with flavor and essential nutrients. Preheat oven to 400°F, slice sprouts, season with oil, salt, and spices, and spread on a baking sheet. Roast for 15-20 minutes until crispy and golden brown. Serve as a guilt-free snack or pair with dip. These chips are paleo, vegan-friendly, and a great source of fiber, vitamins, and minerals. Enjoy this crunchy, wholesome snack that keeps you satisfied and nourished.
Get the recipe here.
---
Dessert
4. Paleo Vegan Chocolate Avocado Mousse
This decadent and guilt-free mousse is the perfect combination of the creamy flavor of avocados and the decadent taste of chocolate. Perfect for those on a paleo or vegan diet, this recipe does not include dairy, grains, or refined sugars. To make this delicious mousse, combine a blend of ripe avocados with unsweetened coconut milk, a natural sweetener such as maple syrup or dates, to create a smooth, velvety texture. Paired with sea salt and a pinch of vanilla extract, the result is a decadent chocolate mousse with a subtle hint of natural sweetness. Transfer the mixture to serving dishes and allow to chill for a few hours in the refrigerator to firm up.
Add some fresh berries, coconut, or nuts to your vegan chocolate avocado mousse to give it some texture and flavor. Not only will it satisfy your sweet tooth, but it'll also be a healthy and wholesome dessert that fits in with your vegan and paleo lifestyle. Plus, it's a guilt-free treat you can enjoy whenever you're craving something sweet.
Get the recipe here.
---
3. Berry Coconut Chia Pudding
Berry coconut chia pudding is a creamy and fruity dessert made with chia seeds, coconut milk, and a generous serving of berries (blueberries, raspberries, etc.). Not only is it a delicious dessert, but it's also a healthy and nutrient-rich dessert that's perfect for those who are on a paleo or vegan diet.
Mix the chia seeds and coconut milk together in a large jar or bowl and let it sit for a couple of minutes. The chia seeds will expand and become gel-like. Add a generous amount of mixed berries and stir to combine. To make it even sweeter, you can add a drizzle of raw honey or a drizzle of maple syrup. Sprinkle a few shredded coconuts on top and let it chill for at least 2 hours or overnight.
When it's time to serve, spoon out the Berry coconut chia pudding in individual bowls or glasses. Garnish with extra berries, and coconut flakes, and enjoy.
Get the recipe here.
---
2. Paleo Vegan Lemon Bars
These paleo lemon bars are a yummy treat that's perfect for anyone on a paleo/vegetarian diet. They're free of grains, milk, and sugar, so you don't have to worry about guilt. To make them, start by making a crust with a mix of coconut flour, almond flour, and melted coconut oil. Then, press the crust mixture in a baking dish until it's golden brown. For the lemon filling, mix together lemon juice and coconut cream with arrowroot powder, a paleo thickener, and your choice of sweetener. Pour it over the crust and bake until it's set. Let it cool and then cut into squares. Garnish with lemon zest and powdered coconut sugar for a sweet and tangy treat.
Get the recipe here.
---
1. Paleo Vegan Blueberry Crumble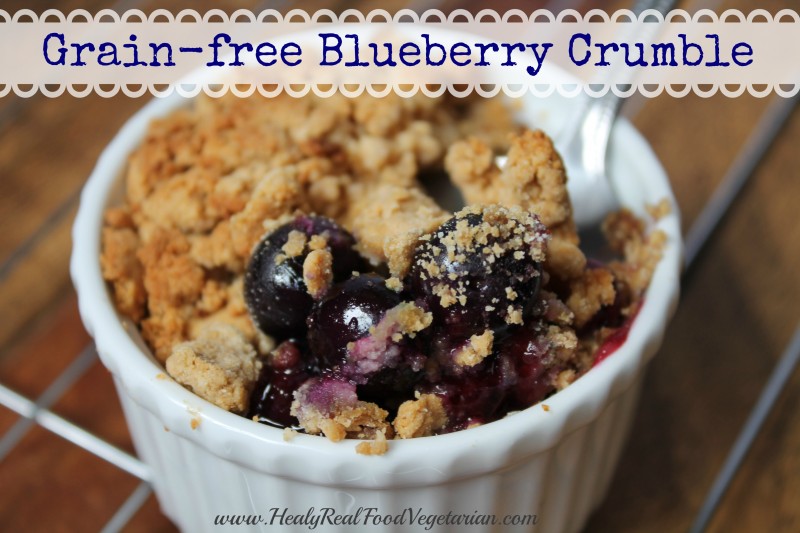 Paleo vegan blueberry crumble is a delicious, gluten-free, and grain-free dessert that satisfies your cravings while staying true to your paleo & vegan diet. This recipe uses healthier alternatives to traditional ingredients, making it perfect for those who follow a paleo & vegan lifestyle. To make this delicious dessert, start by adding fresh blueberries to a baking dish. Add some natural sweeteners such as maple syrup, coconut sugar, or even a pinch of cinnamon for extra warmth and flavor. Then, add some grain-free, almond flour-based crumble topping to the fruit mixture. Add some coconut oil, coconut flour, and a pinch of cinnamon to the crumble topping, and spread it on top of the fresh blueberries. Sprinkle some more cinnamon on top of the crumble, and bake in the oven for about 30-45 minutes. The blueberries will bubble, and the crumble will turn golden brown. Enjoy this delicious, guilt-free dessert on its own, or top it off with a scoop of coconut milk ice cream.
Get the recipe here.
---
Related: How to Craft Vegetarianism
---
The Bottom Line: Elevate Your Health with These Nutrient-Packed Recipes
Adding nutrient-rich foods to your diet is a great way to restore your health. Here are 21 healthy paleo vegan recipes that are rich in essential vitamins and minerals to fuel your body and help you feel your best. But it's not all about the recipes themselves. It's about planning ahead and making sure you have the right ingredients on hand. By meal planning and stocking up on healthy foods, you're setting yourself up for success. Whether you're just starting out with paleo vegan or looking to add more nutrient-rich meals to your diet, these recipes are the perfect place to start. 
Elevate your health with wholesome, delicious foods that will make you feel and perform better. If you have any questions about paleo vegan, don't worry! We've got you covered! Our FAQ section will answer all your questions and provide answers to your most common paleo vegan eating concerns.
FAQ
And if you have any questions or concerns about paleo vegan eating, don't worry – our FAQ section will address common concerns and provide answers to help you make informed decisions about your diet.
Q: Is it possible to get enough protein on a paleo vegan diet?
A: Absolutely! Some great sources of plant-based protein include quinoa, lentils, chickpeas, tempeh, and tofu. Nuts and seeds are also excellent sources of protein.
Q: Can I still have treats and desserts on a paleo vegan diet?
A: Yes, you can! There are plenty of sweet treats and desserts that can fit into a paleo vegan diet. Consider using natural sweeteners like maple syrup or dates, and incorporating nutrient-dense ingredients like almond flour, cocoa powder, and coconut milk.
Q: Is it expensive to eat a paleo-vegan diet?
A: It can be more expensive than a standard diet that includes meat and dairy, but it doesn't have to break the bank. Focus on whole, in-season produce and incorporate plant-based proteins like lentils and beans. Buying in bulk and meal prepping can also help you save money.
Q: How can I get enough calcium on a paleo vegan diet?
A: While dairy products are a common source of calcium, there are plenty of non-dairy options that can provide this essential mineral. Consider incorporating fortified plant milks, leafy greens like kale and collard greens, and calcium-set tofu or tempeh into your diet.
---
Incorporating paleo vegan recipes into your diet can have a powerful impact on your health and well-being. And armed with the answers to these common questions, you can confidently navigate this way of eating and discover the benefits for yourself.,
Incorporating nutrient-dense foods into your diet is essential for optimal health and wellness. These 21 paleo vegan recipes not only satisfy your taste buds, but they also provide your body with the necessary nutrients it needs to function at its best. With tips on how to incorporate more nutrient-packed meals into your diet, there's no reason not to start revitalizing your health today. So, get into the kitchen, start cooking, and watch as your health and wellness soar! As Hippocrates said, "Let food be thy medicine and medicine be thy food."
---
If you like this article about paleo vegan recipes, please share this with your friends on Facebook, Twitter, and Pinterest. Also, you can subscribe to my blog to get all the latest articles first on your mobile.
SHARING IS CARING!
FACEBOOK | TWITTER | PINTEREST
Did you like this recipe and make it later at home? SAVE this pin to your favourite board on Pinterest!