Have you ever been stuck for ideas on what to serve for your next dinner party? Don't worry, we've got you covered! We've pulled together 21 simple, yet elegant finger food recipes that will not only impress your guests but also satisfy their appetites. Whether you're hosting a dinner party, brunch, or a casual gathering, there's something for everyone in our delicious collection of finger foods. From traditional favorites with a twist, to international favorites and vegetarian options, you'll be sure to find something to satisfy your taste buds.
And don't forget to check out our sweet treats section. We're not just sharing delicious recipes, we're also serving suggestions and answering frequently asked questions.
What is Finger Food?
Finger food is a small bite-sized appetizer that you can pick up and eat with your fingers. They are typically served on a platter, on a skewer, or on toothpicks. Finger foods can be served at almost any event, from a formal cocktail party to a backyard barbecue. They come in a variety of savory, sweet, crunchy, and creamy flavors. They are also great for entertaining, as they allow guests to eat and socialize without having to sit at a table. This makes them ideal for situations where people are standing or mouthing off.
So whether you're looking for a quick, easy appetizer to serve at a last-minute gathering, or you're planning a full-on party menu, finger food is a great way to wow your guests and showcase your culinary skills.
---
Suggested: Keto Side Dish Recipes
---
Classic Favorites with a Twist
21. Bacon-wrapped Jalapeno Poppers with Cream Cheese Filling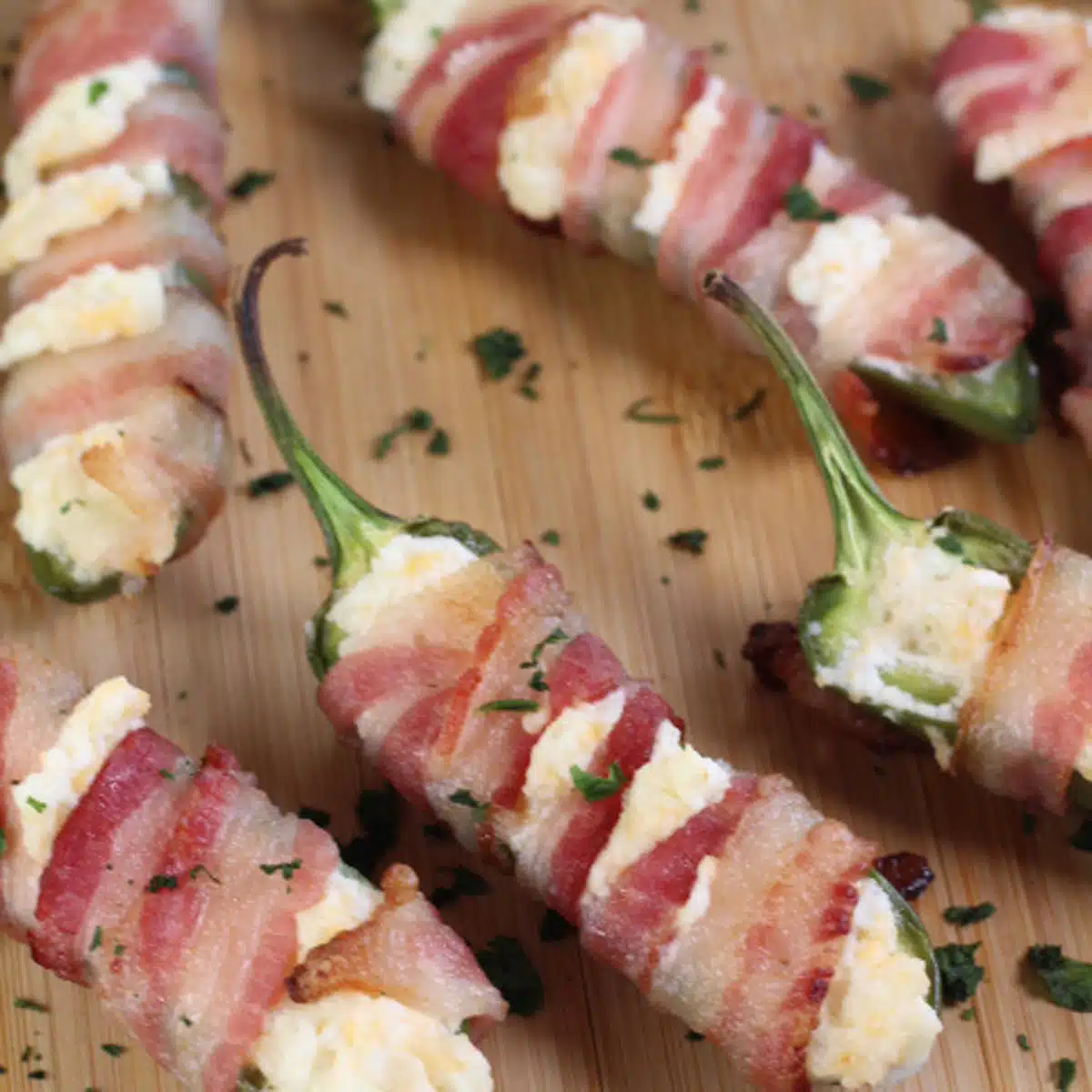 If you're into bold flavors and a bit of heat, then you've come to the right place! Bacon-wrapped Jalapeño Poppers with Cream Cheese filling are the perfect appetizer for you. They're a delicious combination of smoky bacon, creamy cheese, and fiery jalapeño all rolled into one delicious bite. To make them, start by slicing the jalapeño lengthwise and getting rid of the seeds. Then, fill each half with a smooth, tangy cream cheese filling. Finally, wrap the poppers in bacon strips for a crispy and smoky flavor. Bake or grill them until the bacon is crispy and the cheese is melted and gooey, and you're ready to eat!
These Bacon Wrapped Jalapeño Poppers with Cream Cheese Filling are an irresistible appetizer that is sure to be a hit at any party or gathering. The combination of smokiness, creamy flavor, and spicy flavor combine to create a delightful treat that is sure to satisfy any craving for a spicy treat. With its impressive presentation and captivating taste, these poppers are sure to be a crowd-pleaser. Get your ingredients together and prepare to delight your guests with this irresistible appetizer.
Get the recipe here.
---
Related: Keto Air Fryer Recipes
---
20. Chicken Skewers with Teriyaki Glaze
Chicken Skewers with Teriyaki Glaze is a delicious and satisfying grilled dish that combines tender pieces of chicken with vibrant vegetables and a delicious homemade glaze. To start, season the chicken with a soy sauce mixture of ginger and garlic, as well as with a bit of sweetness such as honey and brown sugar. Let the chicken soak in the marinade for a minimum of 30 minutes, allowing it to become tender and soak up the flavor. Then, thread the chicken onto the skewers, alternately with colorful vegetables such as bell peppers and onions, or zucchini, to add visual appeal and texture to the dish. Finally, place the chicken on the grill and cook until it is cooked through and juicy, with a slightly charred exterior. To prepare the glaze, simmer a blend of soy sauce and mirin, sake, or rice vinegar, and a bit of sweetness until the glaze thickens to a glossy consistency.
These teriyaki-glazed chicken skewers are the perfect addition to any summer gathering or backyard barbecue. In the final few minutes of the grilling process, the glaze should be generously brushed onto the skewered pieces, allowing for caramelization and the glaze to caramelize, resulting in a beautiful, glazed glaze that is full of umami flavors and juicy chicken. Serve these as appetizers or main courses, and your guests will be delighted with the tenderness and flavor of the chicken, as well as the irresistible glaze.
Get the recipe here.
---
Suggested: Keto Mushroom Recipes
---
19. Deviled Eggs
Deviled eggs are a classic finger food that's been around for ages and is always a hit at parties. They're a bite-sized treat with a creamy and tangy filling and a garnished top that never goes out of style. To make them, hard-boil a dozen eggs and slice them in half lengthwise. Put the yolks in a bowl with some mayonnaise, mustard, vinegar, and salt and pepper. Then use a spoon or piping bag to spread the creamy mixture on the empty egg whites. Garnish with a dash of paprika, some fresh dill, and a slice of jalapeño for a kick.
Deviled Eggs are not only super cute, but they're also really versatile. You can try different flavors by adding things like chopped herbs, bacon crumbles, or even avocado. They're perfect for any backyard barbecues, family get-togethers, or cocktail parties. Not only are they delicious, but they also bring back memories of special times spent with family and friends. So next time you're trying to impress your guests with a classic finger food, or just want a classic appetizer, deviled eggs are the way to go. Their creamy filling, soft eggs, and yummy garnishes will make everyone want more.
For those looking to put a twist on classic favorites, finger foods are a great place to start. Take the classic deviled egg, for example. By adding truffle oil or bacon bits, you can elevate this traditional appetizer to a whole new level of deliciousness.
Get the recipe here.
---
Related: Classic American Appetizers
---
18. Meatballs with Ground Chicken and a Spicy Peanut Sauce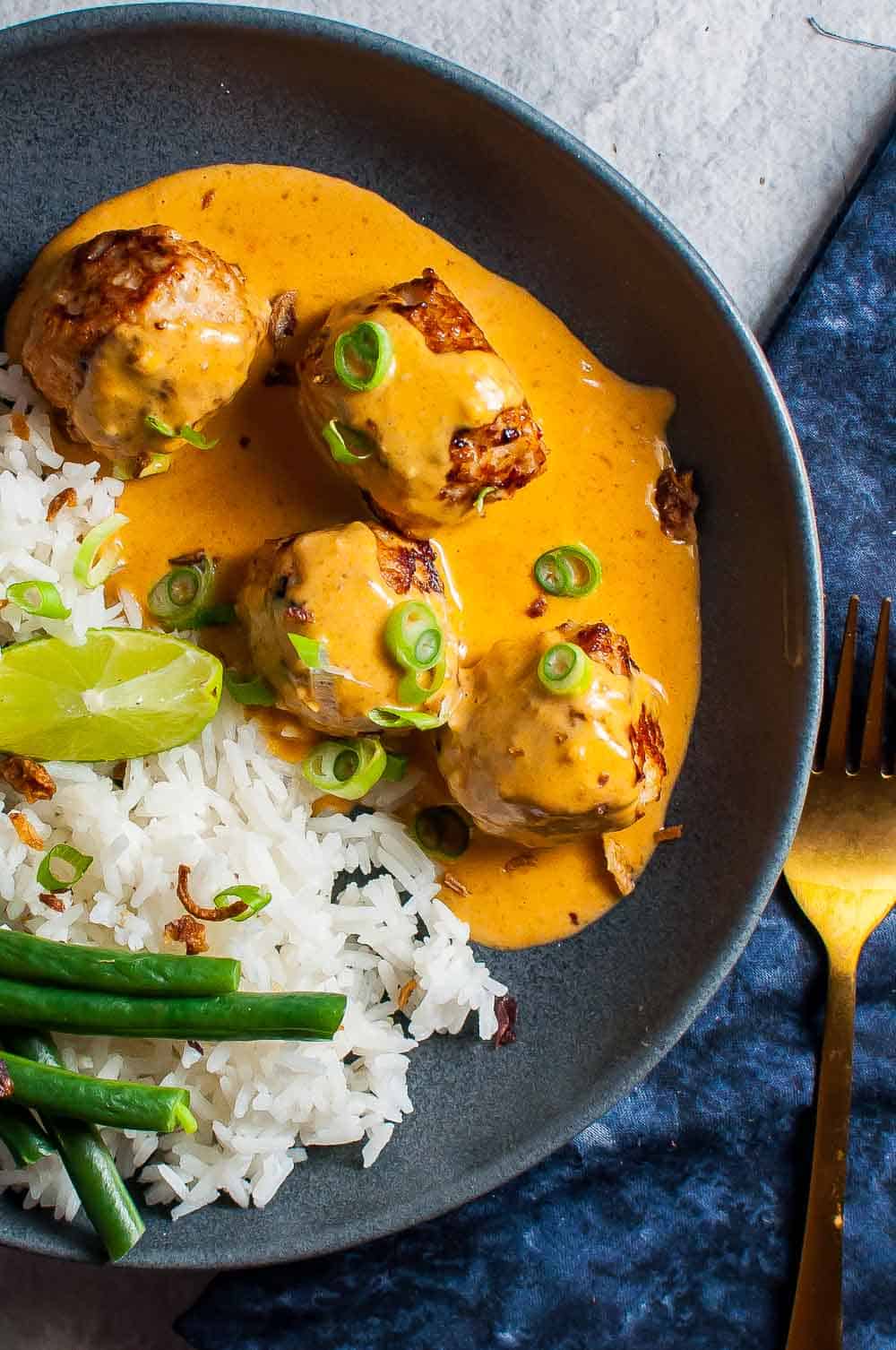 Meatballs are another classic that can be reinvented with different types of meat and sauces. When it comes to classic finger food, meatballs are one of the most beloved. But why limit yourself to the classic beef or pork finger foods? Take your finger food game to the next level with these irresistible meatballs made with ground chicken and spicy peanut sauce.
To make these delicious meatballs, start with ground chicken and add aromatic ingredients such as minced garlic, minced ginger, and soy sauce. Add a pinch of chili powder for a spicy kick. Shape into bite-sized meatballs and bake them until golden brown and tender. What makes these meatballs stand out from the rest is the spicy peanut sauce that goes along with them. This sauce balances the creaminess of the chicken, the heat of the soy sauce, the nuttiness of the peanut sauce, and the sweetness of the peanut sauce to create a harmonious flavor. When the meatballs are done, serve on a platter with a small bowl of our spicy peanut sauce.  Your guests will love dipping each juicy meatball in the sauce, tasting the tender chicken, aromatic spices, and creamy peanut sauce that will keep them coming back for seconds.
These irresistible ground chicken meatballs with spicy peanut sauce are a crowd-pleaser at parties and gatherings, but they're also a great protein-packed snack when you're looking for a quick and easy snack.  They're portable and finger-friendly, so they're perfect for entertaining or just grabbing a bite while you're on the go.  So, why not take your finger food spread to the next level with this delicious twist on a classic?
Tips: Try making them with ground chicken and a spicy peanut sauce for a Thai-inspired twist.
---
Suggested: High Tea Recipes
---
17. Caprese Grilled Cheese
If you're a fan of Caprese salad, consider serving bitesize skewers with cherry tomatoes, fresh basil, and mozzarella balls. The classic grilled cheese sandwich is one of the most beloved finger foods in the world, and its timeless appeal remains unrivaled. However, what if we could elevate this classic comfort food to a more sophisticated level? The Caprese Grill Cheese is a delightful combination of Italian flavors, melted cheese, and fresh tomatoes and basil leaves.
In this recipe, we pay homage to the classic Caprese Salad, which is a combination of fresh tomatoes, Mozzarella Cheese, and Basil Leaves. These classic ingredients come together to create a mouth-watering sandwich that is toasted to a golden brown. Begin by adding thick slices of Crusty Bread. Layer with slices of Fresh Tomato, Mozzarella, and Basil Leaves, and Drizzle with Balsamic Glaze or Balsamic Vinegar for an extra tangy flavor. Once it's all put together, it's grilled until the cheese is so gooey and the bread is so crispy. When you take your first bite, all the flavors come together – sweet tomatoes, mozzarella, basil, and warm, toasty bread. It's a great finger food that you can enjoy on its own or with a big bowl of tomato soup. It's great for a casual gathering, a picnic, or just for a quick snack. So why not take your grilled cheese game to the next level and try this classic Italian finger food? Let the irresistible combination of ingredients take you on a culinary journey.
Tips: For a fun twist on the classic grilled cheese, make mini versions with different types of cheese and fancy bread, like sourdough or focaccia.
---
Related: Grilled Cheese Sandwich Recipes
---
16. Sun Dried Tomato Hummus
This Mediterranean-inspired hummus recipe is the perfect accompaniment to a variety of savory snacks, making it a crowd-pleaser. The creamy texture of traditional hummus is complemented by the rich, tangy essence of Sun-dried tomatoes, which add a delightful sweetness and sweetness to the dish. Mix the ingredients together in a food processor to create a creamy and velvety texture, and then add the sun-dried tomato to the mixture to give it its distinct flavor and red hue. Serve with fresh vegetables, Pita Bread, or Crispy Tortilla Chips for a delicious and healthy snack. Whether it's for a gathering, a party, or just a quick snack, this Mediterranean-inspired dish is sure to delight you.
Get the recipe here.
---
Bringing a unique twist to traditional finger foods allows you to showcase your creative and culinary talents to your guests. Additionally, these finger foods are simple to prepare and ideal for social gatherings, ensuring that your party is a success.
International Delights
When it comes to finger foods, there are endless possibilities from all around the world. Introducing international flavors to your party menu can add an exciting twist and give your guests a taste of something new. From savory to sweet, international finger foods are guaranteed to satisfy any palate.
15. Chicken Tikka Skewers with Yogurt Dipping Sauce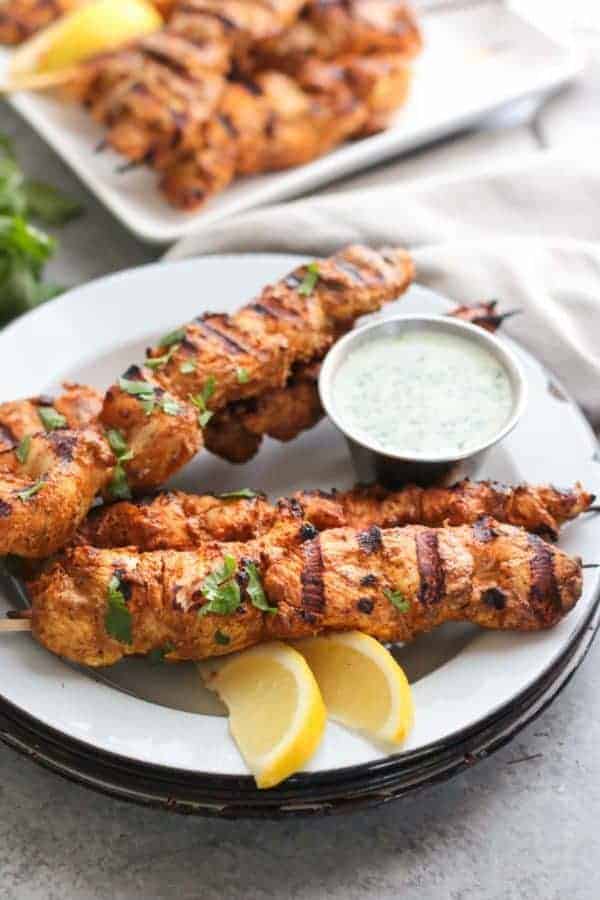 Take your tastebuds on a journey with this yummy chicken and yogurt dipping sauce. This international dish brings all the flavors of Indian food right to your plate. Start by marinating the chicken in a flavorful mix of spices like turmeric and cumin. The yogurt and lemon juice in the sauce will help to tenderize the chicken and give it a kick of flavor. Once it's all marinated, put the chicken on skewers and grill or bake until it's nice and crispy on the outside and juicy on the inside. The aroma will fill the air and you'll be ready for the first bite!
If you want to add some spice to your chicken, make sure to whip up some yogurt dipping sauce! It's a mix of yogurt, cilantro, and mint, plus a bit of lemon juice and salt. The cooling sauce will give your chicken a nice, creamy flavor that will make you feel like you're in India. With every bite, you'll be transported to a different part of the world. This dish is perfect for any dinner party or weeknight meal. It's a showstopper that will leave your guests wanting more.
Get the recipe here.
---
14. Mini Tacos with Seasoned Shredded Chicken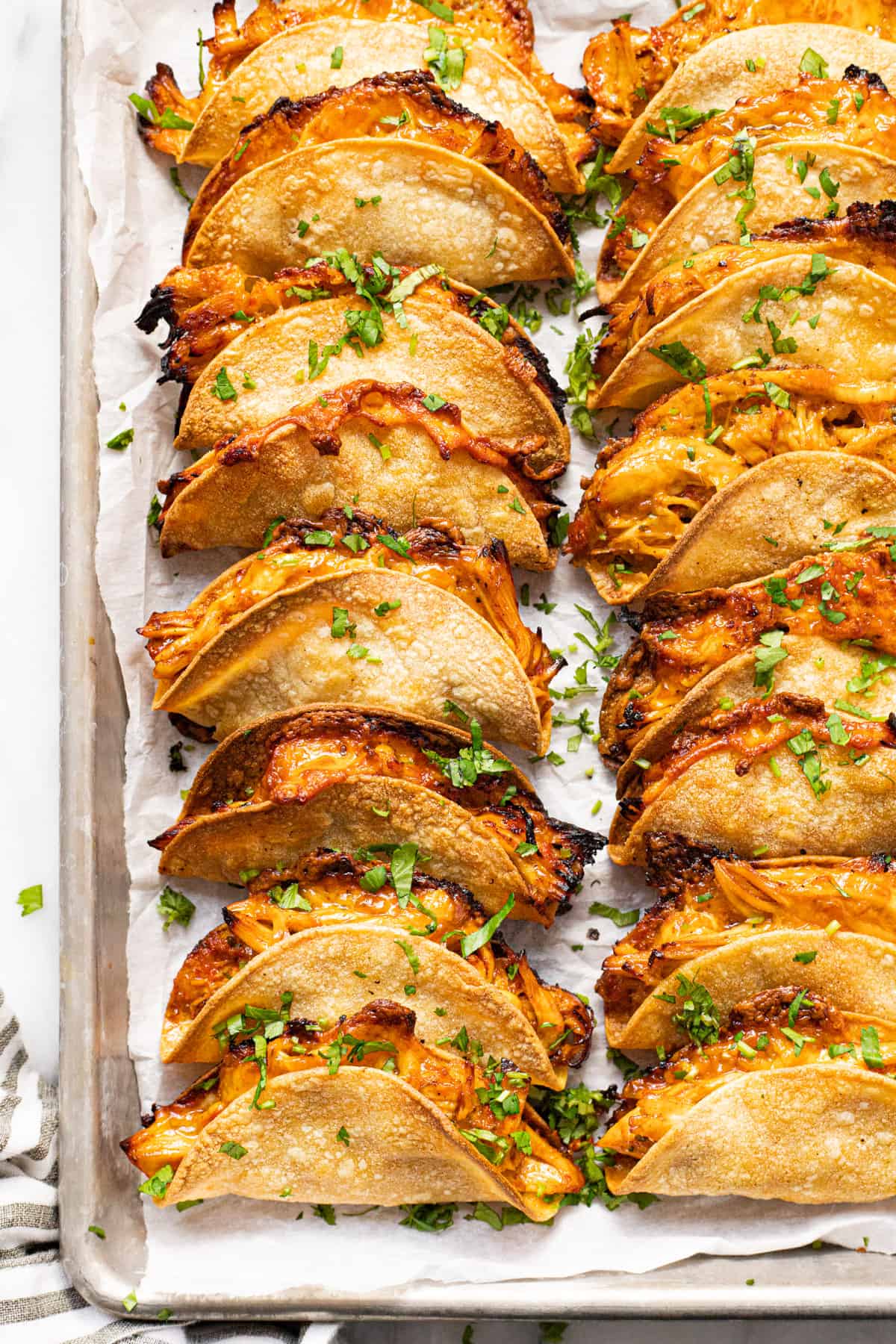 Take off on a culinary journey with these delicious mini tacos made with seasoned shredded chicken! This recipe is full of flavors from all over the world, and the chicken is tender and juicy. You can add a bunch of different toppings to make it your own, from salsa and guac to lettuce, tomatoes, and lime juice. Each bite is packed with flavor, texture, and color, so you're sure to have a blast!
This international delicacy is an ideal appetizer for both parties and gatherings, as well as a satisfying dish for a casual lunch or dinner. Its mini size makes it ideal for sharing, allowing for a variety of flavors to be explored in one sitting. Whether you are planning a Mexican fiesta or simply looking for a taste of international cuisine, these tacos featuring seasoned shredded chicken are sure to be a crowd-pleaser. With their captivating aroma, lively presentation, and promise of a memorable dining experience, these mini tacos are the perfect way to bring people together. So, get ready to roll up your sleeves and assemble your ingredients, as these international mini tacos are sure to take you on a culinary journey of a lifetime.
Get the recipe here.
---
13. Bruschetta
One of the popular international favorites is bruschetta, a dish originating from Italy. This simple yet flavorful appetizer consists of grilled bread topped with diced tomatoes, basil, garlic, and olive oil. Bruschetta is a classic Italian dish that's become a hit all over the world. It's toasted bread slices with a colorful mix of fresh ingredients, and it's easy to see why it's so popular – it's packed with flavor and texture. To make it, start with some crusty baguettes or ciabattas, cut into thin slices, and lightly toasted. The bread is the base for the toppings, which are usually diced tomatoes, garlic, basil leaves, and some extra olive oil. But don't worry, you can get creative and make your own! Every bite of bruschetta is packed with juicy tomatoes, garlic, and basil, and it's so good that it'll take you right back to the sunny Mediterranean!
Bruschetta, a traditional Italian appetizer, has become increasingly popular in recent years due to its versatility and appeal. It can be dressed up with a variety of toppings, such as creamy avocado, balsamic, grilled veggies, olives, and even vegan cheese, to create a truly international delight. Bruschetta can be found on menus all over the world, from Italian piazzas to summer gatherings and upscale restaurants, making it an ideal appetizer for any occasion. Let its flavors transport you to a culinary destination and savor every bite.
For a variation, try adding different toppings like diced avocado, feta cheese, or roasted red peppers.
Get the recipe here.
---
12. Falafel
Falafel is a classic Middle Eastern dish that's become a favorite among foodies all over the world. Not only are they a staple street food, but they're also a great vegetarian choice for any meal. To make falafel, start by soaking the dried chickpeas in water overnight. Then, the next day, mix the chickpeas with some fresh herbs like cilantro, cumin, coriander, garlic, and onion. Mix it all together until it's a coarse texture and you've got yourself a delicious falafel ball. Fry it up until it's golden brown on the outside and crispy on the inside, with a soft, earthy flavor. It's the perfect combination of textures!
Traditional falafel is served warm on pita bread, topped with a salad of fresh veggies, a tangy sauce of tahini, and a sprinkling of sumac and sesame seeds. With so many different ways to serve falafel, it's easy to get creative. You can serve it as a salad, wrap, or with a colorful mezze bowl. Although falafel originated in the Middle East, it has captured the hearts and appetites of people all over the world. It's become a favorite among vegans and vegetarians, as well as those looking for a healthier option.
Whether you're on the street in Cairo, in one of Tel Aviv's food markets, or at a local street food truck in your favorite city, you're sure to find a delicious falafel on any plate. The explosion of flavors and crunch make falafel an international delight, and it's no wonder it's one of the most beloved dishes in the world. For a unique and contemporary take on these, they can be served as appetizers in the form of small, bite-sized bites, accompanied by a drizzle of tzatziki sauce and topped with cucumber slices.
Get the recipe here.
---
11. Shrimp Vegetable Spring Roll
Bringing the flavors of Asia to your party with homemade spring rolls is another great option. These light and crispy rolls can be filled with a variety of ingredients such as shrimp, veggies, and herbs, and can be served with sweet chili sauce or peanut dipping sauce.
Get the recipe here.
---
International finger foods are not only delicious but also a great option for vegetarian guests. Speaking of which, let's explore some vegetarian options next.
Vegetarian Options
10. Stuffed Mushrooms with a Flavorful Cheese and Breadcrumb Filling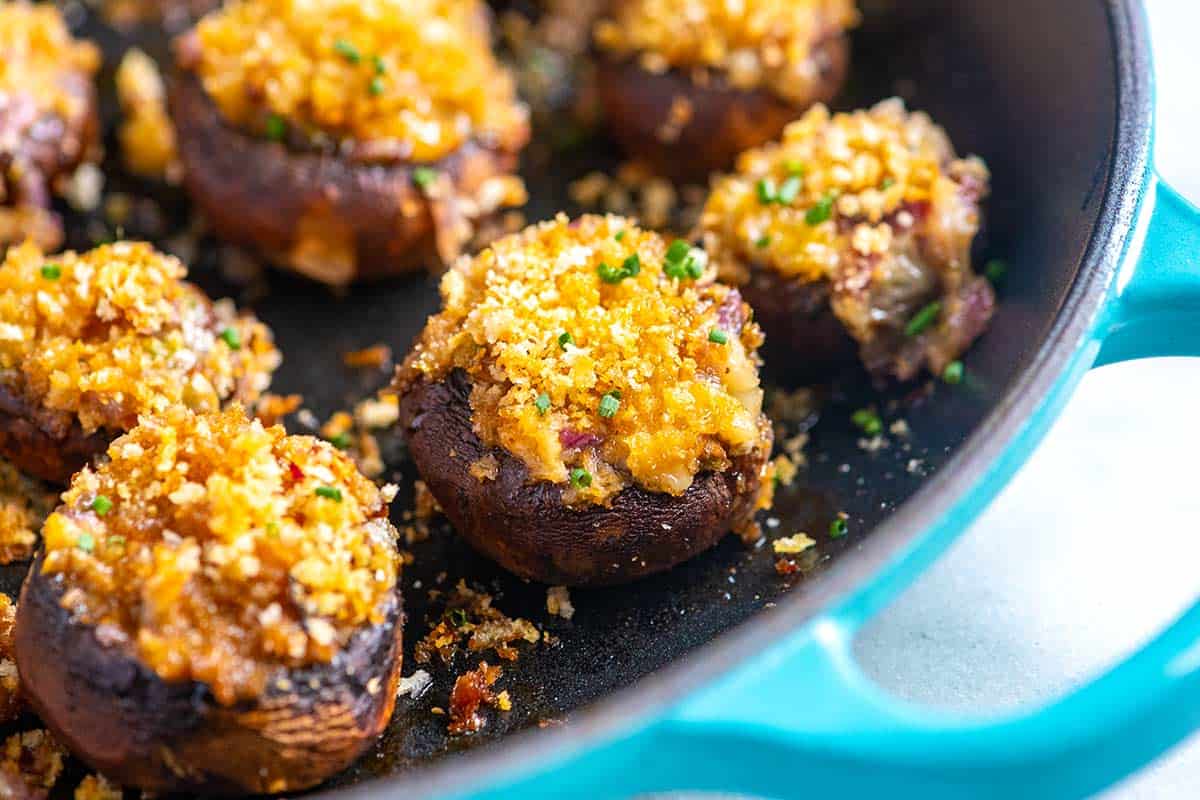 Take your tastebuds on a journey with stuffed mushrooms! This international finger food is the perfect combination of the earthy flavor of mushrooms with the savory flavor of cheese and breadcrumbs. The filling is creamy cheese, herbs, and breadcrumbs that add a perfect balance to the mushroom's natural umami taste. When you bite into it, you'll be amazed by the luscious cheese and crunchy breadcrumbs that create a delicious balance that will make you want more.
These stuffed mushrooms are the perfect addition to any party, or gathering, or even just as an appetizer. They're so versatile that they can be enjoyed all over the world, no matter what culture you come from. So grab some and let your senses go wild! This finger food is full of textures and flavors, and with every bite, you get a gourmet experience. It's the perfect combination of simplicity and sophistication, and it's what brings people together through a love of food.
Get the recipe here.
---
9. Veggie Sushi Rolls with Avocado, Cucumber, and Carrot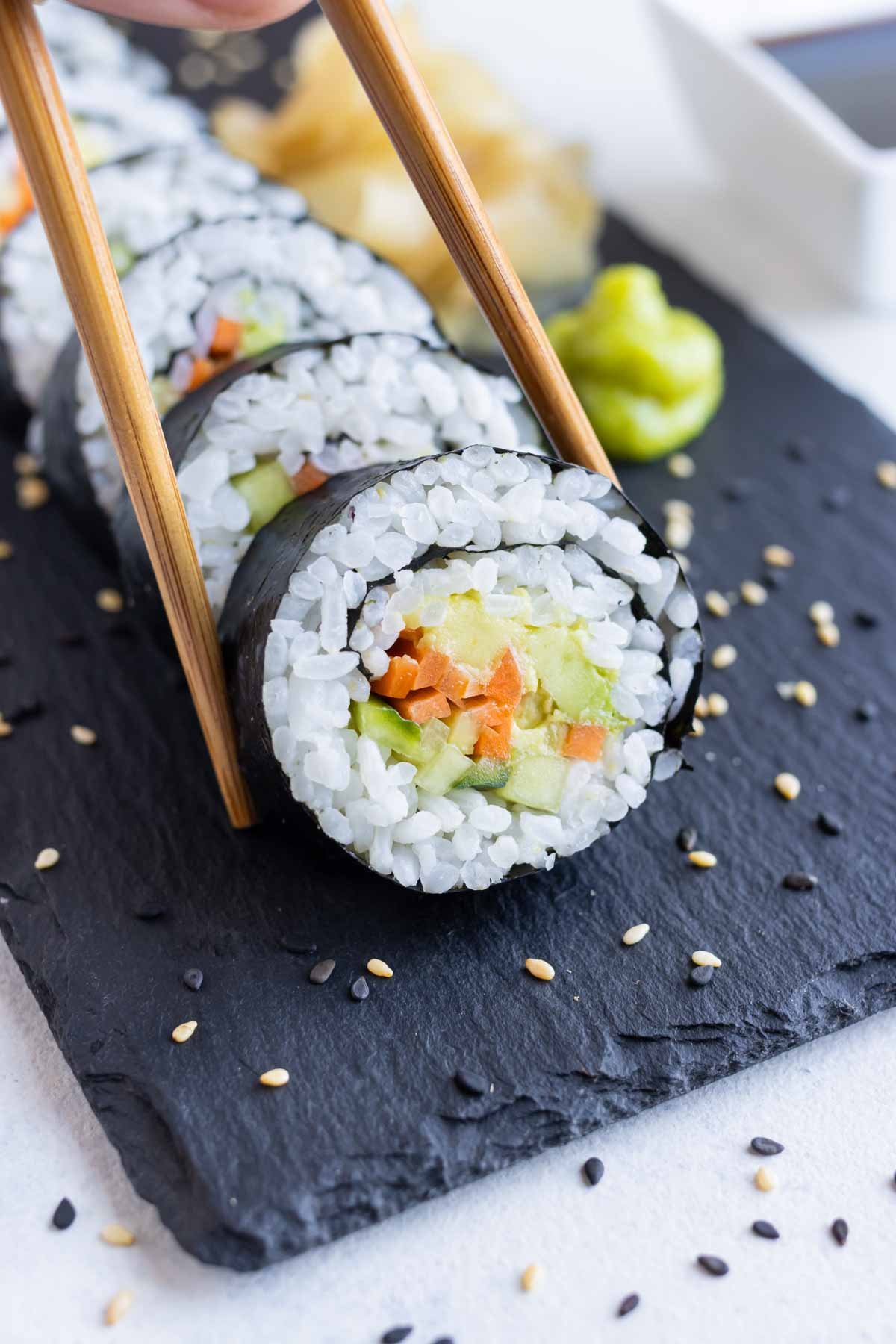 Veggie Sushi Rolls offer a unique combination of international flavors, combining Japanese artistry with a healthy, refreshing twist. Crafted from perfectly cooked sushi rice, the rolls are wrapped in a nori seaweed base and then filled with vibrant strips of avocado, cucumber, and carrot. Each bite is a culinary journey, combining the flavors of Japanese cuisine with the freshness of vegetables. Not only are these rolls visually appealing, but they also contain essential nutrients and antioxidants.
Veggie Sushi Rolls are the perfect finger food for any party, potluck, or snack. They're a delicious, guilt-free treat that's perfect for people with different dietary needs, like vegans and vegetarians. Whether you're a sushi lover or someone who loves to try new flavors, these rolls will take your taste buds to the next level. Enjoy the symphony of flavors, textures, and vibrant colors as you savor these delicious finger foods.
Get the recipe here.
---
8. Crispy Tofu Skewers
Treat yourself to a taste of the world with our delicious tofu skewers! This finger food is the perfect combination of Asian flavors and textures, and it takes tofu to the next level. Start by marinating the cubes in a mix of spices and herbs, like soy sauce and ginger. Then, coat them in a breading mixture and bake them in the oven until they're golden brown. The result is tender tofu inside and a crispy exterior that'll make you want more!
These Crispy Tofu Skewers are an ideal accompaniment to any gathering, game night, or international-themed meal. Not only are they a delightful treat for the taste buds, but they are also a protein-rich and vegan-friendly option. Enjoy the harmonious combination of textures, umami-laden tofu, and tantalizing aromas as you savor each bite.
Get the recipe here.
---
7. Bruschetta Bar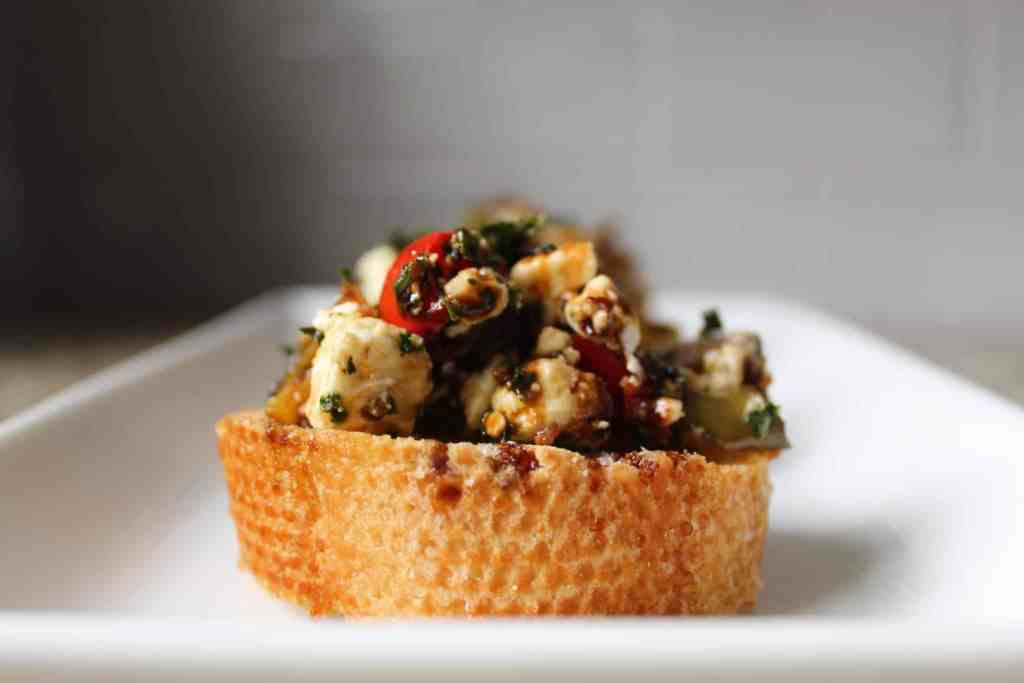 A Bruschetta Bar is an international culinary experience that brings together the flavors of Italy and the Mediterranean. The concept is simple yet captivating – a spread of breaded baguette slices paired with a variety of toppings, allowing guests to create their own unique bruschetta dishes. From classic Caprese Bruschettas to creative contemporary flavors, the possibilities are endless as guests explore a wide range of fresh ingredients.
Let your taste buds go wild with something like strawberry and goat cheese with balsamic glaze, or try some zesty avocado with corn salsa and lime juice. Not only is it a delicious snack, but it's also a showstopper! The bright colors and fancy toppings make it a show-stopping centerpiece that will make any gathering even more special. So what are you waiting for? Grab your friends, get them cooking, and take them on a culinary journey with a bruschetta bar! Celebrate the flavors, the fun of getting together, and the memories you'll make.
Get the recipe here.
---
Related: Valentine's Day Appetizers
---
6. Mini Grilled Sandwich
Experience a unique and international flavor experience with our mini grilled sandwich recipe. These mini-sandwiches are perfect for indulging in a variety of flavors, from the fresh basil pesto to the creamy vegan cheese. To make these delicious bites, spread a generous layer of the vibrant green pesto onto the crusty bread, then layer slices of vegan cheese (vegan mozzarella, vegan cheddar, etc.) and top with a sprinkle of fresh tomatoes and herbs. Grilled to perfection, these sandwiches have a crunchy exterior and a creamy interior.
These mini grilled Sandwiches are the perfect finger food for your guests or as a snack for yourself. Not only are they super cute, but they'll also take you to all the culinary destinations around the world! Just bite into them and let the international flavors take you on a culinary journey. You can even add your own toppings like roasted veggies, onions, or a drizzle of Balsamic Glaze for a personal touch. Get ready to be charmed by the perfect combination of pesto and vegan cheese, plus the delicious crunch of a grilled sandwich. These mini delights will take your taste buds on an unforgettable journey!
Get the recipe here.
---
No celebration is complete without dessert. In the following sections, we will explore simple yet sophisticated desserts that will tantalize the taste buds of your guests.
Sweet Treats
And don't forget about the sweet tooth! A successful party always has a variety of sweet treats to indulge in. There are plenty of easy and elegant options to choose from.
5. Strawberry Shortcake Kabobs
If you're looking for a delectable finger food that will entice your taste buds, the Strawberry Shortcake Kabob is the perfect choice. These succulent kabobs are a delightful combination of fresh strawberry, pound cake, and whipped cream, all in one bite-sized serving. To make these kabobs, simply thread the juicy strawberries onto the skewers and add a dollop of moist pound cake. The combination of the vibrant red strawberries and the golden cake creates a visually stunning presentation. Each bite of kabobs is rich and juicy, while the cake adds a rich buttery flavor. To elevate the experience, a dollop of whipped cream is added to the kabobs, creating a luscious and elegant dessert.
Strawberry shortcake kabobs are irresistible finger food that is perfect for any occasion, from parties to picnics to cozy nights. Their skewer format makes them easy to prepare and mess-free, while also adding a whimsical touch to any meal. Whether you are looking for a special treat for a gathering or simply want something sweet to satisfy your cravings, these finger foods are sure to be a hit. Featuring a delightful combination of fresh fruit, cake, and whipped cream, these kabobs are sure to entice your guests and delight your taste buds.
Get the recipe here.
---
4. Mini Fruit Tarts with Pastry Cream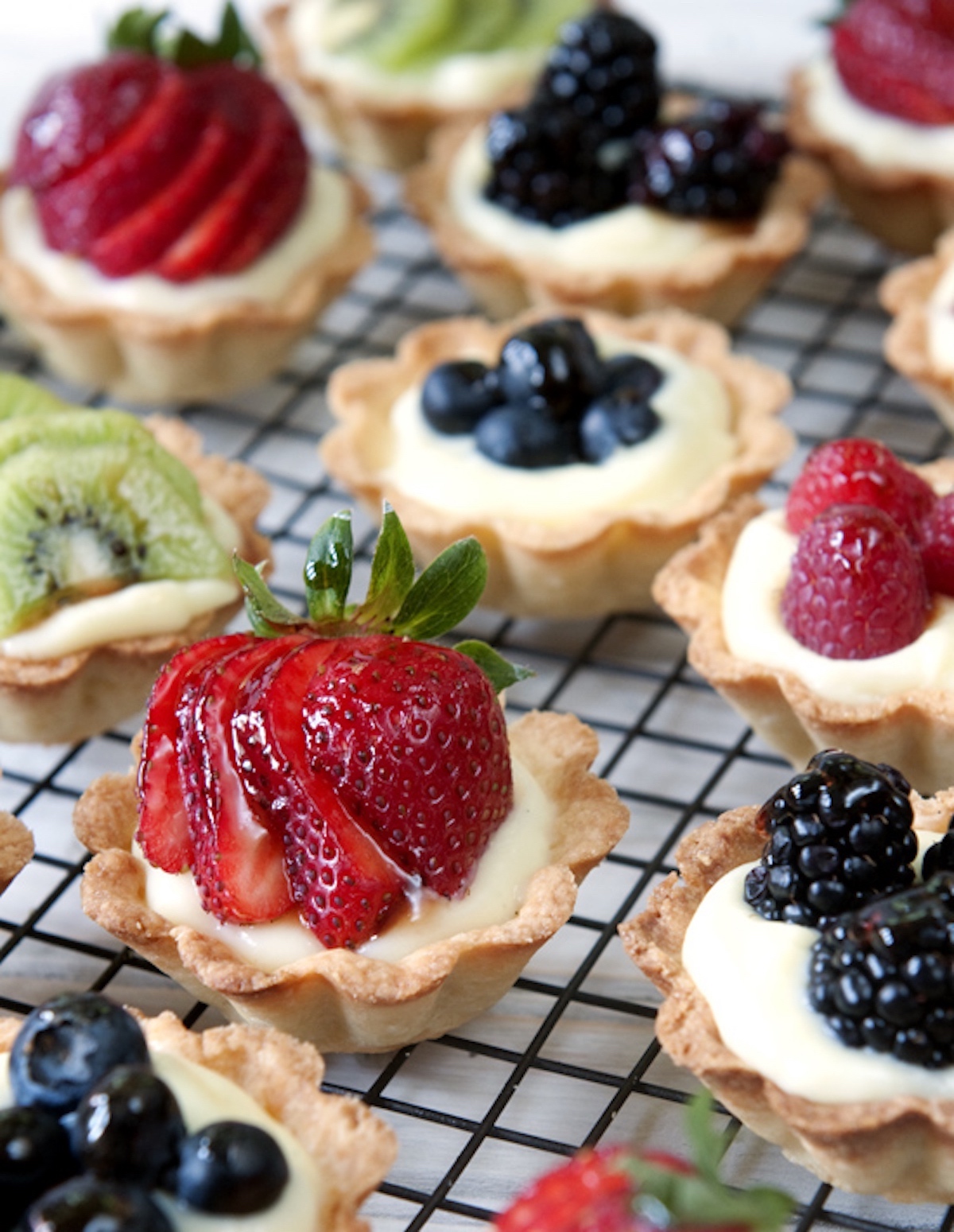 Allow yourself to indulge in a delightful burst of fruit flavor with our Mini Fruit Tart recipe. These small finger foods are ideal for those times when you are looking for a delectable dessert that is not overly indulgent. Begin by preparing a tender pastry crust, forming the base of the tart. Bake to a golden brown, and the crusts will be filled with velvety and luscious pastry cream. This cream provides a creamy background that complements the colorful assortment of fresh fruit.
When it comes to topping each tart, you can choose from a variety of seasonal fruits, such as strawberries, blueberries, and kiwi. The combination of fruits adds a refreshing, naturally sweet flavor that elevates the tart. Mini Fruit Tarts are not only beautiful to look at, but they're also packed with flavor and texture. The buttery crust gives them a nice crunch, and the filling is creamy and juicy. Every bite is full of sweetness and flavor. Whether you're having a party or just want to treat yourself, these mini fruit tarts with pastry cream are sure to be a hit and everyone will be wanting more. So grab some and let these mini fruits take you to the next level.
Get the recipe here.
---
3. Chocolate Truffles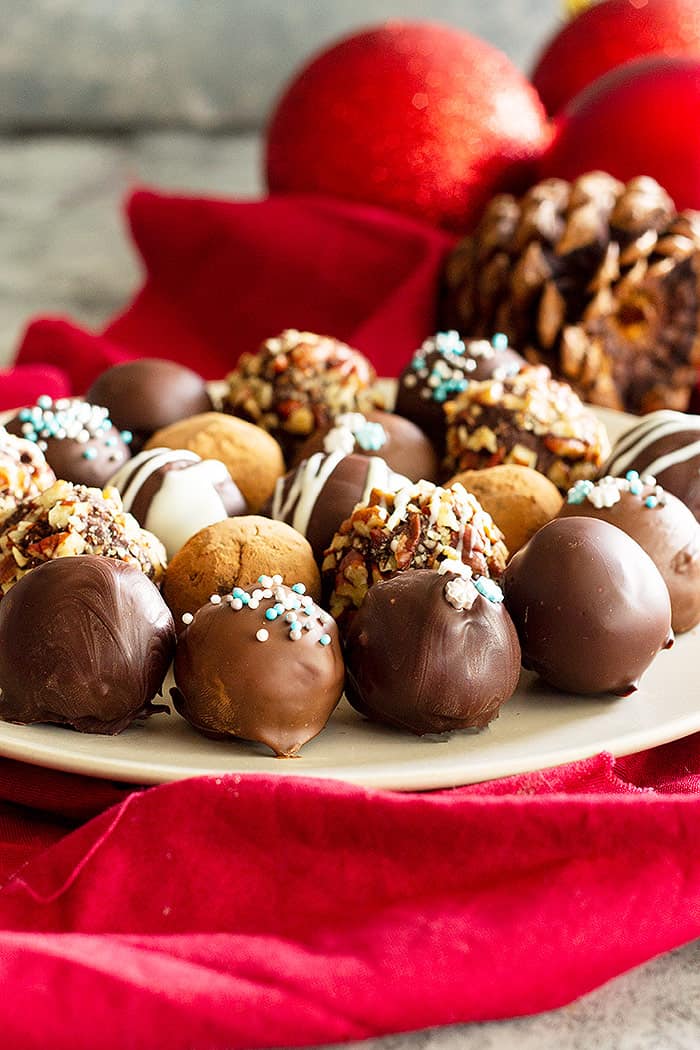 Chocolate truffles are the perfect treat for anyone with a sweet tooth. They're delicious finger food that melts in your mouth and takes you on a journey of pure decadence. To make them, melt some high-quality chocolate – dark, milk, or white – and add a splash of creamy vegan milk or coconut cream for a creamy ganache. Then, add your favorite flavorings – vanilla, espresso, mint, raspberry, orange, or even chili – and let the mixture cool and firm up.
Once your ganache is set, you can shape your truffles by rolling them into small balls with a spoon. Sprinkle some cocoa powder or powdered sugar on top, or even some chopped nuts. Not only will these add a touch of elegance to your truffle, but they'll also give it that extra layer of flavor and texture. With their irresistible smooth center and decadent coating, these chocolates are the perfect treat for any special occasion. Treat yourself to them as a decadent dessert, give them to your friends or family, or just keep them around for when you need something sweet. These homemade chocolates are sure to satisfy your sweet tooth and leave you wanting more.
Get the recipe here.
---
2. Fruit Cake Bar
Fruit Cake Bars are irresistible finger food that is sure to tantalize and delight. The cake base is moist and tender, with a hint of vanilla and cinnamon, and is adorned with vibrant colors. The fruit is rich and luscious and is complemented by a rich chewiness and natural sweetness. As you bite into the fruit, you will be rewarded with a combination of softness from the cake and a satisfying chew from the dried fruits.
These Fruit Cake Bars are not only super yummy, but they're also super versatile. They're perfect for dessert spreads, tea parties, or just for a quick snack. Plus, you can eat them with your hands – no need to worry about utensils! So if you're craving something sweet, whip up some of these delicious bars and share them with your friends or keep them to yourself for a real treat. You'll love the fruity flavor and these finger foods will be your new favorite sweet treat.
Get the recipe here.
---
Related: Mini Tart Recipes
---
1. Mini Cheesecakes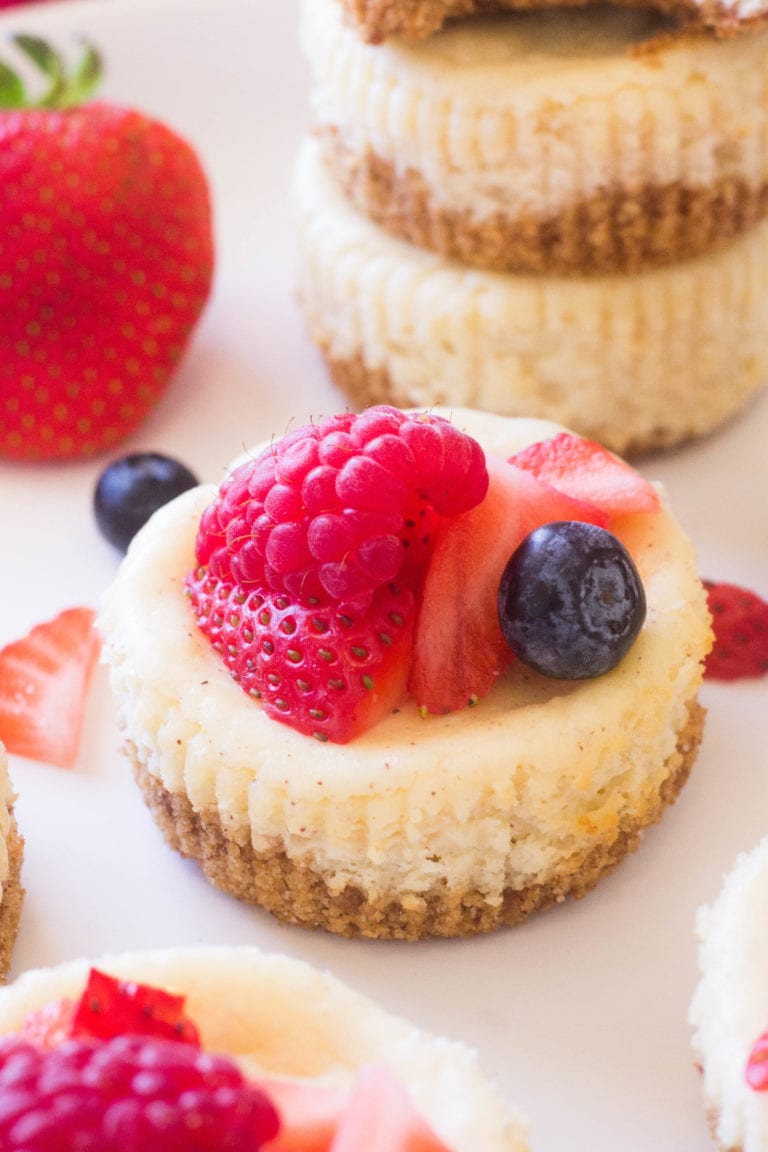 Mini Cheesecakes are an elegant and convenient finger food that offers all the creamy flavors and bite-sized portions of a traditional cheesecake in one bite. Their versatility allows for endless flavor combinations, allowing you to customize each one to your liking. Whether you're looking for a classic New York cheesecake, a fruity burst of raspberries or strawberries, or a decadent chocolate swirl, there is a recipe for mini cheesecake that will suit your taste buds.
Mini cheesecakes can be made in a variety of ways. To make them, start by preparing the crust with a buttery crumbly mixture of crushed graham crumbs, cookie crumbs, or a combination of the three. Then, press the mixture into the bottom of a mini cupcake liner, forming the ideal foundation for the cream cheese filling. Finally, pour the mixture over the crust and allow it to cool in the refrigerator.
Mini cheesecakes are the perfect dessert! With their buttery crust and rich, creamy filling, plus the option to customize it with toppings and drizzles, you can really get creative and make your own mini cheesecake. Whether you're looking for a sweet treat for the afternoon, a dessert to end a meal with, or something to take with you on the go, mini cheeses are sure to be a hit. Treat yourself or your friends to one of these delicious treats and you'll be in for a treat-filled day.
Get the recipe here.
---
Serving Suggestions
Now that you have a list of easy and elegant finger food recipes and sweet treats, it's time to think about presentation. After all, beautifully presented food not only impresses your guests but also enhances their experience. Here are some serving suggestions to elevate your presentation:
1. Use creative plating: Instead of serving food on ordinary platters or bowls, try using a variety of dishes such as serving boards, wooden trays, or even shot glasses. This will add visual interest to your presentation.
2. Play with colors: Consider incorporating different colors into your display to create a cohesive and eye-catching spread. For instance, if you're serving fruit skewers, opt for a variety of colorful fruits such as blueberries, raspberries, and kiwis.
3. Add height: Create depth in your presentation by incorporating various heights, such as using cake stands to display bite-sized desserts or stacking different-sized plates to create a tiered display for savory snacks.
With these serving suggestions, you'll be sure to impress your guests with a delicious display that's also visually appealing. And while you're busy entertaining your guests, don't forget to check out the frequently asked questions section for some helpful tips on hosting a successful party.
---
FAQ
With these easy and elegant finger food recipes, you'll be able to create a delicious spread that's perfect for entertaining. But, as any host knows, throwing a successful party takes more than just tasty treats. That's why we've put together a list of frequently asked questions to help ensure your event runs smoothly.
Q: How many different types of finger foods should I serve?
A: It's best to have a variety of options to accommodate all of your guests' tastes and dietary restrictions. We recommend serving at least three to four different types of finger foods.
Q: Can I prepare the finger foods in advance?
A: Yes! Many of these recipes can be prepared ahead of time and stored in the fridge until the party. Just make sure to follow any storage instructions provided in the recipe.
Q: How much food should I prepare per guest?
A: As a general rule, plan for each guest to eat around six to eight finger foods. If you have a larger crowd, you may want to increase the number of servings per person.
Q: How can I make sure my finger foods stay fresh throughout the party?
A: It's important to keep your finger foods at the appropriate temperature to prevent spoilage. If you're serving hot foods, use chafing dishes or slow cookers to keep them warm. For cold foods, use ice packs or bowls of ice to keep them chilled.
---
So, next time you're throwing a dinner party or a casual gathering, whip up some of these finger food recipes and you'll be sure to wow your guests!
---
If you like this article about finger food recipes, please share this with your friends on Facebook, Twitter, and Pinterest. Also, you can subscribe to my blog to get all the latest articles first on your mobile.
SHARING IS CARING!
FACEBOOK | TWITTER | PINTEREST
Did you like this recipe and make it later at home? SAVE this pin to your favourite board on Pinterest!