Healthy Lunch Box Recipes for Kindergartners that are Delicious and Nutrient-Packed.Here we emphasize the importance of a nutritious lunch for children and provide tips on how to create a nutritious lunch box for your little one. The recipes include Veggie Pinwheels, Mini Quiches, Mini Pizza Muffins, and much more. It also includes tips on how to involve your little one in your lunch packing process. The article aims to help parents balance nutrition with taste in their child's lunchtime routine. Whether it's a half-eaten sandwich or a nutritious and tasty treat, there are 31 mouth-watering recipes that will satisfy your child's taste buds as well as their nutritional needs.
Packing a healthy and tasty lunch for your little one can be a daunting task for any parent or caregiver. You want to make sure your little one gets the nutrients they need while also enjoying their meal. We've compiled a list of 31 nutritious and kid-friendly lunch ideas that will keep your little one excited about lunchtime.
How to Involve Your Child in the Lunch Packing Process
Have a lunch-packing conversation with your kindergartner about their favorite foods and make a list of what they like to eat. Take them with you to the grocery store so they can pick out their favorite fruits, vegetables, and snack items. Set up an area in the kitchen where they can help put their meals together. Let them choose what they want on their sandwich or lunch box.
Help them make simple recipes like pasta salad or yogurt parfait. It's a great way to teach your kindergartners life skills and help them develop healthy eating habits, and it's a great bonding opportunity for you. Make lunchtime a team effort and fun for both of you.
---
Related: Banana Chips Recipe
---
Veggie Pinwheels
Remember that kids always love to eat things that look prettier or cute. For kindergarteners, vegetable pinwheels are an ideal lunch option that's both nutritious and satisfying. To make them, spread cream cheese or hummus-based dressing on whole wheat tortillas and let your child choose their favorite veggies. The vegetables should be evenly distributed and the tortilla should be tightly rolled. Cut the pinwheels into bite-sized pieces and package them with extra toppings to keep your child satisfied and interested all day.
Get the recipe here.
---
Related: Low-Carb Vegan Recipes
---
Mini Quiches
This recipe also looks very cute and small so I suggest this recipe too. Make mini quiches for your kindergartner's lunch box! They are very easy to make and you can customize the fillings as per your child's preference. Plus, they're packed with protein and all the nutrients you need. All you have to do is mix together some eggs and milk, salt and pepper, pour it into a greased muffin tin, and bake it in the oven until it's nice and golden. Top it off with some fresh veggies and you've got yourself a delicious meal. Try it in the lunch box, I promise your kids won't bring it back.
Get the recipe here.
---
Suggested: How to Fill a Lunchbox
---
Turkey and Cheese Roll-Ups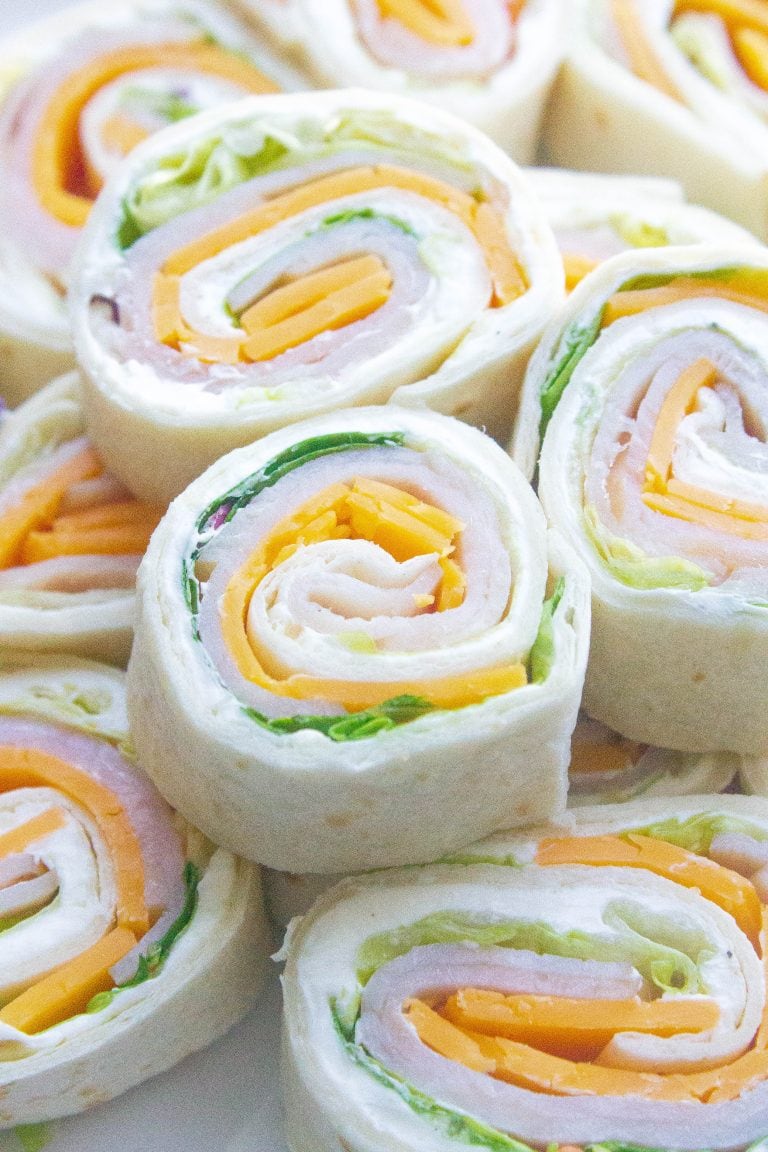 Turkey and Cheese Roll Ups are a nutritious and easy-to-make lunchbox option for kindergarteners. They are a great source of protein as well as calcium and can be prepared in a variety of ways. To make them more versatile, add extra ingredients like avocados, lettuce, mustard, or mayonnaise. Serve them with a variety of fresh sides, such as baby carrots or cherry tomatoes, as well as fruit salad.
Get the recipe here.
---
Related: Turkey Recipes
---
Rainbow Pasta Salad
This is another colorful recipe that will attract your kid. It is better to prepare a little extra and send it to your child in a lunch box, as he can share it with his friends if he wants. This rainbow pasta salad offers a colorful and nutritious alternative to traditional pasta salad, offering a wide range of flavors and textures. Salad is made by boiling the pasta, cooking the vegetables, and rinsing them with cold water. Diced peppers, cherry tomatoes, and spinach are added to the salad, and the vinaigrette is added on top. The salad is then drizzled with olive oil and lemon juice, Dijon mustard, and seasoned with salt and pepper. Additionally, it can be customized with proteins such as shredded chicken or cooked shrimp, as well as cubed cheese. This salad is ideal for a balanced and nutritious lunch, providing essential nutrients from vegetables. It's visually appealing and will enchant your child's taste buds throughout their school days.
Get the recipe here.
---
Related: Keto Pasta
---
Chicken and Vegetable Skewers
This time the recipe is a little different. After all, kids aren't excited unless they're eating something new and surprising every time. This is one such recipe. Chicken and veggie skewers are the perfect healthy and fun lunch for your kindergartner. Marinate your chicken in a marinade with olive oil and lemon juice. Add the garlic and herbs to the marinade. Prepare vegetables like bell peppers, cherry tomatoes, zucchini and mushrooms. Thread your chicken and vegetables onto the skewers and leave enough room for your kindergartners to grab. Grill on a grill or stovetop grill pan or in the oven. Serve as is or with a dipping sauce. Pack your kindergarteners' lunch boxes with fresh fruit, whole-grain crackers, and water. This nutritious and satisfying lunch will keep your kindergartner energized and focused.
Get the recipe here.
---
Related: Shish Kabob Recipes
---
Fruit Salad with Yogurt
This does not mean that you always have to cook something, sometimes you can make a salad by cutting different fruits. Fruit Salad with Yogurt is a delicious and tangy fruit salad for your kindergartner's lunch box. Fresh fruits like strawberries, blueberries, grapes, watermelon, pineapple, etc. can be washed and prepared in your kitchen. Cut the fruits into bite-sized pieces and add to the yogurt. You can use plain yogurt or some flavored yogurt. Mix the chopped fruits with the curd, stirring until all the fruits are coated. For a sweeter taste, add honey or maple syrup. Pack the fruit salad in a container that is leak-proof and has a fork or spoon for easy use. Fresh fruit and protein-rich yogurt make for a nutritious and balanced meal.
Get the recipe here.
---
Related: Easy Chicken Recipes
---
Mini Pizza Muffins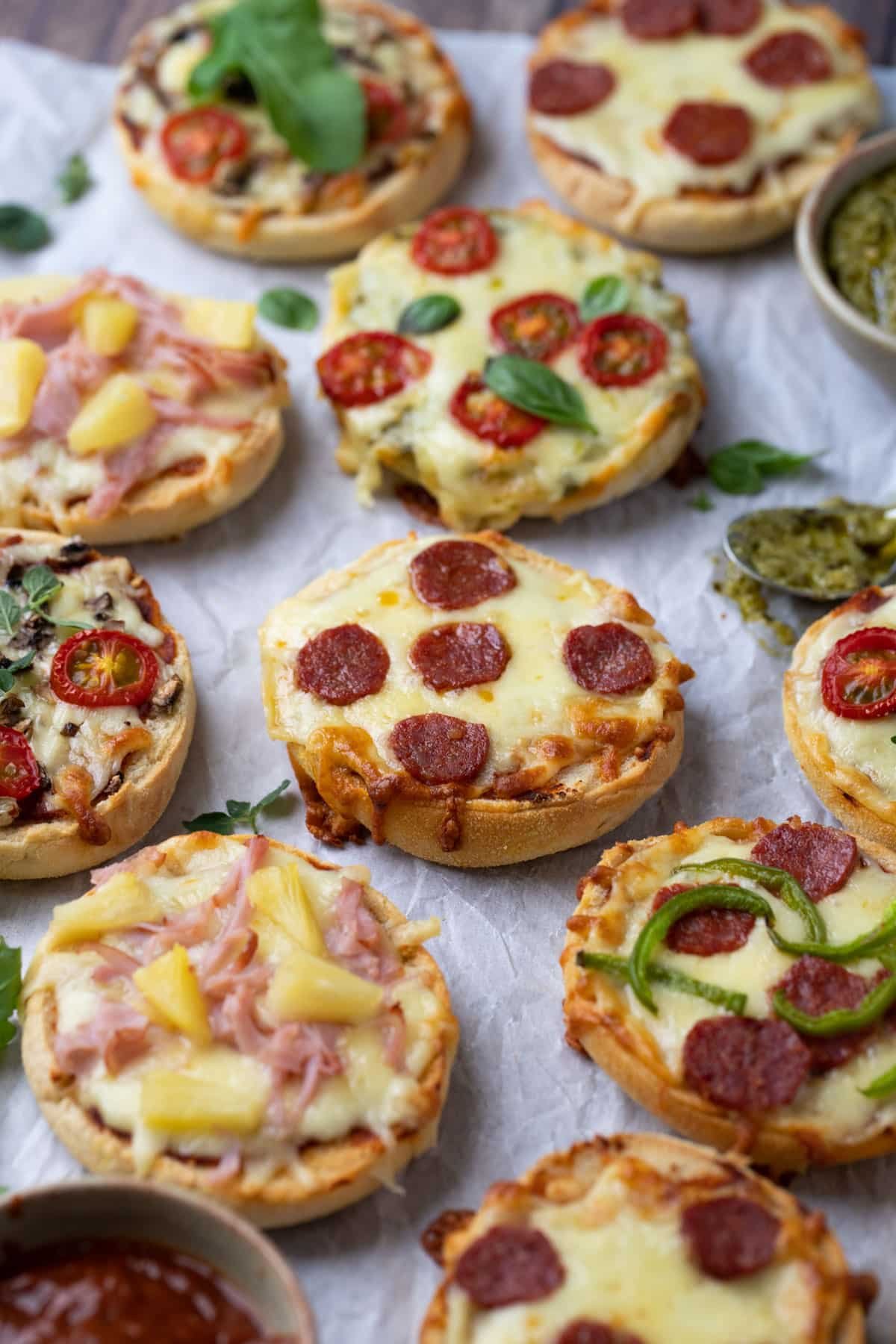 Everyone, young and old, loves pizza. Kids love it more, so you will be delighted to have this pizza at Tiffin. Mini Pizza Muffins are an easy and delicious lunch option perfect for any time of day. In a small bowl, mix together the flour, baking powder, and salt with the dried herbs and whisk together the milk, eggs, and melted butter. Place mini pepperoni slices in a small muffin tin, sprinkle with chopped bell peppers and shredded cheese or any other desired toppings, and spoon over. Bake for 12 to 15 minutes and let cool before adding the marinara sauce on top. Mini Pizza Muffins provide a fun and nutritious lunch option that includes vegetables and protein.
Get the recipe here.
---
Related: Keto Pizza Recipes
---
Chicken Salad Lettuce Wraps
Chicken salad wraps are a delicious and nutritious lunch option for your kindergartner. To make these wraps, simply poach chicken and shred it. Then, add it to a bowl with a thin layer of mayonnaise and a thin layer of diced celery. Add the dressing to the chicken salad mixture and mix it all together. Top with chopped green onions and sliced almonds. Chicken salad wraps are high in protein, vitamins, and minerals.
Get the recipe here.
---
Related: Nutritious Food Suggestions for Your Daily Routine
---
Hummus and Veggie Wraps
For kindergarteners, hummus and vegetable wraps are a nutritious and delicious lunch option. These wraps are best enjoyed with vegetables and fruits like cucumbers, bell peppers, carrots, lettuce, avocados, and more. To make them more nutritious, it is recommended to divide them into smaller portions and choose healthy options like low-fat cheese or homemade yogurt-based dressings. Wraps should be tightly rolled and then packaged with fresh fruit and crackers, as well as water. This nutritious and healthy lunch will give your child the energy and concentration needed to successfully complete the rest of the school day.
Get the recipe here.
---
Related: Delicious Hummus Recipes
---
Veggie Quesadillas
Veggie Quesadillas are a nutritious and colorful lunch option for kindergarteners. They are made with warm tortillas filled with bell peppers, tomatoes, and zucchini melted cheese. The recipe is versatile and can be customized with different vegetables. Just heat a non-stick pan, add cheese, and cook until golden brown. Allow to cool before cutting into bite-sized triangles or squares. Pack in a lunchbox with salsa or guacamole for dipping. The combination of flavors and textures will keep your baby satisfied all day long. The possibilities are endless.
Get the recipe here.
---
Suggested: Benefits of School Lunch
---
Ants on a Log
You know how difficult it is to feed children, sometimes we have to feed them with different games. This recipe is specially made for children, but nowadays many adults also like to eat this recipe. Ants on the log are a simple combination of celery sticks, peanut butter, and raisins. This dish is loved by kids and adults alike. Celery sticks are cut into small pieces. Spread the peanut butter in the center groove of the celery. Raisins are added to peanut butter to make it look like ants walking on a log.
This dish provides a delicious crunch, creamy texture, and natural sweetness. It is a good source of nutrients for the overall health and well-being of children. The recipe is easy to make and makes a great lunch.
Get the recipe here.
---
Related: Easy Apple Recipes
---
Ham and Cheese Pinwheels
These ham and cheese pinwheels are super yummy and super easy to make for your kindergartner's lunchbox. They're high in protein and calcium, and you can refrigerate or microwave them. All you have to do is spread some mustard on your puff pastry, add some grated cheese, and top with some slices of deli ham. You can customize them with other toppings like turkey, roasted veggies, or even herbs. Let your child pick their own fillings or dip to add to their lunch.
Get the recipe here.
---
Related: Healthy Ham Recipes
---
Veggie and Cheese Skewers
We know that any type of tikka or kebab is nutritious but food for kids should not always be prepared with so much oil and spices, so this recipe can be made as a substitute for any spicy kebab. Colorful Veggie Skewers are a great way to personalize your child's lunch. Arrange cherry tomatoes and cucumber slices on small skewers, then top with bell pepper slices baby carrots, and your child's favorite cheese. Arrange the vegetables alternately on the skewers and thread the cheese over the vegetables. Serve on veggie and cheese skewers or with dipping sauce of your child's choice.
Get the recipe here.
---
Related: Summer Dinner Recipes
---
Apple Cinnamon Muffins
Apple Cinnamon Muffins are a simple and easy-to-follow breakfast dish that's perfect for adding fruit to a child's lunch routine. The recipe calls for a simple mix of ingredients like flour and baking powder as well as sugar and applesauce. Eggs, milk, vanilla extract, and a pinch of cinnamon are all you need to make muffins. These muffins are packed with nutrients and perfect for any time of day. After baking, the muffins can be refrigerated in an airtight container for up to three days.
Get the recipe here.
---
Related: Cinnamon Dessert Recipes
---
Tuna Salad Lettuce Wraps
Tuna Salad Wraps are one of my favorite lunchtime snacks that my kindergartner would love. They are packed with protein and flavor. They are a great alternative to the traditional tuna salad sandwich and are light and crunchy.
How to wrap tuna salad?
Mix canned tuna in a bowl with a little mayonnaise and a dash of lemon juice. Add salt and pepper and season with diced celery or chopped pickles. You can also add dried herbs to tuna salad for extra zesty flavor.
Pour tuna salad over large lettuce leaves (such as romaine lettuce or butter lettuce) and wrap in small packages. The best part about these tuna salad wraps is that they are interactive. Kids love making their own food and these wraps are a great hands-on activity for them at lunchtime. You can also add grated carrot or cucumber slices to tuna salad, or add some Greek yogurt for creaminess.
Get the recipe here.
---
Related: Delicious Tuna Recipes
---
Veggie Sushi Rolls
I don't know about you, but Susie's words make my mouth water. Veggie sushi rolls are an ideal addition to a kindergarten lunch box. These rolls offer a wide range of tastes and flavors as well as a variety of textures. Additionally, they are a great way to add fresh vegetables to your child's daily diet. To make vegetable sushi rolls, spread sushi rice on a sheet of Nuri and arrange the vegetables on one end. Form the nori roll into a cylinder and cut it into bite-sized pieces. Vegetable sushi rolls are also a great way to help develop fine motor skills.
Get the recipe here.
---
Related: Afterschool Snacks For Kids
---
Banana Berry Smoothie
Banana Berry Smoothie is a super yummy and nutritious smoothie packed with vitamins and antioxidants. Add some ripe bananas, some mixed berries, some yogurt, and some milk, and mix together until it's thick and creamy. For extra flavor, add some honey or cinnamon. Get your kindergarteners involved in the process and let them push the buttons on the blender. This is a great way to teach your child about food and help them become more independent. Also, it is perfect for lunch.
Get the recipe here.
---
Related: Healthy Smoothie Recipes
---
Mini Taco Cups
These mini taco cups are a yummy and fun way to make a classic taco. Heat a muffin tin in the oven and spray with non-stick spray. Dip each tortilla cup into the meat mixture and fill about halfway. Add the crumbled cheese and crumbled toppings and bake until golden and crunchy, 10 to 12 minutes. Let them cool slightly before serving with salsa or guac for dipping.
Get the recipe here.
---
Related: Taco Recipes for Holiday
---
Caprese Skewers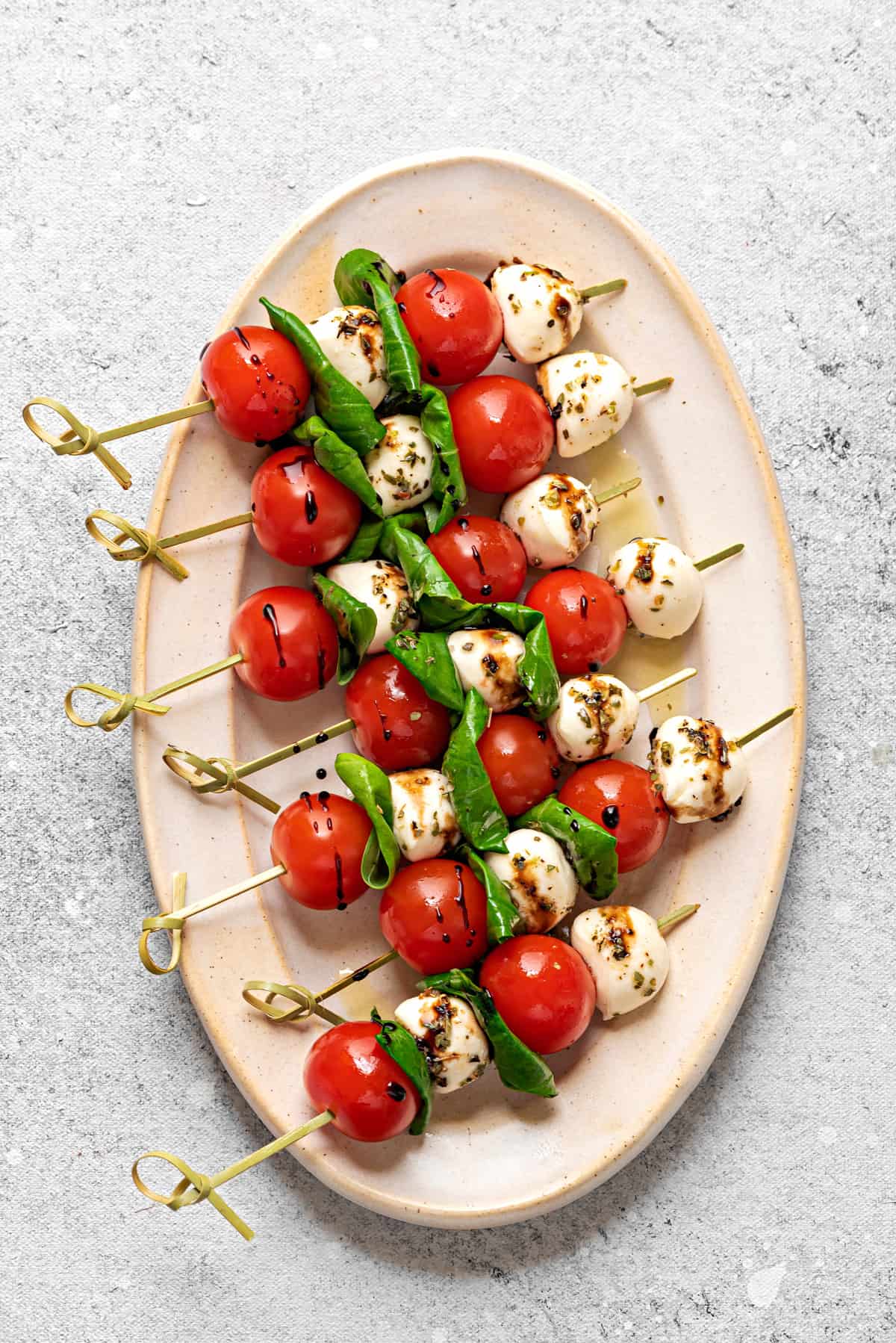 Skewers are a great way to add some flavor and nutrition to your Caprese salad! All you need to do is gather the ingredients: cherry tomatoes, mini-mozzarella balls, basil leaves, toothpicks, and small skewers. Mix it all together and you are ready to eat! Plus, you can pack them in your kindergarten lunch box for a fun and interactive meal. Your child can eat each ingredient by itself or mix them together for a delicious combo!
Get the recipe here.
---
Related: Salad Dressing Recipes
---
Trail Mix with Nuts and Dried Fruits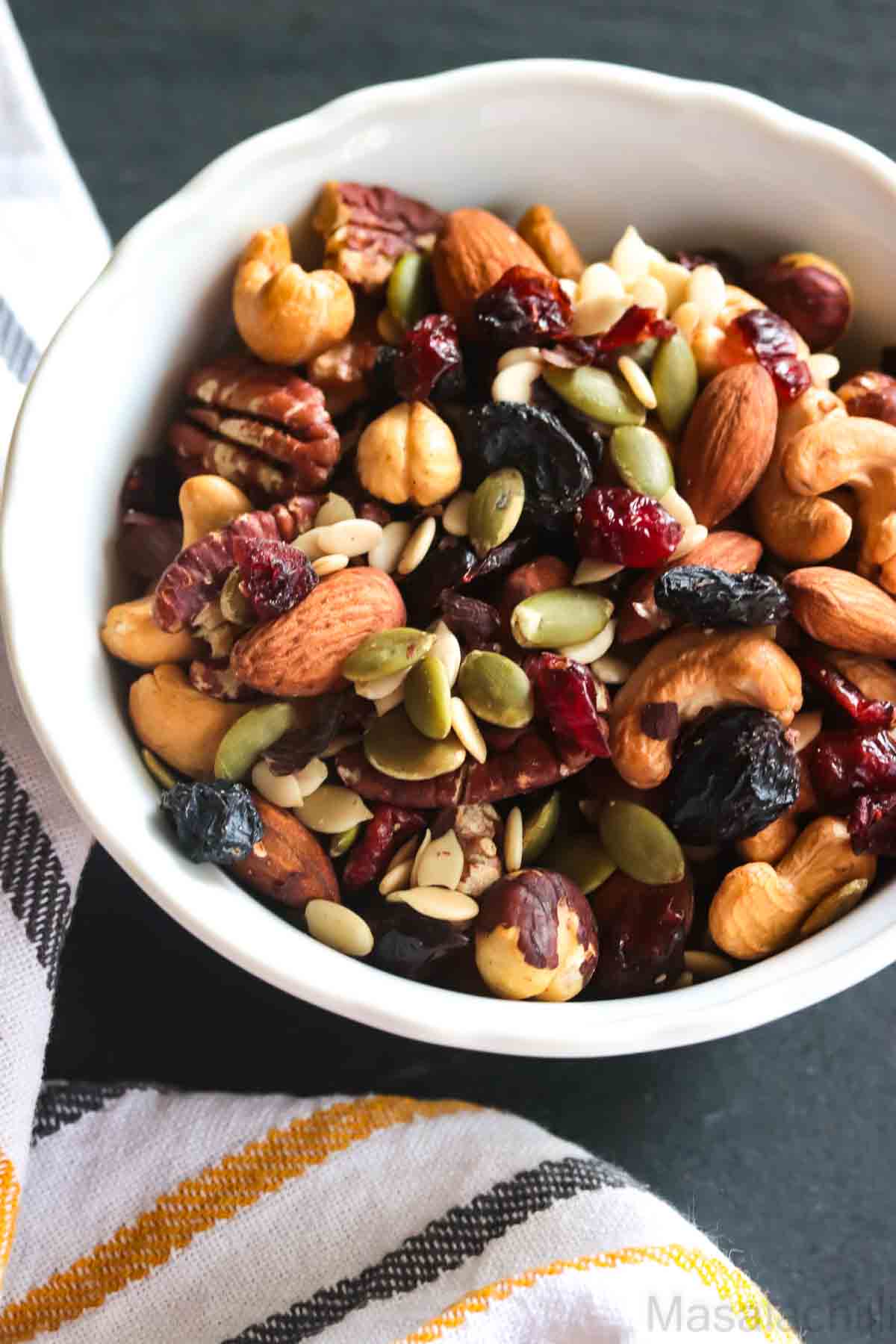 Trail mix is the perfect snack to keep your kindergartner energized throughout the day. Mixing in almonds, cashews, peanuts, raisins, dried fruit, dark chocolate chips, pretzels and more is a great way to satisfy your child's taste buds. The trail mix is packed with essential nutrients and offers a variety of textures, flavors, and tastes to keep your little one engaged.
Not only is trail mix a great snack for your kindergartner, but it's also a great snack for other occasions. Whether you're heading to the park, on vacation, or hanging out at home, having trail mix on hand will ensure your kindergartner has a nutritious meal to eat throughout the day. (Keep in mind that your child may have allergies or dietary restrictions.)
Get the recipe here.
---
Related: Packed Lunch Ideas
---
Cheese and Crackers
The classic snack of cheese and crackers is a favorite among children and provides a balanced diet of protein, carbohydrates, and fat. It is easy to pack and does not require refrigeration. Cheeses such as cheddar, mozzarella, and Swiss cheese are excellent choices, and the cheese can be pre-cut into sticks or cubes. Whole wheat or multi-grain crackers are also beneficial for fiber and nutrients. Fruit slices or carrots can be added to the meal for a balanced meal. To pack cheese and crackers, add a few slices of cheese or cubes to a reusable container and add a few crackers to the container. Small ice packs or insulated bags can be included to ensure freshness and safety.
Get the recipe here.
---
Suggested: Environment-friendly Food Packaging Options
---
Mini Bagel Pizzas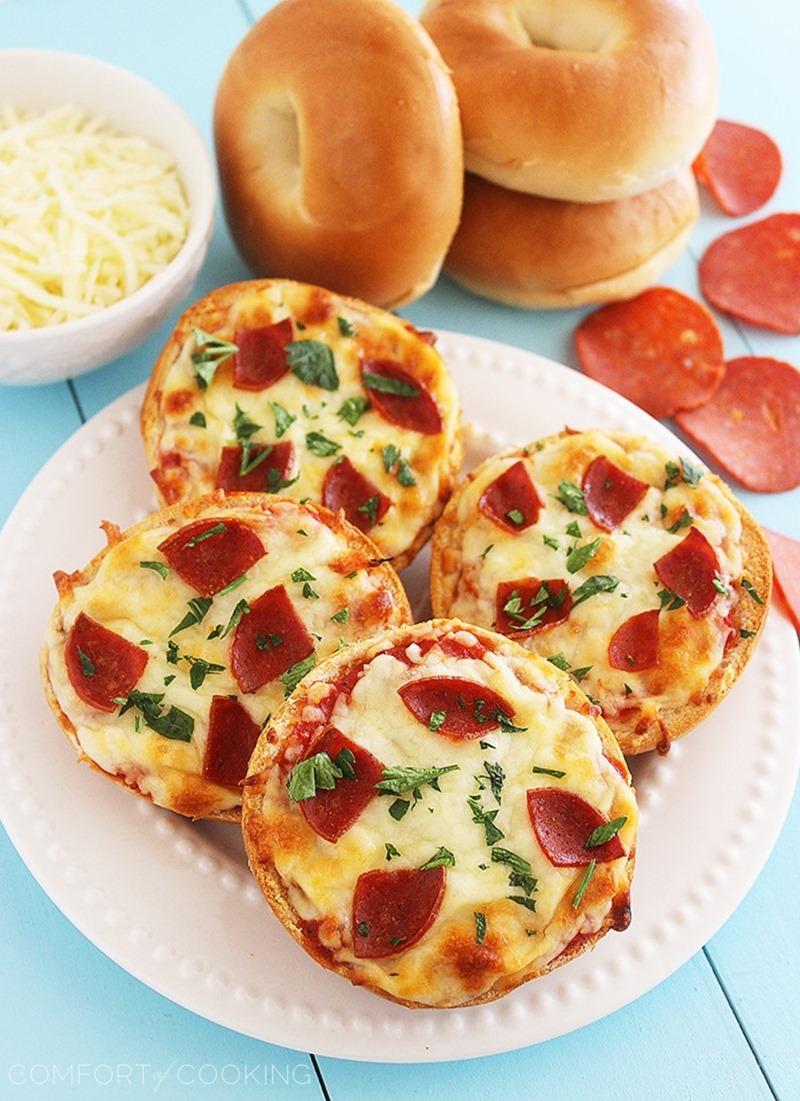 You say who does not love to eat pizza? Kids like it more. That's why mini bagel pizzas are a fun alternative to traditional lunchbox sandwiches that can be prepared ahead of time. Mini bagels can be cut in half, and pizza sauce can be spread on each half to allow the kindergartner to add their desired toppings. Pizza sauce can be purchased from a grocery store, or made by combining tomato sauce, Italian herbs, and spices. Toppings can be shredded, mozzarella, parmesan, or oregano or sprinkled on top. Pizzas can be cooked in a toaster or microwave until the cheese is melted and the bagel halves taste slightly toasted. Pack the pizzas into a small container and wrap them in slices of fresh fruit or a crunchy carrot stick. These pizzas are great at room temperature or even slightly warm. Their compact size allows them to be easily held and eaten without any mess.
Get the recipe here.
---
Related: Egg Salad Recipes
---
Egg Salad Lettuce Wraps
Eggs and lettuce are both very good for your baby. These egg salad lettuce wraps are the perfect addition to your kindergartner's lunchbox. Start by boiling some eggs and mixing them with a little mayonnaise and a dash of Dijon mustard. Add some salt and pepper to the egg salad mixture and spoon a generous amount onto a lettuce leaf. Roll up the egg salad into a burrito-like shape and wrap it in plastic wrap or a small, uncovered container. Serve this wrap with fresh fruit and some shredded cheese for a delicious and nutritious lunch.
Get the recipe here.
---
Related: Low-calorie Egg Recipes
---
Fruit and Cheese Kabobs
Mentioning this recipe reminded me of another recipe and that is Cheesy Cherry Pineapple, which is one of my favorite dishes. We discuss it later. Make fruit and cheese kabobs to encourage your kindergartners to eat fruits and vegetables. It's an easy and imaginative way to introduce different flavors and textures to your child's lunchbox. Select a variety of fresh fruit and cheese cubes, cut them into bite-sized pieces, and assemble them on skewers. Let your child be creative and arrange the cubes into different patterns or shapes. Place the kabobs in a lunchbox lined with lettuce wraps, and a damp paper towel, and keep fresh. The combination of savory and sweet flavors, as well as interactive elements, will make this a hit with your kindergartner.
Get the recipe here.
---
Related: Keto Wraps Recipes
---
Tips for Packing a Nutritious Lunch Box
If you want to teach your child important life skills and help them develop healthy eating habits, why not involve them in your lunch packing process? Set up a designated space in your kitchen to help your baby put together his lunch so lunchtime can be a fun and productive time for both of you. Lay out all the ingredients and let your child pick out what goes into his sandwich or wrap, or you can help him make simple recipes like pasta salad or yogurt parfait. Packing a healthy lunch box isn't just about the food, it's about creating a fun and engaging experience for your child. When your child can choose and assemble their own lunch, they're more likely to choose what's packed and be enthusiastic about eating it. It encourages them to try different foods and develop healthy choices.
Including your child in your lunch packing experience can be a great way to strengthen your relationship. As you both work together to pick ingredients and prepare your meal, you can spend quality time talking and connecting. These moments together are a great way to create lasting memories of food and family.
---
Related: Homeschool Lunch Ideas
---
FAQ
1. Are these lunch ideas suitable for picky eaters?
Yes, these ideas include a variety of options to cater to different tastes. You can customize them based on your child's preferences.
2. How can I keep lunch fresh and safe until lunchtime?
Invest in an insulated lunchbox with ice packs or a thermos to maintain the right temperature for perishable items.
3. Can I prepare these lunches the night before?
Many of these lunches can be prepped the night before for convenience, such as pasta salads, wraps, and sandwiches.
4. What can I do to make these lunches more visually appealing?
Use colorful containers, include fun-shaped foods, and consider using cookie cutters to create exciting shapes.
5. Are there vegetarian or vegan options in these lunch ideas?
Absolutely, you'll find vegetarian and vegan-friendly options like hummus wraps, fruit kabobs, and bean burritos.
6. How do I ensure my child is getting a balanced meal?
Aim to include a variety of food groups, such as lean protein, whole grains, fruits, vegetables, and a source of dairy or dairy alternative.
7. Can these lunches be made in advance and frozen?
Some items, like muffins and mini pancakes, can be made in advance and frozen, making mornings less hectic.
8. What if my child has food allergies or intolerances?
Adjust the ingredients to accommodate allergies. For example, use gluten-free bread or nut-free spreads as needed.
9. How can I encourage my child to try new foods?
Involve them in the preparation process and let them choose ingredients for their lunches. Make it a positive and interactive experience.
10. What are some tips for a balanced, nutritious lunchbox?
A balanced lunch should include protein, fiber, and healthy fats to provide sustained energy throughout the day. Include fruits, vegetables, and whole grains for variety and nutrition.
---
Healthy lunch ideas for kindergarteners that are delicious, nutritious, and fun. This is a good opportunity for parents to be creative, experiment, and keep their children healthy and in control of their love for good food. The recipes include lots of different ingredients and different flavors to make sure you're giving your child all the essential nutrients they need every day. The more involved the child is, the more likely they will want you to help them pack their lunch. These options ensure your baby gets the best of both worlds: great taste and essential nutrition.
---
---
If you like this article about lunch ideas for kindergarteners, please share this with your friends on Facebook, Twitter, and Pinterest. Also, you can subscribe to my blog to get all the latest articles first on your mobile.
SHARING IS CARING!
FACEBOOK | TWITTER | PINTEREST
Did you like this recipe and make it later at home? SAVE this pin to your favorite board on Pinterest!