Looking for healthy and delicious salad recipes? These delicious easy keto salad dressing recipes are the best and perfect for meal prep.
We all know taking vegetables and fruits are very healthy for our body. So veggies and meat or fruits packed together and get nice flavorful salad recipes.
Salads are very nutritious, healthy and keep you healthy all day. Easy to prepare and a good meal for lunch and dinner. In your busy day and busywork, these easy healthy keto salad dressing recipes help you to stay focus on your work.
Not only that, but these ketogenic salads also help you to weight loss. Who are on a keto diet or just try to lose weight, these keto-friendly salad recipes are the best for them.
So today I'm discussing few simple and healthy keto salad recipes that so easy to make and all about ready within 20 minutes. Try these recipes at home and balance your diet.
---
[jetpack_subscription_form show_subscribers_total="false" button_on_newline="true" custom_font_size="16″ custom_border_radius="0″ custom_border_weight="1″ custom_border_color="#f78da7″ custom_padding="15″ custom_spacing="10″ submit_button_classes="has-f-78-da-7-border-color has-text-color has-background-color has-background has-vivid-red-background-color" email_field_classes="has-f-78-da-7-border-color" show_only_email_and_button="true"]
---
21. Keto Asparagus Avocado Salad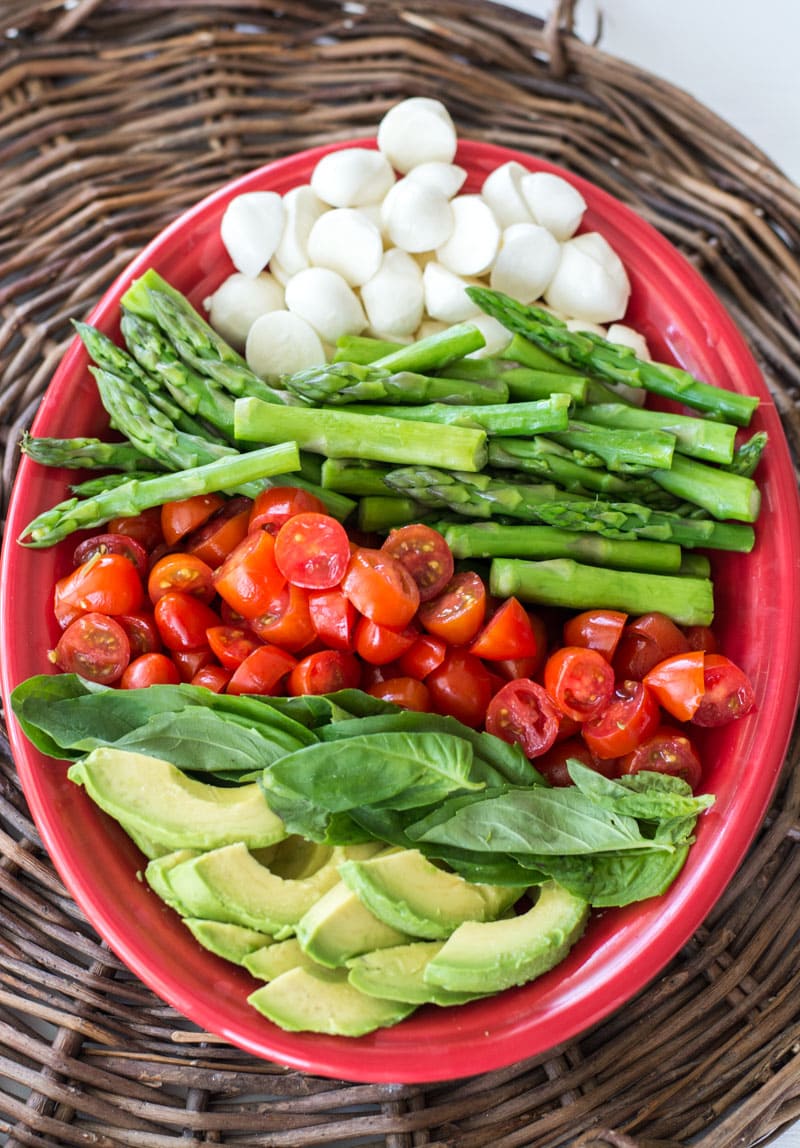 This keto avocado salad with asparagus is the best and perfect salad for summer. Topping with a lemon classic vinaigrette dressing makes this salad very delicious.
Get the recipe here.
---
Related: High Protein Meals & High Protein Lunch Ideas
---
20. Broccoli Cauliflower Salad
To make this fresh broccoli cauliflower salad very few simple ingredients and ready within 15 minutes. This salad is best for any occasion or holiday and parties or family gatherings!
Get the recipe here.
---
Related recipes that you may like:
Chicken and Broccoli Casserole
---
19. Salmon and Avocado Salad
If you have love with salmon, this salmon & avocado salad recipe definitely try. This keto salad recipe is ready within 20 minutes, so healthy and best for lunch! Also, you can add 1/2 cup of soy sauce, but that is totally optional.
Get the recipe here.
---
Related : Amazing Keto Fish Meals
---
18. Low-Carb Chicken Cobb Salad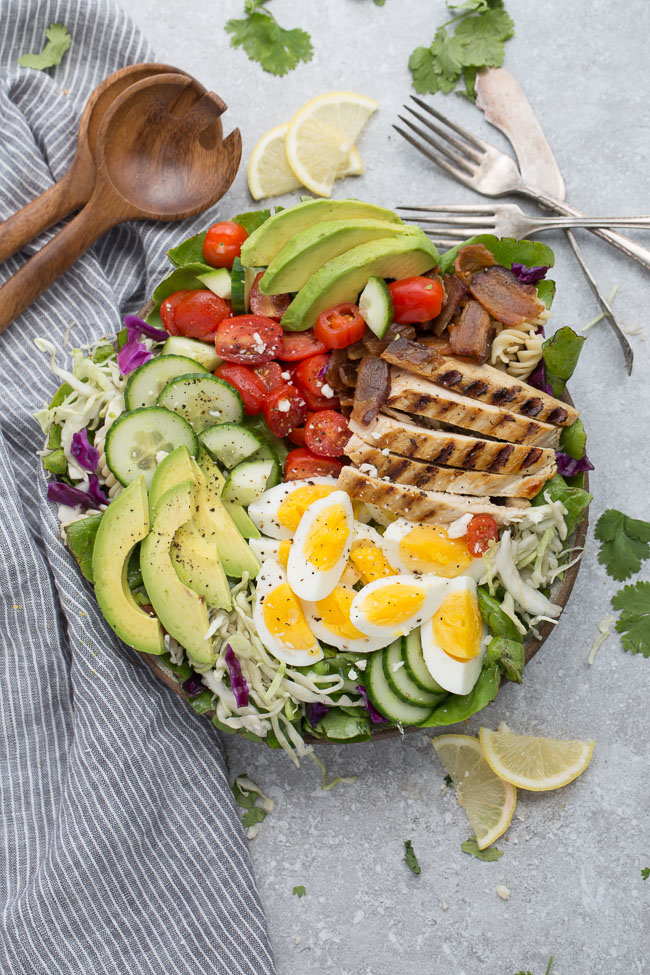 With grilled chicken, hard-boiled egg, bacon, cherry tomatoes, cucumber, avocado, lemon juice, olive oil, and other ingredients this low carb chicken Cobb salad is ready within 15 minutes. This is one of my favorite keto salad dressing recipes lunch recipes.
Get the recipe here.
---
Related: Air Fryer Chicken Recipes
---
17. Cumcumber Caprese Salad
Delicious! The best ever easy healthy vegan recipe – cucumber salad, which is best for a meal at lunchtime. Vegetarians will love this healthy meal prep recipe. Try at home now!
Get the recipe here.
---
Related: Healthy Salad Recipes for Lose Weight
---
16. Keto Salmon Salad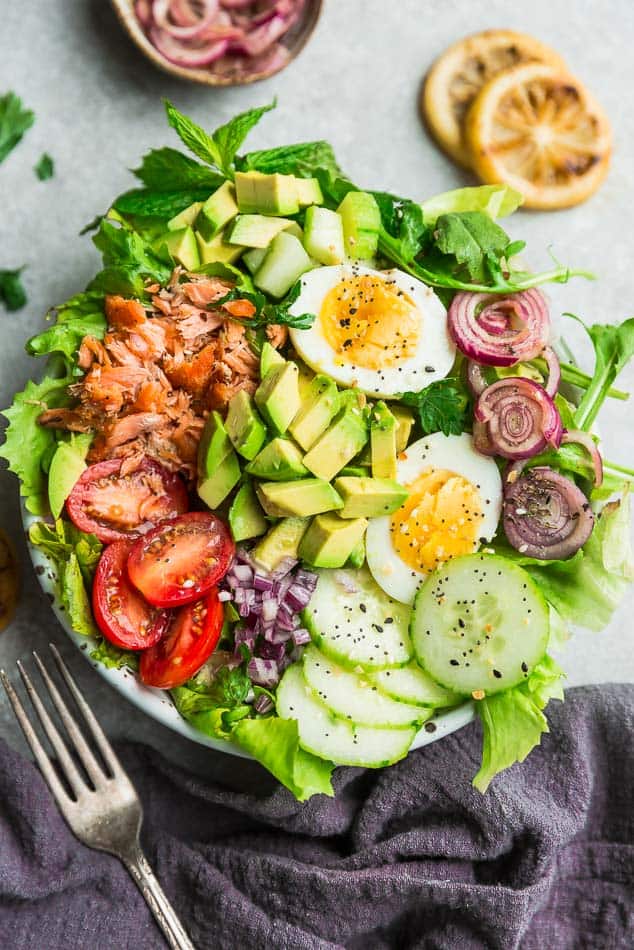 If you on a keto diet, this keto-friendly low carb salmon salad recipe is the best for you. Easy to make and perfect for lunch and weeknight dinner. You can sprinkle a little dijon mustard for extra taste.
Get the recipe here.
---
Related : Honey Garlic Baked Salmon Recipe
---
15. Avocado Shrimp Salad with Bacon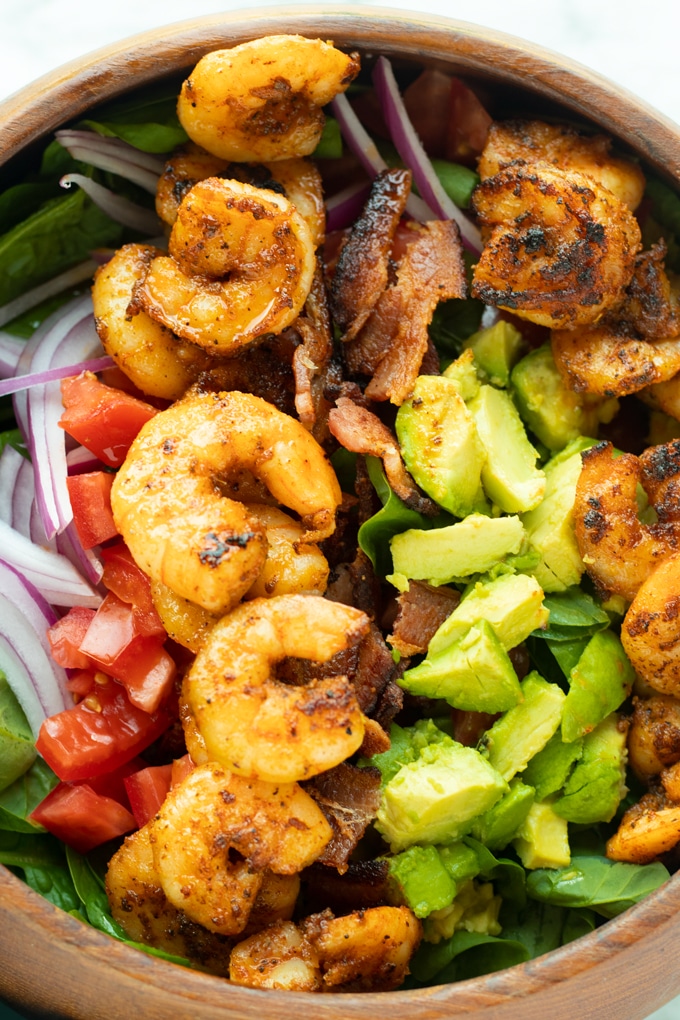 Search shrimp salad recipes for lunch? This shrimp avocado bacon spinach salad is the perfect meal for a healthy lunch meal. Easy to prepare and ready within 20 minutes. At the time of frying shrimp, add 1/4 cup of balsamic vinegar, that increase the shrimp softness. Lastly, you can add an extra lime dressing as an optional part.
Get the recipe here.
---
Related: Delicious Roasted Shrimp Recipes & Shrimp Broccoli Alfredo
---
14. Paleo Asian Chicken Cabbage Salad
This healthy and flavourful Asian chicken cabbage salad is keto-friendly, paleo, and whole 30 recipes. That great for family lunch or dinner meal with flavourful ginger dressing! You can add a little red wine vinegar in this Italian dressing like an extra taste.
Get the recipe here.
---
13. Strawberry Cheesecake Salad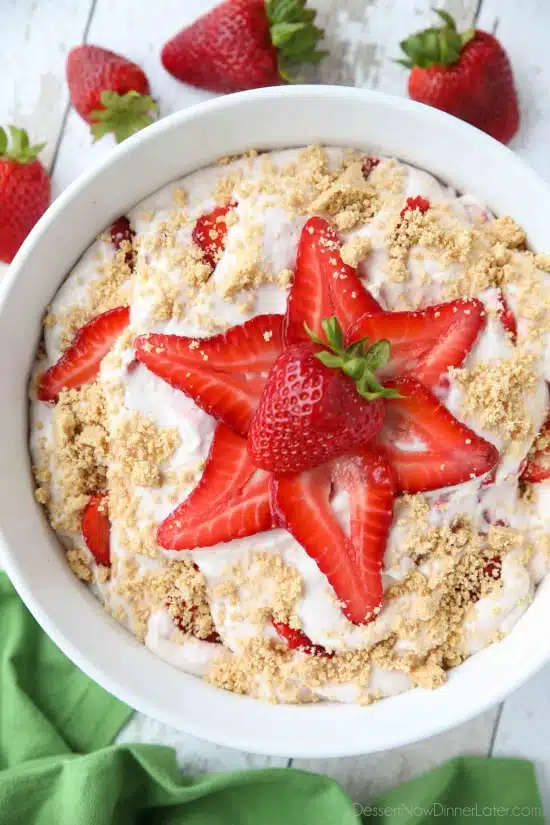 This strawberry cheesecake salad is such a salad that you can get both dessert and lunch meals. Everyone loves this creamy, delicious, healthy, fruity, sweet, and light salad recipe that easy to prepare at home!
Get the recipe here.
---
Related : Honey Fruits Salad Recipes
---
12. Greek Pasta Salad
The salad which is always good for health we know that but this easy greek pasta salad dressing, not only healthy also, it is gluten-free, grain-free, and easy lunch to pack, egg-free, weeknight meal, or as a summer side dish. This awesome delicious salad packed with protein and even Mediterranean-inspired flavors. This fabulous greek pasta salad recipe made with lots of fresh vegetables and healthy ingredients.
Get the recipe here.
---
11. Salmon Kale Salad with Creamy Lemon Vinaigrette
If you love to eat keto kale recipes, then I must say this salmon kale salad with creamy lemon vinaigrette recipe you like it too! Only 5 ingredients this salad will be ready for your lunch, must try! Greek yogurt is recommended for this keto salad dressing recipes.
Get the recipe here.
---
Related: Cheap Keto Meals
---
10. Tuna Keto Salad
This creamy tuna salad recipe is the best easy lunch idea. Keto friendly and only 1.5 net carbs, easy to prepare, and delicious taste. You won't believe that this keto salad dressing recipe is low in carb. As a substitute for sour cream, you can use regular fresh cream.`
Get the recipe here.
---
9. Quick & Crunchy Keto Coleslaw
This coleslaw is classic, made with green cabbage, carrot with creamy dressing recipe mayonnaise. If you are looking for strong, healthy coleslaw that plays beautifully with all the burgers, sandwiches and hotdogs make at home, here it is. This homemade coleslaw is ready within 10 minutes, so don't use store bought dressings.
Get the recipe here.
---
8. Balsamic Chicken Salad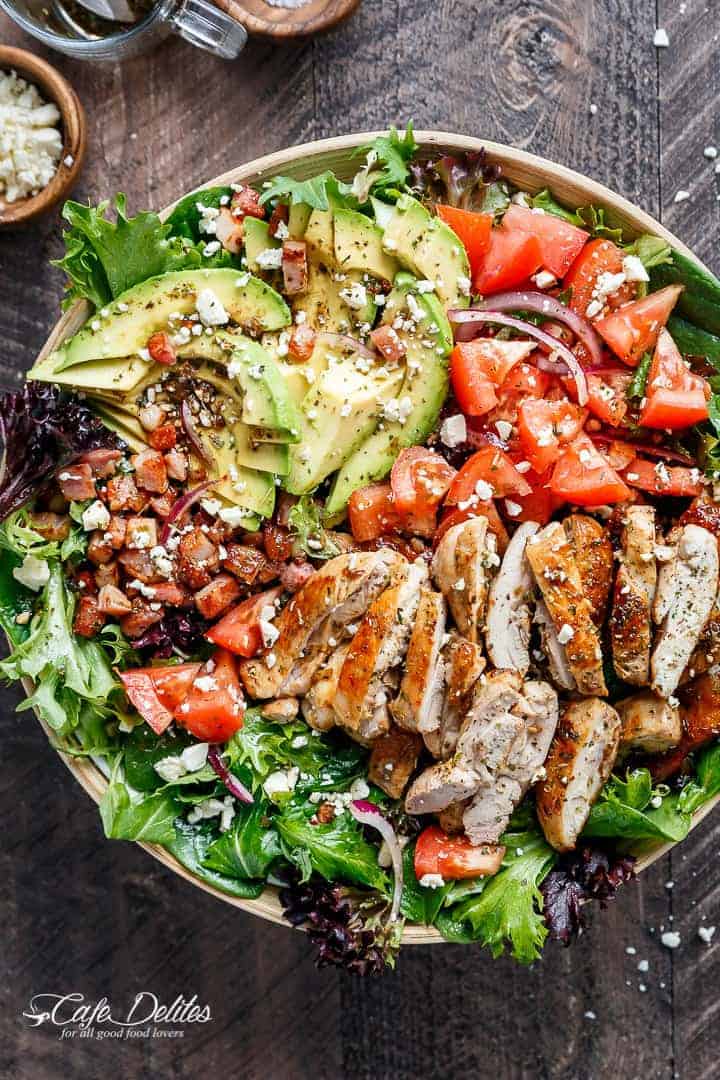 This balsamic chicken salad is a nice flavor twist salad made with healthy few ingredients. And for the summer season, this salad topping with balsamic sauce is the best lunch meal prep.
Get the recipe here.
---
7. Cheeseburger Salad with Big Mac Dressing
This light and simple cheeseburger salad with big mac dressing is a nice recipe that best for any holiday or seasonal party.
Get the recipe here.
---
6. Chicken Salad with Avocado
This simple and delicious healthy chicken salad with avocado is ready within 20 minutes. To get healthy and nutrients at lunch this salad recipe is the best.
Get the recipe here.
---
5. Bacon Avocado Egg Salad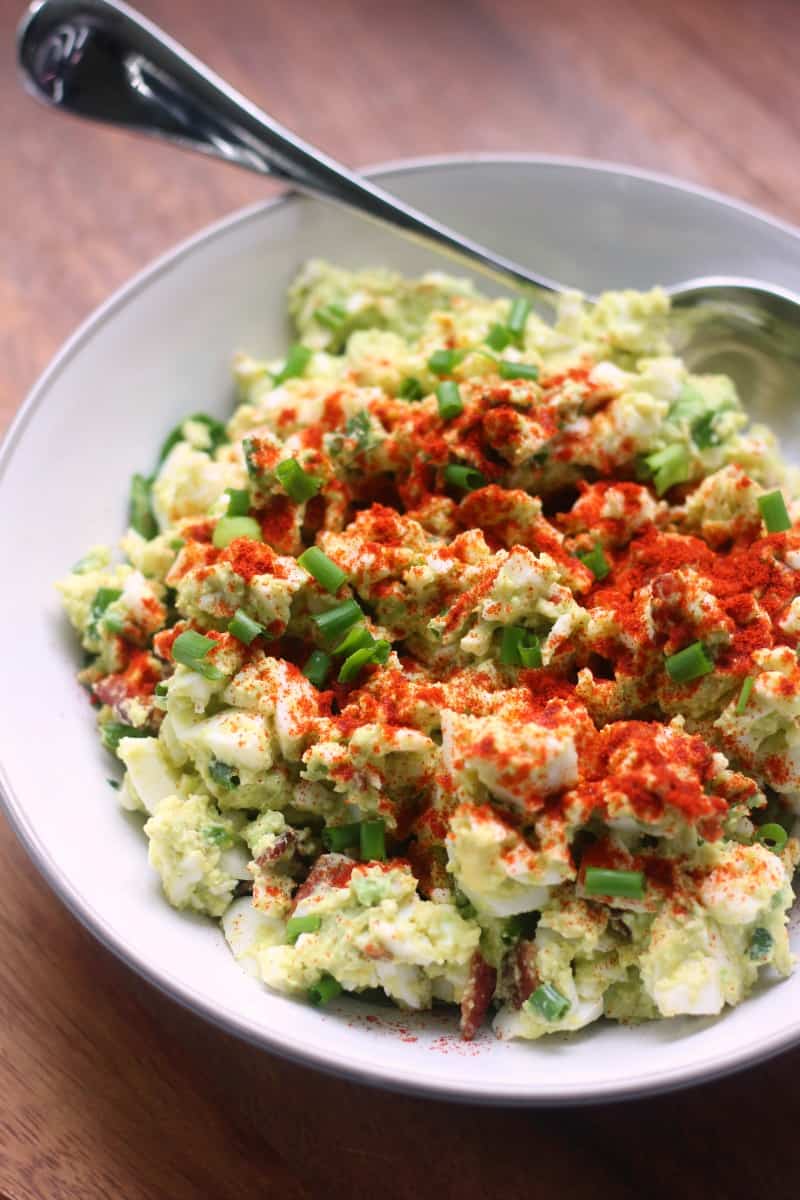 This creamy, smoky, healthy, and delicious bacon avocado egg salad is perfect for healthy lunch and dinner. It is paleo, whole 30, and soy-free, dairy-free salad that gets more protein.
Get the recipe here.
---
4. Keto Chickpea Salad
Get high protein keto salad dressing recipes? This keto chickpea salad recipe is a very healthy and refreshing summer salad. This vegan salad recipe is a totally oil-free and plant-based recipe that good for lunch.
Get the recipe here.
---
3. Keto Antipasto Chopped Salad
To make this healthy keto-friendly antipasto chopped salad in just 20 minutes. This recipe is packed with flavor and nutrients.
Get the recipe here.
---
2. Keto Chicken Salad
This keto chicken salad is a very creamy and healthy perfect lunch idea. Low in carbs and easy to make that recipe everyone will love very much.
Get the recipe here.
---
1. Baby Kale Avocado Salad with Parmesan
Want to fresh clean eating salad for lunch? This baby kale avocado salad recipe with lemon vinaigrette and parmesan is the perfect keto salad dressing recipe for lunch. Must try at home and keep healthy!
Get the recipe here.
---
Related: Baby Broccoli Recipes
---
If you like this article about keto salad dressing recipes, please share it with your friends on Pinterest and Twitter. Also, you can subscribe to my blog to get all the latest recipes first on your mobile.
SHARING IS CARING!
FACEBOOK | TWITTER | PINTEREST
Did you like this article and make it later at home? SAVE this pin to your favorite board on Pinterest!