Are you looking for healthy and easy high-protein recipes? These delicious high-protein meal prep recipes are good for your diet. Get lots of nutrients and energy from these amazing recipes.
If you are trying to lose weight, or have already lost weight so much. And want to eat some healthy foods and add more protein to your diet that can reduce your food cravings! These delicious high-protein meal prep recipes are the best!
When you exercise, you put lots of stress or pressure or force on your body and muscles. But after hitting the gym or exercising, who wants to make some meals or who has time or energy to prepare some healthy meals? So after exercise, it needs some high protein meal that covers and full-fill your stress or energy levels. Here get the bulk of healthy recipes to recover your stress.
These summer days, in some moments, you got tired and did not have the energy to cook some healthy dishes or meal prep for yourself or your family. So these recipes help you to get more energy and nutrients put back into your body. And also so easy to make at home, not so much take time to cook these high protein meal prep recipes.
So time to cook these amazing meals at home, check out these 21 delicious high protein meals that are perfect for lunch and dinner meals.
1. One-Skillet Chicken Thighs With Roasted Grapes and Blue Cheese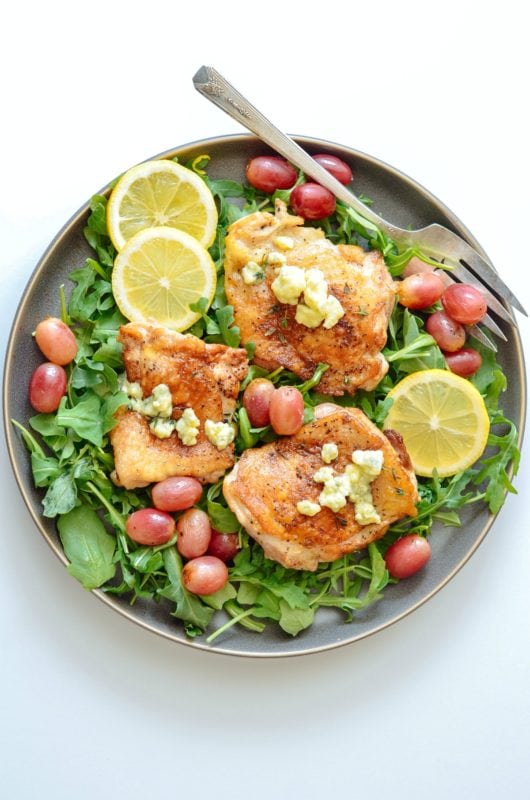 One-Skillet chicken thighs with roasted grapes and blue cheese is an easy meal prep recipe that is so interesting. The combination of both sweet and savory is just amazing. It can work as a meal prep for lunch and for a weekend dinner. Also, this meal can serve as a weeknight dinner with your family or friends to make a crowd. Serve this recipe with fresh fruits and green with brightness.
Get the recipe here.
---
Suggested: Fruit Dessert Recipes
---
2. Spicy Chickpea Meal Prep Bowl
We all know chickpea is a very nutritious food. To get high protein meal prep recipes, this spicy chickpea meal prep bowl is perfect for lunch. Loaded with chickpea, avocado, cheddar, bell peppers, and chopped parsley that is best for vegetarians. It's a great source of fiber, fats, and protein. Must try at home.
Get the recipe here.
---
Related: Keto lunch recipes for lose weight
---
3. Healthy Shrimp Meal Prep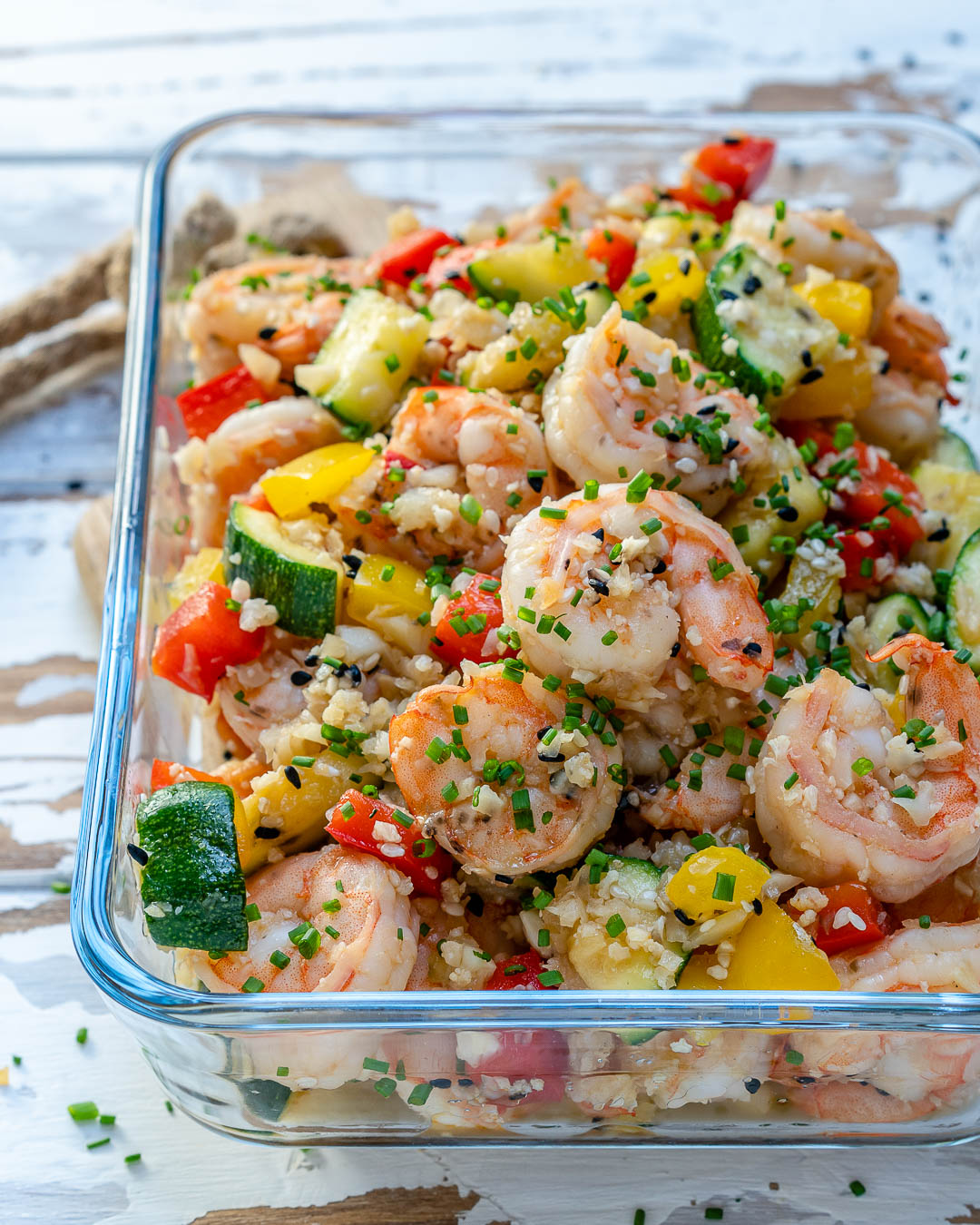 Looking for healthy shrimp meal recipes? This healthy shrimp meal recipe is waiting for you. Delicious, quick, easy to make, satisfying dish that you can serve in any roasted shrimp recipes or any keto pasta recipes. This recipe is one of my favorite recipes and my family too!
Get the recipe here.
---
4. Healthy Chicken Fajitas Meal Prep
This healthy chicken fajitas meal prep recipe is made with fresh fajita veggies and amazing spicy black beans. This recipe is packed with nutrition, protein, and fiber. Low in the carb, and gluten-free this meal is perfect for lunch or weeknight dinners with your family.
Get the recipe here.
---
Suggested: Chicken Mushroom Recipes
---
5. Asian Lettuce Wraps
Asian lettuce wraps are a healthy and delicious quick dish for anytime meal prep. Also, this easy and healthy recipe is best for dinner too! Just ready within 30 minutes at home. This lettuce wrap is gluten-free and dairy-free, your whole family loves them.
Get the recipe here.
---
Related: Keto Wrap Recipes
---
6. Spicy Salmon Black Bean Salad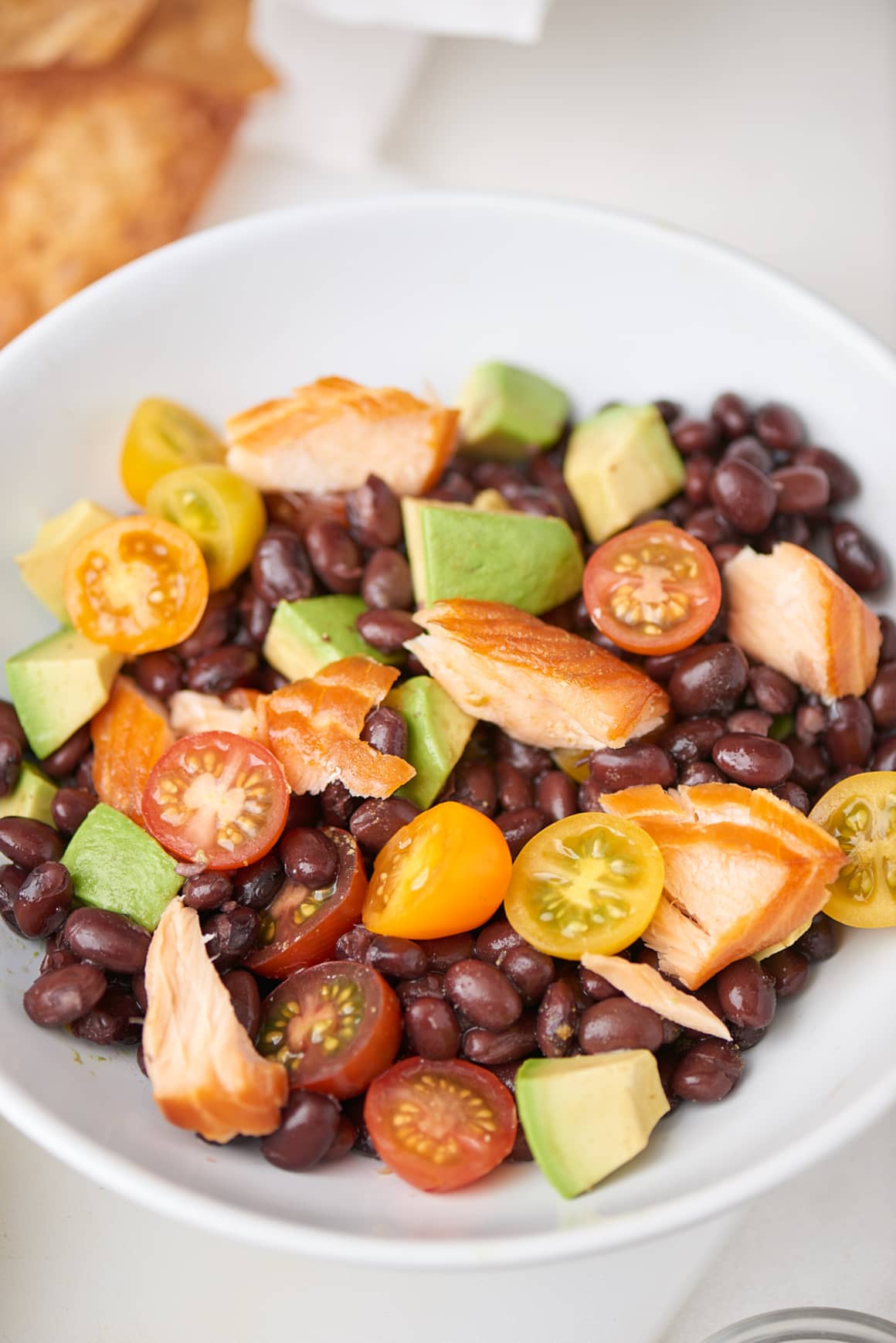 This spicy black bean salad packs with lots of flavor and texture that perfect for a lunch meal. Lots of vegetables get in this recipe. Also, you can add any vegetables whatever you like. This recipe is high in protein that helps to boost your immune and energy. You can add other vegetables like onions, carrots, spinach, broccoli etc to get more flavor and nutrition.
Get the recipe here.
---
Related: Minestrone Soup with Beans and Vegetables
---
7. Hawaiian Pizza Chicken Meal Prep
This fun low carb Hawaiian pizza chicken is a great high protein meal. This chicken recipe is made with pizza sauce, cheese, and some other simple ingredients. So tasty and delicious this meal is sweet, juicy, topped with mozzarella cheese that will love your whole family. Best ever meal prep for a weeknight dinner party, serve with steamed broccoli to round out a complete meal.
Get the recipe here.
---
Related: Veg Pizza Recipe
---
8. Greek Turkey Meatballs
Greek Turkey meatballs are tasty and healthy that good for meal prep. Packed with Turkey mince, red onion, feta, breadcrumbs, mint, and oregano. These meatballs are so delicious that you can serve this recipe as asides with any dish or take as an appetizer.
Get the recipe here.
---
Suggested: Breakfast Burrito Recipes
---
9. Easy Lemon Butter Chicken
Lemon butter chicken is my favorite chicken recipe. If you love my instant pot butter chicken recipe, then you will love this recipe too! It is keto-friendly, paleo, easy to make and everyone loves this delicious food that perfect to serve in weeknight dinners.
Get the recipe here.
---
Related: Instant Pot Chicken Recipes
---
10. Blackened Shrimp Meal Prep
Blackened shrimp meal prep is a nice and flavourful meal. Easy to make, needs to cook just only 10 minutes. For a busy day, this recipe is perfect for you. These are packed with blackened shrimp, cilantro lime brown rice and mouthwatering avocado salsa. Tender, juicy and full of flavor this recipe is so good for health, try now!
Get the recipe here.
---
Suggested: Salmon Meal Recipes
---
11. Spinach and Feta Turkey Meatballs with Zoodles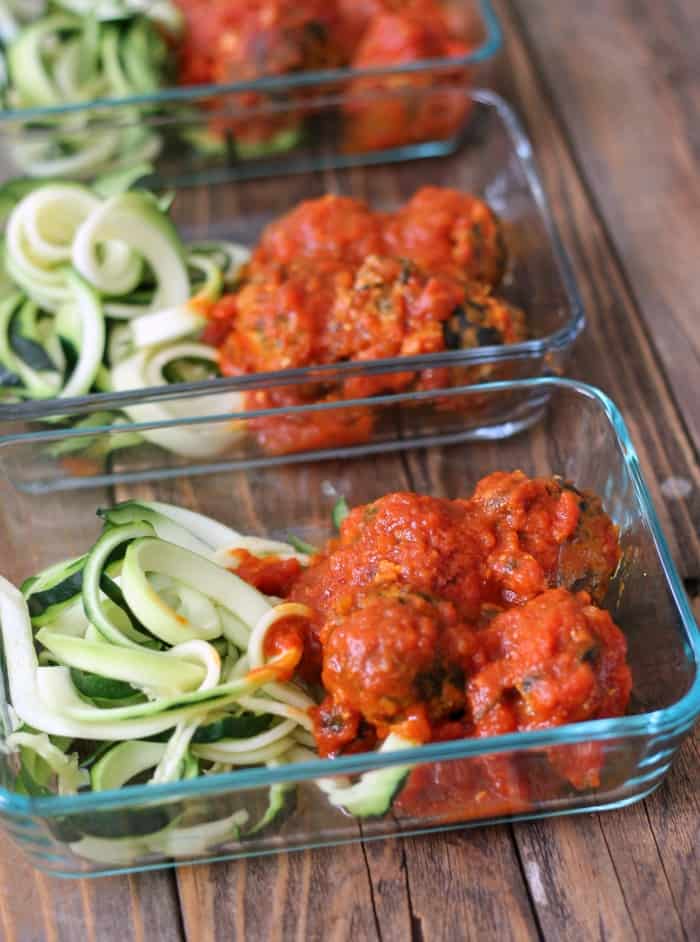 This spinach and feta Turkey meatball with zoodles are filled with spinach, feta, red onion that serves with zoodles. Delicious low carb and high in protein this recipe is the best ever meal prep idea to keep your health safe and healthy. Also leftover dish you can store in the freezer for the next day.
Get the recipe here.
---
Check out Healthy Freezer Meals that best for diet.
---
12. Chicken Buddha Bowls Meal Prep
A chicken buddha bowl is one of my favorite meals. Light but high in protein, quick, easy to prepare, this budda bowl just ready in 30 minutes and beat for a lunch meal. Just try this recipe at home, I'm sure that you and your family will love this recipe bowl.
Get the recipe here.
---
13. Spicy Pulled Pork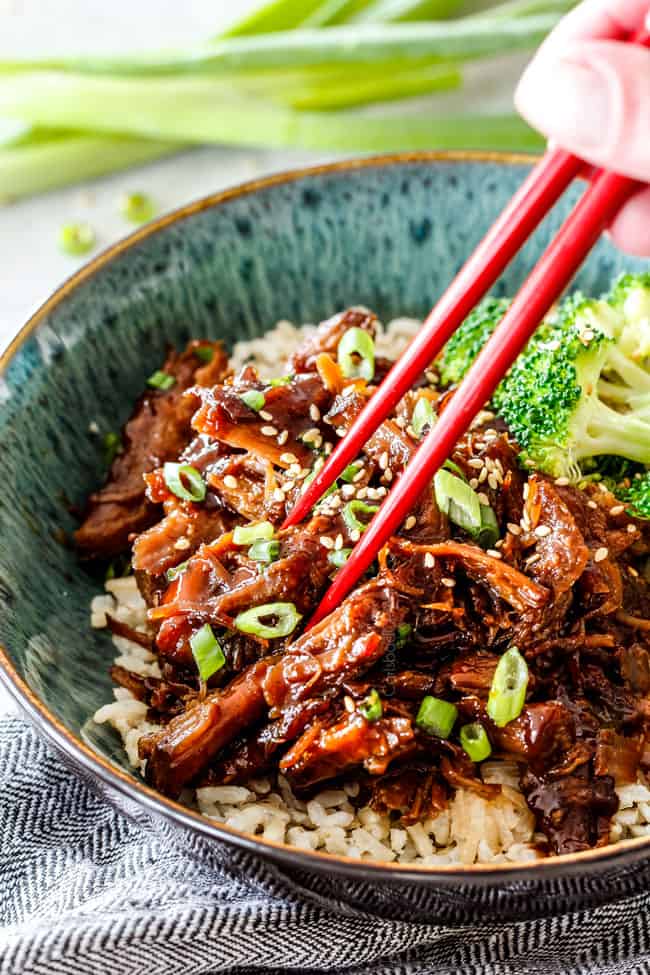 This spicy pulled pork is a delicious and amazing prep recipe. Great for crowds, crazy tender smothered in the addicting savory. Packed with coconut milk, soy sauce, chilli sauce, fish sauce, ginger, garlic twist that creates a nice and flavourful spicy pulled pork recipe. That best to serve with plain rice or jeera rice, any veggies or salads, tacos, wraps, or whatever you like.
Get the recipe here.
---
14. Carnitas Burrito Bowls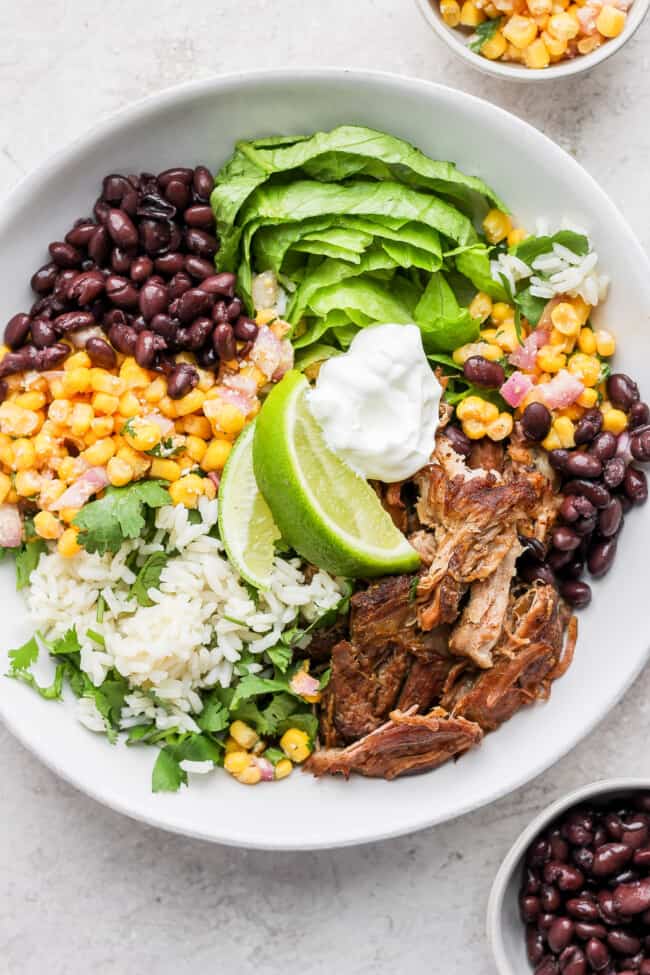 Carnitas burrito bowls are really easy to prepare at home. You can make this recipe in instant pot or crockpot. Delicious meal prep bowl for lunch or dinner. Easy, simple, healthy, and high in protein and perfect for busy weeknight summer dinner meal.
Get the recipe here.
---
15. Smoky Chicken and Cinnamon Roasted Sweet Potato Meal Prep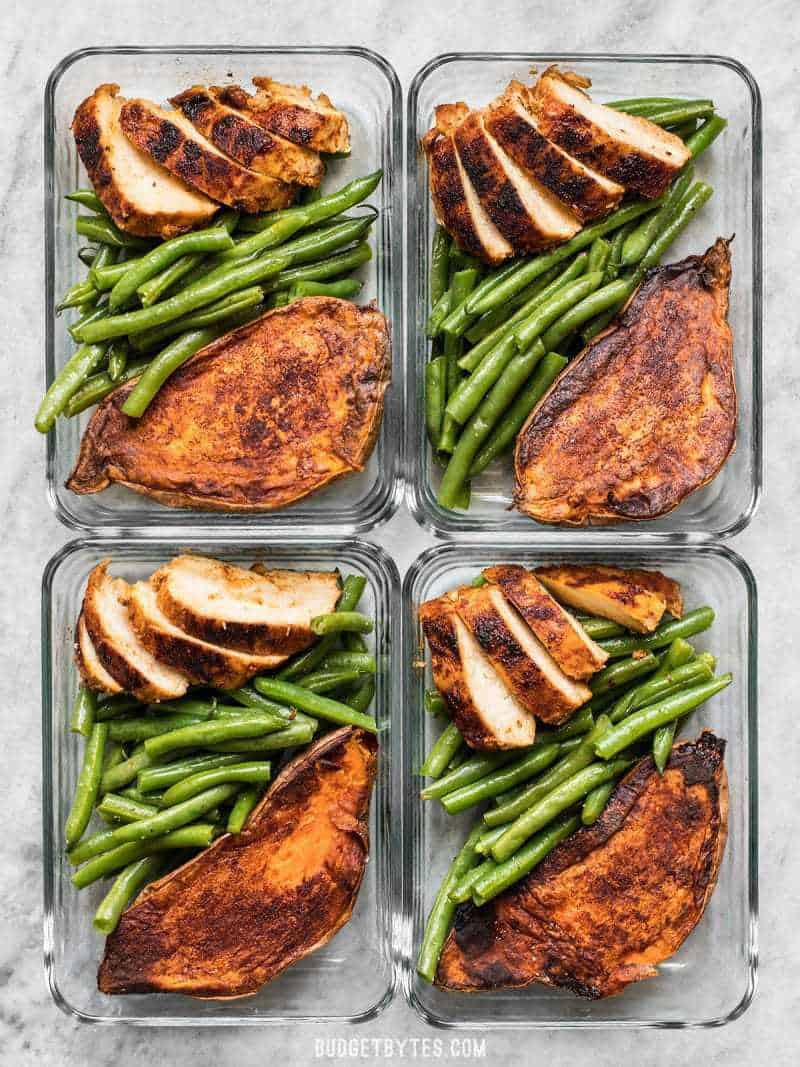 Smoky chicken and cinnamon roasted sweet potato recipe is the healthy meal prep. From smoky chicken and cinnamon sweet potato get high protein and nutrients. This meal is easy to prepare, delicious, filling, and healthy for daily lunch or dinner. You can take this whole recipe with keto potato casserole or green bean casserole.
Get the recipe here.
---
16. Healthy Chicken Parmesan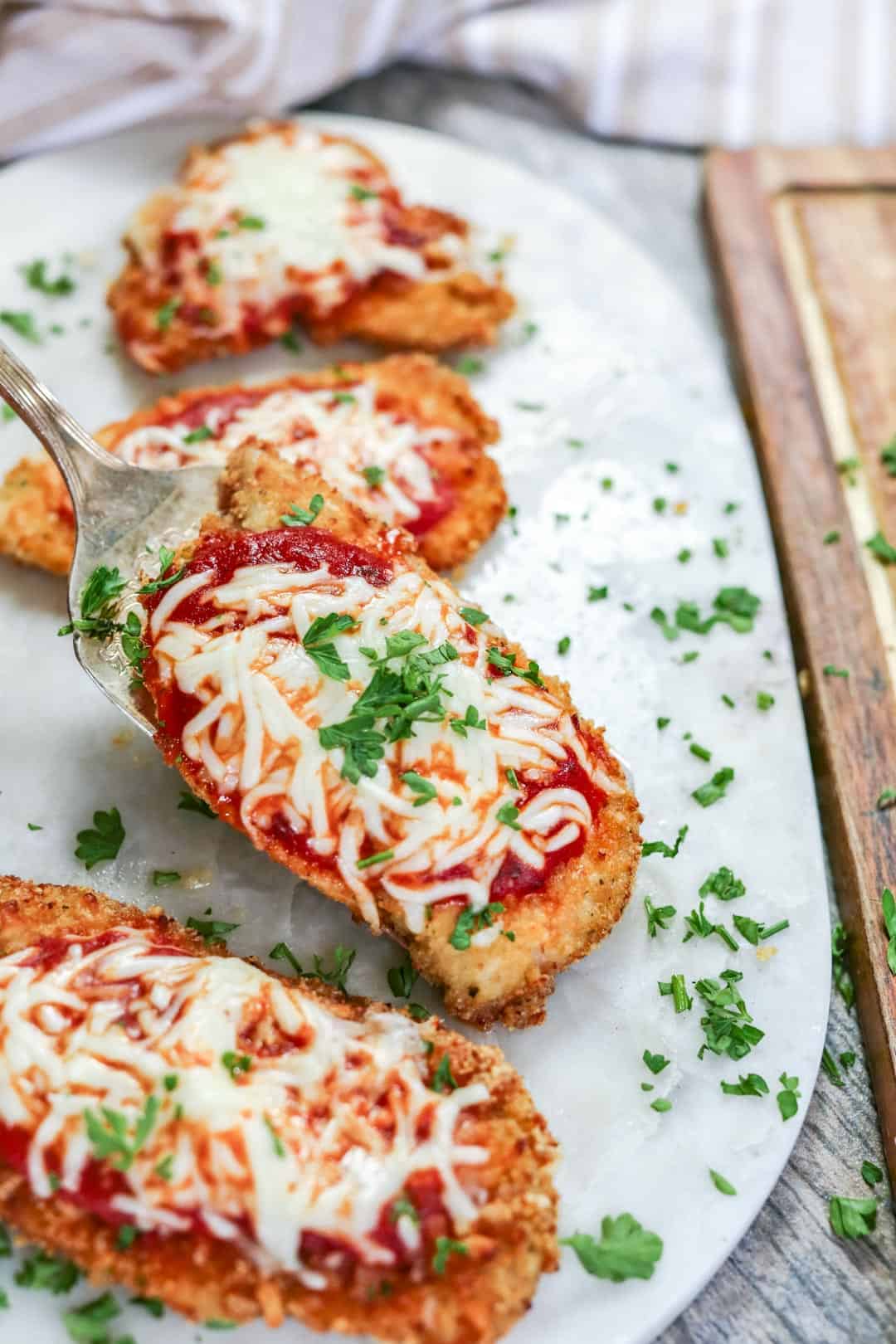 Healthy air fryer keto chicken parmesan is the best dinner meal for any weeknight or holiday. This recipe takes only just 30 minutes! This traditional chicken parmesan recipe is made with chicken breasts, garlic, some spices, herbs, bread crumbs, lots of parmesan cheese. Also, you can choose to use almond flour and or coconut flour. You can eat this recipe with any salad, steamed veggies, zucchini noodles. But I love to eat with garlicky roasted broccoli, lemon pepper asparagus, or any keto pasta recipes. You must try whatever you like.
Get the recipe here.
---
Related: Air Fryer Chicken Recipes for Busy Weeknight
---
17. Quinoa and Tempeh with Tomato Sauce
Looking for a vegan and healthy meal prep ideas for lunch or dinner? This quinoa and tempeh with tomato sauce is a dish, high in protein, spicy. So delicious and made ahead recipe just ready within 25 minutes. You can serve this recipe with cauliflower rice or spinach orzo for better taste and get full all day.
Get the recipe here.
---
Related: Keto Dinner Recipes for Weight Loss
---
18. Honey Sriracha Chicken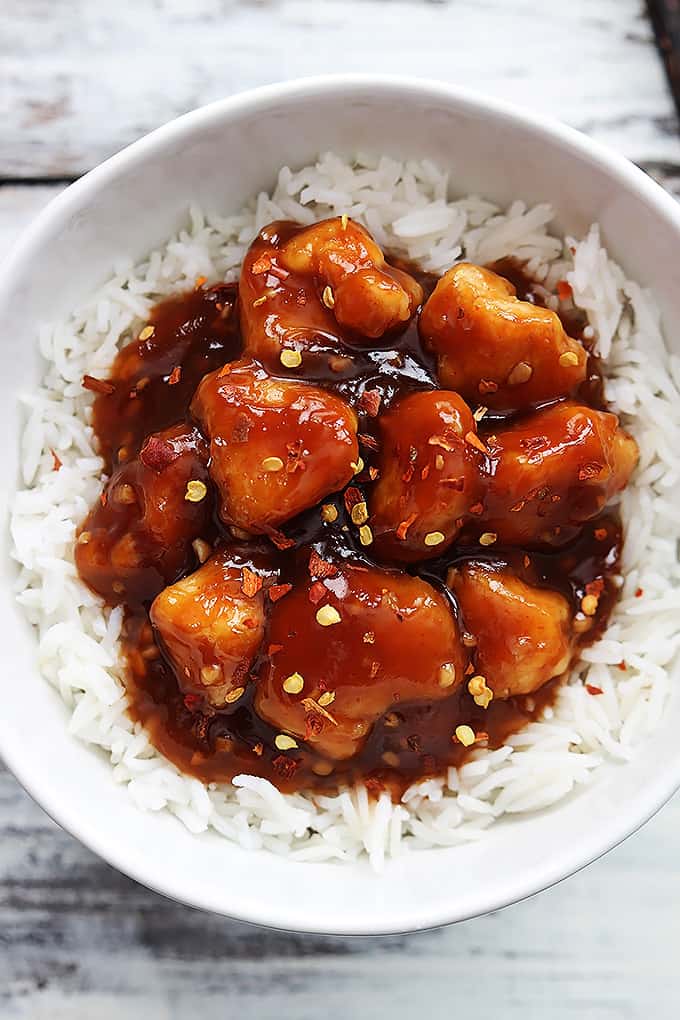 This sweet and spicy Chinese honey sriracha chicken recipe is the best ever high protein diet meal. And better in taste and healthy too! This delicious honey sriracha chicken is made with chicken breasts, corn starch, sriracha, soy sauce, garlic, honey, and some other ingredients. This recipe takes only 30 minutes to cook and get a nice flavor chicken recipe that best serves with warm fresh white rice.
Get the recipe here.
---
19. Low Carb Thai Chicken Salad Meal Prep
This Thai chicken salad is the best meal for me. This salad meal is packed with chicken breasts, cabbage, red pepper, carrots, and scallions. All ingredients are dressed with a punchy ginger-lime dressing. Fresh, high protein, simple this salad meal prep is mouthwatering and delight. Serve this salad topping with fresh basil and cilantro. Adding some cashews for a little crunch. Side by side you can make at home some other healthy salad recipes which are very tasty.
Get the recipe here.
---
Related Salads: High Protein Vegan Meals
---
20. Blackened Chicken Sheet Pan
Blackened chicken sheet pan dinner and with sweet potatoes, Brussels sprouts are very easy to make at home. A quick and delicious simple meal that perfect for weeknight dinners and meal prep!
Get the recipe here.
---
---
21. Greek Chicken Grain Bowl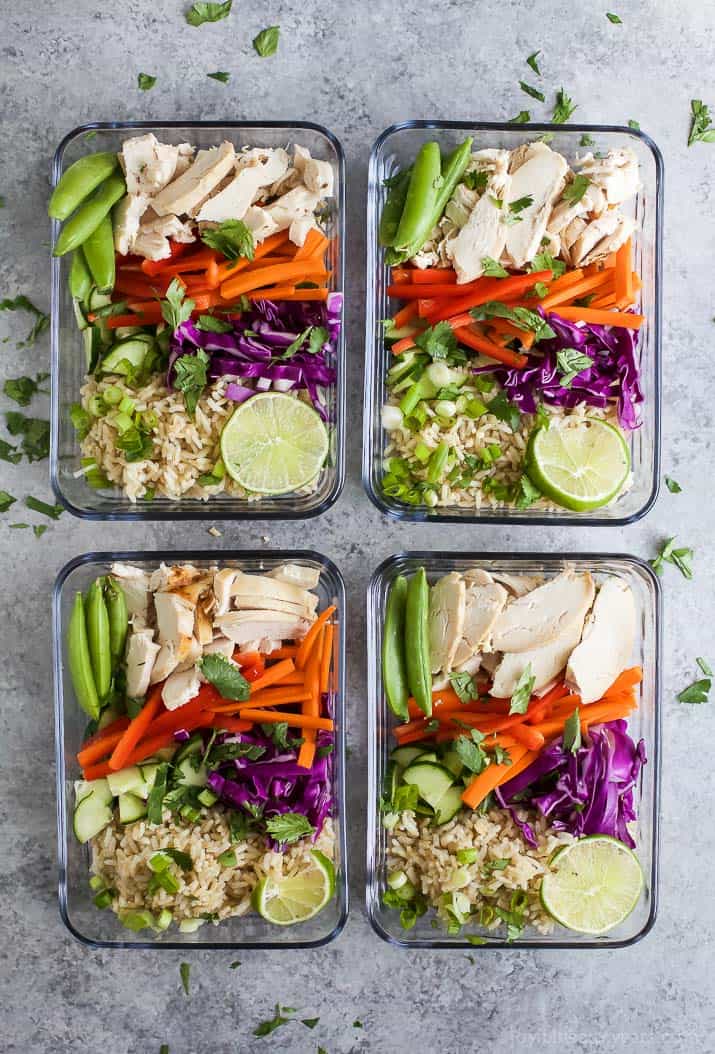 This easy and healthy Greek chicken grain bowl is loaded with vegetables and chicken. This recipe ready just in 15 minutes at home. The perfect meal to start a day with 17 grams of protein. It is totally gluten-free and gets lots of nutrients, especially protein and vitamins. You can serve it topped with a creamy peanut dressing the best ever delicious meal for lunch!
Get the recipe here.
---
If you like these high protein meal prep recipes please share this with your friends on Facebook, Twitter, and Pinterest. Also, you can subscribe to my blog to get all the latest articles first on your mobile.
SHARING IS CARING!
FACEBOOK | TWITTER | PINTEREST
Did you like this article and make them later at home? SAVE this pin to your favorite board on Pinterest!