Are you looking for easy healthy chicken recipes? These delicious and keto chicken ideas are amazing for any dinner meal or lunch meal. Easy to make, and low in carb these recipes are best to celebrate any weeknight dinner or any holiday or occasion.
We find always some healthy and easy meals that stick to your ketogenic diet. Who is trying to lose weight or who are on a diet, they wanted to eat high protein meal prep recipes or high protein lunches to make balance their diet.
Without wasting time let's move to these amazing and delicious recipes and make these at your home. You can try healthy keto dinner recipes and keto lunch ideas with these chicken recipes.
---
[jetpack_subscription_form subscribe_placeholder="Enter your email address" show_subscribers_total="false" button_on_newline="true" submit_button_text="Sign Up" custom_font_size="16px" custom_border_radius="0″ custom_border_weight="1″ custom_border_color="#f78da7″ custom_padding="15″ custom_spacing="10″ submit_button_classes="has-f-78-da-7-border-color has-text-color has-background-color has-background has-vivid-red-background-color" email_field_classes="has-f-78-da-7-border-color" show_only_email_and_button="true"]
---
1. Keto Low-carb Garlic Butter Chicken Bites
This keto low carb garlic butter chicken needs only 1 minute without simple few ingredients. Get a nice wow flavor that best for weeknight dinner staples.
Get the recipe here.
---
This low carb keto friendly orange chicken is so tasty and delicious that ready within 30 minutes. This juicy chicken made in an instant pot and get an amazing flavor of orange and other spices. Your whole family loves this chicken very much.
Get the recipe here.
---
Related: Instant Pot Recipes and Delicious Instant Pot Chicken Recipes
---
3. Keto Creamy Cilantro Lime Chicken
This creamy cilantro lime chicken is perfect for busy weeknight dinners. Pan-seared chicken with creamy cilantro lime sauce this easy recipe is best for who one keto diet or wanted low carb recipes.
Get the recipe here.
---
4. Keto Chicken and Broccoli Casserole
This Cheesy Keto Chicken and Broccoli Casserole Recipe are so healthy and delicious and easy to make at home within 30 minutes. Loaded with chicken, broccoli, broth, lots of cheese with some seasoning and make a nice flavor, is the perfect dinner for when you want some delicious comfort food with some fresh herbs.
Get the recipe here.
---
5. Asparagus Chicken Keto Low-carb Bake Alfredo
This asparagus chicken bake recipe is a perfect lunch or dinner meal. It is low in carb and keto-friendly Alfredo recipe is a comfort dish that gets ready within 30 minutes. Easy yo make at home this dish is my favorite keto chicken recipes.
Get the recipe here.
---
6. Low-carb Keto Cashew Chicken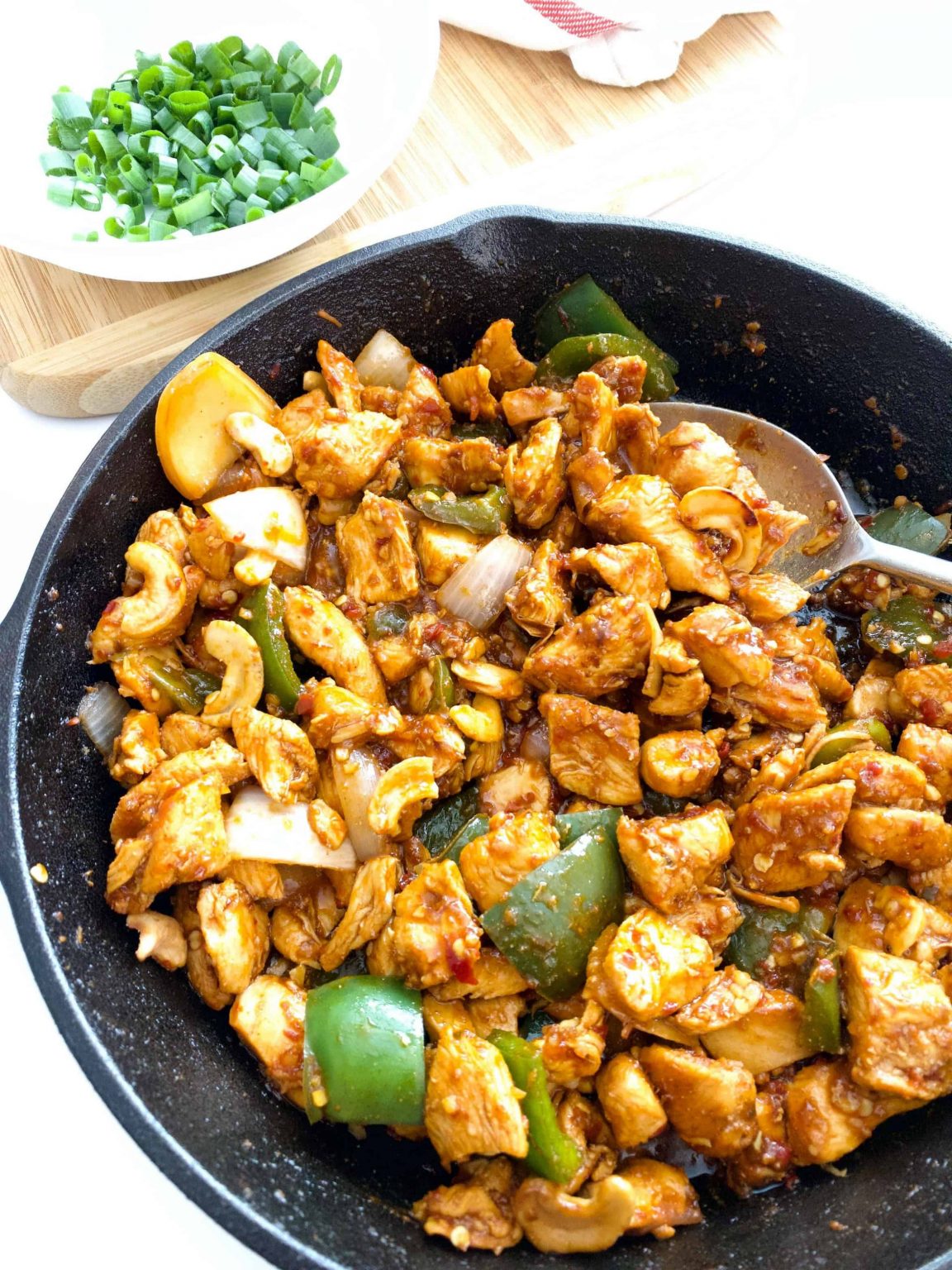 This cashew chicken recipe is a nice and flavourful Chinese cuisine dish. That best for weeknight dinner serve with rice, roti or any dishes. Easy to make and quick dish that low carb and keto-friendly.
Get the recipe here.
---
7. Low-carb Keto Chicken Avocado Salad
For lunch, this low carb keto chicken avocado salad recipe is a perfect meal. High protein and delicious taste this chicken salad is one of my best keto chicken recipes.
Get the recipe here.
---
8. Keto Chicken Pizza Crust
This keto chicken pizza crust is just mouthwatering and amazing dish. Crispy and nice texture that you can eat this as snacks or appetizers or side dishes.
Get the recipe here.
---
9. Low-carb Keto Chicken Pot Pie Soup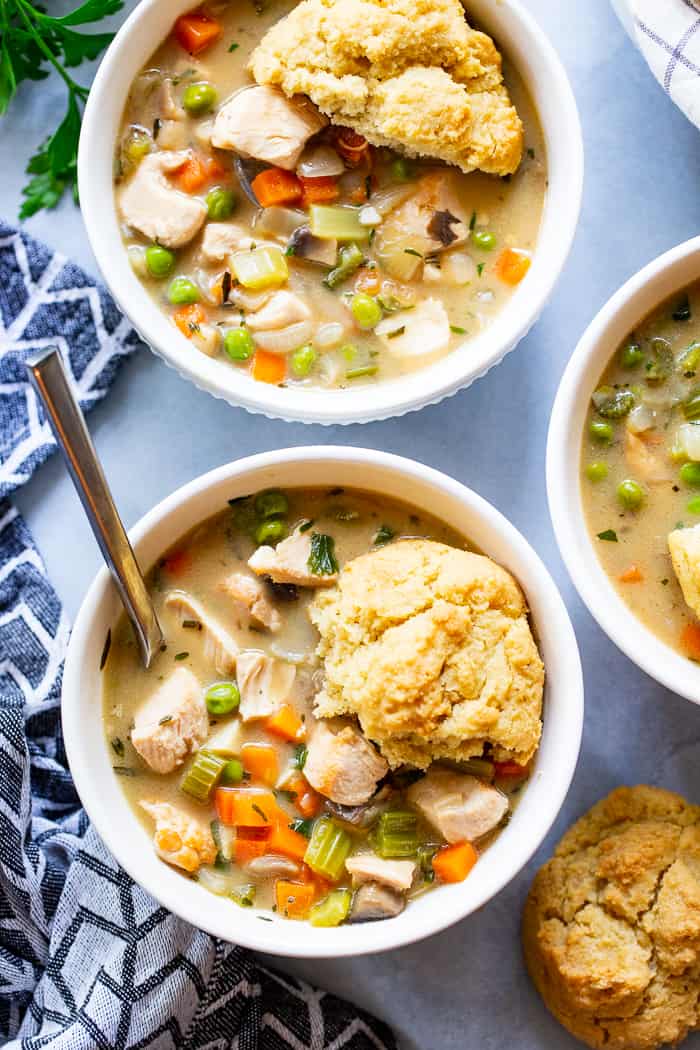 This chicken pot pie soup is so creamy, healthy, and delicious. It soup recipe great for winter season and dinner meal that loaded with veggies, chicken, etc. Must try this chicken soup recipe at home and enjoy the meal.
Get the recipe here.
---
10. Low-carb Keto Creamy Parmesan Garlic Mushroom Chicken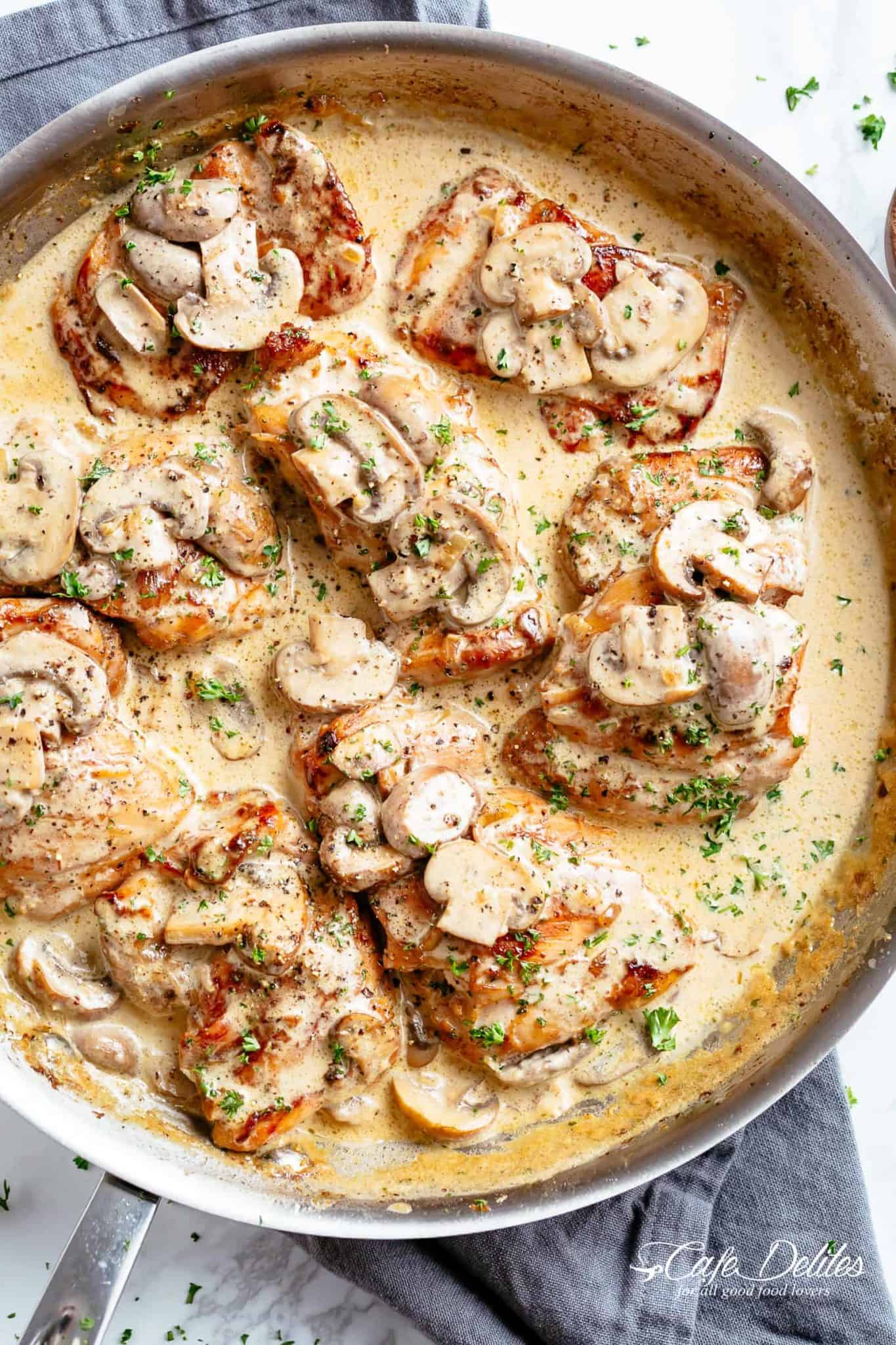 This creamy parmesan garlic chicken mushroom recipe is the best for dinner meals. Easy to make, healthy, creamy, delicious, and low in the carb that good for the beginner who is on a keto diet.
Get the recipe here.
---
11. Low-carb Paprika Baked Chicken Thighs
If you are looking for spicy and smoked paprika chicken? This easy to make these keto chicken ideas are perfect for lunch or dinner or any weekend meal.
Get the recipe here.
---
12. Keto Chicken Soup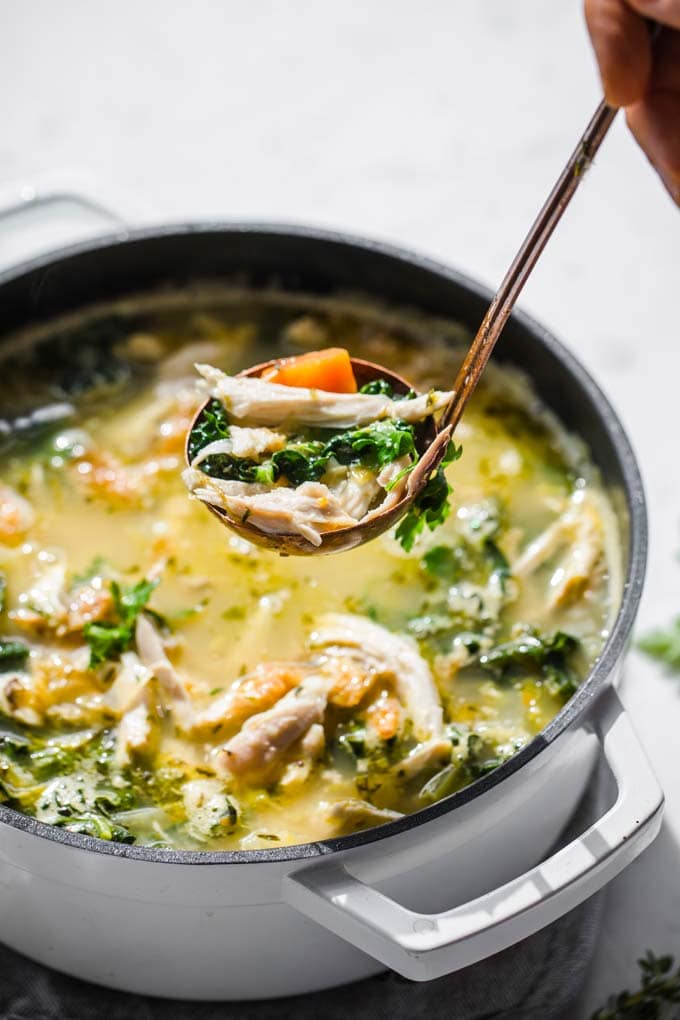 This keto-friendly chicken soup is so delicious and healthy that ready within 30 minutes. This soup is loaded with veggies and flavourful low carb meals are best for lunch or dinner. That you need to try at home!
Get the recipe here.
---
13. Low-carb Keto Stir Fry Chicken
The best ever keto chicken ideas for easy dinner. This stir fry chicken with cabbage and another simple ingredients makes a nice flavor that everyone love to eat. It is keto-friendly, low carb, whole 30 and so delicious!
Get the recipe here.
---
14. Low-carb Keto Green Chilli Chicken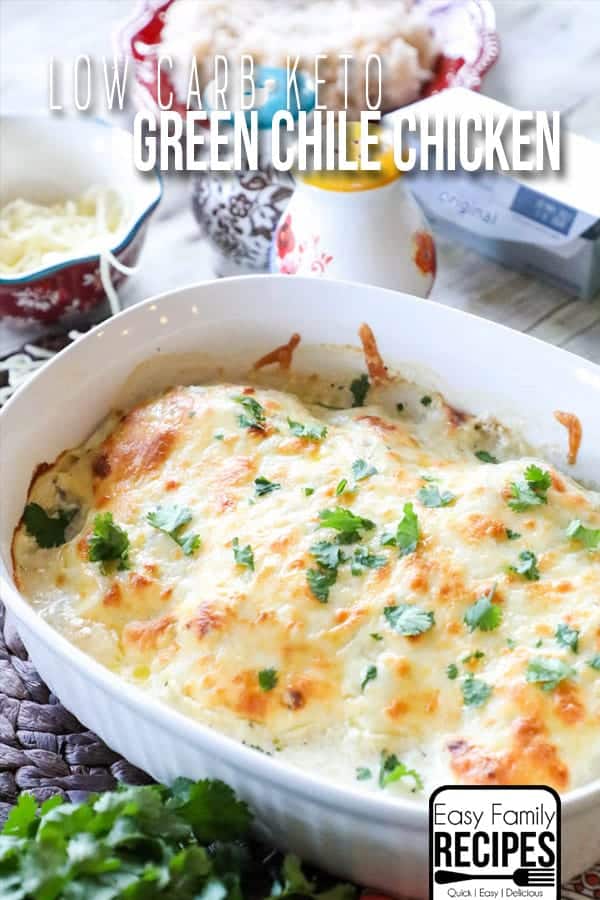 This keto green chili chicken is so delicious and yummy that ready within 15 minutes. For busy work or busy nights, this dish is perfect for you and your family.
Get the recipe here.
---
Related: Keto Crockpot Recipes
---
15. Low-carb French Garlic Chicken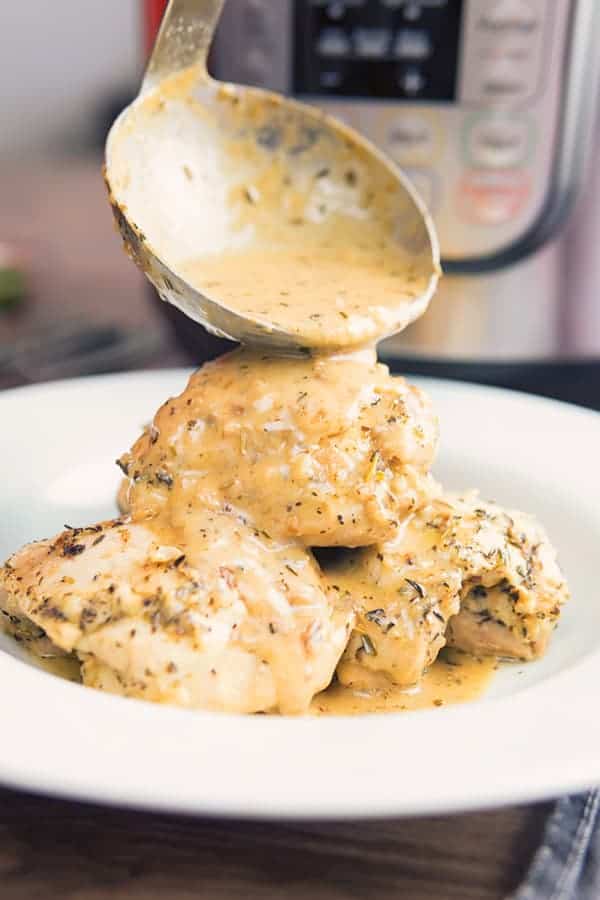 This low carb French garlic chicken is a creamy and delicious taste. That made with few simple ingredients. You can make this chicken recipe in the instant pot or crockpot or pressure cooker or stove pot. For me, to celebrate any occasion or holiday the keto chicken ideas are the best.
Get the recipe here.
---
---
Also, try these meals:
---
If you like this article about keto chicken recipes, please share it with your friends on Pinterest and Twitter. Also, you can subscribe to my blog to get all the latest recipes first on your mobile.
SHARING IS CARING!
FACEBOOK | TWITTER | PINTEREST
Did you like this article and make it later at home? SAVE this pin to your favorite board on Pinterest!