Are you tired of the same lunch on a daily basis? And looking for easy and healthy recipes that best for meal prep and make you satisfied at the same time? Let's try something healthy but easy to make for lunch. How about eating a tasty wrap at a simple easy work lunch? Today, I share some delicious easy keto wrap ideas that you will definitely love to eat.

These wraps are so tasty and healthy, ready just in 20 minutes or less. They are perfect for dinner and make a great filling lunch. These recipes are not so expensive and budget-friendly.

If you are so busy with your work or you are not feeling well or you are in a lazy mood, try these low-carb easy keto wraps at home. I'm sure you will love these recipes so much after a bite. You can even use the rest of the chicken or salad, wrap it with lettuce or almond flour or coconut flour tortillas and take it as a meal or snack at any time.

So choose your favorite keto wraps and enjoy your meal with your family or friends.
---
21. Cashew Chicken Lettuce Wraps
Cashew chicken lettuce wraps are one of my absolute favorite ketos wraps recipes for dinners right now. Simple to make, delicious and easy recipe packed with full of flavor. The flavor of cashew chicken makes the recipe so tasty and amazing for meals.
Get the recipe here.
---
Related: Keto Chicken Recipes For Dinner
---
20. Fajita Burrito Lettuce Wraps
This fajita burrito lettuce wrap is the perfect way to get amazing Mexican food that is low carb and best for your diet. Wrap fresh lettuce leaves and pack with delicious veggies that make you feel refreshed at lunch.
Get the recipe here.
---
Suggested Meal Ideas:
Keto Lunch Recipes
High Protein Lunch Recipes
Keto Dinner Meals
Meal Recipes For Weight Loss
High Protein Dinner Recipes
7 Day Keto Meal Plan
Healthy Mexican Taco Recipes
---
19. Almond Flour Wraps
Want to eat wraps but without regular all-purpose flour? Try these easy almond flour wraps that made with only 4 ingredients and ready in just 20 minutes. It's gluten-free, low carb and it keeps you healthy and full for a long time. Serve this wrap with any salad or chicken dishes at dinner.
Get the recipe here.
---
Related: Delicious Keto Almond Flour Recipes
---
18. Keto Chicken Taco Lettuce Wraps
Chicken taco lettuce wraps is another one of my best keto wraps for dinner or lunch meal. It is healthy, tasty, without any carbs, flavourful, fresh, and easy to make for a meal. Try this chicken keto wraps at lunch, dinner, or even snacks, after taste you will definitely love to eat.
Get the recipe here.
---
Suggested: Air Fryer Chicken Recipes That You Will Need
---
17. Keto Tuna Lettuce Wraps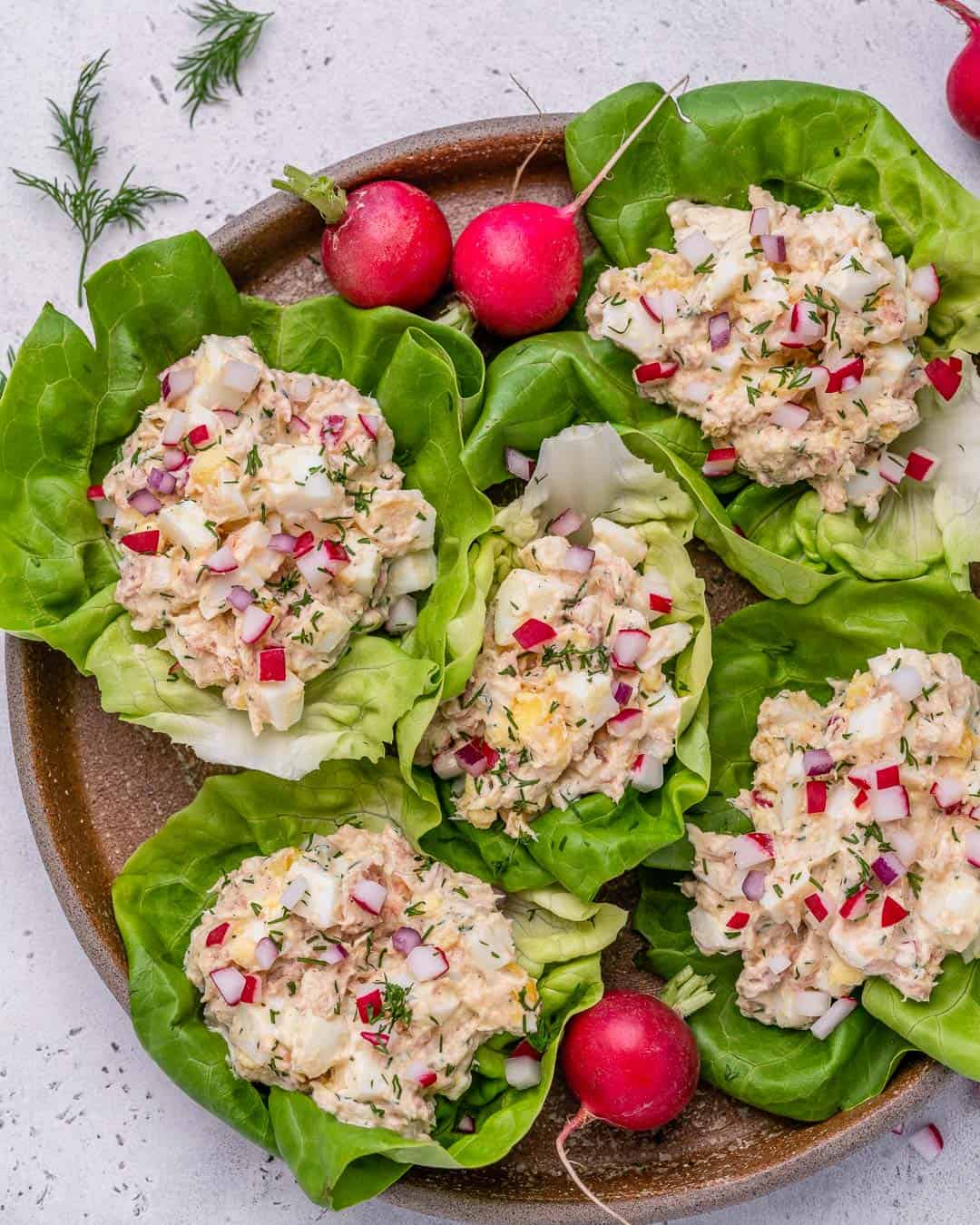 Love Tuna? Must try this keto-friendly tuna lettuce wrap recipe at a meal. Love to eat tuna salad, and have leftover tuna salad at home, pack it in lettuce leaves that make a quick and easy low carb Tuna Lettuce Wraps that perfect to serve as a light lunch or as appetizers for a get-together.
Get the recipe here.
---
Related: Keto Fish Meals For Lunch & Dinner
---
16. Shrimp Lettuce Wraps
I love shrimp, do you? These shrimp lettuce wraps make me happy at meal time. This wrap recipe is loaded with fresh veggies, juicy shrimp that are low carb and healthy dinner idea.
Get the recipe here.
---
Suggested Shrimp Ideas:
Roasted Shrimp Recipes For Easy Lunch
Shrimp And Broccoli Alfredo Recipe
Garlic Lime Baked Shrimp Skewers
---
15. Low Carb Big Mac Wraps
This low-carb big mac wrap is so flavorful and delicious that you need to try it at lunch. Loaded with cheese and another simple few ingredients ready just in 15 minutes.
Get the recipe here.
---
Related Ideas:
Low Carb Low-Calorie Recipes
Vegan Meal Prep Recipes
Keto Side Dish Recipes
Keto Chaffle Ideas For Snacks
Healthy Keto Freezer Meals
Keto Recipes
Easy Sheet Pan Dinner Ideas
Keto Meals Under 3G Net Carbs
---
14. Cheeseburger Lettuce Wraps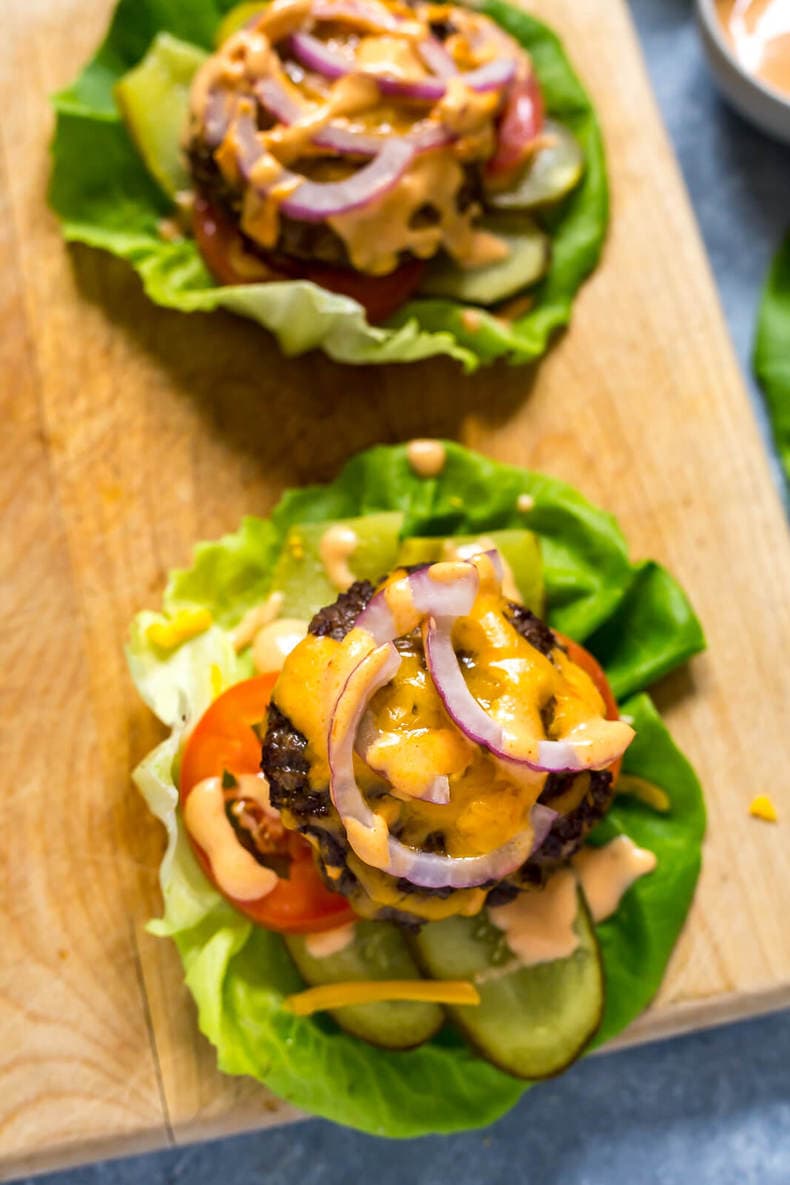 Love cheeseburger? Must try this low carb cheeseburger lettuce wrap in this dinner meal. Loaded with double-stacked patties sandwiched between layers of shredded cheddar cheese and a special sauce that you can make with your pantry staples. This recipe is a perfect healthy summer meal, you need to try!
Get the recipe here.
---
Suggested: Delicious Burger Recipes
---
13. Turkey Ranch Roll-ups
These creamy turkey ranch roll-ups are packed with tasty and delicious flavors that easy to prepare for a lunch meal. These wraps are perfect for an appetizer for a party or best for your evening snacks.
Get the recipe here.
---
Related: Weight Watchers Air Fryer Recipes
---
12. Keto Coconut Flour Wraps
This coconut flour wrap is one of my best healthy keto wraps that are best with any dish. They are low carb, keto-friendly, and made with only 3 ingredients.
Get the recipe here.
---
Suggested: Keto Coconut Flour Recipes
---
11. Sweet Potato And Black Bean Lettuce Wraps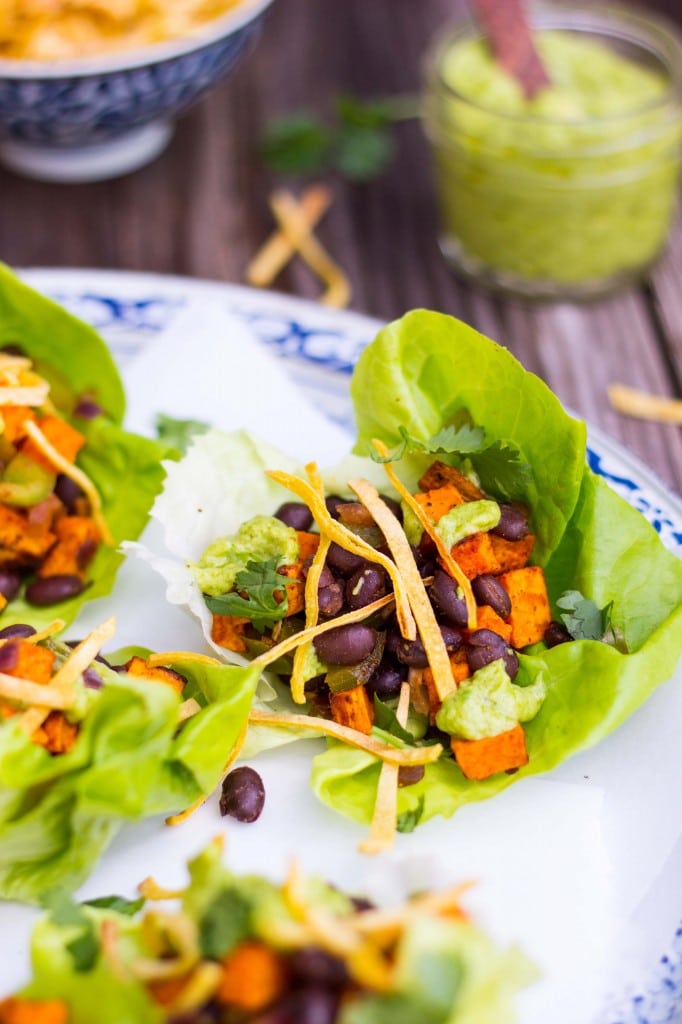 Sweet potato and black bean lettuce wraps are so delicious and the best ever veg recipe for vegetarians. If you are on a diet must try this vegan delicious wrap and add it to your diet chart.
Get the recipe here.
---
Related Casseroles:
Keto Casserole Recipes For Weight Loss
Baked Potato Cheesey Casserole
Green Bean Casserole Recipe
Loaded Cauliflower Baked Casserole Recipe
Chicken And Broccoli Casserole Recipe
---
10. Loaded Veggie Breakfast Wraps
This veggie wrap is packed with vegetables and tofu, get amazing plant-based protein and nutrients that are best for meal prep. Enjoy the tangy, savory flavor of these Vegetarian Lettuce Wraps in this breakfast meal or weeknight dinner.
Get the recipe here.
---
Suggested Breakfasts:
High Protein Vegetarian Recipes
Vegetarian Meal Prep Ideas
Keto Breakfast Ideas For Weight Loss
High Protein Breakfast Recipes
Keto Breakfast Recipes Without Eggs
Weight Watchers Breakfast Recipes
Tasty Chia Pudding Recipes For Weight Loss
High Protein Chickpea Recipes
---
9. Cilantro Avocado Chicken Wraps
This lettuce avocado chicken wrap recipe is one of my best and delicious keto wraps for my lazy days. Healthy, low carb, keto-friendly, and packed with chicken, avocado, tomato, and cilantro lime sauce makes a tasty recipe for meals.
Get the recipe here.
---
Related: Instant Pot Chicken Recipes
---
8. Sausage And Spinach Breakfast Burrito
This sausage and spinach burrito is packed with spinach, sausage, eggs, cheese, and other simple spices. Get an amazing healthy recipe that is perfect for breakfast meals or lunch. Even you can make the recipe ahead of time and takes to make only 10 minutes for meal prep.
Get the recipe here.
---
Suggested: Keto Sausage Recipes
---
7. Keto Salami Pinwheel Wraps
These keto salami pinwheel wraps are so comfortable and delicious dish for those who are on a diet. Easy to make and so much healthy and mouthwatering that you won't even miss the tortilla!
Get the recipe here.
---
Related: Keto Pizza Recipes
---
6. Keto Pulled Pork Lettuce Wraps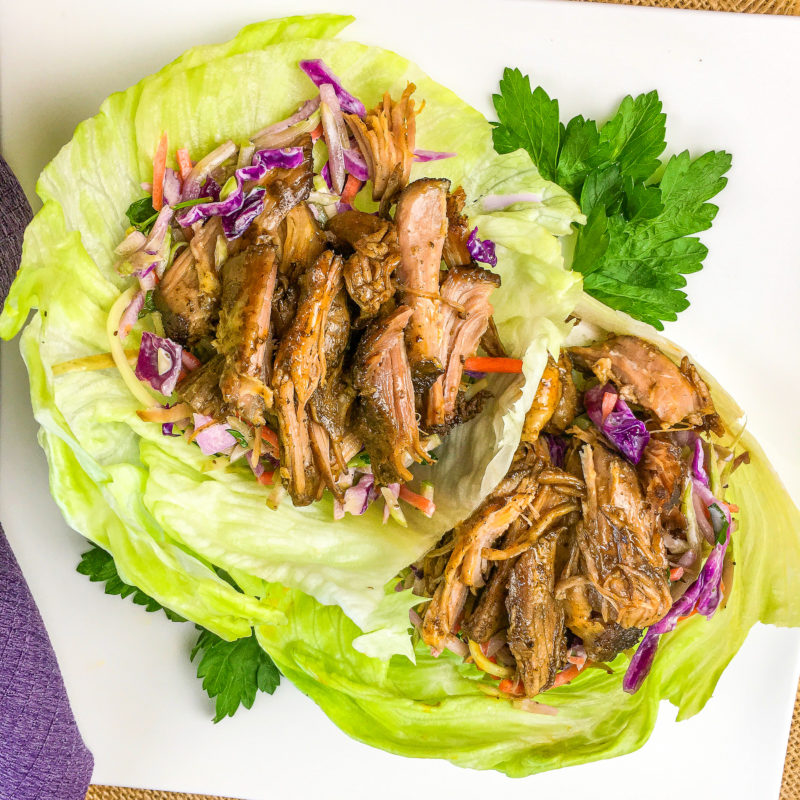 Love to eat pork? These keto pulled pork lettuce wraps make the perfect low carb meal for your whole family. They are so delicious and easy to make with full of flavor.
Get the recipe here.
---
Suggested: Summer Meal Ideas For Dinner
---
5. Keto Salmon Salad Wraps
I love eating salmon. If you are the same as me, you have to try these salmon salad wraps at lunch or dinner. It's a light, fresh, easy to make lunch meal that is low carb and keto-friendly.
Get the recipe here.
---
Related Salads & Salmon Ideas:
Keto Salad Recipes For Weight loss
Healthy Fruit Salad Ideas
Salmon Meal Prep Recipes
Summer BBQ Backyard Salad Recipes
Delicious Salad Ideas For Weight Loss
Honey Garlic Baked Lemon Salmon Recipe
---
4. Mediterranean Keto Collard Green Wraps
This Mediterranean keto collard green wraps recipe is a delicious way to eat your veggies at your meal. With 7 simple and healthy ingredients, this low-carb Mediterranean wrap is ready within 15 minutes for easy lunch, dinner, or snacks.
Get the recipe here.
---
Suggested: 30-Day Mediterranean Diet Meal Plan For Weight Loss
---
3. Keto Chicken Bacon Ranch Cheese Wraps
An easy, flavorful, and tasty chicken bacon ranch cheese wraps are the best ever healthy meal for your entire family. Loaded with dried chicken, chopped bacon, chopped lettuce, diced tomato, and covered with ranch dressing. You need to try this low carb and keto approved dish.
Get the recipe here.
---
Related Delicious Recipes:
Keto Soup Recipes For Meal Prep
Ricotta Cheese Recipes For Snacks
Easy Home Canning Recipes For Beginners
Keto Pasta Recipes To Lose Your weight
Tasty Shish Kabob Recipes
Keto Mushroom Recipes
Instant Pot Dump Dinner Meals
Keto Cheap Meals On a Budget
---
2. Egg Lettuce Wraps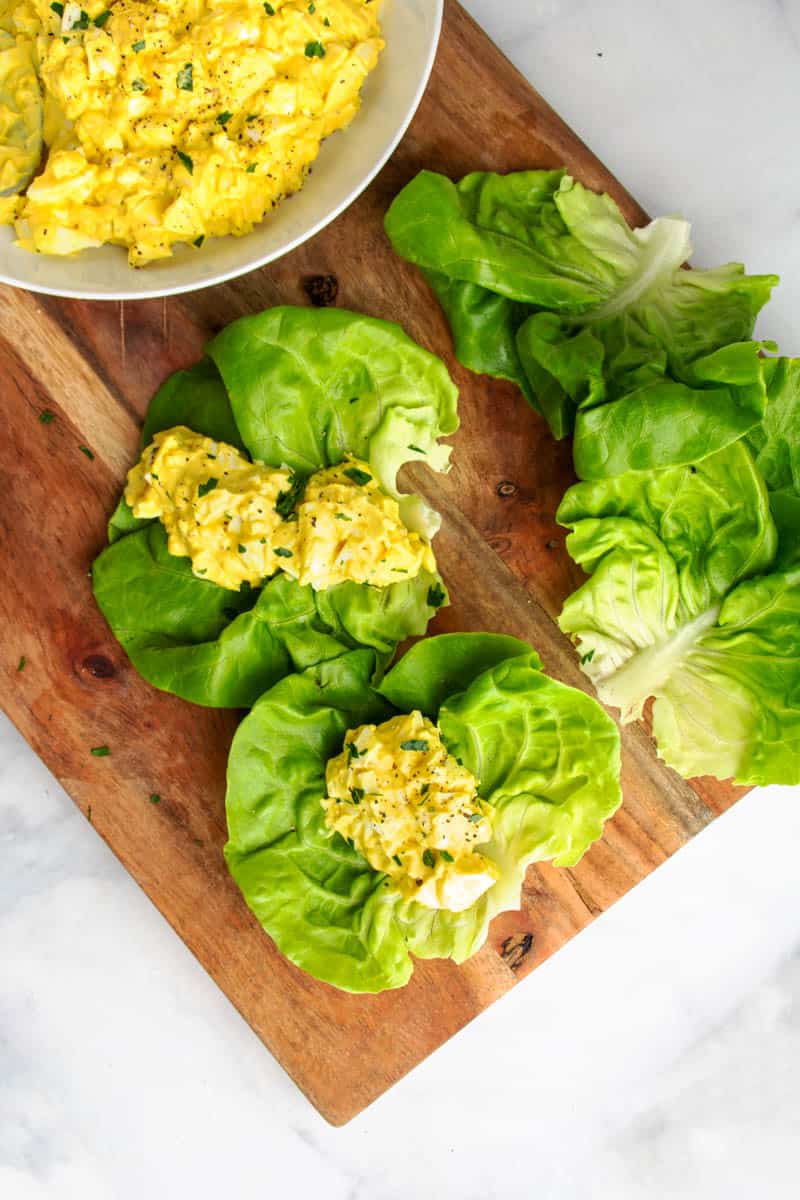 The egg is the best protein and nutrients dish that good for our health. So let's try a simple and easy breakfast or lunch meal with these egg lettuce wraps. It is made with only 6 ingredients and ready in 10 minutes for lunch.
Get the recipe here.
---
Suggested: Keto Egg Salad Recipes For Meals
---
1. Greek Chicken Salad Lettuce Wraps
Have a leftover chicken in your pantry? Make this Greek chicken salad lettuce wraps for your healthy meal. Fresh, flavorful, twist to a classic salad that will make a nice meal prep idea for your busy days.
Get the recipe here.
---
Related: High Protein Slow Cooker Recipes
---
---
If you like this article about keto wraps, please share this with your friends on Facebook, Twitter, and Pinterest. Also, you can subscribe to my blog to get all the latest articles first on your mobile.
SHARING IS CARING!
FACEBOOK | TWITTER | PINTEREST
Did you like this recipe and make it later at home? SAVE this pin to your favourite board on Pinterest!