We all know that chickpea is very nutritious and high in protein. Many recipes can be made with chickpea. Here are some high protein chickpea recipes that are as easy to make as they are delicious.
---
[jetpack_subscription_form show_subscribers_total="false" button_on_newline="true" custom_font_size="16px" custom_border_radius="0″ custom_border_weight="1″ custom_padding="15″ custom_spacing="10″ submit_button_classes="has-text-color has-background-color has-background has-vivid-red-background-color" email_field_classes="" show_only_email_and_button="true"]
---
1. Chickpea Tomato Salad With Creamy Yogurt Dressing
This chickpea salad is loaded with tomato, cucumber, and other vegetables, coated with creamy yogurt dressing. This salad is perfect for lunch or dinner.
Get the recipe here.
---
2. Chana Palak Recipe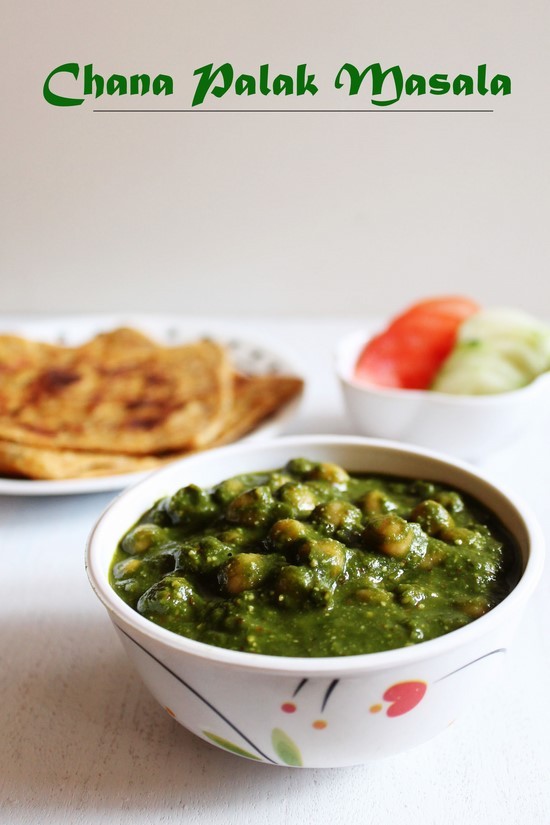 Chana Palak recipe or chole palak recipe – Boiled chickpeas are simmered into flavorful, vibrant-looking spinach gravy.
Get the recipe here
---
3. Caprese Chickpea Salad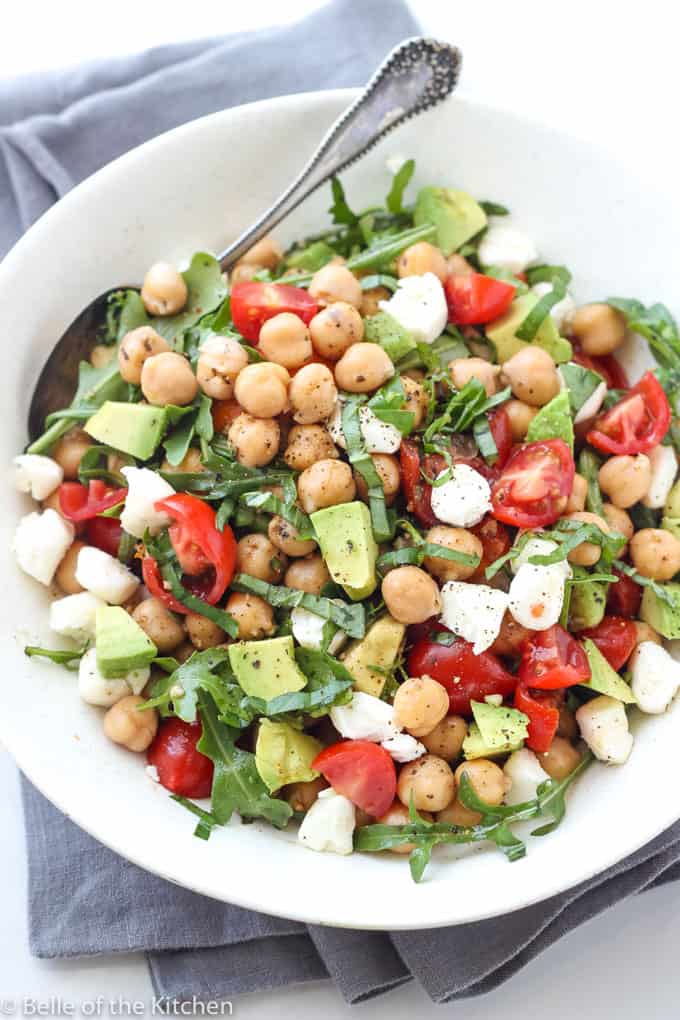 This Caprese Chickpea Salad is full of flavor and bursting with fresh ingredients like avocado, tomato, mozzarella, fresh herbs, and more. This makes a great vegetarian meal option for lunch or dinner thanks to the protein-packed chickpeas.
Get the recipe here
---
4. Easy Chickpea Salad With Feta & Mint
This Easy Chickpeas Salad with Feta and Mint is a delicious salad that can be made all year round. The recipe combines all my favorite fresh vegetables in one perfect salad.
Get the recipe here.
---
5. Quick Chickpea Curry
This super-tasty vegan chickpea curry is easy, healthy, and absolutely delicious! The tasty curry sauce is so easy to make and takes just 20 minutes in one pot. Perfect for a midweek meal. Coconut-free. 115 calories per generous portion. Vegan, vegetarian, and gluten-free.
Get the recipe here
---
6. Avocado Chickpea BLT Sandwich
Take your ordinary vegan BLT sandwich up a few notches with this Avocado Chickpea BLT.  This irresistible sandwich is stuffed with a perfectly seasoned avocado chickpea mash. It's then topped with smoky tempeh bacon, lettuce, and tomato to complete this vegan BLT!  A quick and easy lunch that can be ready in minutes!
Get the recipe here
---
7. Healthy Baked Falafel
Looking for the best falafel recipe? These healthy baked falafel are vegan, gluten-free and so versatile. Eat them with salad, in a wrap, or make a falafel burger – incredibly delicious any way you serve them!
Get the recipe here
---
8. Crunchy Roasted Chickpeas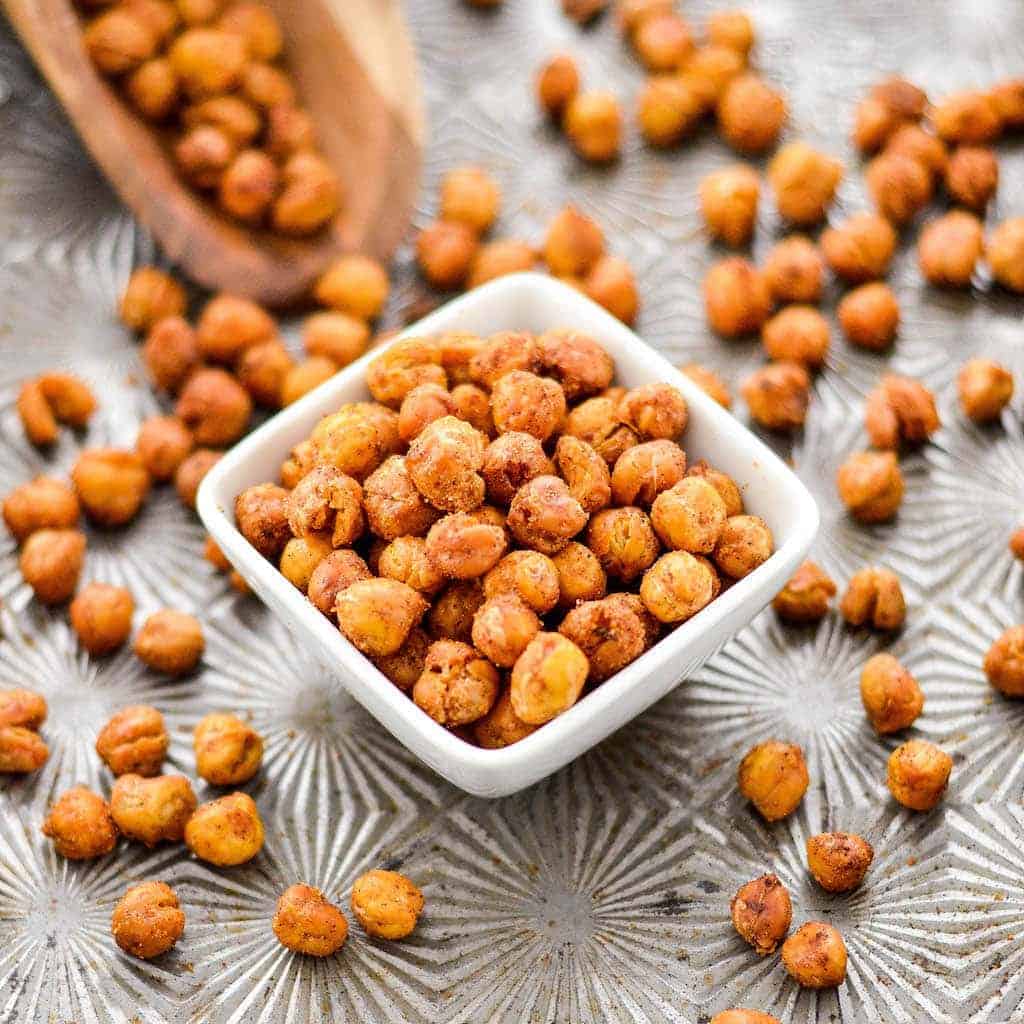 This perfectly seasoned Crunchy Roasted Chickpeas Recipe makes a great snack or salad topper! They're easy, flavorful & healthy! Vegan, gluten-free, dairy-free, & sugar-free!
Get the recipe here
---
9. Protein Chickpea Cookie Dough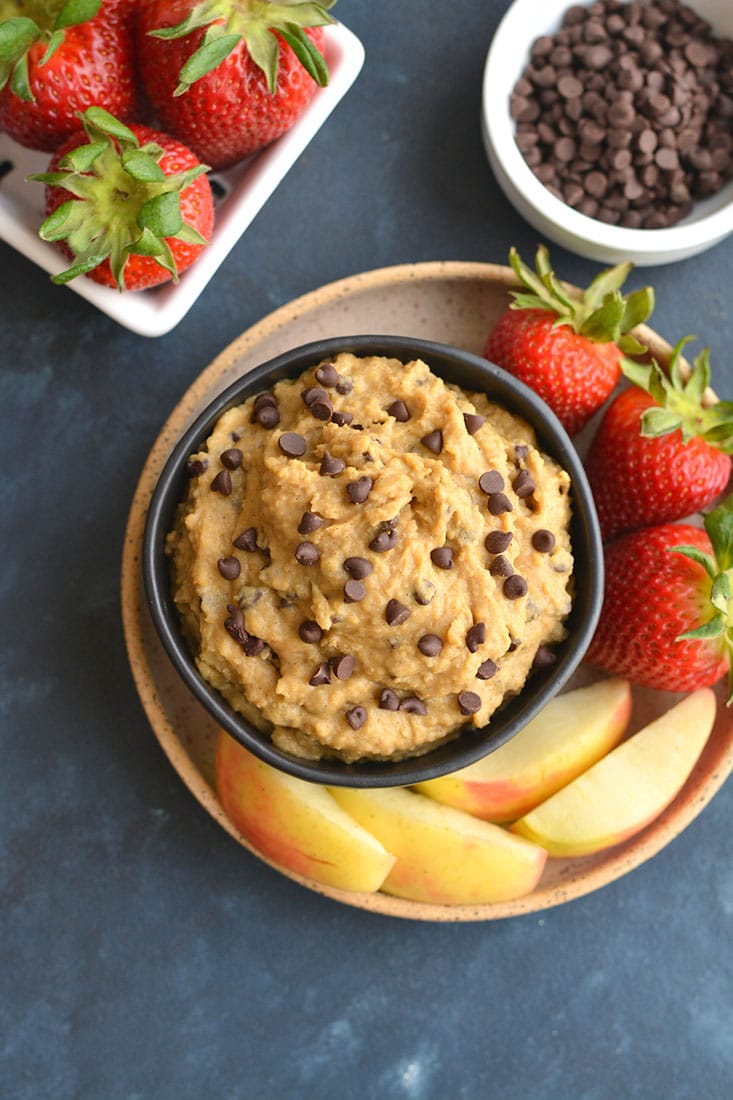 Protein Chickpea Cookie Dough! This eggless no-bake cookie dough is made in a blender with chickpeas and protein powder. Low in sugar, refined sugar-free, and dairy-free, this goodie makes the perfect healthy snack treat for any time of day. Vegan + Gluten-Free + Low Calorie
Get the recipe here
---
10. Chickpea Salad With Quinoa
This Greek chickpea salad is healthy and a filling dish on its own.  It is packed with protein from the chickpeas and quinoa and full of vitamins from the herbs, vegetables, and salad dressing.
Get the recipe here
---
11. Instant Pot Moroccan Chickpea Stew
The easiest ever, best and creamiest Dump and Start Instant Pot Chickpea Stew is just a few ingredients and minimal effort away. Comfort food, quick weeknight dinners, and lazy lunches are at your fingertips with this awesome Moroccan Harira.
Get the recipe here
---
You may like these recipes:
---
If you like this article about high protein chickpea recipes, please share it with your friends on Pinterest and Twitter. Also, you can subscribe to my blog to get all the latest recipes first on your mobile.
SHARING IS CARING!
FACEBOOK | TWITTER | PINTEREST
Did you like this article and make it later at home? SAVE this pin to your favorite board on Pinterest!