These Irish cream desserts are mostly coffee or chocolate based. You can certainly use their alternatives. These holiday ideas are simple desserts. Baileys desserts are a classic treat when added to any party or celebration. You are going to go crazy with the taste and look of these. One thing to keep in mind before making these holiday recipes. If you are making these irish cream desserts first, select the simplest and least ingredient dessert first. Then make the rest. Think of them, think about them and then make them. I am sure those who love to cook will definitely make them. Those who have the desire to create something new are always ready to take on new challenges. These 21 recipes will make you win new challenges. I am sure you will succeed and succeed with great taste. I promise I will meet you soon with such a gem. Love!
---
21. Easy Baileys Chocolate Dessert Pots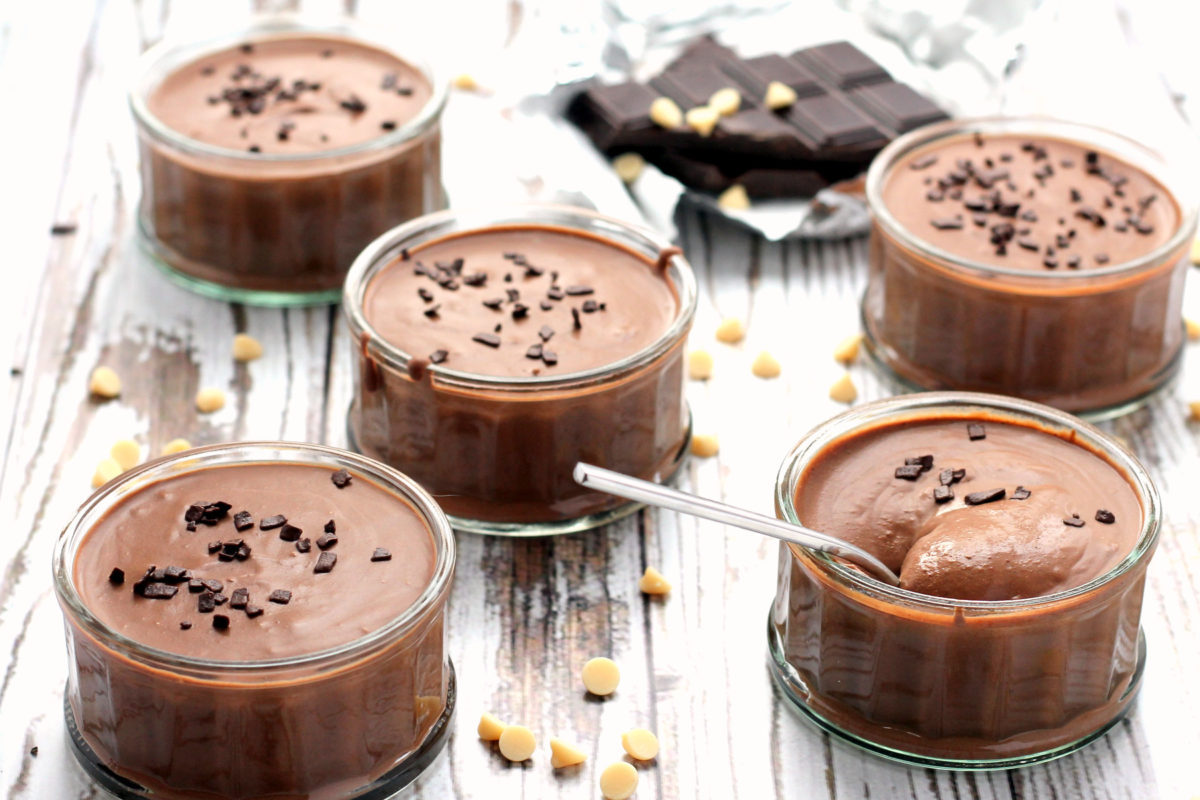 Rich and luscious, with a creamy, indulgent texture, these Irish cream desserts are reminiscent of chocolate mousse or pudding. This dessert dish is among the quickest and easiest you can discover, and it's impressive enough to host a dinner date! You should be aware of two facts regarding these tiny Baileys Chocolate Dessert Pots. The first thing is that it's quite simple. 

Three ingredients just need to be combined after melting some chocolate. only three! The names of the first two are obvious. Do you want to know more? This is coconut milk! Second, it is really boozy. I'll have to suggest this for your Valentine's Day festivities since it's February and it's so chocolaty!
Get the recipe here.
---
Related: Chocolate Dessert Recipes
---
20. Baileys Ice Cream
Since it doesn't require churning, this Bailey's ice cream may be made without an ice cream maker. Your friends and relatives will definitely recognize this as Baileys the moment they taste it because baileys desserts are always bursting with Baileys flavor! Even though the ice cream only has three components, I decided to dress it up with some toppings.

Bailey's fans will treasure this beautiful, sophisticated treat! This incredible handmade Baileys ice cream recipe calls for Irish Cream Liqueur as its base. It tastes great either plain or with some drizzled chocolate sauce. This recipe for alcoholic ice cream is ideal for your holiday ideas. This is one you definitely don't want to miss.
Get the recipe here.
---
Suggested: Protein Ice Cream Recipes
---
19. Baileys Chocolate Mousse
A traditional French chocolate mousse is the epitome of luxury. Possibly aside from Baileys chocolate mousse! This Baileys Chocolate Mousse has a nice strong kick of the distinctive Baileys flavor and is rich, velvety, chocolatey, and delicious. This recipe is excellent for dinner parties since it can be made in advance and chilled in the refrigerator while the rest of the meal is being prepared.

It's also a stunning dessert that is surprisingly simple to make. It's a terrific dish for your holiday ideas because Baileys Irish cream is used. Additionally, if you're searching for a joyful and boozy dessert for a special event or during the holidays, this is the dish for you!
Get the recipe here.
---
Related: Cinnamon Dessert Recipes
---
18. Baileys Truffles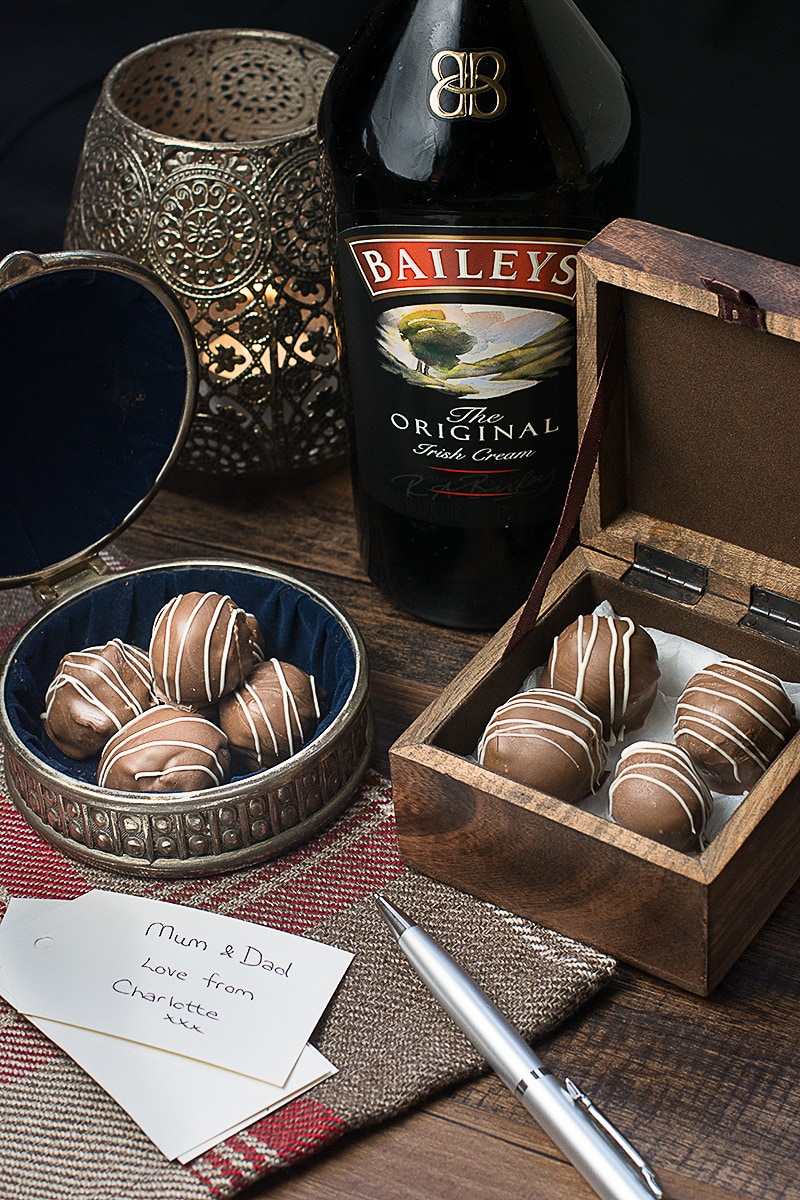 These truffles are simple to make yet seem so sophisticated because they are so rich, creamy, delectable, boozy, bittersweet, and chocolatey. Baileys truffles are bites of unadulterated, unrestricted chocolate ecstasy. And the best part about these baileys desserts is that you only will require one to satiate your sweet desire because they are so potent. These Baileys truffles are fantastic!

One of my absolute favorites is chocolate. Truffles seem so posh. Do they not? Simple as pie, people! The time it takes for the chocolate to set is the only drawback. These Baileys chocolate truffles are ideal as a holiday party dessert or for gift-giving. or to shove in your mouth. No judgment from me.
Get the recipe here.
---
Suggested: Keto Cream Cheese Desserts
---
17. Baileys Chocolate Chip Cookies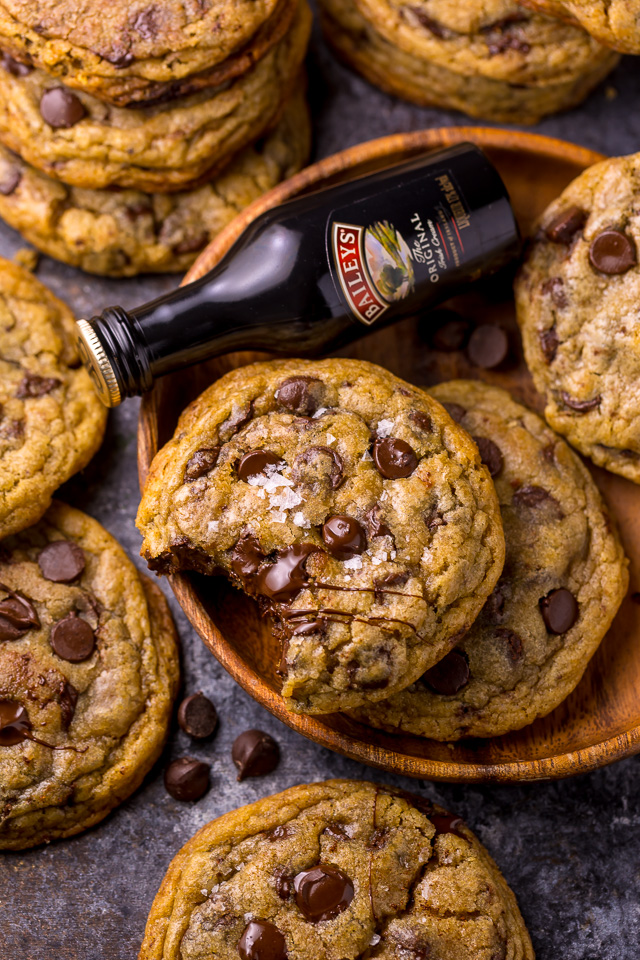 Decadent chocolate chip cookies with a dash of Irish cream and cocoa taste are Baileys Irish Cream Chocolate Chip Cookies. Inside and out, chewy and soft, with a hint of crispness! These Baileys Irish cream chocolate chip cookies are a delicious dessert that would be appropriate for your holiday ideas. A delicious chocolate chip cookie in your mouth.  Your teeth cut right through the somewhat crispy shell and into the soft, oozy interior loaded with chocolate chips. However, when the biscuit melts on your tongue, you become aware that this treat is more than just a simple cookie. A flavor that is mild and unusual for a chocolate chip cookie.
Get the recipe here.
---
Related: Keto Cookies Recipes
---
16. Baileys Cookies and Cream Parfaits
Layers of rich chocolate cream, boozy Baileys cream, and broken Oreo cookies are layered in these delectable Baileys cookies and cream parfaits. Nothing quite compares to a delectable parfait when you're craving a simple dessert. Particularly one that contains alcohol, like these Baileys cookies and cream parfaits. And let's face it, what could be better than Baileys whipped cream sandwiched between further layers of crumbled chocolate cookies? Baileys, of course.

Also cookies and chocolate And because… do I really have to convince you of these? We're talking about an Oreo whipped cream dessert here. Just take a look at all those cream and cookie crumbs layers. How could you resist reaching for a spoon of these Irish cream desserts?
Get the recipe here.
---
Suggested: Oreo Dessert Recipes
---
15. Baileys Irish Cream Cupcakes
The luscious flavor of Baileys Irish Cream runs throughout these delectable bakes, which pair a moist, fluffy cake with smooth and creamy icing. Baileys Irish Cream Cupcakes, yum. Any time of year, I enjoy drinking Baileys Irish Cream. You'll like these luscious chocolate cupcakes covered with rich chocolate ganache and Bailey's icing since chocolate and bourbon go together so well. The icing and chocolate cupcake batter are both flavored with Baileys Irish Cream, a beverage made with Irish whisky, cocoa, and cream.

These cupcakes, which are covered in chocolate ganache, are the ideal treat for Baileys fans! Why not try some boozy baking with these delicious Baileys Irish Cream Cupcakes, which are chocolate cupcakes prepared with Baileys Irish Cream and topped with Baileys Irish Cream Buttercream frosting that has been gently laced with alcohol? Simply stunning!
Get the recipe here.
---
Related: Fruit Cupcake Recipes
---
14. Irish Cream Chocolate Brownie Recipe
You can't imagine what these Irish cream desserts are going to be like… No homemade brownie has ever failed to impress me. Cake-like, fudge-like, glazed, frosted, plain, filled, or mushy. Your choice. I simply adore brownies! Enjoy your favorite chocolate treat with a touch of Irish flavor by making these Irish Cream Chocolate Brownies! Irish cream icing topped with cake-like chocolate brownies.

The brownies benefit from the subtle coffee flavor that Baileys brings to the table. One of the most decadent and delicious brownies you'll ever bake is this one. With a gooey, moist center and a crunchy exterior, this brownie is delicious. The best brownies to make in any season of the year are those that are extremely moist and rich. You can never have just one piece of anything this delicious and chocolatey.
Get the recipe here.
---
Suggested: Keto Brownie Recipes
---
13. Irish Cream Pie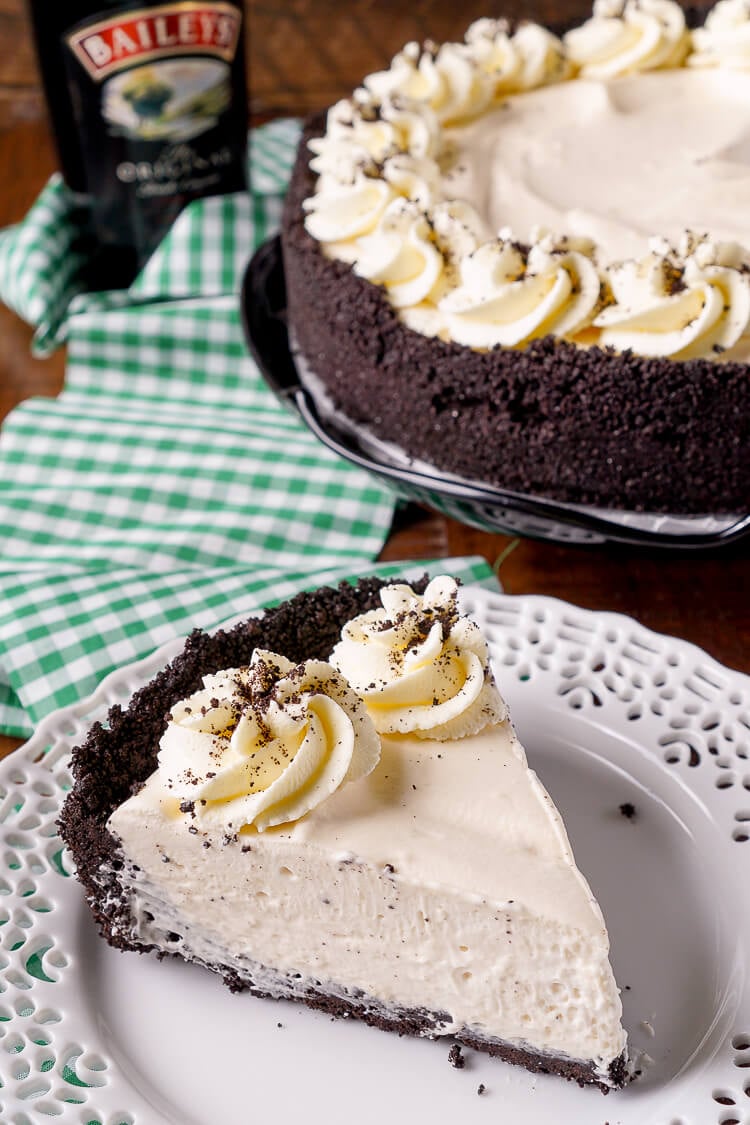 You will adore these Irish cream desserts if you enjoy Irish cream liqueur! Our scrumptious pie, which has an almond cookie crust and a silky no-bake filling, will liven up your holiday gatherings. Like a glass of Irish cream, the pie is creamy and delicious and easy to eat. This limited edition chocolate-plus pie comes with a chocolate pat-in-the-pan pie crust, which makes it simple to prepare.

You can't go wrong using a recipe as simple to follow as this one for Irish Cream Pie! I sincerely hope that you will find this as enjoyable as I did. It's truly beautiful in every way! So let's jump right into the instructions for making our Silky Irish Cream Pie. Please have a good time!
Get the recipe here.
---
Related: Amazing Pie Recipes
---
12. Irish Cream Oreo Truffles
Without cream cheese and with a dash of Irish cream, my fave Oreo truffles! So simple, so lovely, and so decadent! Look no further if you're seeking quick, rich, and attractive baileys desserts. Oreo cookies crushed, a dash of delectable Irish cream, and a silky chocolate coating? No problem, if I may! Oreo truffles are a need for everyone. It turns out that all you actually need to keep the Oreo crumbs together is a little bit of creamy milk. I knew I had to start with Bailey's. I simply adore it, and I also have a tonne of different liqueurs that I need to consume before summer. However, I think this would also work incredibly nicely with various liqueurs or creams.
Get the recipe here.
---
Suggested: Truffle Dessert Ideas
---
11. Irish Cream Bundt Cake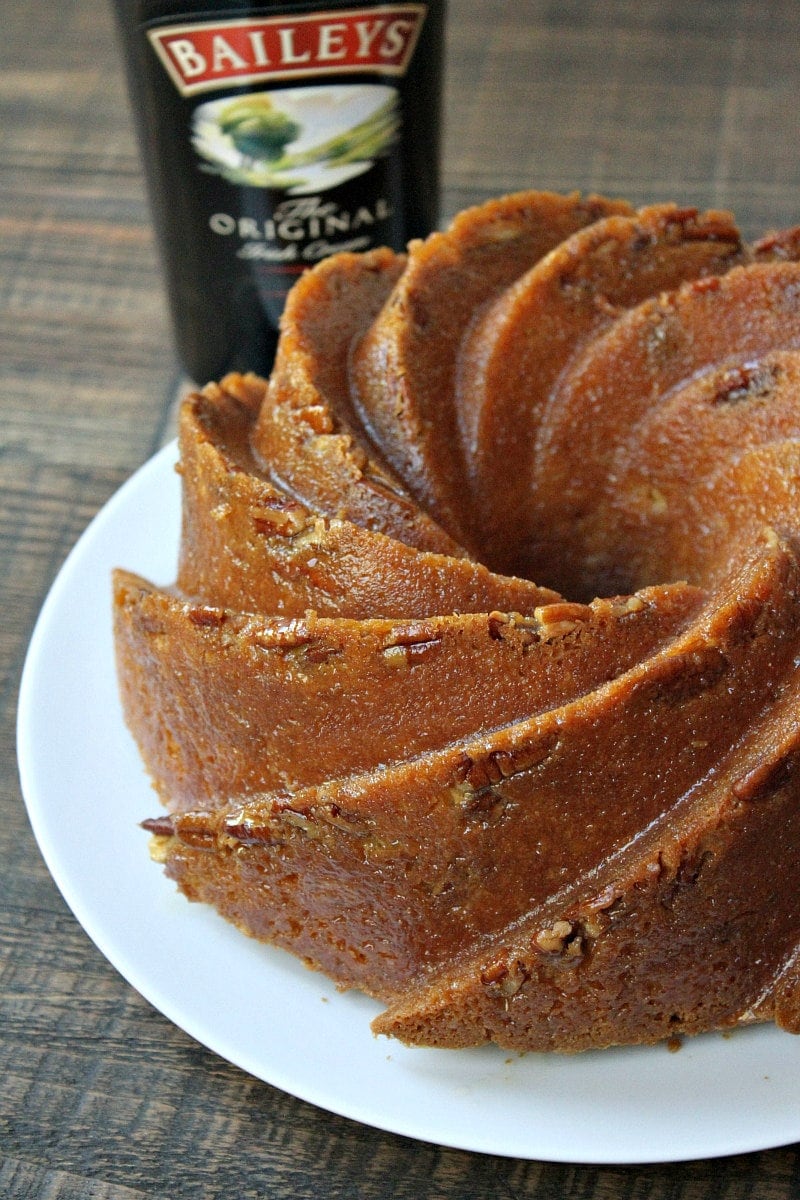 Need desserts to enrich your menu for holiday ideas? Everyone will adore this rich and delicious Baileys Irish Cream Bundt Cake, which is created with Baileys Irish Cream, boxed cake mix, and instant chocolate pudding. I adore this well-known liqueur's chocolate and cream flavor. I've been baking bundt cakes using this recipe for years. This cake stands out because of a few unique characteristics.

It's pretty much the easiest cake you can prepare because it starts with a box of cake mix and a box of instant pudding mix. The cake is additionally moist thanks to the pudding mix. Additionally, since it's a bundt cake, you won't need to worry about fancy icing. Simply pour the glaze on. The ideal Bailey's cake is quick, simple, and insanely delicious.
Get the recipe here.
---
Related: Brie Cheese Appetizers
---
10. Bailey's Chocolate Dipped Cookies
The finest recipe for Bailey's chocolate-dipped cookies that incorporates Bailey's Irish Cream is this one. These Bailey's Chocolate Dipped Cookies will sell out like hotcakes because of how flavorful they are. These soft, chewy, and delectable Baileys chocolate cookies! They contain exactly the proper amount of Baileys flavor—not too much, but enough to make an impression on the palate.

This cookie is well balanced by the white chocolate coating on the outside. These cookies might well become my new favorite. Undoubtedly, they have become the family's new favorite. The white chocolate comes out on top. The cookie comes out on top. Additionally, they are ideal for any day. mostly because they are great. These can only be enjoyed if you enjoy cookies, chocolate, and Baileys.
Get the recipe here.
---
Suggested: Grilled Cheese Sandwich Recipes
---
9. Chocolate Guinness Cupcakes with Baileys Frosting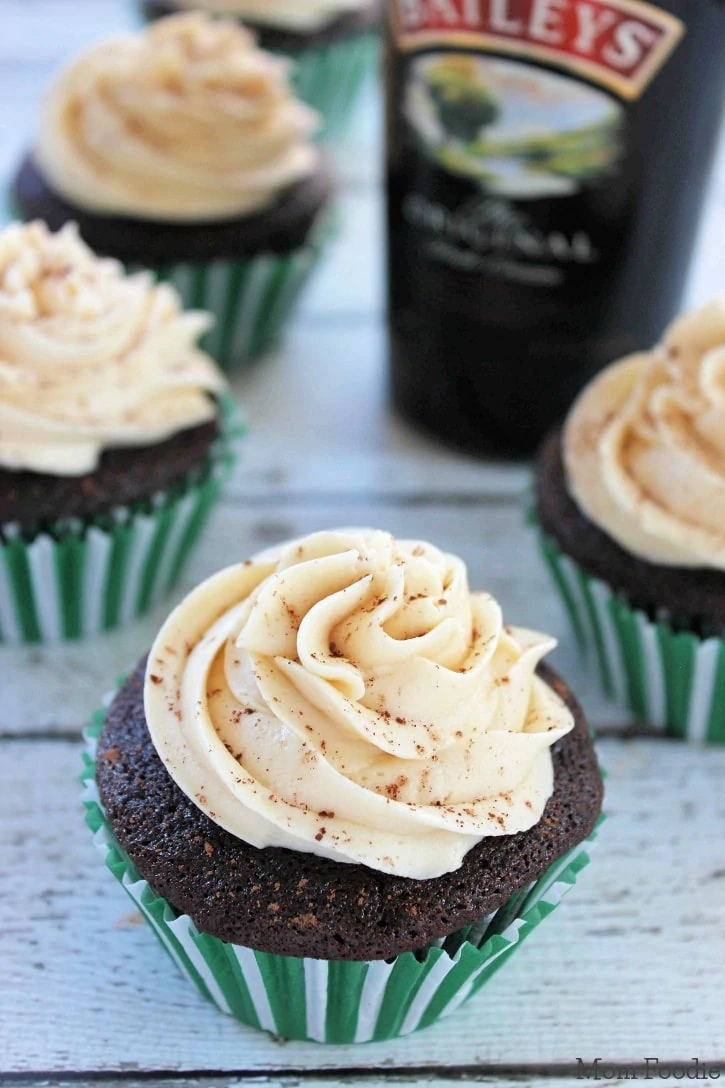 Jump into the holiday season with these amazing baileys desserts. These Guinness-infused cupcakes with thick Baileys frosting are the perfect festive, not-too-sweet, yet seriously delectable cupcakes for your special events. When you want to avoid all the green nonsense and stick with authentic Irish flavors, cupcakes are a terrific option. Give yourself a genuine treat by pairing these Guinness chocolate cupcakes with an Irish coffee.

The Guinness flavor ends up being the most prominent in the cupcakes itself, competing with the chocolate. Actually, Guinness is what turns the chocolate into something rich and black. The icing is a traditional Baileys-infused cream cheese frosting. These cupcakes are a must-bake throughout the year, but they're especially delicious when honoring the finest Irish sweets.
Get the recipe here.
---
Related: Pineapple Desserts
---
8. Baileys Cookies and Cream Popsicles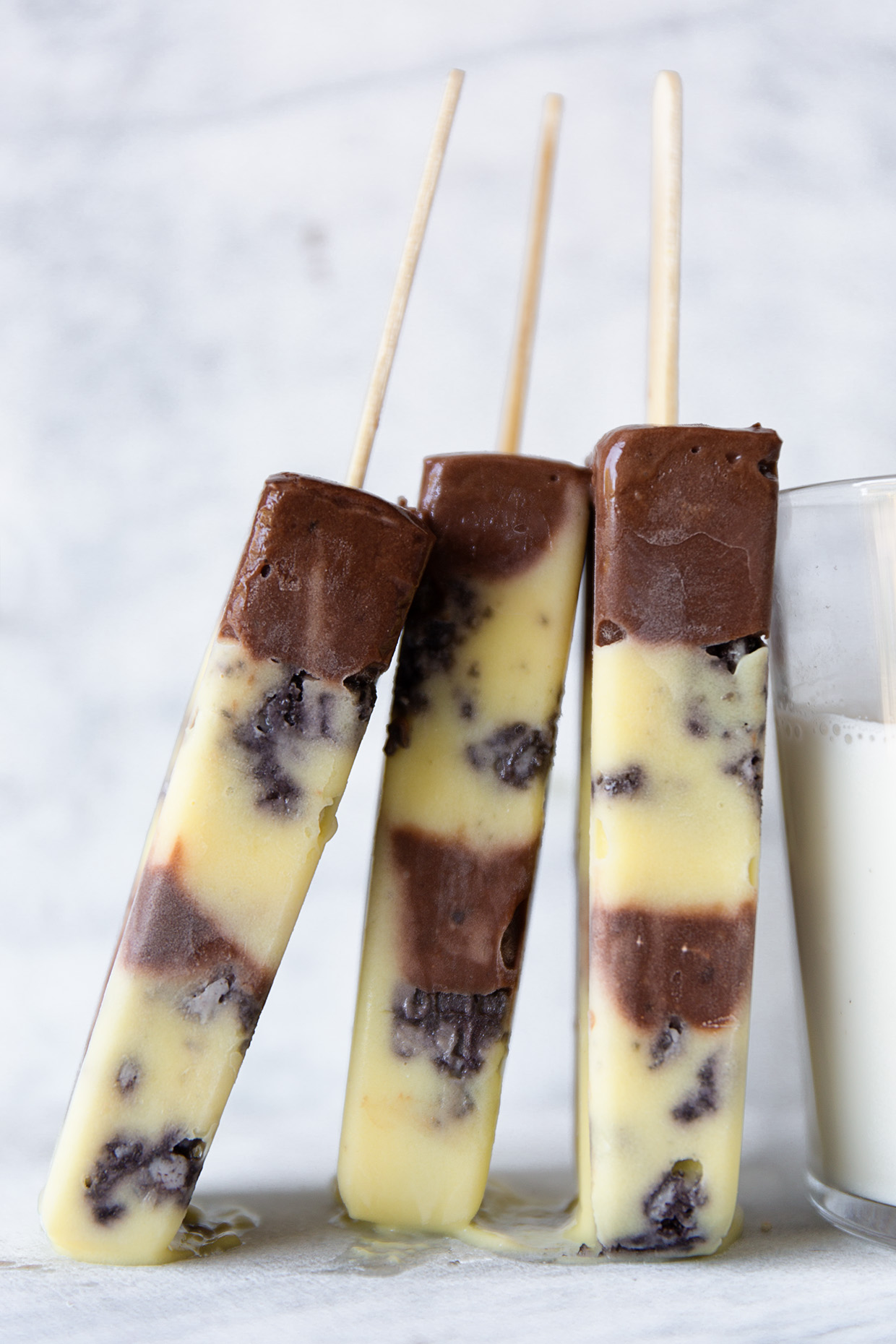 With this recipe for Irish Cookies & Cream Popsicles, an alcoholic frozen treat made with Baileys Irish Cream, Oreo Cookies, Jell-o Instant Vanilla Pudding, and Jell-O Instant Chocolate Pudding, you can beat the heat! This is a popsicle for adults. These Irish Cookies and Cream popsicles are for you; the kids can indulge in other mouthwatering handmade treats. One of the nicest aspects of this dish is a boozy kick from the Irish cream liqueur, in addition to the beautifully potent coffee and cookies & cream flavors.

It gives the popsicle a boozy sweetness, but if you don't like sweet things, feel free to substitute Irish whisky. You may be sure that this dish will keep you cool and enhance your summer. They are creamy and delightful!
Get the recipe here.
---
Suggested: Layered Dessert Recipes
---
7. Chocolate Irish Car Bomb Pops
Welcome to the weekend's boozy holiday ideas! Irish whisky, Guinness, Bailey's Irish cream, and chocolate were combined together and then frozen to create a creamy, smooth popsicle. The ideal Irish cream treats are these rich, chocolatey Irish car bomb pops! Accept alcoholic pops! Making sure that there is enough non-alcoholic liquid to ensure a firm freeze is key. 

The pops melt too quickly to be enjoyed if there is too much Irish cream alcohol present. If there isn't enough alcohol present, the flavor is lost, and all that's left is a frozen milk cube. I chose to add a shot of fudge to each popsicle in order to balance out the alcohol content. Is there any other kind of heaven except a floppy, boozy kind?
Get the recipe here.
---
Related: Dairy Free Desserts
---
6. Baileys Ice Cream with Chocolate Chips
This Bailey's ice cream with chocolate chips may be produced without an ice cream maker because it doesn't need to be churned. Because Bailey's sweets are usually brimming with Bailey's flavor, your friends and family will undoubtedly recognize this as Baileys the instant they taste it! I choose to add some toppings even though the ice cream only has four ingredients. Fans of Baileys will adore this elegant, classy treat!

The cornerstone for this amazing homemade Baileys ice cream recipe is Irish Cream Liqueur. Add LOADS of chocolate chips, as much as your heart wants.  It tastes fantastic both basic and with some chocolate sauce sprinkled on top. For your holiday plans, this recipe for boozy ice cream is perfect. You definitely don't want to miss this.
Get the recipe here.
---
Suggested: Air Fryer Dessert Recipes
---
5. No Bake Baileys Cheesecake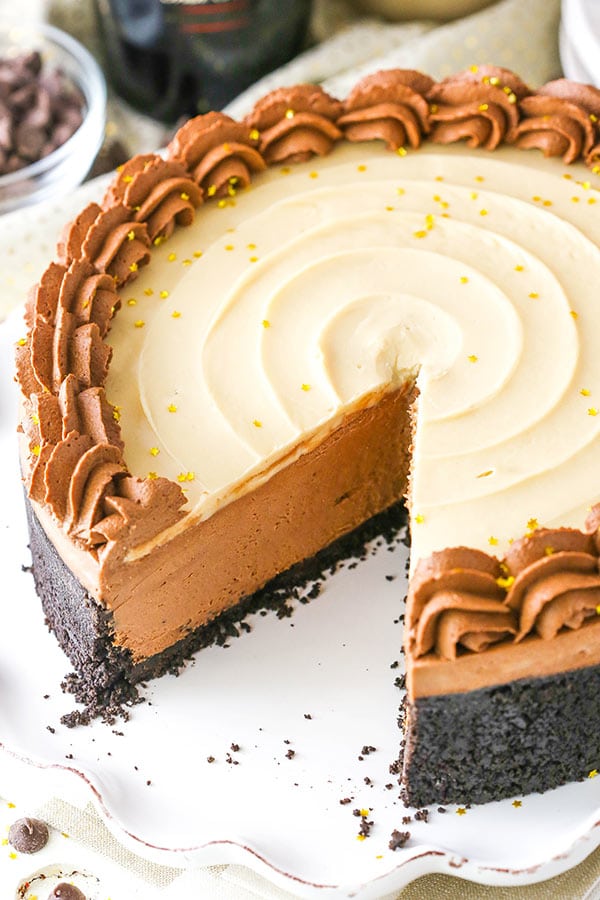 This amazing Baileys cheesecake recipe requires no baking and creates a boozy treat that is always in trend. This Baileys cheesecake is lighter than other recipes and is great to have after a heavy meal, like a Christmas dinner. It goes without saying that I love no-bake cheesecake recipes. One of the BEST no-bake cheesecakes you'll ever make is this simple Baileys Irish Cream Cheesecake.

Although Baileys isn't a drink I particularly enjoy, baileys desserts are something I truly adore. It successfully imparts the traditional Irish Cream flavor to this cheesecake without being overbearing. Additionally, when combined with a classic chocolate ganache and whipped cream, it makes the cheesecake filling SO smooth and creamy. It's incredible.
Get the recipe here.
---
Related: Banana Dessert Recipes
---
4. Baileys Irish Cream Macarons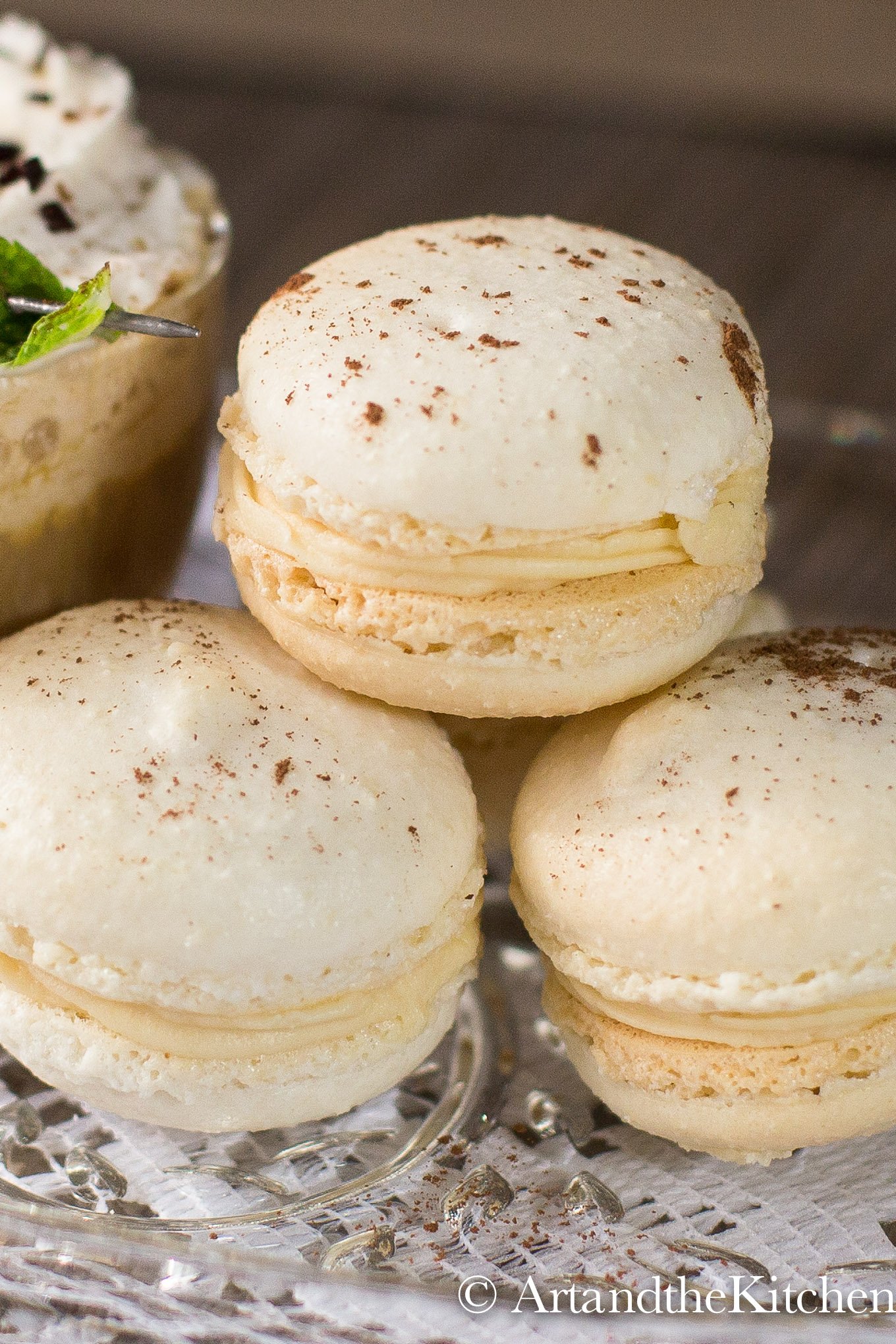 These Baileys Irish Cream Macaron are filled with a delectable cream cheese filling that has been infused with Baileys. The macarons have improved! What could possibly top Bailey's Irish Cream? a dish that contains Bailey's! This is a fantastic recipe to use as a starting point if you haven't mastered making homemade macarons yet. You'll discover that making macarons is much simpler than you might imagine. 

How does Irish cream taste? It's difficult to explain. But when you taste it, you can tell. It's absolutely creamy, yes. Additionally, it has a nutty flavor with subtle chocolate undertones. The aftertaste of Bailey's Irish cream liqueur is very intense. You either adore it or despise it. For my macarons' cream cheese, I used Bailey's Irish Cream.
Get the recipe here.
---
Suggested: Spring Desserts
---
3. Baliey's Cookie Dough Truffles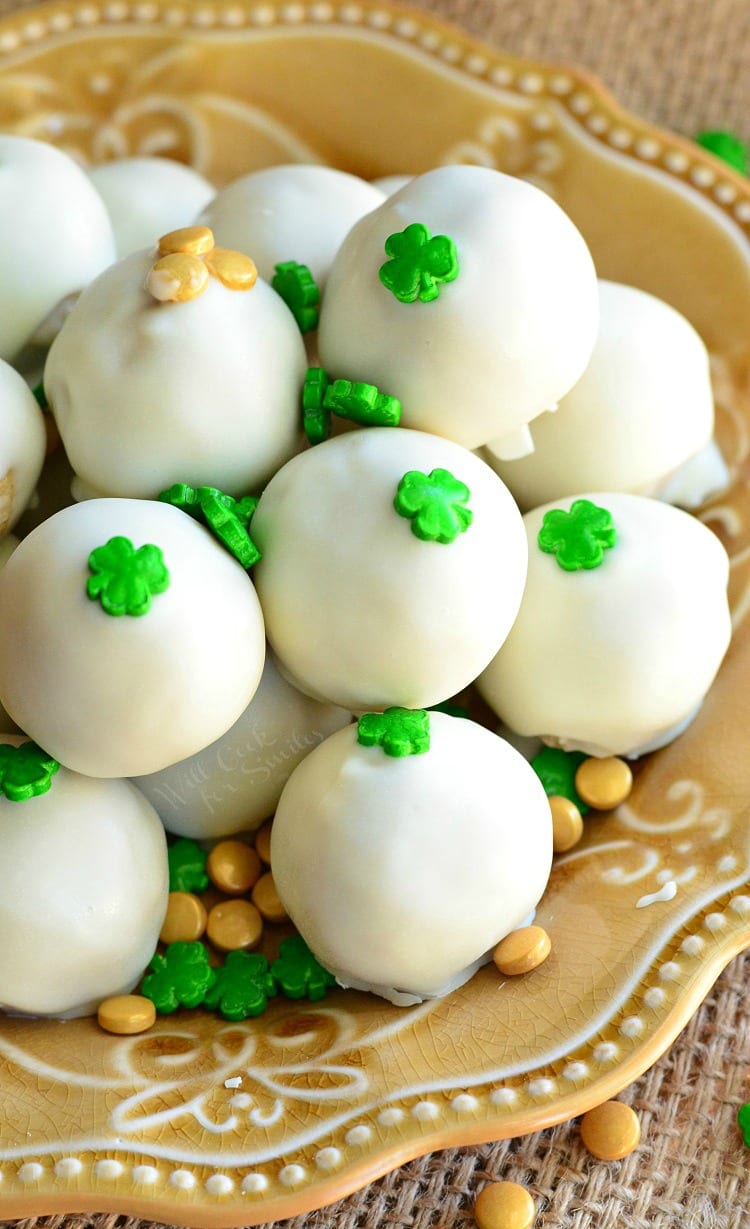 Just for grownups, these cute little truffles. White chocolate-dipped cookie dough truffles made with Bailey's Irish Cream. You may simply make a non-alcoholic version of these truffles. Fantastic way to reward yourself. These Irish cream desserts should absolutely be made if you're hosting a party. These truffles are created with cookie dough, Bailey's Irish Cream as the flavoring, and white chocolate as the coating.

With the addition of a few candy shamrocks and gold coins, these delectable truffles may easily be transformed into a St. Patrick's Day treat. You can easily make a kid-friendly version of these if you don't want to use alcohol by just replacing the Bailey's with heavy cream.
Get the recipe here.
---
Related: Strawberry Desserts
---
2. Baileys Irish Cream Chocolate Layer Cake with Baileys Buttercream Frosting
Delicious Baileys Irish Cream is used to saturate this chocolate cake, and homemade Baileys Irish Cream Buttercream frosting is used to top it off.  In this wonderful layer cake, coffee and Baileys make the ideal combination. A coffee Baileys Swiss meringue buttercream and dark chocolate ganache are sandwiched between layers of vanilla Baileys cake. One of my favorite flavor pairings is coffee and baileys.

Despite the fact that we don't drink much around here, you can bet that we always have a bottle of Baileys on hand. We don't drink it by itself, but it's frequently added to baked products like muffins, hot chocolate, and coffee. It improves the flavor of a cake in unimaginable ways! So we LOVE these baileys desserts.
Get the recipe here.
---
Suggested: Vegan Cake Recipes
---
1. Irish Cream Coffee Cake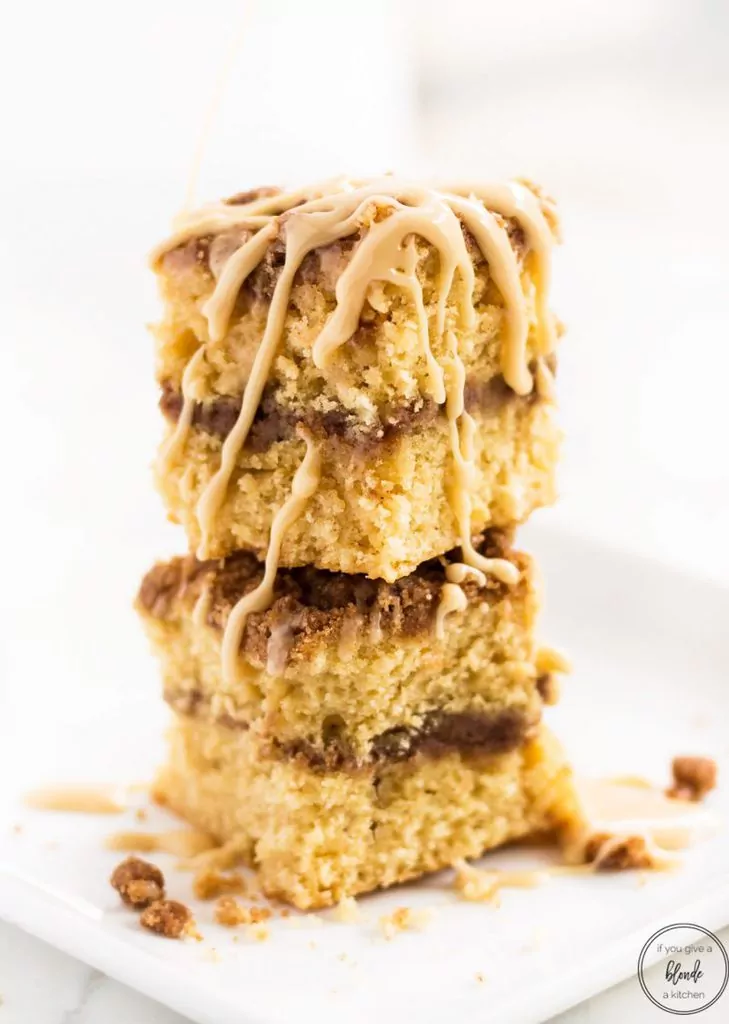 Want interesting holiday ideas for breakfast? Irish cream coffee cake is the deal. The cake is created with a crumble of brown sugar and is flavored with Irish cream. March will soon be here, therefore St. Patrick's Day is already on my mind. I baked an Irish cream coffee cake this past week. It has Irish cream flavoring and is tender. How come I never considered this before? Coffee cake and Irish cream-spiked coffee are available. 

Irish cream is a logical choice to flavor the cake. It turns out to be fairly easy to do. The best coffee cakes, in my view, require sour cream. I wanted to add the flavor of Irish cream while keeping sour cream as an ingredient.
Get the recipe here.
---
---
If you like this article about Irish Cream Desserts, please share this with your friends on Facebook, Twitter, and Pinterest. Also, you can subscribe to my blog to get all the latest articles first on your mobile.
SHARING IS CARING!
FACEBOOK | TWITTER | PINTEREST
Did you like this recipe and make it later at home? SAVE this pin to your favourite board on Pinterest!