Whether you decide to eat before or after diving into the present pile, it's important to start off the holiday right with the best Christmas breakfast ideas — both to fill you up and to get you the energy you need to partake in all those fun holiday festivities, from decorating Christmas cookies to watching the best Christmas movies with the whole family. Therefore we bring you 21 amazing Christmas breakfasts to enjoy with your family and friends. 
---
21. Candy Cane Crescent Roll Breakfast Pastry
Crescent rolls are shaped like a candy cane and get stuffed with a cherry and cream cheese filling for an easy Christmas brunch treat. No surprise here, we all know that food always tastes better when it comes in a fun shape. It's one of the most delicious Christmas breakfast ideas ever. 
Get the recipe here.
---
Related: High Protein Breakfast Recipes
---
20. Hot Chocolate Sweet Rolls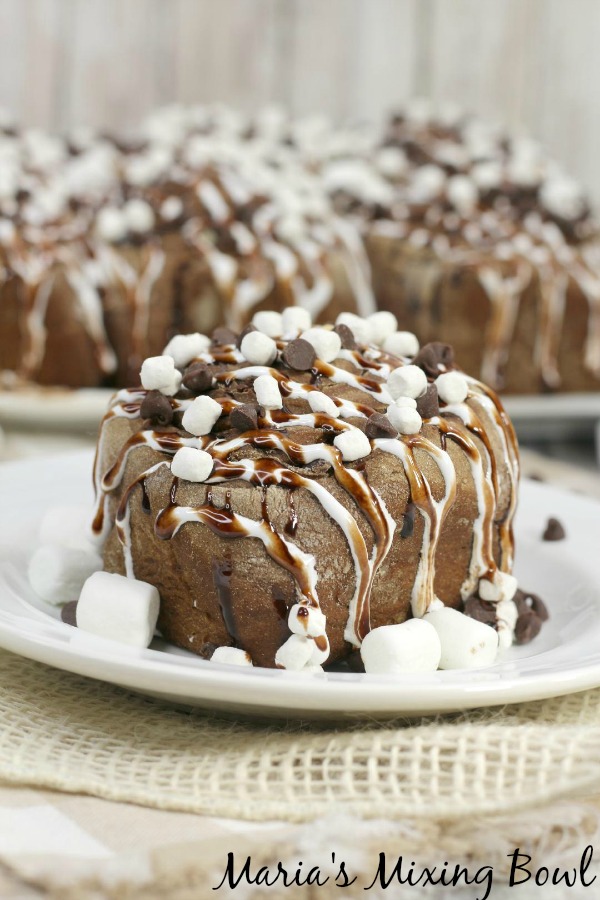 They're shaped like cinnamon rolls, but taste like flaky chocolate babka. Drizzle the warm rolls with espresso glaze or choose another topping of your choice. These make an extra special Christmas, Mother's Day, Easter, or Father's Day breakfast and one of the best breakfast recipes of all. 
Get the recipe here.
---
Suggested: Sweet Snack Ideas
---
19. Fruit Pizza Christmas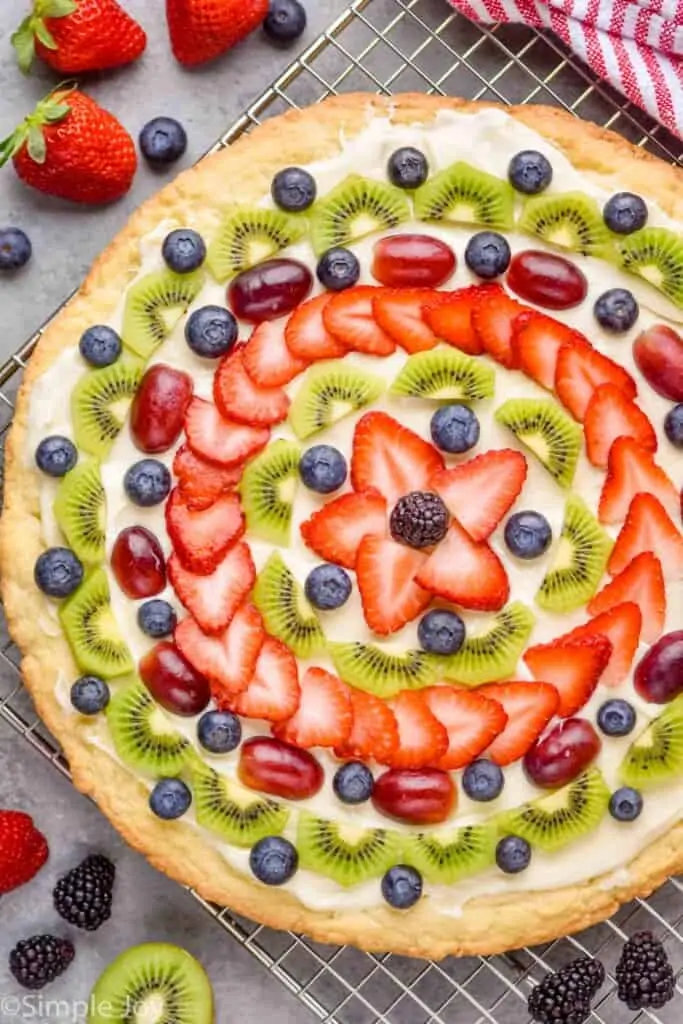 All of a sudden I cannot get enough fresh fruit & cream cheese!  It's like I'm craving it every day. We were recently at a party, and someone had made a fruit pizza. It was SO good.
To round out the holiday look, we've garnished plenty of fresh mints. It's one of the gorgeous-looking Christmas breakfasts I must say. 
Get the recipe here.
---
Related: Keto Pizza Recipes
---
18. Gluten-Free Gingerbread Waffles
The warm flavors of molasses, snappy ginger, and earthy cinnamon come together in these caramel-colored and oh-so-fluffy waffles. There really is nothing to make you feel cozier during these long winter months!
Get the recipe here.
---
Suggested: Tasty Waffle Recipes
---
17. Classic Breakfast Grazing Board
Bring your family together over this ultimate breakfast grazing board. Full of breakfast favorites like eggs, waffles, fruit, and more, everyone can mix and match their perfect breakfast. There's a lot going on with this board, but don't be intimidated. It's totally customizable to your favorite breakfast foods. A grazing board combines the best of a cheeseboard and charcuterie platter into one indulgent selection of food. It's really so cool to make these types of Christmas breakfast ideas and you will love it trust me. 
Get the recipe here.
---
Related: Holiday Breakfast Recipes
---
16. Strawberry Stuffed French Toast Recipe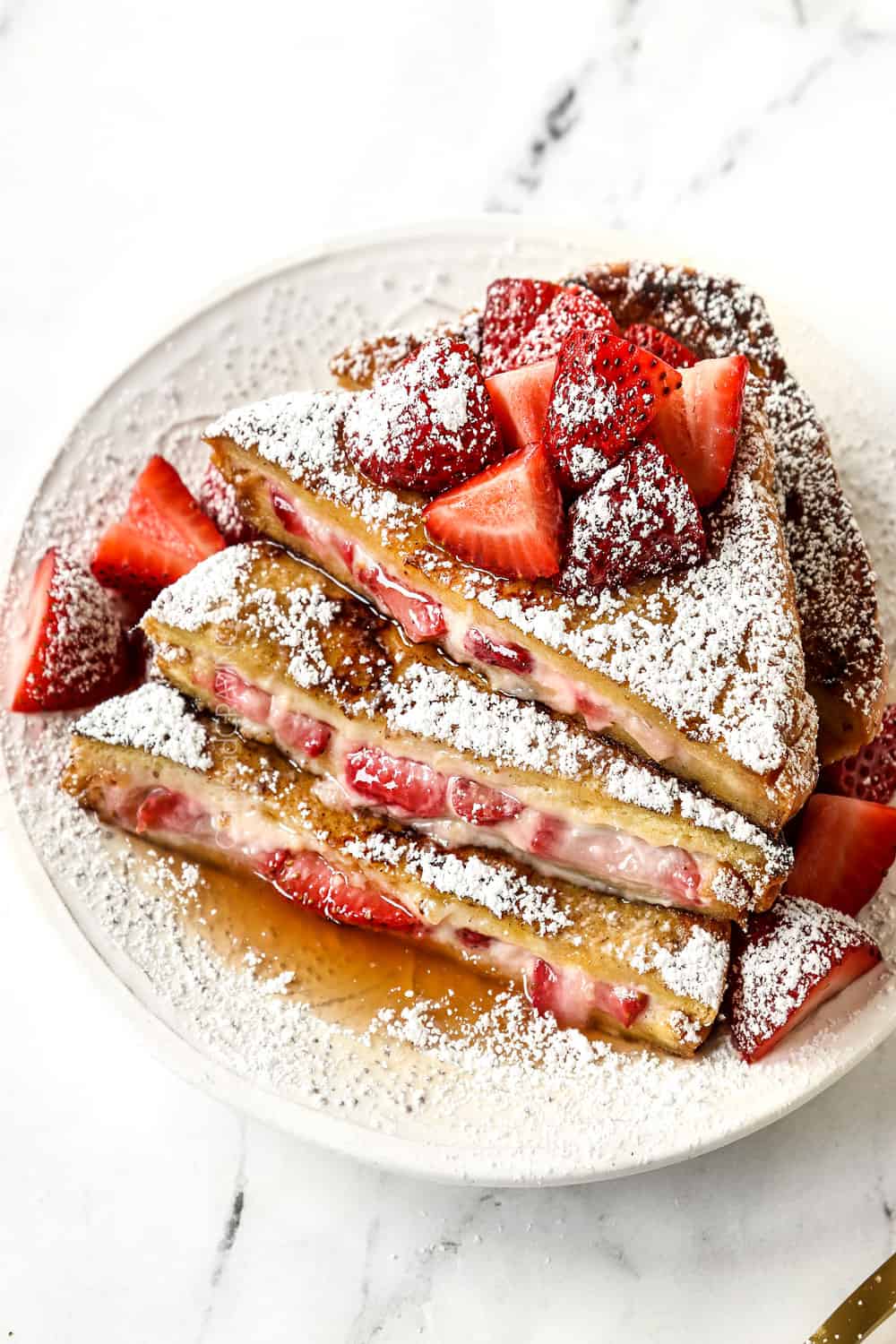 Strawberry French Toast is a fun breakfast or brunch idea for Christmas made with brioche bread, cream cheese, and strawberries! This toast is what brunch dreams are made of – deliciously sweet and perfect for a cozy Sunday. Easy to make, this really takes french toast up a notch with the cream cheese and strawberries stuffed inside two slices for bread and then cooked until golden brown! Because I LOVE strawberries so much, this is one of my favorite breakfast recipes ever.
Get the recipe here.
---
Suggested: Healthy Toast Ideas
---
15. Hot Chocolate Pancakes
Hot Chocolate Pancakes feature rich chocolate buttermilk pancakes with a thick chocolate fudge topping and garnish with mini marshmallows. Perfect for Christmas morning! As a chocoholic, this recipe satisfies all my cravings instantly. The delicious flavor of hot cocoa makes these pancakes a festive morning treat that your whole family will love. While you might have had hot chocolate with your pancakes, wait until you try it IN your pancakes! Not only are these pancakes irresistible, but they are also incredibly easy to make and will be one of your favorite Christmas breakfast ideas in no time. 
Get the recipe here.
---
Related: Vegan Pancake Ideas
---
14. Overnight Croissant French Toast Bake
Easy croissant french toast casserole can be prepared the night before and baked in the morning! Impress your family with a decadent breakfast. There's no better way to serve Croissants. Buttery, flaky croissants soak up a full-flavored egg wash to give you perfect, soft-in-the-middle croissant French Toast with a crispy golden crust. The best of both worlds! Incredibly easy, this may just be better than regular French toast. Let your oven do all the work for you! It's one of the easiest Christmas breakfasts to make honestly. 
Get the recipe here.
---
Suggested: Christmas Drink Ideas
---
13. Crockpot Breakfast Casserole
What can I say, I'm on a roll with my crockpot! This is one of the best breakfast recipes! You wanna know why?
Well, you put all the ingredients in before you go to bed, set your crockpot, and wake up to a kitchen bursting with heavenly smells, and a warm, hearty meal. No fuss, just scoop onto a plate with a side of fresh fruit, and you have yourself a beautiful breakfast. A combination of shredded hash browns, sausage or ham, and lots of cheese is covered with eggs and "baked" to perfection in the slow cooker. Making a CrockPot breakfast casserole recipe has never been easier!
Get the recipe here.
---
Related: Christmas Casserole Recipes
---
12. Grinch Cinnamon Rolls
This is one of the perfect Christmas breakfast ideas when your family wants a little bite between opening presents and playing with all their new toys. Grinch Cinnamon Rolls are a fun way to celebrate the holiday, with the green color of the Grinch in the icing, and a little red candy heart to boot. Not only does this recipe use store-bought cinnamon rolls, making a hot breakfast super easy to make, but with just a couple of special ingredients, they are turned into a fun holiday treat for the kids. 
Get the recipe here.
---
Suggested: Weight Watchers Snack Recipes
---
11. Lemon Blueberry Sheet Pan Pancakes
This fluffy, sweet oven-baked pancake will save you from flipping cakes for everyone. Instead, mix up the batter and bake-off this sheet pan-sized pancake in the oven. While cooks will appreciate the efficiency of this recipe, everyone around the table will appreciate its flavor. The combination of fresh blueberries and lemon zest provides a pleasant, slightly tangy contrast to the sweet blueberry preserves and pancake base. This well-balanced flavor is appealing to adults and still plenty kid-friendly, too.
So, whether it's Christmas morning and you don't want to miss a minute of the new-toy joy, or you're just trying to streamline the breakfast routine, it's worth adding this to your recipe box. It's one of my best breakfast recipes and I am sure you will love it too. 
Get the recipe here.
---
Related: Sheet Pan Recipes
---
10. Chocolate Stuffed Monkey Bread 
If I told you how many chocolate-stuffed monkey bread fingers I've licked clean over the last month, you might think I have a chocolate obsession. You'd be right. I am obviously a chocolate lover duh! I know you can make monkey bread with refrigerated biscuit dough, but I decided to use frozen bread dough instead. The end result was an explosion of chocolate flavor from the inside! It was ridiculously delicious! If you are a chocolate lover, you can't really resist these types of breakfast recipes, trust me.
Get the recipe here. 
---
9. Carrot Cake Muffins
Carrot Cake Muffins have all the flavors of carrot cake that you love but in muffin size. Sweet, ultra-moist, with a hint of cinnamon and perfectly fluffy texture. Great for breakfast, snack time, or grab-and-go meals on the fly! These muffins taste amazing plain but add a Cream cheese frosting…Oh yes!  I mean, what is Carrot Cake without the frosting? And when you add frosting to a muffin, it almost becomes a dessert. And everyone loves dessert. Even if there are carrots involved! It's one of the most delicious and healthy Christmas breakfast ideas so far. 
Get the recipe here.
---
Related: Christmas Cupcake Ideas
---
8. Omelette Breakfast Bites
I am so excited to share this easy egg omelet recipe with y'all because it is one of my favorite breakfast recipes! These omelet breakfast bites are ridiculously easy to make and are seriously delicious. These easy omelets are perfect for busy mornings and little hands. You can make them ahead of time and refrigerate them for an easy grab-and-go breakfast. Plus, this is a recipe kid can easily help make which for my family has been a fantastic way to sneak some healthy foods into my picky eater's diet.
I like being able to toss these little Omelettes into the oven and know that the kiddos can enjoy a hot breakfast on the way to school. Since Christmas break, I have been faithfully trying to have hot food for them a couple of times per week.
Get the recipe here.
---
Suggested: Keto Breakfasts Without Eggs
---
7. Blueberry Pancake Casserole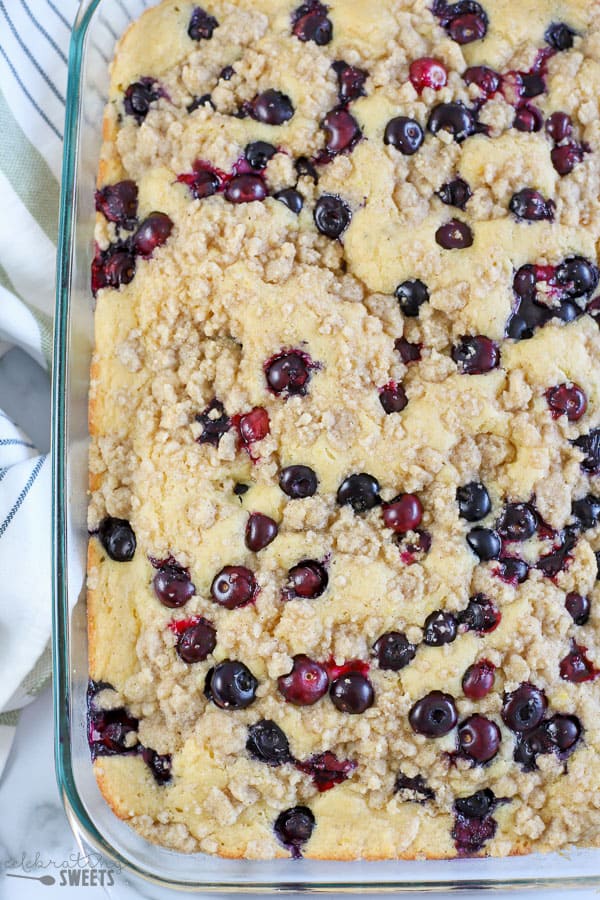 Pancakes are a classic family favorite and of course one of my most favorite Christmas breakfasts of all time. Unfortunately, they're usually lukewarm by the time they make it to the table or, the unlucky chef ends up flipping flapjacks all morning while everyone else lingers over each fresh new batch. Well, we've solved your Saturday-morning dilemma once and for all. Our Blueberry Pancake Breakfast Casserole can be made up to a night ahead and popped in the oven while the first pot of coffee brews away.
Get the recipe here.
---
Related: Hot Cereal Recipes
---
6. Apple Crisp French Toast Casserole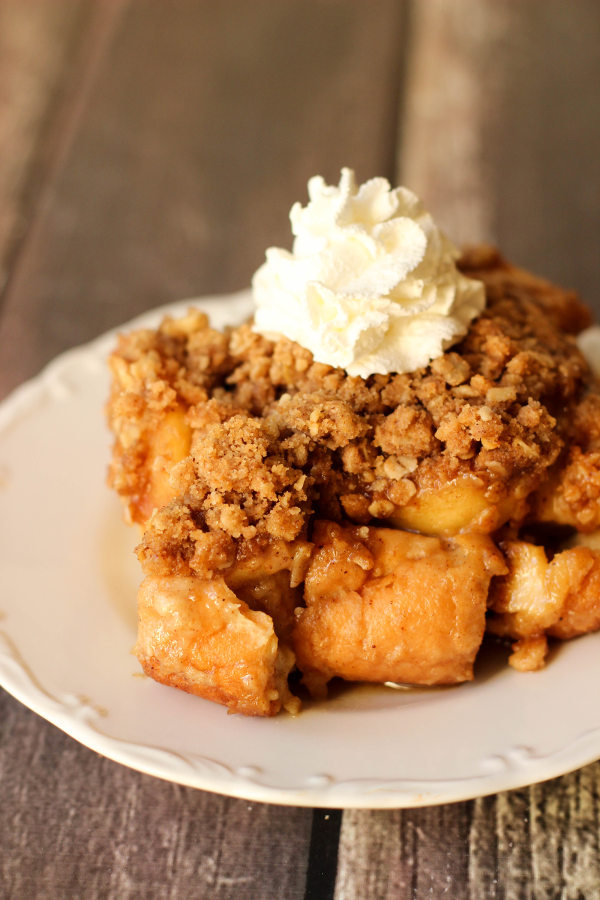 This apple crisp French toast casserole can be made ahead of time to make breakfast a super simple affair! Simplify your holidays with this tasty Casserole! I love how easy this French toast casserole is to make, and my family loved having their French toast mixed with baked apples and a crunchy, crispy oatmeal topping. 
This dish is one of the perfect Christmas breakfast ideas trust me. The 10-minute prep work is done the night before. Just pop it in the oven in the morning with a few toppings and in minutes you'll have a crowd-pleaser of a breakfast! I made a similar overnight french toast with berries and ricotta for Christmas morning and it was a major hit all around the table.
Get the recipe here.
---
Suggested: Caramel Apple Recipes
---
5. Cheesy Ham and Broccoli Frittata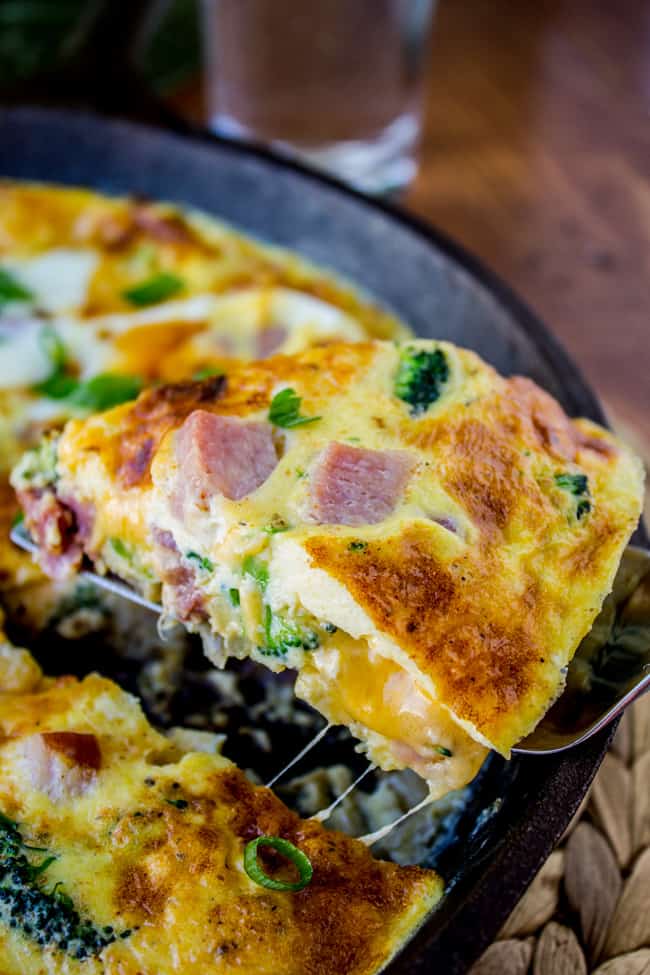 This easy ham and broccoli frittata with chunks of cheddar cheese is one of the perfect (and fast) low-carb Christmas breakfasts. Great for serving a crowd! This recipe would actually be great for breakfast, dinner, brunch, Easter, Christmas, or Mother's Day, to name a few. Frittatas are such an easy, cheap, and fast way to serve a crowd. No slaving in the kitchen making 7 omelets, and no waiting an hour for a casserole to bake. You can add whichever veggie/meat combo you'd like, but I am particularly fond of this ham-broccoli-cheese version. Instead of shredding the cheese, cut it into chunks so you get little pockets of oozy goodness. 
Get the recipe here.
---
Related: Broccoli Salad Recipes
---
4. Bacon and Spinach Quiche
This Spinach and Bacon Quiche is baked in a tender and flakey pie crust and is one of my favourite breakfast recipes on the weekends. My favorite thing about quiches is how you can adapt them to use what you have and what you like. Use any kind of cheese, or add extra veggies like chopped bell pepper, mushrooms, or zucchini. This quiche recipe is definitely company or Sunday brunch worthy with family and friends. And perfect to serve with afternoon tea. It's delicious when served with lightly dressed greens. In our house, it even shows up on our holiday buffet.
Get the recipe here.
---
Suggested: New Year's Brunch Ideas
---
3. Maple Sage Breakfast Sausage
Making breakfast an event on Sunday is one of my favorite things. I'd much rather make something from scratch at home than go wait in line for 45 minutes at a brunch spot, only to be rushed through the meal. I've been working on this recipe for Maple Sage Breakfast Sausage for the past couple of weeks and I'm delighted to say that it's the perfect way to make your weekend breakfast a little extra special without having to put in a lot of extra work. It's as easy as 1-2-3. Mix, shape, cook! And it has become one of my favourite breakfast recipes already. 
Get the recipe here.
---
Related: Low Carb Holiday Recipes
---
2. Frozen Croissant Breakfast Sandwiches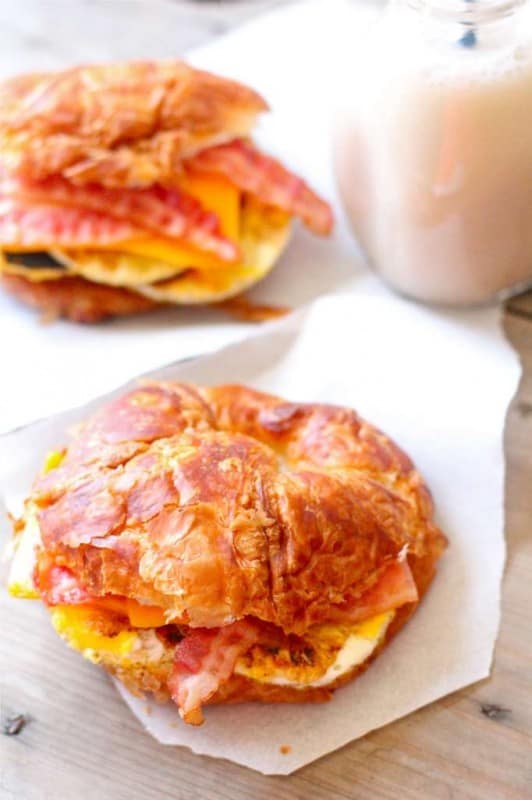 Prep for the week with these make-ahead sandwiches for those busy mornings! Filling, delicious and microwavable! Made with egg, cheese, and ham piled between a soft butter croissant, these warm and delicious breakfast sandwiches are freezer-friendly and perfect for a quick and easy breakfast, lunch, or dinner. Hot and cheesy breakfast sandwiches may just be the best thing on this planet. Ok ok, slight exaggeration, but they are right at the tippy top of my list and one of my favorite Christmas breakfast ideas ever. 
Get the recipe here.
---
Suggested: Grilled Cheese Sandwich Ideas
---
1.Freezer Breakfast Burritos

I'm a huge proponent of batch cooking and stocking your freezer with portioned meals that you can just grab-reheat-and-go! Not only are these make-ahead freezer breakfast burritos a great answer to the "I'm too busy to make breakfast" conundrum, but for someone who loves breakfast for dinner as much as I do, these burritos make a fast and easy anytime meal.
I kept my breakfast burritos super simple with just eggs, cheese, sautéed peppers and onions, and cooked ham, but this is another wonderfully flexible recipe. You can skip the ham to make them vegetarian, or switch them up with any vegetables or even meat. So what are you waiting for guys?? Christmas is coming up and you aren't even sure what to make for your Christmas morning. Check these 21 amazing and delicious Christmas breakfast ideas and celebrate this Christmas with your family and friends. 
Get the recipe here.
---
---
If you like this article about Christmas Breakfast Ideas, please share this with your friends on Facebook, Twitter, and Pinterest. Also, you can subscribe to my blog to get all the latest articles first on your mobile.
SHARING IS CARING!
FACEBOOK | TWITTER | PINTEREST
Did you like this recipe and make it later at home? SAVE this pin to your favourite board on Pinterest!