Lobster has been one of my favorite seafood ideas. You can call me fancy but I always order a fancy lobster whenever I go out for dinner with my family. That bright red species on the plate really hypnotises me. But as much as I hate to, I always have to share it with my husband. My little one doesn't like it at all. But I'm finding ways to make him eat it. I'm working on some of the lobster recipes that are, FYI, 100% healthy recipes. You know I love seafood.

Previously, I shared some shrimp recipes with you that I hope you've already checked out by now. Both the shrimp and the lobster are amazing seafood ideas to make any meal better. Be it lobster pasta with garlic butter parmesan sauce or lobster roll tacos or keto lobster salad, I'm more than sure that you'll definitely find one of your favorite lobster recipes here. So let's not delay any further and dive right into the recipes.
---
21. Lobster Pasta with Garlic Butter Parmesan Sauce
Welcome to my series of seafood ideas where I'll be sharing with you my lobster recipes. The luscious lobster is cooked in butter in a creamy parmesan sauce with delicious herbs to create this exquisite lobster pasta dish. You should prepare it for your upcoming date night or Valentine's Day. My fondness for lobster pasta is unwavering. Not only are pasta recipes a favorite category here, but it's also a special occasion pasta that is incredibly simple and quick to create, especially during the lobster season when fresh lobster is widely available at the grocery store.

Large chunks of savory lobster flesh and a creamy lobster pasta sauce made with garlicky butter sauce, parmesan cheese, and a generous splash of noodle water are what make this wonderful seafood pasta dish so opulent. The lobster is butter poached in this dish. It's extremely simple, despite sounding fancy. A teaspoon of salt and a cup of butter is melting over medium-low heat in a large skillet as a garlic clove sizzles. It is so simple, yet such an important component of this recipe. When the garlic and fresh herbs like basil and thyme are added, along with a dash of red pepper flakes, the sauce is finished with noodle water and copious amounts of parmesan cheese to create a creamy pasta meal.
Get the recipe here.
---
Related: Keto Pasta Recipes
---
20. Easy Garlic Butter Lobster Skillet Recipe
Let's make some healthy recipes with my favorite lobsters. This flavorful Easy garlic butter lobster skillet recipe is delicious with pasta, rice, vegetables, or simply by itself. It's so simple to make these rich, indulgent, and romantic garlic butter lobster skillets! Without the bread, this lobster skillet dish tastes exactly like lobster rolls.

This is an amazing recipe for pan-fried lobster in a garlic butter cream sauce that perfectly goes with pasta or rice or on its own because of how deliciously buttery it is. This recipe will transform pre-cooked lobster meat into something delicious if you love lobster but can't afford fresh lobster meat. You'll want to lick the pan since it is so decadent, scrumptious, and rich. Make sure you have some vegetables or crusty bread to sop up all the mouthwatering garlic butter lobster taste!
Get the recipe here.
---
Suggested: One Pot Dinner Recipes
---
19. Lobster Roll Recipe
I have a whole lot of seafood ideas for you to explore and choose your favorite from them. This one is a hit from my lobster recipes – lobster roll recipe. Fresh lobster chunks are used in this recipe for lobster rolls, which are then served between toasted, buttered buns with a sauce made of mayonnaise, lemon juice, and herbs. A beloved New England tradition that's simple to prepare and is always praised! Fresh seafood is always a good choice, whether it's in the form of lobster rolls, hot crab dip, or a shrimp boil.

The absolute greatest way to enjoy this flavorful seafood variety is on a lobster sandwich! Nothing compares to a lobster roll's mouthwatering blend of creamy lobster salad and buttery bread. My adaptation is quick and easy to make and is a hit every time. The use of split-top hot dog buns makes this dish the most genuine. Use standard hot dog buns or even french rolls if split-top buns are not available. Although I prefer to serve my sandwiches with lettuce inside if you only want pure lobster you can skip the lettuce.
Get the recipe here.
---
Related: Keto Fish Recipes
---
18. Easy Lobster Bisque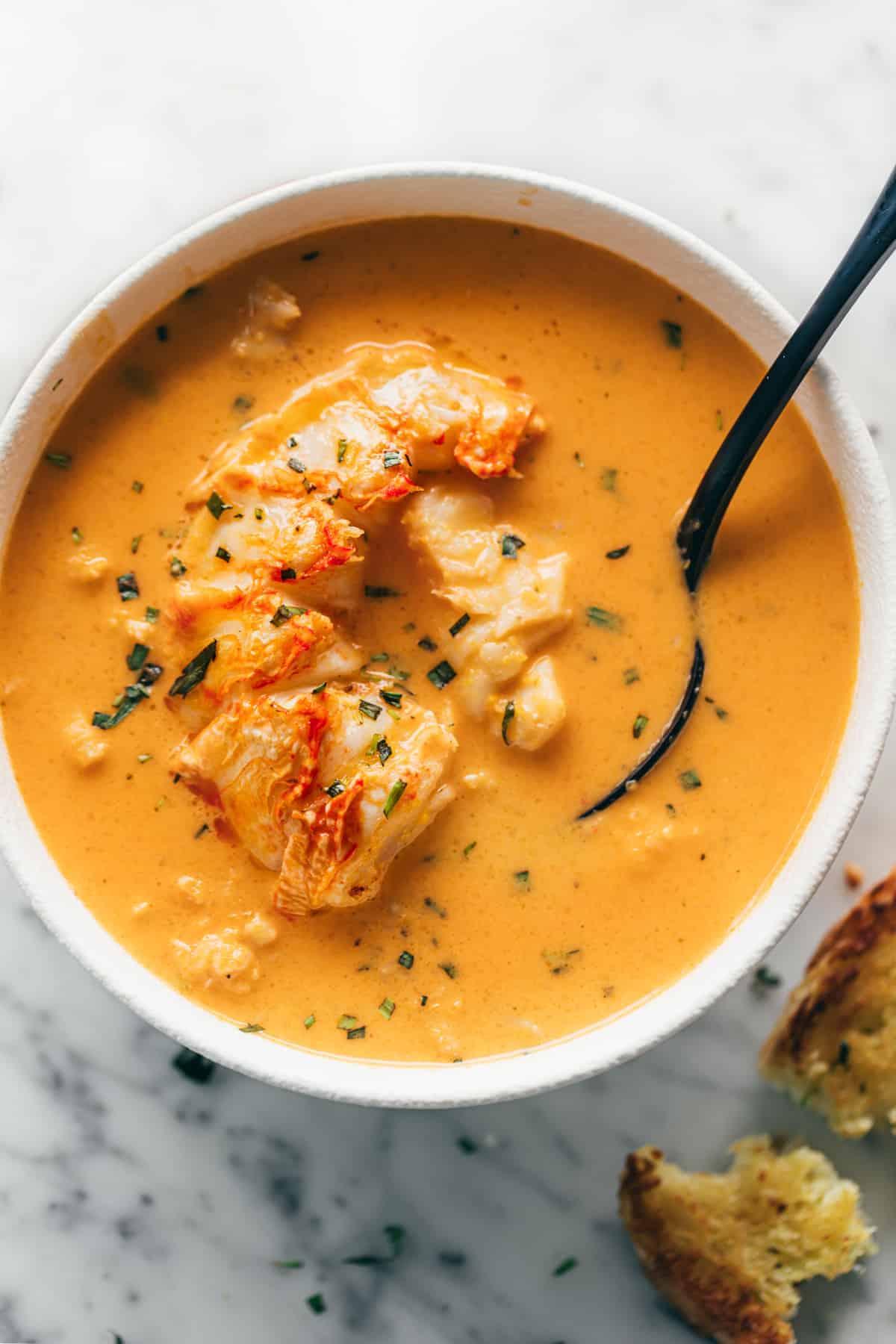 Have you ever wondered what goes into making lobster bisque and how to make it? Check out this simple recipe for creamy, delectable, gluten-free, dairy-free, clean, and simply paleo-friendly lobster soup! I promised you healthy recipes and here's one. It's actually VERY SIMPLE to prepare lobster bisque. You won't believe how simple it is to prepare delicious, rich lobster soup at home – and without having to pay the steep price at a fancy restaurant.

The fundamentals of lobster bisque call for the cooking of the aromatics, such as onion, shallot, and garlic, before adding some liquid, a little flour to thicken it, and blending it all together. It really is that easy. Restaurant lobster bisques are typically made with butter and cream. As a result, they are satanic in their indulgence, acceptable for occasional consumption, but not particularly healthy. I made a few adjustments to this simple recipe for lobster soup to lighten it up so I could eat it more frequently while still leading a healthy lifestyle.

Overall, this healthy lobster bisque dish has incredible flavors and you won't even notice the "original" ingredients were missing. Additionally, these modifications render these lobster recipes dairy- and gluten-free, enabling anyone with sensitivity to either to indulge in a special treat.
Get the recipe here.
---
Suggested: Shrimp Appetizer Recipes
---
17. Lobster Mac and Cheese
Tasty lobster recipes for the win! With two different varieties of cheese, plenty of bits of lobster meat, and ultra-creamy macaroni, this lobster mac, and cheese is baked until it is the ideal shade of golden brown. The main meal or side dish that is rich and indulgent and is sure to be a hit! With mac and cheese, especially slow cooker mac and cheese or jalapeño popper mac and cheese, you can never go wrong. The tastiest macaroni and cheese I've ever had is lobster, and it's also really simple to make.

Much though mac & cheese is very good on its own, adding lobster to the dish makes it even better. For special occasions, I adore making lobster mac & cheese; it's become a household favorite! A base of flour, butter, milk, and water is used to create a thin sauce in this dish. Seasonings and pasta are combined in the saucepan and simmered together. The next stage is to add a lot of cheese, which has been granted.

The lobster is next added to the mixture. After being moved to a baking tray, the mac and cheese are sprinkled with breadcrumbs and baked until golden. Dinner is ready with just a dash of chives! You won't view macaroni and cheese the same way again after trying this recipe! The creamy pasta and sweet lobster flesh go together well, and the crisp breadcrumb topping completes the dish.
Get the recipe here.
---
Related: Vegan Casserole Recipes
---
16. Easy and Creamy Lobster Pasta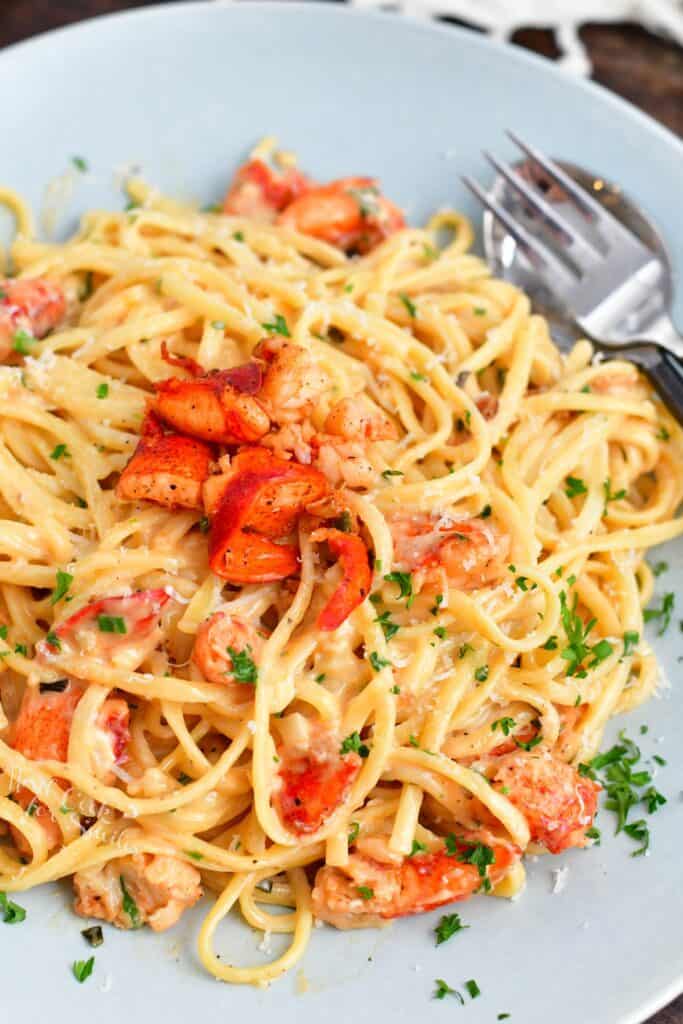 Looking for fancy restaurant-quality seafood ideas that you can create at home with little effort? Attempt this creamy lobster spaghetti from my lobster recipes! This dish will wow your date or loved ones with its freshly cooked lobster tails, garlic, butter, cream, and parmesan cheese. This handmade lobster pasta is a quick and elegant supper that only requires a few basic ingredients and takes less than 30 minutes to prepare.

Don't be scared to prepare lobster tails at home; it's actually very easy! Bring salted water to a boil in a saucepan, add thawed lobster tails, and cook for 30 seconds for each ounce. When the flesh is opaque and white, the lobster is cooked. Put it in the spaghetti with the simple cream sauce after shelling and chopping it up. Make this creamy lobster pasta if you're looking for a rich yet quick and simple dish that's ideal for a date night or Valentine's Day dinner. This recipe will impress anyone you're cooking for, whether it's yourself or a special someone.
Get the recipe here.
---
Suggested: Ground Pork Recipes
---
15. Best Lobster Sauce
Large lobster chunks cooked in butter and wine-based sauce are abundant in The Best Lobster Sauce. A wonderful sauce made from tender, meaty lobster tail pieces sautéed in one skillet can be served over pasta or rice for a quick dinner. You can prepare this exquisite cuisine that looks and tastes amazing with only a few simple-to-follow steps!

This lobster sauce is a delectable supper that is ideal for special events, a small dinner party, a date, or the holidays. We occasionally enjoy lobster. A more tomato-based sauce, such as the one in our spaghetti with lobster tails, as well as our delectable lobster cobb salad and summer lobster & shrimp rolls, are some of our favorites. This recipe is straightforward and composed of a few fresh ingredients that you most likely already have on hand.

It can be served alone or alongside your preferred pasta, polenta, grits, or steaming rice. The sauce is quite thin. Not one with a lot of tomatoes. The sauce has a mouthwatering flavor. It cooks rapidly, making supper a quick and simple task. Furthermore, the fact that the lobster tails were well cleaned before cooking guarantees that it will be delicious.
Get the recipe here.
---
Related: Peach Cocktail Recipes
---
14. Grilled Lobster Tail Recipe
Not getting enough seafood ideas to add to your healthy recipes? Here's one from my lobster recipes. Everything you require to perfect the art of grilling lobster tails! This dish for grilled lobster tails has the greatest lemon garlic butter and is soft and delicate. Similar to my beloved broiled lobster tails, this dish for grilled lobster tails is the ideal summertime substitute. Grilling lobster doesn't have to terrify you; it's actually very simple!

I'll give you an overview of the entire procedure, including the preparation, so you'll be able to grill lobster tails to perfection. This includes everything from butterflying the lobster tails to seasoning them to using the proper grilling technique. Preparing the lobster is the first step in any dish calling for grilled lobster. Grilled lobster tails can be butterflied by bringing the flesh over the shell. The seasoning is kept to a minimum. Brush the lobster tails with olive oil and season with salt and pepper before grilling.

After turning the lobsters over, spray them with the seasoned garlic butter to finish cooking them. Melted butter, minced garlic, lemon juice, smoked paprika, and cayenne pepper are combined in a whisk to make it. Some sides are required for this simple lobster tail grilling dish. It can be served with salads, veggies, other grilled dishes, or just a simple Lemon Butter Sauce for dipping.
Get the recipe here.
---
Suggested: Frozen Shrimp Recipes
---
13. Lobster Risotto
Hell's Kitchen is one of the Gordon Ramsay programs that I frequently binge-watch. We both adore the delicious taste and alluring appearance! And we were really craving some lobster recipes this week. Get the recipe for the lobster risotto that is regularly shown in episodes! My mouth-watering lobster risotto closely resembles the dish from the popular reality TV program Hell's Kitchen.

What else could a couple of foodies do except search for and replicate the specifics of the popular meal from Hell's Kitchen? My husband and I have finally perfected our deliciously scrumptious lobster risotto after numerous attempts! The recipe shown below comes extremely close to the one used to make the lobster risotto that was featured on the show. 

Using the lobster shells for the stock is one of the most crucial steps, in my opinion, to make a fantastic lobster risotto. Making your own stock for this risotto dish takes a little additional work, but it's well worth it! Serve, top with parmesan and chives, and savor!
Get the recipe here.
---
Related: Risotto Meal Ideas
---
12. Lobster Alfredo
This dish for Lobster Alfredo is stuffed with succulent lobster flesh chunks, savory Parmesan cheese, and a rich alfredo sauce. Seafood ideas like this are ideal for entertaining, dating nights, and even holidays like Christmas, New Year's, and Valentine's Day! This mouthwatering Lobster Alfredo can be obtained at home without having to go to Red Lobster or another eatery.

You may prepare restaurant-quality dishes at any moment with these lobster recipes. You can do it from home, too! For cutting the lobster meat, a pro tip is to make sure you have a nice pair of kitchen scissors. It significantly alters things! This lobster Alfredo is ideal for any occasion, whether you're having a romantic night at home, honoring a birthday or anniversary, getting your parents together, or just because you want something a bit extra special.
Get the recipe here.
---
Suggested: Holiday Breakfast Recipes
---
11. Linguine Lobster Fra Diavolo
The dish lobster fra Diavolo consists of a hearty, hot tomato sauce infused with sherry essence, tossed with succulent lobster, and served over pasta. For our Christmas Eve dinner, I must make this delectable seafood dish and I decided to make one from my lobster recipes. It goes great with thick, lengthy pasta like bucatini or fettuccine, in my opinion.

If you have any leftover stock from the added recipe, feel free to freeze it (for at least six months); it would make an excellent base for winter soups and stews. If you're short on time, you can avoid creating your own stock and meat by purchasing it already prepared from your fisherman. Fra Diavolo is a tomato sauce that is unabashedly robust with chiles and garlic, regardless of whether you like it or not. While other versions contain oregano, this one substitutes parsley. It won't make or break the dish whether you favor one over the other.

A dry white wine would also work if sherry isn't your preferred beverage and you don't want the majority of a bottle left over. Although it could be tempting, don't buy the stock at the supermarket! You have already prepared the majority of your homemade stock by just boiling the lobsters. This process, which is largely hands-off, gives my lobster fra Diavolo its delicious lobster flavor. Additionally, you won't use the entire amount of stock, and since it freezes beautifully for months, you'll still have plenty for later use in fish soups, seafood ideas, or flavorful sauces.
Get the recipe here.
---
Related: Keto Meals Under 5 Carbs
---
10. Spaghetti Squash with Garlic Herbed Butter + Lobster
This dish for lobster is scrumptious, rich, simple, and tasty. This dish has been lightened up and is gluten-free and low in carbs, but it doesn't skimp on flavor! My heart belongs to lobster, so there. It's accurate. Lump crab meat, too, but there's just something about huge chunks of lobster slathered in butter that makes me so happy. I imagine the majority of you share my sentiments. Close your eyes for a second, and let's all savor the deliciousness of lobster.

I don't remember when I first tried lobster, but every time I do, I'm still in awe that the standard method of preparation is to dunk it in butter. People, it's the dream. I prepared a tremendously rich and delectable lunch that is also incredibly fresh, light, savory, and simple. The star of the dish, the lobster pieces, are to die for, and I couldn't help but relish each one as I ate it. What a delight, really! Let's prepare some spaghetti squash with a garlic-herb butter sauce and the most incredible lobster pieces!
Get the recipe here.
---
Suggested: Cold Appetizer Recipes
---
9. Lobster Cakes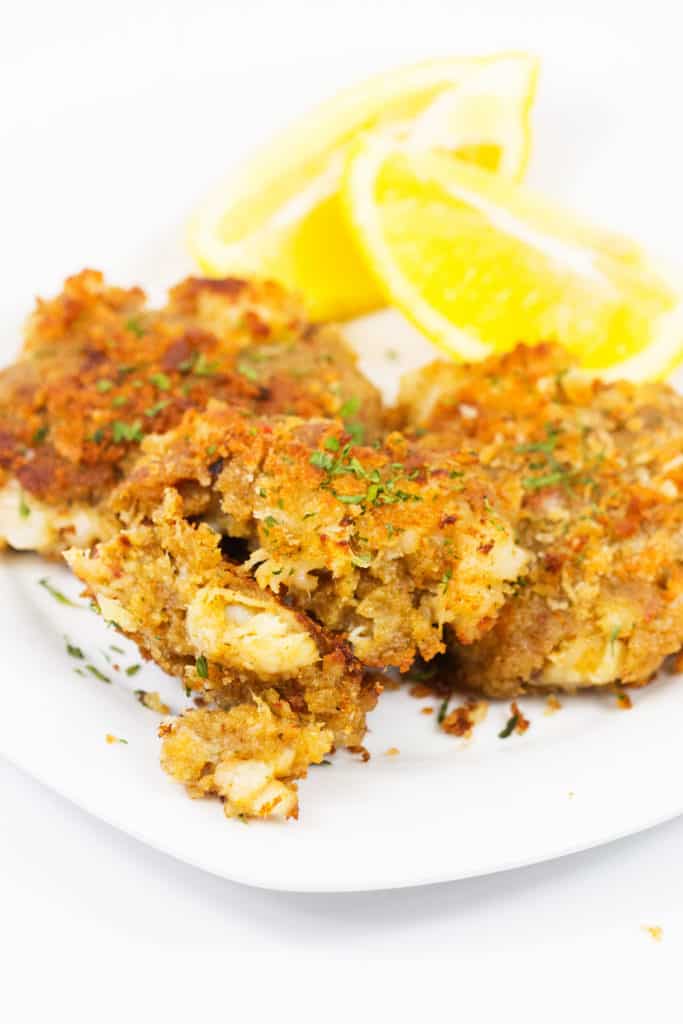 Another scrumptious dish from my lobster recipes is these simple lobster cakes loaded with fresh lobster meat. These are ideal seafood ideas for the summer! These seaside treats are finished off with a golden panko crust. Serve them with a dash of lemon, a straightforward slaw, or salad as an appetizer or light lunch. When summer arrives, I am drawn to the water and add a variety of seafood to my menu.

It just feels right somehow to eat fish in the summer. This is the reason why clam shacks, lobster shacks, and chowder houses are well-liked at this time of year in many coastal areas. Seafood and summer simply go together. Naturally, the opulent Lobster Cakes were the culinary high point, so that is what I am offering. For lunch on a hot summer day, pair these lobster cakes with a straightforward Zucchini and Olive Slaw.
Get the recipe here.
---
Related: High Protein Low Fat Recipes
---
8. Keto Lobster Casserole
Try this Keto Lobster Dish if you want to create the greatest casserole ever. Because it is so delicious, this low-carb dinner recipe will become a staple on your menu. The keto diet is undoubtedly suitable for lobster recipes. Lobster meat is rich in protein and minerals and contains essentially no carbohydrates. I'll admit that compared to some of my other recipes, these seafood ideas are a little more expensive to prepare.

Whipping cream and lobster meat are typically a little more expensive. Even so, it's a fantastic recipe to prepare occasionally as a treat. Although there are a lot of stages in this recipe, trust me when I tell you that they are all worthwhile! This tastes excellent over steamed vegetables!
Get the recipe here.
---
Suggested: Vegan Roast Dinner Recipes
---
7. Lobster Corn Chowder
My friend Anna just started maintaining a diet and she has been fretting ever since about how to make her healthy recipes taste better. When I found her in that situation, I knew I had to do something about it. Just as you know that I'm working on my lobster recipes right now, I was pretty delighted to find out about this lobster corn chowder and I instantly started thinking about how to make it healthy yet tasty.

The answer was simple – just adding good-quality fish stock and skipping the cream. The fish stock amplifies the flavor profile of the chowder while keeping the health benefits intact. Yesterday, when I called Anna over for dinner, she was quite skeptical about whether what I cooked was healthy or not. I insisted on eating the lobster corn chowder and told her that I made it, especially for her, she just jumped like a little girl and ate all of it. I'm so happy that she liked it!
Get the recipe here.
---
Related: Corn Canned Recipes
---
6. Lobster Scampi with Linguine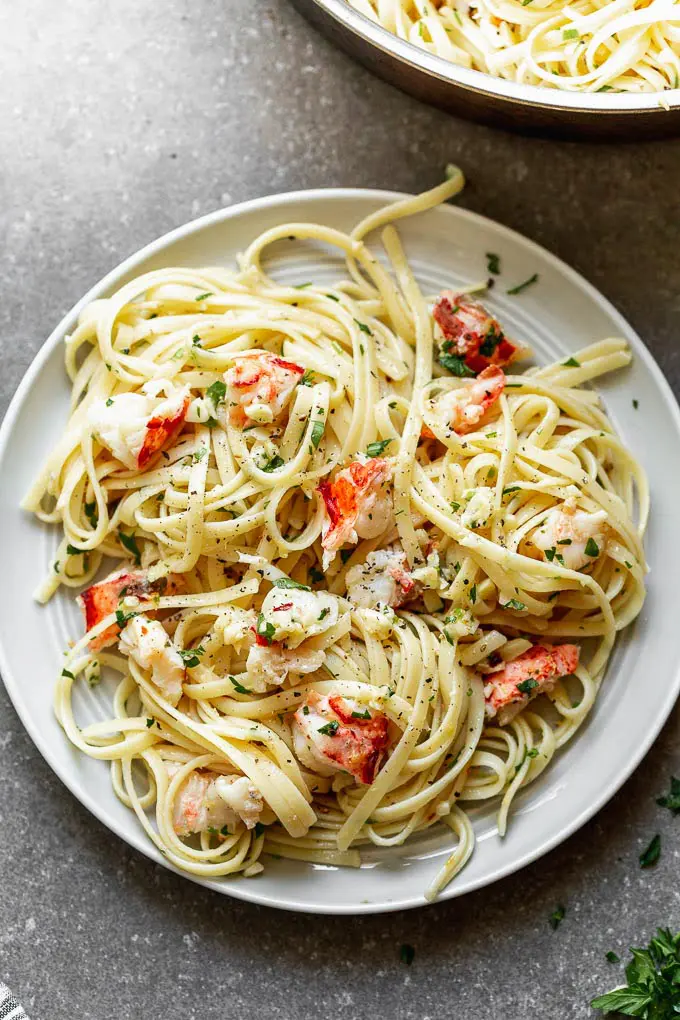 I'm the happiest when I get to eat pasta with my favorite seafood. And since it's my series of lobster recipes you can very well guess what it's gonna be! So buckle up buddies, we're cooking lobster scampi with linguine. I got lobster tails pretty cheap the other day so I had to make my favorite pasta dish with them. Fleshy lobster chunks over a bed of juicy linguine tossed with a garlic butter sauce? Look who's already drooling?!

It's both of us, right? The dreamy bowl of pasta with lobster tail is so heavenly, you're gonna bet your life on it! And if you're worried about lobster tails being hectic to cook, let me tell you, it's extremely easy to cook this recipe.
Get the recipe here.
---
Suggested: Meals Under 300 Calories
---
5. The Best Lobster Benedict
Wondering if the lobster recipes have come to an end? There's no end, baby. My love for lobsters is unwavering. I can eat lobsters every single day for breakfast lunch and dinner and yet not get bored of their taste. And how can one ever get bored of the taste of lobsters? And if yes, is he even human? If you want to see more seafood ideas, I shall definitely share them with you but first, lobster. Lobsters are literally the cause of my existence. I might be exaggerating, yes, but it is what it is.

You will be absolutely flabbergasted by the flavors in this Lobster Benedict. The hints of butter, garlic, freshly grated parmesan, lemon juice, parsley, and capers in this dish are surely going to tantalize your taste buds. The lobster soaks in the flavors from these spices and its flavors are boosted. Serve this with a bed of rice of your favorite pasta and dig in, you'll be no far than heaven itself!
Get the recipe here.
---
Related: High Calorie Meals
---
4. Cheddar Cheese Grilled Lobster Sandwich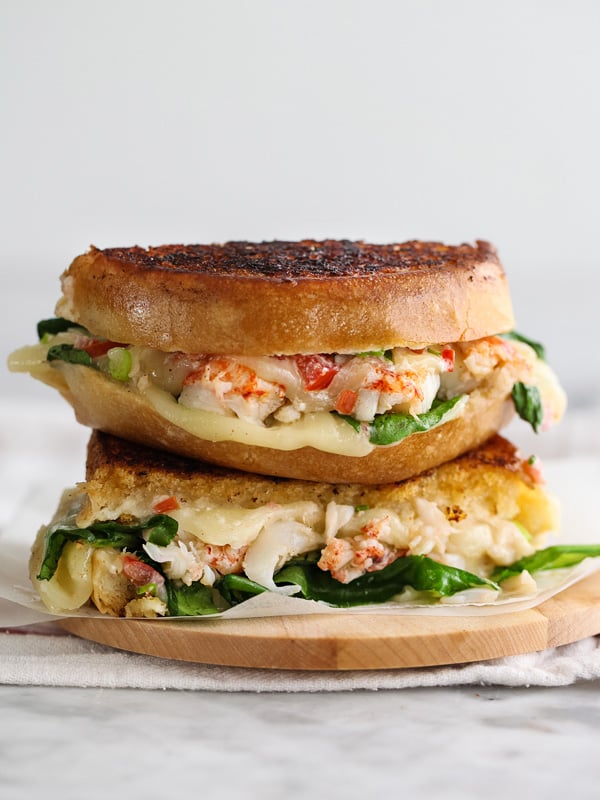 Do you know what happens when you mix cheddar with your favorite lobster? It has become one of the most indulgent seafood ideas. These cheddar cheese biscuit lobster sandwiches are so scrumptious, you'll want to eat all of them. No kidding, these sandwiches are really drool-worthy. You don't wanna miss that juicy, cheesy bite, do you? Then let's get cooking these babies.

The recipe uses ingredients including butter, buttermilk, cheddar cheese, and fresh ground pepper which make these biscuit lobsters amazingly delicious, juicy, and cheesy. The lobsters are cooked in butter with chives that add a tonne of flavor to them. And then these buttery, juicy lobsters are sandwiched between cheesy cheddar cheese biscuits. My kids love these sandwiches and why won't they? I'd always be more than happy to make them these delicious treats at home rather than to let them eat those junks at a roadside cafe.
Get the recipe here.
---
Suggested: Grilled Cheese Sandwich Recipes
---
3. Lobster Roll Tacos
The appetizer for the big game should definitely be this lobster roll taco recipe! With pals, pile this delectable lobster mixture onto tortillas made for street tacos. Tacos with lobster rolls. You did read that correctly. Yes, you are awake. Today's recipe is a complete fusion, and let me tell you, it's heavenly and delicious. It might sound absurd. We're stuffing a tortilla with lobster roll filling, right? We are, indeed.

The ideal size for snacks, they are soft and fluffy. We can stuff them with lobster, which is the most important thing. These tacos are the precise type of appetizer I enjoy while watching a game. I don't really experiment with snacks or desserts. I enjoy portable food that packs a flavorful punch, and these tacos do just that. Miniature lobster rolls the size of street tacos, Voila.
Get the recipe here.
---
Related: Plant Based Meal Ideas
---
2. Lobster Ravioli Sauce
A good substitute for the standard roasted lobster with drawn butter is Lobster Ravioli Sauce. Although they are not the most beautiful sea animals, we adore and treasure them and spend a lot of money on them. I rarely veer away from roasted lobster tails because of this. That's how I prefer to eat them and how I do it. To explore with them would simply be too expensive. I was hesitant to attempt this dish when a relative of mine brought it to me, but I'm glad I did. 

I enjoy a good ravioli sauce, and adding lobster to it is a wonderful way to mark an important event. It creates a pretty enchanting meal. All you need is a few candles and some Italian music. You can easily use chicken or shrimp for a less fancy and less expensive supper. Both complement this ravioli sauce extremely well. This recipe for Lobster ravioli is simple to prepare, sinfully rich, and delicious. If you're thin and want to gain a few pounds, eggs, cream, prosciutto, and cheese are the perfect mix. If you're not as thin as I am, have fun nonetheless. Every now and again, we all deserve a treat.
Get the recipe here.
---
Suggested: Hard Boiled Recipes
---
1. Keto Lobster Salad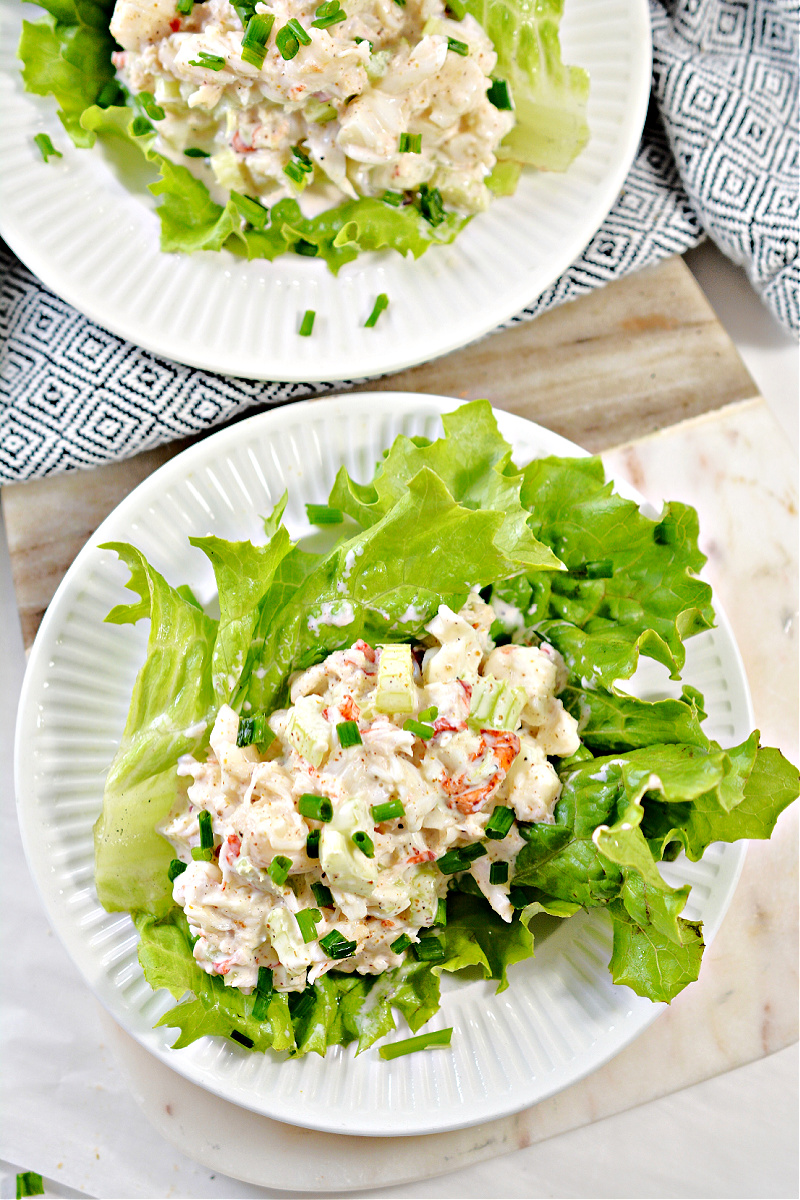 This quick and simple keto lobster salad recipe will quickly become a favorite! Either fresh or canned lobster can be used to make these lobster recipes, and both options are wonderful! Lobster, whether fresh or canned, is undoubtedly keto-friendly. It's a kind of meat that consists solely of protein and good fats, with no net carbohydrates. One of those meats is lobster, which is best served over your preferred low-carb noodle with a creamy sauce.

I made the choice to give it a try in a cold salad, and I was delighted! It has great flavor! You may use either fresh or canned lobster meat to prepare this salad, which serves as a light dinner for two. Serve it with some keto garlic butter steak to make it a more full supper. I adore how the flavor of the garlic really permeates the steak; it tastes even better when grilled. Such healthy recipes can be prepared in under 10 minutes, which I love!
Get the recipe here.
---
If you like this article about lobster recipes, please share this with your friends on Facebook, Twitter, and Pinterest. Also, you can subscribe to my blog to get all the latest articles first on your mobile.
SHARING IS CARING!
FACEBOOK | TWITTER | PINTEREST
Did you like this recipe and make it later at home? SAVE this pin to your favourite board on Pinterest!