Hawaiian recipes can add exotic flavor to your kitchen. Hawaiian foods are tropical and a combination of ingredients is used which has a unique flavor. One can mix Hawaiian food recipes in their daily routine. Moreover, digging into one of these Hawaiian meals can help you to enjoy Hawaiian dinner with your family. 
---
21. Hawaiian Huli Huli Chicken Tacos
Hawaiian Huli Huli Chicken Tacos are made with fresh mango, pineapple, and avocado salsa. These three ingredients complement the salty and sweetness in the huli huli chicken tacos. Huli huli chicken is a traditional chicken dish that is basted with a salty and sweet tropical marinate composed of soy sauce, pineapple juice, and fresh ginger. 
Get the recipe here.
---
Suggested:
Leftover Chicken Recipes
Shish Kabob Recipes
---
20. Legit Hawaiian Mac Salad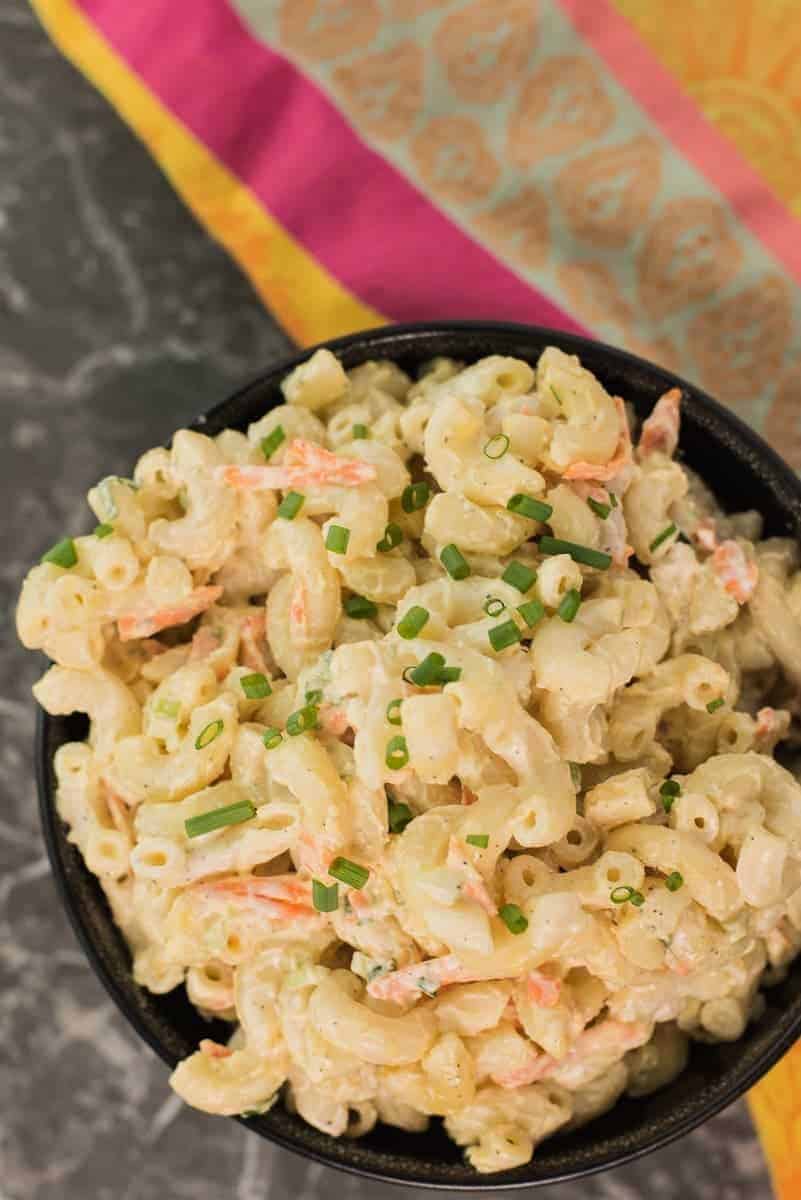 Macaroni salad is one of the iconic Hawaiian food recipes of Hawaii and this creamy side dish is known to be a famous sidekick for each plate. In Hawaii, several styles of mac salads can be found such as potato or tuna mac salad. This salad has only a few ingredients such as mayo, macaroni, carrots, veggies, salt and pepper, onions, and green onions. 
Get the recipe here.
---
Related: Keto Salad Recipes
---
19. Hawaiian Guava Cake
Guava cake is a traditional dessert that is created at Honolulu's Dee Lite Bakery. Its popularity is increasing and among the different versions of Guava cake, Hawaiian Guava cake is one of my favorites. One can take strawberry cake mix while replacing water with the juice of guava and add a topping of cream cheese and guava gel. 
Get the recipe here.
---
Suggested: Vegan Cake Recipes
---
18. Garlic Shrimp (Hawaiian Style)
Garlic Shrimp is a mouthwatering and delicious Hawaii recipe that can be made within 30 minutes. The dish is easy to make and made with very basic ingredients which can be served to the guests during the weekend party. Fresh pineapple, white rice, and pasta are served with this Hawaii-style garlic shrimp. 
Get the recipe here.
---
Related: Salmon Meal Prep Recipes
---
17. Hawaiian Beef Stew
Hawaiian Beef Stew is one of the treasured recipes which is made with rich and tangy tomato gravy simmered with carrots, onions, beef, and potatoes. It is a comfort food that can be served with sticky rice which will offer the taste of islands. 
Get the recipe here.
---
Suggested: Leftover Turkey Recipes
---
16. Garlicky Hawaiian Shrimp Scampi Recipe 
 Garlicky Hawaiian Shrimp Scampi is a garlicky and yummy food recipe that does not take much time to make and it can be offered with Hawaii macaroni salad or rice. If one loves garlic, it will be one of the best shrimp dishes. Fried garlic adds a crispy texture while fresh garlic offers an overall aroma in the recipe. 
Get the recipe here.
---
Related: Ground Chicken Recipes
---
15. Loco Moco (Hawaiian Beef Patty in Brown Gravy with Egg)
Loco Moco plate of Hawaii is an easy-to-make dish that is referred to as 'ono'. Beef patties are placed on the rice bed on brown pan gravy and with egg topping. It is delicious food that can be comforting and full. The dish is made in order to feed hungry folks of Hilo. 
Get the recipe here.
---
Suggested: Gingerbread Recipes
---
14. Slow Cooker Hawaiian Sticky Chicken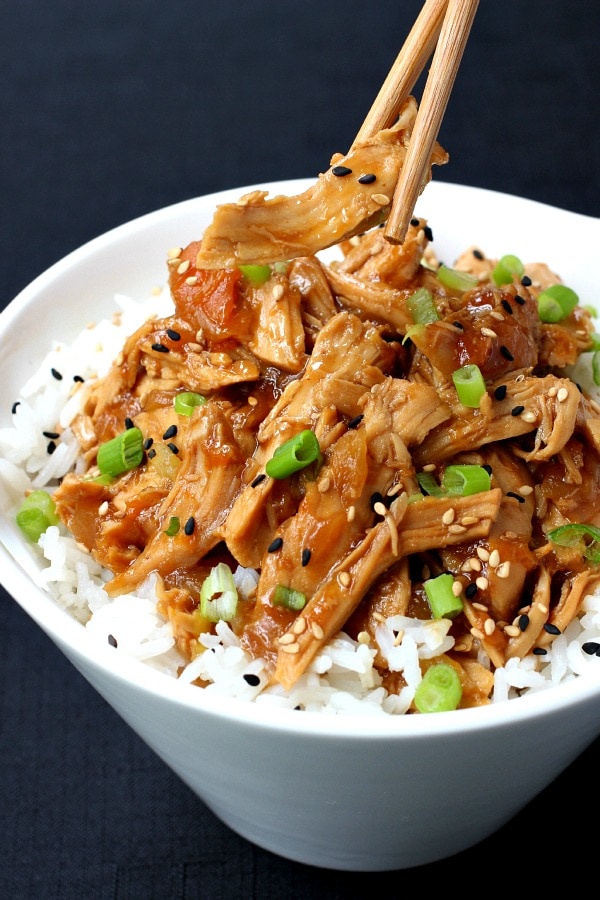 In the chilly weather when someone looks for a comfort dish, they can start with Slow Cooker Hawaiian Sticky Chicken. This is a lifeline and lifesaver in a comforting and hot dinner. It is one of the kids' favorite Hawaii recipes. It is tangy and sweet which is perfect with taco, rice, or slider. 
Get the recipe here.
---
Related: High Protein Slow Cooker Recipes
---
13. Baked Hawaiian Chicken
Baked Hawaiian Chicken is a versatile Hawaiian meal that can never be boring. This recipe is marinated with honey, ginger, and pineapple juice and then baked to give a perfect texture. It is very easy to make dinner for a weeknight meal. Also, It is an easy Hawaiian recipe that can be prepared for a busy weeknight dinner. Baked Hawaiian Chicken is a delicious combination of sweet, savory, and juicy chicken, pineapple, teriyaki, and soy sauce. The chicken gets marinated in soy sauce and ginger and garlic and pineapple juice to give it a tropical flavor. The chicken gets baked to perfection and the flavors combine to create a tender, juicy chicken that will make you want more. This recipe is easy to follow and not only is it a crowd pleaser, but it is also a healthy option as it has low fat and high protein content. Whether you're having a summer barbecue at home or just want to take your taste buds with you to a tropical island paradise, you can't go wrong with this recipe.
Get the recipe here.
---
Suggested: Chicken Rice Meal Recipes
---
12. No Bake Hawaiian Dream Dessert Cups
No-bake Hawaiian Dream Dessert Cups is known to be a very delicious recipe of which every layer is amazing in taste. The dessert is not cloyingly sweet but it is perfectly balanced in taste. Though each layer is tasty, together it is a delicious bite that you can use in your next barbecue or family gathering. 
Get the recipe here.
---
Related: Weight Watchers Dessert Recipes
---
11. CrockPot Hawaiian Meatballs
Hawaiian Meatballs are one of my favorite slow cooker recipes that can be made as a main dish or as an appetizer. These meatballs are cooked slowly in a slow-cooker crockpot and have a tangy sweet pineapple sauce with fresh ginger. The combination of ginger and pineapple gives this dish a sweet, tangy flavor. These meatballs are ground meat with breadcrumbs and onions. The sauce is a secret ingredient that is a mix of pineapple juice and soy sauce with brown sugar and ginger. It's easy to make and perfect for any gathering, party, or weeknight dinner.
Get the recipe here.
---
Suggested: Keto Crockpot Recipes
---
10. Hawaiian BBQ Chicken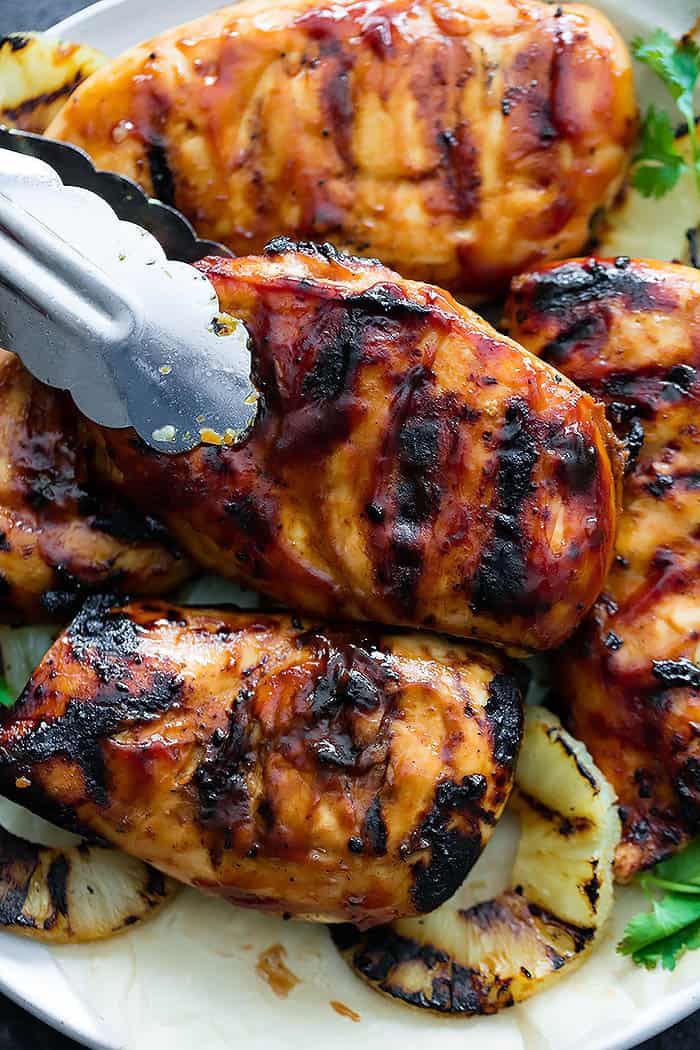 HawaiianBBQ Chicken is made with chicken breasts, pineapple slices, soy sauce, cilantro, garlic, oil, and BBQ sauce. It is a very healthy dish and the ingredients are chosen carefully. The ginger and soy sauce when marinated with meat, it perfectly pairs with salad, rice, or grilled pineapple. 
Get the recipe here.
---
Related: Easy Brunch Recipes
---
9. Garlic Furikake Chicken 
Furikake chicken is a delicious food where you can get a juicy and crunchy bite smothered in garlic soy sauce. It is one of my favorite Hawaiian chicken dishes where many cultures are mixed into one dish. It can be served with traditional mac salad and rice. This garlic-and-furikake chicken recipe is the perfect combination of flavors – the rich flavor of garlic and the umami of the furikake. All you have to do is marinate the chicken thighs for an hour in a mixture of minced garlic and soy sauce, plus sesame oil. Then, coat the chicken in a mix of the two spices, plus some panko crumbs and cayenne for a kick. Bake the chicken until it's golden and crispy. Serve it with steamed rice and a fresh salad for a delicious meal. Not only will this recipe satisfy your taste buds, but it's also a great source of protein! Get ready to elevate your chicken game today!
Get the recipe here.
---
Suggested: Meals Under 300 Calories
---
8. Hawaiian French Toast Bake 
Hawaiian French Toast Bake is an eggy and super soft dish that is a perfect mixture of bread pudding and french toast. You can have it in your morning breakfast when you crave something sweet. It is super easy to make which can make your day beautiful.  
Get the recipe here.
---
Related: Breakfasts Under 300 Calories
---
7. Hawaiian Hot Dogs with Grilled Pineapple Mango Salsa
Hawaiian hot dogs are one of the most delicious food recipes in Hawaii. It is made with pineapple and mango sauce and sweetbread. Combining all these ingredients can make summer dinner more delicious. These Hawaiian hot dogs can bring you a salty and sweet experience that you will be unable to forget. 
Get the recipe here.
---
Suggested: Vegan Grilling Recipes
---
6. Hawaiian Teriyaki Chicken Sandwiches
Teriyaki chicken sandwiches are one of the best things you can make while grilling out with your friends. This version of sandwiches has a twist of grilled pineapple, sliced ham, and pepper jack cheese. The dish is very delicious and has a combination of salty and sweet flavor. It can be served with veggies and fried which will make you feel out of the world. 
Get the recipe here.
---
Related: Grilled Cheese Sandwich Recipes
---
5. Hawaiian Spam Fried Rice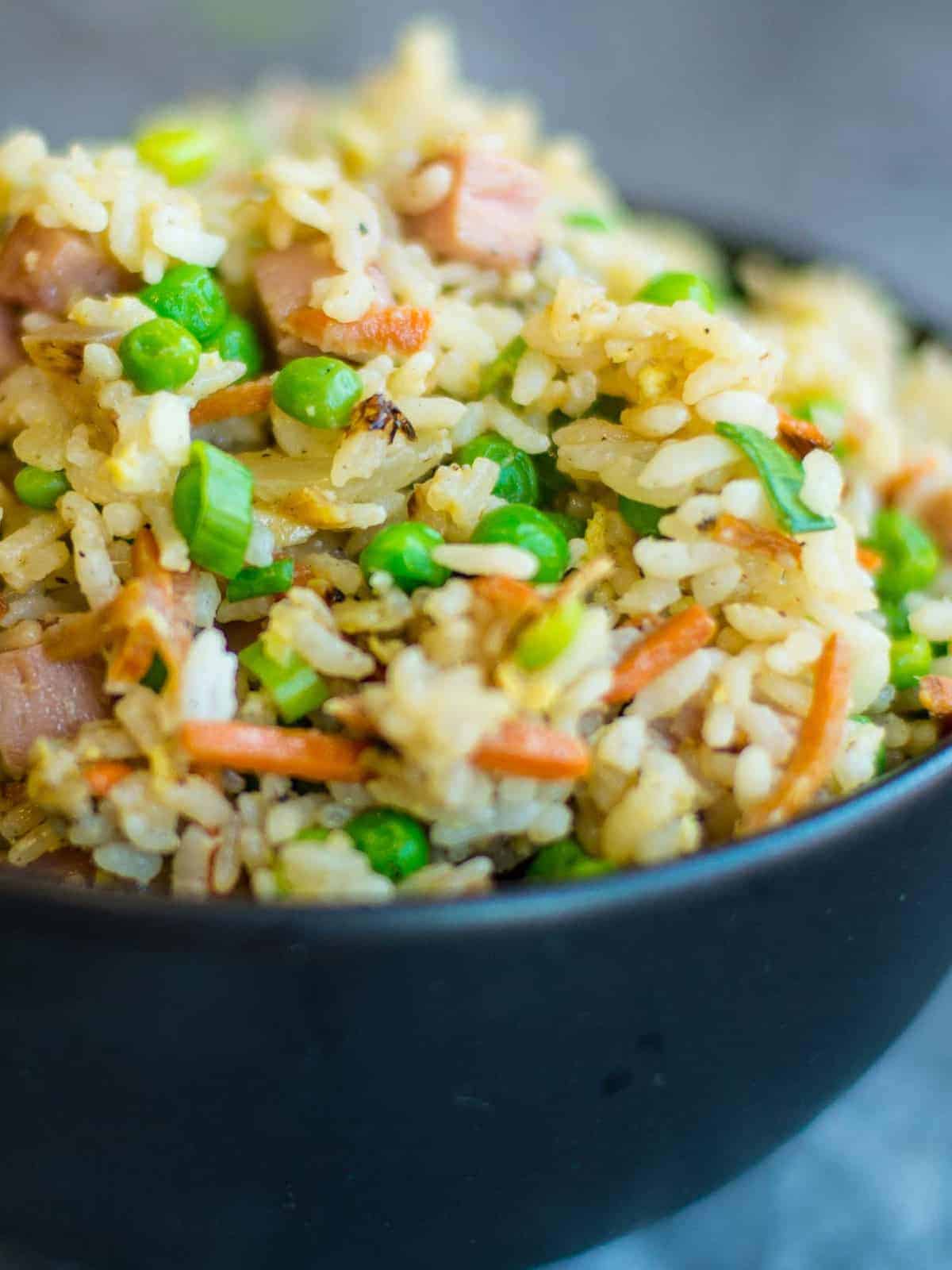 Spam Fried Rice is a perfect and easy-to-make dish that can be made with leftovers. It is a well-known Hawaiian recipe that can be served in breakfast with a side dish. Hawaiian Spam fried rice is served along with ketchup that adds a tangy and sweet taste to the fried rice. 
Get the recipe here.
---
Suggested: Vegan Rice Recipes
---
4. Pineapple Coconut Hawaiian Sweet Rolls
Pineapple coconut Hawaiian sweet rolls are firstly stuffed with coconut and pineapple and then poured with pineapple glaze. The topping of macadamia nuts adds tropical flavor to the dish. It is a delicious, easy, and quick recipe where you don't need to spend your entire day in the kitchen. 
Get the recipe here.
---
Related: Homemade Bread Recipes
---
3. Coconut Filled Hawaiian Malasadas Recipe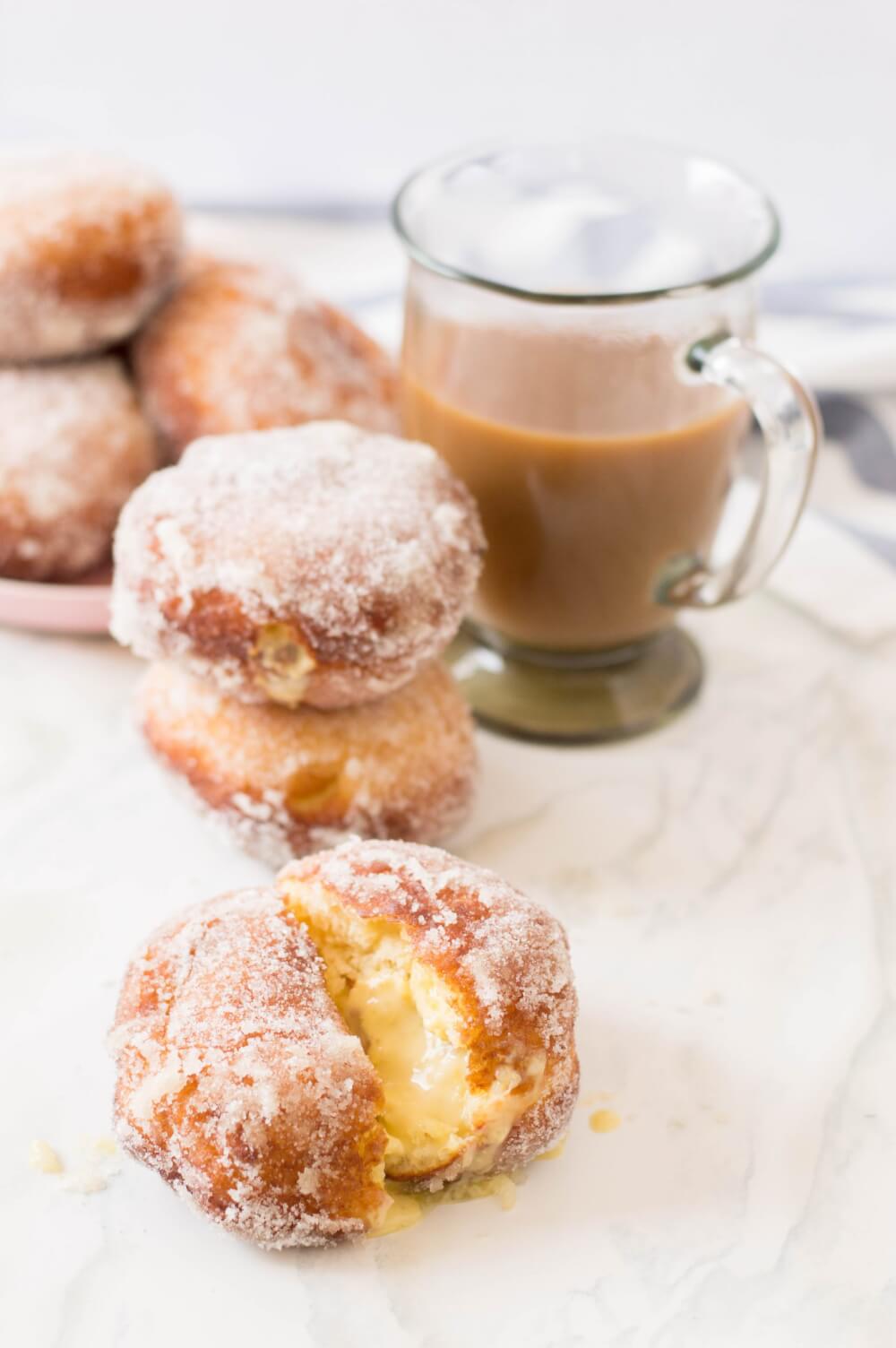 Hawaiian malasadas are the well-known Portuguese donuts that are prepared in Hawaii. It can be found in a lot of bakeries in Hawaii. It also can be found at farmer's markets or pop-up stands. Malasadas can be made with several fillings such as custards and tropical fruits, however, haupia filling is one of my favorites. 
Get the recipe here.
---
Suggested: Chocolate Dessert Ideas
---
2. Hawaiian Baked Beans with Pineapple & Bellpepper
Hawaiian baked beans are an easy-to-make recipe for the holiday season. A little salty, little sweet, little spicy Hawaiian baked beans are filled with bell peppers, pineapple, bacon, and sweet bacon. Then, it is bathed in a rich sauce and this dish can be made in barbecues, cookouts, and tailgates. 
Get the recipe here.
---
Related: High Protein Vegan Meals
---
1. Hawaiian Fried Rice with Easy Sweet and Sour Sauce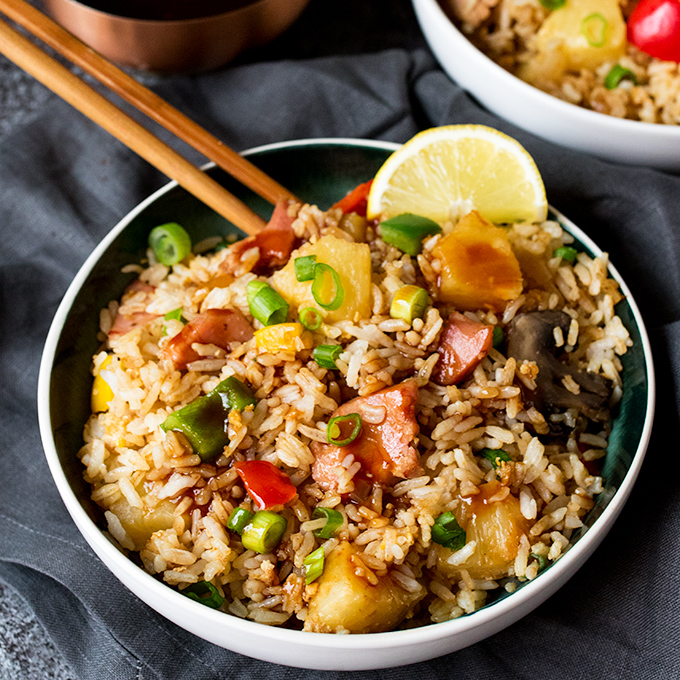 Pineapple in fried rice may sound weird but it makes really delicious Hawaiian fried rice. The dish is made with pineapple, ham, and some veggies like mushrooms, bell peppers, peas, tomatoes, sweetcorn, and broccoli. The sweet and sour sauce adds an authentic taste to this Hawaiian food recipe. 
Get the recipe here.
---
---
If you like this article about Hawaiian Food Recipes, please share this with your friends on Facebook, Twitter, and Pinterest. Also, you can subscribe to my blog to get all the latest articles first on your mobile.
SHARING IS CARING!
FACEBOOK | TWITTER | PINTEREST
Did you like this recipe and make it later at home? SAVE this pin to your favourite board on Pinterest!