Winters are just about here and we can't help but think about all things warm and comforting. These winter recipes or soup recipes are super easy to prepare! So whether you are warding off the winter chill or looking for a light and easy comfort meal, a bowl of soup can always come in handy. We've got a list of the 21 best Winter Soup recipes to prepare at home this season and warm up with your loved ones. 
---
21. Instant Pot Split Pea Soup
Soups, especially something like split pea, often improve with a couple of hours of simmering and flavour melding. The pressure cooker cuts the cooking time in half and imparts the flavor of the ham into every scrumptious bite. It's so simple but SO delicious. And it's ridiculously easy to make! 
Get the recipe here.
---
Related: Vegetarian Instant Pot Recipes
---
20. Turkey Meatball Soup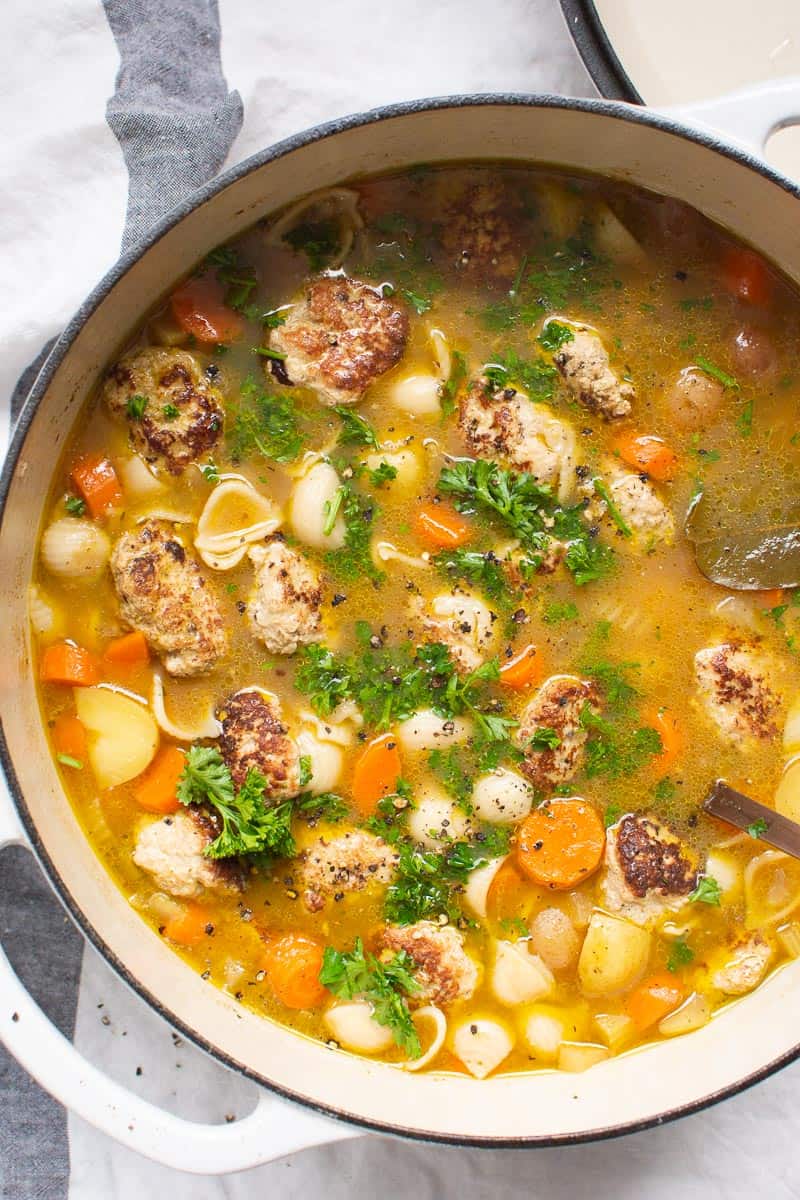 Mini Turkey Meatball Vegetable Soup is made with mini turkey meatballs, tomatoes, zucchini, carrots, spinach and my secret ingredient for the best tasting soup – a parmesan cheese rind. Make these delicious winter soup recipes and enjoy sitting in front of a heater. 
Get the recipe here.
---
Suggested: Healthy Turkey Recipes
---
19. Tomato Lentil Soup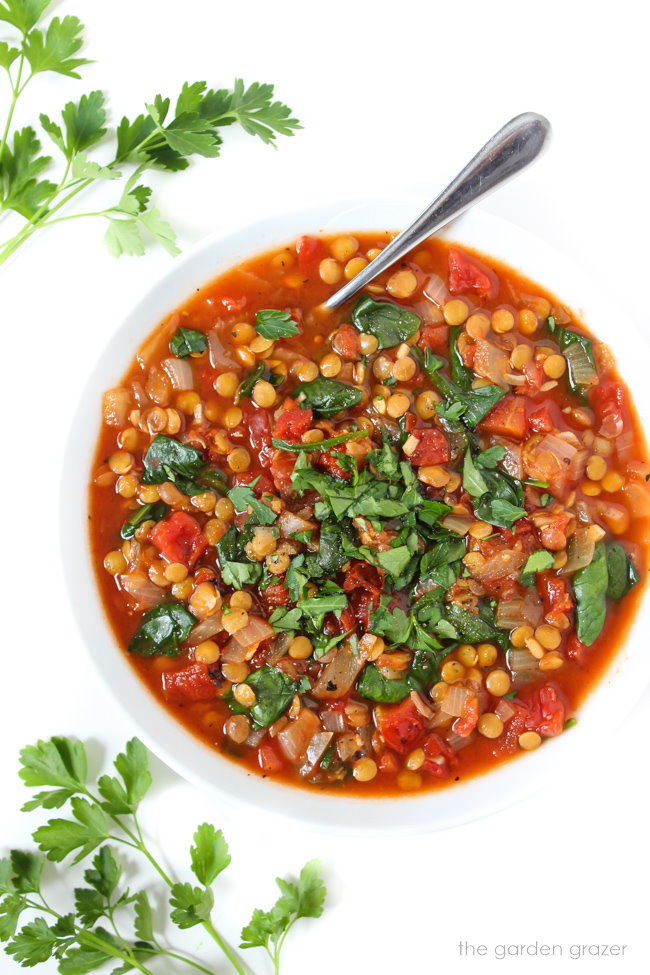 There's nothing quite as comforting as a pot of soup simmering away on the stovetop when it's cold and wintry outside. The smell alone warms me from the inside out. This week I was craving a simple vegetable-forward soup, so I whipped up this really easy Tomato Lentil Soup. I've been enjoying the leftovers for days, sometimes with grilled cheese on the side. This is just so delicious in the winter morning to enjoy. 
Get the recipe here.
---
Related: High Protein Vegetarian Recipes
---
18. Slow Cooker Minestrone Soup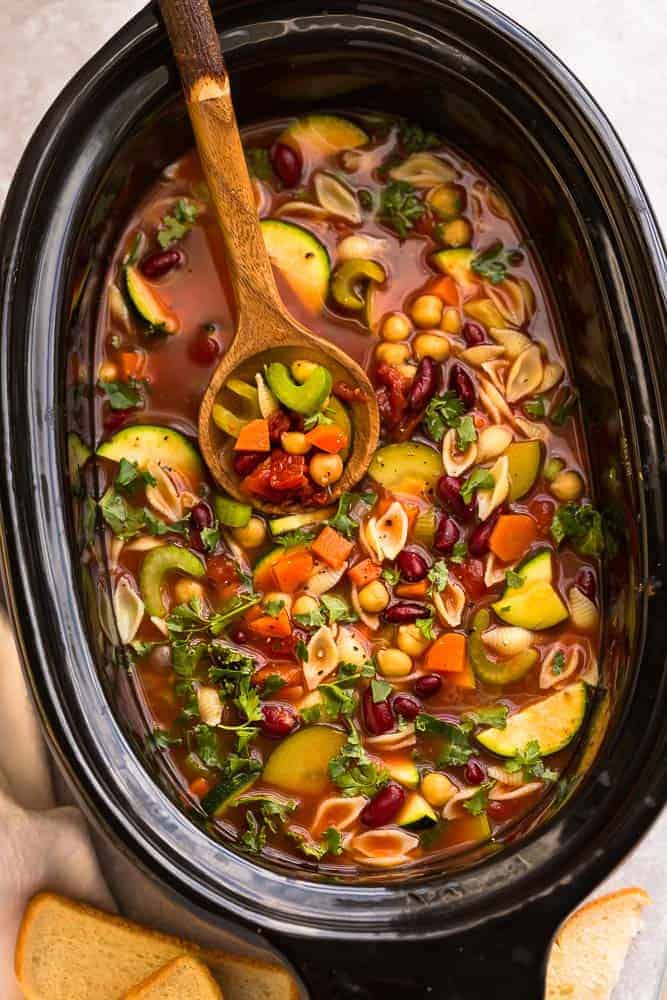 Slow cooking this family favourite Minestrone soup allows all the flavours and spices to intensify and delivers a delicious, hearty meal everyone is sure to enjoy. Made with minimal effort, this minestrone soup is one of the most flavorful winter soup recipes I've ever made! Full of protein and fibre-rich beans, nutritious vegetables and filling pasta, it's a complete meal in a bowl! Serve with a green salad and garlic bread for dipping. 
Get the recipe here.
---
Suggested: Slow Cooker High Protein Recipes
---
17. Cold-Busting Soup
The Cold-Busting Soup is the most soothing, comforting, cosy soup for the flu season! Quick/easy to make, you'll be feeling better in no time. Chicken breasts are used here for simplicity. Most of us get a yearly cold so this is a recipe we all need in our arsenal to help kick that cold!  
Get the recipe here.
---
Related: Keto Soup Recipes
---
16. Thai Chicken Noodle Soup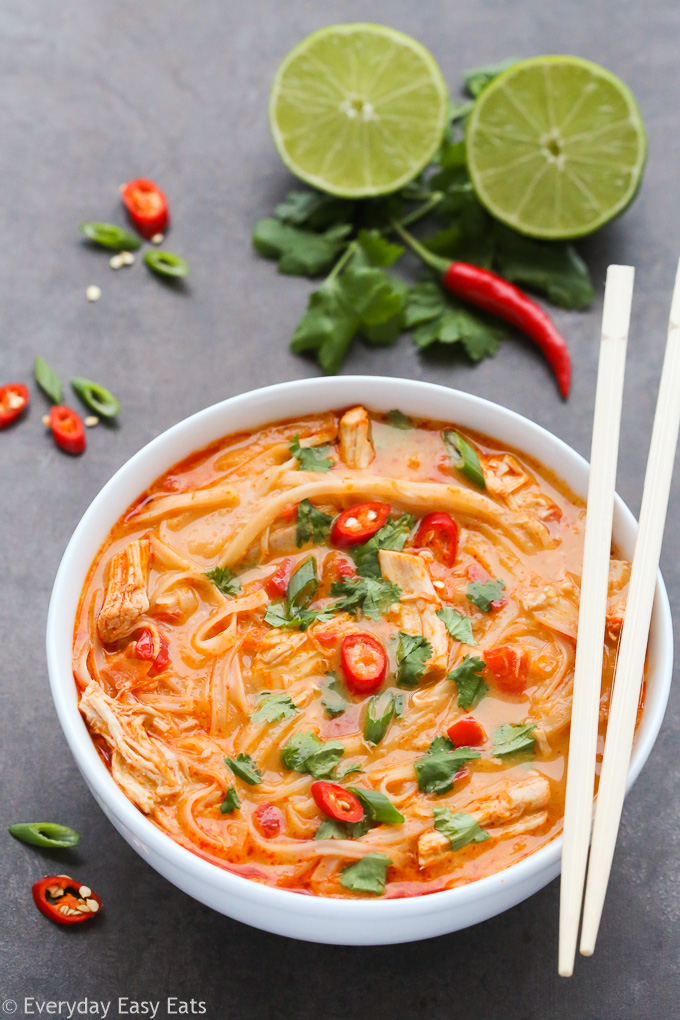 A healthy, low fat, gluten-free meal, full of amazing Thai flavours that will warm you to your bones! Thai Chicken Noodle Soup – healthy, low fat, gluten-free and full of amazing Thai flavours – is just what the doctor ordered on these frigid days. You can keep this mild, or make it spicy, up to you!
Get the recipe here.
---
15. Spinach, Lentil & Butter Bean Soup
Based on the rich and creamy dals of Punjab, this comforting mix of soft butter beans and thick lentils is spiked with bit of bite ginger and chilli. This recipe is mad with spinach, lentil and butter bean soup which is so healthy, hearty and nutritious. This recipe is high in plant-based protein and you can make it for a great filling lunch or light dinner.
Get the recipe here.
---
Related: High Protein Vegan Recipes
---
14. Chickpea Noodle Soup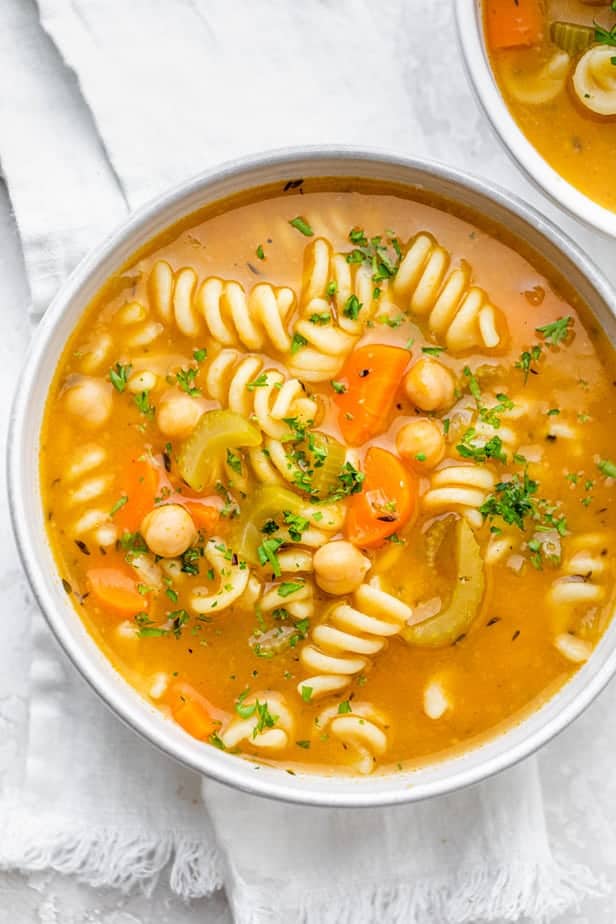 This soup is exactly what I want to eat when I'm feeling under the weather or craving some familiar, comfort food flavors. You can add chickpeas for some added protein, fibre and texture. This recipe is so healthy and delicious that you'll really enjoy this alternative to traditional chicken noodle soup.
Get the recipe here.
---
Suggested: Vegan Chickpea Recipes
---
13. Chicken and Rice Soup Recipe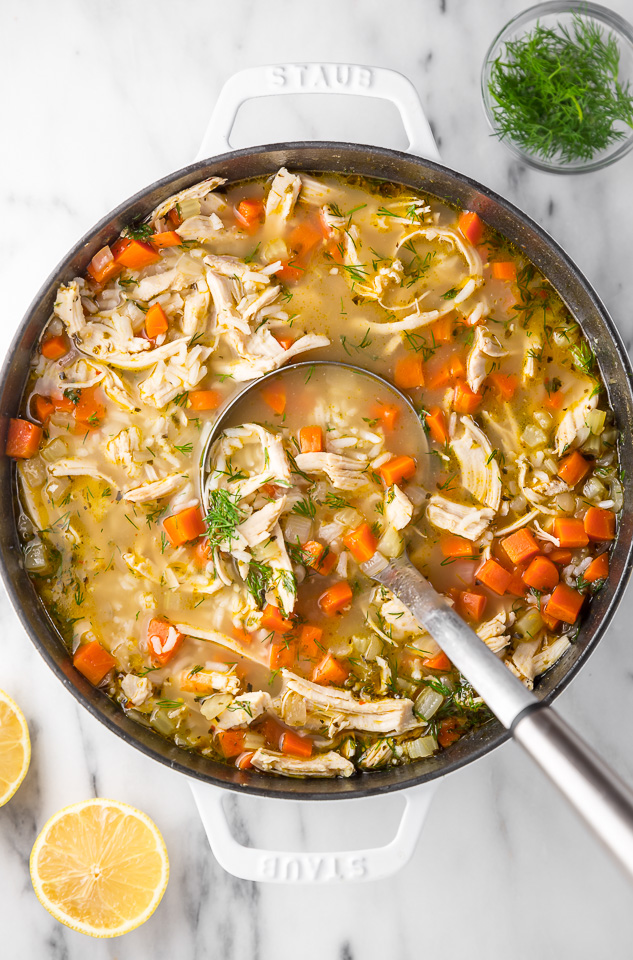 This Chicken Rice Soup is made by cooking chicken pieces in the broth which yields a beautiful savoury, golden, flavour-infused broth without having to manhandle a whole chicken. But for a smidge of extra effort and 30 minutes of hands-off cook time simmering chicken pieces, you can have this Chicken and Rice soup with an incredible savoury. It's just so delicious and comforting. 
Get the recipe here.
---
Related: Chicken Rice Recipes
---
12. Coconut Ginger Carrot Soup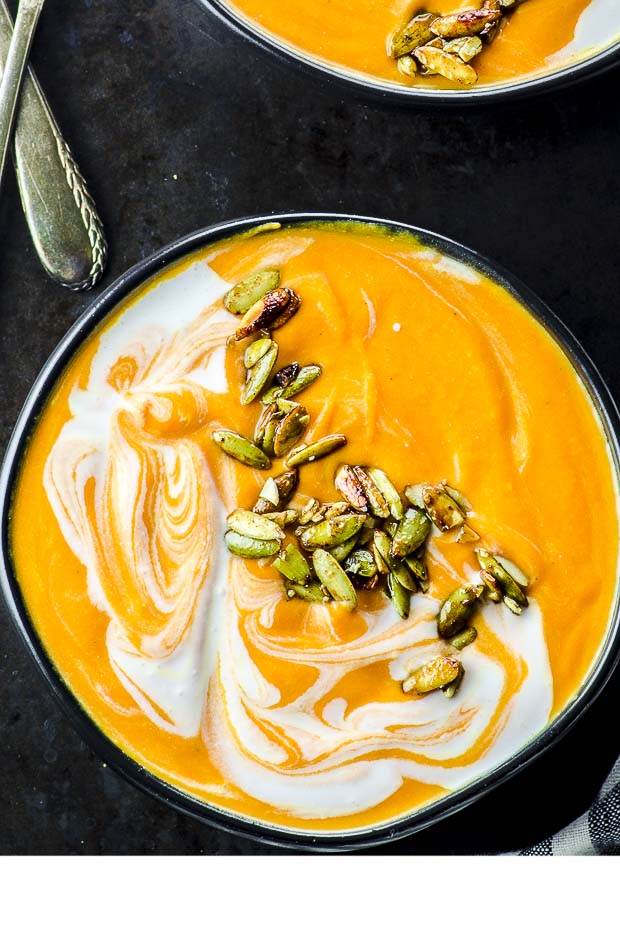 This incredible coconut ginger carrot soup is so easy to make with a few simple ingredients. Creamy, Paleo, Vegan, and Whole30 this recipe is ready in just 30 minutes. This is one of the best healthy winter soup recipes or winter recipes or soup recipes you are gonna get. 
Get the recipe here.
---
Suggested: Winter Breakfast Recipes
---
11. Green Tea and Chickpea Soup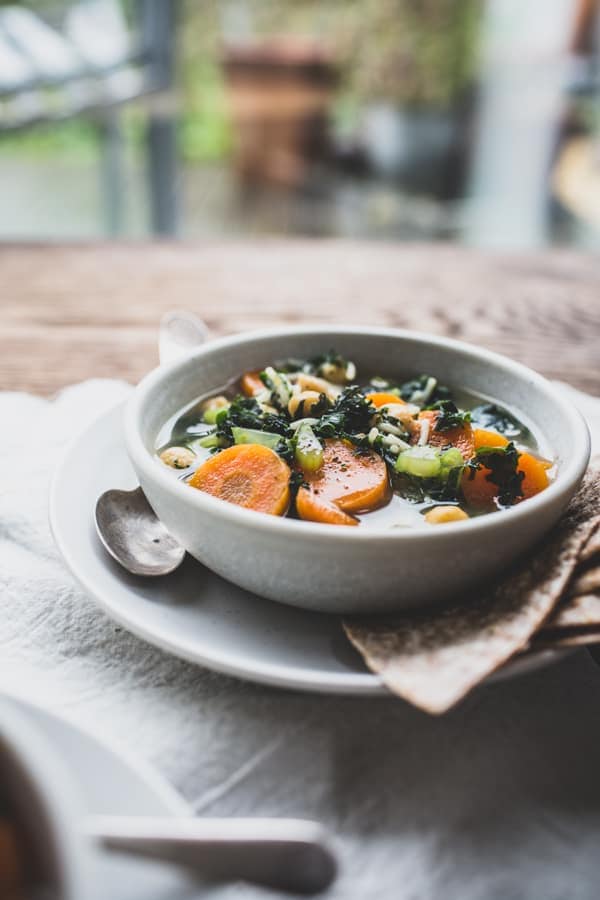 With winter upon us, here's a delicious recipe for green tea and chickpea soup that will nourish you and promote good health. From Top With Cinnamon. It's the best breakfast one can ever get on a winter morning. Warm green tea with hot chickpea soup is all one ever needs. And trust me it's one of the best winter soup recipes I have ever tasted. 
Get the recipe here.
---
Related: Christmas Dinner Ideas
---
10. Detox Soup
Vegetable Detox Soup is an easy one-pot recipe perfect for getting back on track for the new year! Best of all, it's comforting, flavorful and packed with lots of healthy vegetables. Vegetable soup is one of my favourites to start the year off. This Detox Vegetable Soup is packed with tons of nutritious veggies, immune-boosting herbs and makes you feel warm, wholesome and nourished. It is ready in just 20 minutes in one large pot for meal prep. So cleanup is a breeze! If you are on a diet or want something healthy, this is the perfect one for you. 
Get the recipe here.
---
Suggested: Holiday Low Carb Recipes
---
9. Creamy One Pot Butternut Squash Soup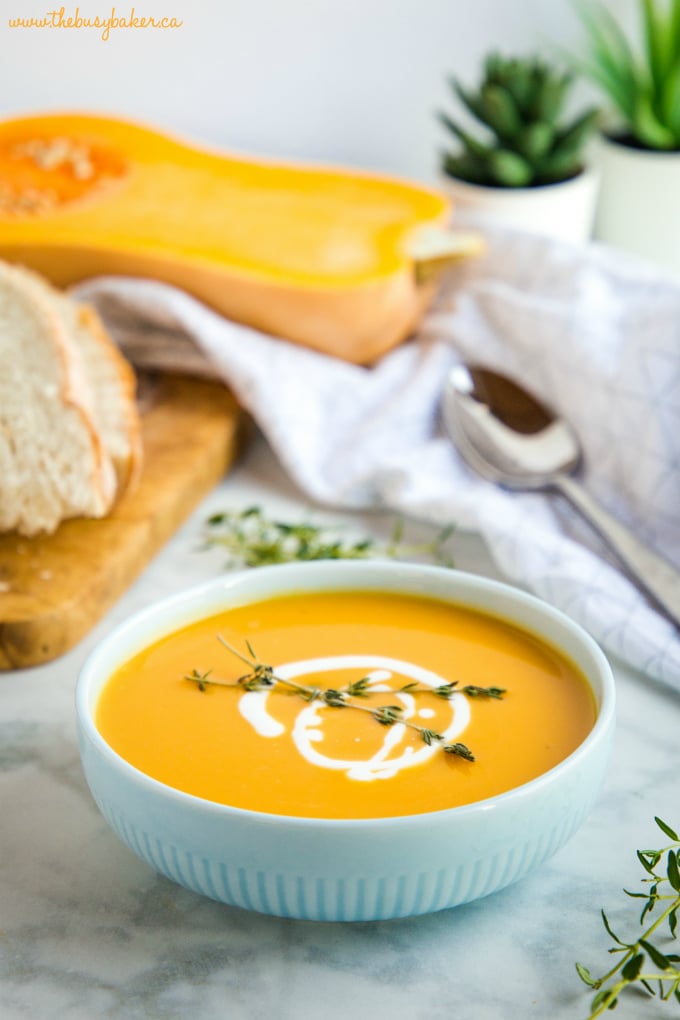 Creamy One Pot Butternut Squash Soup is so delicious and is great for lunch or dinner, and it freezes very well, making it a great meal prep recipe! One of my favourite winter soup recipes that it's vegan, which means it's also dairy-free. It's really so so delicious that I tend to make it often. You should also try it at home and surprise your family with an amazing breakfast. 
Get the recipe here.
---
Related: Weight Watchers Lunch Recipes
---
8. Sausage Potato and Kale Soup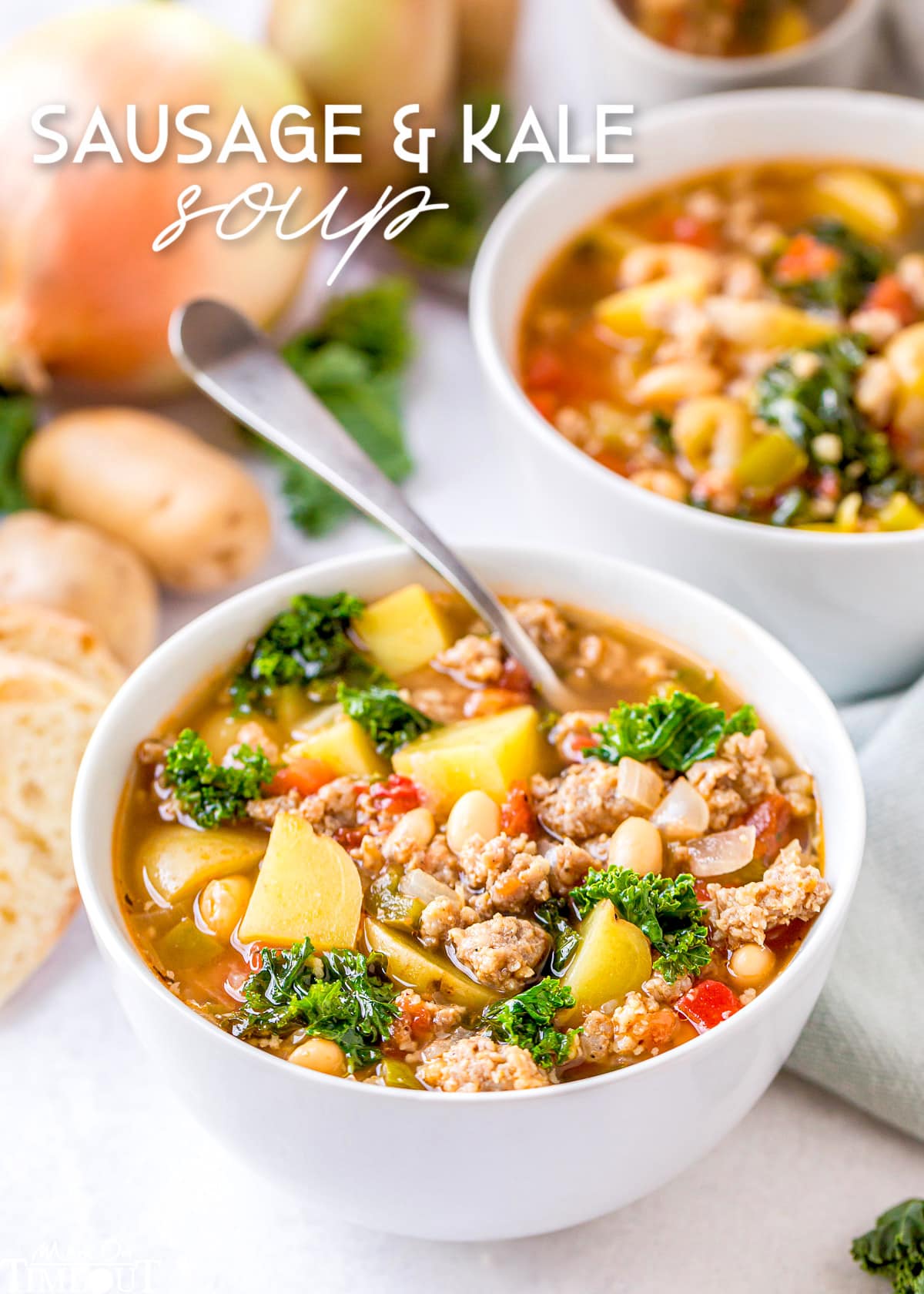 The smoked paprika you use is very important and determines the bulk of flavour here – make sure that it is indeed smoked as many grocery stores also carry regular paprika. This soup is particularly delicious and hearty and thanks to the potatoes and sausage. It's definitely a fall soup recipe that will keep you full and satisfied.
Get the recipe here.
---
Suggested: Keto Sausage Recipes
---
7. Broccoli Cheese and Potato Soup 
This creamy broccoli and cheesy potato soup with broccoli comes together quickly for a crowd-pleasing weeknight meal that everyone will love. Don't worry, this easy potato soup recipe is still full of flavour and is creamy in texture. It's one of the most delicious winter soup recipes ever. 
Get the recipe here.
---
Related: Fall Soup Recipes
---
6. Golden Beet and Fennel Soup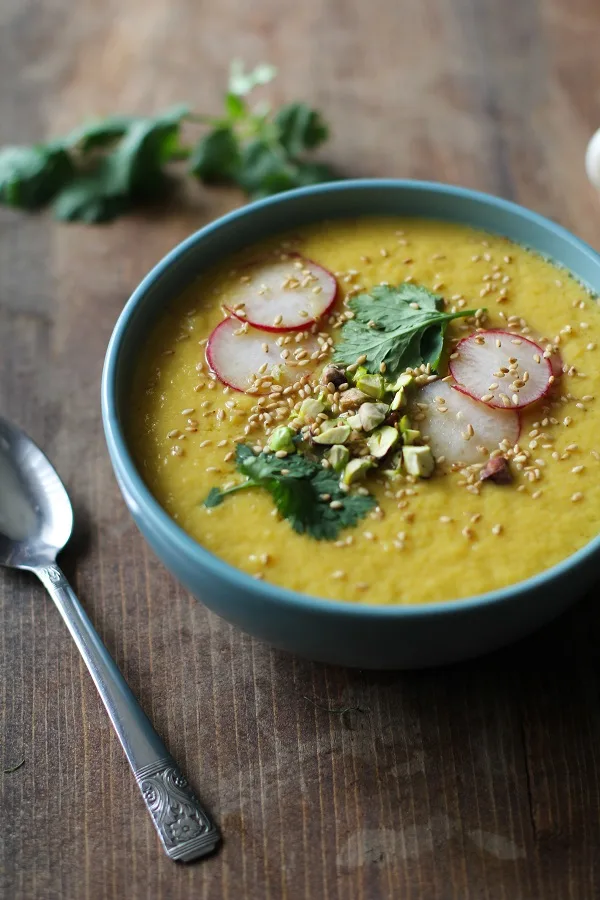 Spring scallions do double duty with the white and light green parts acting as a flavour base and the greens as a garnish. It's one of the best winter soup recipes and trust me you are gonna love it. 
Get the recipe here.
---
Suggested: Vegetarian Meal Ideas
---
5. Vegan White Bean Soup with Kale
This creamy white bean soup with kale, rosemary, and lemon is cosy and vibrant, and just the right thing to turn to for keeping us warm and satisfied. I enjoy this recipe all year though. I also love that it comes together in 40 minutes. It's so delicious and comforting and makes the perfect breakfast for a winter morning. 
Get the recipe here.
---
Related: Vegan Meal Prep Ideas
---
4. Roasted Sweet Potato Cinnamon Soup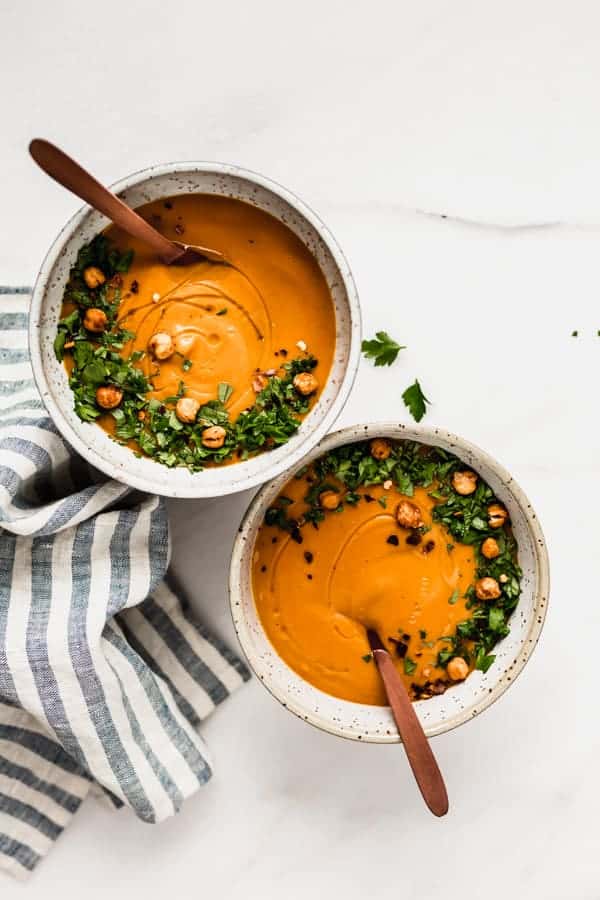 If you aren't a big cinnamon fan you could always use paprika, cumin, curry powder, dill, or even cilantro to add flavor and change up the taste completely! This Roasted Sweet Potato Cinnamon Soup is the ultimate cosy soup recipe for Fall! The combination of sweet potatoes and cinnamon in a soup is just to die for! This recipe is also vegan and gluten-free. This sweet potato soup is made with roasted sweet potatoes which give the soup more depth and flavour.
Get the recipe here.
---
Suggested: Sweet Potato Recipes
---
3. Moroccan Spiced Lentil & Chickpea Soup
This Moroccan-spiced Lentil and Chickpea Soup are so delicious and loaded with chickpeas, lentils, tomatoes and sweet potatoes. This recipe is gluten-free, vegan, and ready in about 45 minutes. That means a whole lot of chickpeas, lentils, canned tomatoes, broth, and long-lasting produce like onions and potatoes.
Get the recipe here.
---
Related: Christmas Casserole Recipes
---
2. Creamy Vegan White Bean Soup 
This warm and comforting Vegan White Bean Soup combines cannellini beans and fresh herbs to create an earthy flavour. This veganized Tuscan-style soup tastes like it's from an Italian restaurant but it's really homemade! It's one of the most healthy winter soup recipes and so so delicious. 
Get the recipe here.
---
Suggested: Plant-Based Recipes
---
1. Vegetable Soup Recipe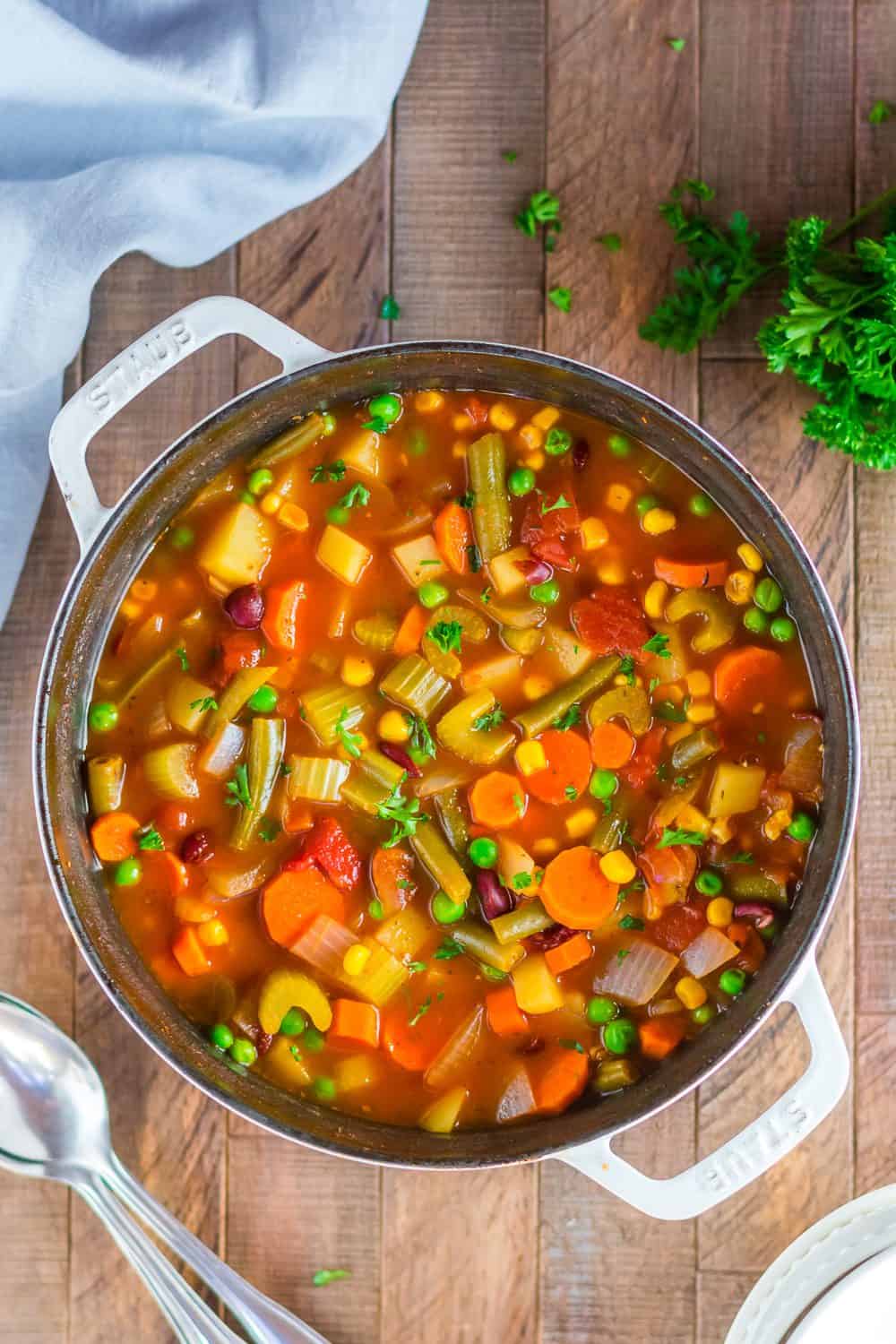 Vegetable soup doesn't have to be bland and boring. What I love about this soup is that it comes together in one pot and it's super easy to make. With minimal mess and maximum flavour, you can't get much better than that. So what are you waiting for guys???? Make these amazing and tasty winter soup recipes and warm up your chilly mornings and enjoy with your family and friends. 
Get the recipe here.
---
---
If you like this article about Winter Soup Recipes, please share this with your friends on Facebook, Twitter, and Pinterest. Also, you can subscribe to my blog to get all the latest articles first on your mobile.
SHARING IS CARING!
FACEBOOK | TWITTER | PINTEREST
Did you like this recipe and make it later at home? SAVE this pin to your favourite board on Pinterest!