Love to eat cauliflower as a meal? But sometime we doesn't like to eat for our mood. even some people are don't like to eat cauliflower like me. So here I share some best and easy keto cauliflower recipes that you will forgot your dislike about cauliflower.

Cauliflower is such a vegetables that you can use in any ways like as a meal, curry, snacks or breakfast. Cauliflower is a low carb veggies but filled with minerals, vitamins and fiber that helps to keep our body healthy and balanced.

Here you get cauliflower rice, curry, cheesy balls, soups, salads, mashed potatoes, pizza crust and many more ideas that are a delicious substitute for your comfort food favourites. So let's jump to these delicious recipes and choose your best dish for your meal and enjoy with your family or friends.
---
21. Keto Cauliflower Mac & Cheese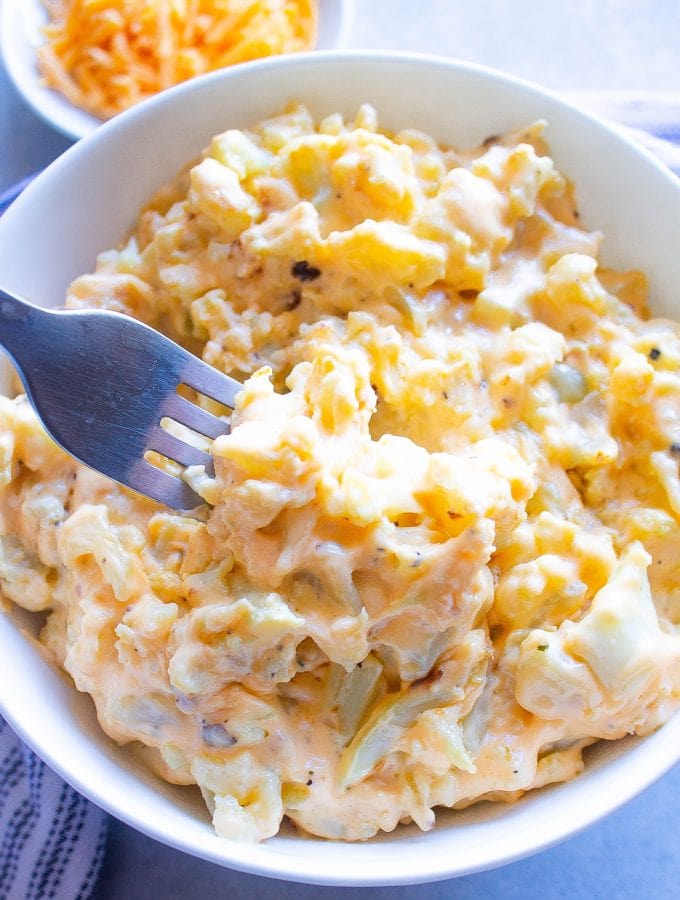 This cauliflower mac and cheese recipe is so tasty and loaded with lots of cheese that will makes you satisfying your cravings!
Get the recipe here.
---
Suggested Cheese Ideas:
Delicious Ricotta Cheese Recipes
Keto Cream Cheese Dessert Recipes
Keto Fat Bombs Cream Cheese Ideas
---
20. Keto Mushroom And Spinach Cauliflower Rice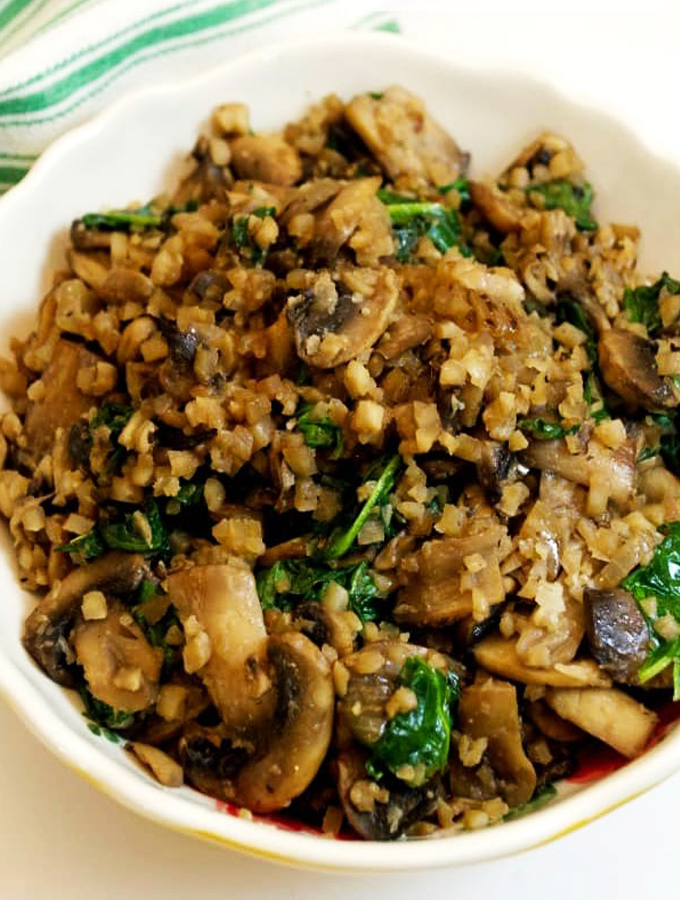 This mushroom and spinach cauliflower rice is a best ever healthy lunch meal that your whole family will love to eat. It is low carb and keto friendly dish that easy to make and packed with lots of flavor.
Get the recipe here.
---
Related: Keto Mushroom Recipes
---
19. Keto Loaded Cauliflower Casserole Recipe
The Keto Bake Loaded Cauliflower Casserole Recipe is so healthy and delicious. Packed with cauliflower, butter, cheese, chives and bacon with seasoning, just ready within 20 minutes, you can add rice also. The ultimate Instant pot low carb and keto friendly side comfort food for your diet. With cream cheese the recipe are so tasty, try this recipe today as a meal at lunch or dinner.
Get the recipe here.
---
Suggested Casseroles:
Keto Casserole Recipes For Weight Loss
Green Bean Casserole Recipe
Chicken And Broccoli Casserole Recipe
Potato Baked Casserole Recipe
---
18. Keto Cauliflower Soup
Soup is comfortable food for anytime you want. Try this cauliflower soup recipe at your lunch time and serve hot with any biscuits or bread or whatever you want.
Get the recipe here.
---
Related Soups:
Minestrone Soup Recipe
Keto Soup Recipes For Meal Prep
Weight Watchers Soup Recipes With Smart Points
Creamy Broccoli Cheese Soup Recipe
---
17. Cauliflower Fritters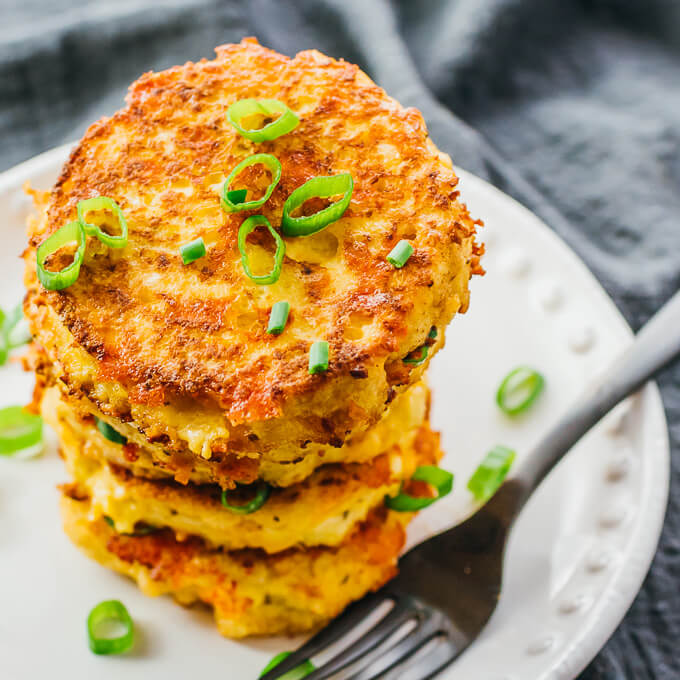 Fritters are easy snacks on the go or your evening cravings. But this fritters are made with cauliflower with other simple few ingredients that so crispy and low carb.
Get the recipe here.
---
Suggested: High protein Snack Recipes
---
16. Crispy Low Carb Keto Cauliflower
These crispy cauliflower bites are coated in a low carb and keto friendly breading. They can be fried, baked or cooked in an air fryer. The breading comes out super crispy, just like a traditional flour or breadcrumbs breading.
Get the recipe here.
---
Related Meals:
Low Carb Low Calorie Recipes
Vegan Meal Prep Recipes
Keto Lunch Ideas
Keto Recipes For Weight Loss
Vegetarian Meal Recipes
Keto Dinner Meals
---
15. Keto Mashed Cauliflower
With only 4 ingredients this mashed cauliflower recipe is ready in just 15 minutes. Creamy, smooth and one of my best ever keto cauliflower recipes for lunch as a side dish.
Get the recipe here.
---
Suggested: Keto Side Dish Recipes
---
14. High Protein Cauliflower Crust Pizza
Love Pizza? I'm the biggest fan of pizza, so I love to taste all types of pizzas. This Cauliflower pizza is made with no dough and zero cheese. It is Vegan and keto friendly recipe for your keto diet.
Get the recipe here.
---
Related Pizzas & High Protein Ideas:
Keto Pizza Recipes
Veg Pizza Recipes
Peppy Paneer Pizza Recipe
High protein Meal Prep Recipes
High Protein Vegetarian Recipes
High Protein Slow Cooker Recipes
High Protein Dinner Recipes
High Protein Breakfast Recipes
High Protein Chickpea Recipes
High Protein Lunch Ideas
---
13. Turmeric Cauliflower Buns
This cauliflower turmeric buns recipe is loaded with only 4 ingredients and low carb option for your evening snack cravings.
Get the recipe here.
---
Suggested Breads:
Garlic Stuffed Cheese Bread Recipe
Veg Club Sandwich Recipe
Homemade Bread Recipes
French Toast Recipe
Masala Egg Toast Recipe
---
12. Keto Cauliflower Risotto
Easy to prepare this cauliflower risotto recipe takes only 25 minutes to make. Best ever lunch keto meal for any holiday or weeknight dinner.
Get the recipe here.
---
Related: Keto Recipes Under 3g Carbs
---
11. Keto Cauliflower Cheese Bites
Cauliflower cheese bites are so crispy, cheesy and tasty that ready in just only 15 minutes. This is one of my favourite keto cauliflower recipes to make me feel happy.
Get the recipe here.
---
Suggested: Keto One Pot Meals
---
10. Mexican Cauliflower Rice
Looking for healthy and easy keto rice recipes? This Vegan Fried Cauliflower Rice is best instead of rice for lunch or dinner meal. Try this paleo recipe at home and get to know how to make this whole 30 casserole rice recipe.
Get the recipe here.
---
Related: Home Canning Recipes For Beginners
---
9. Keto Cauliflower Hash Browns
Loving with has browns? Must try this keto friendly cauliflower hash brown at lunch meal. It is crispy outside and soft inside and made with only 6 simple ingredients.
Get the recipe here.
---
Suggested: Chia Pudding Recipes For Weight Loss
---
8. Keto Air Fryer Cauliflower Bites
This keto air fryer cauliflower bites recipe has great bold flavors, works well as a side dish with any recipes and your family will definitely love to eat.
Get the recipe here.
---
Related Air Fryer Ideas:
Vegan Air Fryer Recipes
Keto Air Fryer Chicken Recipes
Weight Watchers Air Fryer Recipes
---
7. Keto Cauliflower Chicken Burrito Bowl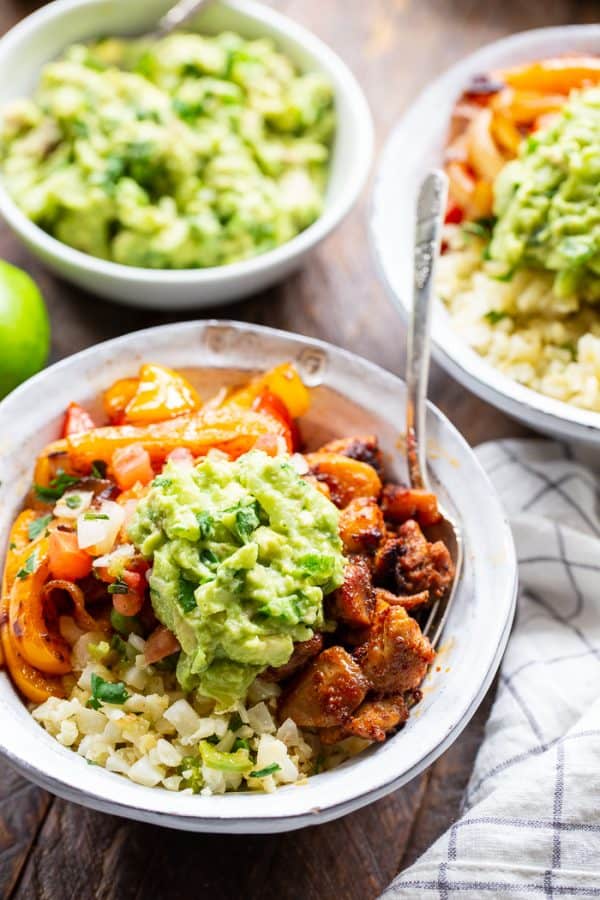 Make this amazing tasty chicken burrito bowl that packed with tons of great flavor. A healthy cauliflower filling makes your lunch meal perfect!
Get the recipe here.
---
Suggested: Keto Chicken Recipes For Dinner
---
6. Keto Cauliflower Potato Salad
This cauliflower potato salad is easy to make and low carb, keto, healthy whole30 recipe that perfect for lunch meal.
Get the recipe here.
---
Related Salads:
Keto Egg Salad Recipes
Healthy Salad Recipes For Weight Loss
Keto Salad Recipes
Summer BBQ Backyard Salad Recipes
Honey Fruit Salad Recipes
---
5. Keto Almond Flour Cauliflower Popcorn
These tasty crispy popcorn recipe is made with almond flour, cauliflower and other simple ingredients. You can take these popcorn as a side dish or snacks one the go!
Get the recipe here.
---
Suggested Delicious Recipes:
Keto Almond Flour Recipes
Homemade Popcorn Recipes
Keto Peanut Butter Recipes
Keto Coconut Butter Recipes
Keto Chaffle Recipes
Shish Kabob Recipes
Keto Brownie Recipes
---
4. Keto Cauliflower Chowder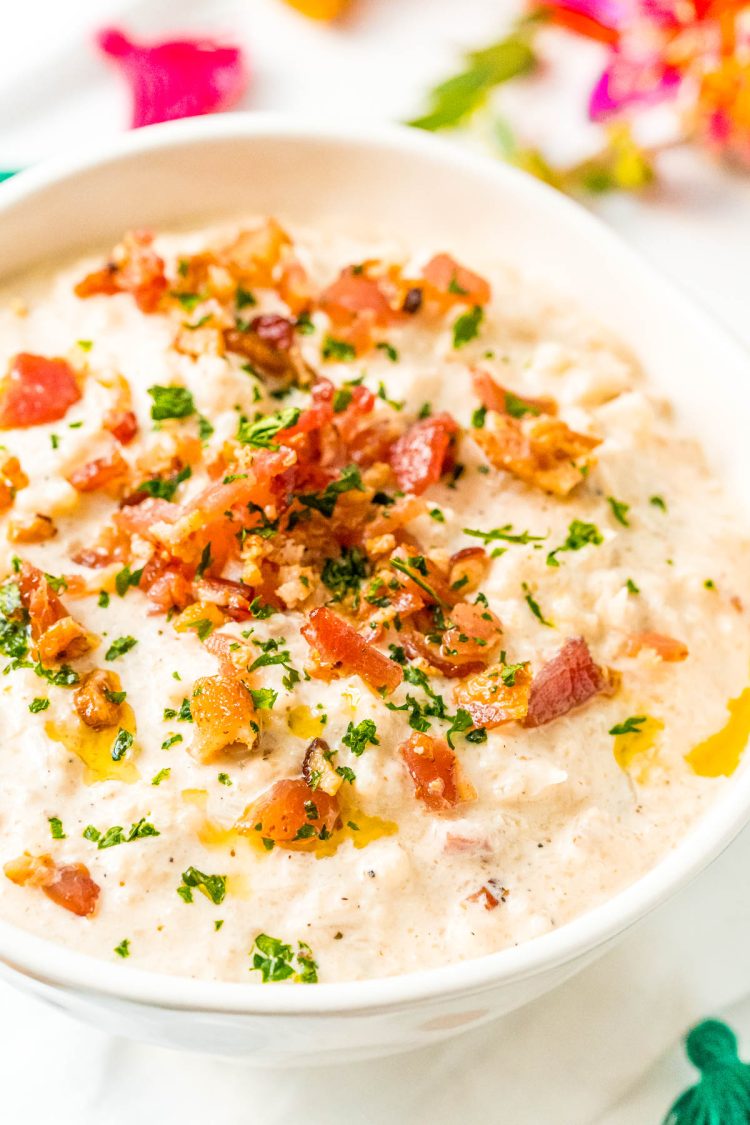 With Bacon, cream cheese, cauliflower and other spices makes a nice creamy keto friendly cauliflower chowder recipe for meal prep.
Get the recipe here.
---
Related: Sheet Pan Dinner Recipes
---
3. Cauliflower Nuggets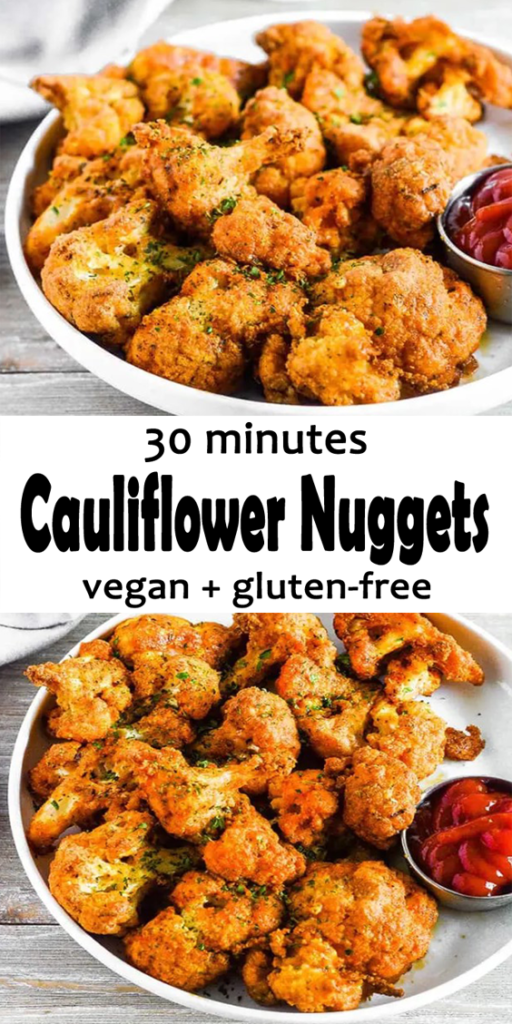 These cauliflower nuggets are crispy and perfect snacks idea for evening or on the go!
Get the recipe here.
---
Suggested: Keto Recipes Under 5g Carb
---
2. Keto Sesame Cauliflower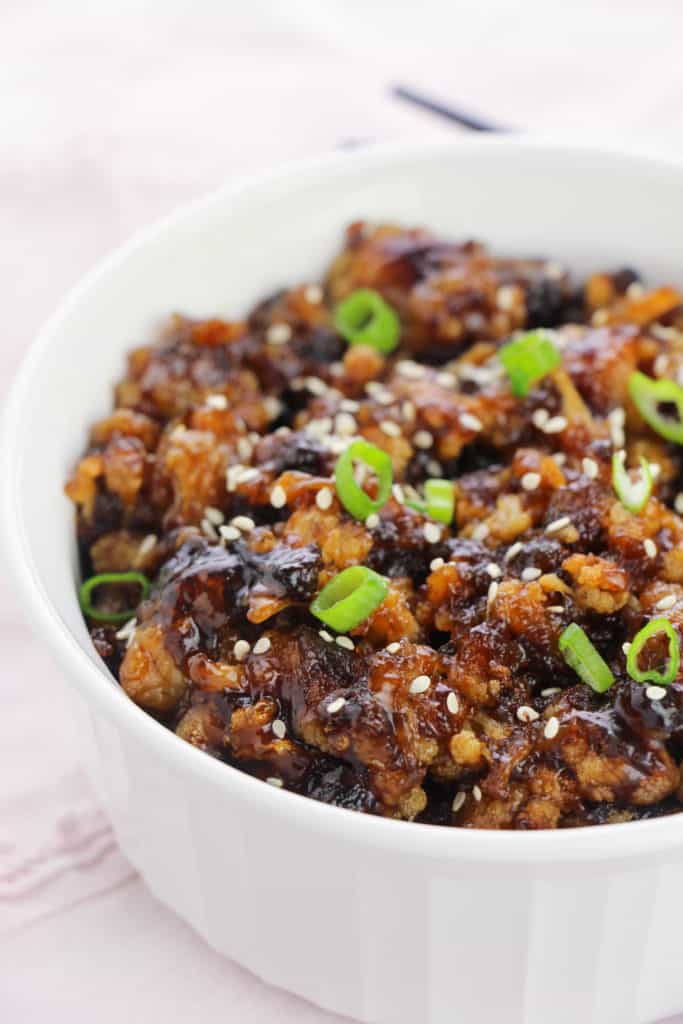 If you are need a low carb and keto meal, this keto approved sesame cauliflower recipe is one of the perfect keto cauliflower recipes for dinner or lunch.
Get the recipe here.
---
Related: Keto Wrap Recipes
---
1. Keto Cauliflower Ziti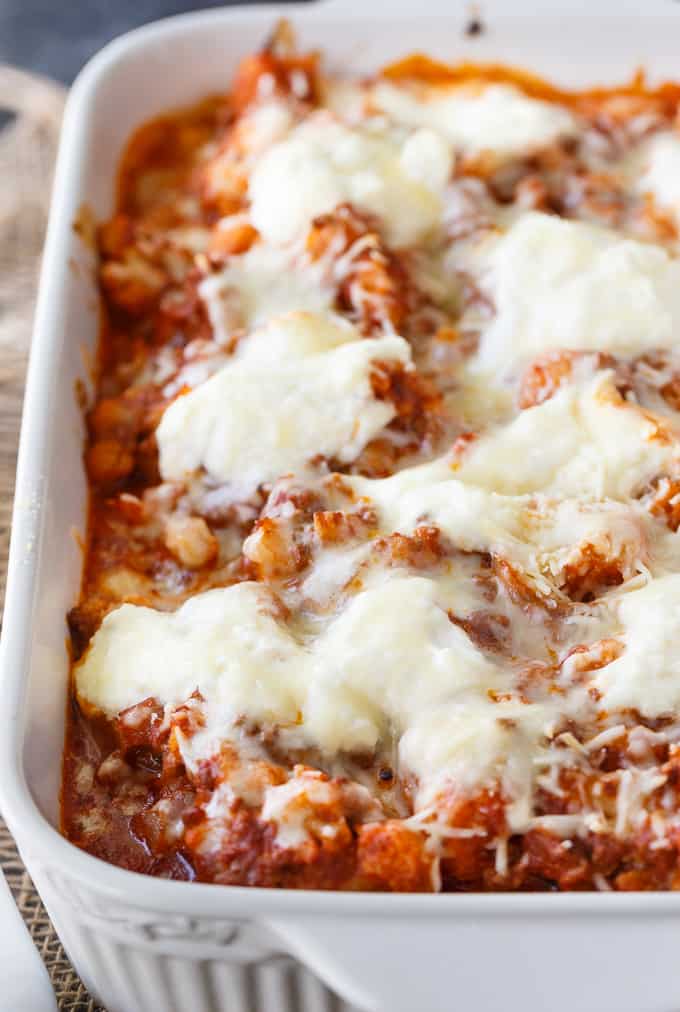 Cheesy, low carb, keti and delicious this cauliflower ziti recipe is best ever meal for weeknight dinner meal.
Get the recipe here.
---
Suggested: Keto Cheap Meals On A Budget
---
---
If you like this article about keto recipes under 5 carbs, please share this with your friends on Facebook, Twitter, and Pinterest. Also, you can subscribe to my blog to get all the latest articles first on your mobile.
SHARING IS CARING!
FACEBOOK | TWITTER | PINTEREST
Did you like this recipe and make it later at home? SAVE this pin to your favourite board on Pinterest!